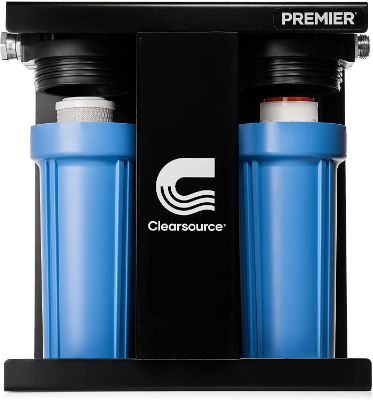 Clearsource Premium RV Exterior Water Filter System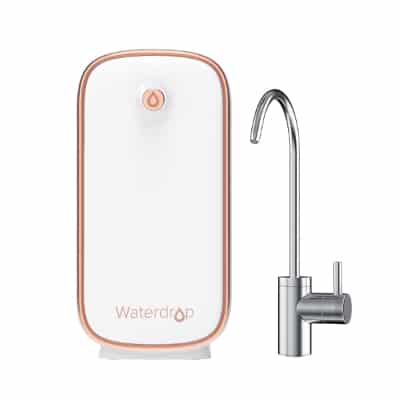 Waterdrop Compact RO Interior System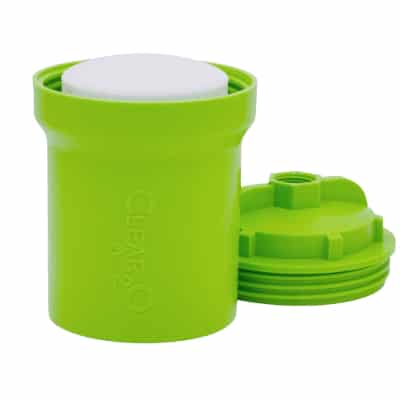 Clear2o DIRTGUARD Exterior Sediment Prefilter
You don't need a water filter system for your RV, but if you've clicked on this guide, you'll know just how beneficial it can be. Without a water filter, your pipes, plumbing and water-based appliances are far more likely to experience rusting, sediment corrosion, and even microbiological contamination.
If you're looking for the best RV water filter, we can help. WaterFilterGuru provides guides, reviews and advice to an audience of more than 1.8 million yearly visitors. Having a combined experience of 70 years in this industry, our team know which brands and products are the most consistently favored by customers like you.
In this RV water filters guide, we've compiled a list of the most promising RV water filters of 2023, based on customer reviews, product specifications, and my communication with manufacturers. You can rest assured that the products on this list are the best of the best in terms of performance, longevity, ease of use, and more.
By the end of this guide, you will know:
Which 4 interior and 4 exterior RV water filters are worth your money today
Things you shouldn't ignore when looking for an RV water filter
How RV water filters work, and their advantages
Answers to your frequently asked questions
🥇 Best RV Exterior Water Filters
| System | Clearsource Premium RV Water Filter System | Clear2o DIRTGUARD Sediment Prefilter | Waterdrop RV Water Filter | Camco TastePure RV Water Filter |
| --- | --- | --- | --- | --- |
| Ranking | 1st | 2nd | 3rd | 4th |
| Ratings | 5/5 | 4.5/5 | 4/5 | 4/5 |
| Price | $399.99 | $43.99 | $21.99+ | $18.59 |
| Contaminants Removed | 10+ | 10+ | 10+ | 10+ |
| Certifications or Testing | – | – | NSF 42, 372 | NSF 42, 53, 372 |
| Filter Capacity | 2,000 gal. | 1,000 gal. | 1,350 gal. | 500 gal. |
| Flow Rate | 6 – 6.5 GPM | 3.5 GPM | 0.75 GPM | 500 gal. |
| Annual Cost | ~$100 | ~$45 | ~$105 | – |
| Warranty | 1 year | – | 30 days | 90 days (limited) |
🥇 Best Interior RV Drinking Water Filters
| System | Waterdrop Compact RO System | Epic Smart Shield | Travel Berkey | Acuva Arrow 5 UV-LED Water Purifier |
| --- | --- | --- | --- | --- |
| Ranking | 1st | 2nd | 3rd | 4th |
| Ratings | 5/5 | 4.5/5 | 4.5/5 | 4/5 |
| Price | $199+ | $108 | $327+ | $1,245+ |
| Contaminants Removed | 70+ | 70+ | 200+ | Biologicals |
| Certifications or Testing | NSF 58, 372 | NSF 42, 53, 401 | NSF 53 | NSF 55, 372 |
| Filter Capacity | 1,500 gal. | 651 gal. | 3,000 – 6,000 gal. | 4,000 gal. |
| Flow Rate | 400 GPD | 1.25 GPM | 0.05 GPM | 1.30 GPM |
| Annual Cost | ~$100 | ~$120 | ~$60 | – |
| Warranty | 30 days | Lifetime | Lifetime | 1.30 GPM |
---
⭐ Exterior RV Filtration System Reviews 2023
I've started this guide with exterior RV filtration systems. These water filters are designed for installation on the outside of your RV.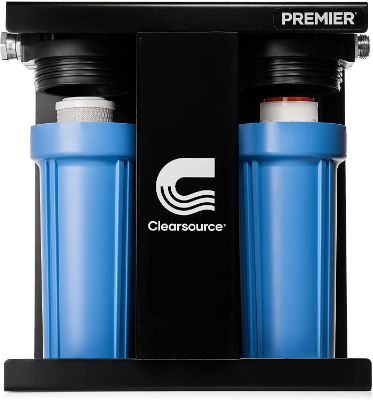 Clearsource Premium RV Water Filter System
With 0.2 micron protection, the Clearsource Premium RV Water Filter System is a two-stage system that can trap even the smallest contaminants in your drinking water.
While many RV filters have a "nominal" filter rating, meaning that not all their pores are the same size, the Clearsource system carries an "absolute" rating", meaning that every filter pore is 0.2 microns in size – giving you better protection against bacteria and cysts.
The Clearsource also features a 0.5 micron coconut shell carbon block filter, which greatly reduces chlorine, chloramines, and VOCs, helping to improve the taste and smell of water. This filter can also remove larger sediment that may not be filtered out by the system's 0.2 micron filter.
As an outdoor RV water filter, the Clearsource has a "bulletproof construction" that makes it capable of withstanding all weather conditions. The filter housing has been designed specifically for RV use, with durable stainless steel fittings and oversize canisters for increased water flow.
Costing around $350, the Clearsource filter is fairly priced for the value you can expect to obtain.
👍 What I Like
"Absolute" rating – removes a larger quantity of smaller contaminants
Two filter stages in one
Durable design
👎 What I Don't Like
Doesn't remove heavy metals
No installation instructions online
---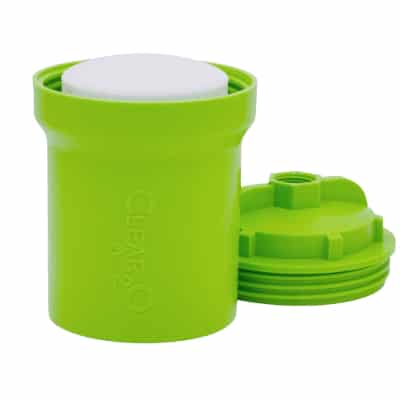 Clear2o DIRTGUARD Sediment Prefilter
Offering an affordable, low-fuss means of sediment filtration for laid-back RV-ers, the Clear20 DIRTGUARD Sediment Prefilter is intended for use before a carbon filter and blocks larger sediment particles in an RV water source.
The Clear20 DIRTGUARD is intended as a "first line of defense", capturing sand, dirt, silt, and other large sediment particles in water. This filter should enhance the effectiveness of your existing RV inline filter, preventing debris from clogging the filter and increasing its lifespan.
Fitting most standard RV inline filter brands, the Clear20 DIRTGUARD sits just above an inline water filter at the top of a connection hose. The filter is bright green in color, making it easy to spot amongst your equipment.
The Clear20 DIRTGUARD has a backwashing feature that reduces the number of filter changes required. The polyethylene filter has a higher holding capacity for dirt, and can be installed vertically or horizontally for convenience.
Installation is relatively straightforward, and the filter comes with everything you need for the job, including pre-filter housing, the initial filter itself, a backwashing adaptor, wrench, and hose extender. It's recommended that you change the filter after every 6 months of use.
👍 What I Like
Affordable, suitable for small budgets
6 month lifespan
Easy to install
👎 What I Don't Like
Doesn't come with an inline filter
Only capable of removing large sediment particles
---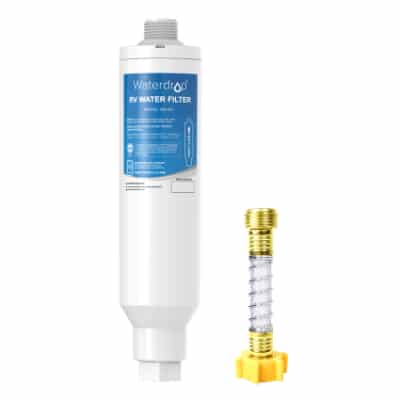 Waterdrop RV Water Filter
Designed for quick and easy RV water filtration, the Waterdrop RV Water Filter is an inline water filter that is ideal for smaller budgets, costing just more than $10.
The filter combines KDF, polyester, GAC, and fluoride remover media, offering a superior performance, especially given the affordable price point. The Waterdrop can remove a number of common drinking water contaminants, including sediment, fluoride, and arsenic. It is NSF certified to remove chlorine.
You can get up to 3 months of use (or 1,350 gallons) out of the Waterdrop before the filter needs to be changed. You can buy the filter in a pack of two or three to reduce the cost per filter even more.
Because it can be attached to any standard 3/4" gardening or water hose, the Waterdrop isn't only suitable for RVs – it can also be used for boats, car washing, or garden work. The filter comes with a flexible hose protector to prevent kinking or straining of the hose.
It's quick and easy to install the Waterdrop at your hose. No tools are required for the job, and you can attach and remove the filter in a matter of minutes.
| Waterdrop RV Filter Options | Price |
| --- | --- |
| 1 pack | $21.99 |
| 2 pack | $35.99 |
| 4 pack | $63.99 |
👍 What I Like
Very affordable
5 filter stages in one
Easy, non-permanent installation
👎 What I Don't Like
Some customers had leaking issues
Charcoal debris may escape from filter at first
---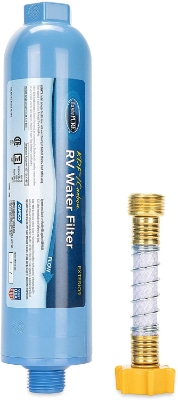 Camco TastePure RV Water Filter
The Camco TastePURE RV Filter is a granular activated carbon (GAC) inline RV water filter that greatly reduces chlorine, sediment, and bad taste and odor. The filter is low-lead certified by NSF/ANSI and is made in the USA.
This long-lasting water filter requires changing every three months, and is versatile when it comes to installation – it can be connected to any standard water or gardening hose for RVs, campers, boats, gardening use, and more.
As well as a GAC filter, the Camco TastePure features a 20-micron sediment filter, which can remove large debris of sand and dirt. There's also a premium KDF media, which protects against bacteria growth when the filter is in storage and not in use.
To protect the hose from kinking and reduce strain on connections, the Camco TastePure comes with a flexible hose protector.
At just under $50, the Camco TastePure is slightly more expensive than its close competitors, especially considering that it's nothing more than an inline filter that can be connected to a hose. However, it's still a good value for money.
👍 What I Like
Improves water taste
Multiple filtration media in one
Low-lead certified
👎 What I Don't Like
Some customers complained about leaking connections
Doesn't reduce heavy metals or hardness
---
⭐ Interior RV Water Filter Reviews 2023
Interior water filters are intended for use inside your RV, and are typically used to filter batches of water or water directly from your faucet.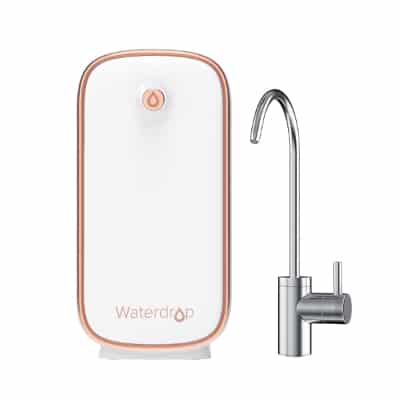 Waterdrop Compact RO System
The Waterdrop Compact RO System is a space-saving under-sink reverse osmosis system. With its tankless design, this unit should fit comfortably in most smaller under-sink spaces in an RV. The system comes with its own smart faucet, and delivers more than 1,500 liters of water per day.
If third-party certifications are important to you, you'll be happy to know that the Waterdrop is NSF certified to Standard 58, for TDS reduction. The system also has an NSF 372 certification for lead-free material.
The Waterdrop uses three different filters to achieve over 90% TDS reduction: a pre-sediment and carbon block filter; a reverse osmosis semi-permeable membrane; and an activated carbon filter. Together, these filters can effectively filter out most common contaminants, including difficult-to-remove contaminants like fluoride and hardness minerals.
With a 1:1 pure water to wastewater ratio, the Waterdrop saves water waste by up to 300% compared to a traditional reverse osmosis system.
Installing the Waterdrop may take a little more effort than some of the filters on this list, but you should be able to handle the task yourself. The pre- and carbon block filter have a 6-month lifespan, while the reverse osmosis membrane has a 24-month lifespan, and the activated carbon block filter has a 12-month lifespan.
| Upgrades | Price | Uses |
| --- | --- | --- |
| Remineralization Filter | $29.99 | Add minerals back to water |
| 1/4" Water Tubing | $32.99 | Connect RO system to refrigerator |
👍 What I Like
One of the most thorough filtration options on this list
Good filter lifespans
NSF certified
👎 What I Don't Like
Though more efficient, still wastes water
Quite expensive
---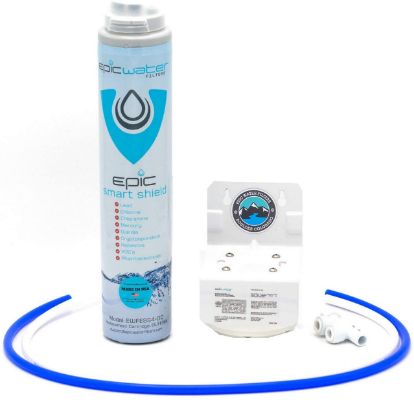 Epic Smart Shield
A more affordable under-sink filtration option is the Epic Smart Shield. This is a standard multi-stage filter, not a reverse osmosis filter, but it's still very capable – it can remove up to 99.9% tap water contaminants and has three NSF certifications for Standards 42 (chlorine), 53 (lead) and 401 (emerging contaminants).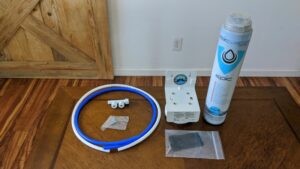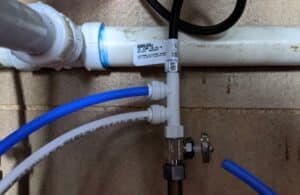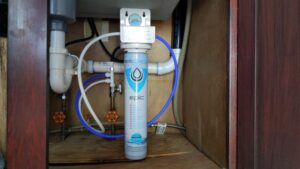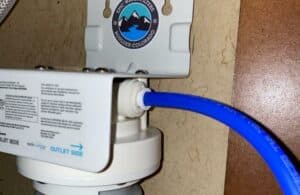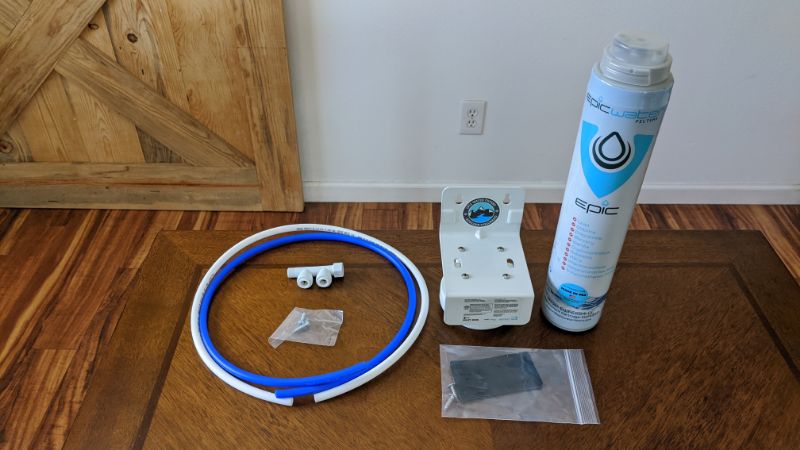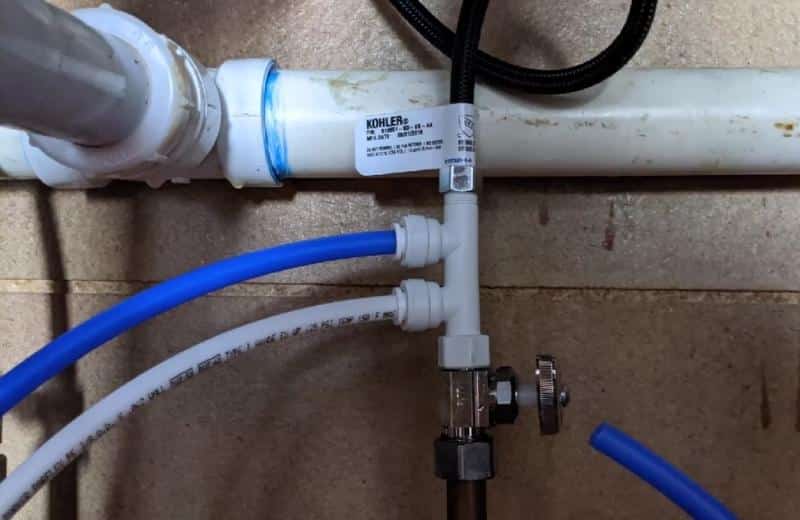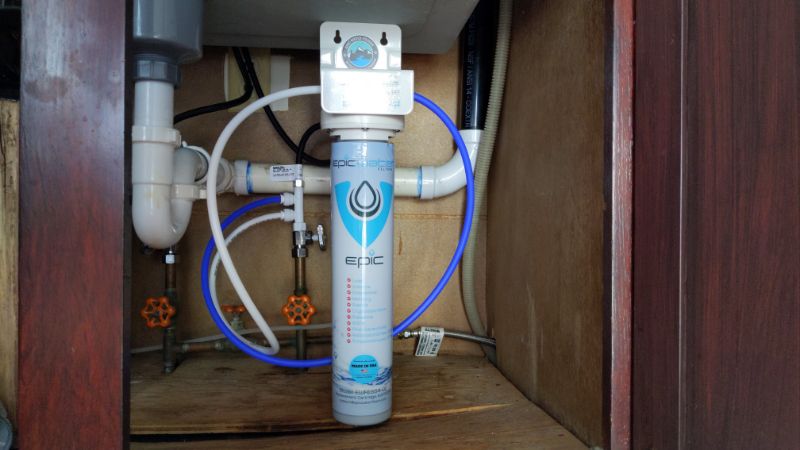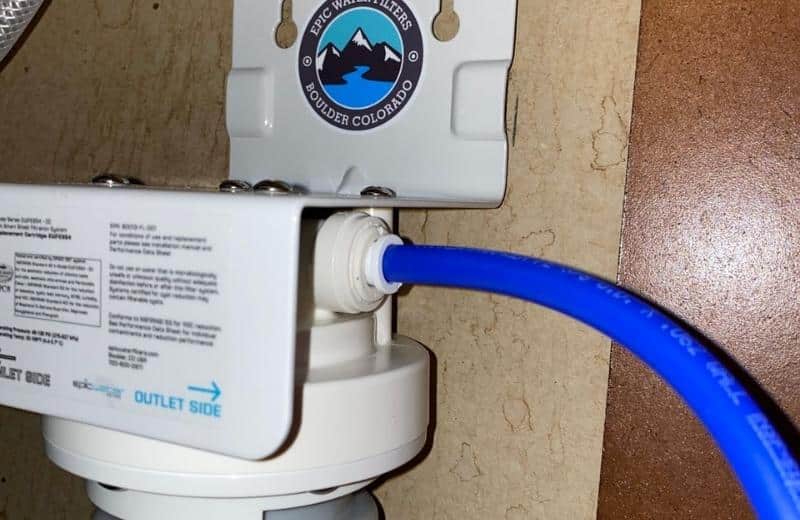 Using a solid carbon block filter with an average lifespan of 12+ months, the Epic Smart Shield targets more than 70 contaminants including lead, asbestos, benzene, mercury, chloramine, radiological elements, microplastics, VOCs, PFOA/PFOS, trace pharmaceuticals, and bacteria.
The Epic Smart Shield filter has been tested by IAPMO to operate for at least 651 gallons at its peak, with no drop-off in filtration. With light use, you should get 14-16 months out of the filter. Most families will need to change the filter every 12 months, and it may need to be replaced every 9-12 months with heavy use.
At 19 3/4″ tall x 4.5″ deep x 4 1/4″ wide, the Epic Smart Shield is suitable for installing in small under-sink spaces, and comes with heavy-duty velcro tape to prevent the need for drilling holes.
A bonus of the Epic Smart Shield is that its filters are all recyclable through the manufacturer's recycling program, so you don't need to worry about responsibly disposing of the filters yourself.
👍 What I Like
3 NSF certifications
Filter lasts for up to 16 months
Small & compact
👎 What I Don't Like
Not ideal for water with high sediment
Not as effective as reverse osmosis
Read the Full Review: Epic Smart Shield Under Sink Filtration System 2023 Review
---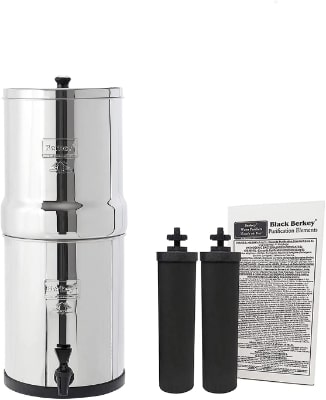 Travel Berkey
The Travel Berkey is a 1.5-gallon countertop water filter that's suitable for 1-2 people. The system contains two Black Berkey purification elements that each last an impressive 3,000 gallons (or 6,000 gallons when used together), allowing for minimal-work, long-term water filtration.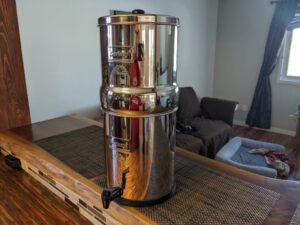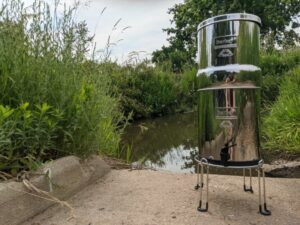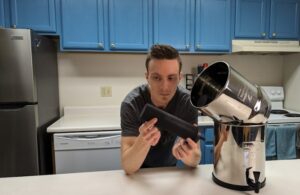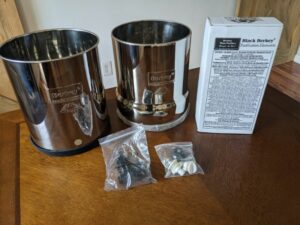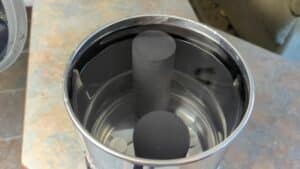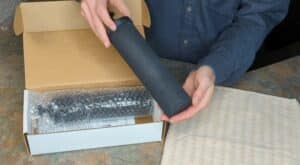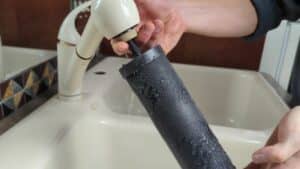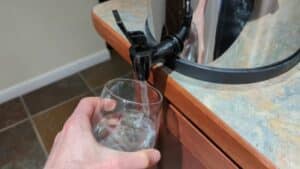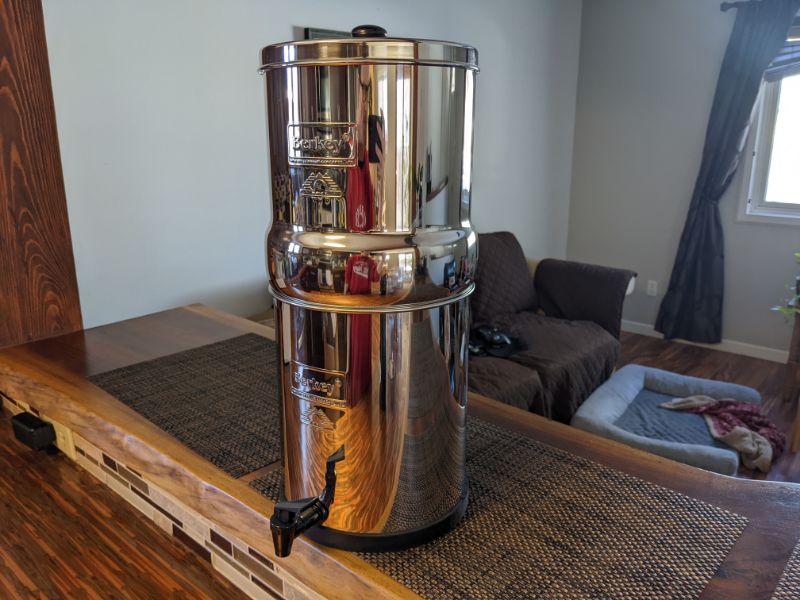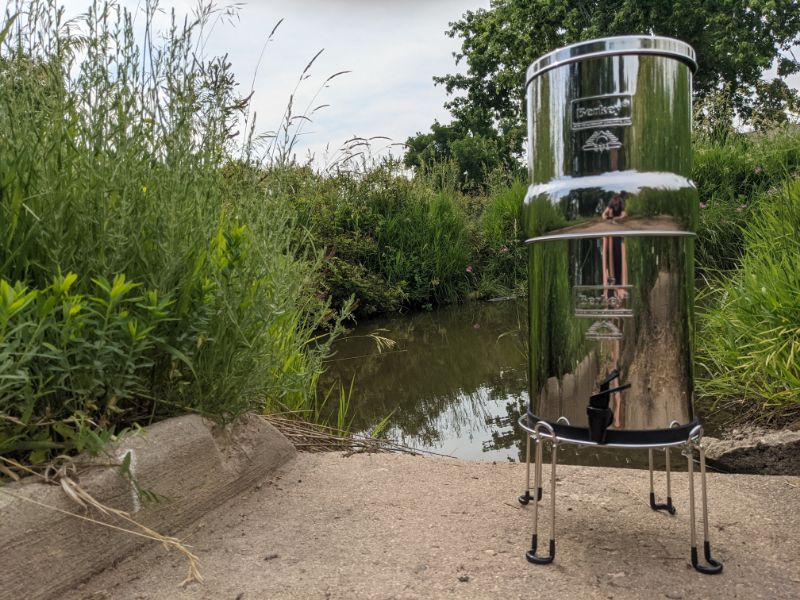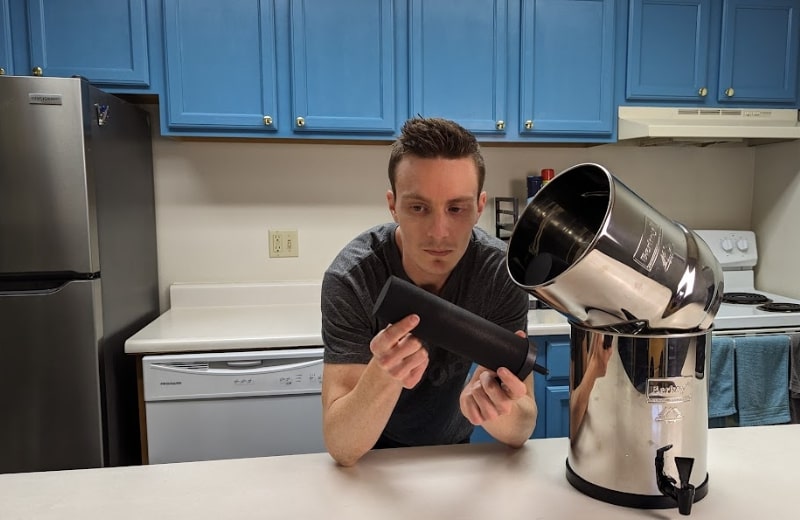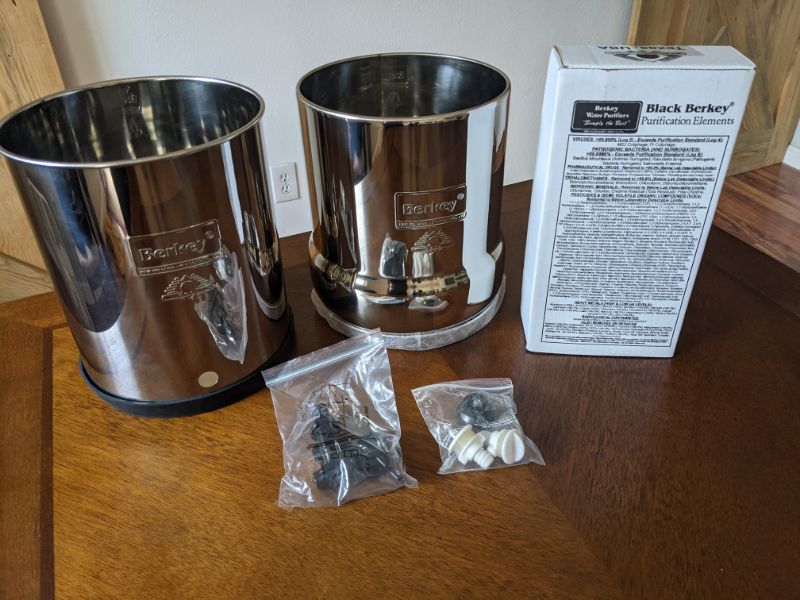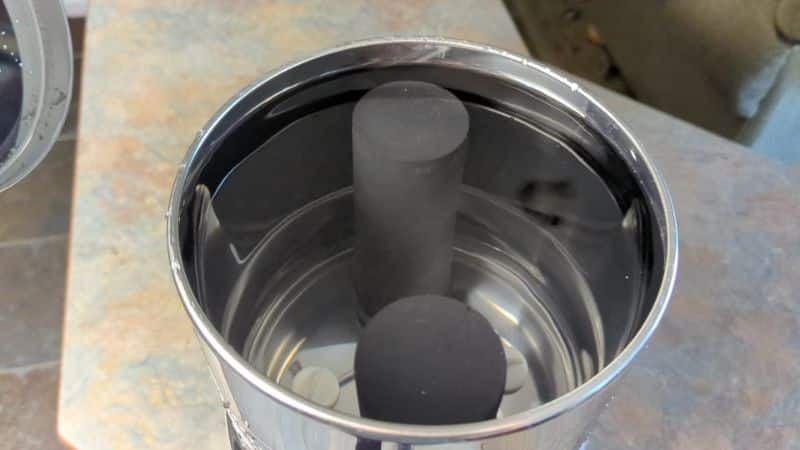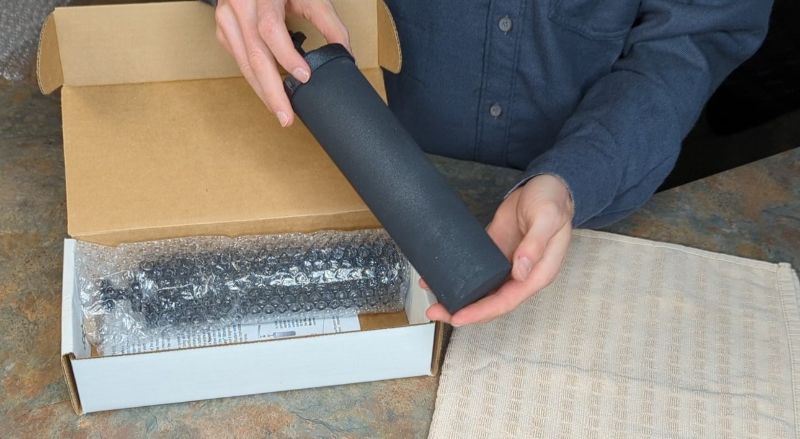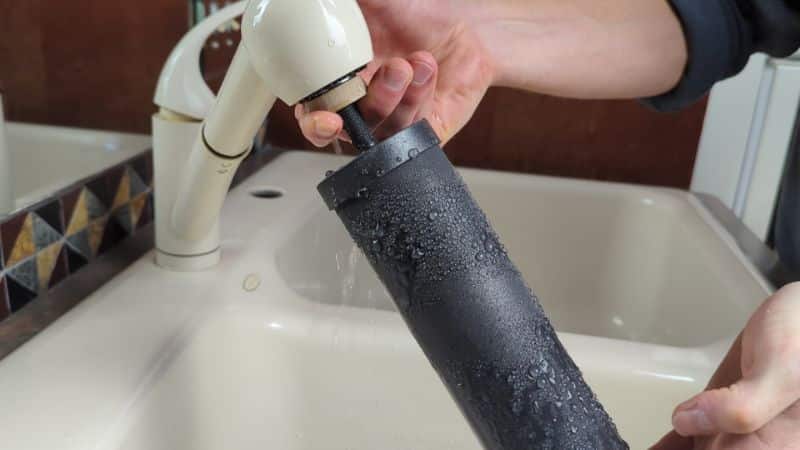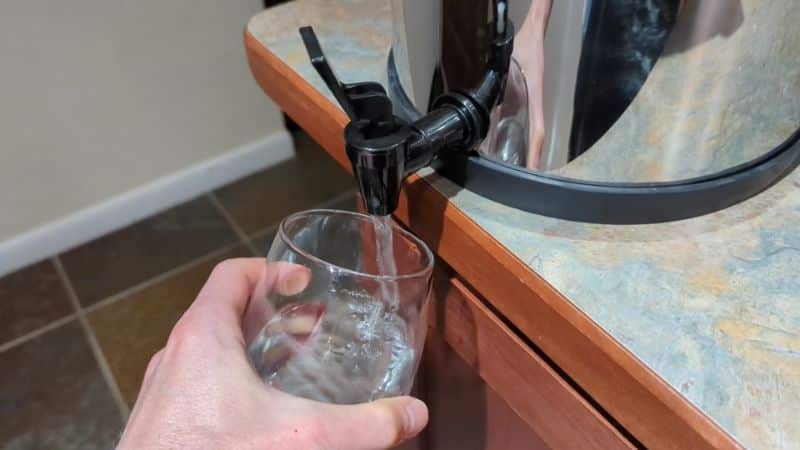 Made from durable stainless steel, the Travel Berkey is designed to be set up on a kitchen countertop and uses gravity filtration to produce batches of filtered water. This slightly slower filtration process treats up to 2.75 gallons of water per hour.
As Berkey's travel option, the Travel Berkey is smaller and more compact, making it suitable for storage and using on-the-go. The filters are powerful enough to purify even untreated raw water, so if you prefer to travel off the grid in your RV, the Berkey is a good choice to consider.
The Travel Berkey targets a broad range of contaminants in water, including chlorine and chloramines, heavy metals, bacteria, cysts and parasites, viruses, harmful chemicals, silt, sediment, and more. You can choose to add fluoride and arsenic filters to the Berkey for extra purification benefits.
You can purchase the Travel Berkey with confidence as it comes with a Berkey USA lifetime warranty.
Below is a table displaying our third-party laboratory testing data for Travel Berkey.
Contaminant
Test 1
Pre-Filtration
Test 1
Post-Filtration
% Reduction
Test 2
Pre-Filtration
Test 2
Post-Filtration
% Reduction
Aluminum
0 PPM
1.44 PPM
n/a
0.052 PPM
0.069P PM
32.69%
Barium
0.0317 PPM
0 PPM
100%
0.0127 PPM
0 PPM
100%
Bromodichloromethane
0.00404 PPM
0 PPM
100%
ND
ND
ND
Calcium
ND
ND
ND
8.8 PPM
34.6 PPM
+293.18%
Chloride
ND
ND
ND
6.9 PPM
8.7 PPM
+26.09%
Chloroform
0.023 PPM
0 PPM
100%
0.0352 PPM
0 PPM
100%
Cobalt
0.0031 PPM
0.003 PPM
3.23%
ND
ND
ND
Copper
0.255 PPM
0 PPM
100%
0.0434 PPM
0 PPM
100%
Fluoride
0.2 PPM
0.1 PPM
50%
0.1 PPM
0 PPM
100%
Iron
0.1PPM
0.03 PPM
70%
ND
ND
ND
Lead
0.0027 PPM
0 PPM
100%
0.0006 PPM
0 PPM
100%
Magnesium
ND
ND
ND
2.19 PPM
9.88 PPM
+351.14%
Manganese
0.0014 PPM
0 PPM
100%
0.001 PPM
0 PPM
100%
Potassium
ND
ND
ND
0 PPM
1.68 PPM
n/a
Sodium
ND
ND
ND
10.4 PPM
9.29 PPM
10.67%
Strontium
0.168 PPM
0 PPM
100%
0.062 PPM
0.138 PPM
+122.58%
Sulfate
16.6 PPM
1.6 PPM
90.36%
10 PPM
23 PPM
+130%
Total Coliforms
15 CFU/100mL
0 CFU/100mL
100%
ND
ND
ND
Total THMs
0.027039 PPM
0 PPM
100%
0.0352 PPM
0 PPM
100%
👍 What I Like
Can be used anywhere without electricity or water pressure
Durable & portable
Can treat raw water
👎 What I Don't Like
No certification to support Berkey's claims
Takes longer to filter water than other methods
Read the Full Review: Berkey Water Filter Review (Updated: 2023)
---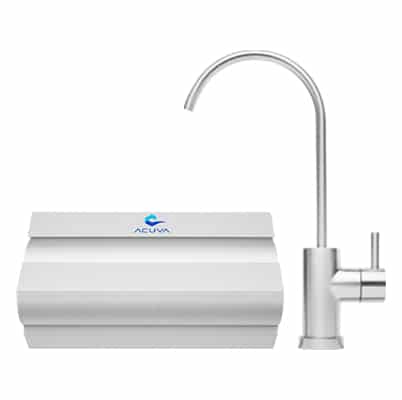 Acuva Arrow 5 UV-LED Water Purifier
The Acuva Arrow 5 offers high-performance UV water purification. The system can be hooked up to an RV drinking water faucet, icemaker, or washroom faucet. With a high flow rate of 1.3 gallons per minute, the Arrow offers a low-maintenance purification solution that won't slow down the speed of water leaving your faucet.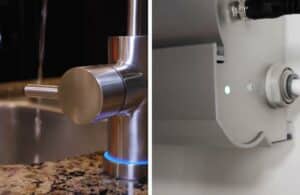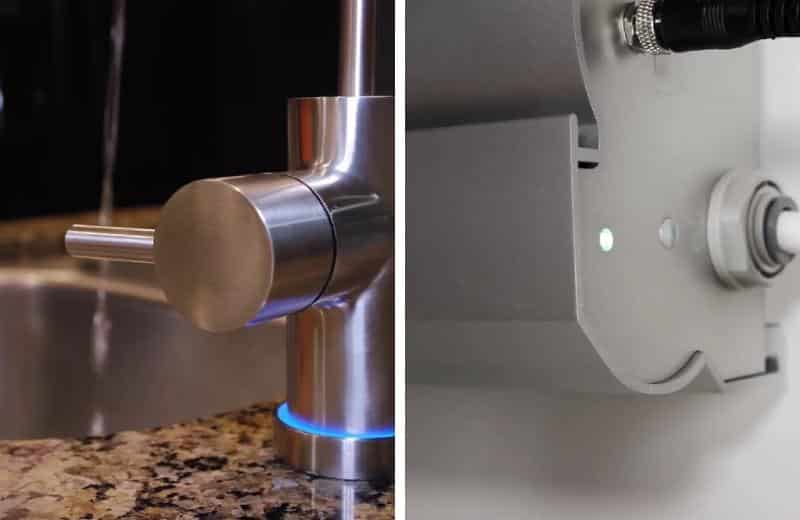 As a self-cleaning UV lamp, the Acuva Arrow sanitizes itself every 12 hours. The system stays on for 5 seconds after activation, ensuring that any water partially passing through the lamp is free from harmful microbiological impurities.
The Arrow isn't just a UV lamp, and its contaminant elimination capabilities are broader than the average LED purifier. Also included is an advanced prefilter, which removes chlorine, lead, mercury, chromium 6, VOCs, turbidity, bad tastes and odors, and more.
With a 3,000-hour lifespan, you can get around 4 months' use out of the UV lamp before it needs replacing. The system operates with a maximum water pressure od 40 degrees C and has a power consumption of 60 watts when active.
👍 What I Like
Filters and purifies water
Self-cleaning design
High flow rate
👎 What I Don't Like
Doesn't last as long as some UV lamps
More challenging to install
---
🧾 Buyer's Guide for RV Filters
Planning an RV trip, or deciding to sell your house and move into an RV permanently, can be both exciting and hectic in equal measures. There's so much to think about, and it's unlikely that the prospect of RV filters is at the top of your priorities.
However, we all know that the water at campgrounds can taste bad and contain contaminants that we'd rather not put into our bodies. Setting up camp off-the-grid is even worse, as you'll likely have to bring your own stash of water bottles to keep you going – unless you want to get sick from drinking straight from the local pond.
Having your own means of water filtration allows you to access clean, better-tasting water from your RV, protecting your health and your RV's plumbing in equal measures.
🧐 What is an RV Water Filter?
An RV water filter is exactly how it sounds: a water filter that can be used to filter water in your RV.
These filters may be specifically designed for treating the water you're likely to come across as an RV-er, such as questionable campsite water or even raw, untreated water in some cases. They may also be filters that are designed more broadly for travel, or filters that have specific features that make them more appealing for RV owners, such as compact size or portability.
There are two types of RV water filter available on today's market: exterior systems and interior systems.
Exterior Systems
Exterior RV water filters are typically attached to your water system somewhere outside your RV. Usually, this means that the filter will connect up to the hose that you hook up to a campground water supply. You'll hear this filter referred to as an inline filter.
Some exterior systems need to be connected to your vehicle's plumbing itself at the water's point of entry into your home. These require more of a "permanent" installation, unlike inline filters, which can be attached and detached from your water hose in a matter of minutes.
Because an exterior water filter is connected to your waterline before entering your RV, it filters all the water that is used in your vehicle, helping to protect its pipes and plumbing.
Interior Systems
Interior RV water filters are typically split into two categories: point-of-use filters and independent filters.
Point-of-use filters are connected up to your RV's water line. They're usually installed underneath your kitchen sink. These filters may be activated carbon or reverse osmosis, and can remove contaminants including heavy metals, chemicals and bacteria.
Independent filters are those that can be used independently from your RV, such as countertop water filters. You could set up a countertop water filter in whatever location suited you, such as your kitchen countertop or outside, after setting up camp. These filters can be disassembled and put in storage during travel or periods of no use.
Interior RV water filters are purely designed to improve the taste and cleanliness of RV drinking water. Because they're installed as a very last stage before your water leaves your faucet for drinking – or they're not connected to your water line at all – they won't protect your RV's pipes and plumbing from sediment damage.
📋 Types of RV Water Filters
Whether you choose an interior or exterior RV water filter system is one consideration. Another is what type of filter you should choose.
Sediment Filters
Sediment filters play an important role in treating an RV water supply. It's common for campsite water to contain large particles of sediment, such as dirt, sand and dust. A sediment filter can remove these large particles, protecting your vehicle's plumbing, and preventing your inline water filter from becoming clogged or damaged.
Sediment water filters are often an afterthought for RV owners as they're only capable of removing sediment. But if you buy one of the best RV water filters that's capable of removing the broadest range of contaminants, that's even more reason to protect the filter with a sediment filter.
A typical RV sediment filter has pores of around 20 microns in size. This makes them suitable for trapping visible debris, while any microscopic sediment will be removed by an inline water filter or another later filter stage.
Activated Carbon Filters
Activated carbon filters use the process of adsorption to grab onto drinking water contaminants in a moving water supply. These filters may be standalone filters, or they may be included as a filter stage within a larger system.
Typically made from charcoal, coconut shell, or another natural material, activated carbon is best at removing chlorine and chloramines from water. It also targets heavy metals and VOCs, and improves taste and odor.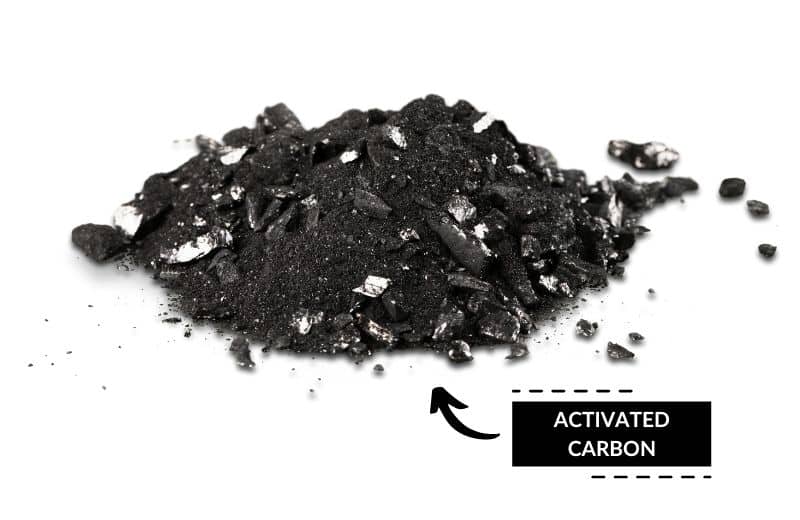 The performance of an activated carbon filter depends on the contact time between the water and the media. The longer the contact time, the more opportunity the media has to remove contaminants from water. This is why activated carbon filters are commonly found in gravity countertop filters.
UV Purification Systems
For treating RV water that contains harmful microbiological contaminants, a UV purification system is a good choice.
UV purifiers consist of a UV lamp inside a durable chamber. When water flows through the chamber, the UV rays damage the DNA of microorganisms like viruses, bacteria and protozoa, killing them and preventing them from replicating.
While UV purification doesn't filter harmful microorganisms out of water, it inactivates them, making water safe to drink. If you plan to get your RV water from a raw, untreated source, using a UV purifier will prevent you from getting sick.
Reverse Osmosis Systems
One of the most effective all-around water filters for RV use is reverse osmosis. RO filters are considered the best RV water filters for improving water taste and removing more than 99.9% TDS, producing almost completely pure water.
A reverse osmosis water filter system is installed underneath a kitchen sink. While some reverse osmosis systems are too bulky for RV use, there are many tankless, space-saving filters that are ideally sized for slotting underneath your RV's sink.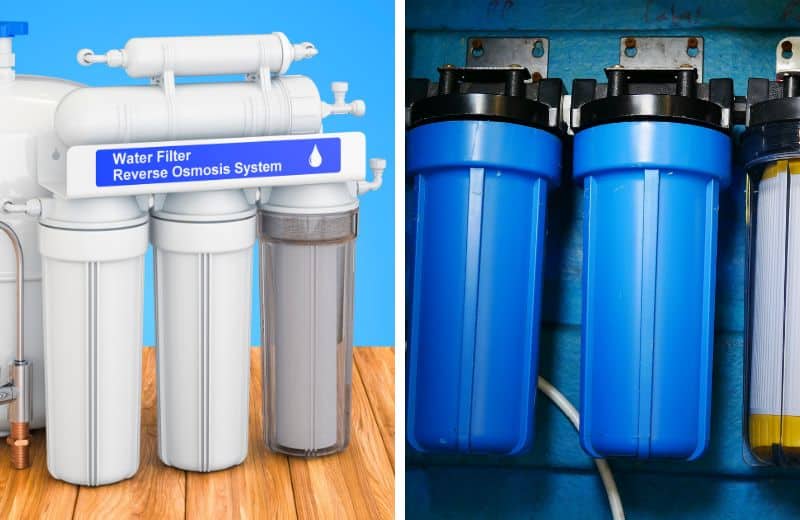 Reverse osmosis can remove almost anything, including chemicals, heavy metals, microorganisms, and pharmaceuticals. This makes it a good choice for RV owners who spend a lot of time off the grid and need access to safe, clean water.
☑️ Considerations When Purchasing a Water Filter For Your RV
What's In Your Source Water
Not all RV filters can remove the same impurities. It's important to consider where you'll be traveling in your RV, and what water sources you'll have access to.
If you're stopping at local campsites, research into the area's groundwater. Depending on where you're traveling, the local soils may contain higher quantities of natural elements that could affect the taste or quality of your water. Finding an RV water filter that can remove these problem contaminants will ensure that you have access to the cleanest, tastiest water on your travels.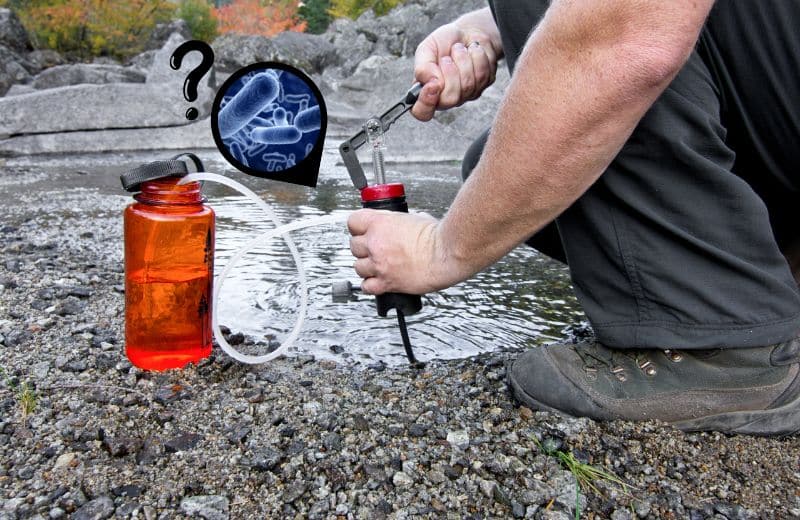 Most campsite water contains high sediment levels, so you should also consider buying a sediment filter to use alongside an inline water filter. This will protect your RV's plumbing and extend the lifespan of the filters you use to remove smaller particles from your water.
Finally, if you plan to travel off-grid, finding an RV water filtration system that can kill the likes of bacteria, viruses and protozoa from your water is essential. UV water purifiers and reverse osmosis filters are the best for this job.
Filter Type & Contaminant Removal Capability
Even the best RV water filters don't necessarily remove every single contaminant from your drinking water. It may not be necessary for your RV filter to do this, either – it just depends on your water source.
You might prefer a filter type because of the features it offers. For instance, you may choose a countertop filter on an in-line water filter that connects to your water hose because of the convenience of quick setup. Or you may prefer a reverse osmosis filter because it produces the purest water, even if you don't necessarily need your water to be so pure.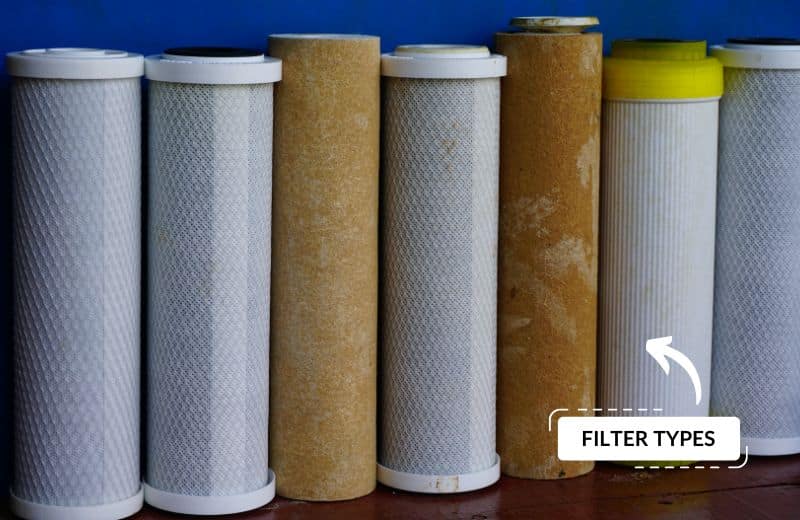 There is no overall best filter type, but there may be one that suits your personal requirements more than others. Read up on a filter's contaminant removal capabilities before you make a purchase. If a filter is NSF certified to eliminate specific pollutants, even better – it's a guarantee that the filter does the job it's advertised to do.
Filter Longevity
The type of RV water filter you buy will determine its longevity. Most RV water filters have a lifespan of at least 3 months, and many can last for up to 12 months or longer.
An RV inline water filter has a lifespan of around 3-6 months. Sediment pre-filters can last longer, especially if they're flushable. Countertop RO filters can also last for years at a time, depending on the brand you buy from.
Note that some RV water filtration systems combine multiple filters in one. Each of these filters may have their own lifespan, and it's worth being aware of how many filter changes you will need to make per year before purchasing.
At some point, you will need to change your RV water filtration system's filters. Once your filters become too clogged with debris, they'll be unable to effectively filter anything else out of your water – and your water flow will slow right down, too. It's important to change your filters as and when recommended by the manufacturer.
Learn more about how long RV water filters last.
Frequency of Use
Do you live in an RV, and are you planning to use an RV water filtration system every day? Or do you only plan to use an RV drinking water filter on the weekends, or in the summer? These factors will determine which RV filtration system you should buy.
Some RV filters can be stored easily when not in use. Countertop filters and inline hose filters, for example, can be disassembled when they're not needed. The brand you buy from should offer information about storing the filter, and whether it's safe to do so (some filter cartridges may need to be swapped out after so many months in storage, for example).
Other RV filters require a more invasive, permanent installation, such as under-sink filters. You may prefer to use these types of filters if you're using the water in your RV at least once a week. Not only will this ensure that your filter doesn't accumulate mold or bacteria, but it will also mean that you get the best value for the bigger investment.
Water Pressure & Flow Rate
If you appreciate being able to take a shower in more than a trickle of water, finding a water filtration system that won't affect your RV's water pressure and flow rate is essential.
The size of your RV, and the number of water-based appliances you own, will determine the pressure capabilities of your water filter.
Look at customer feedback as well as the manufacturer's claims, here – it's helpful to know whether RV owners like you noticed a difference in their water pressure with a certain type of filter. If you notice a trend amongst poor feedback, you know to avoid a certain product.
Of course, you could always opt for a water filtration system that's designed for countertop setup or under-sink installation, as these won't affect the flow of water throughout your RV.
Installation & Maintenance
Many RV filters have the convenience of an easy install. An RV inline water filter, for example, is designed to be slotted onto the end of your water hose, and can be removed quickly and at any time.
Countertop RV filters are also quick and easy to set up, requiring no proper installation. You'll simply need to click the filters in place, attach the top and the bottom chambers, and add water to the top chamber. A countertop filtration system is perhaps the most convenient available if you don't want the hassle of installing something.
Under-sink RO filters, on the other hand, require a much more in-depth installation process. You'll need to install the system at your drinking water line, and this is naturally more complex than simply screwing a filter onto a hose or setting it up on your countertop.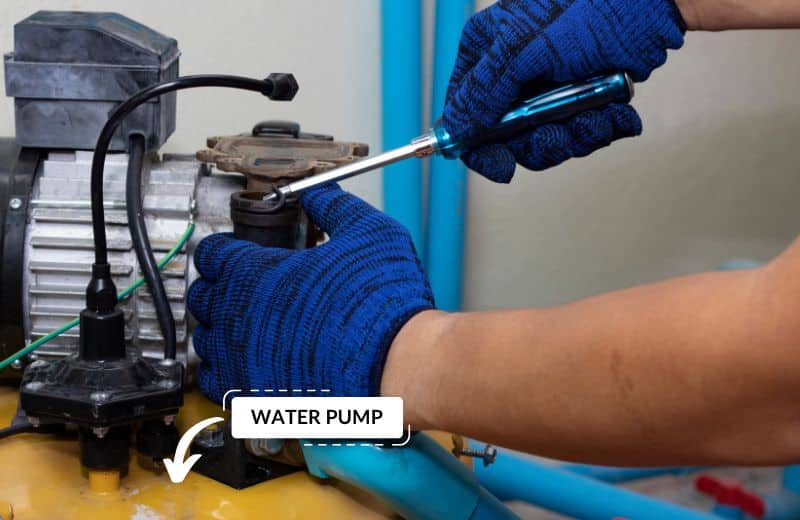 However, once you've installed an under-sink filtration system, that's it – you won't need pack it away and set it up every time you relocate.
In terms of maintenance, filter changes are the biggest task to account for. No matter what type of RV filtration system you opt for, almost all will require filter changes. The only exception is UV purification. Instead of changing a filter, you'll change the UV lamp (usually on a once-yearly basis).
You may need to change your system's filter once, twice, three times a year, or even more, depending on the type of filter you own.
Aside from filter changes, some RV filter systems need to be cleaned or flushed. Many sediment filters require periodic flushing to get rid of the built-up debris. If you own a countertop filter, you should clean out the holding chambers to prevent a buildup of dirt.
Temperature
If you plan to travel to areas with extreme climates, keep in mind how very hot or cold temperatures could affect your water filter of choice.
Many exterior filters are only intended for use at certain temperatures. While this range can be quite broad, it's worth checking before purchasing a filter to use outdoors if you're planning to use it on a snowy mountain or in a hot desert.
A typical filter may be damaged when exposed to temperatures above 100 degrees Fahrenheit and below 30 degrees Fahrenheit. This goes for water temperature, too – in fact, most filters can only be used with cold water.
Cost Over Time
Even the best RV filters come at a small cost to own. How much money you spend over time depends on how much maintenance is required.
It may seem like the best-value-for-money filters are those that require the least filter changes. However, these filters typically have a higher upfront cost, and a higher cost for replacement filters. You might end up paying just as much to change your filter once a year as you would to change a cheaper filter four times a year.
Some systems consist of multiple filters, which may all need replacing at least once a year. This will increase your cost over time, though not by much.
Other costs to factor in are costs for replacing broken parts or preparing your filter. For some types of filter, such as an RV inline water filter, it may make more sense to just buy a new filter entirely. But for larger, more expensive or more complex systems, such as countertop water filters and under-sink filters, it may be more financially beneficial to replace or repair the faulty part.
No matter what type of drinking water filter you choose for your RV, your average annual cost shouldn't exceed $100-$150.
Warranty
While we'd all like to hope that a brand wouldn't deliberately sell us a faulty product, things do go wrong sometimes – and that's why buying a system with a warranty is essential.
If you find an RV filter that's offered at a fantastic price, but doesn't have a warranty, steer clear. What would you do if the filter arrived damaged or broken? The company would have no obligation to offer you a refund or a replacement, and you'd end up wasting your money.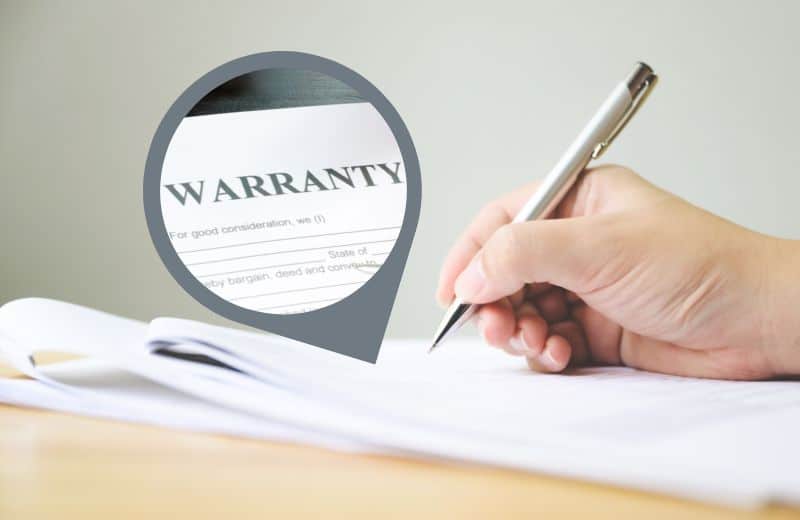 Warranties can vary for RV filters, depending on the expected filter lifespan. It's not necessarily a bad thing if a granular activated carbon filter you've got your eye on only has a 12-month warranty, as that's how long those filters last.
But if you're purchasing a filtration system consisting of multiple filters, you'd expect a longer warranty, as you wouldn't be replacing the entire unit every time you changed a filter. Most systems have a "limited lifetime warranty", which means that the manufacturers will replace broken components for free during the system's lifespan.
📌 Advantages of Using RV Water Filters
Clean, Safe Water
An RV filter can greatly improve your RV's water quality. Not only does a better water quality have an improved taste, but it'll also be better for your health and safe to drink.
RV water sources can be hit-and-miss, and it's reassuring to know that you have a way to filter the water you plan to use for cooking and drinking. Many RV filters can reduce common city water impurities, like volatile organic compounds, chlorine taste and odor, metals, and chemicals. Some filters are even designed for treating fresh water, removing microorganisms like bacteria and protozoa.
Protects the RV's Plumbing
Another advantage of improved water quality is that your RV's plumbing will be protected. Without a water filter, your RV's plumbing could be affected by corrosion, abrasion, rusting, and hard water damage.
A 20-micron filter can trap large sediment particles before the water makes it into your RV, preventing these particles from damaging your pipes and appliances. Using a sediment filter in conjunction with a filter with a lower micron rating, such as a 5-micron filter, will ensure that your pipes are best protected against particles of all sizes.
Better for the Environment
If part of your preparation for an RV trip involves stocking up on gallons of bottled water, there's a better solution. Using a water filter to produce clean water will help you to cut down on your single-use plastics use. A water filter will last far longer than even a big, family-sized bottle of water, and you won't have to pay every time you get thirsty.
Some water filter manufacturers now offer filter recycling schemes that allow you to return your filter to be recycled after use. This means that you can eliminate your plastic waste entirely when using a water filter in your RV.
Many Options Available
You're not limited to a single choice when buying a water filter for your RV. There are numerous types of filter available for both interior and exterior use. From single coconut shell carbon block filters to complete under-sink systems, there's an RV filter for every budget and requirement.
❔ Frequently Asked Questions
Will an RV filter affect flow rate?
No, it shouldn't do. The best RV filters are designed to operate at a high water pressure, so your water's flow rate shouldn't slow down when the filter is in use. Contact the manufacturer if you have any reason to be doubtful.
Can I use an RV filter in my home?
You might want to make use of your RV water filter during your trips away and everyday life at home. You can use most RV filters in your home, though it depends on the permanence of installation.
For example, an RV inline water filter that connects onto a garden hose can be used anywhere. It's quick and easy to attach the filter to your hose, and you can use it for a number of purposes aside from drinking.
Countertop RV filters are another good choice if you're looking for flexibility. They can be used to filter city water as well as camp site water, and some can even filter fresh water from rivers or lakes. You can simply carry this type of filter from your home to your RV when you take trips away.
The only filters you'll struggle to use in multiple locations are those that require installing at your water line, like under-sink filters. You usually need to cut into your supply line to connect this type of filter, so it wouldn't be viable to use it in your home and your RV.
Will an RV filtration system soften my water?
It depends on the system you choose. For instance, reverse osmosis filters are capable of removing hardness minerals from water. However, your average 5-micron filter won't have those capabilities.
Hard water can be just as damaging to your water system as metals and sediment particles. Whether you're using a remote or city water source, there's a good chance that it contains hardness minerals. I'd recommend considering using a dedicated portable water softener alongside a water filter for the best all-around protection. I've written a full guide on the best water softeners for RVs if this is something you're looking to learn more about.
How can I increase the filter lifespan of my RV filter?
Most RV filters have a lifespan that can't be extended through your own actions. They're only designed to last for so many gallons of water before you'll need to buy a filter replacement. However, some filters, like sediment filters, may have a flushing feature that lets you get rid of any clogs and blockages, increasing filter lifespan by extending its usability.
What impurities can an RV filter remove?
This depends on the type of filter you buy. Most are capable of removing common campsite and city water pollutants, like chlorine, metals, and volatile organic compounds. If you want to filter a specific contaminant, you may be best opting for a filter that eliminate virtually everything, such as a reverse osmosis system.