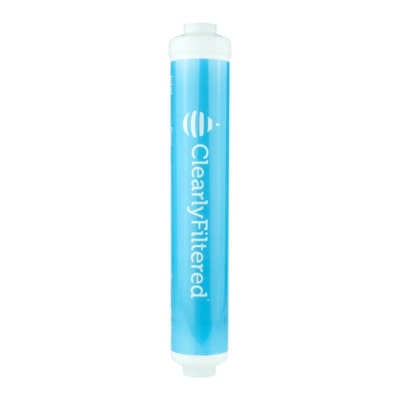 Clearly Filtered Universal Inline Fridge Filter
Waterdrop 15UC
Frizzlife MS99
If you're looking for the best inline filter, you may be overwhelmed with the choices. There are more than 50 inline filters on the market, and around half of these are offered by legitimate brands in the US.
In this guide, we've narrowed down your options to a list of the most capable, best-value inline water filters that are worth your attention, based on their contaminant removal abilities, filtration capacity, customer feedback, and overall value for money.
🥇 Best Inline Water Filter
📊 Comparison Chart of Inline Water Filters
| Product | Clearly Filtered Universal Inline Fridge Filter | Waterdrop 15UC | Frizzlife MS99 | Brita Total 360 | Camco TastePure | Watts Inline Water Filter |
| --- | --- | --- | --- | --- | --- | --- |
| Ranking | 1st | 2nd | 3rd | 4th | 5th | 6th |
| Ratings | 5/5 | 4.5/5 | 4.5/5 | 4/5 | 4/5 | 4/5 |
| Price | $165+ | $59.99+ | $69.99+ | $99+ | $34.99+ | $29.95+ |
| Contaminants Removed | 232+ | 5+ | 10+ | 5 | 15 | 5+ |
| Certifications or Testing | NSF 42, 53, 401 | NSF 42, 371 | NSF 42, 53 | NSF 42, 53 | NSF 42, 53, 372 | NSF 42 |
| Filter Life | 12 months | 24 months  | 3-6 months | 6 months | 3 months | 20,000 gallons |
| Flow Rate | 0.75 GPM | 2 GPM | 1.4 GPM | n/a | 3.5 GPM | 0.75 GPM |
| Compatible With | 1/4 inch lines | 1/4 inch lines | 3/8-inch lines | 1/4 inch lines | 1/2 inch lines | 1/4 inch lines |
---
⭐ Best Inline Water Filter Reviews (2023)

Clearly Filtered Universal Inline Filter
In our opinion, the Clearly Filtered Universal Inline Filter is the best inline water filter that you can buy today.
There's one simple reason why we recommend this filter over any similar filter on the market: it can remove more contaminants than any of its competitors, offering the best protection against harmful impurities and making the biggest improvement to water quality. The filter connects to any ¼-inch waterline, so it's compatible with any appliance that uses this hose size, including a fridge, ice maker, or kitchen sink.
Key Features:
Removes 232 contaminants – Unlike many other inline filters that only address a handful of common contaminants, the Clearly Filtered Universal Inline Filter can reduce 230 different contaminants, including lead, PFAS, fluoride, chlorine and chloramine, glyphosate, and more.
3-stage filtration – This Clearly Filtered filter reduces contaminants and improves water aesthetics with three filter stages:

The first stage is activated carbon, reducing organic pollutants like chlorine, chloramine, and chemicals such as herbicides and pesticides.
The second stage reduces heavy metals, pharmaceuticals, microplastics, and other inorganic contaminants.
The third stage targets fluoride and arsenic specifically.

Long-lasting filter & good guarantee – The has a lifespan of 365 gallons (around 12 months) and a lifetime guarantee, so if you experience any problems, the company will replace it free of charge.
Best For:
Folks looking to invest in the very best inline water filter that can remove more contaminants than any other filter available today.
Pros:
The key benefit of the Clearly Filtered Universal Inline Filter is tits contaminant removal abilities. It removes all the most common contaminants and those that are known to be difficult to address, including fluoride and arsenic.
If third-party testing/certifications are a must for you, you'll be pleased to know that this filter is EPA–certified lab to meet NSF Standards 42, 53 & 401 for reduction of contaminants and water quality improvement.
A simple 5-minute installation is all that's needed for this inline filter – just connect the inlet and outlet water lines and you're good to go.
The 12-month filter life is great. The typical lifespan for most inline filters is just 6 months.
Cons:
The filter is over twice the price of similar filters, costing over $150. You pay more for the filter's comprehensive contaminant removal.
---
Waterdrop 15UC
A close runner-up to our top pick Clearly Filtered model is the Waterdrop 15UC.
This high-capacity filter is around $100 cheaper than Clearly Filtered's offering, and has the advantage of being WQA tested and certified. It also has a super long lifespan of 2 years and a very fast flow rate of 2 GPM. However, it's not quite as capable when it comes to contaminant removal – it can only reduce chlorine, sediment, heavy metals, and several other harmful contaminants.
Key Features:
Removes chlorine, lead, and more – If you want to improve your water taste and quality with a reliable in-line filter, you can't go wrong with the Waterdrop 15UC. It uses an activated carbon block filter alongside a polyester membrane and KDF media to remove chlorine, sediment, and heavy metals.
WAQ-certified performance – This Waterdrop filter is one of the few in-line filters on this list to have an official WQA certification for the performance. The filter has been WQA certified to NSF Standard 42, for chlorine reduction, and Standard 372, for lead-free materials.
Long-lasting filter – Each filter lasts for around 2 years (depending on your water usage and quality). That's the longest filter lifespan of any inline filer we've reviewed.
Best For:
Anyone looking for a certified, long-lasting in-line filter that reduces all the common drinking water contaminants and requires minimal maintenance.
Pros:
The Waterdrop 15UC might not be as comprehensive as our top pick Clearly Filtered model, but it's still much more than a basic carbon filter. It combines three thorough stages of filtration to target different groups of contaminants, significantly improving water taste and quality.
We think a big selling point of this in-line filter is that certified by the WQA for performance and material quality, so you have third-party reassurance that it lives up to the manufacturer's performance claims.
Price is another advantage of the 15UC. It's not the cheapest on this list, but it lasts up to 2 years, making it one of the best value in-line filters you can buy.
Cons:
There's no contaminant removal data sheet for us to refer to, and Waterdrop doesn't disclose exactly what contaminants this filter can remove.
---
Frizzlife MS99
If your top priority is finding an inline water filter that's super simple to install and maintain, we think the Frizzlife MS99 can't be beaten.
This inline water filter can be installed upstream of a refrigerator, ice maker, or kitchen faucet, and is certified by IAPMO for its performance. It takes just minutes to DIY install at your under-sink or refrigerator angle valve.
Key Features:
Removes common drinking water contaminants – The Frizzlife MS99 uses a 0.5-micron carbon filter to reduce chlorine, heavy metals, chromium-6, VOCs, rust, turbidity, and more, producing filtered water that looks cleaner and tastes better.
IAPMO certified to NSF Standards – IAPMO has tested and certified this inline water filter to NSF Standards 42 and 53, for the reduction of 99.99% chlorine and lead.
Versatile use cases – The MS99 can be used to treat water upstream of a fridge, sink, or ice maker, and is compatible with most standard 3/8-inch US water supply lines, so it's suitable for use in most homes.
Best For:
Anyone who's DIY-adverse and wants an inline filter that's super simple to install, without having to cut into a cold water line, and offers a reliable, certified performance.
Pros:
A standout feature of the Frizzlife MS99 for us was its easy install process. Installation instructions are clear, with helpful diagrams for visual learners, and even a DIY-aphobe should be able to confidently install the filter within less than 5 minutes.
The filter head is uniquely designed to fit both types of the PEX tubing supplied with the unit, as well as flexible copper tubing – so you have different options depending on your situation
Changing the filters is quick and easy, too, thanks to the auto-shutoff feature, which means you can replace a filter without having to shut off your water supply beforehand.
Installation and maintenance aside, the MS99 is another solid choice if you're looking for third-party certified contaminant removal. The system's IAPMO certifications to NSF Standards should give you the reassurance you need to trust Frizzlife's performance claims.
Cons:
The 3-6 month filter life is slightly lower than other filter lifespans on this list.
Again, Frizzlife hasn't shared detailed information on exactly what contaminants its inline filter media can remove.
---
Brita Total 360
Our favorite inline filtered water system for small budgets is the Brita Total 360 Water Filtration System.
This filter costs just under $100 – pretty great value given that it's sold by Brita, one of the most popular and reputable water filter manufacturers, and it has a decent 6-month lifespan. Replacement filters are affordable, too, costing less than $180 per year.
Key Features:
Removes chlorine, lead, & more – The Brita Total 360 uses highly adsorbent carbon block filter media to reduce chlorine, poor tastes and odors, as well as lead, mercury, sediment, and benzene.
NSF certified filtration process – It might not remove as many contaminants as its competitors, but the Total 360 is one of the only inline filters we reviewed to have an official NSF certification for Standards 42 and 53 for Brita's contaminant reduction claims.
6-month filter life – This Brita filter lasts around 2,000 gallons, which equates to 6 months. That's about bang-on average for an inline filter.
Best For:
Folks who want to remove a handful of contaminants with a basic, affordable inline water filter from a trusted brand.
Pros:
Brita always promises great value, and the Total 360 Inline Filter is no exception. You pay less than $100 for a filter that lasts 6 months.
Brita is a well-known brand that has been a leader in the water treatment industry since day 1. If you want the reassurance of a reputable, reliable manufacturer, go for the Brita Total 360.
If you just have mild water quality concerns or you simply want to improve the taste of your faucet or refrigerator water, this filter's simple contaminant removal abilities will tick your boxes.
Installing this inline filter is easy thanks to the color-coded tubing, and the instructions in the guide are well-written and easy to understand (a rarity!). All the parts are included in the package for a quick install.
Cons:
Like most Brita filters, the biggest setback of the Total 360 Inline Filter is that it can only reduce a handful of contaminants. Don't expect this filter to remove fluoride, arsenic, volatile organic compounds, PFAS, or any other contaminants that are more challenging to filter out.
---
Camco TastePure
If you're specifically looking for an inline water filter for your RV, we think the Camco TastePure Inline Water Filter can't be beaten.
This compact, multi-stage filter can be used for RVs, campers, and boats, and comes with a flexible hose protector with a gripper, making it easy to connect to your RV hose and reducing strain on hose connections. It combines granular activated carbon with KDF filter media to remove chlorine, sediment, and more.
Key Features:
Removes chlorine, heavy metals, & more – The Camco TastePure Inline Water Filter combines a granular activated carbon filter and KDF media to reduce 15 contaminants, including iron, lead, mercury, aluminum, bacteria, chlorine, and hydrogen sulfide.
NSF certified filtration process – This RV inline filter is NSF 42/53 listed and is certified to Standard 372 for lead-free design.
Includes flexible hose protector – You want to be able to use an inline filter without damaging your water hose, and the Camco TastePure filter makes this easier with a flexible hose protector that eliminates crimping and reduces strain on the connections.
Best For:
Folks who need an affordable, easy-connect inline water filter for an RV, boat, or camper, which will improve water taste and protect against bacteria growth.
Pros:
The Camco TastePure Inline Water Filter removes all the common contaminants you're likely to come across in an RV water supply, including chlorine, heavy metals, and hydrogen sulfide. This is largely down to the fact that it contains KDF filter media, which also has the advantage of protecting against bacteria growth.
Cost is another benefit of this inline filter. It's less than $20, which is impressive given its thorough contaminant removal.
It's good to see that the Camco TastePure filter has been certified for its performance, and also has an NSF 372 certification for lead-free design, so you know it won't add anything nasty to your filtered water.
The 3.5 GPM flow rate shouldn't reduce your RO water pressure, ensuring you get all the water you need for indoor use.
Cons:
The filter's service life of 3 months is a bit lower than average. You'll need to replace it at least 4 times a year.
Some customers had issues with black carbon flecks in their water. You'll need to flush the filter thoroughly before use o remove the dislodged carbon particles.
---
Watts Inline Water Filter
We think the Watts Inline Water Filter is the best inline filter system when it comes to filter life.
This filter has a massive 20,000-gallon lifespan and can be installed upstream of refrigerators, ice makers, or under your kitchen sink for quick, convenient access to clean water. The filter uses a KDF media to remove a variety of contaminants from water, including chlorine (which it's WQA certified to remove) and some heavy metals.
Key Features:
Reduces chlorine, sediment, & taste – The Watts Inline Water Filter isn't as capable as the other filters on this list when it comes to contaminant removal. With that said, it can still improve the overall clarity of drinking water and remove poor tastes and odors, chlorine, and some heavy metals.
WQA certified to NSF Standards – This long-lasting water filter is backed by a WQA certification to NSF Standard 42 for the removal of chlorine, taste and odor. It also has a WQA certification to NSF 372, for lead-free design.
Versatile use – You can use the Watts in-line water filter in any home, business, or RV, connecting the system to a 1/4-inch cold water line.
Best For:
People who want a great-value in-line water filter that they only need to replace twice a year for an annual cost of less than $150.
Pros:
The Watts in-line filter lasts 6 months, meaning you only need to replace it twice a year. Since the filter is pretty affordable at around $70, you can keep your annual spend on filter changes low.
If your main quality issue is chlorine, you'll enjoy crystal-clear, fresh, great-tasting water after installing this filter. Its primary function is chlorine removal, and it has been WQA certified to NSF Standards for its ability to do so.
The filter is quick and easy to connect to your plumbing, and it comes with two 1/4-inch brass connectors for the job. No need to hire an expert or even ask a friend – even if you hate DIY, you'll be fine to install the filter yourself.
Cons:
Watts originally said that its filter could last 5 years, but has since reduced this claim to 6 months, which is less impressive.
The filter only reduces a basic set of contaminants.
---
🧾 Inline Water Filter Buyer's Guide
Read this inline water filter buyer's guide to learn everything you should know about this filter type.
🌢 What is an Inline Water Filter?
Inline water filters are point of use (POU) filters that you can connect up to your kitchen cold water line to provide filtered water to your sink, refrigerator, coffee machine, or ice maker. These filters can also be used to supply water to an RV or campervan.
The purpose of an in-line water filter is to improve the taste and quality of your tap water, fridge water, ice cubes, or coffee.
How Do They Work?
Inline water filters use the water pressure in your plumbing to push water through a series of filter media, which trap contaminants like chlorine, heavy metals, and sediment.
When you use the faucet or appliance that the filter is installed upstream of, water will flow through the filter before being delivered to you in its filtered state.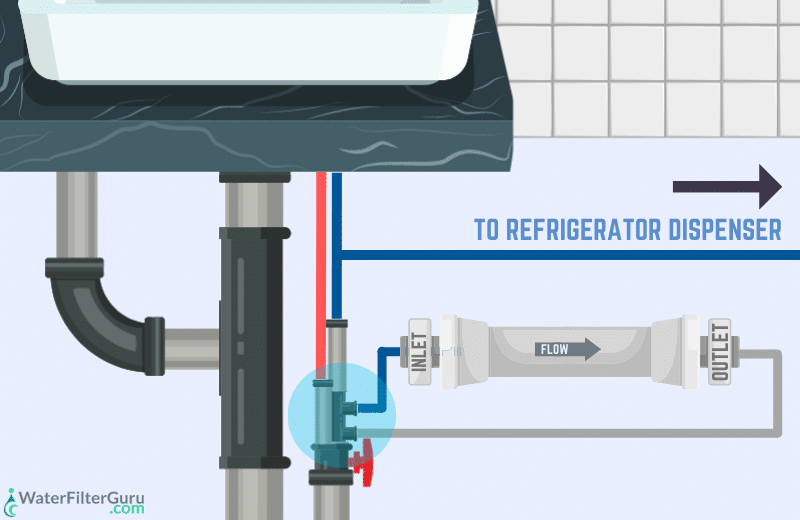 🤔 Do I Need an Inline Filter?
Nobody who's on a treated municipal water supply needs an inline filter, but you might want to invest in one of these filters if:
You don't like your water taste or quality
You're concerned about trace contaminants that your water utility hasn't removed
You're looking for a simple, affordable, convenient method of water filtration.
In-line water filters are ideal for people who, for whatever reason, don't want to drink their water as it is. These filters remove numerous common drinking water contaminants (contaminant removal varies from system to system, but most can remove chlorine odor and taste, and many are NSF certified to do so).
These filters are also a great choice for people who don't have built-in fridge filters but still want to benefit from better-tasting refrigerator-cold tap water and ice.
📝 Types of Inline Filters
Some of the most common types of filter media used in in-line filters are:
Activated Carbon
The majority of inline water filters are carbon-based. These use the process of adsorption to trap impurities and prevent them from contaminating your water and ice.
Adsorption works by binding the molecules in water to a solid surface, preventing them from passing through with the smaller water molecules.
There are several types of activated carbon filters, but granular activated carbon (GAC) media is most commonly used in-line water filters because it helps to maintain a high water flow rate.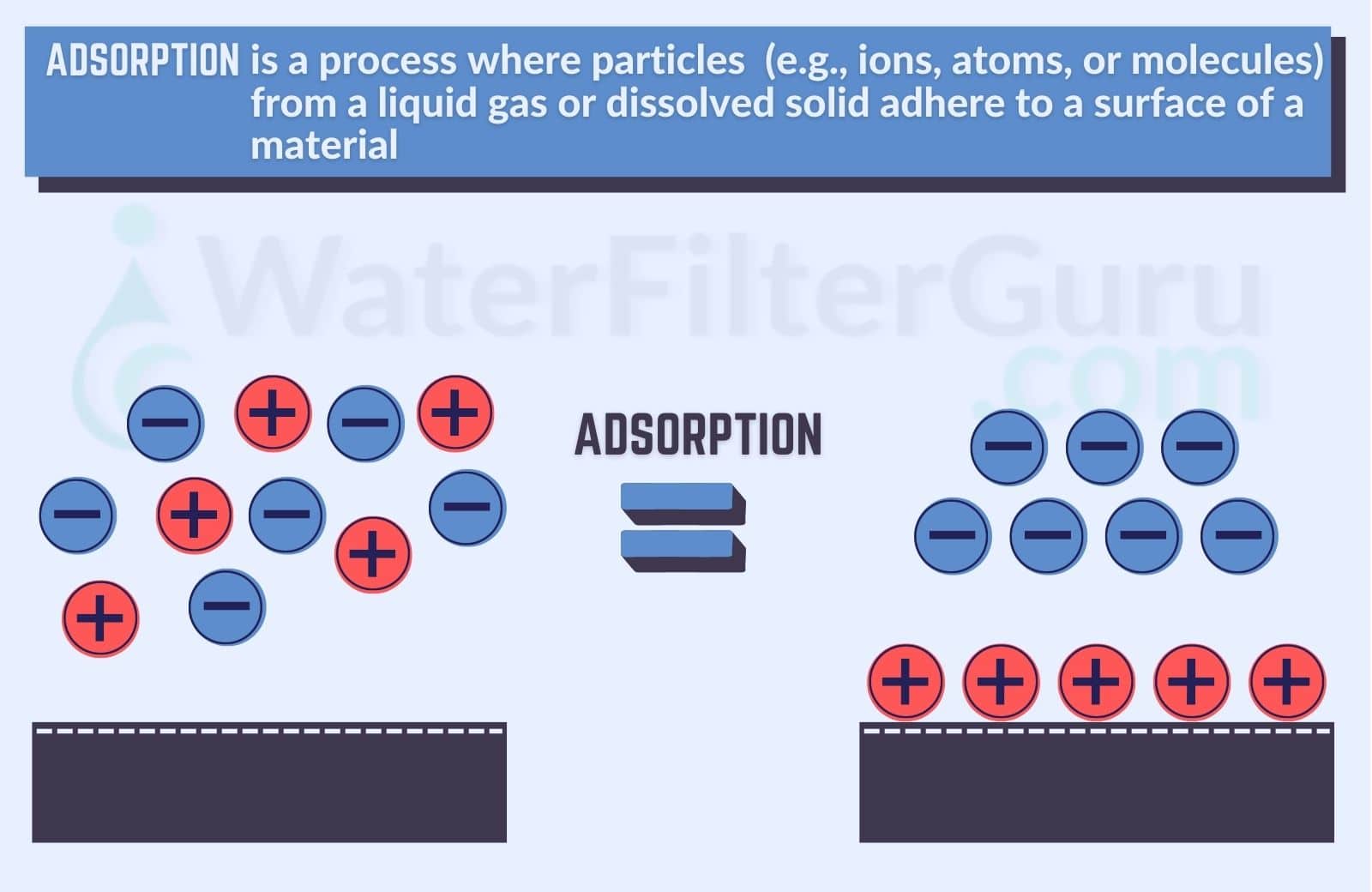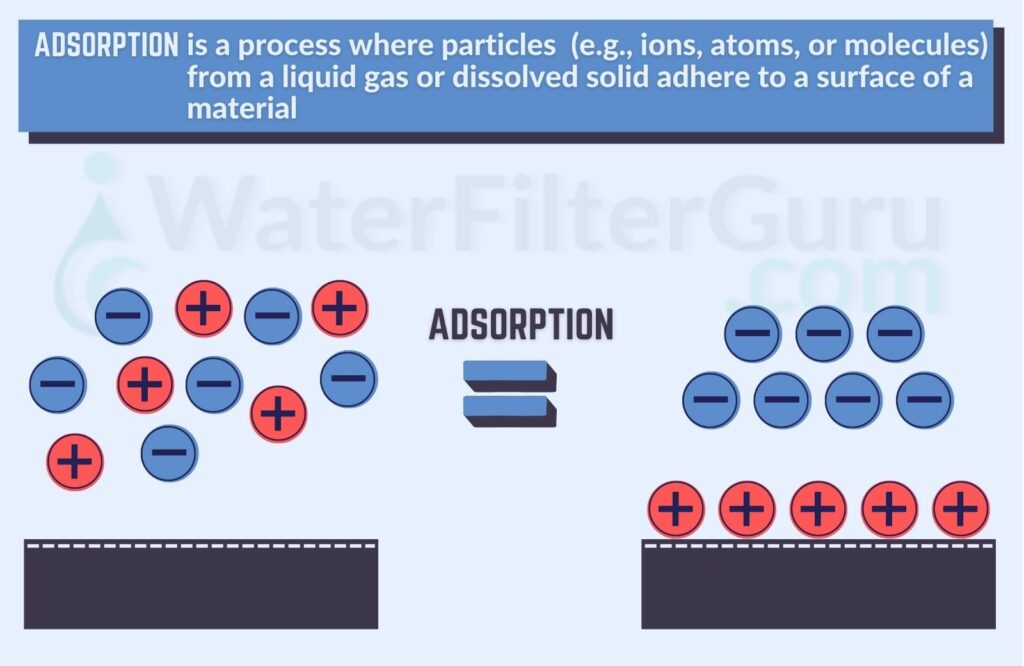 Charcoal
Charcoal filters are another type of activated carbon media. They use the same adsorption process to purify water.
During adsorption, the activated charcoal binds the contaminants to the media, preventing them from passing through the system with the water.
KDF
KDF media is often used alongside carbon to enhance its contaminant removal abilities.
Depending on the type of KDF media used, it may enable the filter to better remove chlorine, prevent bacteria growth, and remove heavy metals that an activated carbon filter couldn't address alone.
KSD filters use a process known as redox, which converts impurities into harmless substances and traps contaminants in the filter media.
Ion Exchange Resin
Some in-line water filters combine carbon media with ion exchange resin.
This filtering media is also used to enhance the performance of activated carbon, and can usually remove select heavy metals like copper, zinc, and other charged ions.
🆚 Advantages & Disadvantages of Inline Filters
Like any type of water filter, an inline water filter has its advantages and disadvantages.
Benefits Of An Inline Water Filter
Versatile use case – You can use an in-line water filter for multiple appliances, including ice makers, refrigerators, kitchen faucets, and coffee makers.
Affordable – When you compare water filters in line with other types of water filtration systems, inline filters are one of the cheapest options. If you're looking for an affordable long-term water filtration solution, inline water filters are a great choice.
Easy to install – Most in-line water filters have quick-connect fittings that allow you to twist the filter in place at your water line. Even the most DIY-adverse person should be able to install an in-line filter themselves – it's much easier than installing a whole system beneath your sink. There's no need to install a separate faucet for this filter type.
Low maintenance – Unlike other water filtration systems, which need regular filter changes (often for multiple filters), inline water filters can be left for months without requiring maintenance. Most inline water filters have a long lifespan of at least 6-12 months.
Discreet water filtration – You can install an inline water filter in a cupboard, behind your fridge, or in another discreet location, where it'll work behind the scenes to filter your drinking water. You don't have to have your inline water filter on full show as it's small enough to install out of sight.
Setbacks Of An Inline Water Filter
Not a whole home solution – Most inline water filters are POU systems with an average flow rate of around 2-3 GPM. These filters simply aren't designed to filter water for a whole home.
May be unsuitable for rentals – If you rent your home, you might be unable to make permanent changes to your plumbing. This might rule out any water filters that are installed at your water line, like inline filters.
May reduce water flow rate – While inline water filters generally have a fast flow rate, they may still reduce the flow of tap water from your faucet.
Need to be replaced – No inline water filter lasts forever. Most filters need to be replaced every 6-12 months, so they're not a maintenance-free solution.
📌 Considerations When Buying an Inline Water Filter
Before you buy an in-line water filter for your home, make sure to consider the following things:
Contaminants Removed
First, start by determining which contaminants you want an inline filter to remove from your drinking water.
Most inline filters can, at the very least, remove chlorine taste and odor from your water. The best filters are more comprehensive and can remove other contaminants that are commonly found in tap water supplies, like lead, PFAS, VOCs, fluoride, and other heavy metals.
Tip: if you don't know what your water contains, order a water testing kit to find out.
Though many customers who own inline water filters claim that they no longer have hard water from using an inline filter, this is unlikely. To soften water, you'll need an entirely separate process of water conditioning.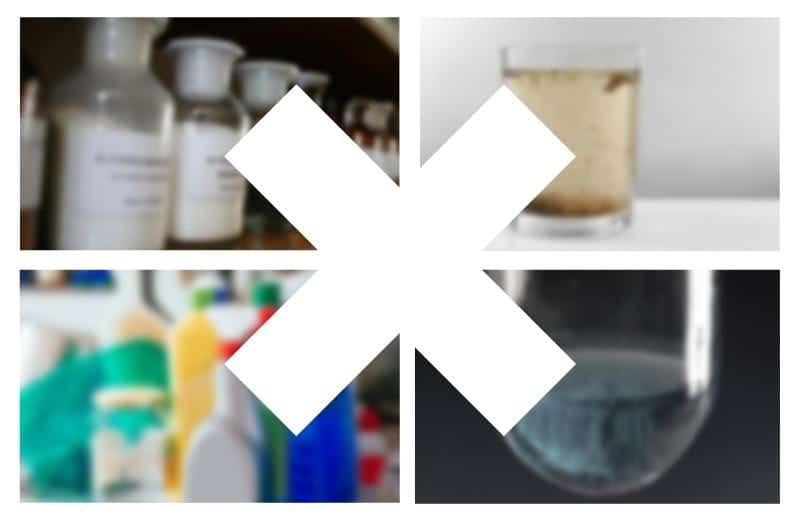 Filter Use Point
You might need an inline filter for a specific use, and this will affect your buying decision.
You can buy the following inline filters for the following situations:
Washing machine inline filters
Refrigerator/ice maker inline filters
Under-sink inline filters
Water cooler/fountain inline filters
RV inline filters
Boat inline filters
Garden hose inline filters
Most in-line filters for indoor use can be used to filter water upstream of any kitchen appliance or faucet, while an RV inline filter can usually also double up as a garden hose filter, or a filter for boats, campers, and trailers.
Water Flow Rate
An inline water filter is connected to your water line, so flow rate is an important issue to consider.
You want to be able to get immediate, easy access to ice in your ice maker, or water from your fridge and faucet, without a significant bottleneck at the filter.
Luckily, flow rate isn't usually compromised by an inline water filter system. You may notice a slight reduction in water flow, but nothing substantial. Inline filters have a flow rate of 2-3 GPM – and to put that into perspective, most kitchen faucets in the US have a maximum flow rate of 2.2 GPM.
Flow rate usually decreases when the filter becomes clogged with contaminants toward the end of its life, and can't filter water as efficiently.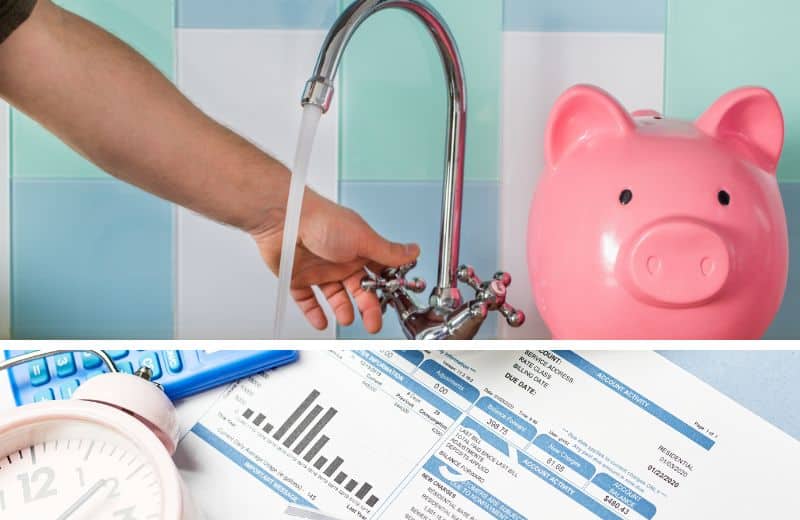 Capacity/Filter Life
Read up on the capacity of an inline filter before you buy it. Not all filter capacities are equal.
The capacity of an inline filter refers to how much drinking water it can treat before it becomes too saturated with contaminants and must be replaced.
The manufacturer may list the filter capacity in gallons, or they may give a filter life estimate in months. The average inline filter lasts 6-12 months, although some only last 3 months, and some have longer lifespans of up to 24 months.
A lower capacity doesn't indicate a poorer-quality filter – it just means that the filter will have a cheaper upfront cost and will need to be replaced more frequently.
Physical Size
Make sure that an inline filter can fit comfortably at your intended install location before you spend your money.
An inline filter should be installed at your cold water line, usually somewhere between your fridge/ice maker and your kitchen faucet.
Inline filters are relatively small and compact. However, you may still need to check sizing if your available space is lacking.
For instance, if you plan to install an inline water filter behind your fridge or in a cupboard space, you may need to find something that's small enough to fit.
Most inline water filters are around 10 inches in length, around 3-4 inches in width, and 2-4 inches in height.
Testing & Certifications
If you want to be certain that an inline filter can remove specific contaminants, look for proof of testing and/or certifications.
Some manufacturers conduct their own tests with the help of a third-party laboratory. This enables them to share a datasheet that lists the contaminants their filter has been tested and proven capable of removing from a drinking water supply.
Some go one step further and get their filter NSF certified, either by the NSF itself or by a third party, like IAPMO or the WQA. These support the manufacturer's claims about the capabilities of the filtration process.
Some common certifications to look out for are:
NSF 42 – For the reduction of chlorine, taste, and odor
NSF 53 – For the reduction of harmful contaminants, including lead and other heavy metals
NSF 372 – For a lead-free design
An inline filter doesn't need to be certified to be legitimate. However, If the filter has been tested and certified, it means a third party has confirmed its filtration claims to be accurate. It's an easy way of knowing that you're not going to waste your money on a filter that doesn't work.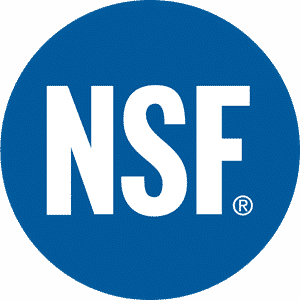 Your Budget
Establish a budget before you start searching for an inline water filter.
Most inline filter systems cost between $50 and $120. Some systems with a longer filter life and exceptional contaminant removal abilities cost up to $170.
You may prefer to spend more money upfront on a filter that only needs to be replaced once every 1-2 years.
Or, you might feel more comfortable spending less upfront on a filter that needs smaller but more frequent investments in filter changes throughout its lifespan.
Installation/Maintenance Requirements
Make sure you're happy with the installation as maintenance commitments of an in-line filter before you buy it.
The good news is that inline filters are relatively easy to install and require minimal maintenance compared to bulky multi-stage under-sink systems.
You can DIY install an inline filter at your water line in less than 5 minutes. The manufacturer should outline the instructions for doing so in the user manual.
Filter changes are the only real maintenance you'll need for your inline water filter. Most inline filters last 3-12 months.
You may need to replace the filter more frequently if filter life has been reduced by poor tap water quality and your flow rate has slowed.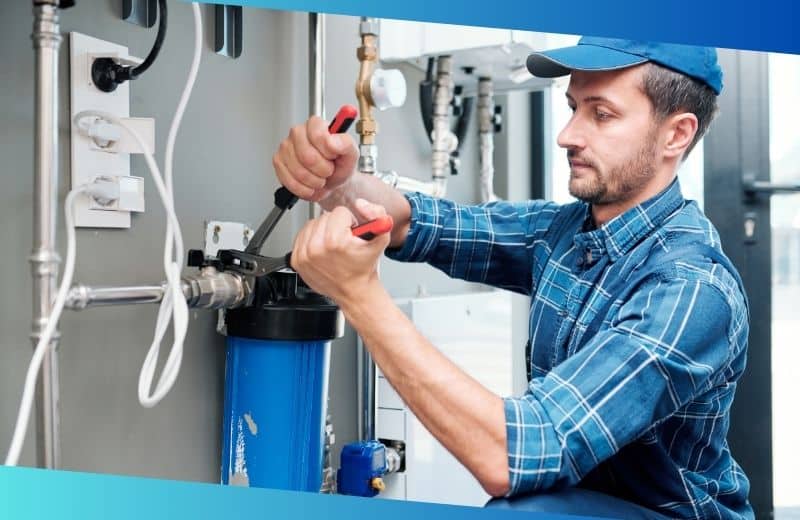 🧠 Frequently Asked Questions
Is an inline water filter better than an internal fridge filter?
When it comes to contaminant removal, yes, inline filters are better than fridge filters. Most internal fridge filters can only reduce chlorine, tastes, and odors, while inline water filters can remove tens, sometimes hundreds, of contaminants. Fridge filters are also somewhat restricted, because there are often only one or two that fit your system, whereas you can use any type of inline water filter regardless of your refrigerator brand.
Should an inline water filter be horizontal or vertical?
Most inline filters can be installed either horizontally or vertically, depending on where on the pipe they're installed. The manufacturer may have specific recommendations or instructions, so check your user manual for this information.
Do inline water filters reduce water pressure?
Yes, inline water filters will likely reduce your water pressure somewhat. You're unlikely to notice this in most scenarios. However, if you try to turn your faucet on full, you'll probably find that there's a limit to the volume of water that can be delivered. The resistance of the filtering media slows down the flow of water as it passes through.
Do inline refrigerator water filters work?
Yes, inline refrigerator water filters work. Most are carbon-based, and activated carbon media has a long history of being used for filtration purposes, with lots of studies and research to prove its effectiveness. Just make sure to buy from a reputable brand with plenty of positive customer feedback.
Are in line water filters worth it?
Yes, in-line filters are worth it if you want a more comprehensive alternative to a built-in fridge filter or you want a convenient, low-maintenance way to access filtered water on tap. These filters are affordable, usually costing less than $100, and most last at least 6 months, so maintenance is minimal. However, an inline filter isn't worth it if you want to filter your entire home's water supply (you'd need a whole house filter system for this).