There was a time when it was revolutionary for water filter pitchers to remove chlorine from tap water. Now, water filter pitchers can do so much more – with many pitchers removing tens or hundreds of contaminants.
But that's not to say that all pitcher water filters are worth your money. While some filters improve the taste of water, they don't tackle the harmful contaminants that are found in trace amounts in most water sources.
📌 In 2023, the Clearly Filtered Water Pitcher removes more than 365 contaminants, the most out of any water filter pitcher.
❔ What Are Water Filter Pitchers?
If you need a refresh about what water filter pitchers are and how they work, you'll find it here.
A water filter pitcher looks like a standard pitcher, except the lid of the pitcher is fitted with a filter. Pitcher filters are cleverly designed so that water filters from one chamber into another. The top chamber contains the unfiltered water, and the bottom chamber contains the filtered water. When you pour water from the spout, it can't mix with the top chamber.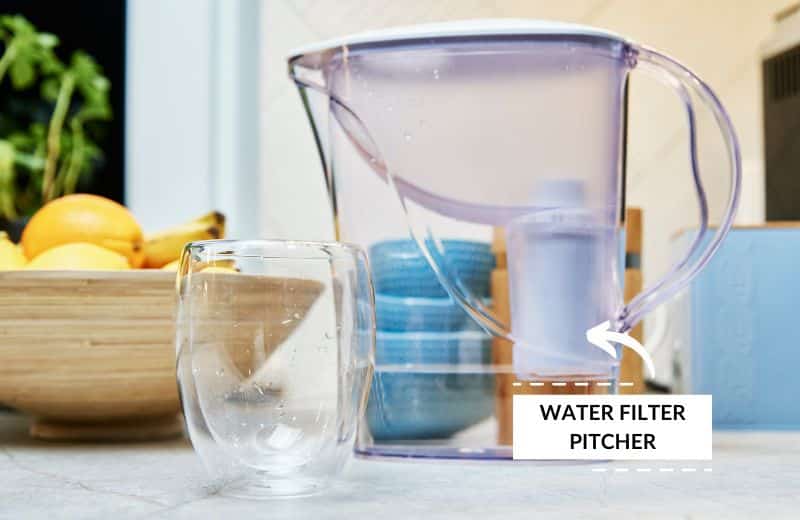 Water pitcher filters use gravity filtration to filter drinking water. This means that, rather than relying on water pressure or an electric current to send water through the filter, the pull of gravity sends water from the top chamber, through the filter, to the bottom chamber.
Gravity filtration takes longer than other types of filtration. However, the benefit of this type of filtration is that it gives water a longer contact time with the filter, which means the filter has time to remove more contaminants than under-sink filters connected to your water line or countertop water filter systems powered by electricity.
There are several types of filters that are used in water filter pitchers. Most filters use a variation of a carbon filter, such as an activated carbon filter. There are some filter types that logistically can't be used in water pitchers – for instance, a reverse osmosis system is too large to fit in a pitcher, and reverse osmosis requires water pressure to operate.
🔎 Which Contaminants can Water Pitcher Filters Remove?
The exact contaminants removed from a pitcher filter depend on the type, design, and quality of the filter cartridge used.
At the very least, a water pitcher filter should be able to remove chlorine taste and odor, and common heavy metals, like lead. When you drink filtered water, you expect the water taste to be improved from standard tap water.
Nowadays, the best pitcher water filters remove bacteria, volatile organic compounds, fluoride, and other dangerous contaminants, providing purified water that has bottled water quality.
Read on to learn exactly which contaminants are removed by the most popular water pitchers today.
🆚 Contaminant Removal Comparison – Which Water Filter Pitcher is Best?
| | Clearly Filtered | Epic Nano | ZeroWater | PUR Lead-Reducing | Brita Longlast |
| --- | --- | --- | --- | --- | --- |
| Contaminants Removed | 365+ | 200+ | 20+ | 10+ | 10+ |
| Testing/Certifications | NSF 42, 53, 244, 401, P473 | NSF 42, 53, 401, P473, and P231 | NSF 42, 53 | NSF 42, 53 | NSF 42, 53, 401 |
| Filter Life (gallons) | 100 | 150 | 20-40 | 30 | 120 |
| BPA | 99.9% | 99% | – | – | 95.5% |
| PFAS | 99.6% | 99.8% | – | – | – |
| Lead | 99.5% | 99.4% | 99.7% | 99.5% | 99.6% |
| Arsenic | 99.6% | 95% | 98% | – | – |
| Chromium-6 | 96.9% | 96.6% | 99% | – | – |
As the table shows, the Clearly Filtered removes a massive 365+ contaminants from water, which is 100 more than the best runner-up: the Epic Nano.
The Clearly Filtered has been tested to NSF Standards by Envirotek Laboratories (EPA-ID#: NJ01298), this pitcher doesn't hold an official NSF certification.
💯 Clearly Filtered Water Filter Pitcher: The Best for Contaminant Removal
The Clearly Filtered pitcher takes first place when it comes to contaminant removal. The filter removes more than 365 contaminants in water – more impurities than you probably thought water could contain.
Best Pitcher: Clearly Filtered Water Pitcher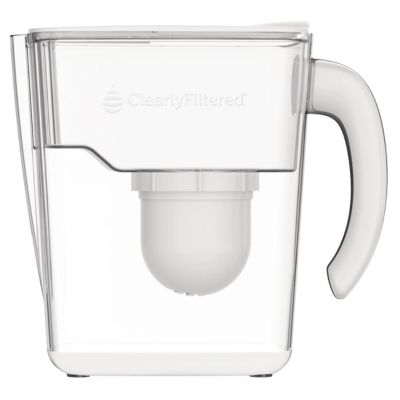 | | |
| --- | --- |
| Price | $ |
| Contaminants Removed | 365+ |
| Certifications or Testing | NSF 42, 53, 244, 401 & 473 |
| Process | Carbon + Ion Exchange |
| Filter Life | 100 gal. |
| Annual Cost | ~$140 |
| Warranty | Lifetime |
Our readers get 10% off at clearlyfiltered.com 👉 Click here to get your coupon.
The manufacturers of the Clearly Filtered continue to improve this pitcher, too. Not so long ago, the filter could remove 232 contaminants. That's still an impressive number – but a design improvement now means that this portable water filtration system is even better than before.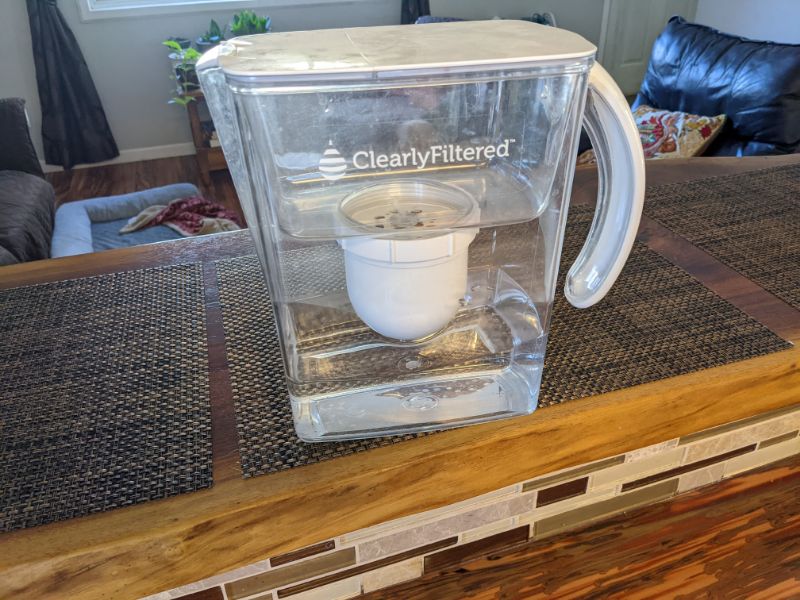 Key Features:
Removes the most contaminants: The Clearly Filtered removes more contaminants from drinking water than any other water filtration pitcher, including chlorine, fluoride, pharmaceuticals, heavy metals like arsenic and lead, PFOA, and volatile organic compounds.
Can be used with city and well water: This pitcher filter is one of the few that can be used with both municipal and well water, thanks to its contaminant removal capabilities that tackle common city and well water impurities – it even targets disease-causing microbiological contaminants.
Carbon Affinity filtration: The activated carbon filters in this pitcher use Affinity Filtration, which has a unique structure that allows the media to trap a greater concentration of contaminants in its pores.
Woven mesh and composite shell filters: The Clearly Filtered doesn't just use a single carbon filter stage. The pitcher also uses a woven mesh screen and a composite shell filter that give water a longer contact time with the media and prevent large particles from clogging the filter.
Built-in water dam: To prevent filtered and unfiltered water from mixing, the Clearly Filtered uses a built-in water dam that separates the top and bottom chambers. This means you can pour water from the spout without mixing it with unfiltered water in the reservoir.
Independently tested to NSF Standards: Although the Clearly Filtered doesn't have an official NSF certification, it has the next best thing: testing by a third party to meet NSF 42 (for chlorine removal), 53 (for heavy metals), 244 (for microbiological contaminants), 401 (for emerging contaminants), and P473 (for PFOS and PFOA).
Retains healthy minerals: The aim of this pitcher is not to remove dissolved solids entirely. Some TDS, like healthy minerals, are important for water quality, and the Clearly Filtered retains these minerals while removing unwanted contaminants.
Quick setup: It's quick and easy to set this filter up. After removing the filter from the box and packaging, you soak the filter for 15 minutes then flush it for 5 minutes. You can then assemble the pitcher and use it immediately.
3-month lifespan: The filters in this pitcher last for around 3 months, or 100 gallons. Making a filter replacement is easy – you just remove and discard the existing filter and replace it with the new one.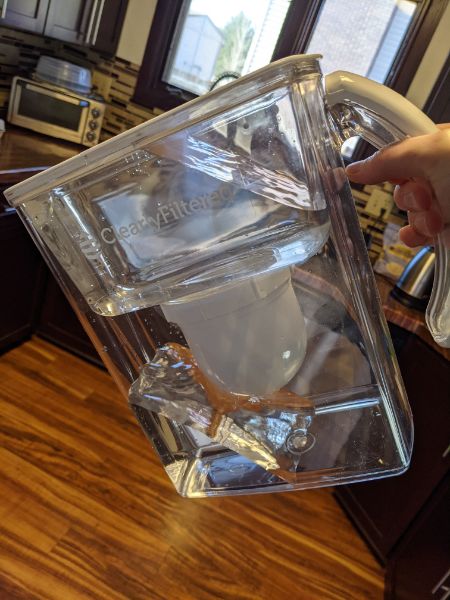 Best For: Anyone looking for a convenient, portable water filter solution that removes more impurities than most other filters, including faucet filters and filters using an ion exchange resin.
Remember Brita filters? The Clearly Filtered can remove more than 100 times the tap water contaminants that Brita can remove, but offers exactly the same convenience, with its gravity filter pitcher design.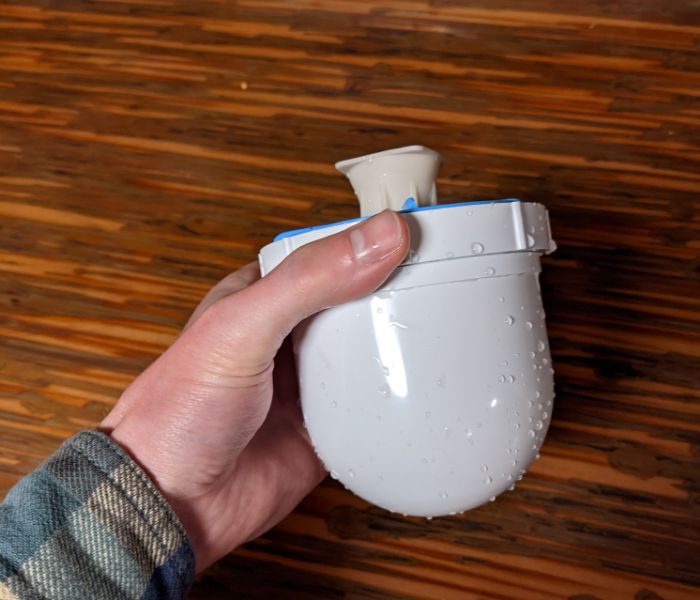 Our readers get 10% off at clearlyfiltered.com 👉 Click here to get your coupon.
Pros:
The Clearly Filtered pitcher uses affinity filtration technology to purify water, removing more than 365 impurities.
The pitcher has independent testing for the following NSF Standards: 42, 53, 244, 401, and P473.
Despite filtering hundreds of impurities, this pitcher doesn't eliminate healthy minerals in drinking water, helping to retain the highest standard water quality.
The Clearly Filtered filters up to 100 gallons of tap water before you need to replace the filter.
You're backed by a lifetime guarantee with this pitcher, so you can return the pitcher for a working model if yours breaks throughout its anticipated lifespan. You can also try this filter at no risk with its 30-day money-back guarantee, which entitles you to a full refund if you want to return the filter within the first 30 days of use.
Made from 100% Tritan plastic, the pitcher is BPA-free and won't add harmful chemicals into your water.
Because of the Clearly Filtered's water dam, you don't need to wait the full 20 minutes for the pitcher to filter your entire batch of water before you can pour from the pitcher. This means you can pour yourself a cup of water almost instantly, which you can't do with all pitcher water filtration systems.
Cons:
This model is more expensive than most other pitcher filters – and replacement filters are costly, too.
You won't get instant access to filtered water with this type of filter, even with its built-in water dam.
There's no filter change indicator, so it'll be your responsibility to keep track of how long you've used the filter and when it needs replacing.
Read our full 2023 Clearly Filtered pitcher review right here.
🧫 Clearly Filtered Contaminants Removed
You can find a list of all the contaminants removed by the Clearly Filtered in the table below.
| Contaminant | % Reduction |
| --- | --- |
| 1,1,1,2-Tetrachloroethane | >99.9% |
| 1,1,1-Trichloroethane | >99.7% |
| 1,1,2,2-Tetrachloroethane | >99.8% |
| 1,1,2-Trichloroethane | >99.9% |
| 1,1-Dichloroethane | >99.8% |
| 1,1-Dichloroethene | >99.6% |
| 1,1-Dichloroethylene | >99.9% |
| 1,1-Dichloropropene | >99.6% |
| 1,2,3-Trichlorobenzene | >99.9% |
| 1,2,3-Trichloropropane | >97.9% |
| 1,2,3-Trimethylbenzene (hemellitol) | >99.8% |
| 1,2,4-Trichlorobenzene | >99.8% |
| 1,2,4-Trimethylbenzene | >99.8% |
| 1,2-Dibromo-3-chloropropane(DBCP) | >99.9% |
| 1,2-Dibromoethane | >99.9% |
| 1,2-Dichloroethane | >99.8% |
| 1,2-Dichloropropane | >99.8% |
| 1,3,5-Trimethylbenzene | >99.8% |
| 1,3-Butadiene | >99.9% |
| 1,3-Dichloropropane | >99.8% |
| 1,4-Dioxane | >99.8% |
| 17-beta-Estradiol | >99.9% |
| 1-Chloropropane | >99.9% |
| 2,2-Dichloropropane | >99.8% |
| 2,2-Dimethylphenol | >99.9% |
| 2,3,7,8-TCDD (Dioxin) | >98.0% |
| 2,4,5-T | >99.9% |
| 2,4,5-TP (Silvex) | >99.9% |
| 2,4,6-Trichlorophenol | >99.9% |
| 2,4-D | >99.9% |
| 2,4-DB | >99.9% |
| 2,4-Dichlorophenol | >99.9% |
| 2,4-Dinitrophenol | >99.9% |
| 2,4-Dinitrotoluene | >99.9% |
| 2,6-Dinitrotoluene | >99.8% |
| 2-Chloronaphthalene | >99.9% |
| 2-Chlorophenol | >99.9% |
| 2-Furancarboxaldehyde | >98.7% |
| 2-Hexanone | >99.9% |
| 2-Methylbutane | >99.9% |
| 2-Nitrophenol | >99.8% |
| 2-Nitropropane | >99.9% |
| 3,5-Dichlorobenzoic Acid | >99.9% |
| 3-Hydroxycarbofuran | 99.0% |
| 4-Androstene-3,17-dione | >97.8% |
| 4-Bromophenyl phenyl ether | >99.9% |
| 4-Chloro-3-methylphenol | >99.9% |
| 4-Chlorophenyl phenyl ether | >99.9% |
| 4-Nitrotoluene | >99.9% |
| 4-para-Nonylphenol | >99.9% |
| 4-tert-Octylphenol | >99.9% |
| Acenaphthene | >98.0% |
| Acenaphthylene | >99.8% |
| Acetaminophen | >99.9% |
| Acetochlor | >98.1% |
| Acetone | >99.9% |
| Acetonitrile | >99.9% |
| Acifluorfen | >99.9% |
| Acrylonitrile | >99.9% |
| Alachlor (Lasso) | >99.8% |
| Aldicarb Sulfone | >97.9% |
| Aldicarb Sulfoxide | >98.7% |
| Aldrin | >99.8% |
| Alpha - BHC | >99.8% |
| Alpha-Chlordane | >98.7% |
| Alpha-Lindane | >94.3% |
| Aluminum | 88.40% |
| Ammonia | >99.9% |
| Anthracene | >99.8% |
| Antimony | >98.0% |
| Arsenic | 98.30% |
| Atenolol | >99.9% |
| Atraton | >99.8% |
| Atrazine | >99.8% |
| Barium | 99.9% |
| Bentazon | 99.9% |
| Benzaldehyde | >99.9% |
| Benzene | >99.8% |
| Benzo[a]anthracene | >99.8% |
| Benzo[a]pyrene | >99.8% |
| Benzo[b]fluoranthene | >99.8% |
| Benzo[g,h,i]perylene | >99.8% |
| Benzo[k]fluoranthene | >99.8% |
| Beryllium | >98.0% |
| Beta - BHC | >99.8% |
| BHT | >99.8% |
| Bis (2-chloroethoxy) Methane | >99.9% |
| Bis (2-ethylhexyl) Adipate | >99.8% |
| Bis (2-ethylhexyl) Phthalate | >99.8% |
| Bis(2-Chloroethyl) ether | >98.0% |
| Bisphenol A | >99.9% |
| Bromacil | >99.8% |
| Bromobenzene | >99.8% |
| Bromochloroacetic Acid | >99.9% |
| Bromochloromethane | >99.8% |
| Bromodichloroacetic acid | >91.5% |
| Bromodichloromethane | >99.9% |
| Bromoform | >99.6% |
| Bromomethane | >99.9% |
| Butachlor | >99.8% |
| Butyl benzyl phthalate | >99.8% |
| Butylate | >99.8% |
| Cadmium | 97.0% |
| Caffeine | >99.9% |
| Calcium Hypochlorite | >99.5% |
| Carbamazepine | >99.9% |
| Carbaryl | >98.1% |
| Carbofuran | >99.9% |
| Carbon Disulfide | >99.9% |
| Carbon Tetrachloride | >99.8% |
| Chloramben | >99.9% |
| Chloramine | >99.7% |
| Chlordane | >98.7% |
| Chloride | >99.9% |
| Chlorine | >99.5% |
| Chlorneb | >99.8% |
| Chloroacetonitrile | >98.3% |
| Chlorodibromomethane | >99.8% |
| Chloroethane | >99.8% |
| Chloroform | >99.8% |
| Chloromethane | >99.9% |
| Chloropyrophos | >99.8% |
| Chlorothalonil | >99.8% |
| Chlorotrifluoromethane | >99.9% |
| Chlorpropham | >99.8% |
| Chlorpropham | >99.8% |
| Chlorprophane | >99.8% |
| Chlorpyrifos | >99.8% |
| Chromium (hexavalent) | 97.8% |
| Chrysene | >99.8% |
| Ciprofloxacin | >99.9% |
| Cis - Chlordane | >99.8% |
| Cis-1,2-Dichloroethene | >99.8% |
| Cis-1,2-Dichloroethylene | >99.9% |
| Cis-1,3-Dichloropropene | >99.8% |
| Cobalt | >97.1% |
| Copper | 99.9% |
| Cyanazine | >99.8% |
| Cyanazine (Bladex) | >99.8% |
| Cycloate | >99.8% |
| Cyclohexane | >97.9% |
| Dacthal | >97.9% |
| Dalapon | >99.9% |
| DCPA | >99.9% |
| DEET | >99.9% |
| Delta - BHC | >99.8% |
| Desenthylatrazine | >98.3% |
| Desisopropylatrazine | >98.7% |
| Di(2-ethylhexyl) adipate | >98.7% |
| Diazinon (Spectracide) | >97.9% |
| Dibenz[a,h]anthracene | >99.8% |
| Dibromoacetic Acid | >99.9% |
| Dibromomethane | >99.9% |
| Dicamba | >99.9% |
| Dichloroacetic Acid | >99.9% |
| Dichlorodifluoromethane | >99.9% |
| Dichloromethane(methylenechloride) | >99.8% |
| Dichlorvos | >99.8% |
| Diclofenac Sodium | >99.9% |
| Diclorprop | 99.9% |
| Dieldrin | >99.8% |
| Diethyl Phthalate | >99.8% |
| Diisobutyl phthalate | >98.0% |
| Dimethoate | >97.9% |
| Dimethyl Phthalate | >99.8% |
| Di-n-Butyl phthalate | >99.8% |
| Dinitro-o-cresol | >99.9% |
| Di-n-octyl phthalate | >99.8% |
| Dinoseb | >99.9% |
| Diphenamid | >99.8% |
| Diphenylamine | >99.9% |
| Diquat | >98.7% |
| Disulfoton | >99.8% |
| Endosulfan I | >99.8% |
| Endosulfan II | >99.8% |
| Endosulfan Sulfate | >99.8% |
| Endothall | >98.7% |
| Endrin | >99.8% |
| Endrin Aldehyde | >99.8% |
| Endrin Ketone | >99.8% |
| EPFB | >95.0% |
| EPTC | >99.8% |
| Erythromycin | >99.5% |
| Estradiol | >99.9% |
| Estriol | >97.9% |
| Estrone | >99.9% |
| Ethinyl estradiol | >99.9% |
| Ethoprop | >99.8% |
| Ethylbenzene | >99.8% |
| Ethylene Dibromide | >99.9% |
| Etridiazole | >99.8% |
| Fenamiphos | >99.8% |
| Fenarimol | >99.7% |
| Fluoranthene | >99.8% |
| Fluorene | >99.8% |
| Fluoride | >99.5% |
| Fluorotrichloromethane | >99.7% |
| Fluosilicate | >99.5% |
| Fluosilicic Acid | >99.5% |
| Fluoxetine | >99.9% |
| Fluridone | >99.8% |
| Formaldehyde | >99.0% |
| Gemfibrozil | >99.9% |
| GenX | >99.4% |
| Germanium | >97.9% |
| Glyphosate | >99.9% |
| Gross Alpha (Thorium 230) | >98.0% |
| Gross Beta (Cesium 137) | >98.0% |
| Heptachlor | >99.8% |
| Heptachlor Epoxide | >99.8% |
| Hexachlorobenzene (HCB) | >99.7% |
| Hexachlorobutadiene | >99.8% |
| Hexachlorocyclopentadiene | >99.8% |
| Hexachloroethane | >99.9% |
| Hexachloropentadiene | >99.9% |
| Hexadecanoic Acid | >97.8% |
| Hexane(s) | >99.9% |
| Hexazinone | >99.8% |
| Ibuprofen | >99.9% |
| Indeno[1,2,3-cd]pyrene | >99.8% |
| Iodine | >99.5% |
| Iodomethane | >99.0% |
| Iron | 99.9% |
| Isophorone | >99.8% |
| Isopropyl Alcohol | >99.9% |
| Isopropylbenzene | >99.8% |
| Lead | >99.3% |
| Lindane | >99.8% |
| Linuron | >99.9% |
| Lithium | >99.3% |
| Manganese | >99.9% |
| m-Dichlorobenzene | >99.8% |
| Meprobamate | >99.9% |
| Mercury (Inorganic) | >98.4% |
| Methomyl | >98.0% |
| Methoxychlor | >99.8% |
| Methyl ethyl ketone | >99.8% |
| Methyl isobutyl ketone | >99.8% |
| Methylcyclohexane | >99.9% |
| Methylcyclopentane | >99.9% |
| Metolachlor | >99.8% |
| Metolachlor Oxanilic Acid | >98.7% |
| Metribuzin | >99.8% |
| MGK 264 - Isomer a | >99.8% |
| Microplastics | >99.9% |
| Molinate | >99.8% |
| Molybdenum | >98.1% |
| Monobromoacetic Acid | 99.8% |
| Monochloroacetic Acid | >99.9% |
| Monochlorobenzene (chlorobenzene) | >99.9% |
| MTBE | >97.9% |
| M-Xylene | >99.8% |
| Nano-Chlordane | >99.8% |
| Naphthalene | >99.8% |
| Napropamide | >99.8% |
| Naproxen | >99.9% |
| N-Butylbenzene | >99.8% |
| NFBS | >95.0% |
| Nickel | >99.1% |
| Nitrate | >99.9% |
| Nitrate and nitrite | >99.7% |
| Nitrite | >99.7% |
| Nitrobenzene | >99.9% |
| Nitrofen | >99.8% |
| N-Nitrosodimethylamine | >96.7% |
| N-Nitroso-di-N-butylamine | >98.4% |
| N-Nitrosodi-n-propylamine | >99.9% |
| Nonylphenol | >99.9% |
| Norflurazon | >99.8% |
| N-Propylbenzene | >97.9% |
| o-Chlorotoluene | >99.6% |
| Octadecanoic Acid | >96.0% |
| o-Dichlorobenzene | >99.8% |
| Oxamyl (Vydate) | >98.7% |
| Oxyfluorfen | >99.8% |
| o-Xylene | >99.8% |
| p,p' - DDD | >99.8% |
| p,p' - DDE | >99.8% |
| p.p' - DDT | >99.8% |
| Paraquat | >98.7% |
| p-Chlorotoluene | >99.8% |
| P-Cresol | >98.0% |
| p-Dichlorobenzene | >99.8% |
| Pebulate | >99.8% |
| Pentachlorophenol | >99.9% |
| Pentane | >97.9% |
| Perchlorate | >96.0% |
| Perfluorobutane sulfonate (PFBS) | >95.0% |
| Perfluorobutanoic acid (PFBA) | >95.0% |
| Perfluorononanoic acid (PFNA) | >95.0% |
| Perfluorooctane sulfonate (PFOS) | >99.5% |
| Perfluorooctanoic acid (PFOA) | >99.0% |
| PFHA | >95.0% |
| Phenanthrene | >99.8% |
| Phenols | >99.8% |
| Phenytoin | >99.9% |
| Phthalates | >99.8% |
| Picloram | >99.9% |
| p-Isopropyltoluene | >99.9% |
| Polychlorinated biphenyls (PCBs) | >99.1% |
| Primidone | >99.9% |
| Progesterone | >99.9% |
| Prometon | >99.8% |
| Prometryn | >99.8% |
| Propachlor | >99.8% |
| Propazine | >99.8% |
| Propyzamide | >99.8% |
| Psudomona Aeruginsoa | 99.99% |
| p-Xylene | >99.8% |
| Pyrene | >99.8% |
| Quinclorac | >99.9% |
| Sec-Butylbenzene | >99.8% |
| Selenium | >99.1% |
| Silver | 98.8% |
| Simazine | >99.8% |
| Simetryn | >99.8% |
| Strontium | >98.8% |
| Styrene | >99.8% |
| Sulfamethoxazole | >99.9% |
| Sulfate | 99.8% |
| Sulfide | >99.0% |
| TCCP | >99.9% |
| TCEP | >99.9% |
| TCPP | >99.9% |
| Tebuconazole | >99.8% |
| Tebuthiuron | >99.8% |
| Terbacil | >99.8% |
| Terbutryn | >99.8% |
| Tert-Butyl Alcohol | >99.9% |
| Tert-Butylbenzene | >99.8% |
| Testosterone | >99.9% |
| Tetrachloroethene | >99.7% |
| Tetrachloroterephthalic Acid | >98.7% |
| Tetradecanoic Acid | >97.9% |
| Tetrahydrofuran | >99.9% |
| Thallium | >98.0% |
| Thiobencarb | >97.9% |
| Toluene | >99.8% |
| Total Trihalomethanes (TTHMs) | >99.8% |
| Toxaphene | >99.8% |
| Trans - Chlordane (Nonachlor) | >99.6% |
| Trans-1,2-Dichloroethene | >99.7% |
| Trans-1,2-Dichloroethylene | >99.9% |
| Trans-1,3-Dichloropropene | >99.8% |
| Triadimefon | >99.8% |
| Trichloroethene | >99.8% |
| Trichlorofluoromethane | >99.8% |
| Trichlorotrifluoroethane | >99.9% |
| Triclosan | >99.9% |
| Trifluralin | >99.8% |
| Trimethoprim | >99.9% |
| Uranium | >96.7% |
| Vanadium | >96.8% |
| Vernolate | >99.8% |
| Vinclozolin | >99.8% |
| Vinyl Chloride | >99.9% |
| Xylenes (total) | >99.8% |
| Zinc | 99.9% |
Source: https://www.clearlyfiltered.com/pages/performance-data-for-the-clearly-filtered-water-pitcher-and-filter