Remember when water pitchers were clunky, plastic, cheap-looking things that were only worthy of family picnics?
The Soma Water Filter Pitcher is the glow-up of all these pitchers, with a sleek, elegant design that you won't want to hide away between uses. But does the filtration technology make the modern design worth it?
In this Soma water filter review, we'll be looking at the features, pros, and cons of the Soma, based on our own experience with the pitcher, customer feedback, and information from the manufacturer.
By the end, you'll be able to decide whether this filter pitcher is worth your money.
🧾 Overview
The Soma Water Filter Pitcher is an elegant 10-cup water pitcher with two colors: white and bamboo, or black bamboo.
This eco-friendly pitcher is made from shatter-proof plastic and up to 60% plant-based sustainable materials, and is tested to remove 5 contaminants.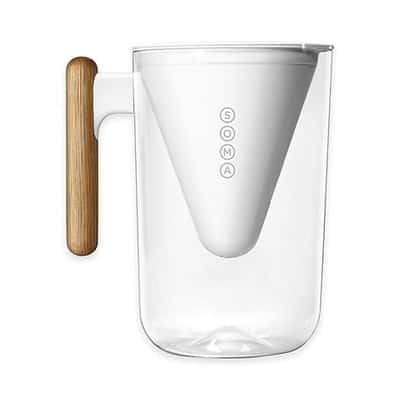 📝 System Specifications
| | |
| --- | --- |
| Color | Black or white bamboo |
| Capacity | 10 cups |
| Materials | BPA-free plastic, sustainable bamboo |
| Filter lifespan | 40 gallons or 4 months |
| Contaminants removed | 5 |
| NSF Standards | 42, 53 |
| Item dimensions LxWxH | 12.6 x 13.2 x 9.7 inches |
| Included components | 1 pitcher and 1 filter |
| Warranty | 1 year |
| Manufactured in | San Diego, USA |
💡 Features
Three filter blends in one: The Soma filtration system combines charcoal and activated coconut shell carbon filter media, and ion exchange resin, which remove a small selection of contaminants between them.
NSF certified performance: The filter meets NSF certifications 42 and 53, for chlorine and mercury, copper, and cadmium reduction.
Two pitcher sizes: You can choose between a 6-cup and a 10-cup pitcher based on how many gallons of water you'd rather filter in one go.
BPA-free design: The Soma Water Filter Pitcher uses BPA-free plastic, so it won't add anything nasty to your water.
Fits in your fridge: If you prefer to drink cold water, you'll be pleased to know that the Soma slots easily into the door compartment in a fridge.
Modern look: The Soma's smart, eye-catching design is enough to tempt anyone to buy the pitcher without even knowing what it does (we don't recommend this!).
Good trial period and warranty: You can trial the Soma filtration pitcher risk-free within the 60 day trial period. Return the filter for a full refund if you're not happy. You're also backed by a 1-year limited warranty.
🚦 Performance
The Soma water filter uses the same filtration method as any other water filter pitcher: gravity filtration.
How does gravity filtration work? You fill the top chamber of the pitcher with water, then wait for the water to pass through the filter and into the filtered water chamber underneath. As soon as there's water in the bottom chamber, you can pour the water through the spout without disturbing the unfiltered water above.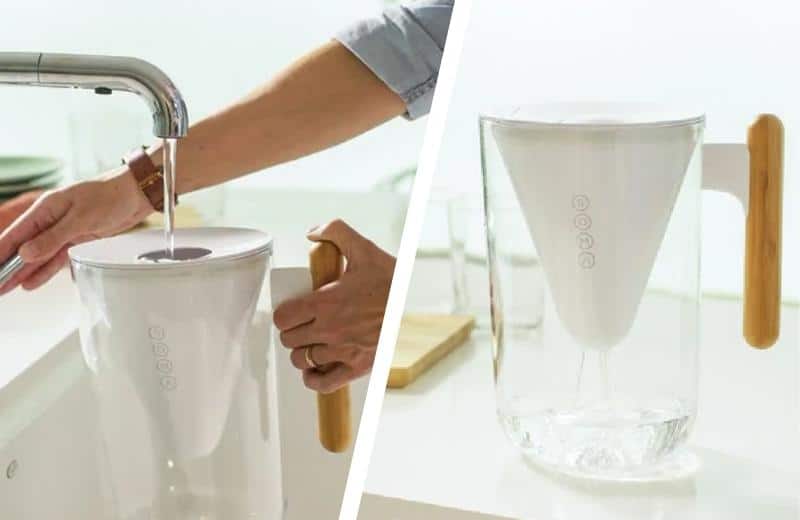 Having tested plenty of other filters offering gravity filtration, we know that the most important performance features are contaminant removal and flow rate.
As far as contaminant removal is concerned, the Soma pitcher could be better. The average pitcher filtration system can remove more than 10 times the contaminants that the Soma can remove. Water tastes slightly better after using the Soma, but there's not a hugely noticeable improvement.
As for flow rate, we were impressed. Some gravity filters take up to 20 minutes to filter water, but the Soma filters take less than 5 minutes (probably because they only have 5 tap water contaminants to remove).
The pouring process is something else to consider. We found it easy to pour from the Soma water pitcher into a glass, carafe, or water bottle, even when the entire unit was filled with water.
The wood grip handle can deteriorate when wet, so it's best to keep it dry and treat it with mineral oil to maintain its comfortable grip.
In short, the Soma water filter performs as you'd expect a gravity pitcher to perform, but it could be better.
We've shared more about the filter itself in the Soma Filter Info section later in this guide.
🔧 Installation & Maintenance
Installing the Soma water filter is nice and easy – and, in fact, "installation" is pushing it a bit.
You don't need to connect the filter to your water line. Simply soak the filter cartridge for 15 minutes, then rinse it 2-3 times with cold water and snap it into place in the reservoir underneath the pitcher lid.
This is the standard process when buying any filter pitcher. Soaking the water filter gets rid of any loose activated carbon particles (which look like tiny black dots) that may have accumulated during storage.
The Soma's water filters last for 40 gallons, or about 4 months. You'll need to have a steady supply of replacement filters on hand for when the current filter stops working.
Unfortunately, Soma doesn't have a filter change light, so you'll need to make a note of when to replace the filter, or replace it when your water flow reduces.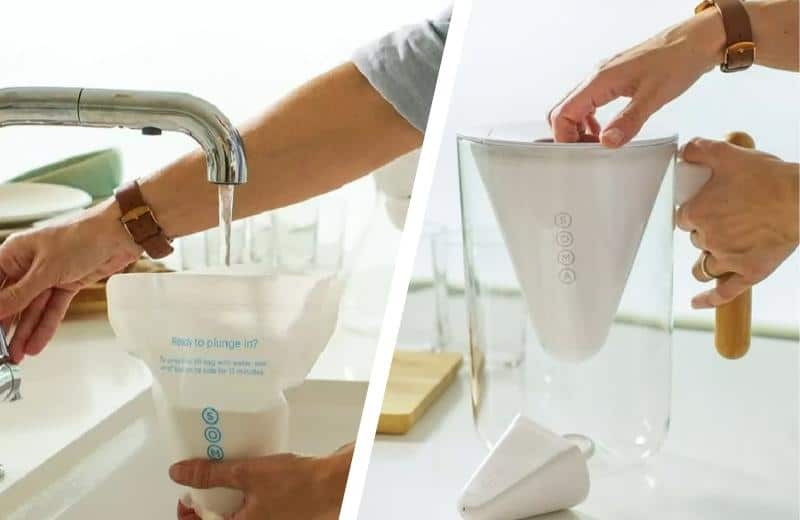 📝 Filter Info
The Soma filtration pitcher uses a combination of activated coconut shell carbon, charcoal, and ion exchange, which certainly sounds impressive – but actually produces mediocre results.
The good news is that the Soma has been tested by the WQA to meet NSF Standards 42 and 53, for chlorine and mercury, copper, and cadmium removal, so it has an advantage over similar pitchers that don't have third-party testing.
If you want a list of the contaminants that the Soma can remove, here it is:
Zinc
Chlorine
Mercury
Cadmium
Copper
Odors
That's it (and we're not sure that "odors" can even be counted as a contaminant, as it likely refers to chlorine).
Considering that there are plenty of water filter pitchers out there that can remove hundreds of contaminants nowadays, Soma water filters are lacking in comparison. Yes, Soma provides filtered water, but the results are underwhelming.
Still, if you're just looking for a convenient, attractive filtration system that can remove a handful of the most common tap water contaminants, the Soma pitcher is worth considering.
🔔 Pros & Cons
👍 What We Like
You can stop using plastic water bottles if you switch to the Soma water filter.
The Soma produces fairly clean drinking water and removes unwanted tastes.
You only need to replace the filter with a new Soma filter every 4 months, which is pretty good.
It's easy to pour water from the pitcher.
The pitcher has NSF certifications to Standards 42 and 35.
There's no denying that the Soma has a beautiful design.
Soma supports developing countries with charitable water projects.
👎 What We Don't Like
Soma doesn't remove fluoride or lead.
The wooden handle deteriorates quickly if you let it get wet.
The filter simply isn't as capable as other filter pitchers on the market.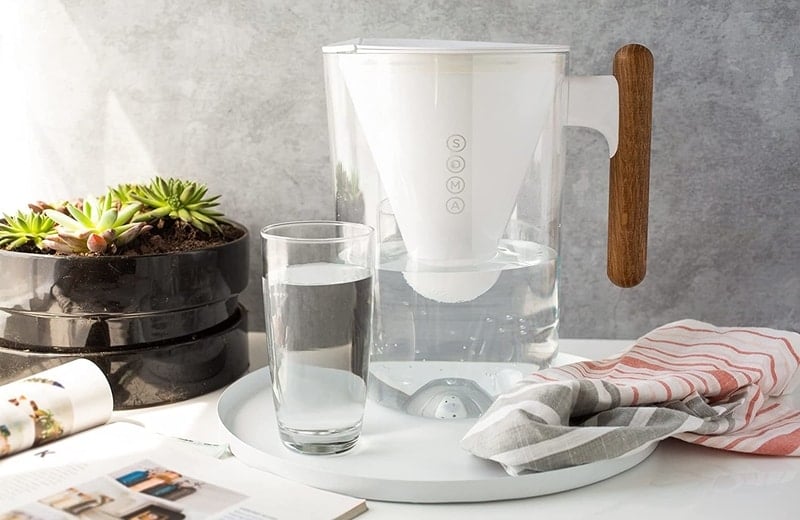 ❔ Frequently Asked Questions
Is the Soma filter worth it?
It depends on what's important to you.
If you like the fact that the Soma uses renewable materials and is environmentally friendly, and you appreciate that Soma gets involved in community-based water projects and charity work with developing nations, this may be the water pitcher for you.
It's like the lower carbon footprint version of the Brita filter (we don't recommend Brita filters, by the way).
The Soma is by no means a reverse osmosis system, but it does improve water quality and give water a bottled water-like taste. If you're not bothered about removing hundreds of contaminants from your drinking water, and you want a stylish filter, consider the Soma.
Are soma filters expensive?
No. The price is pretty fair, especially if you buy from the official Soma website.
You can buy the filter pitcher and two replacement filters for around $25. There's also the option to buy the filter pitcher and a years' worth of filters upfront for $60. Although the Soma isn't expensive, we don't think the value for money is there.
Can the Soma filter remove lead?
No. There's nothing to say that the Soma water filter removes lead. It provides basic filtered water, reducing chlorine taste and removing a handful of heavy metals (excluding lead).
If you need to remove lead, we recommend products by Epic Water Filters, like the Epic Pure dispenser, which are tested to remove lead.
Found this review helpful?
Comment below or share this article!