Most public drinking water supplies contain traces of heavy metals like lead, copper, mercury, and arsenic.
Low levels of heavy metals shouldn't cause heavy metal toxicity. However, you may still prefer not to drink even trace amounts of these metals – especially since some metals, like lead, accumulate in the body over time.
In this guide, we've shared the best methods to test for heavy metals in your drinking water.
🔎 Common Heavy Metals Present In Water
Wondering which heavy metals are most commonly found in tap water?
We've listed them, their potential health effects, and the EPA Maximum Contaminant Level (MCL) for each, below.
Lead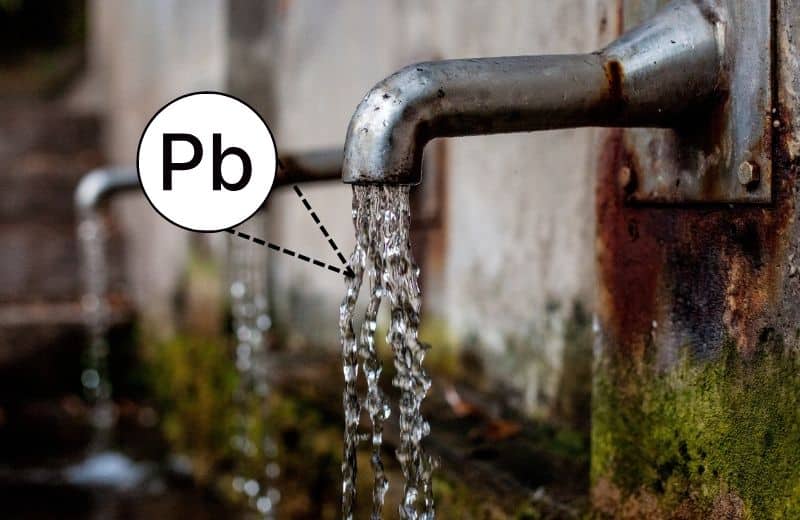 Copper
Aluminum
Arsenic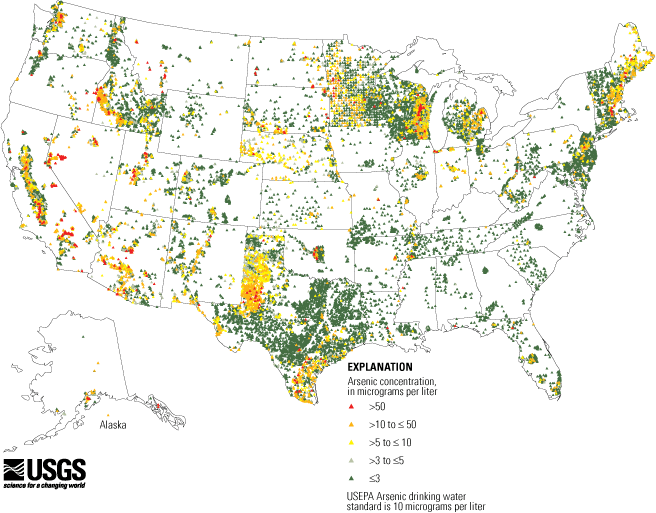 Mercury
Barium
Selenium
Chromium (total)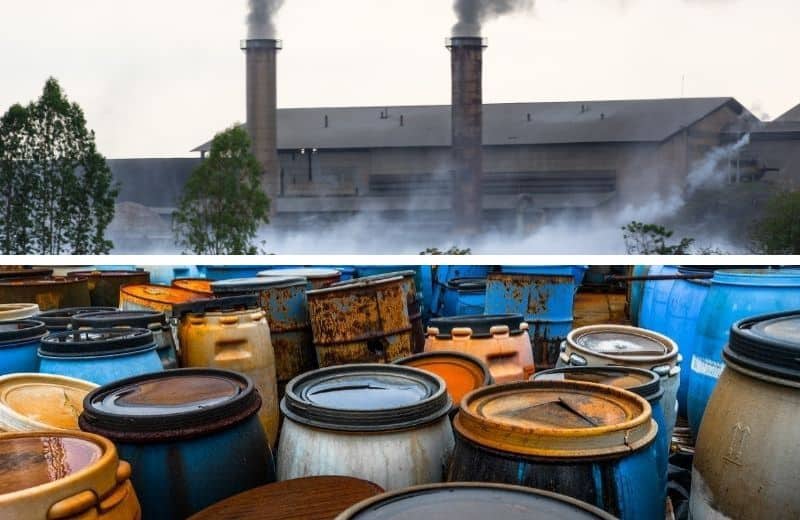 Other Metals
Tap water may also contain other metals that don't usually cause health problems but may have aesthetic effects in your home. For instance, groundwater in wells is likely to have a high iron and manganese concentration, but only very high levels of these heavy metal contaminants are dangerous.
Nickel and zinc are other heavy metals that aren't known to have a high risk in water, and aren't often found in excess.
⚗️ Testing For Heavy Metals In Water: 2 Methods
There are two common testing methods for heavy metals in drinking water: a laboratory test and an at-home test kit.
1) Laboratory Testing
Laboratory testing is the most thorough and accurate way to detect heavy metals in a water supply.
To test your water with a laboratory test kit:
Order a test from your preferred certified laboratory (we like TapScore)
Collect samples of water following the instructions in the test
Post your sample(s) to the laboratory using the free postage slip
Wait up to 2 weeks for your results to be delivered via email or post
Single-Contaminant Testing
Most laboratories allow you to test for single contaminants. You could choose to test for a handful of heavy metals that you're most concerned about, or buy a test package that just covers heavy metals.
Multi-Contaminant Test Packages
If you want to test for heavy metals and other contaminants in your water, look for laboratory test kits that test for all the most common impurities in your water supply. A good laboratory should offer separate test kits for well water and for city water, since these water types are so different.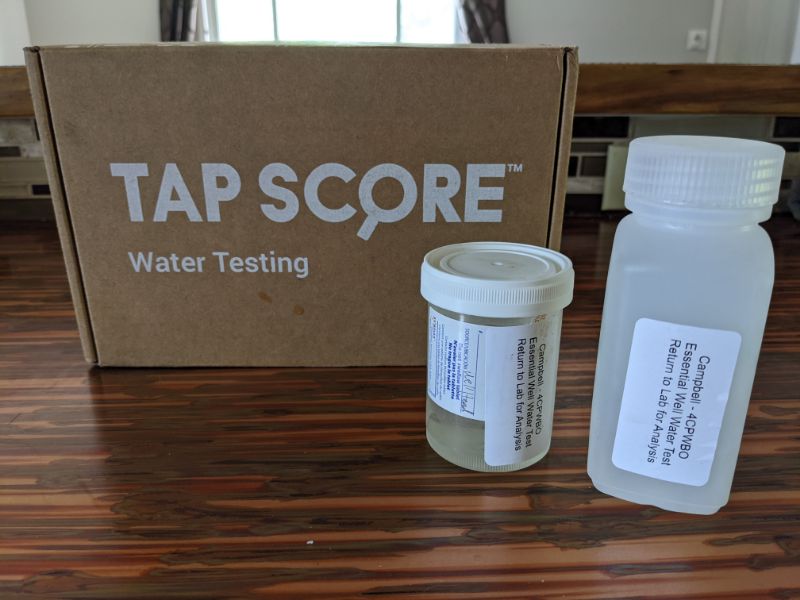 2) DIY Test Kits
DIY water tests offer an affordable way to test for heavy metals in your water.
Most DIY test kits give an indication of water quality by highlighting a select group of contaminants present, including heavy metals like lead, copper, and mercury. These tests usually detect hardness and pH, too.
A single test strip is made up of several different testing squares. When submerged in water, each square changes color, depending on the concentration of the contaminants detected. Usually, the darker the shade, the higher the level of contaminants present.
To use a DIY test kit to test your water for lead, follow these steps:
Remove the instructions, the color chart, the sample tube (if included), and the test strips from the box
Fill the test sample tube or a clean glass with water
Dip a test strip in the water and leave it submerged for 2-5 minutes (according to the instructions)
Compare the colors of the strip to the color chart to determine your water's heavy metal contamination
Read our review of the most accurate home water testing kits available today 👈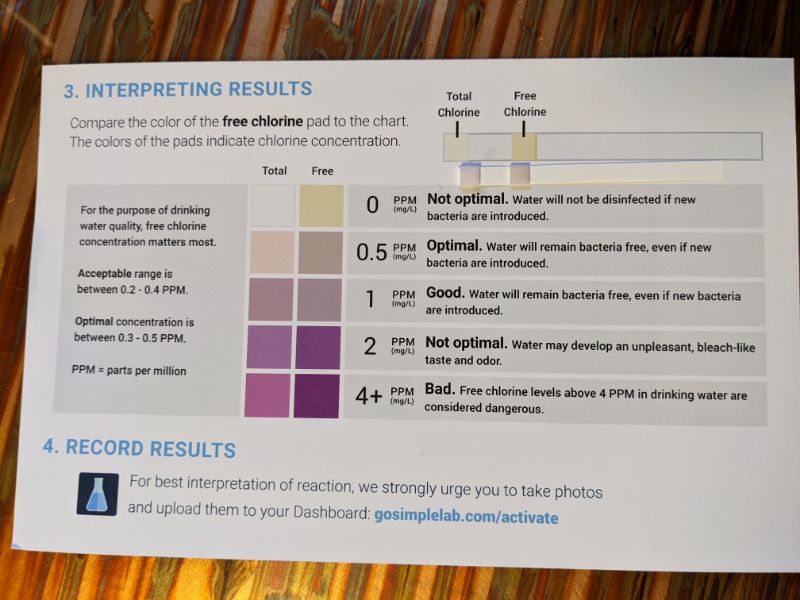 📖 How to Choose the Right Heavy Metals Test Kit: What to Consider
Wondering what kind of heavy metals test kit is right for you? Consider these things:
Your Budget
First of all, consider how much you can afford to spend – or can justify spending – on a heavy metals test kit.
If you want the most reliable test results and your budget is flexible, you'll be best buying a laboratory test.
Lab tests cost $150-$300 on average, depending on how many analytes they test for. You pay more money for professional testing and accurate results.
If your budget is smaller and you're not bothered about getting the most thorough test results possible, you should be fine with a DIY heavy metals test.
At-home DIY test kits cost $15-$55 on average, depending on their design and the contaminants they test for. These kits cost less money because they don't tell you the exact concentration of a contaminant and they're conducted by the user at home (not a professional at a lab).
Your Testing Urgency
How urgently do you need to know whether or not there are heavy metals present in your water supply?
If you want to see instant results, even if those results may not be super thorough or accurate, a DIY test kit is the best option.
DIY test kits deliver results within minutes. Most test strips are designed to work just 2 minutes after they're submerged in water.
If you don't mind waiting for up to 2 weeks for your results – and you switch to bottled water if you have any major concerns (such as lead poisoning) – laboratory tests are the better option.
Lab tests take longer to deliver results because it takes time to deliver your water samples by post, then you'll be put in a queue behind other customers.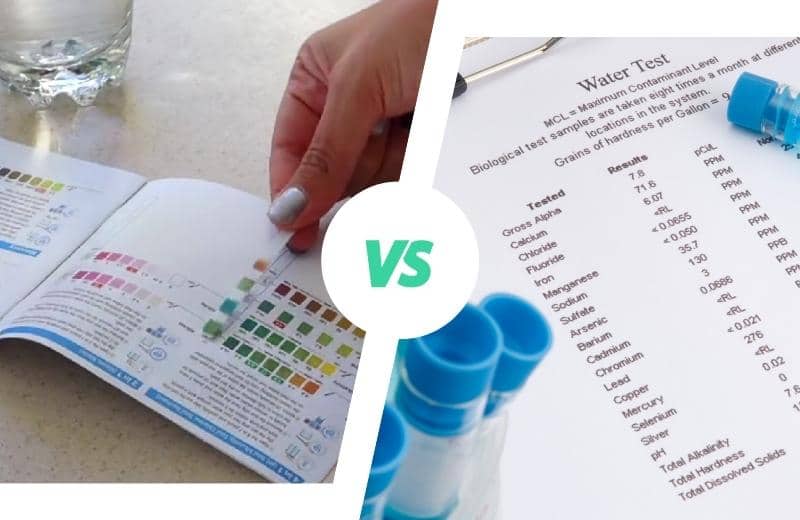 Results Accuracy
If you have any reason to be concerned about high concentrations of metals in your water source, we recommend using a laboratory test to detect heavy metals. That's because laboratory testing offers the most accurate test results for metals levels in tap water.
📌 A lab test will tell you exactly the exact amount of heavy metals your water contains (usually in parts per million, or PPM, or milligrams per liter, or mg/L) – even if only low levels or trace amounts are detected – and a good test will even compare the metal levels to the EPA's Maximum Contaminant Level Goal for each metal.
📌 DIY test kits, on the other hand, can only give you an indication of whether or not a contaminant is present, and a range of concentration, based on how the color on the test strip compares to the test chart.
If you're just curious about your water's lead levels, you can use a DIY test kit to begin with, then consider upgrading to a laboratory test depending on your test results.
Testing Scope
If you want the most scope and flexibility when testing for heavy metal contamination, you need a laboratory test.
Lab testing gives you the option to test for all likely heavy metals in your water, alongside other common contaminants.
DIY tests, on the other hand, are more limited. Most DIY tests detect the same group of contaminants, and you probably won't find a dedicated water test for heavy metals.
If you just want to test for the most common heavy metals, like copper, manganese, arsenic, lead, and mercury, you'll probably be fine with a DIY test. Otherwise, to test for all heavy metals, including the various types of chromium, order a laboratory test.
🔁 Alternative Option To Testing: Water Quality Reports
If you don't want to spend money on a heavy metals test just yet, a good place to start is to look at your annual Water Quality Report, or Consumer Confidence Report (CCR).
Community water systems in the USA are legally required to provide CCRs to their customers, offering full transparency about their water quality.
Your local water supplier might share a CCR online for customers to view at any time, or you might need to request a report by email or post.
Consumer Confidence Reports highlight all the contaminants present in your drinking water supply, and to what level.
📌 Note that these reports are only accurate at the time of testing – contaminant levels may fluctuate on a day-to-day basis. Plus, a CCR doesn't account for heavy metal contamination post-treatment, such as metal leaching from plumbing systems and underground water delivery pipes.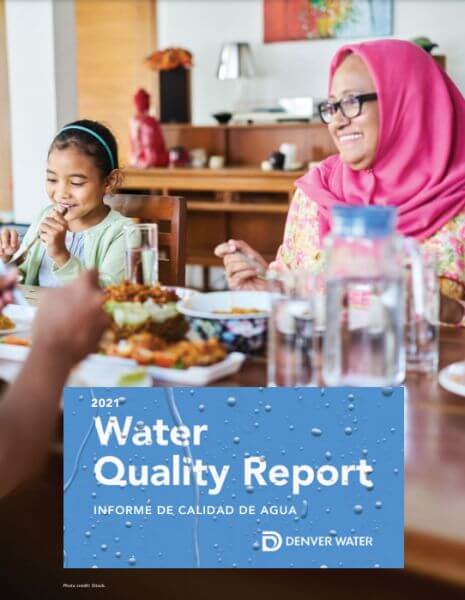 📝 Final Word
The best way to test for heavy metals in water is with a certified laboratory test. Alternatively, if your budget is small or you're not too concerned about your water quality, use a DIY heavy metal test.
Make sure you're aware of all the possible toxic metals, and their health risks, in your tap water supply.