Wondering whether a water filter pitcher will help you to save money on bottled water? How much can you expect to save if you buy a water filter pitcher?
We've shared everything you might want to know in this guide.
📌 Key Takeaways:
A water filter pitcher can help you to save money on bottled water because it provides you with a clean, great-tasting drinking water supply at home, so you no longer need to spend your money on replenishing your bottled water stock.
You can expect to save hundreds, even thousands, of dollars if you switch from exclusively drinking bottled water to using a water filter pitcher.
Other benefits of using a water filter pitcher instead of drinking bottled water are that you have complete control over how your water is treated, it's a convenient at-home solution, and you're at less risk of exposure to microplastics.
💰 Does A Water Filter Pitcher Help You Save Money On Bottled Water?
Yes, a water filter pitcher will help you to save money on bottled water, especially if you currently exclusively drink bottled water and won't touch tap water.
You can use a water filter pitcher to remove the contaminants you're concerned about in your water. The best filter pitchers should effectively address all the reasons why you currently don't want to drink your tap water, whether you're worried about the health effects of certain contaminants, or you don't like your water's taste.
When you buy a water filter pitcher for your home, you'll get to enjoy clean water with an improved taste that has come from your own faucet. So, you won't have to spend money on as much bottled water because you can start drinking your tap water at home again.
Plus, a water filter pitcher is one of the most affordable filter types to buy and maintain. The average cost of this filtration device is $40-$75, and the typical annual cost of filter changes is less than $100, even for higher-end products.
So, a water filter pitcher can help you save money on bottled water – and it shouldn't significantly add to your spend on great-tasting water, either.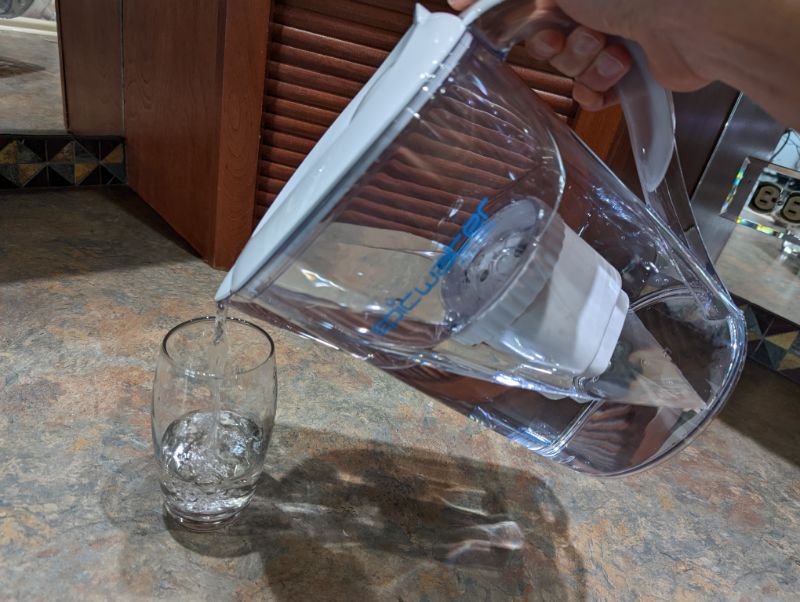 🤔 How Much Money Can A Water Filter Pitcher Save Compared To Bottled Water?
So, we know that a water filter pitcher can save money on bottled water – but how much money are we talking?
Let's break this down.
The average daily recommendation for drinking water is around 8 glasses, or 64 ounces, for a healthy adult.
If you have a family of four, that means collectively, you should drink around 2 gallons of water per day.
Now, let's say that you spend around $6 on a case of water, or around $0.40 per bottle.
To work out the annual cost of bottled water, assuming that you drink bottled water exclusively, you'd do this sum:
Cost per bottle x number of bottles per person
Then, with this figure, you'd continue with the following:
x the number of people in your family x 365 (days in a year)
For the figures we've shared above, the sum would be:
$0.40 x 5.3 = $2.13
$2.13 x 4 x 365 = $3,095.20
So, your annual average spend on bottled water comes to over $3,000.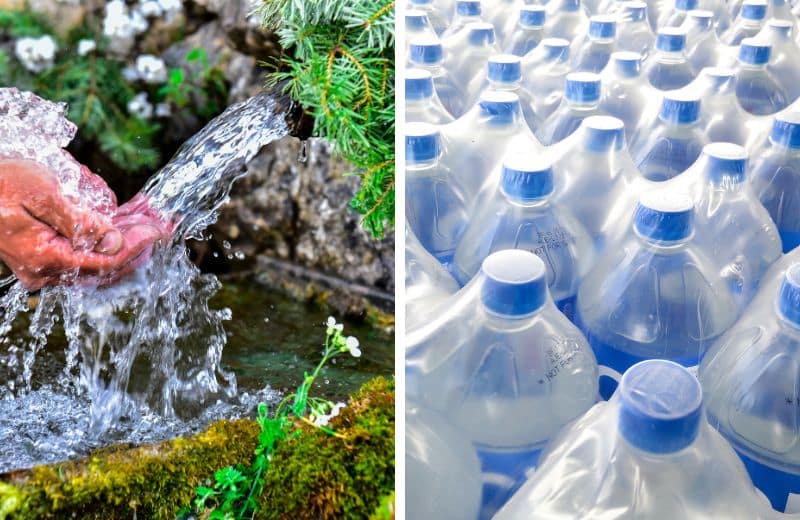 We should point out that this bottled water cost assumes that you're buying lower-cost bottled water, not the fancy artisan stuff in glass bottles, which can cost double or triple the amount.
Now let's consider the cost of a water filter pitcher.
Most basic water filter pitchers have a starting price of around $40. They need a maximum of 6 filter changes per year, costing around $100, maximum. You can buy multipacks of filters in advance so you know exactly what you'll be spending that year.
We should also take the cost of your tap water into account. The price per 1,000 gallons in the US is about $5.85. On average, a family of 4 uses around 730 gallons of tap water per year for drinking, so the annual cost of tap water is around $4.27.
So, to work out the cost of a water filter pitcher per year, you'd do this sum:
Pitcher upfront cost + annual filter replacement cost + annual cost of water from tap
That would be:
$40 + $100 + $4.27 = $144.27
That means, in this scenario, you'd potentially save just over $2,800 per year if you exclusively filtered your water in a pitcher rather than drinking bottled water.
⌨️ Bottled Water vs Water Filter Pitcher Cost Calculator
Annual Cost of Bottled Water: $0.00
Annual Cost of Filter Pitcher: $0.00
Total Savings:
$0.00
📌 Note: Assumes the US average cost of tap water $0.00585/gallon.