If you don't want the responsibility of installing a water softener yourself, the solution is simple: hire a plumber to do the job for you.
But how can you trust a plumber to install your water softener? What should you look for in a reliable plumber?
We've answered these questions in this guide.
👨‍🔧 How To Choose A Plumber To Install a Water Softener: 5 Considerations
When choosing a plumber to install your water softener system, consider the following things:
Level Of Experience
First off, it's essential that your chosen professional is experienced in not only plumbing, but specifically in installing water softeners.
Check that your shortlisted plumbers have a history of installing salt-based water softeners, and have all the skills for the job, including cutting into your main water line and installing a drain line.
If you have a salt-free water softener without a drain, you just need a professional who has experience in installing water treatment systems at your home's plumbing system.
Licensing & Insurance
You'd be surprised to learn just how many plumbers in your local area operate without a license.
We strongly recommend only hiring a plumber who's licensed, meaning that they're registered with your state or local governing body. You can find out which plumbers in your area carry suitable licenses for your project by searching your municipality's or county's database.
Your plumber should also have insurance and workman's compensation, regardless of whether or not you have homeowner's insurance. It's important that both you and your plumber are protected for the job that they'll carry out.
Reputability
Reputability is key across most home service industries. If a plumber has a bad reputation, you probably won't want them in your home.
Hiring a plumber to install any water treatment system requires a lot of trust. You're inviting that person into your space and relying on them to do a good job for a fair price. Ideally, you also want someone with good social skills who won't make you feel uncomfortable.
You can learn a lot about a plumber's reputation by reading their customer reviews online.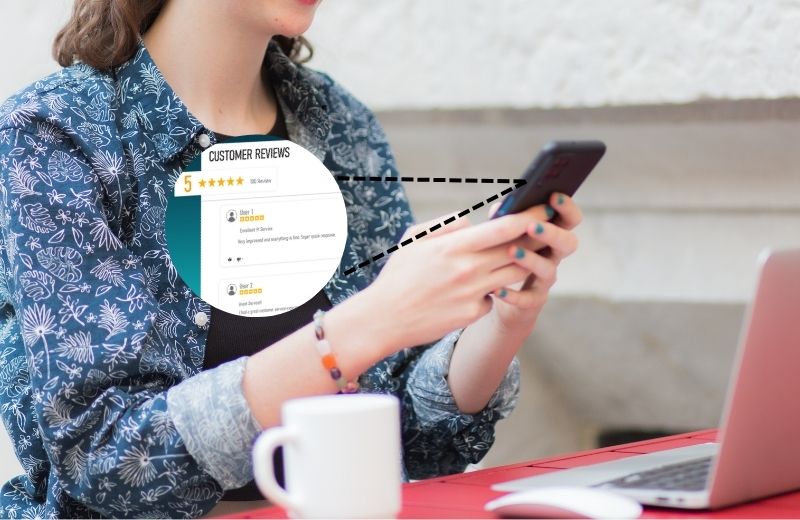 Warranty
Your shortlisted plumbers should take pride in the work they do and know for certain that they can provide a certain level of quality.
In this case, it makes sense that a good plumber should offer a warranty of at least 1 year for their work.
If a plumber doesn't offer a warranty or guarantee, don't work with them.
Cost & Completion Time
Finally, before you choose a plumber to install your water softener system, find out how much it'll cost and how long the job will take to complete.
Here's where you can compare different plumbers before settling on the professional that will offer the best value.
Most plumbers provide quotes for free, based on how long they think the job will take. You should get your quote in writing so that you have it as evidence when the job is completed.
🔎 How To Find A Good Plumber
Still shopping around? There are a few ways you can find a good plumber:
Ask Your Friends For Recommendations
Every homeowner needs a plumber at some point, so ask your friends and neighbors if they've recently had a good experience with a plumber.
Somebody you know should be able to recommend you a good plumber that they rely on time and time again. You might even get a few recommendations that you can choose between.
Even better if you know a friend or neighbor who has had a water softener installed by a plumber, and can recommend this plumber to you.
Ask The Locals Online
If you don't know anyone personally who has hired a plumber in your area, try asking the locals online.
Ask for recommendations on your local area's Facebook group or on apps like Nextdoor. You should be inundated with responses, and you'll probably see a few people recommending the same person – a good sign that they're a trusted professional in the area.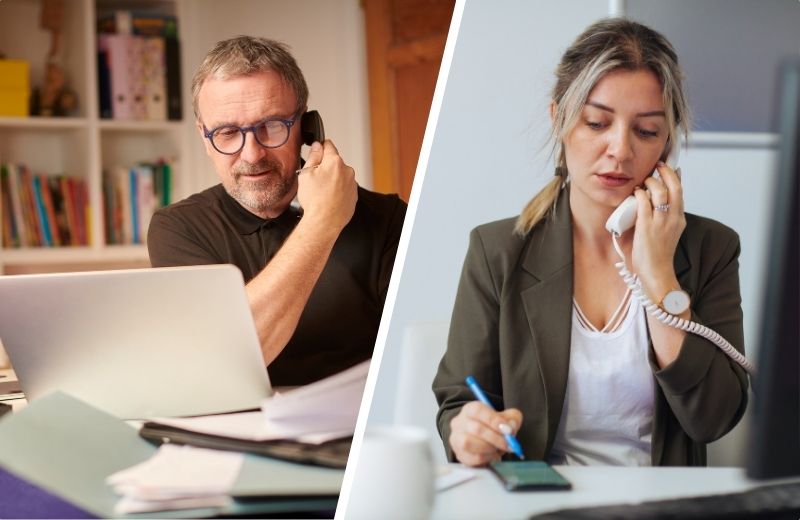 Read Reviews
Finally, if you want to be more passive in your search for a plumber, it's quick and easy to read reviews online.
Visit online review sites to see what previous customers have to say about plumbers in your area.
Reviews give you a great idea about not only the quality of service you can expect, but also things you otherwise wouldn't know until you met the plumber, such as their personality and friendliness.
🤔 Why Hire A Professional Plumber For Water Softener Installation?
You don't need a water softener installation professional. Many homeowners choose to install their softener themselves, since the water softener system cost is already so high.
However, regardless of how much extra a professional installation of a water softener costs, we still recommend that you at least consider hiring a plumber.
Here are some of the reasons why you should hire a professional to install your softener system.
They Know What They're Doing
Chances are, no matter how highly you rate your DIY skills, you don't have the plumbing experience or expertise of a professional plumber.
You'll be able to handle the basic maintenance tasks after installing your softener, like topping up the brine tank with the water softener salt. But the installation process itself is complicated and involves cutting into your main water pipe and installing a drain line.
A competent plumber should be able to confidently complete this task, providing reliable results.
You Can Save Time & Hassle
Yes, hiring a plumber to install a water softener system costs money. But time is money, and for many people, a water softener installation cost of a couple hundred dollars is worth it for the hours of hard labor it takes off their hands.
Installing a water softener is a long, painstaking experience for someone who's never done it before, and a professional plumber can take the hard work off your hands.
They're Safety Experts
Water softeners are big, bulky systems that carry some element of risk.
Incorrectly installing a softener could cause a catastrophic leak in your home. You might get injured trying to carry the heavy resin tank or using the sharp tools to cut into your pipes.
A professional plumber experienced in installing water softener systems is far less likely to make the blunders of an inexperienced homeowner. Plumbers know how to safely carry out even the most dangerous of jobs, such as replacing a water heater, so you can rely on a local expert to safely get the job done well.
They're On Hand To Help For Troubleshooting & Maintenance
Water softener systems require some level of care once they've been installed. You should be able to stay in touch with your plumber and ask for their help with certain maintenance or troubleshooting tasks (this may come at an extra cost).
📖 What You Should Know Before You Contact A Plumber
Before you contact a professional to install a water softener at your plumbing system, you should know a few things.
This will ensure that the plumber can give you an accurate quote for the installation costs, and you too will understand exactly what you're asking of your plumber – so you can know for certain that the finished job is done properly.
Here's what you should know before you get in touch with a plumber to install your water softener system:
Your Required Plumbing Service(s)
Different plumbers offer different selections of services. Some of these services include:
Fitting new pipes
Installing water treatment systems
Modifying plumbing systems
Maintenance and repairs
Drain installation
Before you get started, work out what services you'll need to install your softener. Typically, salt-based water softeners installed at a main water pipe need services including the actual installation, as well as drain line setup and plumbing modifications.
Your System Size
The bigger and more complex the water softener, the more money it'll probably cost to install. How much did your water softener system cost?
Generally, the more expensive systems are physically larger and heavier, and may cost more for a plumber to install.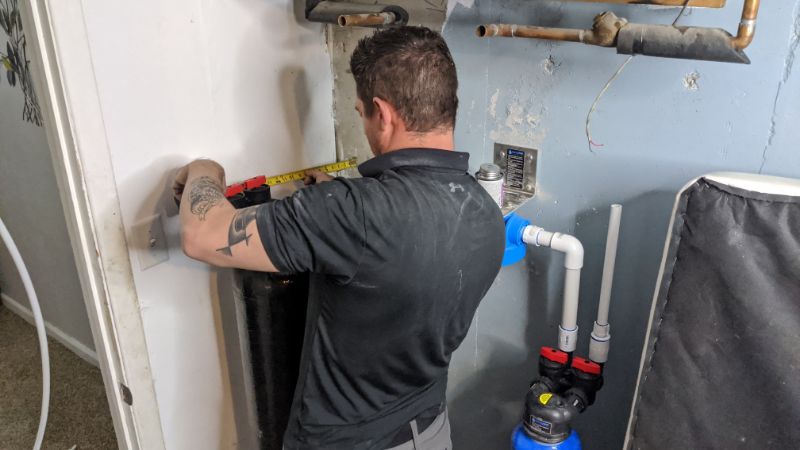 Your System Model & Brand
Different brands sell different water softener types and models, and when it comes to installation, not all are equal.
A more complex model will typically have a higher installation cost because it'll require more time, effort, tools, and parts to install.
On the other hand, simpler models, such as all-in-one softener systems or salt-free water softeners, will be quicker and easier to install, so you can save money on the professional installation process.
Your Plumbing Situation
There are a few things you will need to know about your plumbing system, including the location of your main water supply line and shutoff valve, the size of the water line, and the materials it's made of.
A water treatment specialist will need to know this installation for a couple of reasons:
It'll speed up the installation process and reduce the cost of their plumbing services.
They can prepare in advance by collecting the necessary parts from a local hardware store.
If you're not sure about the size of your main water pipe, there are a few easy methods you can use to work it out.
Your Additional Needs
Got a problem with your plumbing fixtures or pipes? It's a great time to get these fixed when your plumber is already on your property. And, in fact, depending on the issue, your plumber might refuse to install your water softener until another problem has been resolved.
So, if you have any additional needs, make them known when you contact a plumber for your water softening system installation.
🧐 Should You Hire A Plumber To Install Your Water Softener?
Hiring a competent, reputable plumber to install your water softener system means the installation process is guaranteed to be done properly.
It takes the hard work off your plate, but you'll still need to know exactly what you need a plumber to do, so they can properly prepare for the job and give you an accurate quote based on the task at hand.
Ultimately, it's your decision whether or not you want to hire a plumber to install your water softener.
Of course, plumbers cost more than doing the installation yourself. But if you're not a confident DIY-er or you just don't want to spend hours installing a water softener system yourself, a professional plumber or handyman can save you the stress and hassle.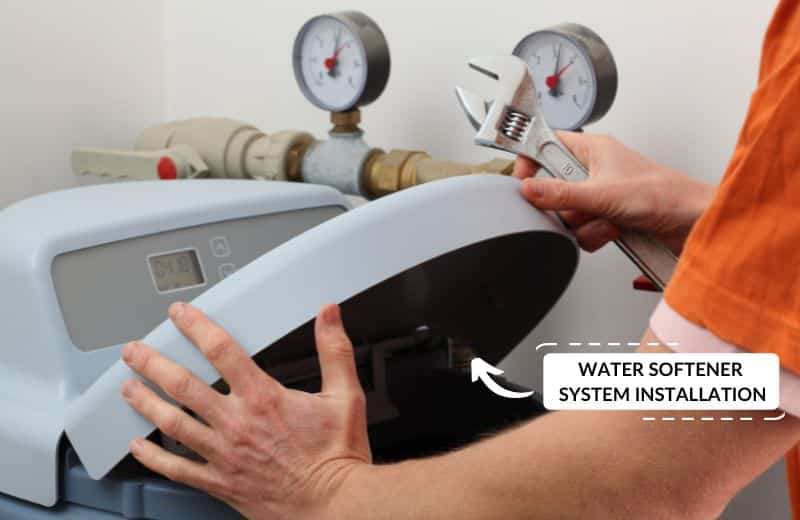 ❔ Plumber For Water Softener Installation: FAQ
How much does labor cost to install a water softener?
The labor cost of installing a water softener (i.e. the cost per hour that the plumber or handyman charges, excluding the cost of the water softener or any accessories needed), is around $30-$50/hour. Or, your plumber might charge a flat fee for the job, which typically ranges from $200 to $350.
Who fits water softeners?
Anyone can fit a water softener, including you (the homeowner), an experienced plumber, or a handyman who specializes in water softener installations. It's important to know that some water softener manufacturers will void the warranty unless the system is installed by a licensed professional.
Can you install water softener yourself?
Yes, you can install a water softener yourself. If you're a handy person and you can put in the several hours the installation process will take, then you should definitely consider saving money and DIY installing the system. Make sure to follow the instructions clearly and take all the precautionary measures to prevent leaking during the installation process.
How long does it take to install a water softener?
The water softener installation process takes around 3-4 hours. The exact install time depends on factors including the complexity of the system, the experience level of the person doing the installing, whether any additional parts are required, and the type of plumbing the system is being hooked up to.