Installing a water softener can help immensely with common water hardness issues that many people in the US deal with. Softening your water can prevent scale buildup and eliminate problems with soap scum, spotting on dishes, dry skin and hair, poorly performing appliances, and much more.
But to be successful in softening your water, you need to make sure that your water softener hardness setting is accurate. In this guide, I'll be sharing the factors that affect your water softener's hardness setting, and what you should set your hardness setting to.
📋 What Factors Affect a Water Softener Hardness Setting?
There are three factors that determine how to set your water softener's hardness setting: the grains of hardness in your water, the presence of iron, and the age of your water softener.
Water Hardness
It's important to know your water hardness before programming a water softener. The more grains of hardness your water contains, the harder your water softener will have to work.
You need to make sure that your system is programmed to tackle the hardness your water supply contains. This will ensure that the resin can remove all the calcium and magnesium present in your water. If your water hardness is higher or lower than your water softener is set to, it may be unable to properly do its job.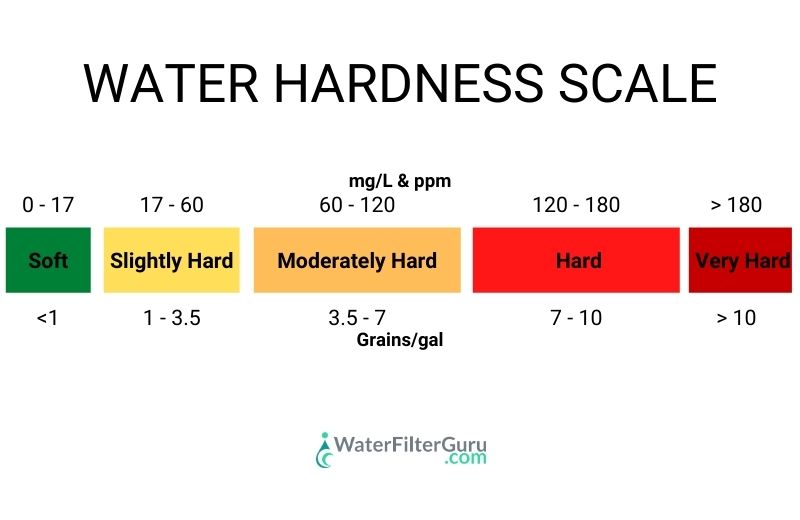 | Hardness | Grains per Gallon (GPG) | Parts per Million (PPM) & mg/L |
| --- | --- | --- |
| Soft | <1 | 0 – 17 |
| Slightly Hard | 1.5 – 5 | 17 – 60 |
| Moderately Hard | 3.5 – 7 | 60 – 120 |
| Hard | 7 – 10 | 120 – 180 |
| Very Hard | >10 | >180 |
If Iron is Present
Most water softeners are also capable of removing dissolved iron from your water – but only if you program them properly.
I recommend testing your water for iron as well as for calcium and magnesium. Iron test kits are cheap, easy to use, and deliver a result quickly.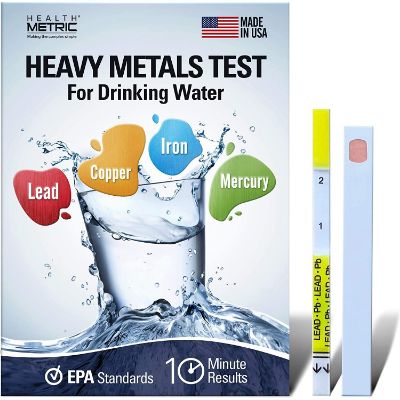 Once you know how much iron your water contains, you can work out your softener's hardness setting. For every 1 PPM (part per million) of iron, add 4 to your total hardness number. So, if your test results show that your water contains 1 PPM of iron, add 4 to your overall hardness number. If you have 2 PPM of iron, add 8 to your hardness number, and so on.
Programming a higher hardness number into your water softener means that it should be well equipped to deal with dissolved iron, as long as it has the capacity for it in the first place.
It's important to note that if your water's iron content is excessive, a standard water softener may struggle to remove it, and the iron could even end up damaging the softener. I recommend purchasing an additional iron removal system if you have a big iron problem.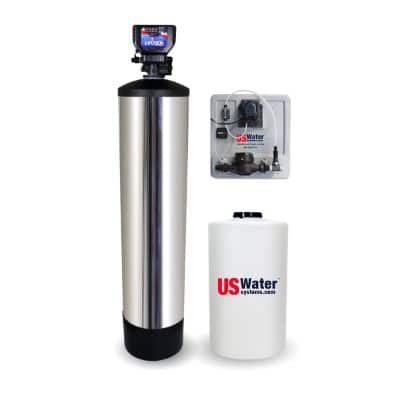 Age of the Softener
If you have an older water softener, you will most likely need to set it higher than if you had a brand-new system.
Water softeners contain a resin, which holds onto sodium ions and releases them into water during the ion exchange process. This resin then swaps the sodium ions for hardness minerals, effectively softening the water.
A new water resin is at its peak in terms of efficiency and performance. The resin can hold onto hardness ions and operate until its maximum capacity. As a resin ages, it becomes less capable of holding onto these ions, and this may affect its ability to soften your water.
For this reason, you will need to increase the hardness setting of your water softener to account for decreased efficiency. This will ensure that the resin is still able to perform as it could when your water softener was new.
📌 How Can I Find Out My Water Hardness Level?
There are several ways you can find out the hardness of your water.
The easiest method is to do the soap test. Add a teaspoon of liquid dish soap to a plastic water bottle and fill it almost to the top with water. Close the lid and shake the bottle. If, after shaking, there are bubbles in the water, your water is relatively soft. But if there are no bubbles, and a milky layer has formed on the surface of the water, your water is hard.
For more insight into your water hardness level, you can buy an at-home hardness test, which measures water hardness in grains per gallon (GPG). This type of test uses test strips, which you can dip into a water sample. The strips will change color to indicate your hardness level.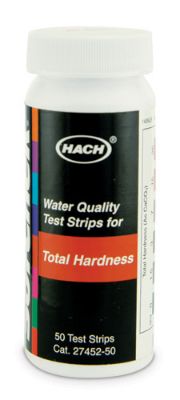 The most accurate method is to utilize a certified laboratory. After you have posted a sample of your water, a laboratory will test your water and give an in-depth breakdown of your water hardness in grains per gallon and parts per million (PPM) or milligrams per liter (mg/l).

🤔 What Level Should My Water Softener Hardness Setting Be Set To?
If your water doesn't contain dissolved iron, you just need your water's hardness rating – plus a hardness buffer, depending on the age of the water softener – to figure out what to set the softener hardness to.
The table below gives an idea of how you might set your water softener based on your water hardness, your iron content, and the age of your water softener.
| Water Hardness (GPG) | Iron (PPM) | Buffer for Iron | System Age | Buffer for Age | Hardness Setting |
| --- | --- | --- | --- | --- | --- |
| 5 | .5 | 2 | < 10 years | 0 | 7 |
| 5 | 1.0 | 4 | > 10 years | 1 | 10 |
| 5 | 1.5 | 6 | < 10 years | 0 | 11 |
| 5 | 2 | 8 | > 10 years | 1 | 14 |
| 10 | 1.0 | 4 | < 10 years | 0 | 14 |
| 10 | 1.5 | 6 | > 10 years | 2 | 18 |
| 10 | 2 | 8 | < 10 years | 0 | 18 |
| 10 | 2.5 | 10 | > 10 years | 2 | 22 |
| 20 | .5 | 2 | < 10 years | 0 | 22 |
| 20 | 1.5 | 6 | < 10 years | 0 | 26 |
| 20 | 2.0 | 8 | > 10 years | 4 | 32 |
| 20 | 2.5 | 10 | > 10 years | 4 | 34 |
💭 Frequently Asked Questions
What Can Happen If My Water Softener Is Not Set Correctly?
If your water softener isn't set correctly, you may experience one of two issues.
When a water hardness level is set too high for your actual water hardness, the softener will regenerate too frequently. Because of this, you'll go through salt at a faster rate, and end up spending more money on maintenance than you need to.
If your softener's water hardness level is set too low for your actual water hardness, your softener won't be properly set up to deal with your water, and you won't fully eliminate your hardness problem. You'll end up spending more money than you need to on things like shampoo and cleaning items.
Can water hardness change?
Yes, water hardness can change, though it's usually a gradual thing, and not a sudden increase or decrease. Whether your water hardness changes at all, and to what level, depends on where you live, and what is happening in your local area that might have an effect on water hardness. Construction work in your area might cause a change in your water hardness, so it's wise to test your water once every year or so and adjust your softener based on any changes you find.
Is hardness measured in grains per gallon or parts per million?
Both. Grains per gallon is a measurement of hard water, while parts per million or milgrams per liter measures the exact quantity of calcium and magnesium minerals in hard or soft water. If your drinking water has 1 PPM of hardness, it means that it contains one unit of hardness out of one million units.
PPM and mg/L are equal measurements, so 5 PPM is equal to 5 mg/L.
How do I know if my water softener setting is right?
If you want to check that your water softener is producing soft water, the easiest method is to test your water hardness after treatment. Use an at-home water quality kit that measures for hard water. The kit should indicate that you have softened water.
If testing shows that you still have hard water, your softener's settings might not be programmed right. However, water softeners are complicated systems, and there are many reasons why you may not be getting softened water from your unit. It's important to check that your softener is performing as it should be, and diagnose potential issues as they arise.
Is it possible for water softeners to lose their programmed hardness setting?
Yes. A power outage or multiple power surges in your home can cause your water softener to lose its settings and revert back to the basic water softening settings that were already programmed in when you bought the system. Even a brief power interruption can cause the unit to lose its settings.
I would recommend making a note of your hardness setting and checking the unit from time to time to make sure that it's still working to your requirements. This is also important when you have time changes, twice per year, for purposes of adjusting the timer to the current time. If you don't notice that your pre-programmed settings have been lost, your system may end up regenerating far more often than it should, or not enough to produce softened water for your household.
Why is it so important to make sure my water softener is programmed correctly?
Hard water isn't dangerous, and nothing truly bad will happen if your water softener's settings are off. But you've invested in this form of water treatment, so it makes sense that you should want it to work.
If you're paying to operate the unit but it's still delivering hard water to your home, you may as well have not bought it in the first place. Knowing how to program your water softener will ensure that you use less salt per regeneration, and that you have constant access to soft water on a day-by-day basis.
What if my water softener is using an excessive amount of salt?
Too much salt being used could be because you've set your water softener's hardness level too high. There could be other issues, too, such as the brine tank float not being set correctly. Check that the float isn't too far up in the brine tank, which may result in too much water, and a lot of salt being dissolved and wasted.
Your water softener might simply require too much salt because you use a lot of water in your house. Check that you don't have any appliances that run constantly, like toilets, which could be the reason for your excessive salt use.