The Clearly Filtered water filter pitcher is our top choice for pitchers that can remove fluoride from water. These are our top picks based on fluoride removal capability, overall contaminant reduction, filter life, customer satisfaction and of course, affordability.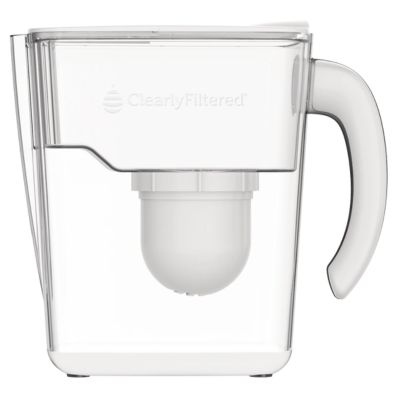 Clearly Filtered Water Filter Pitcher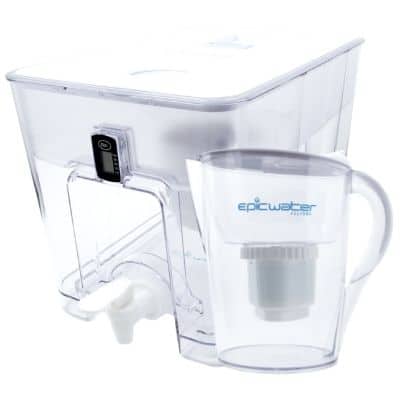 Epic Pure Water Filter Dispenser or Pitcher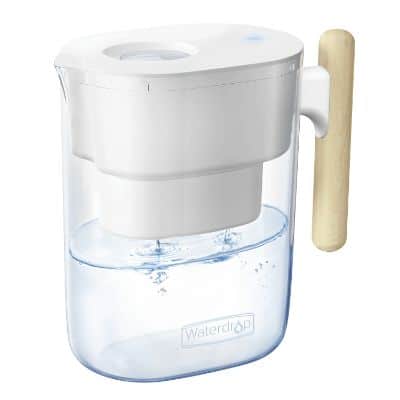 Waterdrop Chubby 10-Cup Water Purifier Pitcher
Hey there, fluoride hater! Welcome to our best fluoride-removal water filter pitcher guide.
We've used over a dozen different water filter pitchers to treat our fluoridated drinking water in states across the US. Feel free to invest unwisely in a pitcher that doesn't work, but we strongly recommend going with one that looks and acts the part, eliminating fluoride and producing clean, great-tasting drinking water.
#1 is our favorite, but #2 is the best dispenser and #4 has the longest filter life.
🥇 Best Water Filter Pitchers That Remove Fluoride
📊 Comparison Chart of Water Filter Pitchers that Remove Fluoride
Product

Clearly Filtered
Water Filter Pitcher

Epic Pure Water
Filter Dispenser or Pitcher

Waterdrop Chubby 10-Cup
Water Purifier Pitcher

Proone Water
Filter Pitcher

ZeroWater
Filter Pitcher
Ranking
1st
2nd
3rd
4th
5th
Ratings
5/5
4.5/5
4.5/5
4/5
4/5
Price
$$
$$
$
$$
$
Fluoride Reduction
99.5%
97.8%
98%
97.5%
99%
Contaminants Reduced
365+
200+
10+
200+
23+
Certifications or Testing
NSF 42, 53, 401 & 473
NSF 40, 42 & 53
NSF 42 & 372
NSF 42
NSF 42 & 53
Filter Life
100 gallons
150 gallons
200 gallons
225 gallons
20 gallons
Warranty
Lifetime
Lifetime
1 year
90 days
90 days on pitcher
30 days on filter
⭐ Reviews – Fluoride Removal Pitchers 2023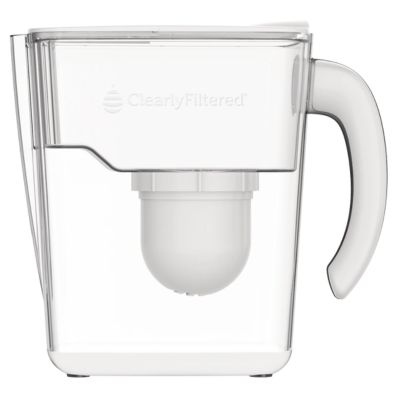 Clearly Filtered Water Pitcher
Our testing highlighted the Clearly Filtered Water Pitcher as the most capable water filter pitcher across the board, not only for 99.5% fluoride reduction, but for the reduction of more than 365 harmful drinking water impurities.
Key Features:
Reduces 99.5% fluoride – In the Clearly Filtered Water Pitcher datasheet, the test water source had 2.18 mg/L fluoride, and the Clearly Filtered reduced this concentration down to <0.010 mg/L – a 99.5% reduction.
Greatly reduces 365 contaminants – You won't find another water filter pitcher that reduces anywhere near as many contaminants as the Clearly Filtered Water Pitcher. This capable pitcher protects you from far more than just fluoride.
Obtains healthy minerals – Despite targeting some minerals in drinking water (i.e. fluoride), this smart filter retains healthy alkaline minerals that give water a pleasant taste.
Tested to NSF Standards – Although the Clearly Filtered pitcher doesn't have an official NSF certification, it's been independently tested to NSF Standards 42, 53, 401, and P473.
Best For: Anyone looking for a filter that has been proven to virtually eliminate fluoride and greatly reduce more than 360 contaminants for the cleanest, safest, best-tasting drinking water.
Pros:
In our testing, the Clearly Filtered pitcher was the most thorough and effective, essentially purifying our drinking water while retaining a pleasant taste from healthy minerals.
It's great to know that this pitcher is made from BPA-free materials and comes with a lifetime guarantee – so if it ever breaks within its expected lifetime, Clearly Filtered will replace it for free.
We love that the filters last for around four months, or 100 gallons – about double the average two-month lifespan of most filters.
Cons:
We noted that it took over 10 minutes for our water to be filtered, and some customers said that their flow rate reduced quickly as the filter aged. Plus, the pitcher is more expensive than others on this list (though the value for money is excellent).
Read the Full Review: ClearlyFiltered Pitcher Review
---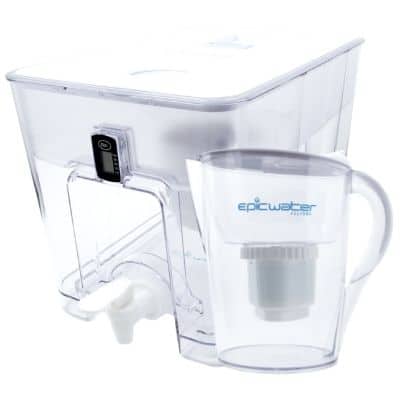 Epic Pure Water Filter Dispenser or Pitcher
Epic Pure offers a compact, portable water filter pitcher and a larger water filter dispenser, which both use the same filter: a Pure Filter that has been independently tested to remove 97.8% of fluoride.
Key Features:
Removes 97.8% fluoride – The Epic Pure filter isn't quite as capable as the Clearly Filtered at reducing fluoride, but it's close. 97.8% is still a very reassuring number.
Reduces up to 99.99% tap water contaminants – This water filter can remove over 200 drinking water contaminants.This is second-best to the Clearly Filtered pitcher, but huge leaps ahead of any other pitcher on the market.
Tested to NSF Standards – The Pure Filter isn't officially certified, but it's independently tested to NSF Standards NSF/ANSI Standards 42, 53, 401, & P473 for its performance.
Pitcher and dispenser options – The great thing about the Pure Filter is that it can be used in either the Epic Pure Pitcher (which holds half a gallon of filtered water) or the Epic Pure Dispenser (which holds 1.5 gallons of filtered water).
Best For: Anyone looking for a reliable fluoride filter that can be used in a large dispenser, producing a big batch of fluoride-free water, or a standard-sized pitcher.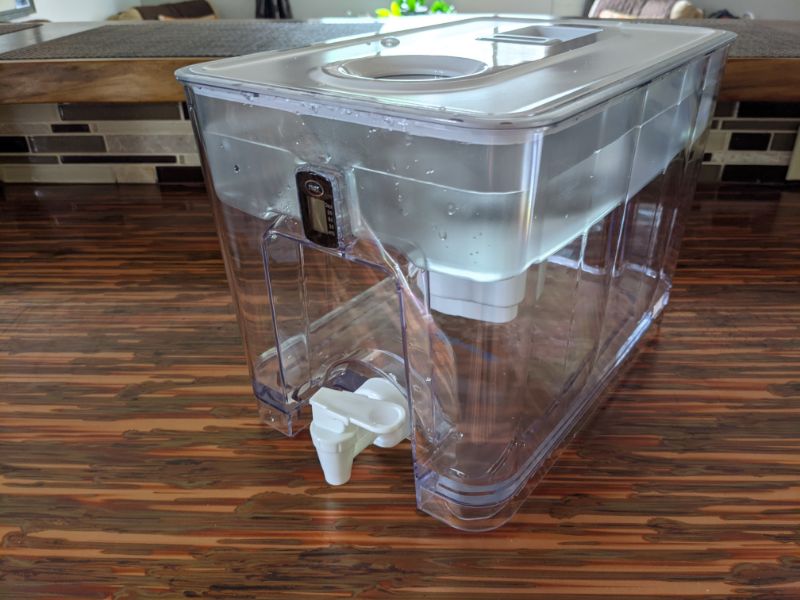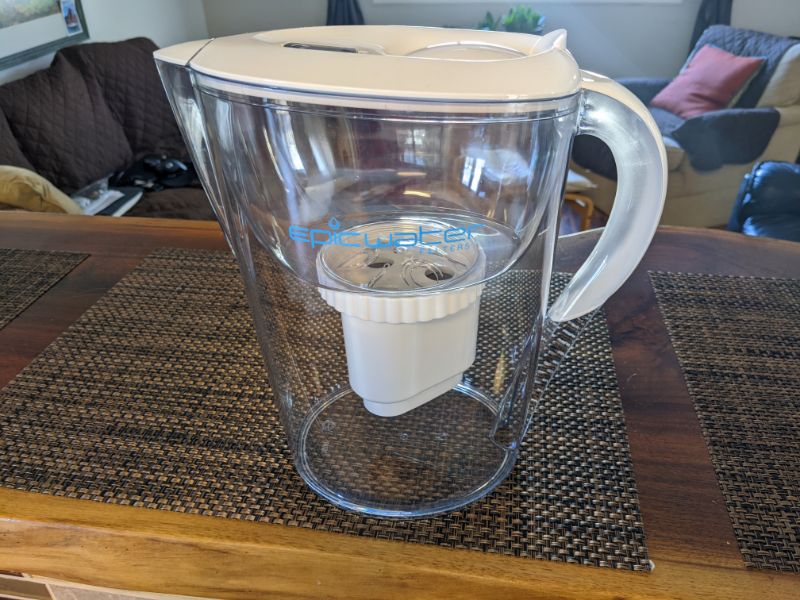 Pros:
In our testing, the Epic Pure filter proved itself second-best to the Clearly Filtered. Our drinking water tasted cleaner and fresher after using this filter.
We love that Epic Pure offers a dispenser option for its Pure Filter, so you can choose to use the filter in a small, compact pitcher or a larger dispenser that holds more filtered water at once. Both fitted snugly in our refrigerator.
It's great that the filter lasts for 150 gallons, or up to six months with light use. We changed it after four months of daily use.
Cons:
There are a couple of design faults with the pitcher: the upper reservoir doesn't click into place, so it moves when you tip the pitcher, and the rate of filtration became very slow for us long before the end of its expected lifespan.
Read the Full Reviews: Epic Pure Water Filter Dispenser Review and the Epic Pitcher Filters Review
---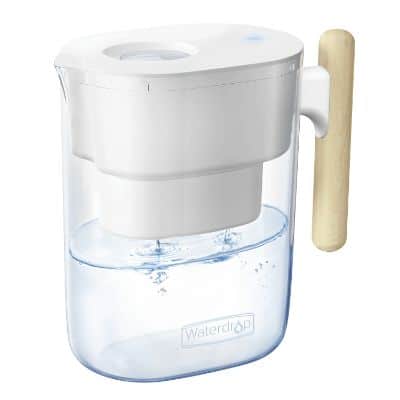 Waterdrop Chubby 10-Cup Water Purifier Pitcher
The Waterdrop Chubby 10-Cup Water Purifier Pitcher is the most attractively designed filter on this list – and it uses multi-stage filtration technology to effectively reduce fluoride in water.
Key Features:
Reduces fluoride in water – Although the Waterdrop Chubby doesn't have test data available online, the pitcher filter is designed to greatly reduce fluoride in water.
NSF certified – If chlorine is also a problem in your water, you'll be happy to know that the Waterdrop Chubby is officially certified to NSF Standard 42, for the removal of chlorine taste and odor. It also has an NSF 372 certification, for lead-free materials.
Advanced filtration tech – The Waterdrop Chubby combines non-woven fabric, ion exchange resin, activated carbon fiber, and coconut activated carbon to reduce contaminants like chlorine, fluoride, iron, lead, aluminum, and mercury.
3-month filter lifespan – This pitcher filter has a 200-gallon, or three-month, lifespan. Here's where you should take filter lifespan with a grain of salt – the Clearly Filtered has a 100-gallon lifespan and apparently lasts up to four months.
Best For: Anyone looking for a filter that looks great and lives up to fluoride removal expectations, and is officially NSF certified for its performance.
Pros:
We were impressed with the Waterdrop Chubby's performance in our testing. The filter noticeably improved the taste and quality of our water.
A lot of pitcher fluoride water filters look clunky and practical, but the Waterdrop Chubby has an attractive design that should fit in any modern kitchen.
It's handy having a filter change reminder, so you know exactly when to swap out the old filter for a new one.
Cons:
It's a shame that Waterdrop hasn't shared its test results online so we know exactly how much fluoride it can remove.
---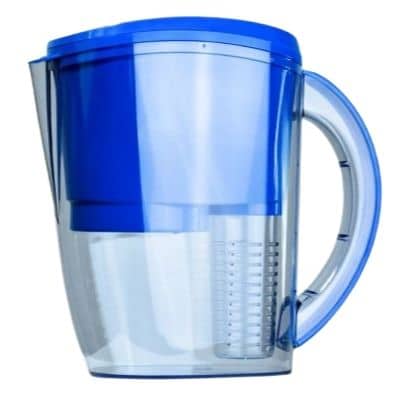 Proone Water Filter Pitcher
The Proone Water Filter Pitcher is our top choice for the best fluoride water filter pitcher with the longest lifespan, reducing up to 97.5% fluoride and lasting for up to 6 months of use.
Key Features:
Removes 97.5% fluoride – The Proone's lab report shows that the pitcher filter can remove more than 97% fluoride from water.
Reduces more than 200 contaminants – This capable filter pitcher can reduce more than 200 other contaminants in water, including chlorine, lead, pesticides, herbicides, mercury, VOCs, and heavy metals.
Tested and NSF certified – The Proone Water Filter Pitcher has an official NSF certification to Standard 42, for chlorine removal. The filter is also independently tested to Standards 42, 53, P231, P401, and P473.
Long-lasting filter – This filter pitcher has the longest filter lifespan of all the fluoride water filters on this list, lasting for 225 gallons or about 6 months.
Best For: Anyone who wants to keep maintenance and filter changes as minimal as possible while still removing an exceptional amount of fluoride from their drinking water.
Pros:
In our testing, the Proone was a top performer when it came to fluoride reduction, virtually eliminating the mineral. Its certified chlorine removal also got rid of the chemical taste in our water.
We enjoyed using a pitcher that only needs two filter changes per year, on average. This is one of the best filter lifespans for a filter pitcher today.
We love the Proone's fruit infusion tube, which lets you produce filtered, fruity water for ultimate refreshment.
Cons:
Some customers experienced leaking when pouring water from the jug if the upper reservoir was full.
Read the Full Review: ProOne Water Filter Pitcher Review
---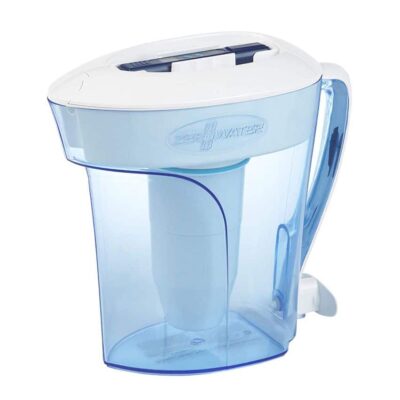 ZeroWater Pitcher
The ZeroWater Pitcher is our bonus pick on this list, removing more than 99% of total dissolved solids, including 99% of dissolved fluoride, from tap water.
Key Features:
Reduces up to 99% fluoride – The ZeroWater is one of the most capable fluoride water filter pitchers on this list, removing an impressive 99% of the mineral.
Targets TDS – The ZeroWater Pitcher is designed to reduce TDS – all organic and inorganic matter, including minerals, salts, heavy metals, and ions.
Independently certified for performance – This pitcher is independently certified to NSF Standards to reduce lead, PFOA/PFOS, and chromium, to Standards 42 and 53.
Includes TDS meter – You can use the included TDS meter to check that the pitcher is working. When the meter reads 006 or higher, you know it's time to replace the filter.
Best For: Anyone who wants to remove everything from their water, including minerals, salts, and ions, with a fluoride filter pitcher from a top brand.
Pros:
We were pleased with the quality of our drinking water after using the ZeroWater pitcher – it truly tasted pure.
This pitcher proved to be one of the most user-friendly in our testing. You can dispense water without having to lift the pitcher thanks to the push-to-dispense spigot.
It's useful being able to test your water with the TDS meter and make filter changes according to the readings.
Cons:
It's not necessarily a great thing that ZeroWater removes all TDS. Some TDS, like healthy minerals, are beneficial in our water.
We don't appreciate that ZeroWater use deceptive marketing to sell their product. The brand insinuates that all TDS is bad – this is false.
---
🕵️ Our Research
Here, you'll find information and advice on whether a fluoride pitcher filtration system is for you, and how we tested, compared, and chose the best fluoride water filter pitchers on this list.
🙋‍♀️ Who This Guide is For
This guide is for people specifically looking for a portable, affordable filter that effectively removes fluoride from this tap water. A pitcher filtration system for fluoride reduction should suit you well if:
You want a filtration system you can take with you anywhere. Pitcher filters are easy to take with you to work, on vacation, or just into the next room.
You prefer to pay a low upfront cost and a recurring maintenance cost. Most pitcher fluoride filters cost between $30 and $60 and have an average filter lifespan of three months.
You want something that's easy to install. Maybe you live in rental accommodation and your landlord doesn't want you to install a filter at your water line, or maybe you just don't enjoy DIY. If so, you'll appreciate that pitcher filters come together in just a few clicks.
You're buying your first-ever water filter. Filter pitchers are a great first-choice filter because they're affordable for most budgets. Some people buy these types of filters before moving on to more expensive models, while others stick with filter pitchers for life.
You don't mind waiting several minutes for filtration. Water pitcher filters don't provide purified water on-demand, and most take upwards of 10 minutes to produce a full batch of water.
🧪 How We Tested
Originally, we tested all our shortlisted filters with Tap Score laboratory testing, which helped us to understand a filter's contaminant removal abilities. The problem with this, however, was that our own water sources were pretty mild compared to the test water sources used by official testing bodies like the NSF.
We realized that third-party testing was more conclusive and accurate than our own limited testing could ever be, and was more helpful for comparing products. So, we focused our own testing on the usability of a filter with everyday use, and combined our experience with data from official testing from legitimate organizations.

📊 How We Chose
For this guide, we focused on water pitcher fluoride filters that use gravity filtration to produce clean, filtered drinking water. There are hundreds of water filter pitchers on today's market, and we compared the most important qualities of these filters to produce a list of the top few.
We shortlisted the filter pitchers on this list based on their ability to remove fluoride and other contaminants, their third-party testing or official certifications, their quality, filter lifespan, and more.
See our overall favorite water filter pitchers money can buy in 2023 in this guide. 👈
Fluoride Removal
Considering this guide is all about fluoride water filters, our obvious starting point was to evaluate a filter's fluoride reduction.
We favored pitcher water filters that could remove at least 97% of fluoride. Several of the filters on this list are capable of removing more than 99% of this mineral.
Additional Contaminant Removal
Fluoride might be the contaminant you want to target with pitcher filtration, but there's no need to stop there.
We assessed our shortlisted filters' overall contaminant removal abilities, including their ability to remove chlorine, lead, VOCs, pharmaceuticals, pesticides, and other common water contaminants. Our top picks can remove tens, or hundreds, of these impurities.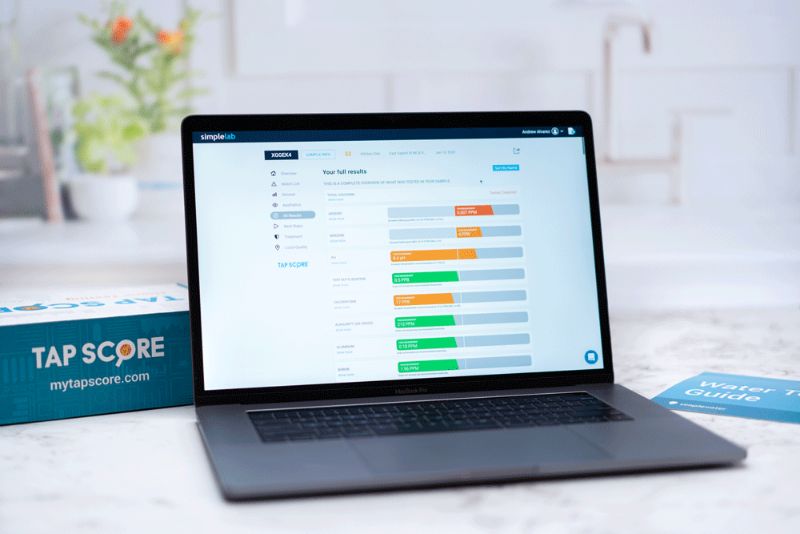 Testing & Certifications
Any filter manufacturer can say that their product removes fluoride – but if there's no proof, there's no guarantee that this claim is true. Third-party testing to NSF Standards – or, even better, an official NSF certification – offers proof from an independent testing organization to support the manufacturer's claims.
There's no official NSF Standard for fluoride reduction, so we focused on filters that offered a datasheet with evidence of their percentage fluoride reduction based on third-party testing.
Material Quality
There's a huge disparity in quality amongst water filter pitcher systems. Some pitchers are cheaply made, with plastic that's prone to cracking and staining, and unpredictable filters. We looked closely at customer reviews, alongside our own experience of using the filters ourselves, to determine their durability and overall quality.
The filters in this review are all made from sturdy, BPA-free materials and are designed to last.
Filter Lifespan
Filter lifespan is another factor that varies widely amongst pitcher water filtration systems. Some filters last for only two months, while others last for up to six months.
We didn't rule out the filters with short lifespans. For one, lifespan is subjective, depending on water quality and daily usage, and different manufacturers use different methods to work out how long their filters should last. Second, a filter with a shorter lifespan often traps more contaminants than one that lasts longer – that's why it needs replacing sooner. We selected filters with a minimum lifespan of three months, which is pretty average for this type of system.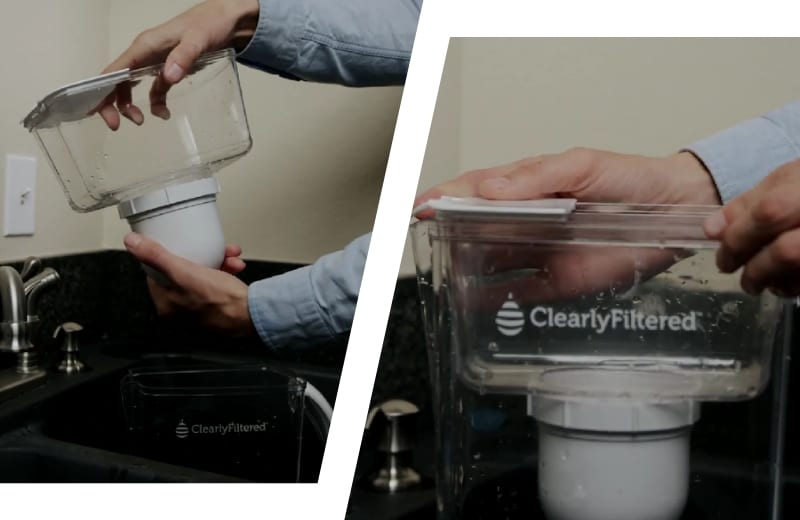 Upfront & Ongoing Costs
A pitcher filtration system is one of the most affordable water filters you can buy today. So, we didn't prioritize the cheapest filters – instead, we focused on value for money. Most of the filters on this list are priced between $25 and $70. Some are more expensive than average, but that's because they offer so much more than their competitors – so they're still a great value for money.
In terms of ongoing costs, we honed in on filter pitchers that were affordable to maintain, offering multipacks of filters at a lower cost per filter.
Reviews and Customer Feedback
Finally, we looked closely at customer reviews when deciding on which pitcher water filtration systems would make the cut. Fluoride water filter reviews say a lot about a filter's performance with everyday use, and are useful in offsetting the manufacturer's overly positive (and sometimes exaggerated) marketing information.
We selected the filters that achieved the most customer praise, ignoring those that had proved to be letdowns in real life.
🧾 Buyer's Guide
In this buyer's guide, we'll be sharing everything you need to know about fluoride and how to remove it from water using a filter pitcher.
📰 What Is Fluoride?
Fluoride, or sodium fluoride, is a naturally occurring mineral. Most of us know fluoride as an ingredient in dental products that fight against plaque and tooth decay. Fluoride is found at varying levels across the world, and is also added to many municipal water supplies.
🚰 Why is Fluoride Added to Drinking Water?
If your drinking water contains fluoride, it's most likely that this mineral has been added to your water during treatment.
Community water fluoridation was first established in Grand Rapids, Michigan, in 1945, and now, more than 50 million people across the US drink fluoridated water. The reason for water fluoridation is that fluoride supports dental health, and studies found that drinking fluoride decreased the risk of tooth decay.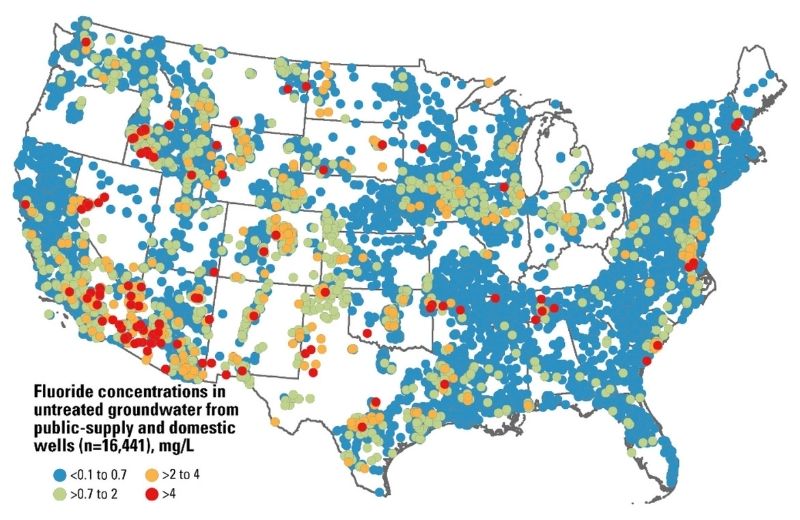 ☠️ Is Fluoride in Tap Water Dangerous?
The CDC has a recommended level of 0.7 milligrams of fluoride per liter of water. In these low levels, fluoride shouldn't cause any issues. However, there are several potential health concerns from long-term or excess fluoride consumption that are worth knowing about.
Potential Health Concerns of Fluoride
According to Medical News Today, fluoride has the following potential health concerns:
Dental fluorosis – Exposure to high levels of fluoride in childhood can cause dental fluorosis, resulting in discoloration of the teeth.
Skeletal fluorosis – Excess fluoride builds up in the bones and leads to a skeletal bone disease called skeletal fluorosis. This disease impairs joint mobility and increases the risk of fractures.
Neurological problems – Exposure to fluoride at a young age could lead to lower IQs and poor cognitive outcomes.
Thyroid issues – Too much fluoride may damage the parathyroid gland, causing hyperparathyroidism, which leads to high concentrations of calcium in the blood.
Other health concerns – Excess fluoride has also been linked to acne, reproductive issues, cardiovascular problems, and joint and bone conditions.
⚙️ How a Fluoride Pitcher Filter Works
A fluoride pitcher filtration system uses gravity to filter water. Here's how it works:
You fill the top chamber with water.
The water trickles through a filter into the bottom chamber. Contaminants are trapped in the filter.
The bottom chamber is connected to a spout. When you pour from the spout, filtered tap water leaves the pitcher.
Most pitchers use a carbon filter, often combined with ion exchange or KDF media, to effectively remove as many contaminants as possible.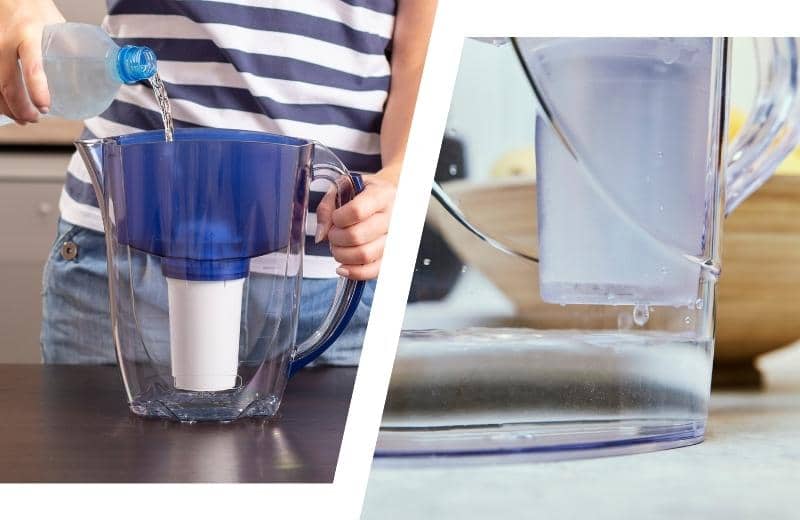 💭 Considerations When Purchasing a Filter to Remove Fluoride
When you're deciding on the best fluoride pitcher filtration system, consider the following things:
Water Quality
The quality of your water will affect the type of pitcher filter that best suits you. You know that you want a fluoride filter – but test your water if you haven't already to find out what else it contains.
Harmful chemicals, heavy metals, pesticides and other chemicals, water pollutants, and other harmful contaminants are all commonly found in a city water supply. Choose a water filtration system that offers fluoride reduction, and can also remove the common impurities in your unfiltered water supply.

Flow Rate
If you're only considering pitcher models, even the best fluoride water filters have a pretty slow flow rate. It takes several minutes for water to pass through the filter media in a gravity water filtration system, so you'll need to be happy to wait a few minutes for the filter to do its job.
Filter Capacity
The filter capacity of a fluoride filter system is how much water it can filter before the filtering cartridge needs replacing. On average, pitcher filtration systems have a three-month filter lifespan. If you want to enjoy continued fluoride reduction, you'll need to buy replacement filters and change the filters when advised by the manufacturer.
Installation and Maintenance
The great thing about a pitcher fluoride water filter system is that there's virtually no installation involved. Setting up the pitcher is as simple as slotting the top chamber into the bottom chamber and inserting the filter.
As for maintenance, you'll need to change the filters every two to six months, depending on filter lifespan. Consider how often you're willing to do maintenance when choosing a fluoride filtration system.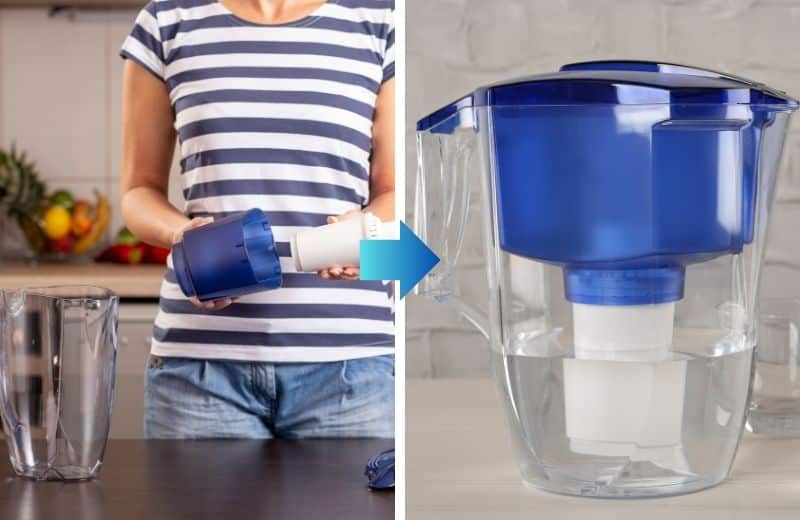 ❔ Frequently Asked Questions
What's so bad about fluoride?
Fluoride isn't technically a "bad" mineral, but public water fluoridation is controversial. Excess fluoride is linked to dental and skeletal fluorosis, abdominal pain, and more. Some people prefer to monitor their fluoride intake, which is difficult when governments are adding fluoride to public drinking water supplies.
If I remove fluoride from my water, will I be fluoride deficient?
No. Fluoride is an important, but not essential, mineral. With that said, even if you cut it out of your water, you'll likely consume it in your diet, so you certainly won't be fluoride deficient. Fluoride deficiency isn't a thing, either – there are no negative effects of not getting enough fluoride, as long as you look after your dental health.
Do PUR water filters filter out fluoride?
No. There's a bit of controversy about this online, but PUR filters aren't designed to remove fluoride from drinking water. Any fluoride that is removed by these filters is purely incidental. Don't rely on PUR for fluoride reduction.
What water filter removes chlorine and fluoride?
There are plenty of water filters that remove chlorine and fluoride. Clearly Filtered, Epic Pure, Waterdrop, Zero Water, and Proone all offer fluoride filter cartridges that also remove chlorine. You don't have to buy two separate filters to remove both of these contaminants.
Do Brita filters remove fluoride?
No. Neither Brita Standard nor LongLast filters are capable of removing fluoride. You can read more about why Brita doesn't offer a fluoride filter here.
How can I remove fluoride from water cheaply?
The cheapest way to filter fluoride is with a pitcher water filtration system. Pitcher filters cost around $50 or less upfront, and around $50-$100 per year on filter replacements. The pitcher filters in this guide are highly effective at fluoride reduction, too.
Can you buy a fluoride shower filter?
There are some shower filters that remove fluoride, but we've focused on those that remove fluoride from tap water, as there's not much evidence that showering in fluoridated water is dangerous.
What are the other types of water filters that can reduce fluoride?
Whole house fluoride water filter systems, under-sink fluoride water filter systems, and reverse osmosis filters can all reduce fluoride in water.
Want more options? Check out our List of the Best Fluoride Water Filters for 2023 👈
Does a reverse osmosis system remove fluoride?
Yes, reverse osmosis systems remove fluoride. However, if you're looking for a cheap method of reducing fluoride, a reverse osmosis system isn't the answer. Many pitcher filters can filter fluoride just as effectively as reverse osmosis systems, and offer virtually the same performance as a reverse osmosis membrane, so consider which type of system you personally prefer.