Upflow softeners are much more efficient than their counterparts – save money on salt and water costs.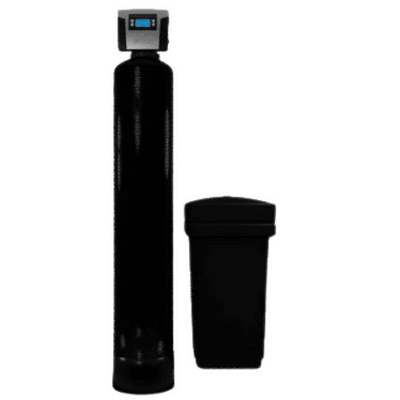 SoftPro Elite
Quantum AR2
Genesis 2 Premier
Hey, concerned homeowner! Welcome to our best upflow water softener guide.
If you want to remove water hardness as efficiently as possible, you've come to the right place. We've installed, tested, and compared over a dozen upflow water softeners in some of the hardest-water parts of America.
Feel free to waste your money on a system that – well, wastes your money. But we strongly recommend choosing one of the water softeners that require up to 75% less salt and less water to function, thanks to their efficient upflow designs.
#1 is our favorite, but #2 is a close contender and #3 is our top choice for small budgets.
🥇 Best Upflow Water Softeners
📊 Comparison Chart
| | | | |
| --- | --- | --- | --- |
| | SoftPro Elite | Quantum AR2 | Genesis 2 Premier |
| Ranking | 1st | 2nd | 3rd |
| Ratings | 4.5/5 | 4.5/5 | 4/5 |
| Price | $1,279+ | $829+ | $1047+ |
| Process | Ion Exchange | Ion Exchange | Ion Exchange |
| Water For | Up to 5+ People | Up to 4+ People | Up to 5+ People |
| Grain Capacity | 24K - 110K | 32K, 48K, or 64K | 24K, 32K, 40K, 48K, 64K, 80K, 96K |
| Flow Rate (GPM) | 10 - 32 | n/a | Up to 22 GPM |
| Warranty | Lifetime | 2 years | Lifetime |
⭐ Reviews – Best Upflow Water Softener 2023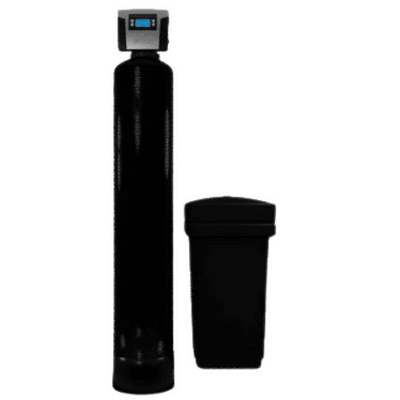 SoftPro Elite
In our opinion, the SoftPro Elite High-Efficiency Water Softener is the best upflow water softener unit available today, offering an incredibly efficient performance that saves gallons of water and bags of salt every year. There are two SoftPro Elite models available: one for well water and one for city water.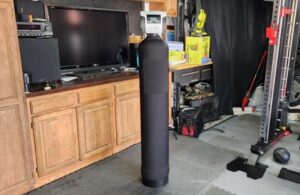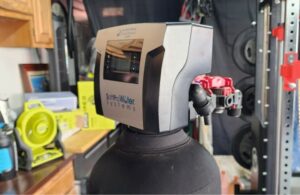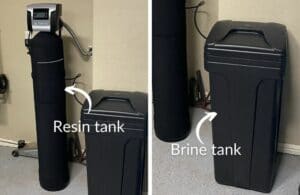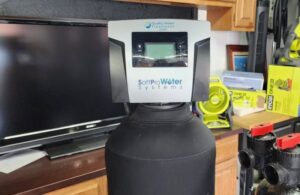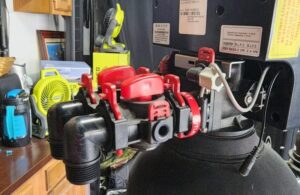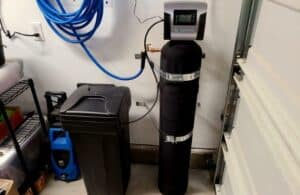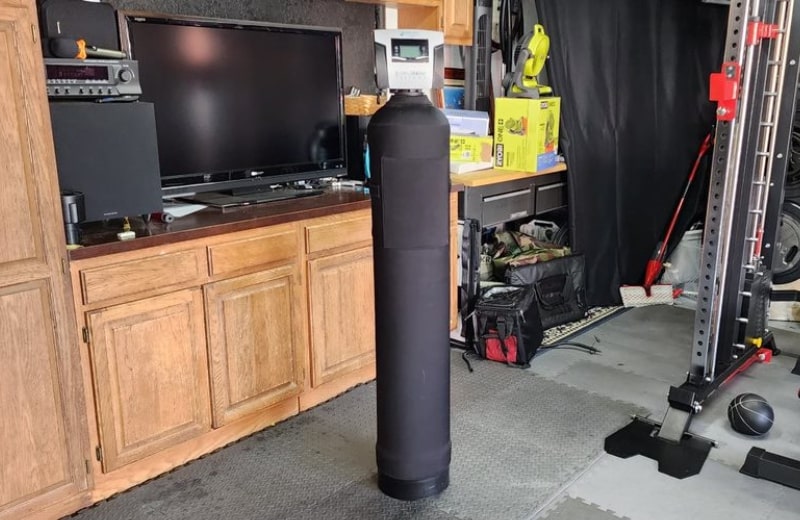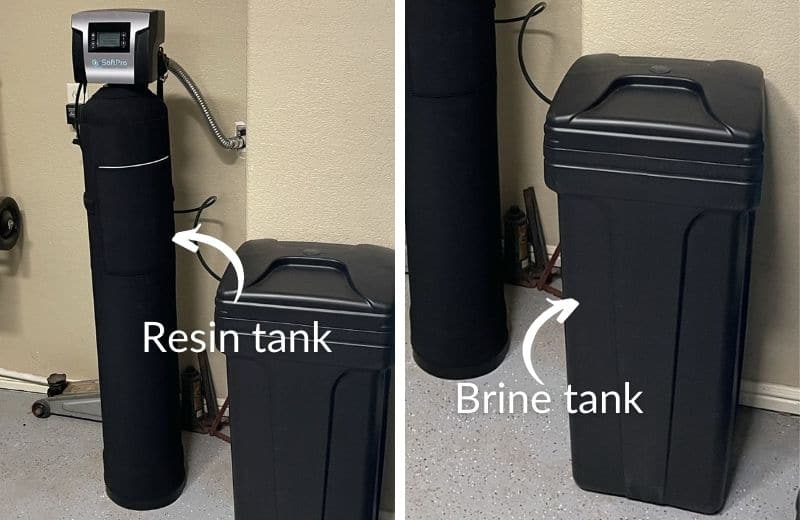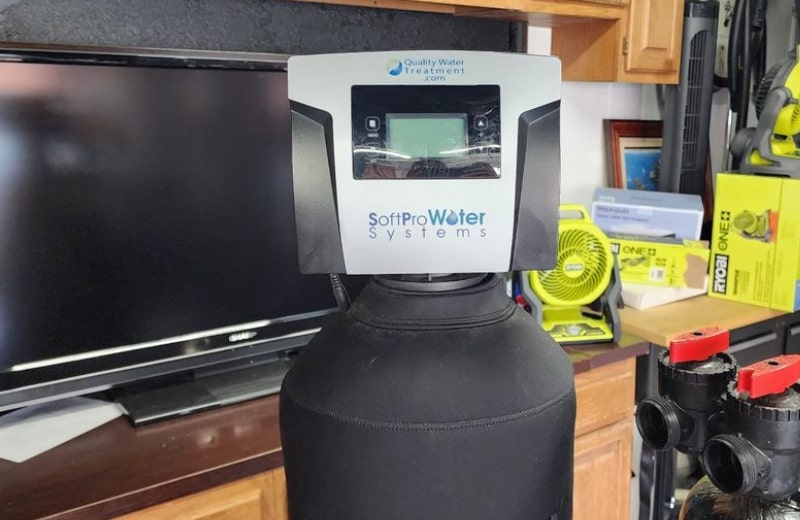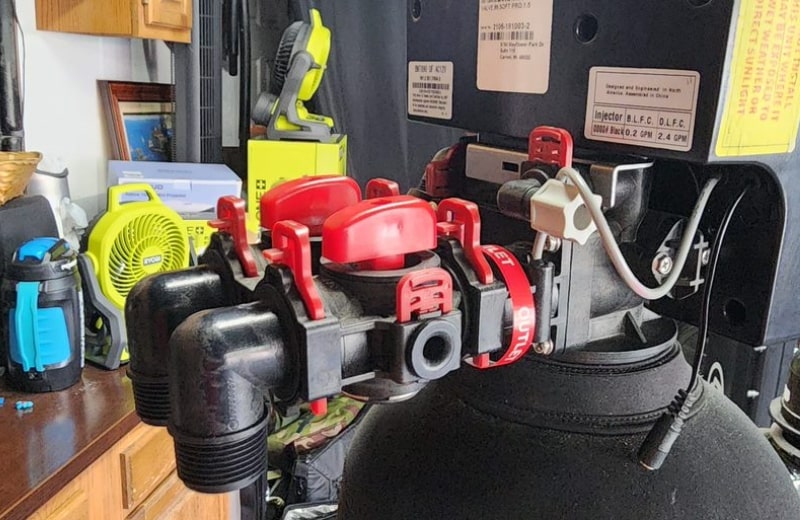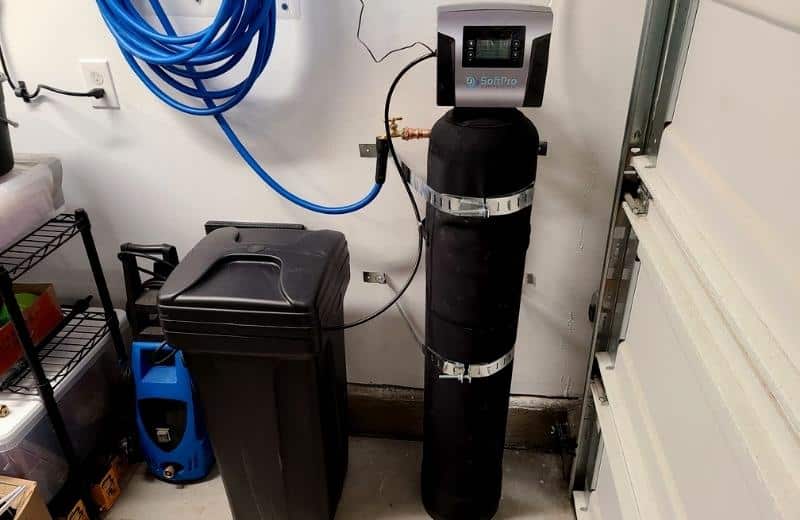 Key Features:
Huge water savings – With its upflow design, the SoftPro Elite saves up to 64% water and up to 75% salt, making this one of the most efficient salt-based water softeners available.
Smart precision brining – The SoftPro water softener premakes only 70% salt brine before it regenerates, saving salt by only topping up the brine needed for regeneration.
Quick recharge – We love this unique feature of the SE. The system triggers quick demand-initiated regeneration cycles if the capacity ever falls below 3% outside of the normal schedule, so you always have access to soft water.
User-friendly LCD screen – Easy adjustment to the system's smart settings, including auto-refresh, vacation mode, and auto reserve, on the SoftPro Elite's LCD screen
Lifetime warranty – The SoftPro Elite has a reassuring lifetime warranty and a 6-month money-back guarantee.
| SoftPro Elite Configurations | Price |
| --- | --- |
| 24000 | $1279 |
| 32000 | $1379 |
| 40000 | $1439 |
| 48000 | $1519 |
| 64000 | $1569 |
| 80000 | $1779 |
| 96000 | $2339 |
Best for:
Anyone looking for an innovative water softener packed full of smart, money- and salt-saving features that's perfectly sized for your home and flow rate (there are eight grain capacities to choose from).
Pros:
The SoftPro Elite's pricing starts at just over $1,000 for a 24,000 grain capacity system, making this one of the most affordable options on this list.
Our testing supported the manufacturer's data – this system truly does help you to cut down on salt usage thanks to its upflow design and other smart features.
The SoftPro Elite's resin lasts for up to 20 years, so the system is a good long-term investment.
Cons:
You need plenty of space to install the SoftPro Elite, and you might need a professional to install it for you.
The system doesn't have a base model.
Read the full review: SoftPro Elite Water Softener Review
---
Quantum AR2
The Quantum Water Softener AR2 is our top choice for the best upflow water softener for both city and well water. It's easy to configure this upflow system with add-ons offered by the manufacturer, such as a UV purifier, a whole house carbon filter, and a reverse osmosis system, to treat specific city or well water quality issues.
Key Features:
Saves up to 8% salt – The Quantum AR2 softener's efficient upflow performance offers 8% salt savings compared to a normal water softener.
Certified resin – This high-flow water softener uses a resin certified by the WQA, so you know for certain that it offers high-quality soft water production.
Optional package upgrades – If you want more than just soft water in your home, you can upgrade the system to include a carbon filter, KDF-55 filter, UV purifier, and more.
| Quantum AR2 Configurations | Price |
| --- | --- |
| 32000 | $829 |
| 48000 | $969 |
| 64000 | $1169 |
Best for:
Folks who want to easily build a multi-system solution to their municipal and well water problems, and are specifically looking for an up flow water softener as part of the package.
Pros:
The Quantum AR2 has a pretty unique design that works in its favor – it uses a ceramic disk component rather than pistons, seals, and spacers, so it should last longer before parts wear out. Plus, the ceramic disk has a lifetime warranty.
Good to see that you can adjust how soft you want your water to be by altering your water's hardness. That means you have more control over the amount of sodium (or salt) ions in your water, and you don't have to make your water too soft if it's not to your liking.
We appreciate that you can buy add-ons tailored to the type of water you use (municipal or well water). For municipal water, you can add a whole house chlorine filter and a KDF-55 filter. For well water, you can add a UV purifier. Both systems can also be purchased alongside a reverse osmosis system.
Cons:
8% salt savings aren't as high as some of the other best upflow water softeners on this list. With that said, we think 8% salt savings are the most realistic expectation.
The resin is 8% crosslink, not 10%, so it's not as chlorine-resistant or long-lasting as the systems with 10% crosslink resin in this guide.
---
Genesis 2 Premier
The Genesis 2 Premier is our best budget option for upflow water softeners available today. This high-efficiency water softener costs as little as $1,000 and comes in seven grain capacities, from 24,000 to 96,000.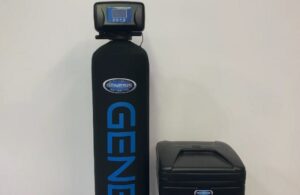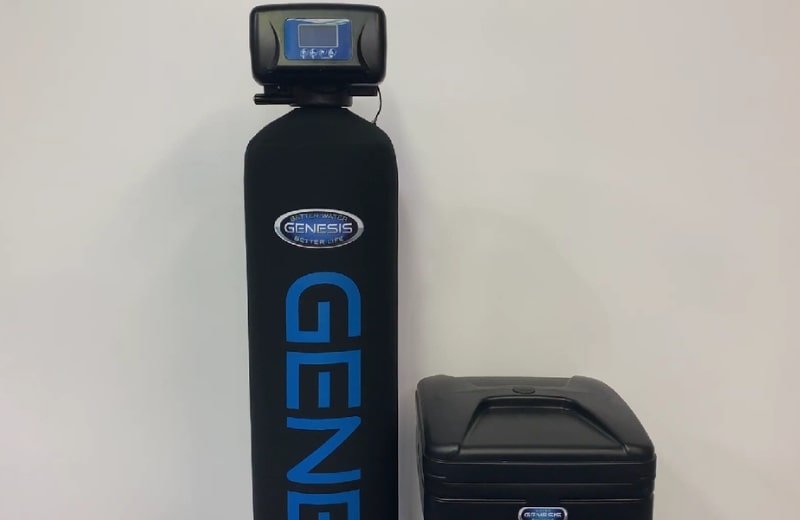 Key Features:
Impressive salt and water savings– Like the other upflow water softeners on this list, the Genesis 2 Premier promises huge salt and water savings – nearly 6,500 pounds of salt (or up to 64%) and 29,000 gallons of water throughout the softener's lifespan for a family of four compared to a traditional downflow softener.
Fast water flow – The manufacturer claims that this Genesis model is the only softener on the market to have a 1.25 inch valve, meaning it should offer a slightly higher flow than similar softeners with smaller valves.
On demand metered control – This modern water softener uses an on demand metered control, meaning that the softener only regenerates based on water flow through the tank (which prevents salt and water waste).
Lifetime warranty –We appreciate the reassuring lifetime warranty on the tank and control valve for this up flow water softener.
| Genesis 2 Premier Configurations | Price |
| --- | --- |
| 24000 | $1047 |
| 32000 | $1062 |
| 40000 | $1107 |
| 48000 | $1157 |
| 64000 | $1257 |
| 80000 | $1547 |
| 96000 | $2108 |
Best for:
Folks looking for one of the best upflow water softeners that's on the lower end of the price bracket for softeners of this kind.
Pros:
Genesis proves that you don't have to spend a fortune on a high efficiency water softener. The 2 Premier softener costs $1,000-$2,000, depending on the system size you go for.
And speaking of size, it's good to see that you have so many choices for grain capacities. Most families will want the 32,000 grain or 40,000 grain softener.
The softener contains the most durable, longest-lasting resin there is: 10% crosslink resin. That means better chlorine resistance and less maintenance for you.
Maintenance should also cost far less since this softener is designed to help you save 75% on salt and 64% on water.
Cons:
Several customers highlighted issues with the brine float.
There are reports of poor customer service by Discount Water Softeners.
Read the full review: Genesis 2 Premier Water Softener Review
---
🧾 Buyer's Guide: Selecting the Perfect Upflow Water Softener System
Upflow water softener systems are becoming increasingly popular – and the more choice you have, the harder it is to decide on the right system for you.
We've produced this buyer's guide to give you the knowledge you need to confidently invest in a high-quality, durable upflow softener that's the best value for money and ideally suited to your softening needs.
When you're deciding on a suitable upflow water softener for your home, keep the following things in mind.
Initial Price
Before you become immersed in the upflow water softener market, work out your budget.
The average cost of an upflow water softener is $950-$1,650.
The great thing about the upflow water softening process is that it's more affordable to maintain than a downflow water softening system. But the initial price is likely to be more expensive because of this.
Price is the only real downside of owning an upflow water softener. But if you can accept paying a few extra hundred dollars for a system that will save you hundreds of dollars throughout its lifespan, it's worth it.
The price you'll pay for a softener depends on the brand's status and popularity, as well as the system size you need. The bigger the softener's capacity (i.e. the bigger the brine tank, and the more resin the system contains), the more expensive it'll be.
We made this review with value for money at the forefront of our priorities, so the upflow softeners on this list are all very reasonably priced.
Flow Rate
Most upflow water softening systems have technology in place to ensure fast flow throughout the softening process.
The average flow rate of an upflow water softener is 11-20 gallons per minute (GPM).
Considering that the average required flow rate is about 6-12 GPM for most homes, the best upflow softener shouldn't have an impact on your water flow.
Make sure to buy the right-sized water softener for your home. The bigger the water softener, the faster the flow. You particularly need a fast-flowing system if your home has multiple bathrooms.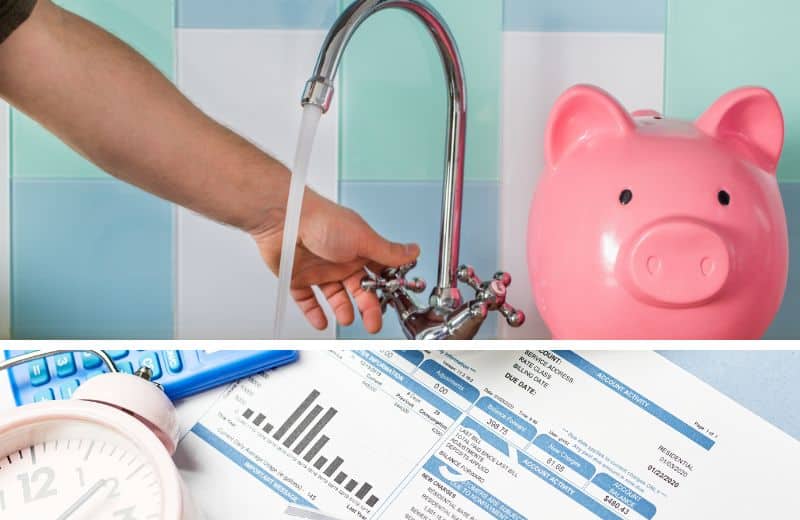 Grain Capacity
A water softener's capacity, or grain capacity, is the number of calcium and magnesium minerals that can be removed by the system before the resin becomes fully saturated and needs to regenerate.
It's essential to choose a water softener with the right grain capacity to ensure your water hardness is thoroughly treated.
To work out your required grain capacity, multiply your daily water usage by your water hardness, then multiply the figure by 7 to get the weekly grain capacity for a water softener.
Let's say your daily water usage is 320 gallons, and your water hardness is 10 GPG. Here's the calculation you would do:
320 (daily water usage) x 10 (GPG) x 7 = 22,400
These results tell you that you need a water softener with a grain capacity of at least 22,000 – though it's always best to size up by a couple of thousand grains to make sure the softener is prepared for increased periods of water use.
| Household Size | 0 - 10 GPG | 11 - 20 GPG | 21 - 30 GPG | 31 - 40 GPG | 41 - 50 GPG | 51 - 75 GPG | 76 - 100 GPG |
| --- | --- | --- | --- | --- | --- | --- | --- |
| 1 - 2 people | 16000 | 24000 | 32000 | 40000 | 64000 | 64000 | 80000 |
| 3 - 4 people | 24000 | 32000 | 40000 | 48000 | 80000 | 80000 | 96000 |
| 5 - 6 people | 32000 | 40000 | 48000 | 64000 | 96000 | 110000 | 110000 |
| 7+ people | 40000 | 48000 | 64000 | 80000 | 110000 | 110000 | 110000 |
Resin Crosslink Percentage & Durability
The crosslink percentage of a water softener resin bed tells you how long the resin will last.
Most upflow systems have the more durable 10% crosslink resin, which lasts for two decades.
We strongly recommend favoring a system with a 10% crosslink resin over one with an 8% crosslink resin, which only lasts for 10 years. You might need to pay a bit more upfront, but you'll get another decade out of the resin, so it's well worth it.
Regeneration Method
Most upflow softeners are high-tech systems, and you'll generally be able to choose a regeneration method that suits you.
You can set the system to automatic timed regeneration if you want to make sure it only ever regenerates when you don't need access to softened water.
But we recommend setting the system to perform a regeneration cycle based on your water use. This means the system will calculate how much water has flowed through the resin tank, and will regenerate when it senses that the resin is depleted.
Why is this advantageous? Because the system will use less water by regenerating less frequently, and when it does perform a regeneration cycle, it won't waste unused salt in the resin.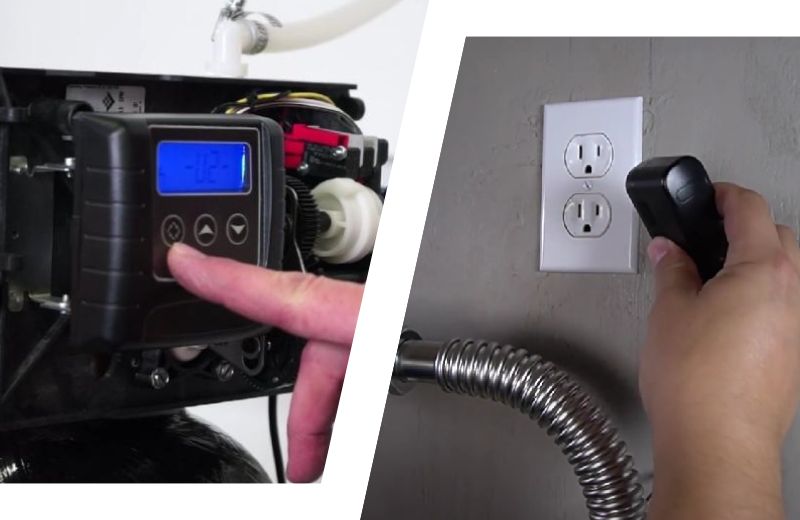 Installation Costs
Installing an upflow softening system is fairly challenging. You'll need to connect the system to your water line and install a bypass valve, a drain line, a separate sediment filter, and other components.
If you decide to attempt installation yourself, expect to pay $20-$50 for additional fittings and connections required for installation.
If you pay a plumber to install your water softener for you, the cost will be about $200.
Maintenance Requirements
All water softeners need maintenance. The brine tank needs topping up with salt if you want consistent access to soft water.
An advantage of upflow softeners is that they don't need as frequent maintenance as downflow systems. Downflow softeners tend to regenerate more frequently, and for longer, using more salt in the process. This means you need to top up the salt more often in the brine tank.
Upflow models aren't entirely exempt from maintenance, but they're more efficient, using limited salt to regenerate. Many upflow softeners can also be programmed to regenerate according to your needs.
In short, an upflow softener still needs maintenance, but it uses less salt during the regeneration process. As long as you're fine to use around 3-4 bags of salt per year, costing around $50 per year, you'll enjoy using this water treatment system.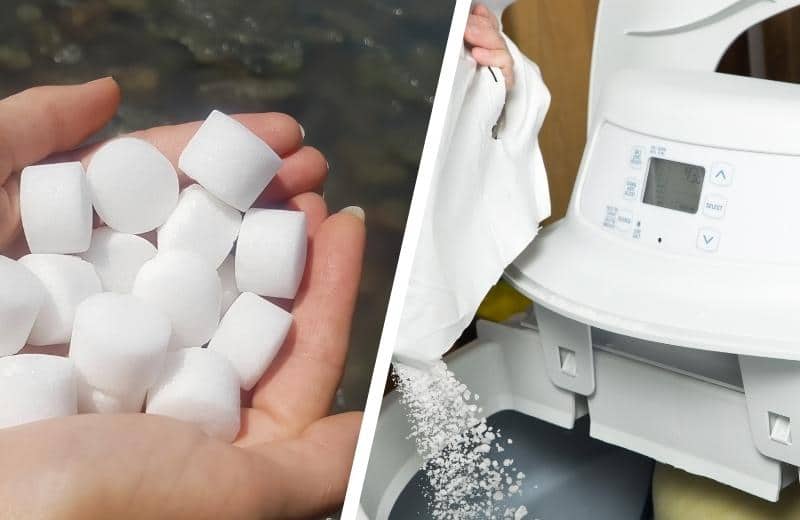 Certifications
There are no special certifications that an upflow softener can achieve. However, like all softeners, upflow systems can be certified by independent organizations for their performance.
Look for official NSF or WQA certifications that prove a water softener is safely designed and performs as intended.
Certifications weren't the be-all-end-all for us when we made this list, but we know their power in making people feel confident that the manufacturer's claims are reliable.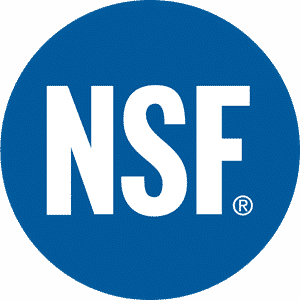 The two NSF certifications to look out for when choosing an upflow water softener are:
NFS 44 – For cation exchange water softener units that remove hardness down to below 1 GPG, and meet requirements for safety and structural integrity.
NSF 372 – To confirm that a system has a lead-free design and won't leach lead into your drinking water.
Learn more about NSF Certifications for Water Treatment Systems 👈 Click Here
System Efficiency
Upflow softeners are more efficient at producing softened water than downflow softeners. They reduce salt and water waste, helping you to save money.
But not all upflow softening systems are as efficient as one another. Some manufacturers offer statistics that sound great (such as "40% more efficient") – but ask yourself, "40 more efficient than what?" If that's 40% more efficient than the least efficient water softener available, you're not getting an efficient system.
If you want a better idea about system efficiency, contact the manufacturer and ask them about the system's annual or monthly water and salt use. The less water and salt the system uses to operate, the more efficient it is.
The more realistic figure is that an upflow softener is about 15% more efficient than a downflow system, and uses around 500-700 pounds of salt per year, compared to the 900 pounds of salt used by a downflow system.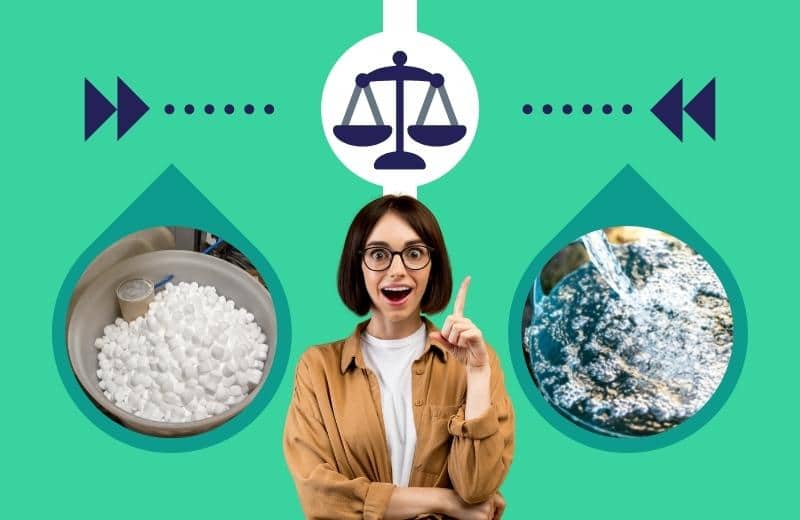 Local Regulations
There are no specific regulations against installing upflow softeners that we know of – but your local authority might have strict rules about installing water softener systems in general.
A quick Google search should bring up any of your state's regulations or plumbing codes for water softener systems. These regulations could relate to installation, maintenance, and drain water requirements.
If you're unsure, reach out to a local plumber and ask them what they know.
Manufacturer's Warranty and Money-Back Guarantee
Don't buy an upflow softener without a warranty. Warranties cover your back if you buy a system that's faulty, or one that develops faults within the first few years of operation.
The best warranty for a water softener is a limited lifetime warranty, which usually covers the system for at least 10 years. Some softeners have different warranties for different components (e.g. the control head might have a shorter warranty than the tanks), so do your research before you buy.
Other Considerations
Other things to consider when shopping for an upflow softener are:
Are you treating city water or well water? Do you need a softener that can remove iron, or just magnesium and calcium ions?
Are you on a low-sodium diet? Will a water softener add too much salt to your diet, and would you be better off with a salt-free system?
Do you need to remove other contaminants from your water? Could you benefit from installing a filtration system alongside your softener to improve your water quality?
Does your water softener of choice come with a bypass valve? If not, consider buying one to enable you to divert water away from the softener during maintenance and servicing.
🤔 What Is an Upflow Water Softener?
If you're visiting this guide, there's a good chance that you already have some knowledge of upflow softeners, and you're aware that they're better than downflow water softeners.
Feel free to skip this explanation if you already know your stuff.
In a downflow system, water flows downward through the resin bed before it leaves the tank through the exit tube. The problem with this softening method is that water begins to channel through the tank, and more water is typically required to flow the system correctly.
Unlike a downflow softener, an upflow water softener directs water up through the resin tank in an anti-gravity motion, rather than down through the tank. In a swirling motion, water passes up through the resin. This prevents compression of the resin and increases the hardness minerals that the resin captures, resulting in a more efficient, effective softening process.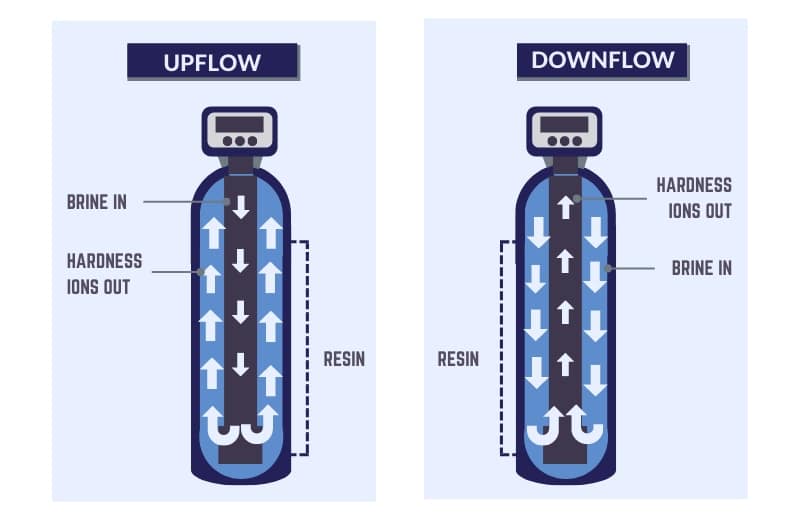 Upflow water softening technology is still relatively new, and the majority of softeners available today are downflow water softener units.
It's worth looking at an upflow system if you want to:
Save money on water
Decrease your salt usage
Avoid regular backwashing or costly maintenance
Soften high quantities of water without frequent system regenerations
✔️ Benefits of an Upflow Water Softener
More Efficient Performance
Upflow water softeners use less salt and water during the regeneration process. So, although they operate almost exactly like downflow water softeners, providing equal (or better) water softening benefits, they do so more efficiently. If you're looking to minimize waste, an upflow water softener is the best choice.
Resin Lasts Longer
Most upflow water softener systems only recharge the depleted resin during regeneration, and the systems regenerate less frequently, which prevents early damage to the resin. Depending on the resin's crosslink percentage, it can last beyond 20 years in an upflow water softener.
Faster Soft Water Production
The process of sending water quickly through the tank requires a fast water flow. Because of the additional design elements involved in upflow water softener technology, the system's soft water production tends to be faster than it would be in a downflow water softener.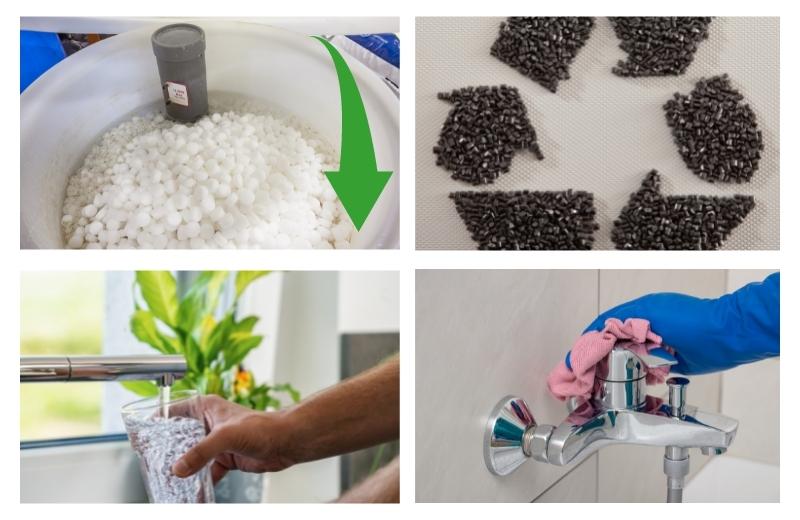 More Thorough Softening
Because water enters an upflow softener's resin tank and swirls upward from the bottom, the entire resin is utilized during the softening process. This means that water is more thoroughly softened, and the maximum number of hardness minerals are removed.
Modern Technology
If a water softener has an upflow design, it's a good indication that it's a modern system. Upflow technology has only recently gained popularity, and an upflow design shows that the manufacturer is forward-thinking and has likely included other salt- and water-saving features in their water softener, too.
🔧 Installing an Upflow Softener
If you want to know how to install an upflow softener, download the user manual. That should explain exactly how to install the system you have your eye on.
If you just want to get a general idea of what the installation process looks like, we've outlined it below.
Choose a point of entry installation location – Measure your available space and compare it to a water softener's measurements, making sure you have extra space for installation, maintenance, and servicing.
Connect and set up the tanks – Assemble the tanks according to the manufacturer's instructions, and connect the system to your waterline. Most tanks come pre-loaded with resin, so you won't need to add this yourself.
Attach the control valve – Screw the digital meter control valve onto the top of the tank and hand-tighten to secure it in place.
Install the bypass valve, brine line, and drain line – Follow the instructions in your user manual to connect these important components to the unit.
Switch on the softener – Power up the water softener and input your settings. Most systems are set-and-forget, so you'll only need to do this once.
Prepare the softener – To get the softener ready for use, add salt to the brine tank and program the softener to perform two regenerations to produce the salt brine required for the softening process. The system should now be ready to soften your water.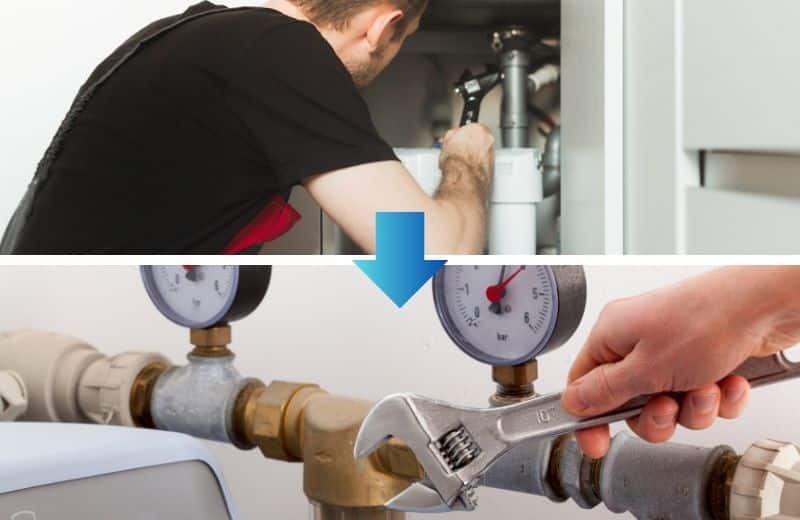 ❔Frequently Asked Questions
Can I swap my upflow water softener for a downflow water softener?
Yes – easily! You'll just need to plumb an upflow system in place of your existing downflow water softener. You've already done the hard part of initially installing a whole house water softener at your water supply line. Of course, you'll need to pay for a brand new softener, so you might want to wait until you've made good use out of your existing softener before splashing out on a new one.
Are upflow water softeners more expensive?
Usually, yes, because they tend to be modern systems. The more modern the water softener, and the more efficient its features, the more expensive it typically is.
Are upflow water softeners better?
Yes. Upflow water softeners save salt and water, which means they also save money. There are no setbacks of upflow softeners, so we can safely say that they're better than downflow systems.
Is an upflow water softener more difficult to install?
No. The only difference in design between an upflow and downflow water softener is that in an upflow softener, water enters the resin tank through the bottom. This simply means that you need to install the system at your water line from the bottom, not the top. The brine tank is exactly the same as on an upflow water softener, and the resin tank should be no bigger than usual.
Can I install an upflow system alongside a water filtration system like a reverse osmosis system?
Yes. If you want to remove additional contaminants as well as hardness minerals, you can install a whole house filtration system alongside your upflow softener. If you can afford a whole house reverse osmosis system, this is something to consider.
But RO isn't always necessary. If you just need to remove chlorine and associated chemicals, consider a carbon filtration system, like an upflow carbon filter. If you want to boost your water quality by removing iron, install an air injection filter. A reverse osmosis system tends to be quite excessive for whole-home use.