Save valuable garage or basement space and install your water softening system outdoors, if climate permits. Our team has done the research & deemed these the best systems for outdoor installation.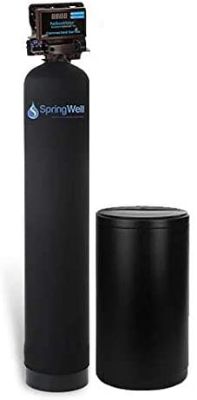 SpringWell SS Salt Based Water Softener System
SoftPro Elite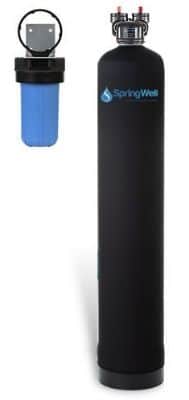 SpringWell Futuresoft Salt-Free Water Softener System
A staggering 85% of American homes are supplied with hard water. We know this water isn't dangerous to drink, but most of us would prefer to live without limescale.
Finding the right water softener is hard enough without having to factor in an additional requirement: outdoor installation. However, if you do need to install a water softener outside – or you'd just prefer to – you'll be happy to know that you have plenty of options.
If you're new to WaterFilterGuru.com, you've come to the right place for information. We help more than 150,000 readers a month decide on an at-home water treatment solution – and we want to help you, too.
Combining extensive research, product comparisons and direct discussions with various manufacturers, we've compiled a list of the 5 best outdoor water softeners available in 2023. It's a short list, featuring only the products that we're truly excited about, based on their performance capabilities, durability and overall value for money.
A few things we'll be covering in this guide:
The 5 outdoor water softeners that are worth your money
What to know about outdoor water softener installation
7 considerations when buying an outdoor water softener
🥇 Best Outdoor Water Softeners
📊 Comparison Chart of Outdoor Water Softener
Product
SpringWell Salt Based Water Softener System

SoftPro Elite

Springwell Futuresoft

AquaOx WS

Fleck 5600 SXT

Ranking
1st
2nd
3rd
4th
5th
Ratings
5/5
4.5/5
5/5
4/5
4/5
Price
$$$
$$$
$$$
$$$
$$
Process
Ion Exchange
Ion Exchange
TAC
Ion Exchange
Ion Exchange
Capacity/ Max Hardness
32K - 80K
24K - 110K
81 GPG
64K
24K - 80K
Flow Rate (GPM)
11 - 20
10 - 32
11 - 20
16
7 - 15
Warranty
Lifetime for valves
10 years for tanks
7 years for electronic head
Limited lifetime for valves
Lifetime for tanks
7 years for circuit board
Lifetime for valves
10 years for tanks
7 years for electronic head
10 years
5 years for valves
10 years for tank
---
⭐ Reviews – Best Outdoor Water Softener 2023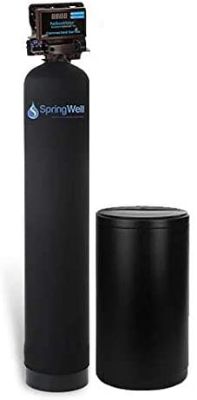 SpringWell SS Salt Based Water Softener System
SpringWell's traditional salt-based water softener is considered the best outdoor water softener by thousands of customers – and it's easy to see why. This ion exchange unit tackles hard water head-on, both removing existing mineral deposits and preventing a further buildup of residue in pipes and appliances in your home.
This model requires salt to run, and consists of two tanks: a brine tank and a resin tank. It uses the ion exchange process to provide a means of replacing hard water mineral ions with sodium, flushing these ions away during regeneration. The system comes with an included neoprene jacket, which insulates the tanks against temperature drops and rain, preventing mold and dampness.
There are three different capacity options depending on the size of your household: 1-3 bathrooms, 4-6 bathrooms and 7+ bathrooms, so you can use this model in both commercial and residential properties of all sizes. You can set the SpringWell water softener up at your main water pipe in no time at all, and it comes with everything you need for installation, from the bypass valve and fittings to the tanks themselves and the soft water resin.
Conveniently, you can connect this model up to SpringWell's app, which lets you monitor and control the softener remotely. Providing you choose the right sized softened water system for your home, you won't notice a drop in water pressure with this model – the 1-3 bathroom unit has an 11 GPM flow rate, while the 4-6 bathroom unit operates at 13 GPM and the system designed for 7 or more bathrooms operates at 20 GPM.
👍 What I Like
3 capacity choices
Comes with a neoprene sleeve for protection
Removes mineral deposits & prevents future limescale
👎 What I Don't Like
Not an iron filter
No water filtration cartridge included
---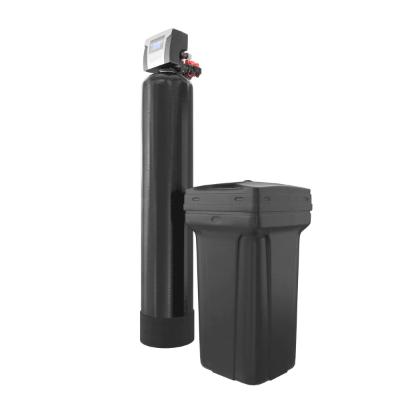 SoftPro Elite
One of the best high-efficiency outdoor water softeners, with multiple capacity options, is the SoftPro Elite. You can choose between capacities of 22, 000 grains to 110, 000 grains (the 40, 000 grain softener is a popular choice, with the 32, 000 grain water softener closely following), priced from just under $1,000 to just over $2,000.
This NSF-certified unit has an easy-use control head with automatic settings for regeneration, and requires virtually no maintenance. Thanks to the system's efficient upflow regeneration technology, less water is required for regeneration in this unit. The outdoor water softener comes with a lifetime warranty, and all parts are manufactured in the US for your peace of mind.
The SoftPro water softener features a user-friendly control screen, which lets you choose from a number of pre-set options, such as auto-regeneration, auto-variable backwash, and even vacation mode, helping you to save money while using this system in the long run. With average daily use, this soft water system's crosslink resin – which is the highest-quality resin currently available – is designed to last for an impressive two decades.
One of the most appealing features of this system is its warranty. The water softener mineral and brine tank have a guaranteed lifetime warranty, while the circuit board has a 7-year warranty and the resin has a 10-year warranty. You can rest assured that aside from needing water and salt, this unit can be left alone for years on end with no additional maintenance needs.
Importantly if you plan to install it outside, the SoftPro system comes with a free neoprene jacket guard, which helps to protect the mineral tank from cold and damp climates. Installation of this unit can be done yourself, and SoftPro estimates the job will take the average DIY-er around 4 hours from start to finish.
👍 What I Like
Multiple capacity choices (40, 000 grain is most popular)
Easy-use control head
Neoprene jacket for media tank
NSF/ ANSI 44 & 61 certified
👎 What I Don't Like
Requires salt top-ups
Needs electricity to operate
---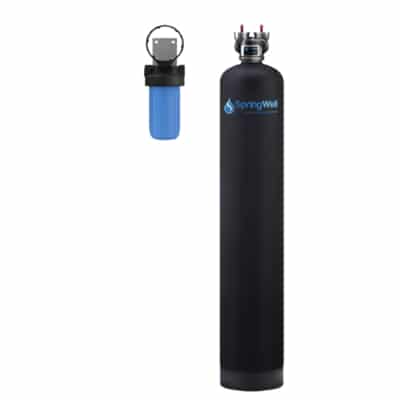 SpringWell Futuresoft Salt-free Water Softener
The SpringWell FutureSoft is my top pick for the best saltless outdoor water softener on this list. Made from a durable stainless steel, this system is designed to withstand the elements, and boasts a 12 GPM flow rate, reducing up to 99.6% of hard water deposits without the use of chemicals or salt.
Requiring no salt to operate, the SpringWell instead uses the popular salt-free Template Assisted Crystallization process (TAC) which converts minerals into crystals that are unable to stick to surfaces and leave scale deposits. While this process doesn't technically produce soft water, it'll provide a means of eliminating most household hard water issues from a well or city water supply.
All materials used in the design of this SpringWell outdoor water softener are NSF certified to meet high performance, reliability and durability standards. The system also comes with a 6-month money back guarantee, so if it arrives faulty or you don't like what you get, you can send it back for a refund.
Like all Springwell systems, you can install the FutureSoft anywhere, providing it's protected from freezing. So make sure you're prepared in advance with a cover or insulated shelter to protect this system from harsh winter climates.
Your water flow rate isn't important if you're considering buying the SpringWell, as its ActivFlo water technology allows it to operate at all water pressures and prevents a dip in flow during operation. To protect the system from larger sediment and contaminants, like copper and silica, the FutureSoft system comes with a 5-micron pre-filter that requires changing approximately once every year.
This softener model doesn't just prevent new mineral deposits forming – it's also effective in removing existing deposits from the pipes and plumbing in your household. There's no brine tank to worry about topping up, and the resin in the main unit has a minimum 6-year lifespan. There's no electricity required, either, so that's one less thing to worry about if you're planning an outdoor installation.
👍 What I Like
Doesn't need electricity to run
Does not remove minerals from water supply
No regeneration required
One of the most high-quality softeners for household use
👎 What I Don't Like
Doesn't remove hard water minerals, which you may prefer
Can only prevent scale buildup
Can't be used for hard water with a high iron content
---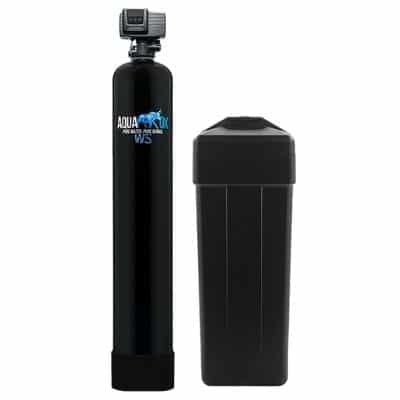 AquaOx WS
The AquaOx WS is one of the highest-quality outdoor salt-based water softeners on the market today. This unit eliminates calcium and magnesium from water by swapping these minerals for salt, and performs regeneration only when necessary, providing the most efficient and penny-saving water softening experience.
With digital touch screen controls, you can quickly set the system to operate at its peak, determined by how hard your water is and how much you use per day. You can schedule regeneration cycles, too, if you like having the freedom to do so.
Being a top of the line water softener, the AquaOx uses the highest quality upflow technology that reduces the amount of salt and water required, limiting regeneration to only when needed. You can use this system for both well water and city water sources, and for extra peace of mind, it comes with a 12-month money back guarantee and a 10-year warranty.
There's a dedicated section of the user manual for outdoor installation, so you can rest assured that both the media and brine tank are designed to withstand the hot and cold climates – but the manufacturer recommends installing away from moisture and direct sunlight, and purchasing a cover for the machine if installing in an environment with insects or small animals.
Everything you need for installation of the AquaOX comes with this water softener, including a bypass valve, fittings, and the initial softening media. The system measures 64 inches tall by 10 inches in diameter, and the media is pre-loaded, ready for installing straightaway.
The user manual is one of the clearest I've seen, and there are videos online if you need a little extra support. The unit will give you reminders to top up your salt, making this one of the most user-friendly water softeners for guided DIY installation and aftercare.
👍 What I Like
Lots of installation support
Automatic or manual regeneration options
12-month guarantee & 10 year warranty
👎 What I Don't Like
Needs electricity to run
One of the more expensive soft water solutions
Doesn't remove iron
---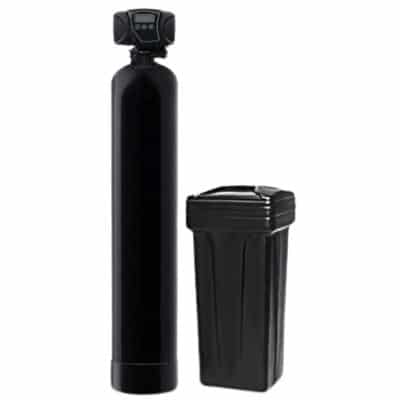 Fleck 5600 SXT 48K Grains Water Softener
The last outdoor water softener to be featured on this list is the Fleck 5600 SXT softener. This 48,000-grain system has the most suitable capacity to provide soft water for a medium to large-sized family, and, being salt-based, entirely eliminates hard minerals from water.
This system comes partially pre-assembled, with the media tank already loaded, making it easy to install. You should find the Fleck 5600 simple enough to DIY install, so you can save money on hiring a professional plumber if you consider yourself relatively handy. Everything is included for setup, including the bypass valve and digital control head, aside from the drain line and the fittings to connect the softener to your plumbing, which you'll need to buy yourself.
Offering on-demand regeneration, the Fleck measures your real-time water use – so if you're using more or less water than usual, it'll adjust its regeneration frequency accordingly. There's battery backup, too, so even if your power's out for up to 48 hours, this unit will continue to operate.
You're covered when you purchase this outdoor water softener, as it has up to a 10 year warranty on its parts – be sure to familiarize yourself with the terms and conditions before you make a purchase. The system is estimated to pay for itself within 3.5 years, and costing just over $600, it's one of the more affordable outdoor water softener options on this list.
The Fleck 5600 can't filter high levels of iron, but the manufacturer offers a fantastic iron removal softener – the Fleck Iron Pro 2 – if you're looking for something more specific.
👍 What I Like
High capacity for larger families
Affordable option
Good customer service
👎 What I Don't Like
No pre-filter included
Not as easy to install as some systems
Needs frequent salt top-ups
---
🧾 Buyer's Guide for Outdoor Water Softeners
If you're looking to treat hard water, a whole house water softener is the best (and obvious) solution. Water softener systems are specifically designed to do one of two things: remove hard water minerals entirely, or alter their structure and render them incapable of sticking to surfaces and forming scale.
We're spoiled with choices when it comes to water softener systems today. We can choose between salt-based systems and salt-free softeners; softeners for RVs, and softeners for both inside and outside our homes. This wealth of choice is certainly a good thing, because it means you can be picky – and there are so many options available that you're bound to find a solution that's perfect for you.
🏡 Can You Put a Water Softener Outside?
It's a question that's asked frequently in regards to standard water softeners: "Can I install this outside?" Usually, the answer is annoyingly vague: "Maybe".
Not all whole house water softeners are designed for outdoor installation. Some can be installed outside, provided they're protected from the elements – especially freezing temperatures (which I cover in more detail below).
The reason why a standard water softener doesn't fare well outside is because of its makeup. Salt-based softeners contain a resin tank and a brine tank that are especially susceptible to damage from boiling or freezing temperatures. With both of these tanks being essential in this type of water softening system, if they're damaged by the weather, the system either won't work, or will work far less effectively.
It's best to look for a water softener that specifically states in its product details that it's suitable for outside use if you want to be sure the system will withstand an outdoor climate.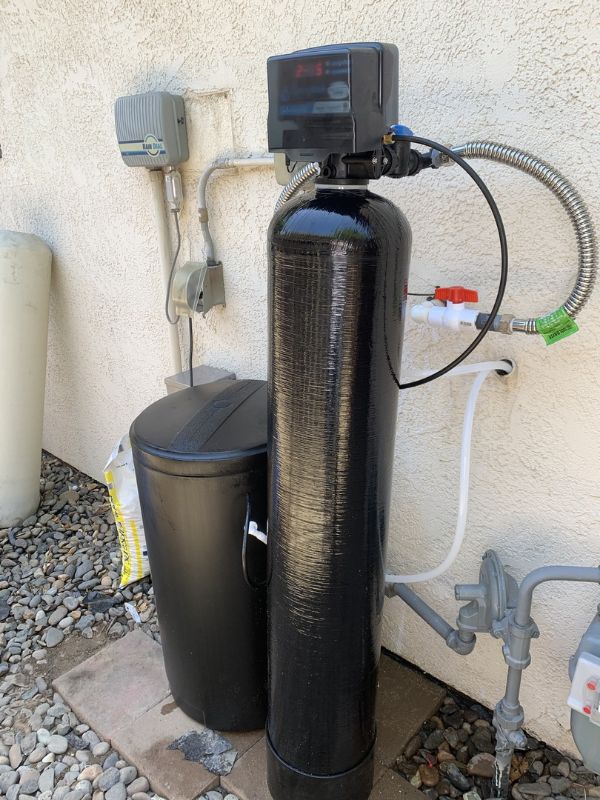 🛡️ How Do I Protect My Outside Water Softener?
If you're buying an outdoor water softening system, it means it'll be designed to better withstand harsh outdoor temperatures. But there are things you can do to protect your outside water softener to ensure the quality of your water treatment isn't affected by its installation location.
To protect your outside water softener from freezing, electrical heat wrap tape for the fittings and pipes can be handy. It's no good using this on your tanks, which is why many people choose to build their own insulated housing surrounding the softener to prevent it from being subjected to freezing temperatures. Burying your tank is another option – make sure to pack it tightly into the ground to prevent air pockets from forming around the system and freezing.
It's not something you'd likely think of, but sunlight can also damage even the best water softener systems. UV rays can deteriorate the fiberglass resin, affecting the efficiency of the system. Again, this is why housing, or some form of shade, is something to consider with an outdoor installation.
Your water softening system needs to be protected if installed outside – but don't forget about your salt bags. Keeping these bags, especially ones that are open, away from water is essential. Storing them in a utility shed in your yard should be fine.
Outdoor Water Softener Covers & Enclosures
If making your own water softener enclosure sounds like too much work, a simple alternative is to buy a cover or enclosure for your softening system online. Many brands offer custom-made covers that protect against external damage, including water damage and freezing. You can find numerous options that are pretty affordable too, with covers costing less than $100 and external cabinets costing around $150.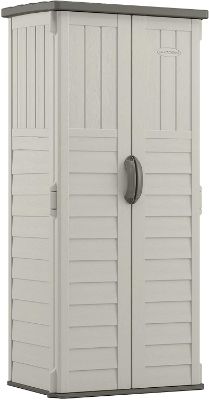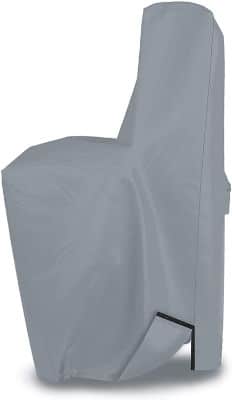 🔠 What Types of Water Softeners Can I Install Outside?
There are two common types of water softeners that can typically be installed either inside or outside. These are salt-based ion exchangers and salt-free conditioners.
Salt-based Ion Exchangers
Salt-based water softeners, otherwise known as ion exchange systems, use the process of ion exchange to remove calcium and magnesium from water. These soft water systems consist of two tanks: a brine tank and a resin tank. Many people consider salt-based softeners the best water softening solution because they entirely remove water hardness ions from a water supply.
The brine tank stores salt (sodium), which is transported into the resin tank during ion exchange. The sodium ions replace the calcium and magnesium ions in hard water, and when the resin tank is saturated with these minerals, the system flushes them away in a process called regeneration.
It's typical for a salt-based softener to regenerate on a weekly basis, and while some water and salt is wasted during this process, it's not a noticeable amount.
Salt-free Conditioners
Salt-free conditioners don't require salt to soften water. They don't technically soften water at all; instead, they use a process known as Template-Assisted Crystallization (TAC) to "condition" water. This means that calcium and magnesium aren't removed from water. Instead, they're altered inside the TAC media, resulting in a crystalized outer layer that prevents them from being able to stick to your pipes and appliances.
Salt-free water softeners only consist of a single tank, which makes them slightly easier to install and maintain, especially as they don't require salt to operate – so that's one less thing for you to worry about.
Their biggest benefit is that they don't add salt to water, and they don't need to regenerate at all, which means they're the money-saving softening option. But some people still prefer salt-based softeners because they completely remove water hardness minerals and eliminate hard water issues, giving them a greater level of assurance that their softener is actually doing the job it's intended for.
💭 Considerations When Purchasing A Water Softener for Outdoor Installation
Local Climate
If your local climate doesn't drop below freezing in the winter or get too hot in summer, you're best-suited for an outdoor water softener. But that doesn't mean that you can't install a softener outdoors if your weather is more varied and unpredictable.
It's a wise idea to visit your local hardware store or water treatment specialist to see which softened water systems are most popular. This will give you knowledge of the systems that should operate well in your climate.
Whichever system you opt for, preparing in advance for installing it in your particular outdoor environment is key. If hot summers are common in your region, consider installing your water softener in shade, protecting it with an overhead cover, or even burying it underground, where the soil will keep it cool. If your region's winters bring frosts and ice, an insulated cover or cabin will best look after your tanks.
Wildlife is another unavoidable aspect of a local climate. Some water softeners offer optional covers that can protect a system from insects and small animals.
Additional Cover or Enclosure Costs
Following on from the above, if you're considering purchasing a cover or an enclosure for your household water softener, make sure to factor in the additional costs of doing so.
Expect to pay between $50 and $150 extra for these accessories, and generally, the higher the price, the better the quality – so you don't want to scrimp in this case. Make sure to make note of the capacity of your unit, which may affect its size, when finding the right sized cover or enclosure for your needs.
Install Location
Outside water softeners should be installed at your main water pipe as close as possible to its point of entry into your home. This means you can't usually be very picky with the exact whereabouts of your install, and it's unlikely that this location will be under natural shade.
Remember you'll also need a connection to a sewer pipe for your water waste to dispel into during regeneration.
You'll need to make sure there's room against the outside of your home to install a softening system, which may mean pruning back plants or removing garden furniture that gets in the way.
Electronic Components Involved
Not only will your water softener need to be installed at your waterline – it will probably also need access to electricity. You may need to wire an electrical outlet to connect to your water softener if it requires electricity to operate (most salt-based soft water systems do).
It's vital that you make sure any electrical components are suitable for outdoor use and fully protected from water damage or heat. You may consider hiring somebody to install an outdoor water softener for you if you think it sounds a little beyond your depth.
Capacity Needed
Water softeners vary in grain capacity from model to model, so you're not limited to a single capacity if it doesn't suit you. A water softener's grain capacity measures how long it can produce soft water before it needs to regenerate.
The majority of homes will require a standard 32,000 grain capacity unit, but if you have a large house of more than 4,000 sq ft, a large family of more than 6 people, or very hard water over 15 grains, you may need to consider a larger unit.
Don't deliberately buy a bigger capacity softener for the sake of it, as it'll do more harm than good. You should ideally size your water softener to allow it to perform regeneration once a week (it shouldn't carry out regeneration any more frequently than once every 3 days, and nor should it regenerate after longer than 14 days, which can cause the resin to compact).
To work out the exact grain capacity needed for your own home, calculate the following:
Multiply the number of people in your home by 70, which is the national average of gallons of water used per day.
Multiply this figure by your water's hardness in gpg (grains per gallon). If you don't know the current hardness of your water, buy a test kit online.
This figure is your "grains per day" number. You can then divide this number into a water softener's capacity to find the best size for you.
As an example, if you have 5 people in your home, each using 70 gallons of water per day, you would do the following sum:
5 x 70 = 350 grains per day (for whole family).
350 X 10 grains (of hardness) = 3500 grains per day.
You could then divide a 25, 000-grain water softener by 3,500 and determine that it'd perform regeneration after every 7.1 days – just the capacity you're looking for.
👉 Not a fan of doing manual math? Let my calculator do it for you
System Type
The type of outdoor water softener you go for will determine the quality of the water you end up with.
There is no "best" water softener between salt-based and saltless softeners, as both effectively produce softened water, and both can be used to treat a well water supply, too.
But salt-based softeners have the advantage of completely removing hard water minerals, which won't only prevent scale – it'll also protect your skin and hair, improve the efficiency of your appliances, enable water to lather more easily with soap, and give water a silky feel.
Saltless softeners, on the other hand, don't affect water quality, as they retain healthy calcium and magnesium minerals.
They don't add salt to your water, and the hardness minerals give water a much more pleasant taste, but they prevent these minerals from forming scale. This means that while your skin and hair still come into contact with these minerals when you're showering, they can't form soap scum, which is a big benefit. But you don't quite get all the perks of a salt-based softener because magnesium and calcium are still present.
Installation & Maintenance Costs
Installing a water softener outside tends to present more challenges than an indoor installation, because you need to consider things like a means of protecting your unit from the elements and giving it access to electricity and a drain pipe (which tend to be more available indoors).
An experienced plumber can get the job done in roughly an hour, and can save you the hassle and stress of DIY installation – but remember that this will come at a cost. Plumbers and handymen charge between $50 and $200 per hour – it really is that vague – and the average job is priced around $250. If you're considering paying for a DIY installation, ask for quotes from a selection of competent local professionals and find one that best suits your budget.
In terms of maintenance costs, these vary depending on the unit you opt for. If you're using a salt-based softener with a brine tank, you'll need to top up the salt approximately every 6 to 8 weeks. While softener salt is relatively cheap, you'll need to stay well-stocked, as your system won't work without salt.
Both salt-free and salt-based water softeners generally come with a water filter that prevents large sediment from entering the softener and damaging the media. This water filter needs changing approximately every 6 months, and it's something you shouldn't forget if you're looking to maintain your system's high quality operation for as many years as possible. Filters are affordable, costing around $20 depending on where you buy them from.
❔ Frequently Asked Questions
Do I have to use an outdoor water softener all the time?
No. Your system should include a bypass valve to allow you to divert water away whenever you need to. A bypass valve is especially useful for giving you access to water while the unit regenerates or while you're performing maintenance, such as topping up the salt.
How do I know if a system is high quality or not?
There are several ways to determine this. First, check out customer reviews, which will soon reveal the flaws in a so-called "high quality" unit if there are any (though keep in mind that the occasional manufacturing error isn't a reflection of quality overall). You can also check to see if a system is NSF certified. It's common for water softeners to be NSF certified for quality of build, and an NSF certification can give the best third-party assurance on this. Finally, durable materials and resin indicate a high quality build. Avoid plastic parts, especially fittings and the bypass valve, as much as you can.
Can I make my own insulated water softener housing?
Of course! Even if you don't consider yourself particularly handy, there are plenty of video tutorials that serve as guidance.
How do I calculate my daily water usage?
You could simply use the national average of 70 gallons per day. Otherwise, a smart meter unit may be able to tell you your family's water usage per day. It's difficult to be precise without one of these systems.
Will installing a water softener outside affect flow rate?
No, the flow rate will be exactly the same as if you'd installed the unit inside. Flow rate is determined by factors such as the grain capacity water softener you opt for, and whether this is suitable for your home, and your incoming water pressure, and whether it's high enough to handle a water softener.
How can I be sure that my outdoor water softener is working?
You should see the effects on your household appliances within a few days. Softened water will prevent any new formation of limescale. If you have a softener with an iron filter, you'll also notice that your pipes and appliances are no longer stained with the telltale brownish iron deposits. You can also check for soft water by using a testing kit, but this will only work with salt-based water softeners, which actually remove hardness minerals from water.