Our experts tested out dozens of ion exchange water softening systems, and these are the options that consistently performed the best.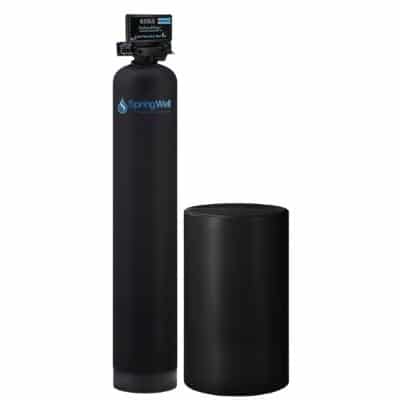 SpringWell SS Water Softener System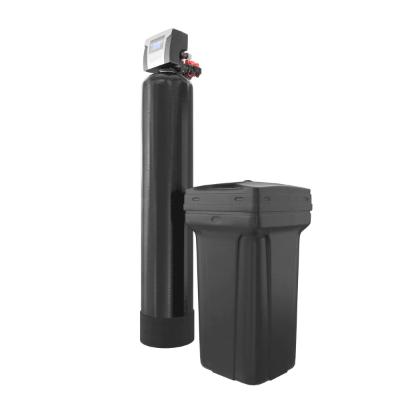 SoftPro Elite Water Softener System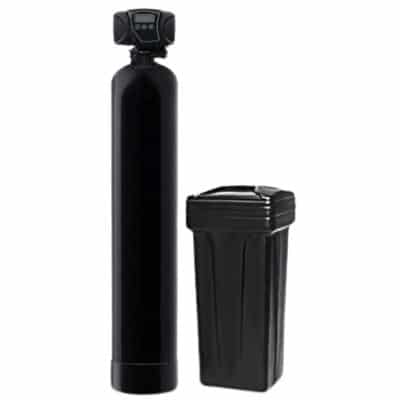 Fleck 5600 SXT Water Softener System
Hey, hard water hater! Welcome to our best ion exchange water softener guide.
If you're sick of limescale in your home, and you want to eliminate the issue with the most proven water softening technique, you've come to the right place. We've tested and compared some of the best salt-based water softeners in some of the hardest water regions in the US.
You could pay up to $3,000 for an ion exchange water softener from a brand that's good at marketing, but not good at delivering promises. But we'd strongly recommend choosing one of the ion exchange water softeners that have been consistently impressing customers by removing more than 99.99% water hardness.
#1 is our top pick, but #2 is a close runner-up, and #3 is good for small budgets.
🥇 Best Ion Exchange Water Softeners
📊 Comparison Chart of Ion Exchange Water Softeners
Product

SpringWell SS

SoftPro Elite

Fleck 5600 SXT

AquaOx WS
Ranking
1st
2nd
3rd
4th
Ratings
5/5
4.5/5
4.5/5
4/5
Price
$1530.93+
$1279+
$1189+
$1999
Grain Capacity
32K - 80K
24K - 110K
24K - 64K
64K
Flow Rate (GPM)
11 - 20
10 - 32
7 - 15
16
Warranty
Lifetime
Lifetime
5 years on valves
10 years on tanks
10 years
---
⭐ Reviews – Top Ion Exchange Water Softeners 2023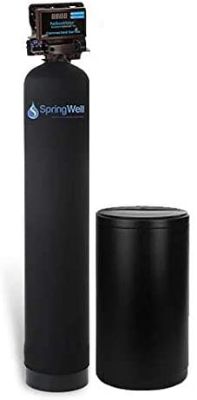 SpringWell SS Salt Based Water Softener System
The SpringWell SS Salt-Based Water Softener System is our top ion exchange water softener for one simple reason: this system has consistently proved itself as one of the most effective, reliable water softeners on the market, completely removing hardness minerals and eliminating scale.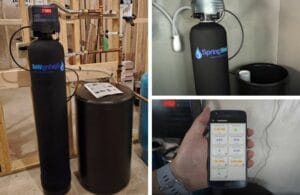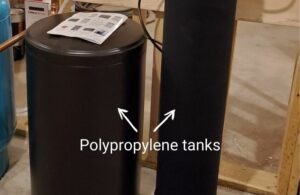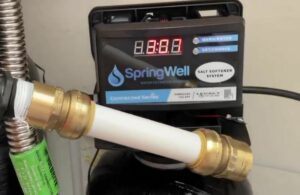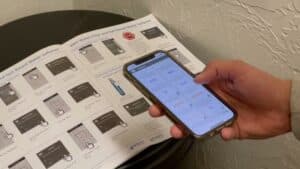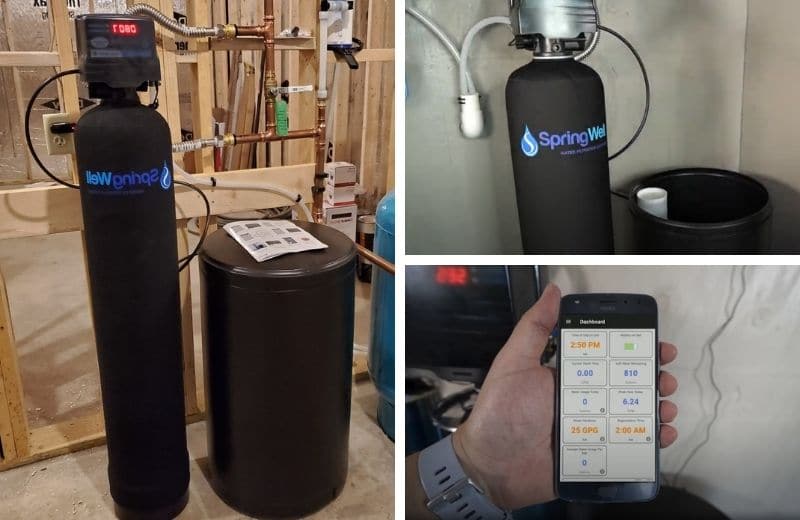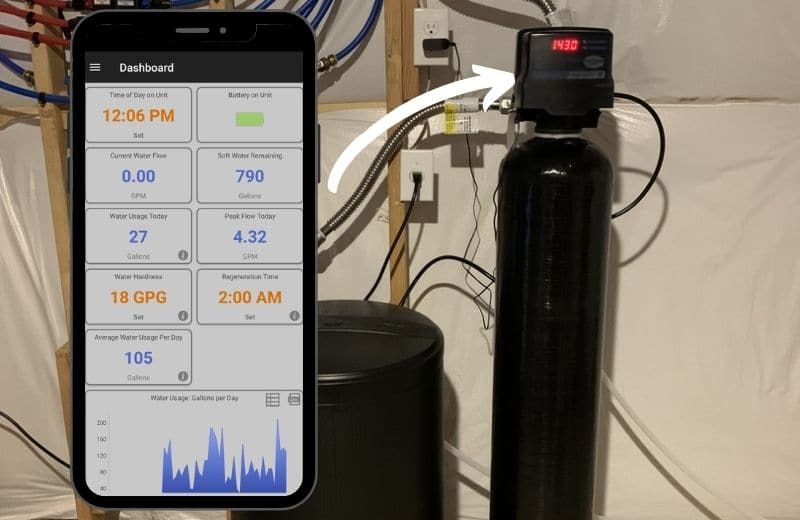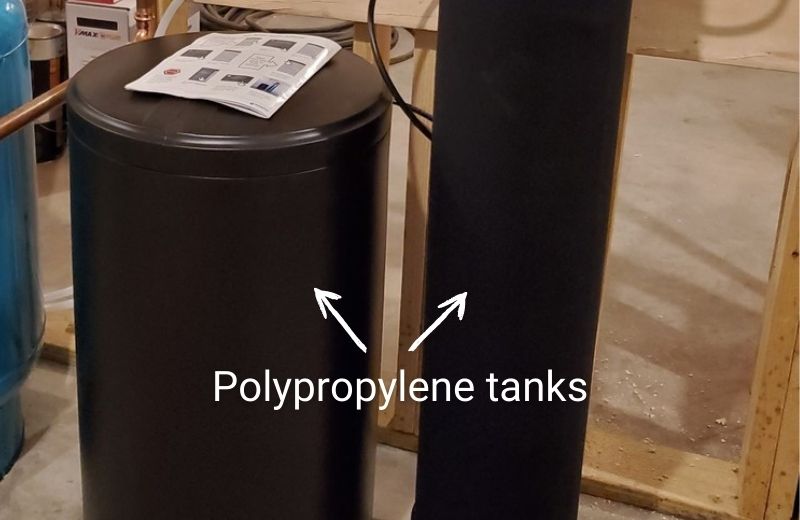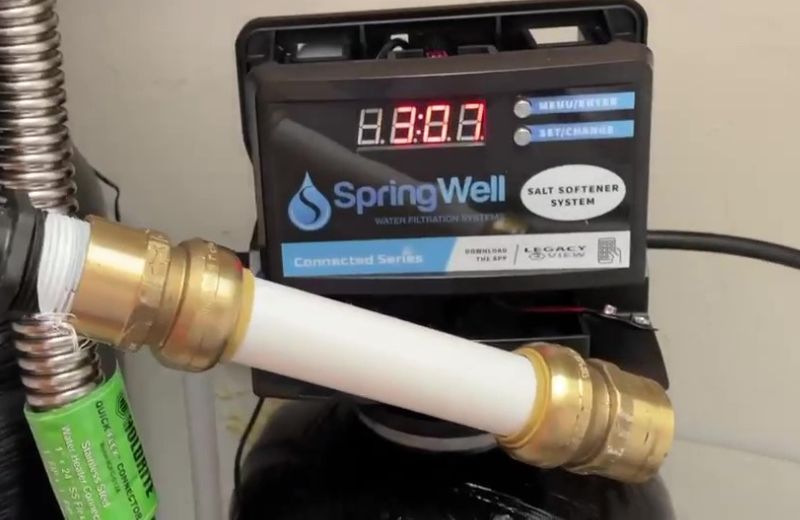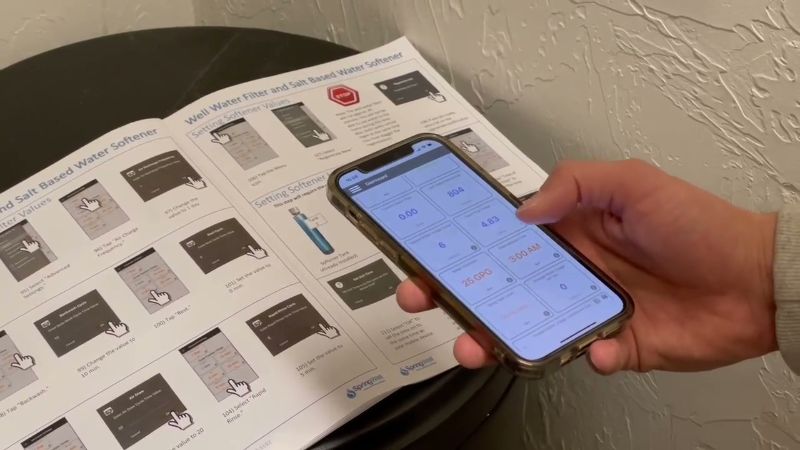 | Upgrades | Price |
| --- | --- |
| UV Water Purification System | $1100.99 |
| Reverse Osmosis Water Filter System | $442.23 |
Key Features
Hardness elimination – The SS produces 100% soft water, so you can say goodbye to limescale for good.
Efficient performance – There are several features of the SS that make it more efficient than other ion exchange water softeners, including automatic regeneration, which saves salt and water by only regenerating when absolutely needed.
Three sizes to choose from – The Springwell salt-based softener has three sizes: 32,000 grains (1-3 bathrooms), 48,000 grains (4-6 bathrooms), and 80,000 grains (7+ bathrooms). Choose the right size and avoid a drop in water pressure.
Lifetime warranty – We think the SpringWell SS's lifetime warranty and a 6-month money-back satisfaction guarantee are two sure-fire signs that SpringWell is consistent in the longevity of its products.
| SpringWell SS Configurations | Price |
| --- | --- |
| SS1: 1-3 Bathrooms | $1530.93 |
| SS4: 4-6 Bathrooms | $1683.59 |
| SS+: 7+ Bathrooms | $2086.32 |
Best for: People looking for an efficient water softener that uses the ion exchange process to reliably eliminate their water hardness minerals.
Pros
We love that the SS reduces water and salt waste with its automated regeneration, helping you to keep operating costs low. This system is one of the cheapest to run that we've reviewed.
SpringWell is a trusted brand with a positive history that spans back decades. You don't have to worry that you're investing unwisely in a SpringWell product. Plus, the value for money is there, as the SS is more affordable than most softeners on the market.
In our testing, we noticed an instant improvement in the quality of our drinking water, and detected no new scale formation after installing the unit.
Review our SpringWell SS laboratory testing data presented in the table below.
| Contaminant | Pre-Filtration | Post-Filtration | % Reduction |
| --- | --- | --- | --- |
| Total Hardness | 220.84 PPM | 5.62 PPM | 97.46% |
| Calcium Hardness | 214.78 PPM | 5.3 PPM | 97.53% |
| Grains per Gallon | 13.71 Grains | 0.34 Grains | 97.52% |
| Iron | 2.37 PPM | 0 PPM | 100% |
| Manganese | 0.002 | 0.022 | +1000% |
Cons
The SpringWell SS is difficult to install. Most people hire a plumber for the job.
Higher upfront cost
Read the Full Review: Springwell Salt Based Water Softener System Review
---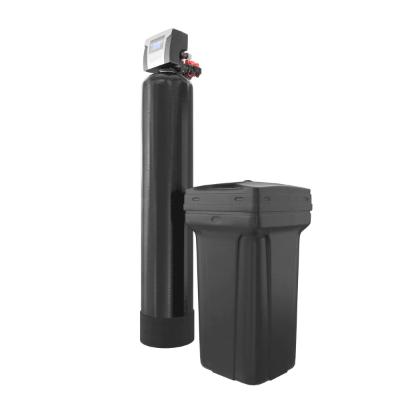 SoftPro Elite
The SoftPro Elite is our close second-favorite after the SpringWell SS. This ion exchange water softener isn't quite as capable as the SS, but it has a major advantage: it's the most efficient water softener we've ever reviewed.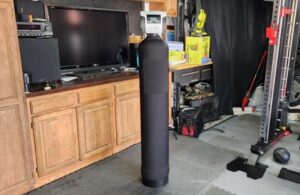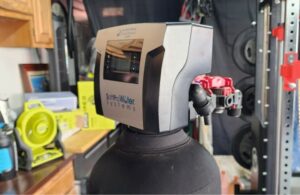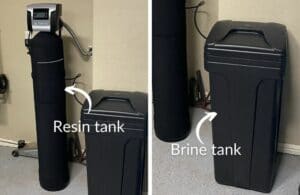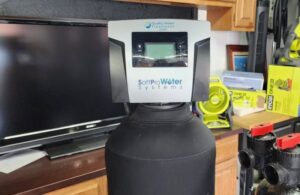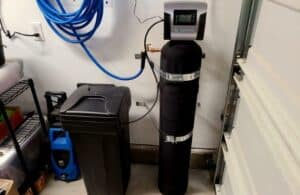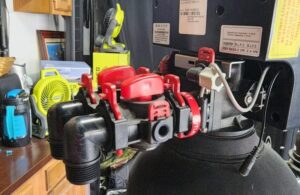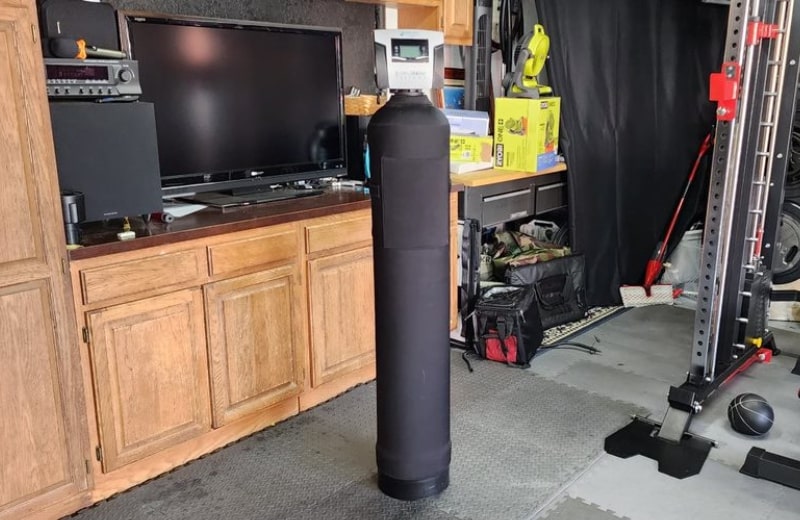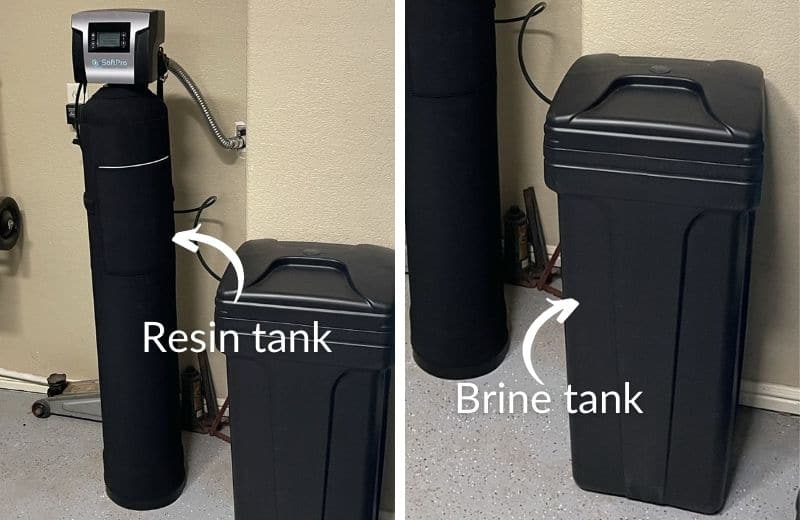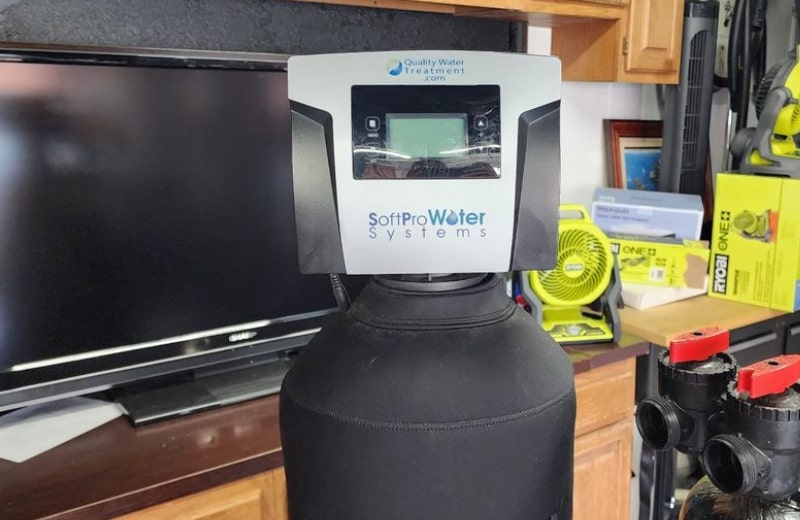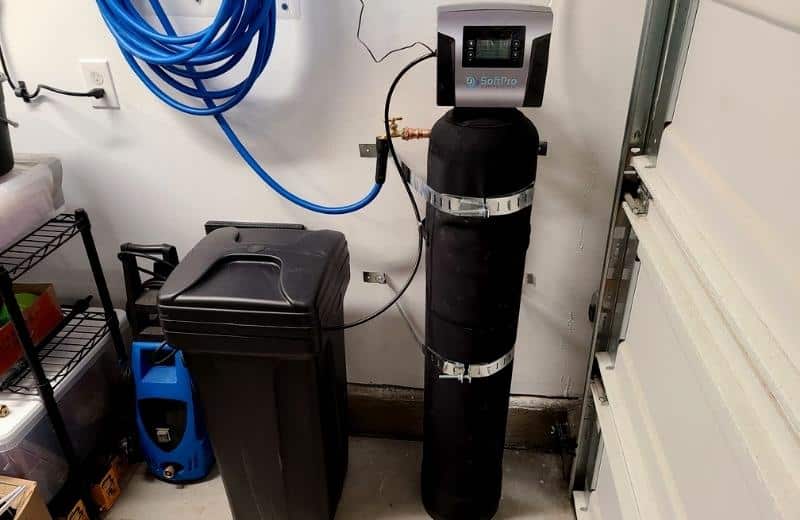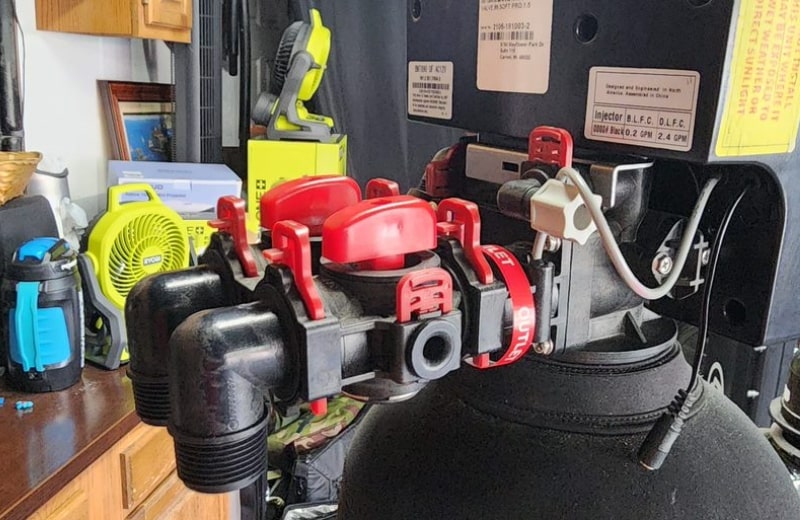 Key Features
Host of efficient features – The SoftPro Elite was built with efficiency in mind. This system greatly reduces water and salt consumption with its efficient upflow regeneration technology, which reduces salt usage to only three bags per year.
Quick, powerful regeneration – Water softener regeneration cycles are known to waste water, but the SoftPro Elite uses next-gen sensors to trigger much shorter, quicker regeneration cycles if the resin just needs a quick boost outside of the normal schedule.
Suitable for small budgets – We love that this unit costs less than $1,000, so it's a fantastic value for money. SoftPro proves that you don't have to spend a fortune to enjoy good quality.
User-friendly features – The SoftPro Elite is designed to be user-friendly, with an LCD screen that gives you access to easy-set presets including auto-variable backwash, auto-refresh, auto reserve, and vacation mode.
| SoftPro Elite Configurations | Price |
| --- | --- |
| 24000 | $1279 |
| 32000 | $1379 |
| 40000 | $1439 |
| 48000 | $1519 |
| 64000 | $1569 |
| 80000 | $1779 |
| 96000 | $2339 |
Best for: Anyone looking for an affordable ion exchange water softener that's the lowest cost to run. Also – anyone who wants to tailor their water softening solution exactly to their water usage and hardness, as there are eight grain capacities to choose from.
Pros
We're seriously impressed with how efficient the SoftPro Elite is. The system uses half the amount of salt that a traditional salt-based softening system uses.
If you're not a fan of expensive maintenance, you'll be happy to hear that the SoftPro Elite's resin has a 20-year lifespan.
We're reassured to know that the SoftPro Elite has a lifetime warranty. It's manufactured by Quality Water Treatment, a reliable brand.
Cons
The system doesn't have a base model. Plus, it needs electricity, which may affect where it can be installed.
Read the Full Review: SoftPro Elite Reivew
---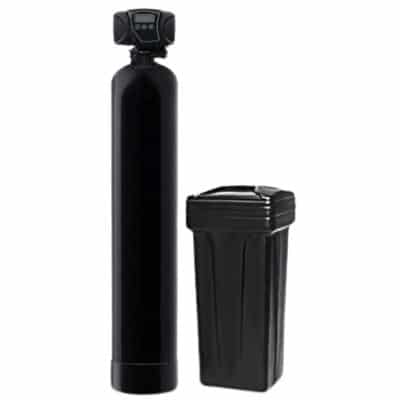 Fleck 5600 SXT
The Fleck 5600SXT Digital Control 24-64,000 Grain Water Softener costs just over $1,000 for its smallest 24,000-grain model. Considering all the fancy features of this ion exchange water treatment system, we think it's one of the most budget-friendly, best-value softeners available today.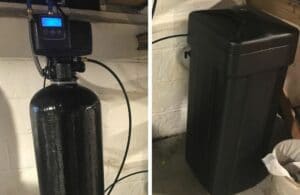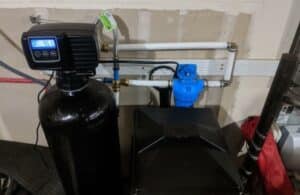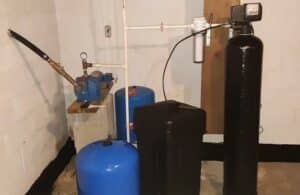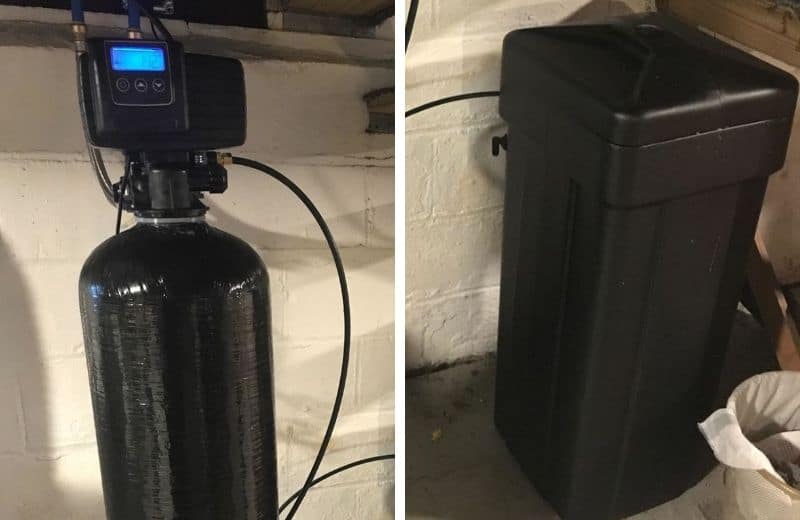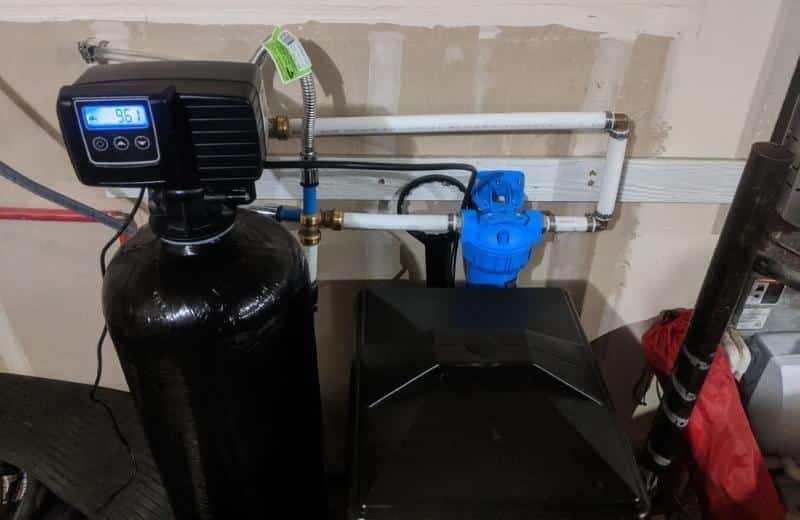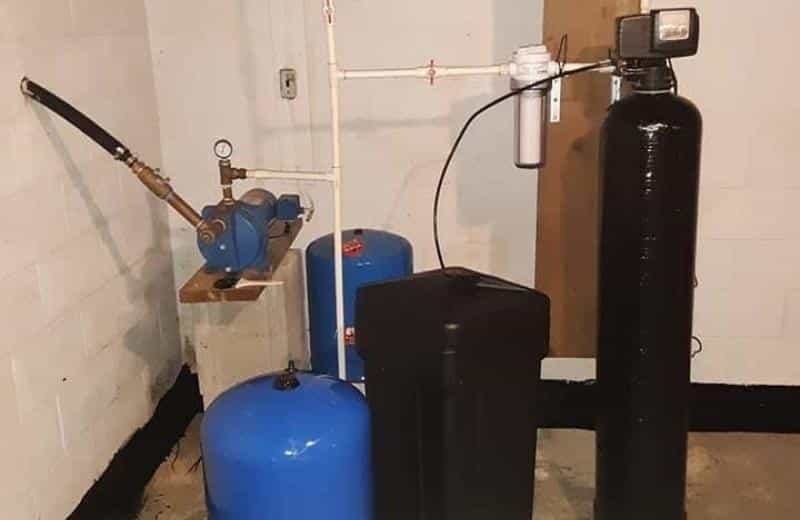 Key Features
Ideal for small budgets – You don't have to compromise on quality to save money. The Fleck 5600SXT starts at just over $1,000, and comes in 5 different capacities.
Tailored, efficient performance – The Fleck 5600SXT only regenerates when it needs to, and the advanced water flow meter has an easy-use programmable control valve, so you can tailor the system's performance to your needs.
Easy to install – The system is partially assembled and pre-loaded with resin, reducing your installation tasks.
Good warranty– The tank has a 10-year warranty and the control valve has a respectable 5-year warranty. Good warranties = longer support from the manufacturer if something goes wrong.
| SoftPro Elite Configurations | Price |
| --- | --- |
| 24000 | $1189 |
| 32000 | $1265 |
| 40000 | $1327 |
| 48000 | $1373 |
| 64000 | $1523 |
Best for: Anyone with a smaller budget who wants to spend their money wisely on a salt-based water softener that won't let them down.
Pros
We were really pleased with its affordable price.
It's good to know that the unit is assembled in the USA with quality components.
You can choose between different grain capacities, from 24,000 to 64,000 grains, depending on your water usage and hardness.
Cons
Some customers struggled to install the Fleck 5600SXT themselves. If you're not handy, you'll probably need to call a plumber.
Read the Full Review: Fleck 5600 SXT 48K Grains Water Softener Review
---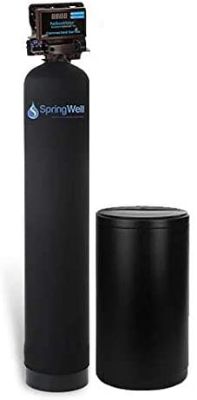 AquaOx WS
Got the budget for a truly exceptional water softener? The AquaOX WS is our top premium option, offering supreme ion exchange water softening for just under $2,000.
Key Features
Effectively and reliably softens water – The AquaOX WS is an incredibly reliable system, providing immediate scale removal benefits.
Automatic regeneration – Like all the best salt-based water softening systems, the AquaOX WS is smartly designed to save salt and money with automatic regeneration cycles.
Efficient upflow technology – This system is up to 40% more efficient than a non-upflow water softener thanks to its advanced upflow technology.
Good warranty – It's reassuring to know that the AquaOX WS comes with a no-hassle 10-year warranty and a 1-year money-back guarantee.
Best For: Anyone with more money to spend on a smart system that's guaranteed to eliminate hardness for decades.
Pros
We were pleased with this water softener's efficiency – salt top-ups would be less frequent than with non-efficient systems.
The touch-screen control is user-friendly.
Cons
This softener offers virtually the same features as the SpringWell SS. If you're on a tighter budget, you may as well just buy SpringWell's model.
Read the Full Review: AquaOx WS Water Softener Review
---
🕵️ Our Research
This section of the guide discusses how we researched, tested, and compared the products on this list. We'll also look at hard water in detail, including what it is and what it does, how to test for it, and why ion exchange water softeners are the best way to get rid of it.
🙋‍♀️ Who This Guide is For
This guide is for anyone who wants to achieve soft water in their entire home's plumbing supply with a traditional ion exchange whole house water softener.
You'll get value from this guide if you…
Are specifically looking at ion exchange water softeners, not salt-free water softeners or magnetic water softeners, because you want to have properly soft water (not just "conditioned" water).
Have any sort of budget. Most of the products in this guide are for small budgets, while some are on the pricier side. In any case, the value for money is always there.
Want to buy from a trustworthy manufacturer that a seasoned reviewer with experience in the industry recommends above the others.
📊 How We Chose
When choosing products for this guide, we solely focused on traditional water softeners, with a brine tank and a resin tank, that use the ion exchange process to soften water.
We chose the water softeners on this list based on their softening capabilities, customer feedback, value for money, and overall quality.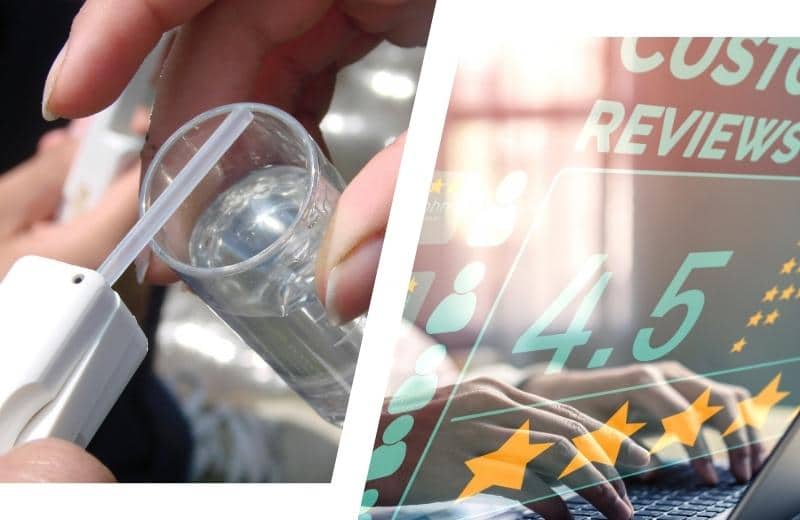 Water Softening Capabilities
The ion exchange softening technique is considered more effective than any other method of reducing or preventing scale formation. However, not all ion exchange water softeners are equal.
We favored the water softeners that soften up to 99% of water or more. We didn't just look for scale reduction – we looked for scale elimination. The water softener systems on this list come as close as possible to this achievement.
Customer Feedback
Customer feedback is invaluable, giving us an insight into how the everyday person gets along with a water softener.
We read hundreds of customer reviews when deciding which water softeners would make this list. Some softeners had fantastic marketing, but poor customer reviews. We ignored these products, focusing on those that had good marketing and an overall positive customer backing.
Value for Money
Value for money was another major factor that we considered when shortlisting this list of water softening systems.
We didn't necessarily look for the cheapest water softeners available. Our priority was to look for water softeners that offered the most exceptional performance for the fairest price. We eliminated water softeners costing above $2,000 that couldn't offer anything better than our shortlisted favorites.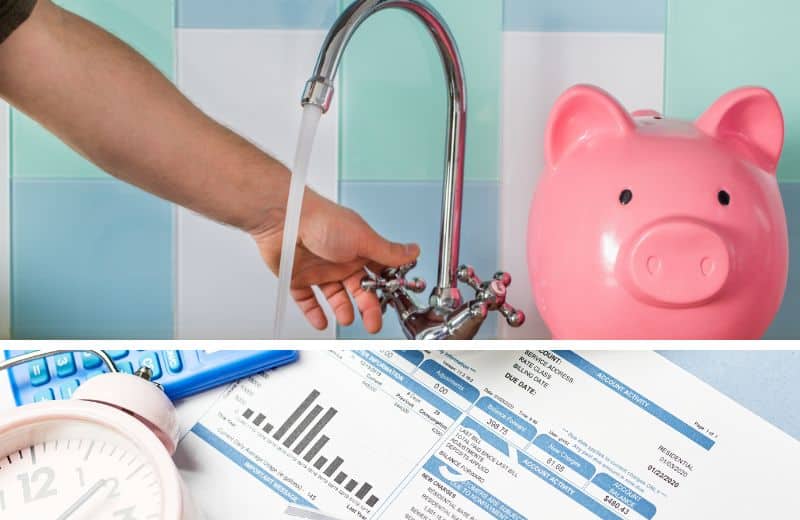 Overall Quality
Finally, we looked at the overall quality of the shortlisted water softener systems, and how this affected performance and durability.
We focused on water softeners that had a high-quality look and feel. Our top selection, the SpringWell SS, is made from certified components, so high quality is guaranteed.
🧪 How We Tested
Our original testing involved assessing the performance of water treatment systems with our own laboratory testing, but this didn't give us a proper understanding of a system's capabilities. Our water source wasn't anywhere near as hard as waters used for official testing, so we didn't get a good idea of just how well a water softener could perform.
Instead, we now focus our own testing on the capabilities of a water softener according to real-time use. We look at how reliable, user-friendly, and durable a water softener is, and combine our results with data from official testing by industry experts like ANSI, the NSF, and WQA.
💦 What is Hard Water?
Hard water is water that has a high level of calcium carbonate and magnesium ions. You'll know your water is hard if it has a sticky feel and leaves white stains known as limescale on your faucets and showerheads.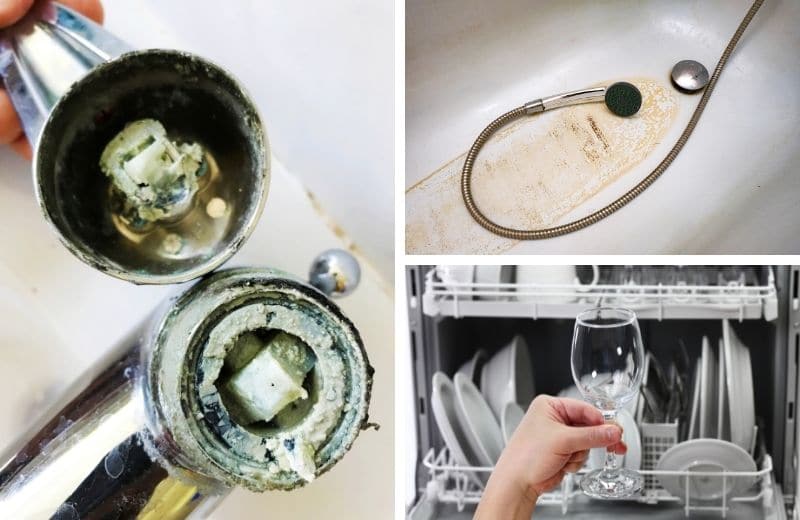 How Water Hardness is Measured
Water hardness is a measure of the concentration of magnesium or calcium carbonate ions. Hardness is measured in parts per million (PPM) or milligrams per liter (mg/L) – both of these measurements are equal. Hardness is also measured in grains per gallon (GPG).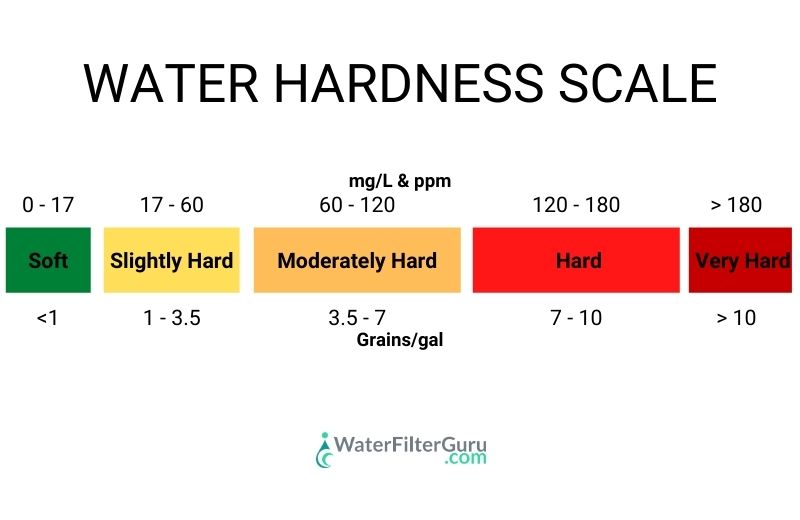 How to Test for Water Hardness
You might know that your water is hard – but how much hardness are you dealing with, and what do you need a water softening system to remove?
The only way to know this for sure is to test your water's hardness (using either a testing kit for less than $10 or a professional laboratory for around $50) and compare your results to the table below.
| Hardness Classification | Grains/ gallon | mG/L or PPM |
| --- | --- | --- |
| Soft | <1 | <17.1 |
| Slightly Hard | 1 - 3.5 | 17. - 60 |
| Moderately Hard | 3.5 - 7 | 60 - 120 |
| Hard | 7 - 10 | 120 - 180 |
| Very Hard | >10 | >180 |
⚠️ Problems Caused by Hard Water
If you have hard water, you'll likely notice the following effects:
Dry Hair & Skin
Dry hair and skin is one of the most noticeable side-effects of hard water.
The minerals in hard water stick to hair and skin, forming residue deposits and aggravating conditions like acne, eczema, and dandruff. These minerals also lead to dryness by blocking moisture from entering the skin's pores and hair follicles.
Inefficient Appliances & Water Heater
Another common sign of hard water is inefficient appliances, including your water heater. A hard water supply leaves mineral deposits on everything, including the insides of your appliances and heaters.
Over time, these deposits reduce water flow, affecting appliance efficiency. They also form an insulating layer in water heaters, so the heating elements need to work for longer to heat up water. When used with hard water, appliances often become entirely inefficient long before the end of their expected lifespans.
Spotted Dishes
White spots on your dishes and glassware are common if your water is hard. No matter how much you clean these stains, if you're using hard water, they'll always return. White spotting isn't dangerous, but it is unsightly.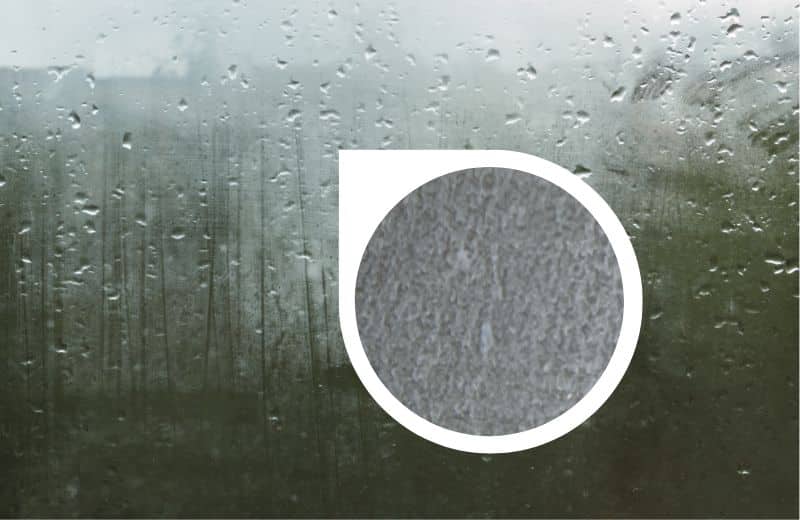 Damage to Pipes and Faucets
Limescale deposits are particularly damaging to your pipes and plumbing. Your hard water supply is in constant contact with the inside of your pipes, and limescale forms in a thick layer over a period of decades.
This limescale restricts water flow and reduces the water pressure in your home. When they form on showerheads and faucets, limescale deposits affect the amount of water that can flow out of these fixtures, too.
Stiff, Scratchy Laundry
Finally, if your laundry is stiff and scratchy, or your whites are turning a dull gray, you're likely dealing with hard water.
Hard water also affects water's ability to lather with soap, so you'll need to use more washing soaps to properly wash your clothes.
💡 What Is An Ion Exchange Water Softener?
Ion exchange water softeners are traditional water softener systems that have two tanks:
A brine tank, which stores salt
A resin tank, which contains a resin bed, where the softening process takes place
The ion exchange process is the only method that physically removes hardness minerals from water. How exactly does this work?
Hard water flows into the resin tank. The resin bed grabs onto positively-charged calcium and magnesium ions, pulling them out of the water, and releasing the same quantity of positively-charged sodium ions into the water at the same time (the exchanging of ions).
Sodium ions have no impact on the quality of water and can't form scale, so replacing calcium and magnesium with sodium effectively softens water.
When the softener needs to regenerate, a brine solution (salty water) is drawn from the brine tank and the resin is recharged with sodium ions.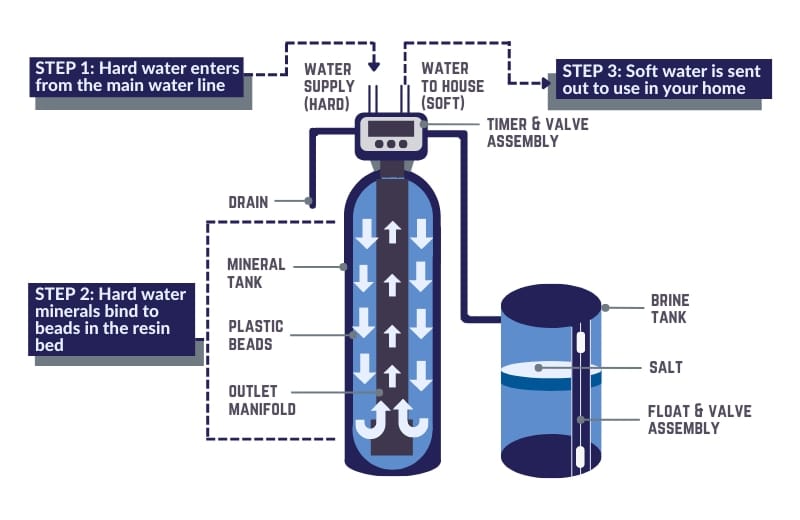 🆚 Salt Based Softeners vs Salt-Free Water Conditioners
Here are the key differences between salt-free water softeners and salt-based ion exchange systems:
Salt-free conditioners reduce mineral buildup by crystallizing hardness minerals with template-assisted crystallization, while salt-based softeners use ion exchange to remove these minerals from water completely
Salt-free conditioners use a single tank, while ion exchange systems use two tanks: one resin and one brine tank (or dual tank water softeners use three tanks: one brine and two resin tanks)
A salt-free conditioner only reduces scale, while a salt-based water softening system softens water, preventing scale in your entire plumbing system
Salt-free water softeners don't need to regenerate and don't use salt, while ion exchange softeners carry out a regeneration process and need salt or potassium chloride to operate
✔️ Benefits of Using an Ion Exchange Water Softening System
Some of the biggest benefits of softening your water with an ion exchange system are:
Completely eliminates scale: No whole house filtration system or salt-free water softener can eliminate scale buildup like a water softening system can.
Improves appliance performance: When you install one of the best water softener systems on this list, you'll keep your appliances working at their best by preventing scale formation.
Several sizes to choose from: Most systems are available in at least two different grain capacity models. You can choose the right grain capacity for your water consumption and hardness level. You can also opt for a dual-tank water softener if you want uninterrupted water softening.
Minimal maintenance: Salt-based systems require slightly more maintenance than salt-free systems, but most people are happy to top up the salt tank every month or so.
Efficient, salt-saving models: Some of the best water softener units on this list have a whole host of efficient features designed to save salt and water. Some systems are designed to regenerate only the depleted resin, preventing salt waste, and many have efficient upflow designs.
Fast flow rate: Your water flow will stay consistent and your water pressure won't drop with an ion exchange water softener.
Healthy hair and skin: Even an average water softener can do wonders to your skin and hair. Once calcium and magnesium are gone from your water, your hair and skin will retain their moisture and be less affected by dryness.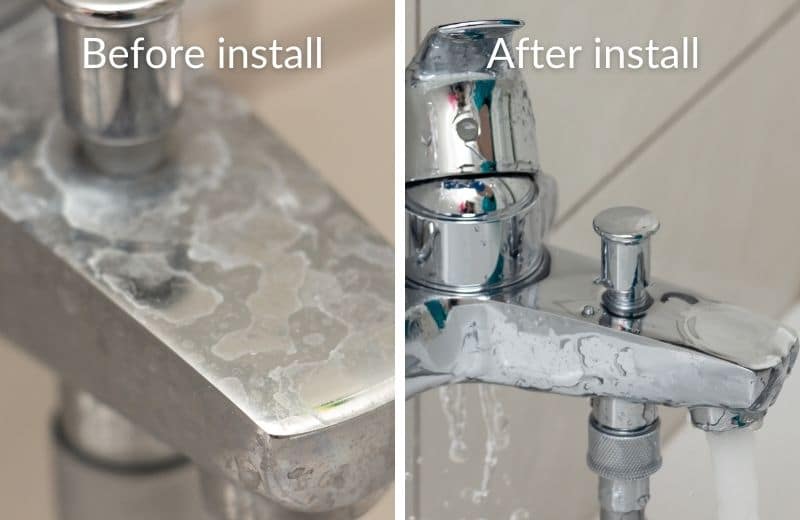 🧾 Buyer's Guide: Selecting an Ion Exchange Water Softener System for Your Home
Keen to make the best possible investment in an ion exchange water softener system? Here's what you need to consider:
Price
First off, set yourself a budget. What can you afford to spend on a water softener? You'll need at least $1,000 for a good system, but you don't need to spend more than that to get a high-performing system.
Installation & Maintenance Costs
Aside from the upfront cost of a water softener, you need to consider the potential installation costs, and the long-term costs of softening water with the system.
The cost of installation depends on whether you're happy to install the water softener yourself or not. If you're confident with DIY, installation will probably only cost $50, depending on the parts you need. Otherwise, you'll need to pay anything from $200 upwards for a plumber to install the system for you.
The cost of maintenance ties into how efficient the softener is. The more efficient the softener, the less salt you'll need to use, and the less water will be used during regeneration. On average, you can expect to spend anything from $24 to $300 per year on salt, depending on the brand of salt you buy.
Grain Capacity
The grain capacity of a water softener is a measure of how much hardness it can treat before it needs to regenerate. To understand your grain capacity requirements, you need to know your water consumption and your water's hardness in grains per gallon (GPG).
Let's say your family's daily water consumption is 320 gallons. Multiply this number by your water's hardness in GPG – let's say this is 8. Then, multiply this figure by 7 to get a weekly figure:
320 x 8 x 7 = 17,920
You know from this that you need a water softener with a grain capacity of at least 17,920 – but it's best to round up by about 2,000 to accommodate for additional water usage during peak periods.
| Household Size | 0 - 10 GPG | 11 - 20 GPG | 21 - 30 GPG | 31 - 40 GPG | 41 - 50 GPG | 51 - 75 GPG | 76 - 100 GPG |
| --- | --- | --- | --- | --- | --- | --- | --- |
| 1 - 2 people | 16000 | 24000 | 32000 | 40000 | 64000 | 64000 | 80000 |
| 3 - 4 people | 24000 | 32000 | 40000 | 48000 | 80000 | 80000 | 96000 |
| 5 - 6 people | 32000 | 40000 | 48000 | 64000 | 96000 | 110000 | 110000 |
| 7+ people | 40000 | 48000 | 64000 | 80000 | 110000 | 110000 | 110000 |
Resin Crosslink Percentage & Durability
A water softener's resin crosslink percentage tells you how long it'll last before it needs replacing. If you want to get the best value for money, find a water softener with a 10% crosslink percentage. This will last twice as long as a water softener with an 8% crosslink resin – about 20 years instead of 10 years.
Certifications
Certifications aren't essential for a water softener, but they're a good vote of confidence, telling you that a system has been third-party approved for its performance.
Not all of the best softening systems are certified by an official company. Third-party testing to NSF/ANSI Standards is second-best to official certification.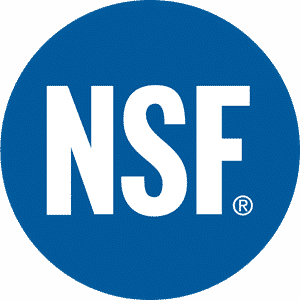 Manufacturer & Warranty
If you want to know that you're spending your money wisely, buy from a trusted manufacturer. Avoid manufacturers that are new or unknown, and always buy from a company that can offer at least a 10-year warranty on the system's tanks.
❔ Frequently Asked Questions
Is it okay to drink salt-softened water?
Yes. Most ion exchange water softener machines add less than 35 milligrams of sodium to each 8-ounce glass of water you drink. To put this into perspective, a slice of bread contains around 60 milligrams of sodium, and a single rasher of bacon contains around 140 milligrams of sodium.
Why is an ion exchange system better than a salt-free water softener?
Ion exchange softeners completely remove hardness minerals by capturing them in their resin beads. Salt-free softeners, like electric water softeners and descalers, aren't capable of actually softening water. Instead, they simply "condition" the water by crystallizing hardness minerals.
How long do ion exchange softeners last?
Generally, an ion exchange water softener lasts for around 15-20 years. These softeners can last even longer than this as long as they're properly maintained.
Is reverse osmosis better than ion exchange?
Not if your goal is to soften your water! A reverse osmosis system is designed to remove impurities with a semipermeable membrane. While a reverse osmosis system can remove some water hardness, there's no such thing as reverse osmosis softeners. A high level of dissolved calcium carbonate or magnesium in your water will only even up damaging the membrane and shortening its lifespan. No water filtration system can do the job of a water softener.
Can I use an ion exchange water softener in my RV or vacation home?
Yes – just use a portable water softener. You can find more information about the best portable softening systems in this guide.
How often does a traditional water softener perform a regeneration cycle?
Usually, a water softener will perform a regeneration cycle every 7 to 14 days. Most softeners are programmed to regenerate overnight to give you a continued uninterrupted water supply during the day.