These are the best glass water filter pitchers based on contaminant removal, jug capacity, filter lifespan, filtration speed, and of course value for money.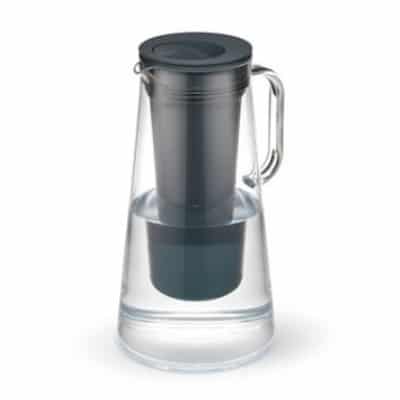 Lifestraw Home Water Filter Pitcher
Invigorated Water pH Restore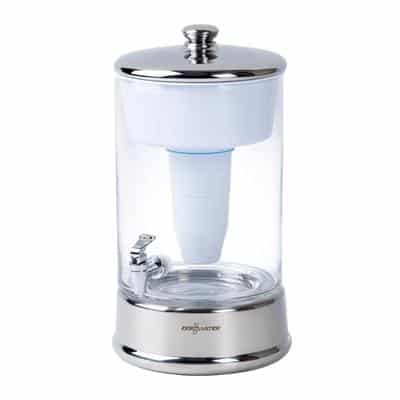 ZeroWater 40-Cup
📌 Things You Need to Know
You'll probably struggle to find the best glass water filter pitcher because the majority of brands only sell plastic pitchers, and those who do sell glass pitchers tend to focus more on the aesthetic and BPA-free benefits of glass than good contaminant removal.
We've shared all the information you need to know about our top choice systems, including data (where available) so you know exactly why they're our favorites.
Before you spend your money on a glass water filter pitcher, make sure to consider your water quality, your water quality, your preferred maintenance, and your stance on NSF testing and certifications.
🥇 Best Glass Water Filter Pitchers
📊 Comparison Chart of Glass Water Filter Pitchers
| Product | | | ZeroWater | Puro Glass Pitcher | Dafi Crystal | Invigorated pH Replenish | Soma 6-Cup Carafe |
| --- | --- | --- | --- | --- | --- | --- | --- |
| Ranking | 1st | 2nd | 3rd | 4th | 5th | 6th | 7th |
| Ratings | 4.5/5 | 4/5 | 4/5 | 4/5 | 3.5/5 | 3.5/5 | 3.5/5 |
| Price | $$ | $$ | $$$ | $$ | $$$ | $$ | $$ |
| Contaminants Removed | 30+ | 10+ | 20+ | 75+ | 30+ | 15+ | 10+ |
| Certifications or Testing | NSF 42, 53, 401, P231, P473 & US EPA for removal of bacteria | – | NSF Certified Components | – | – | – | NSF 42, 53 |
| Process | Activated Carbon + Ion Exchange | Activated Carbon + Ion Exchange | Activated Carbon + Ion Exchange + KDF | Carbon | Activated Carbon + Ceramic Filtration | Activated Alumina + Ceramic | Activated Carbon + Ion Exchange |
| Filter Life | 40 gallons | 96 gallons | 20 gallons | 211 gallons | 40 gallons | 105 gallons | 40 gallons |
| Annual Cost | ~$85 | $20-$50 | $50-$60 | ~$90 | ~$160 | $20-$50 | ~$120 |
| Warranty | 3 years, limited | 1 year | 90 days | n/a | n/a | 2 years | 1 year |
⭐ Reviews – Best Glass Water Filter Pitchers 2023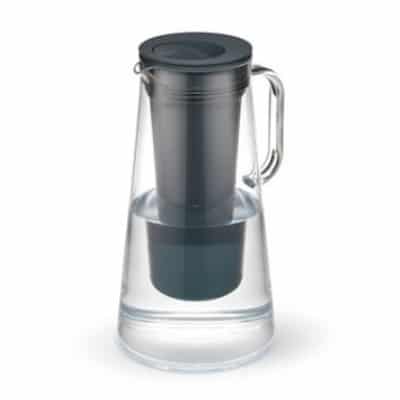 Lifestraw Home Water Filter Pitcher
In our opinion, the LifeStraw Home Glass Pitcher is the best overall glass water filter pitcher. We think this filter is better than any other glass water filter pitcher available today because it's one of the only pitchers to combine two different filters to remove 30+ contaminants, including microbiological contaminants and microplastics.
What else do we love about this pitcher? It's independently tested to several NSF Standards, has a large 7-cup capacity, and is backed by a reassuring 3-year warranty – and all for the upfront cost of just $40.
Key Features:
Carbon, ion exchange, & membrane microfiltration – The LifeStraw Home Glass Pitcher combines a membrane microfilter with a carbon & ion exchange resin filter to reduce more than 30 drinking water contaminants, including asbestos (99.9999%), chlorine (97%), taste and odor, PFOA and PFOS, lead (95.4%), pesticides, herbicides, and pharmaceuticals.
Two-cartridge filtration – This LifeStraw pitcher combines three separate filter stages in two filter cartridges. Water flows through both filters as it passes into the bottom chamber, and is filtered along the way.
Independently tested to NSF Standards – LifeStraw has obtained independent test results against NSF/ANSI Standards P231, 42, 53, and 473, for the reduction of PFOA, lead, chlorine, pharmaceuticals, and more. Check the performance data sheet for the contaminants removed.
Best For:
Folks looking for the best-value glass filter pitcher available today, sold at an affordable price and backed by independent testing and a good warranty.
Pros:
It's incredibly rare for a water filter pitcher to remove microbiological contaminants, but the LifeStraw Home does just that, thanks to the membrane microfilter that removes 99.999999% bacteria such as E. coli, 99.999% cysts, 99.9999% microplastics, and more. That means your filtered water won't only taste great, but it'll be safe to drink, too.
Proof of performance? Check. We think it's really reassuring that the LifeStraw Home is backed by independent testing to various NSF Standards.
The pitcher has a sleek design, using borosilicate glass that's BPA-free and intended to be shatter-resistant (we still wouldn't drop it, though).
Cons:
Because there are two filters, you'll spend a bit more than average on maintenance for this glass filter pitcher. Average annual spend: $60.
Gravity water filtration is slow anyway, but the LifeStraw Home is particularly slow due to its submicron membrane. Expect to wait 20+ minutes for complete filtration.
---
Invigorated Water pH Restore
Based on our research, the runner-up glass water filter pitcher is the Invigorated Water pH Restore. This 118-ounce (about 14 cups) pitcher doesn't only remove tens of contaminants from water – it also mineralizes the water and boosts its alkalinity, improving its taste and health properties.
Why does this pitcher take second place in our list of the best glass filter pitchers? Because it's about double the price of our top choice LifeStraw model, and it doesn't have test data or NSF certifications to back up its contaminant removal claims.
Key Features:
Carbon, ion exchange resin & zeolite – The Invigorated Water pH Restore pitcher combines coconut shell activated carbon media with zeolite and ion exchange resin, which reduces heavy metals like lead, chlorine and chloramine, volatile organic compounds, some fluoride, and sediment.
Filters & mineralizes water – Alongside the filter media, this pitcher contains mineral stones that release trace amounts of magnesium, zinc, calcium, and selenium into water, boosting its pH.
96-gallon lifespan – The PH001 filter in this Invigorated Water pitcher lasts just over twice as long as the LifeStraw Home's carbon and ion exchange filter (96 gallons vs 40 gallons), and a 2-person household will need to replace the filters every 3 months, on average.
Best For:
Anyone who has a slightly bigger budget to spend on a glass pitcher water filter that improves water taste and health properties with filtration and mineralization.
Pros:
If you love bottled mineral water, the Invigorated Water pH Restore is ideal for you, since it removes impurities and adds healthy minerals to your tap water.
It's good to see a 60-day satisfaction guarantee offered for this pitcher. Essentially, that means you can try the pitcher risk-free and return it for a full refund, no questions asked, within the trial period.
We love the design of this pitcher. It combines a food-grade borosilicate glass jug with a bamboo lid, giving it a super modern appearance.
Cons:
The manufacturer hasn't shared any test results for contaminant removal, and the pitcher doesn't hold any NSF testing or certifications.
You pay a lot more for this system compared to the LifeStraw Home, and there are no additional benefits (aside from the filter's alkalizing effects, which offers health benefits that aren't currently backed by scientific research).
---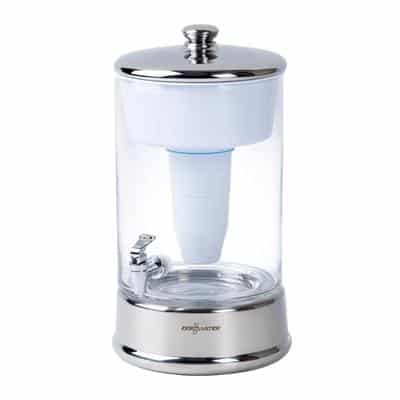 ZeroWater 40-Cup
The ZeroWater 40-Cup is our top glass water dispenser, offering a convenient way to filter large batches of water at once. We love this NSF-certified dispenser's large 40-cup capacity and its ability to reduce 99.6% of all dissolved solids in drinking water – and it's fairly priced, too, costing just under $80.
Key Features:
Removes lead, arsenic, chlorine, & more – TheZeroWater 40-Cup removes 99.6% of all dissolved solids, including 17 metals (99.7% lead, 99.9% iron, 98% arsenic) and 6 inorganics (97.5% chlorine, 99% asbestos, 99% fluoride).
5 combined filter stages – There are five combined filter stages inside a single filter cartridge: a filter screen, a KDF and activated carbon filter media, a foam pad, an ion exchange resin, and another filter screen. This allows for more thorough filtration than a single filter media could achieve.
NSF certified – This ZeroWater dispenser is one of the only glass water filter pitchers on this list to hold an official NSF certification for its performance. The dispenser is certified to reduce PFOA/PFOS, lead, and chromium according to results in ZeroWater's data sheet.
Best For:
Large families or people who prefer to filter big batches of water at once and prioritize NSF certifications over the number of contaminants removed.
Pros:
Of all the pitchers on this list, we love the design of this glass dispenser the most. It's sleek, modern, and durable, with a stainless steel base and a glass dispenser body and lid.
In our opinion, the ZeroWater 40-cup is much more convenient than a glass pitcher. You can filter more water at once, and you don't have to lift a heavy glass pitcher to pour. Simply dispense water from the built-in spigot, which you can do while the filter is still working.
ZeroWater also has a limited 90-day warranty for its pitchers, which upholds that the product should be free from manufacturing defects – and if it isn't, you can return it for a full refund within the warranty period.
Cons:
ZeroWater tries to position itself as the best brand for contaminant removal because of its impressive total dissolved solids reduction, but reducing a lot of TDS doesn't always equal the best filtration. Some water TDS, like minerals and salts, are good for us.
Each filter only lasts 20 gallons (that's half the lifespan of our top pick, the LifeStraw Home's carbon and ion exchange filter). Luckily, filter replacements are cheaper than average, costing $10-$15 per filter.
---
Puro Glass Water Filter Pitcher
Based on our research, the Puro Glass Water Filter Pitcher is the best-value glass water pitcher for people who are budget-conscious.
This pitcher costs up to one-third of the price of most other pitchers on this list, but proves that you don't have to compromise on quality when you spend less – it still ticks our boxes with its 1.3 liter (about 5-cup) capacity, its impressively long-lasting filter, and its ability to reduce 75+ contaminants in poor-tasting drinking water.
Key Features:
Reduces 75+ contaminants – The Puro Glass Water Filter Pitcher has been tested and proven to reduce more than 75 contaminants, including lead, chlorine, odors, microplastics, and rust. No test data is available for us to view, though.
Carbon filtration – The manufacturer is pretty vague about the type of carbon filter used in the Puro pitcher. All we know is that this filter is apparently "patent pending", which suggests that it's a unique type of filtration that the manufacturer wants to claim as their own. Carbon filtration typically traps contaminants like chlorine, taste, and odor by adsorbing these impurities into the media.
211-gallon filter life – According to the manufacturer, each filter in the Puro pitcher should last 211 gallons (about 5x the lifespan of the average 40-gallon pitcher filter), yet you're still advised to replace the filter every 2-3 months, as with most other pitchers on this list.
Best For:
Folks who are mindful of their budget but still want a reliable glass water filter pitcher that removes tens of contaminants and improves tap water taste.
Pros:
We like the design of the Puro Glass Water Filter Pitcher – it's slimmer than most pitchers, which makes it easy to carry and pour from.
There isn't a separate chamber for filtered water. Instead, you fill the pitcher with water, then add the filter and pour. The water gets filtered as it travels up the neck of the bottle. This significantly speeds up filtration time.
For the price you pay, what you get is pretty great. Good contaminant removal, affordable filter replacements, and an entirely BPA-free design.
Cons:
This Puro pitcher is taller than most pitchers due to its slim design, so it doesn't fit comfortably in a fridge door without a bit of adjusting.
It's a shame that the manufacturer doesn't share data from their testing to support their contaminant removal claims. In a response to a customer complaining about this, the manufacturer said that you could contact [email protected] to receive these results via email.
---
Dafi Crystal
Of all the best glass water filter pitchers, we think the Dafi Crystal is the best traditional pitcher-style model on this list.
You can buy this pitcher in 7 colors, including a few fun shades like mint and violet. It has the standard 40-gallon filter lifespan and holds a respectable 8 cups of water – and, like the Invigorated Water pH Restore pitcher, it alkalizes water as well as removing contaminants. for improved taste and health properties.
Key Features:
Reduces chlorine taste & odor – The Dafi Crystal offers pretty basic filtration, reducing the characteristic chemical taste and smell of chlorine in tap water.
Carbon & alkalizing filtration – The pitcher uses a coconut shell granular activated carbon filter to adsorb contaminants, as well as an alkaline ceramic bed, which further improves water's taste by adding magnesium ions and boosting pH.
40-gallon filter life – Each filter in the Dafi Crystal lasts about 40 gallons, or 30 days.
Best For:
People who are mainly looking to improve the taste and smell of their tap water by reducing chlorine, and prefer the traditional water pitcher style with durable glass instead of plastic.
Pros:
We feel reassured by this pitcher's sturdy design. The jug is made from borosilicate glass, which is shatter-proof. There's also an anti-slip base to further reduce the risk of accidents.
We love the fun colors and useful design features of this pitcher. The built-in LED timer is especially useful in letting you know when to change the filters.
Cons:
Maintenance is frequent since the filters need replacing every 30 days, on average.
As far as we can see, the filter can only reduce chlorine, which is pretty limited compared to the other glass filter pitchers available today.
---
Invigorated Water pH Replenish
Invigorated Water makes our list for the second time, this time with the best stainless steel glass water pitcher: the pH Replenish.
This pitcher contains no plastic whatsoever – the internal reservoir is made from stainless steel. You can buy the pitcher in two sizes: 1 liter (about 4 cups) or 1.8 liters (about 7.5 cups), and both sizes use a pH ON-THE-GO filter pouch, which has a fantastic 105-gallon lifespan.
Key Features:
Reduces metals, fluoride, & more – Some of the contaminants removed by the pH Replenish are chlorine, arsenic, copper, fluoride (extra bonus points for this, since fluoride is difficult to remove), mercury, and lead.
Multi-stage filtration & mineralization – There are 5 filtration and mineralization stages involved in a single filter: alkaline calcium balls, ORP balls, maifan stones, ceramic mineral balls, and zeolite and activated alumina media.
105-gallon filter life – Each 100g filter pouch lasts about 105 gallons. That's about 1,700 cups according to the manufacturer.
Best For:
Anyone who wants to avoid plastic altogether (even BPA-free plastic) and prefers a pitcher that uses more durable, environmentally-friendly design materials.
Pros:
We think the design of this filter is ideal for the eco-conscious. You don't ever have to throw away single-use plastic filters or housings thanks to the stainless steel filter housing. If you ever decide you don't want to use the pitcher to filter water anymore, you'll be pleased to hear that the filter housing doubles up as a fruit or tea infuser, so you can give it a new purpose in your home.
You can always rely on Invigorated pH to improve water taste by removing contaminants and boosting pH. With four filter stages dedicated just to mineralization, the pH Replenish pitcher produces healthier, better-tasting alkaline water.
We love the concept of the filter in this pitcher. It's a pouch, a bit like a tea bag in appearance. Simply soak the pouch, then drop it in the stainless steel filter housing to get started.
Cons:
We've seen more contaminants removed by other water filter pitchers, and we're disappointed that ZeroWater doesn't have any test results to share for its ON-THE-GO filters.
The spout is unusually small, and some customers complained that it takes a while to pour from the jug.
---
Soma 6-Cup Carafe
Finally, the Soma 6-Cup Carafe is our top pick for the best water filter pitcher with a unique design. This stylish glass pitcher should look the part in any modern kitchen, is on the cheaper end of the market, and is officially certified to two NSF Standards – proving that there's substance behind the style.
Key Features:
NSF certified performance – The Soma 6-Cup Carafe has an official NSF certification to Standard 42, for the reduction of chlorine, taste and odor; and Standard 53, for the reduction of mercury, copper, and cadmium, according to WQA testing.
Carbon & ion exchange filtration – The pitcher combines charcoal and coconut shell activated carbon with ion exchange resin to provide basic filtration and improve water's taste and odor.
40-gallon filter lifespan – Replacing filters is required every 2 months or so with this filter's 40-gallon lifespan.
Best For:
People who prefer something a bit different from the standard pitcher design but still want the reassurance of good performance and certified contaminant removal.
Pros:
We always love to see official testing and certifications to NSF Standards. You know for sure that the Soma pitcher works as advertised.
The unique, hourglass design of this pitcher should appeal to you if you're a fan of modern, futuristic kitchen equipment and accessories. It's eco-friendly too, with casings made from 60% sugar cane plant-based materials.
You get a 1-year limited warranty and a 60-day trial period with the 6-Cup Carafe, which is a good sign that the manufacturer believes in its product quality.
Cons:
Despite its reassuring NSF certifications, the Soma 6-Cup Carafe doesn't provide exceptional filtration compared to other popular water filter pitchers, and only removes a handful of contaminants.
The carafe is made from glass, but the rest of the pitcher is plastic.
---
🧾 Best Glass Water Filter Pitcher Buyer's Guide
In this buyer's guide, we've shared everything you need to know before you buy a glass drinking water filter pitcher. By the end, you should feel confident to invest in the best glass pitcher for your budget and needs.
🤔 What Is a Glass Water Filter Pitcher?
A glass water filter pitcher is exactly the same as a plastic pitcher, but with one difference: the jug material is glass, not plastic.
Some glass pitcher water filters also have glass internal filter housing, while others have internal filter housing made from BPA-free plastic or stainless steel.
Regardless of its exact materials, the purpose of a glass filter pitcher is to remove common contaminants from your drinking water.
🔎 How Does a Glass Water Filter Pitcher Work?
Most glass filter pitchers have two chambers. You fill the top chamber with water, and it passes through the filter into the bottom chamber, where it can be poured from the spout.
📌 More rarely, a glass filter pitcher might filter water as you pour. The difference here is that the filter doesn't have two chambers. Instead, you fill the jug, then place the lid (containing the filter) on the pitcher and pour. Water flows through the filter and out of the spout.
During the filtration process, contaminants like heavy metals, chlorine, and VOCs are reduced. Different filter materials remove different contaminants, and combined filter media offer a broader contaminant removal than a single filter.
⚖️ Pros & Cons of Glass Water Filter Pitchers
We've shared the pros and cons of glass water filter pitchers below.
Pros
Remove common contaminants – At the very least, a glass pitcher should remove chlorine, taste and odor. The best water filter pitchers can remove tens – or hundreds – of contaminants from your tap water supply.
Improves water taste and smell – Due to the contaminants removed, your water should taste and smell much better after being filtered with a glass pitcher.
Better for the environment – Using a pitcher that's mostly or fully made from glass means you're reducing your own plastic use, which should help minimize your carbon footprint.
Affordable filtration – Glass pitchers are only slightly more expensive than plastic jugs – and they're still within the $100 mark. Some pitcher water filter brands even sell their pitchers for under $50, making pitcher filtration the cheapest form of water filtration.
Cons
Heavier than plastic pitchers – Carrying and pouring from a glass pitcher is more difficult than with a plastic pitcher because glass is a heavier material.
Not as portable – Due to their heavy design, glass pitcher water filters aren't ideal for taking with you to work or on vacation.
More likely to break – Although any good water filter pitcher should be made from shatter-proof glass, it will likely still be more prone to breaking compared to a plastic pitcher.
📝 What to Consider When Buying the Best Glass Water Filter Pitcher
Before you invest in a glass water filter pitcher, consider the following things:
Your Budget
Before you even start shopping, determine your budget.
Most water filter pitchers cost less than $100, and we don't think you need to spend any more than this for high-quality filtration.
The average cost of glass pitcher filters is $30-$80, and the average annual cost of replacement filters is $20-$60.
Water Quality & Other Contaminants Removed
Your water quality will determine which contaminants you want to remove. Test your water to find out what it contains, then look for a glass pitcher that can remove contaminants of concern.
Different pitchers have different contaminant reduction abilities. Activated carbon and ion exchange resin are two common filter materials that are effective in water pitchers.
Some filters also add essential minerals to water, boosting its alkalinity and further improving taste.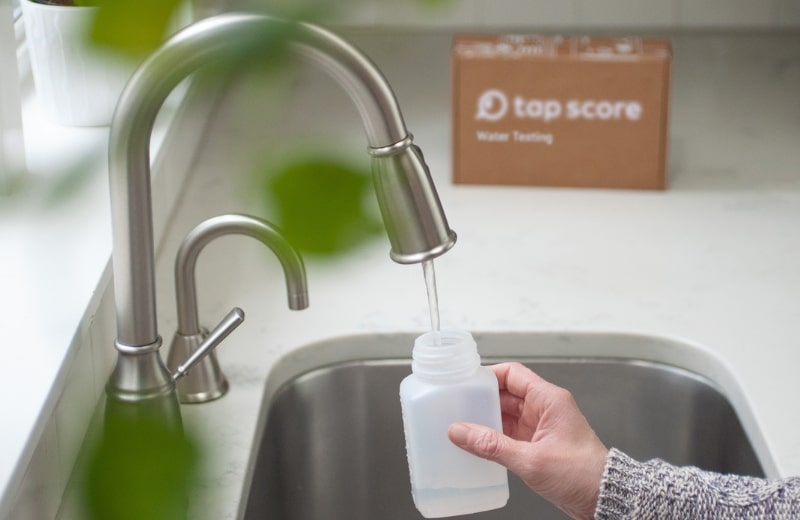 Water Holding Capacity
Do you prefer a glass pitcher that holds a lot of water, even if this means taking up more space and being more difficult to pour from? Or would you rather use a smaller pitcher that fits comfortably in your fridge and is easy to carry? Ask yourself these questions when deciding on a suitable pitcher water holding capacity.
📌 Most glass pitchers have a holding capacity of 4-10 cups of water. Any larger than this, and the pitcher will likely be too difficult to carry when full.
A small capacity isn't a bad thing – but it will mean that you'll need to refill the jug more frequently, especially if you have a large family.
Filter Lifespan & Cleaning
The average lifespan of a pitcher filter cartridge is 40 gallons, which equates to about 2 months.
📌 Keep in mind that a filter's lifespan is affected by your water usage and your water quality. The poorer your water quality, or the greater your water usage, the faster the filter will become clogged.
Replacing your filters is essential to ensure continued high-quality water filtration and an uninterrupted flow rate.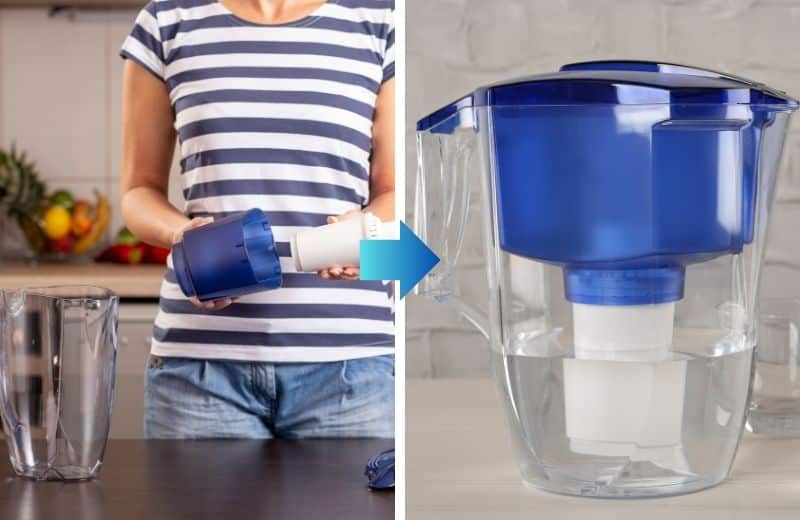 Testing and/or Certifications
The best reassurance of a filter's performance is an official NSF certification for contaminant reduction.
Look for:
NSF 42, for chlorine taste and odor
NSF 53, for contaminants with health effects (like lead)
NSF P473, for PFOA and PFOS
If a product isn't NSF certified, look for third-party testing to NSF Standards. Contact the manufacturer if test data isn't available online.
Warranty & Guarantee
The best glass water filter pitchers come with some form of warranty. The average warranty period for a pitcher filter is 1-3 years.
Some glass pitchers also come with a money-back guarantee, allowing you to return your filter for a full refund within a certain trial period (usually 30-60 days).
❔ Frequently Asked Questions
Does Brita make a glass water filter pitcher?
No, Brita doesn't currently sell a glass water filter pitcher on its US website. However, Brita has sold glass pitchers in the past, so you may be able to find one on Amazon. Brita also sells a glass pitcher on its Canadian website.
Does PUR have a glass pitcher?
No, PUR doesn't currently offer a glass pitcher on its website.
What's better, a glass or plastic water pitcher?
A glass water pitcher is better if you prefer the aesthetics of glass and you want to reduce your plastic use. A plastic water pitcher is better if you prefer to spend slightly less money on a lighter, more portable pitcher.
What are the setbacks of a glass filtered water pitcher?
Some of the setbacks of a glass filtered water pitcher include a heavier design, an increased likelihood of breaking, and reduced portability.
Is a glass water filter pitcher right for me?
A glass water pitcher is right for you if you're specifically looking for a pitcher that's attractive enough to display in your kitchen and still has the benefits of pitcher filtration, like affordability and portability.