Never wait for a regeneration cycle again.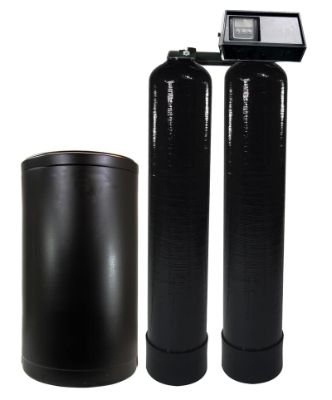 US Water Light Duty Twin-Alternating Water Softener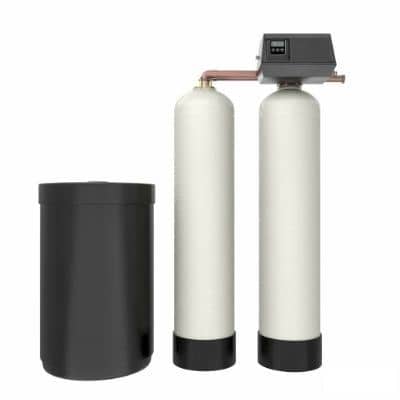 Fleck 9100SXT Dual Tank Water Softener
Fleck 9500 SXT Commercial Water Softener
Around 85% of water in the US is hard, so it's no surprise that the water softener market size was valued at $10 billion in 2021. It's estimated that the market will continue to steadily grow by ~4% annually.
If you're looking for the best twin tank water softener in 2023, we're here to help. At WaterFilterGuru, we share news, reviews and guides to our audience of 250,000. In our years of reviewing at-home water treatment systems, we've seen the popularity of water softeners soar. For many, these units are considered a necessity, not an accessory.
After scouring the market, reading customer reviews, and corresponding with manufacturers, we've compiled this list of the best twin tank water softeners, based on performance, resin quality, efficiency, and customer satisfaction.
In this guide, you'll learn:
Which dual tank water softeners are worth spending your money on in 2023
What to look for in the best twin tank water softener
Things to consider before purchasing this type of water softener
🥇 Best Twin Tank Water Softeners
📊 Comparison Chart of Dual Tank Water Softener
System
US Water Twin-Alternating Water Softener

Fleck 9100SXT Dual Tank Water Softener

Crystal Quest Commercial Water Softener System

Fleck 9500 SXT Commercial Water Softener

Ranking
1st
2nd
3rd
4th
Ratings
5/5
4.5/5
4/5
4.5/5
Price
$$
$$$
$$$
$$$
Flow Rate
7 – 17 GPM
20 GPM
15 – 25 GPM
38 GPM
Grain Capacity
22.5K, 30K, 45K, 60K, or 75K
24K – 96K
Up to 90K
300K Max
Regen Method
Metered
Metered
Metered
Metered
Warranty
10 years on tanks
5 years on valves & control head
10 years
1 year
5 years on tanks valves & electronics
1 year on parts & resin
---
⭐ Reviews – Dual Tank Water Softener 2023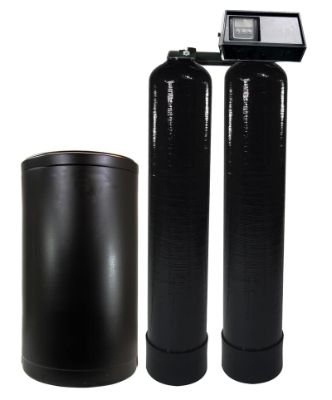 US Water Light Duty Twin-Alternating Commercial Water Softener
Designed for light-duty water softening applications, the US Water Twin-Altering Water Softener comes in flow rates of 7-17 GPM (gallons per minute) and is priced between $1,400 and $2,000. This commercial water softener can be used for small restaurants and coffee shops, as well as households that want to benefit from constant soft water access.
You can easily set this softener's computerized meter control – and once you do, you won't need to program it again, as the system will remember your preferences. The system is designed to offer a long-lasting, steady performance that should guarantee an efficient water softening solution for years. The tanks have a 10-year warranty, while the valve and electronics have a 5-year warranty.
Like all dual-tank water softeners, the US Water softener switches between tanks, providing you with soft water 24/7, even when one tank is generating. There are just two moving parts in this system's water stream, reducing the need for maintenance, and the resin tanks are pre-installed with a premium grade 8% crosslink resin.
The US Water softener comes with all the information you need for installing and looking after your system in the long run. A selection of spec sheets, user manuals and service manuals are available on the US Water website, and there are online videos that walk you through the installation process, should you want to do it yourself.
👍 What We Like
Comes with premium 8% crosslink resin
Plenty of resources for installation & maintenance
Only two moving parts in system to reduce maintenance
👎 What We Don't Like
Installation may be too difficult for some users
Flow rate options are more limited than other softeners
---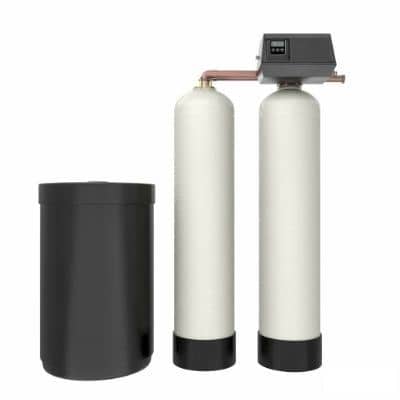 Fleck 9100SXT Dual Tank Water Softener
The Fleck 9100SXT is an on-demand dual tank water softener that can help you to save up to 40% of salt and water with its efficient performance. The twin tanks enable the system to use the full capacity of each tank before regeneration, offering a "two softeners in one" experience.
With its easy-to-use design, the Fleck 9100SXT is a "set and forget" water softener that doesn't require resetting or reprogramming. In the event of a power outage, the system has an internal capacitor that will keep the time set for up to 48 hours. Its non-volatile memory standard also means that its pre-set functions will never be forgotten.
You can buy the Fleck 9100SXT in 7 different capacities, from 24k to 96k grains, and the unit is priced between around $1,000 and $2,000. You also have flexibility when choosing your bypass, from 3/4″ and 1″. There's the option to purchase a Quick Pro connect kit at an extra cost, to simplify installation.
Plenty of customer support is offered when you purchase the Fleck 9100SXT. There are user manuals and guides for installing the unit available online, as well as troubleshooting videos and a support center.
The Fleck 9100SXT has a 5 year warranty, while the tanks have a warranty of 10 years.
👍 What We Like
Clear instructions & good customer support
7 capacity options to choose from
Set and forget design for convenience
👎 What We Don't Like
Quick Pro connect kits cost extra
---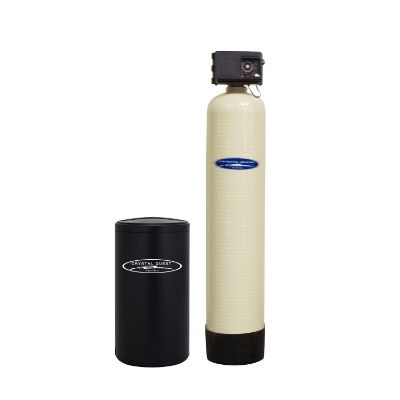 Crystal Quest Commercial Water Softener System
The Crystal Quest Commercial Water Softener is an efficient water softener system that reduces water consumption with its timer control valves and fully adjustable backwash cycles.
The system's composite fiberglass tanks are durable and heavy-duty, designed to provide years of efficient performance. The unit has a self-adjusting backwash controller that allows for maintenance-free operation. Crystal Quest used to be a twin tank system but has now been updated to a larger single tank configuration. Nonetheless, the product is intended to offer efficient performance, wasting less water and salt in the process.
There are a number of optional add-one for the Crystal Quest, including a metered control valve, a backwash bypass, skid mounting for tanks, and metered backwash (based on demand).
You can buy the Crystal Quest in various sizes depending on your family size or daily water usage. Contact the manufacturer to learn more about this system, including warranty and installation/ maintenance guidance.
👍 What We Like
Reduces salt and water waste
Several system sizes to choose from
Self-adjusting backwash controller limits maintenance required
👎 What We Don't Like
Very limited online info – would need to contact the manufacturer to learn more
Customer feedback is also very limited so far
---
Fleck 9500 SXT Commercial Water Softener
With SXT control for efficient performance, the Fleck 9500 Commercial Water Softener offers a continuous flow rate up to 38 gallons per minute.
You can purchase this system with a custom tank diameter, from 14 to 24 inches. This doesn't make much of a difference in price; the Fleck 9500 is one of the more expensive systems on this list, starting at just over $3,000.
The Fleck 9500 offers a fully customizable 5-cycle control, which controls brining, slow rinse, backwash, brine refill, and other aspects of the softener's performance. By using each tank to full capacity, the Fleck 9500 helps you cut down on salt and water waste, reducing your overall maintenance spend.
During regeneration, the Fleck 9500 uses soft water, which helps to keep the entire system clean and free from damaging scale buildup.
There are spec sheets and service manuals available online for installation and maintenance support. While installation instructions are relatively straightforward, the complexity of the process itself may require an expert.
👍 What We Like
Thorough installation & maintenance guidelines
Uses soft water for regeneration
Customizable 5-cycle control
👎 What We Don't Like
Expensive upfront purchase
May need to hire a plumber to install the unit
---
🧾 Twin Tank Water Softener Buyer's Guide
Ready to buy a twin tank water softener for your home? My buyer's guide will provide you with the information that's worth knowing before you make a purchase.
🤔 What is a Dual Tank Whole House Water Softener?
A dual tank water softener, otherwise known as a twin-tank water softener, is a whole-house application that tackles hard water issues at your home's point of entry.
Unlike a single tank water softener, a twin-tank softener comprises two independently operating resin tanks. The advantage of this is that when one tank reaches capacity, the other tank can be used immediately while the first tank is regenerating.
Read more about the best single tank water softeners in this post.
❔ How Does a Twin Tank Water Softener Work?
Standard single tank water softeners will require regeneration every two to three days. When this happens, the system will be temporarily unable to provide soft water to a home. It takes approximately 2 hours for a water softener to regenerate. Usually, regeneration is set to perform overnight, when a household is less likely to need access to soft water.
Twin-tank water softeners run continuously, which allows a household to have consistent access to soft water. These water softeners work exactly the same as single-tank water softeners, except they use two resin tanks, instead of one.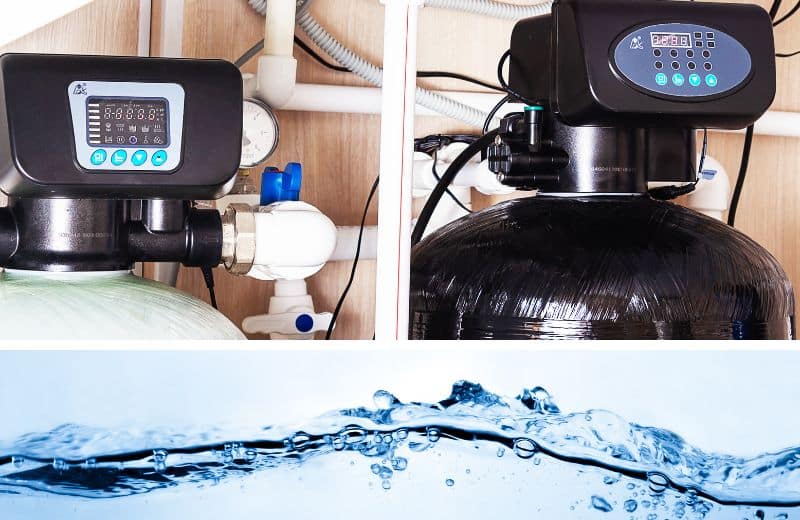 A twin-tank unit operates using one resin tank at a time. The system will send brine into the first resin tank during regeneration. This will fill the resin to capacity with sodium, setting up for operation.
Every time water flows through the system, the resin tank will become more and more depleted, until eventually, there is no more sodium remaining.
In a single-tank softener, this is the time that the softener would need to divert water during regeneration. With a dual-tank water softener, however, while the first tank regenerates, the second tank – which contains a replenished resin ready to go – can be used instantly.
💭 Do I Need a Dual Tank Water Softener?
The advantage of owning a dual-tank water softener is that it offers constant access to soft water. During regeneration of one tank, the other tank can be used.
You might need a dual tank unit if you have any reason for needing constant access to soft water. For instance, if you live or work in a shared residence, or you live with family members who work overnight, it might not be convenient for you to have to wait up to 2 hours during system regeneration for access to soft water.
You may also need a dual tank water softener if you use water-based appliances around the clock, and you want to prevent hard water damage from occurring during the system's brief downtime during regeneration.
✔️ Benefits of Twin Tank Water Softeners
Constant Soft Water Access
The biggest benefit of a twin tank water softener is that you will never have to wait for soft water during system regeneration. There are two resin tanks that allow for constant soft water production.
More Efficient Performance
Twin-tank water softeners typically waste less salt and water during operation. This is because, rather than regenerating to a schedule (which often means that the system regenerates when there is still salt remaining in the resin tank), it only regenerates when it needs to.
It doesn't matter whether a dual-tank water softener performs regeneration in the middle of the day. Unlike a single-tank water softener, it won't interrupt your water supply. Being able to regenerate when it needs to, rather than at, say, 3 am every morning, will mean that less water is used on a weekly basis, and no salt will be wasted in the process.
Consistent Water Quality
Because dual tank water softeners offer constant access to soft water, your home will be supplied with consistently high-quality water. The advantage of this is that your pipes and appliances will be protected from hard water around the clock. If you want to avoid using hard water in your home altogether, twin tank water softeners offer the solution for you.
📋 Considerations When Purchasing a Twin Tank Water Softener
When searching for a twin tank water softening system, consider the following things:
Your Water Consumption
The amount of water you use should determine the size of your water softener. If you use more water than the average household, your water softener will need to regenerate more frequently. While this is less of an issue for a dual-tank softening system, which simply switches from one resin tank to another during regeneration, it still means that you will be using more water for regenerations alone.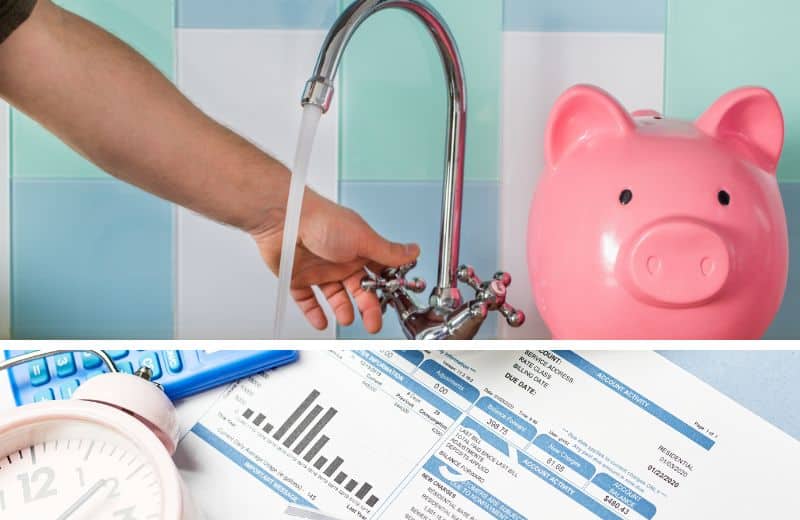 It's important to properly size your water softener based on your water consumption to minimize the frequency of regenerations. Having a bigger softener, with a larger resin bed and a larger tank for brine storage, will mean that the water softener will have a longer performance time between each regeneration process.
However, it's important not to purchase a dual-tank system that's too large for your water consumption, either. When a water softener is too big for the amount of water that you use in your home, it won't do enough work to be able to regenerate frequently. This could lead to bacteria growth in the tanks.
Flow Rate
Flow rate is another important factor to keep in mind when considering dual-tank water softeners for your home.
There are different water softener flow rates available, measured in gallons per minute or GPM, to accommodate households and businesses of various sizes.
The higher the water flow rate, the bigger the supply of water a softener can provide per minute. However, if the flow rate is too high for your home, providing too many gallons per minute of water, your pipes and appliances could end up sustaining damage.
If you're planning to use a softener with twin tanks in your home, a water flow of 7 to 22 gallons per minute should be just fine. For a business using multiple water-based appliances at once, such as a restaurant or a coffee shop, it's wise to purchase a system that can provide a water flow of at least 22 gallons per minute.
A low flow rate can be just as detrimental as a flow rate that's too high. If your water softener's flow rate isn't sufficient, there might not be enough force to send water all around your home. Considering dual-tank water softeners are designed for whole-house use, this isn't ideal.
Capacity You Need
I've talked a little about capacity already, and how this should be determined by your average daily water consumption. The larger the system capacity, the more equipped it is to deal with high volumes of water for extended periods of time.
Capacity also relates to your water hardness. The harder your water, the more sodium ions will be required for the ion exchange process. This means the resin tank will become depleted at a faster rate, and salt will need to be drawn from the brine tank more frequently.
Having a system with a larger capacity can be helpful to homes and businesses with particularly hard water. There will be a larger surface area across the resin beads, allowing for a greater number of sodium ions to replenish the resin during the regeneration process. This helps to increase the operating time between each regeneration, reducing the amount of water required.
Keep in mind that having larger resin and brine tanks will take up more room, especially as a dual-tank system has a bulkier design as it is. Measure your available space and double-check that the system you're interested in will comfortably fit – with plenty of room for maintenance – before you make a purchase.
Regeneration Technology
If you're looking generally at single-tank water softeners, it's worth being aware of the different regeneration technology available.
While timed water regeneration programs the system to carry out the regeneration process at a specific time and date (usually at 3 am, once every 2 or 3 days), metered regeneration prompts the system to regenerate when a certain amount of water has been used.
Both of these options, but especially timed water regeneration, often result in water and salt waste, as the system will regenerate when the resin tank still contains some sodium.
Here's where dual-tank water softeners have the advantage. In these units, one tank will provide soft water right up until there is no more salt in the resin. While sodium is sent from the brine tank to the resin beads during the water regeneration process, the unit switches to the other tank, preventing a gap in soft water production and ultimately preventing water and salt waste.
Most dual-tank softeners will allow you to pre-set the unit according to your requirements. Because these softeners work automatically, you won't need to remember to schedule water regeneration when it's needed.
Your budget
Because of their more efficient performance and the additional tank involved, whole-house dual-tank water softeners are more expensive up-front than a single-tank alternative.
However, the advantage is that you can save money on water and salt in the long run when using a dual-tank system, as the system will only perform a water regeneration cycle when the resin beads are completely depleted.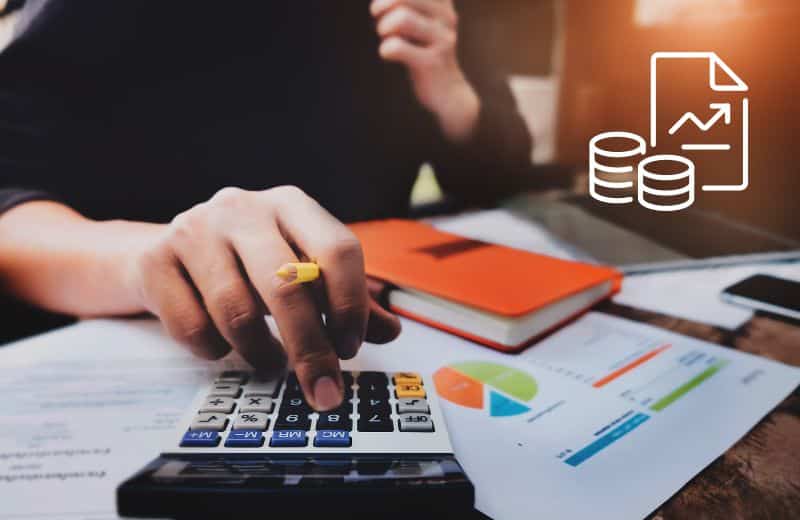 You should expect to pay at least $1,000 for the smallest available dual-tank system. The higher the system's capacity, and the higher its flow rate, the more money it will cost. Some of the top-level commercial models come in at more than $3,000 – and that's not including installation packs and add-ons that you might need to purchase.
You may also need to make room in your budget for the cost of a professional installation. While the majority of twin-tank softening systems come with clear instructions for setup, the process is still complex. If you're concerned that you'll damage the system or your plumbing while installing the unit, factoring in an extra $200 or so for a plumber or handyman might be the wisest option.
Maintenance
All twin tank water softeners require some form of maintenance. As these systems are salt-based, you'll be required to replenish the brine tank with salt when it runs low.
Topping up your brine tank isn't a particularly difficult task, but it's one that you'll need to remember. If your system was to completely run out of salt, there would be no sodium for the ion exchange process, and you'd end up with hard water flowing around your home.
To make sure your system only ever produces soft water, you should check your brine tank at least once a month and make sure it's 1/3 full of salt, minimum. If not, add more salt to the tank, making sure not to overfill.
Aside from adding salt to the tank, additional periodic maintenance might be required, such as replacing worn parts and cleaning the unit. Check your user manual for more details.
On-Going Costs
The biggest ongoing cost of owning a twin-tank unit, or any type of ion exchange softener for that matter, is salt. A water softener can't treat hard water without salt, which is used to replenish the resin during regeneration.
The average whole-house water softener uses up to eight 25 kilogram bags of salt every year. Luckily, salt is pretty affordable, and you can get some good deals online, especially if you buy in bulk.
Your water bill will also be slightly higher after installing a twin-tank unit. That's because a small amount of water will be needed to be sent through the system during regeneration. This water can't be used in your home, so it'll get washed down a drain once regeneration is complete.
Remember that your ongoing costs for water and salt will be lower on average than if you owned a single-tank unit. Most single-tank units regenerate at set times every week, which means they'll likely end up wasting extra salt and water because they'll regenerate when they don't need to.
Another ongoing to consider is paying to replace worn-out parts over the years, especially when your unit is coming towards the end of its lifespan. Brine valves pistons, o-rings and other small or moving parts are often the first components that need replacing in your water softener.
Certifications
When a water softener has been certified by an independent third party, it means it has been rigorously tested and deemed safe and effective for its purpose. Third-party testing companies also check that water softener units do what the manufacturer claims they can do.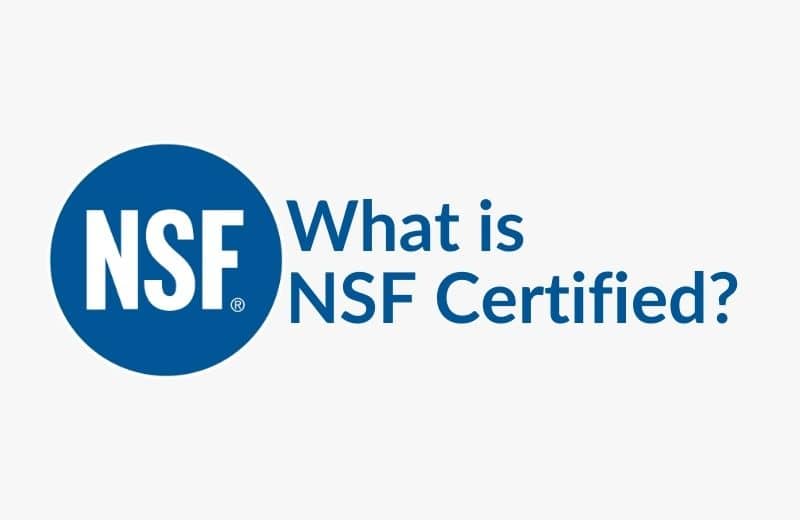 There are several important certifications that a water softener may have:
NSF/ ANSI 44
The most common certification for a twin-tank unit, NSF/ANSI 44 applies to residential water softener systems that use a cation exchange resin and use either sodium chloride (salt) or potassium chloride during regeneration.
If a water softener has achieved an NSF 44 certification, it means it has been proven to reduce water hardness below 1 grain per gallon, and meets requirements for structural integrity and material safety.
NSF/ANSI 372
NSF/ANSI 372 is a certification that water softener manufacturers can apply for to prove that their product has a completely lead-free design. If you come across a twin-tank unit that has an NSF 372 certification, you know that it won't add any lead into your water, based on testing and specific procedures from an independent third-party.
NSF certifications aren't essential, but they offer peace of mind, proving that a system lives up to the manufacturer's claims and is designed to improve your water quality, not worsen it.
🧐 How to Install a Twin Tank Water Softener
Wondering how to install a twin tank softening system? The process varies somewhat from one softener to the next, but below is an example of the step-by-step process you will need to follow:
Step 1: Gather Your Equipment
Before you get started with installing your system, make sure you have everything you need for the job. The unit should come with a valve, a meter and meter cable, numerous fittings, a drain line, a bypass, pre-filled resin tanks, a brine tank, and tank connections.
Your system might come with additional fittings and connections, and you may need to pay extra for packages containing screws, adaptors and other small items needed for the job.
Step 2: Choose Your Location
It's wise to think ahead about where you want to install your water softener. Ideally, it should be placed as close to your main water line's point of entry into your home, before your water heater, to provide your whole house with hot and cold soft water.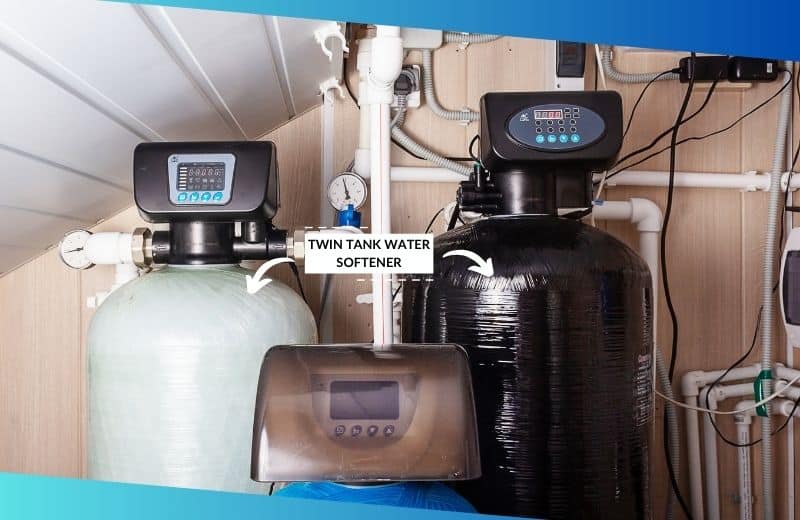 Make sure there's plenty of room around your installation spot for maintenance, and that there's a firm, level base to place the tanks. If you're installing during cold weather, warm the valve until it reaches room temperature before getting started.
Step 3: Plumb In The System
Shut off your water before performing the plumbing required for your system. Make sure to adhere to your local plumbing codes. An online search should bring up the information you need if you're unsure.
The exact pipe sizes you need will depend on the system in question. As an example, you may need a pipe size of 1/2″ minimum for the drain. Backwash flow rates may also affect the size of the drain line you need. If your backwash flow rate exceeds 7 gallons per minute (GPM), or the drain line is longer than 20 inches, you should use a 3/4″ drain line.
Step 4: Install The Tanks
When installing the tanks, check that both are the same diameter and height. They should be pre-installed with media, but if not, make sure that they're filled with equal amounts of resin. Also check that the distributor tube is flush with the top of both tanks, and cut down if needed.
Lubricate the o-ring seals for the distributor and tank. You will then be able to install the control head/ control valve on top of one tank – check your instructions to see if one tank is preferred. The tank adaptor should be installed on the other tank.
Step 5: Connect The Drain Line
Solder the joints near the drain line, making sure to leave at least 6 inches of space between these joints and the drain line flow control. This will prevent damage to the drain line flow control. Use tape to secure the drain fitting.
Step 6: Prepare The Brine Tank
When installing the brine tank, check that the space underneath is level and clean. Install any loose parts inside the tank that aren't already pre-fitted.
Next, fill the tank with water until it reaches approximately one inch above the grid plate. If your tank doesn't use a grid plate, fill the water until it reaches the top of the aircheck. Don't add salt to the tank at this moment.
Step 7: Flush Foreign Materials
If your unit has a bypass, place it in bypass position now. Then switch your water supply back on to direct water through your pipes. Open a nearby cold water faucet, then let water to run from the faucet for a minimum of 2 minutes. This will wash away any foreign material, such as solder, that may have entered the system during installation.
When the water runs clear, you can shut off the faucet.
Step 8: Remove Air From The System
Set the system into service mode, then wait for water to wash into the resin tank. Once this flow stops, gradually turn on your nearby cold water faucet, allowing water to run until there are no more air bubbles. Close the faucet.
Step 9: Fill The Brine Tank
Next, fill the brine tank with salt. The tank should be at least 1/3 full, but not full to the brim. For most softeners, you should leave at least six inches between the salt level and the top of the brine tank.
Step 10: Plug In The Valve
There are a number of electrical tasks that are required when installing dual-tank water softeners. Again, be sure to adhere to your local area's codes when making electrical connections. Plug the valve into a suitable power source, then insert the meter cable into the meter.
Installing a twin-tank water softening system is no easy feat. However, the process isn't much harder than installing a single-tank system.
Depending on the unit you purchase, you may have to connect specific lines and pipes up to specific tanks. In most cases, though, you will just mirror the installation process for one tank with the other.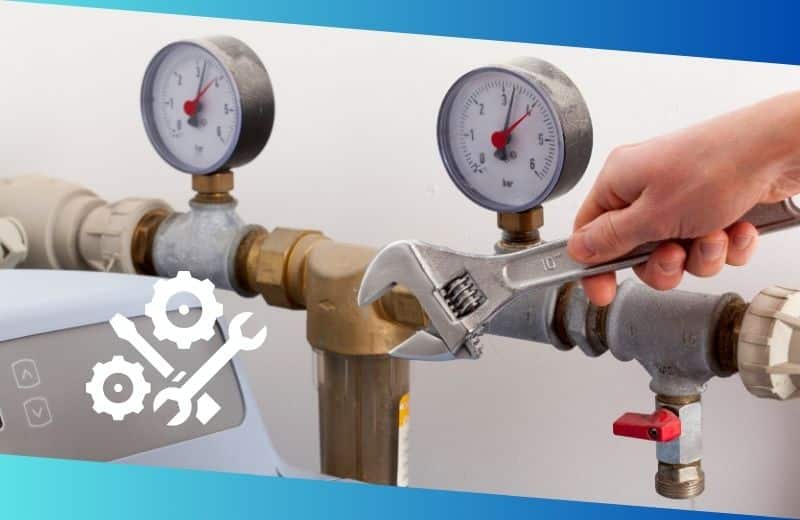 There are how-to videos online, like this one, for the Fleck 9100 SXT, if you want to determine whether installing this type of water softener is something you could handle yourself. It's important to carefully review your user manual and instructions, as each softener will have its own specific installation processes.
Remember, even if setup looks too tricky for a DIY job, you could always arrange for a plumber to take on the work for you. If you were prepared to part with an extra $200 or so upfront, this could be an option for you.
🧠 Frequently Asked Questions
Are twin tank water softeners better than single-tank softeners?
Not necessarily. Performance-wise, twin-tank softeners obviously have the advantage if you're looking for a steady flow of soft water at all times, or if you want to eliminate salt and water waste. But for most homes, a single tank softening system that regenerates overnight, while you're asleep, is a great solution to water hardness.
It's worth considering your options carefully. Unless you have a reason to be looking specifically at a twin-tank system, I would consider your single-tank ion exchange options, too. You don't want to pay extra for a dual-tank unit unless you really want those efficiency benefits.
How do I make sure a dual-tank system provides an adequate flow rate for my home?
If you've never had to purchase a water softener before, sizing for flow rate might be a little confusing. The best way to make sure you get the right flow rate for your home is to find a system that provides at least 2 gpm (gallons per minute) per member of your household.
If you're confused about flow rate, contact the manufacturer. They can ask you about your family size and your water usage and suggest a flow rate based on your information.
How can I find out my water hardness?
If you're still unsure how bad the hard water issue is that you're dealing with, you should test your water quality. You can buy at-home hardness tests online that you can use to measure the hard water minerals in your water supply. You'll get a figure in GPG, or grains per gallon, with 3.5-7 GPG being moderately hard, 7-10 GPG being hard, and anything over 10 GPG being very hard.
Once you know your water quality, you'll have a better idea of the model and technology that's best suited to eliminate the hard water minerals in your home.

Where can I use a twin-tank softening unit?
Twin-tank units can be installed in any building with a plumbing system, whether that's your home, office, vacation home, or commercial business. While many twin-tank units are advertised for commercial use, they are usually available in a number of sizes, and the smaller sizes are suitable for homes.
There are only a few locations that might not be suitable for installing a twin-tank unit. RVs don't typically have enough space for a double ion exchange system. If you're looking for soft water benefits in your RV, you're best opting for smaller, water softeners. You can check out my Water Softeners for RVs guide for more information.
If you're renting, you might also be unable to install a twin-tank unit in your home. Check your rental terms carefully and speak to your landlord before making a purchase, as many rented properties don't permit any irreversible changes such as cutting through your pipes to install a water softening unit.
Aside from single-tank units, are there any other alternatives to twin-tank water softeners?
If you want constant access to "soft" water, but you're not sure about using a twin-tank unit, you might want to consider water conditioners. A water conditioner doesn't use ion exchange to soften water, which means it doesn't require salt or regeneration – giving you access to "soft" water around the clock.
My reason for the quote marks around "soft" is because water conditioners don't actually produce soft water. They use a scale-prevention technology, usually template-assisted crystallization, which forms coatings around hard water minerals and prevents them from sticking to surfaces. So, while you still technically have hard water after using this system, it's unable to form scale in your pipes and appliances.