🧾 Overview
The AquaBliss High Output Shower Filter can help to rejuvenate your hair, skin and nails by filtering out specific contaminants from water. This shower filter targets water that has been treated by chlorine, reducing the problems related with showering in water with a high chlorine content. Unlike many showerhead water filters, the AquaBliss Universal Shower Filter doesn't use cheap activated carbon in its filter. Instead, it uses a revolutionary system that offers 12 stages of thorough filtration.
The system maintains a balance of the four elements that are needed to control pesticides, chlorine, bacteria, and heavy metals like lead and mercury. In turn, it controls scale build-up, reduces bad smells, and gets rid of any other common hard water problems. This filter is priced reasonably for what it offers, especially as it costs an average of $0.10 per day to run.
💡 Features
Shower filter unit
The filter unit itself fits onto the showerhead between the pipe and the showerhead itself. A plus point of this filter is that it can be attached straight onto any style of showerhead, including rain, fixed and handheld designs.
Filter cartridge
The AquaBliss' 12-stage water filter is stored inside the shower filter unit. The unit comes with 1 free filter cartridge. You will need to purchase a replacement after roughly 6 months of use, when the original filter will stop working as effectively.
Components for installation
You can find all the basic components you need for installation included in the box with the AquaBliss filter. You don't need tools to install, and installation is easy enough to handle even with minimal plumbing or DIY skills.
Installation guidelines and user manual
The filter comes with a user manual containing installation instructions and useful information about maintenance.
🚦 Performance
The unique setup of the AquaBliss shower filter helps to make it one of the more powerful showerhead water filters on the market today. The 12-stage filter is not only capable of softening water, but also trapping larger sediment, targeting chlorine in both cold and hot water, controlling scale build-up, boosting water oxygen levels, infusing the water with vitamin C, and reducing other organic materials and impurities.
Because the AquaBliss lasts for approximately 10,000-12,000 gallons, equating to roughly 6 months of use, it's fair to say that the filter is efficient at what it does. Water pressure through your shower head should still be good enough to provide a powerful stream, apart from when the filter needs changing. Replacement filter cartridges cost between $10 and $15, and you can bulk-buy them in batches for cheaper. If you're looking for efficiency, the AquaBliss High Output Shower Filter delivers.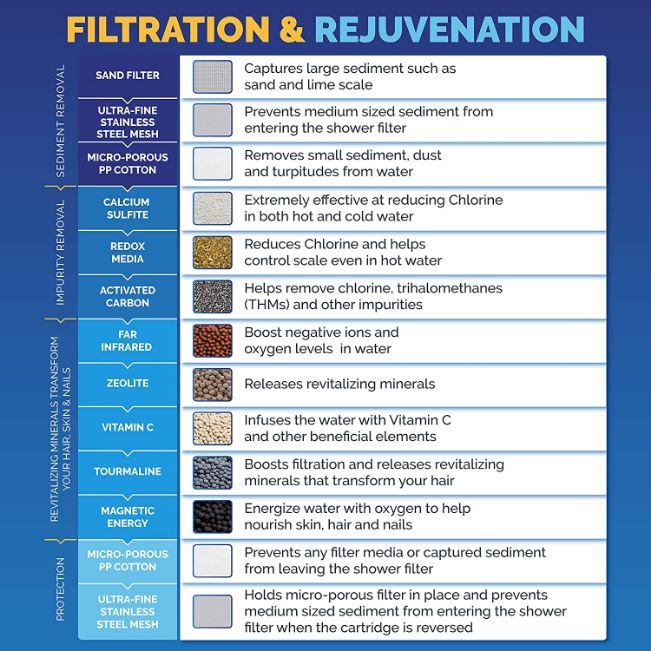 🔧 Installation & Maintenance
One of the best things about the AquaBliss shower filter is that it's designed to universally fit the majority of showerheads without the need for an adapter. Of course, there are always exceptions, but you can expect a 90% chance of this filter fitting your shower head.
Installation itself is simple, and won't require a professional plumber. You just need to screw the unit onto the shower pipe, then attach your shower head on top. Full step-by-step installation instructions come with the filter, including images if you're more of a visual learner. It's recommended that you rinse the filter before installing it at your showerhead, which will get rid of any carbon that has been released during shipping.
The filter comes with one filter cartridge included, which is pre-installed for your convenience. All you need to worry about is replacing the filter every 4 to 6 months. You may find it a little difficult to open the filter housing, but securing the new filter cartridge in place is easy.
📝 Filter Info
The AquaBliss system has an impressive 12-stage filter that reduces the likes of chlorine, sediment and heavy metals. The first pre-filter stage gets rid of the larger sediment, and stages 1 and 2 remove smaller and medium sediment, like dust and turpitudes. Stages 3 to 5 use activated carbon, redox media and calcium sulfite to reduce chlorine from hot and cold water, and stages 6 to 10 boost water's oxygen levels, while adding vitamin C, minerals, and other beneficial elements.
The final stages of filtration, 11 and 12, prevent the captured sediment and contaminants from being able to leave the filter through the showerhead. In all, the filter offers one of the most thorough showerhead filtration methods that exists on the market today. As a bonus, the filter can last for up to 6 months before it needs replacing, so the AquaBliss shower filter is relatively inexpensive to maintain.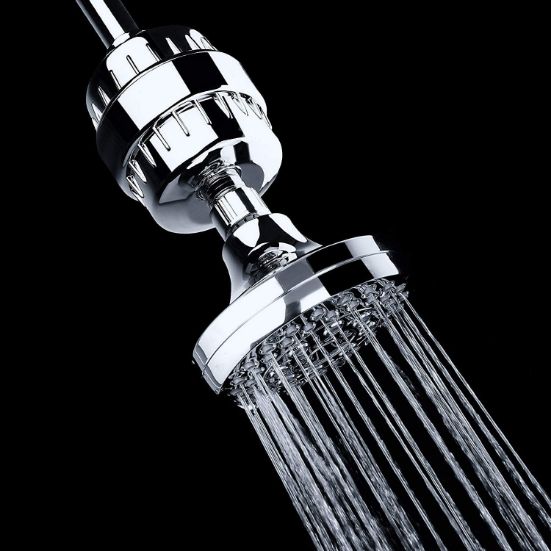 🔔 Pros & Cons
Pros
Simple installation
Uses an advanced filtration technique to not only reduce contaminants in water, but also add in beneficial vitamins and minerals
Relatively inexpensive
Cons
Looks quite bulky when attached to showerhead; not very streamlined
Only comes in 1 color
Doesn't remove chloramine from water
❔ Frequently Asked Questions
How many gallons of water can 1 filter handle?
You can expect to use a single filter for 6 months, roughly equating to 10,000-12,000 gallons of water. Of course, if you live in a larger family, or you just enjoy long showers, your filter won't last for as many showers as it may do for someone else.
How many filters come with this product?
There is only one filter that comes pre-installed in the unit. You will need to buy replacement filters yourself.
Does this filter affect water pressure?
It depends on what your water pressure is like in general. If your water pressure is already quite strong, you shouldn't see much change. It's only really when the filter starts to become clogged with sediment that your showerhead water pressure will be affected – and you know then to change your filter.
Does this filter work on very hard water?
Yes, you will notice a change to your hair and skin after using this filter for areas with very hard water. Keep in mind, though, that you will need to change the filter more frequently, roughly every 2 to 3 months.
Can I use this for my kitchen sink?
Not likely. The filter is designed to fit on shower systems, so fitting it at your faucet would be bordering on impossible. If you managed to attach it somehow, it would look awkward and bulky. You're better off with a faucet water filter or an under-sink filter if you want filtered drinking water.
Found this review helpful?
Comment below or share this article!