Dealing with a problem with your Zero Water (ZeroWater) filter? Chances are, we've mentioned the problem – including its possible causes and how to solve it – in this guide.
📌 Key Takeaways:
The most common problems with Zero Water filters are clogging of the filter, unusual water tastes and smells, leaking from the filter cartridge, and failure to filter water.
Most of these problems can be resolved by removing trapped air from the filter, reassembling the pitcher, or replacing the filter.
If the problem persists and it's specific to your ZeroWater filter, you might want to consider switching to another filter brand.
🔩 4 Zero Water Problems & Solutions
Let's take a look at the 4 most common Zero Water problems and their solutions.
Problem 1: Water Tastes Or Smells Funny
One common problem with water from a Zero Water filter is that it tastes or smells funny. This could be due to one of two reasons:
The water is absorbing impurities in storage. Zero Water removes all total dissolved solids (TDS) from tap water, which means the water is empty of all impurities. This makes it "hungry" and more likely to absorb contaminants from the air or its storage container, which could affect its taste.
The ion exchange beads are breaking down. ZeroWater filters use ion exchange in their filter cartridges. When the cations and ions in ion exchange resins break down, they release a compound called trimethylamine. This compound is also released from rotting fish flesh, which is why some people say that their filtered water from the ZeroWater pitcher has a fishy taste or odor. Similarly, decomposing ion exchange beads may give water an acidic taste because they have an effect on water's pH.
✅ How To Resolve:
The best way to resolve unusual tastes and smells in your filtered water depends on the cause of the problem:
To resolve an issue with water absorbing impurities in storage, make sure to a.) drink the water within a few hours after filtering it and b.) store the water in a container that won't leach impurities into the water. Glass is a good option, and you should avoid plastic and metal containers.
To resolve an issue with the ion exchange beads, replace the filter if it's due to be changed. The plastic pitcher might hold onto the fishy odor, so you'll probably also need to thoroughly wash the pitcher with warm water and dish soap to get rid of any bad tastes and smells.
Problem 2: Clogged Water Filter
Another likely problem in a Zero Water filter is a clogged water filter.
Clogging is a normal eventual outcome, regardless of the filter you use. But you may notice that your Zero Water filter becomes clogged a lot faster than expected.
There are a few reasons why your ZeroWater filter might keep clogging:
You have hard water. Calcium and magnesium hardness minerals are known for their scale formation properties. Over time, these minerals form scale deposits on surfaces, including on the surface of your Zero Water filter. The higher your water's calcium hardness, the faster the scale accumulation.
Your water has a high TDS reading. If your drinking water contains a lot of total dissolved solids (TDS), the filter will become clogged at a faster rate. Zero filters can be used with both city and well water, but very contaminated water will cause fast clogging of the filter media. You can use a TDS meter (shipped with Zero Water filters) to measure your TDS. A total dissolved solids reading of 400-600 PPM or more is considered higher than average.
You're using the filter excessively. Perhaps your own excessive use of the Zero Water pitcher is to blame. The more frequently you use the filter, the faster it will become clogged with contaminants. If you have a big family and use the filter to filter, say, twice the volume of water per day than predicted by ZeroWater, the filter will clog twice as quickly.
There are air bubbles in the filter. An air bubble or air pocket in your Zero Water filter could also affect the speed at which tap water can pass through. Depending on the amount of air trapped in the filter, water may be able to travel around the air pocket, or you may get little-to-no filtered water at all.
The filter is clogged with mold, algae, or bacteria. This is the least likely cause of a clogged Zero Water filter, but it's still possible. If you filter dirty water in your pitcher, or you store your pitcher in an unsuitable location (like a hot, humid location in direct sunlight), you're more likely to have problems with microorganisms growth on your filter.
✅ How To Resolve:
Again, the exact resolution to the problem of a clogged water filter depends on the cause of the clogging:
If hard water or a high total dissolved solids reading is to blame, the only resolution is to buy a new filter more frequently to keep up with the faster rate of clogging. In some instances, a form of pre-treatment, such as a whole house water filter or water softener, may be the best solution.
If you're using the filter excessively, you will again have to replace the water filters more often, whenever clogging occurs. Alternatively, consider buying two drinking water pitchers to split the filtration load between both and get longer use out of each.
If the filter has air pockets, try lifting the reservoir and holding the mid-section of the filter, then squeezing it four or five times. This should clear the trapped air bubbles, but if it doesn't, try removing the filter from the reservoir and tapping it firmly on a hard surface.
If the filter is clogged by mold, algae, or bacteria, replace the filter. Don't simply try to rinse the filter off – if microorganisms are growing, your health is at risk.
Problem 3: Leaking Water Filter
A leaking water filter in your Zero Water pitcher has two likely causes:
Incorrect installation. This is an easy problem to fix. You might have not properly aligned the filter components, allowing water to leak out from around the filter rather than flowing through the filter media. The O-ring may also have come loose or become cracked, causing a similar leaking issue.
Improper pouring method. To properly use the Zero Water pitcher, you'll need to fill the top reservoir with unfiltered water, then properly seal the lid and wait for the unfiltered water to flow through into the bottom reservoir. Overfilling the top water reservoir or pouring from the pitcher without a complete seal in the lid could cause filtered water and unfiltered water to mix.
✅ How To Resolve:
Here are the best ways to resolve a problem with leaking in ZeroWater filters:
If the water leaking is caused by incorrect installation, disassemble the pitcher and start again. Make sure the filter is threaded correctly and that there's a complete seal between the filter and the O-ring, as well as the filter reservoir. If the O-ring is cracked or broken, replace it. The filter should be twisted, not dropped or pushed, into the reservoir, and you should make sure the blue filter gasket is properly seated against the reservoir. If any part of your tap water pitcher is broken or you think you have a defective filter, you'll need to replace them with new components.
If you're pouring from the pitcher incorrectly, you can avoid this by being careful not to overfill the top water reservoir and ensuring the lid is properly sealed on the pitcher before you pour.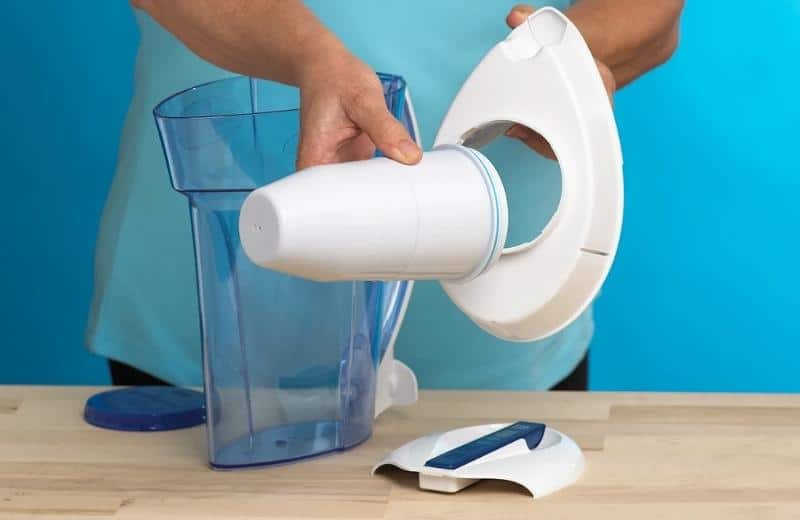 Problem 4: Water Isn't Filtering
If water isn't filtering in your ZeroWater filter, or your TDS meter shows that the filter isn't reducing the total dissolved solids in your tap water, there may be an issue with the filter itself.
Here are the most likely causes of a ZeroWater pitcher that isn't filtering water:
You've damaged the filter with hot water. ZeroWater filters are only designed to be used with a cold water supply. If you add hot tap water to the pitcher, you could damage the filter and compromise the filtration process. You might end up drinking water that's unfiltered, and you'll probably notice that water flows straight through the filter because holes have formed in the media.
Failing to replace the filter on time. Only so much unfiltered water can flow through a filter cartridge before it becomes clogged and begins to degrade. If you continue to use the filter for weeks or months after its intended end of lifespan, the filter media may degrade to the point that holes form on its surface, allowing drinking water to travel straight through the filter without being filtered. This is very dangerous and could cause trapped contaminants to re-enter your tap water supply.
✅ How To Resolve:
You can resolve a ZeroWater filter that isn't filtering your water with the following solutions:
If the filtration process has been hindered by hot water damage, you won't be able to restore the filter, so the only option is to buy a new filter cartridge. Going forward, make sure to only use cold tap water in your pitcher. If you want to enjoy filtered hot water, you'll need to either heat or boil your water after filtering it or consider buying a countertop hot and cold filtered water dispenser.
If you've impeded the filtration process by failing to replace the filter on time, the obvious solution is to replace the filter cartridge as soon as possible. Make sure to put a note in your calendar when filter changes are due, so you don't forget in the future. When you replace the filter, thoroughly wash the pitcher to remove contaminants that may have escaped from the old filter.
🤔 Is ZeroWater The Right Filter For You?
Luckily, most of the problems with Zero Water filters are easy to fix.
But if your problem keeps recurring, it might be that the ZeroWater filter type isn't the best choice for your family's water filtration needs.
ZeroWater filters use ion exchange resins, which, as we mentioned earlier, are responsible for the fishy odor and acidic properties that some people notice in their water.
The only way to avoid this issue is to buy a different water filter pitcher – one that, ideally, doesn't use ion exchange. Check out the Clearly Filtered pitcher as a solid alternative.
So, if you're fed up with your ZeroWater filter problems and you perhaps want to upgrade to a more capable filter, you have plenty of options to choose from.
👨‍🔧 Learn more about our top recommended water filter pitchers in this guide.
❔Zerowater Filter Problems: FAQ
What is the problem with ZeroWater filter?
The main problem with Zero Water filters is that they remove all total dissolved solids from tap water, which leaves water "hungry" and more likely to absorb contaminants from air or from the container it's stored in. This could affect the taste and health properties of your filtered drinking water.
Can bacteria grow in ZeroWater filter?
Yes, like in any filter, bacteria can grow in a Zero Water filter. You're more likely to find bacteria in your filter cartridge if you've been using it to treat dirty water (not recommended) or if you use the filter for too long before replacing it with a new one. Remember, the expected lifespan of a ZeroWater filter is between 2-4 months, and you shouldn't use the filter for longer than this, even if the flow rate is still steady.
Why does my ZeroWater taste funny?
Water from your ZeroWater filter might taste funny because of the filter's ion exchange technology. When the cations and ions in the ion exchange resin break down and deteriorate, they release trimethylamine (the compound released from decomposing fish flesh). That's why so many people complain that their filtered water tastes fishy.
Is ZeroWater filter healthy?
There's some debate over whether or not the ZeroWater filter is healthy. The filter does remove unhealthy contaminants, so in that sense, it makes drinking water healthier. However, the filter pitcher also removes healthy minerals to produce water with 0 TDS, which is advertised as a positive thing by the brand – but tap water is obviously healthier when it contains trace minerals.
Does ZeroWater filter make water acidic?
According to ZeroWater, the filter shouldn't make your water acidic. However, this information opposes the research done by customers on forums like Reddit, who claim that the Zero Water filter does bring down their water's pH. We think this is likely, since the Zero Water filter removes the minerals that contribute to water's alkalinity. ZeroWater also admits that when the ion exchange resin deteriorates, this may result in a reduction in pH.