Well water filters are expensive units, and not everyone is comfortable paying the upfront cost of hundreds – maybe even thousands – for the perk of improving their water quality.
If you've ever considered renting a well water filtration system, this is the guide for you. We've shared the types of filters that can be rented, the average monthly cost of rental water filtration systems, and when it might be more cost-effective to rent vs owning a water treatment system.
📌 Key Takeaways
The cost of renting a water filter varies depending on the system type, but it's generally less than $50/ month.
Whole house water filtration systems and water softener systems are the most popular water treatment units that are rented today.

Renting means you can avoid paying an expensive upfront cost, but your long-term costs are higher

Before renting a water treatment unit, consider your water quality, your planned rental period, and the system quality.
🚰 What Kinds of Water Treatment Systems Can Be Rented?
All types of water treatment systems can be rented, including;
Whole home water filter systems
Water softener systems
Under-sink water systems
Reverse osmosis filtration systems
Specialized well water systems
You're most likely to find expensive, multi-stage systems for rent. For instance, water pitcher filters, which cost less than $100 upfront, aren't available to rent because they're so affordable. Rental solutions are generally offered for systems that are too expensive for most people to buy upfront.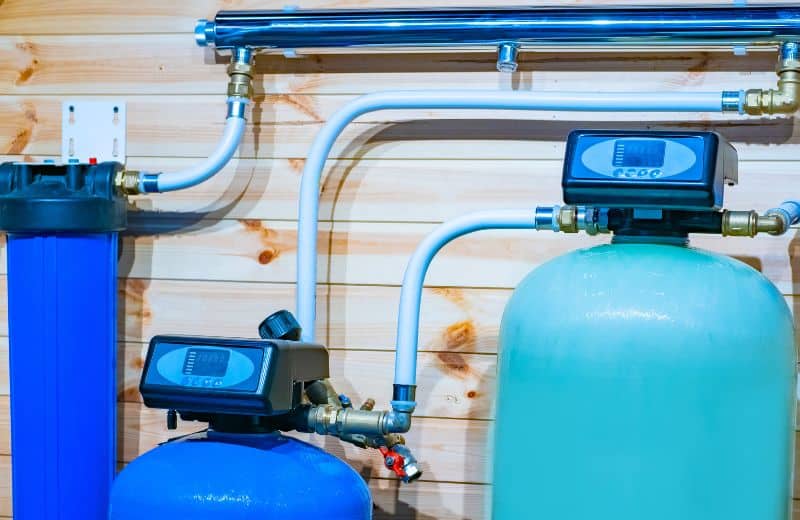 💸 How Much Does it Cost to Rent a Water Filter?
The cost of renting a water treatment unit depends on factors including the cost of living in your local area, the rental company's reputation, and the size of the system you rent. Generally, according to our research, renting a water treatment unit costs $30-50 per month.
The average water softener rental prices are between $20 and $40 per month
Well water filtration systems cost $10 to $50 per month, depending on the system type
These are the prices for residential water softeners and filters. Commercial water softeners and filtration systems are larger and generally cost more per month to rent.
🏪 Where Can You Rent a Water Filtration System?
You can rent a water filtration system or water softener from any rental company that offers a local service in your area.
There are numerous water filter and water softener rental companies that operate nationally, including Diamond Pure, Culligan, and Aquatech Water Systems.
Some companies have local reps, or dealers, who will visit your home and advise you on what type of water filter or water softener you need. Others allow you to pick your own product, then simply send an expert to install and maintain the system on your behalf.
Unless you live in a particularly rural region, you should be able to find a water system rental company that serves your area.
🆚 Renting Vs Buying a Water Treatment System: Which Is Best?
There are pros and cons of renting and buying water softeners and water filters.
📌 We think that buying a water treatment system is the better choice, since it's more cost-effective and gives you complete control over what you do with the system throughout its lifespan.
However, renting may be a better short-term option, so don't rule it out entirely.
Here's what you need to know.
Pros and Cons of
Renting

a Water Softener or Filter
Pros
More affordable upfront & no surprises – Renting water filters and water softeners seems appealing because you don't have to shell out hundreds or thousands of dollars upfront. Instead, you can pay a more manageable monthly cost, which often includes the cost of maintenance and repairs. That means no unexpected surprises.
No long-term obligation – Rental water softener systems and filters aren't a lifetime commitment. You can try out a particular system and decide whether or not it's suitable for your needs or compatible with your home. If it isn't, you can simply get it removed and replaced (or not replaced at all), without worrying about wasting your money.
Ideal for short-term water treatment – Perhaps you live in an area with poor water quality, but you're planning to move across the country later in the year, and you don't think you'll need to treat your water in your new location. In that case, the short-term water filter or water softener rental cost will probably make more sense than the much larger upfront purchase of the same system.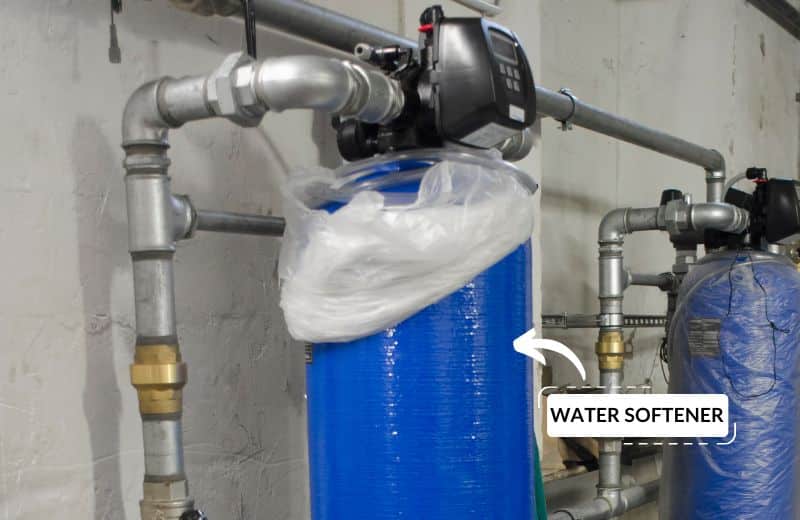 Cons
Quickly becomes more expensive – A rental water softener or water filter will eventually become more expensive than a purchased system. Why? Because the rental costs will continue month after money, year after year – so you'll be expected to continue paying even after you've paid for the system. For this reason, renting a drinking water treatment system isn't the smartest long-term investment.
You don't own the system – Not being the owner of your water softener system or filtration system puts you at a disadvantage. If you want to move, you can't keep the system in your home to potentially increase its sale value. You might also move outside of the rental company's service area, meaning that you can't take the system with you.
You might have to pay for repairs – For general maintenance and repairs caused by normal wear-and-tear over time, you shouldn't have to pay. But your rental company will probably charge you if they have to repair or replace a component that has been damaged due to your negligence. You'll end up paying more for a professional repair than you would to repair your own system yourself.
Pros and Cons of
Buying

a Water Softener or Filter
Pros
You own the system for its lifetime – Regardless of where you live and how long your water treatment system lasts, you'll have full ownership of the system forever. That means you have control over what you do with it – whether that's selling it, leaving it in your old home when you move, or using it for life.
The long-term costs are lower – Although water filters and water softener systems cost more upfront to buy, they have a lower long-term cost. Why? Because you've already paid for the system upfront, so your only costs will be for maintenance and repairs. These should be much lower (about $200 per year, max.) than monthly water filter or water softener rental costs.
You should improve your home's value – A relatively new, well-maintained water treatment system should increase your home's value and be a factor that attracts potential buyers, should you decide to sell and move on.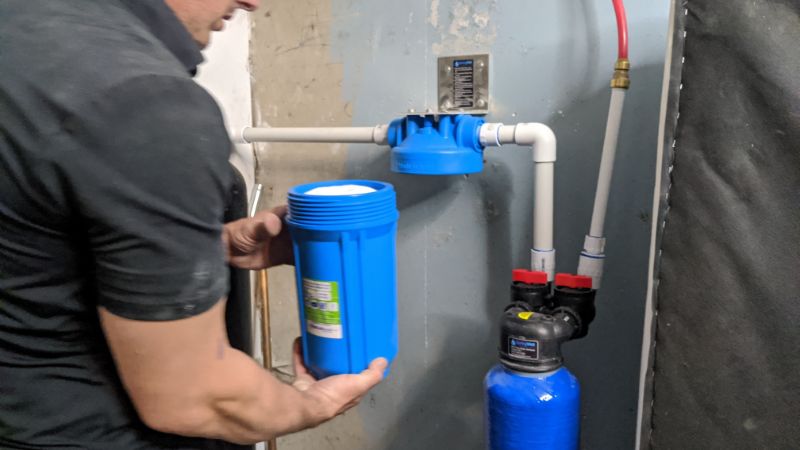 Cons
High purchase price – The upfront purchase price of a water softener or water filtration system is much higher than a monthly water filter or water softener rental price. If you want an instant water treatment solution, you might not be able to get together the money needed to buy a suitable system immediately.
Minimal support beyond purchase – Some of the best water softeners and water filters are backed by good warranties and money-back guarantees. However, you might still end up buying a system that breaks or simply doesn't live up to your expectations, and there's no guarantee that the warranty will cover the issue you have. You'll also need to pay for your own maintenance, which can be pretty expensive for multi-stage systems (like reverse osmosis systems).
📖 What to Consider Before Renting a Water Filtration System
Your Water Quality
If you haven't already tested your water, that's the place to start. You won't know what your water contains – and therefore what kind of filtration system you need – until you've tested your water.
Testing your water is particularly important if you choose a rental company that advises you on which system is for you. That way, you can decide whether or not you agree with the dealer based on your own knowledge of what your water contains.
Some local authorities offer a free water test for well owners, so this is something to take advantage of if you haven't already.
Once you know what's in your water, you can narrow down your selections and begin looking for suitable systems.

Your Planned Rental Period
📌 Renting a water filter isn't cost-effective if your planned rental period is 3 years or above.
It's worth thinking about how long you expect to rent a water treatment system. If it's only for a few months – and you don't plan to install a similar system in the future – it might make sense to pay for a short-term rental, which should cost less than the upfront price of the system.
If your planned rental period is beyond 3 years, we'd advise saving up the money to buy the system upfront, which is more cost-effective in the long run.
Your Water Use and Space Requirements
The size of your household, your available space for installation, and your daily water usage all have an effect on the size and capacity of the system you require.
The bigger your household and the more water you use per day, the bigger the system you'll need – and the more you'll need to spend on a monthly rental.
You'll also need enough space to install the filtration system, so check the measurements of a unit before you make a commitment.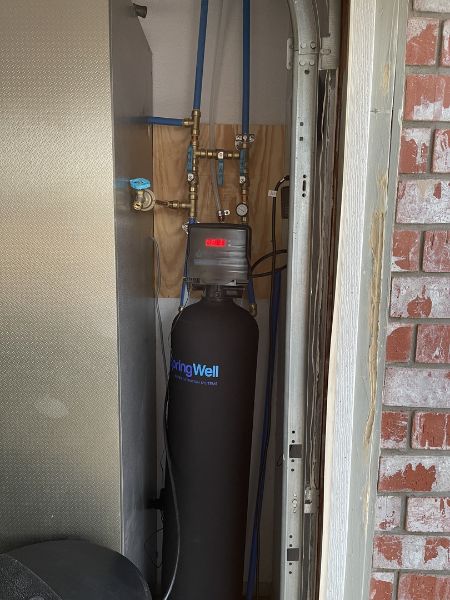 The System Quality
You might be limited to what kind of system you can rent out, but quality still matters.
A high-quality water softener or water filter is essential if you want to see good results from your investment. How do you know if a rental unit offers a quality performance? Research the model(s) on offer and see what customers and experts have to say about them.
You want to make sure you're getting good value for money from your rental. If experts say that a particular water treatment system is one of the best of its kind, you know you're spending your money wisely. Likewise, if customers are generally pleased with a filter's performance, you can be pretty confident that you'll feel the same way.
❔ Well Water Filter System Rental: FAQ
How can I afford to buy a well water filter system?
Want to buy a well water filter rather than renting, but unable to afford the upfront cost of the filter? We recommend looking into financing. Many manufacturers finance their systems around the $1,000 price point or higher, and some companies work with third parties like Klarna and Afterpay, which let you buy the product upfront and pay for it in interest-free installments. That's a great solution for anyone who wants the perks of buying their own water filter or softener, but would struggle to pay the purchase price in one go.
What are rent to own plans?
A rent to own plan lets you rent out a water softener or water filter until you've paid back enough money to officially own the system. The water filter or water softener rental provider will likely have certain terms that you'll have to adhere to during the rental period. Once that period has ended, you'll have full control over every aspect of owning the system.
Is it better to rent or buy a water softener?
Whether or not it's better to buy or rent a water softener system depends on your own situation. In most cases, it's more cost-effective to buy the system upfront, even if you have to finance the system and pay it off over several months. Long-term rental costs extend well beyond the initial purchase cost, which means you end up losing money after several years of renting.
Can I rent a water softener if I don't own my home?
Yes – and in some cases, your landlord may actually prefer you to rent a water softener or water filter, knowing that a professional will remove the system at the end of your rental period. However, some landlords don't allow permanent changes to their properties, so it's essential to ask permission before you do anything.