Wondering what's included in an annual well inspection? We've covered everything to expect in this quick well inspection checklist guide for homeowners.
We've also included a handy Homeowner's Well Inspection Checklist which includes tasks you can keep up with on your own.
✅ Contractor's Well Inspection Checklist
When a licensed well contractor inspects your well, they'll usually tick off the steps in a well inspection checklist, which include:
Assessing the Well Type
Water Level Check
Well Cover Inspection
Flow Test
Pressure Tank and Pressure Switch Contact Check
Nitrate Test
Coliform Bacteria Test
Other Contaminant Testing (If Necessary)
Well Sterilization
Assessing The Well Type
The contractor will begin by assessing the well type. This will give the inspector knowledge to consider additional factors that may affect certain types of wells, like contamination or drought.
The three most common well designs are:
Dilled bedrock wells
Shallow dug wells
Drilled or dug gravel well
The exact well components to inspect will depend on the type of well in question.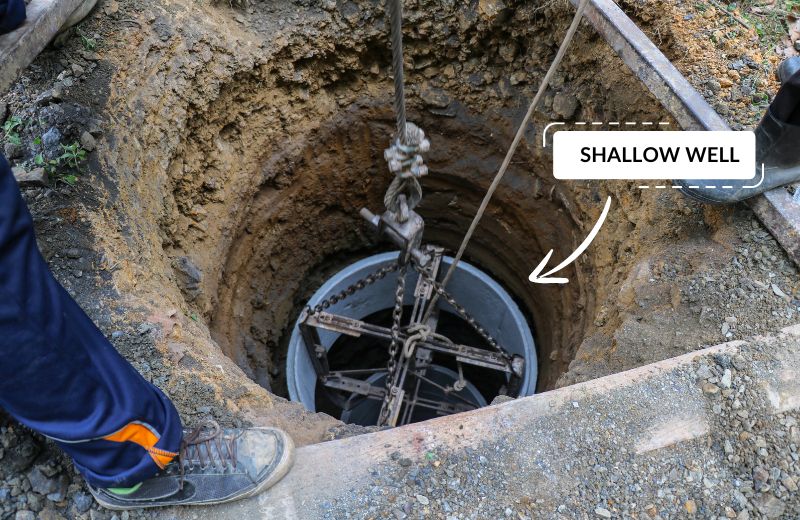 Water Level Check
It's normal for the water level in a well to fluctuate over the years. But if the water level is rapidly dropping, you may need to take remedial action.
A well contractor will assess the water level and identify potential issues with the well's water production before they can lead to water outages and expensive damage to your well components.
Well Cover Inspection
The inspector will check that the well cover is still properly attached and sealed, with no cracks or breaks. A damaged or broken well cover could cause contamination of the well, from run off surface water, leaves, and even small animals. Inspecting the cover and ensuring it's properly fitted is essential.
At this time, the inspector will usually also check for any holes or cracks in the well casing and note their findings in their well maintenance records.
Flow Test
A flow test is used to check the output from the well. This will give you your average water pressure & flow rate at your faucets and fixtures and tell you whether your well's output meets the minimum requirements for your household size and water usage.
The results of this quick test will help you determine if well flow is acceptable for your needs, and whether further, more detailed testing of the well's pumping equipment, depth, and pressure is needed.
Pressure Tank and Pressure Switch Contact Check
A well inspection should also include a pressure tank and pressure switch contact check.
The inspector will measure pressure tank performance and check that the pressure switch is operating as it should. This should involve checking for damage or wear and tear, and determining the continued suitability of these well components for their intended purpose.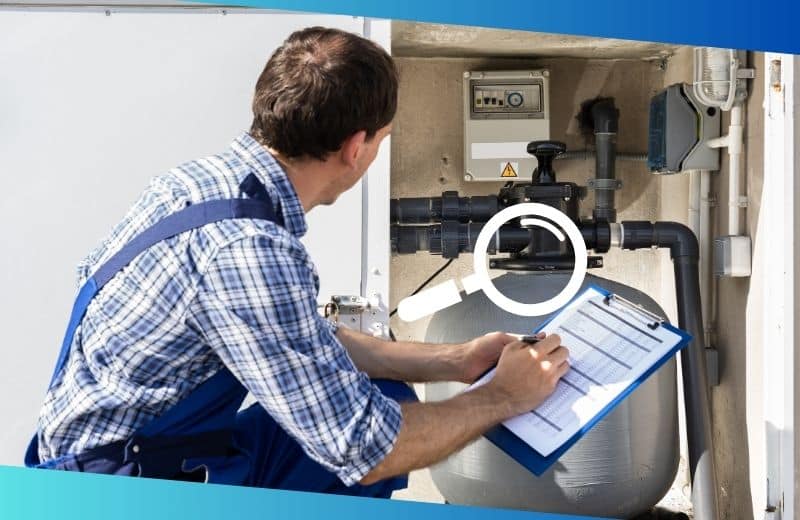 Nitrate Test
Some contractors may include water quality testing in their well inspection checklist, and nitrate testing is essential for well water.
A nitrate test should be conducted at least once every two years and detects elevated nitrate in your well water. This form of water testing will usually be submitted to a laboratory, with results delivered via email or post within 1-2 weeks.

Coliform Bacteria Test
Coliform bacteria is another common contaminant included in a well inspector's water testing packages.
While coliform bacteria isn't itself dangerous, it usually indicates that other harmful bacteria and microorganisms are present in the water supply, perhaps due to damage to the well casing or screen, or contamination from a nearby septic system. The CDC recommends testing for coliform bacteria at least once a year.
Other Contaminant Testing (If Necessary)
Your well contractor may also recommend testing for other contaminants, like pH, total dissolved solids, or contaminants of local concern (such as arsenic and radon). You could ask your contractor to test for a contaminant you're worried about, likely for an extra cost.
👨‍🔧 Why is water testing an important part of a well inspection checklist? Because the quality of your water often determines the quality of the well's components, including the well casing and screen.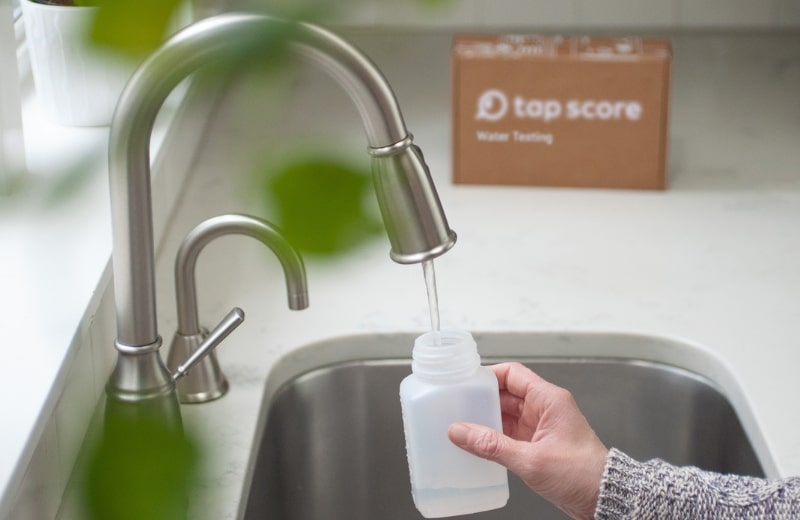 Well Sterilization
The final step in a well inspection checklist is to sterilize the well. Not all contractors offer this since it goes beyond inspecting the well (it's more of a servicing task). However, it often makes sense for sterilization to be carried out at the same time as inspection, and the inspector may be happy to offer the service at an extra cost.
To sterilize a well, the contactor will add chlorine or bleach to the well and run it through the whole system. You'll be advised to leave the chlorine in the well overnight, then flush the water until the bleach smell disappears.
Other Considerations
Depending on your well structure and location, a well contractor may also make other considerations during the site inspection.
For example, they may check that the well location is the required distance from septic tanks and other sources of contamination, according to state or local regulation.
They may also note whether or not there are any permanent structures located near the head of the well, how many inches above the surface the lining of the well is, and if there are any abandoned wells on the property.
📋 Water Well Inspection Reports: What's Included?
Once a contractor has completed their well inspection checklist, they'll write up a report that shares their findings, including:
The pressure tank performance
The pump motor performance
Your water quality
Assessments of the other well components
Whether your well continues to meet state and local codes
Whether any water treatment systems are recommended
Whether any repairs are recommended
👨‍🔧 You'll be able to add this report to your well maintenance records, so you can easily look back on the work and water tests performed on the well system over the years.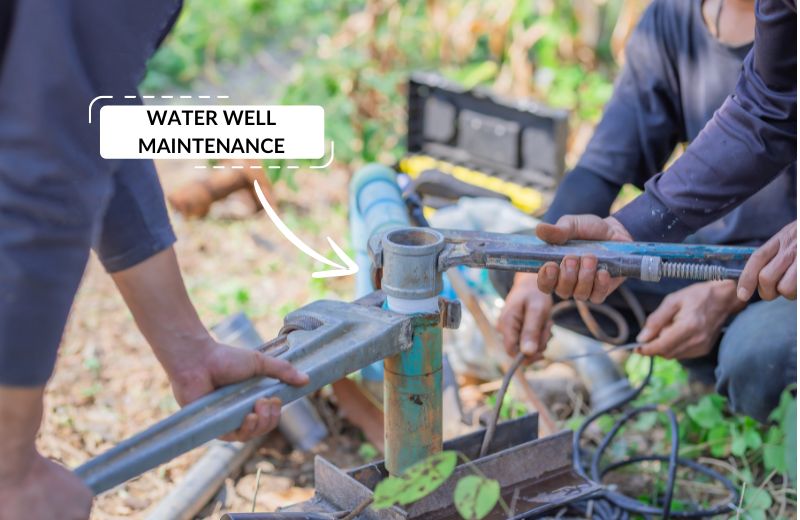 🧰 Homeowner's Well Inspection Checklist
These are the tasks you as the homeowner can keep up with in between professional well inspections:
Familiarize yourself with your well location.

Check the well cap, well cover vent, and seal.
Is the well cap vermin proof?

Is the cover vent screened to prevent contamination from outside of the well?
Keep a constant watch for changes to your water quality, including taste, appearance, and odor.
Check for ponding of water and potential contamination.

Remove leaves and animal waste from around the well cap.

Maintain your water treatment devices (if you have them).

Change the filters when necessary.

Check the inside of the well casing for cracks and stains.

Ensure all joints in the well casing have a proper seal.
You should always get a licensed well contractor to inspect your well. However, it can be beneficial to know how to inspect your well between professional inspections to ensure your well is regularly maintained and to troubleshoot problems as they arise. You can keep your own well inspection checklist to hand for personal use.
👨‍🔧 Only licensed inspectors can enter a well, so yours should be a visual inspection only. Don't put yourself at risk. If you think a more extensive test or inspection is needed, contact a professional.
👉 Continue reading: 3 Important Well Water Filtration System Maintenance Tasks
📑 Final Word: How Often Should A Well Be Inspected?
A well inspection should be performed once a year for cleanliness, mechanical issues, and the presence of impurities like nitrates and coliform bacteria.
This might sound too frequent in your eyes, but even small shifts and changes in your local geology could significantly impact your well, and annual inspections will ensure your water continues to be safe for drinking, cooking, and washing.