U.S. Cities With the Best Water


📌 Key Takeaways
According to our ranking, these 5 cities have the least contaminated drinking water: Memphis, TN; Savannah, GA; Provo, UT; San Francisco, CA; and Nashville, TN.
According to our ranking, these 5 cities have the most contaminated drinking water: Newark, NJ; Las Vegas, NV; Pittsburgh, PA; Wilmington, DE; and Tulsa, OK.
Wilmington, DE; Madison, WI; San Diego, CA; Reno, NV; and Fort Worth, TX, had the highest number of contaminants exceeding the EWG's recommended levels.
These 5 cities have the highest levels of chloroform in their water: Newark, NJ; Wilmington, DE; Baltimore, MD; Lexington, KY; and Providence, RI.
1 in 5 cities' tap water exceeds the EPA's recommended pH range.
Contaminated Nation
Flint, Michigan's water contamination issues have dominated news headlines over the last several years. More recently, the train derailment in East Palestine, Ohio, released toxic chemicals that now threaten the local water supply. These water crises are concerning, but some worry that water quality issues are more widespread. Just how contaminated is America's drinking water?
To determine water quality in the U.S. and identify which areas have the least (and most) contaminated drinking water, we collected water quality data from the Environmental Working Group (EWG) and SimpleLab. We then compared drinking water quality across the country by measuring variables such as pH, hardness, and unwanted contaminants. Read on to discover our findings and learn more about drinking water in your area.
Cleaner Drinking
There is little more refreshing than a glass of clear, clean water, and many areas of the country are lucky enough to have access to safe drinking water. Let's take a look at which U.S. cities have the least contaminated drinking water.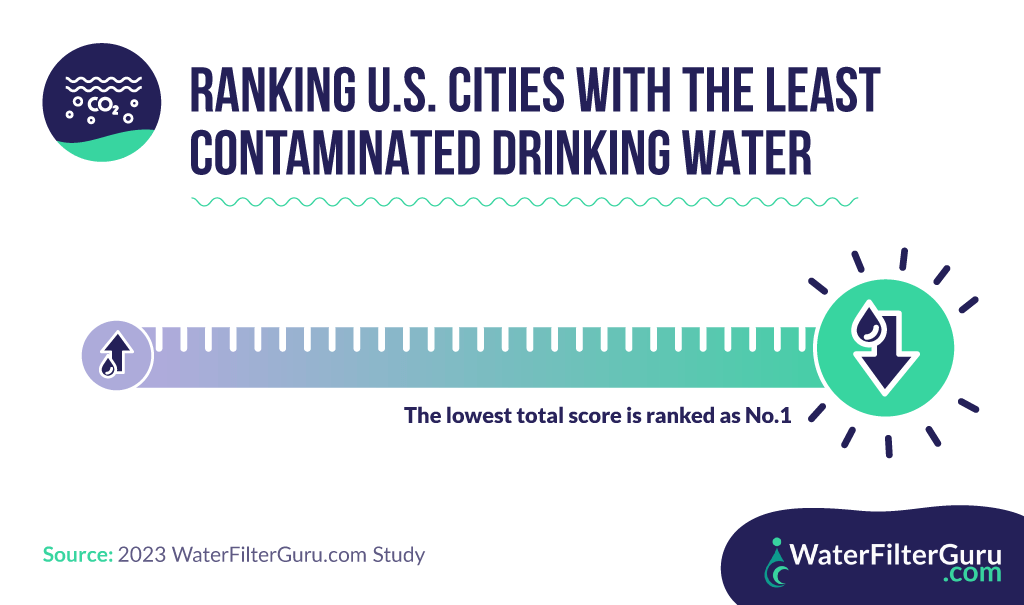 We analyzed 70 cities across the U.S. to determine which cities have the least contaminated drinking water. Scaled scores do not reflect the raw amount of a contaminant; they have been scaled for the metaranking.
The following metaranking factors were collected from the EWG and given a weight of 20: number of contaminants that exceed EWG health guidelines, total contaminants, and quarters of violations from April 2019 to March 2021.
The remaining factors were collected from SimpleLab and given a weight of eight. Thus, a score of eight in these categories reflects the highest contaminant level. A higher total score demonstrates higher contamination levels, so the city with the lowest score ranked as No. 1.
After examining multiple water quality statistics, including EWG standard measurements and various contaminant levels, we determined that the five cities with the least contaminated water were:
Memphis, TN
Savannah, GA
Provo, UT
San Francisco, CA
Nashville, TN
According to just the EWG's drinking water standards, the cities with the fewest contaminants exceeding EWG health guidelines were:
Providence, RI
Columbia, MD
Memphis, TN
San Francisco, CA
Orlando, FL
Jacksonville, FL
Some cities fared better when it came to specific contaminants. For example, Madison, WI, didn't make the top five cleanest list for our study or according to EWG standards, but it was No. 1 for cities with the lowest levels of chloroform:
Madison, WI
Memphis, TN
Los Angeles, CA
Provo, UT
Savannah, GA
Madison also came first among cities with the lowest levels of bromodichloromethane (a clear liquid that's a byproduct of chlorine disinfection):
Madison, WI
Montgomery, AL
Kansas City, MO
San Francisco, CA
Provo, UT
Chloroform and bromodichloromethane are two of the four potentially cancer-causing contaminants known as trihalomethanes (dibromochloromethane and bromoform are the other two). Total trihalomethanes (TTHMs) is a measurement of these four chemicals in drinking water. Memphis and Madison had the lowest levels of TTHMs, while Wilmington, Delaware, had the highest.
Unfortunately, not every city had great water quality. Based on our data, the five cities with the most contaminated drinking water were:
Newark, NJ
Las Vegas, NV
Pittsburgh, PA
Wilmington, DE
Tulsa, OK
The Quality of Our Water
The guidelines for water quality come from Environmental Protection Agency (EPA) criteria, which is informed by a scientific understanding of how water pollutants impact human health. The guidance covers pH, alkalinity, hardness, and total dissolved solids (TDS). We looked closely at each of these factors and how their prevalence in cities across the U.S. affects drinking water quality.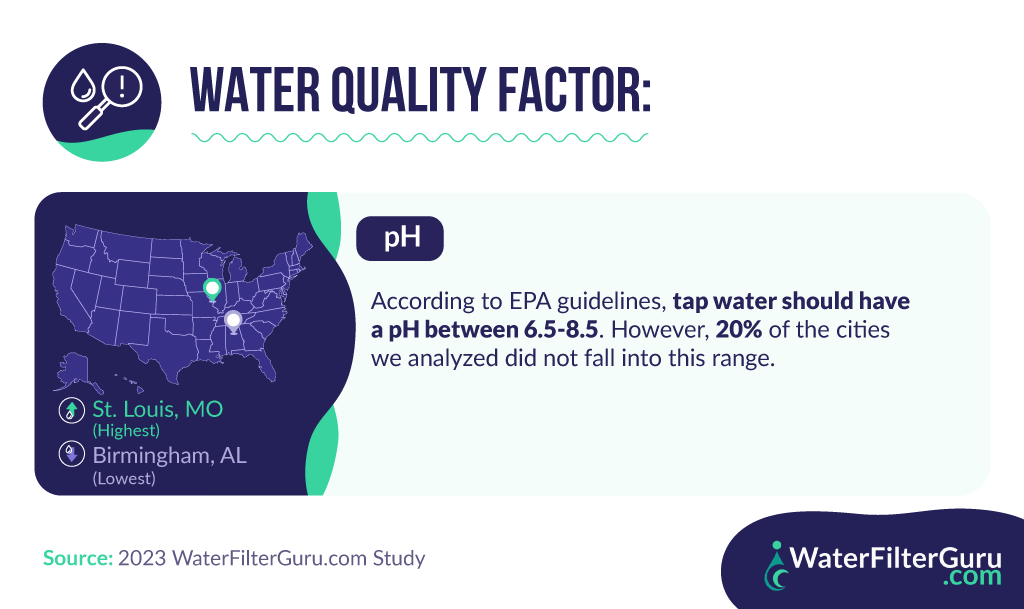 Maintaining a healthy pH level in drinking water is important. Water that is too acidic (low pH) often contains more heavy metals and other toxic contaminants; water that is too basic (high pH) may affect the body's natural pH levels. None of the cities we analyzed had drinking water that was more acidic than the EPA recommends, but 20% had a more basic pH than recommended. The city with the highest pH was St. Louis, MO, while the one with the lowest pH was Birmingham, AL.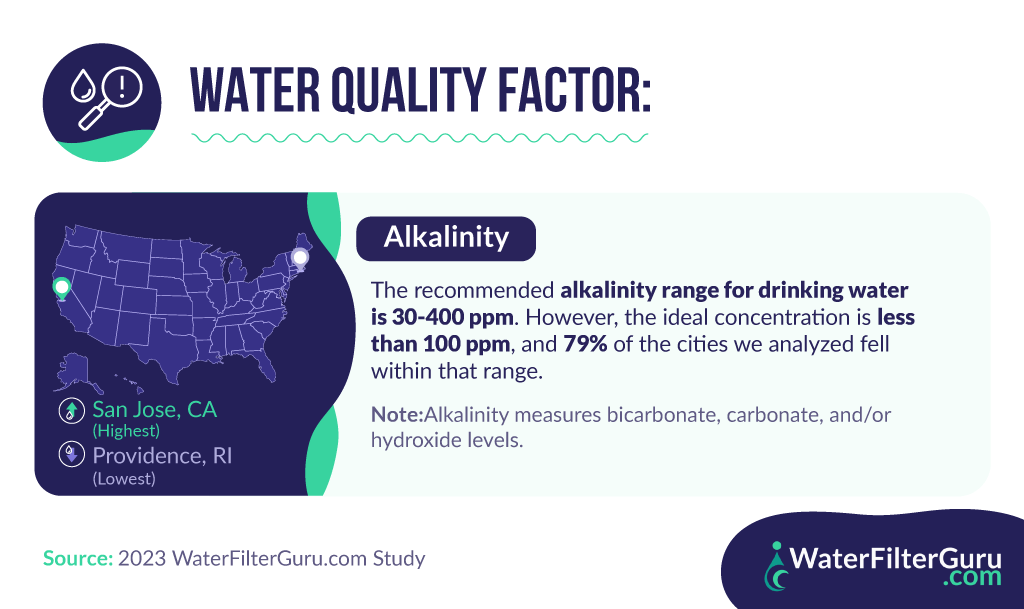 Alkalinity refers to bicarbonate, carbonate, or hydroxide levels in drinking water. It helps stabilize water to prevent significant pH fluctuations. When alkalinity is too low, the water is more affected by dissolved gasses, which imbalances the pH and makes the water too acidic or too basic. If alkalinity is too high, it can increase water hardness, which we'll cover next.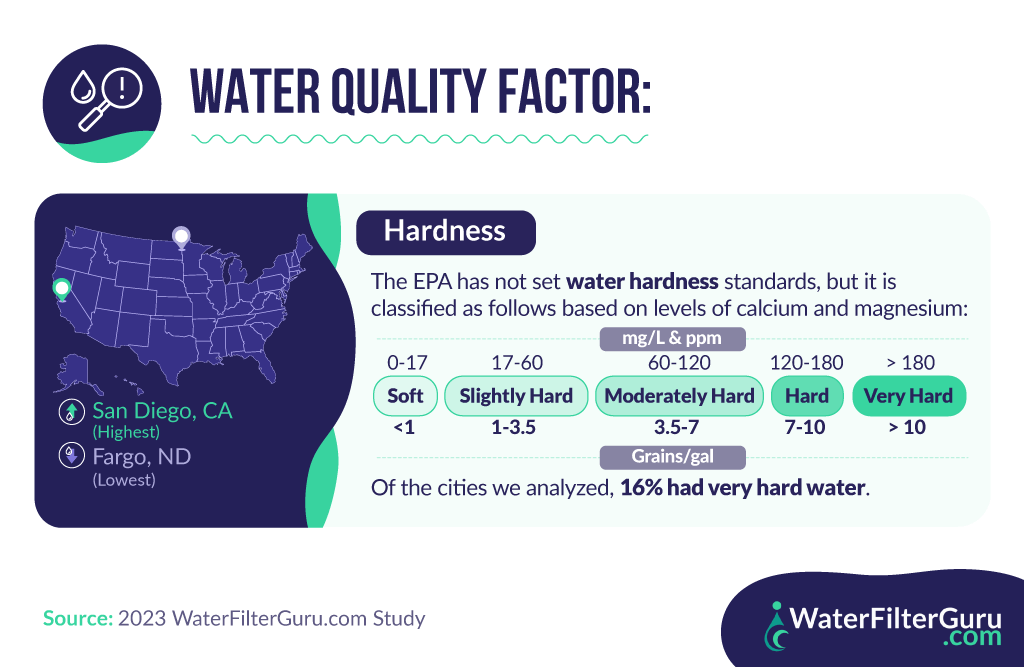 Hardness is the amount of dissolved calcium and magnesium in drinking water and is rated on a scale of soft to very hard. Soft water tends to have higher sodium (salt) concentrations, which can pose problems for people with certain health conditions. Hard water isn't associated with serious health issues, but hard drinking water can taste bad and contribute to dry skin and hair.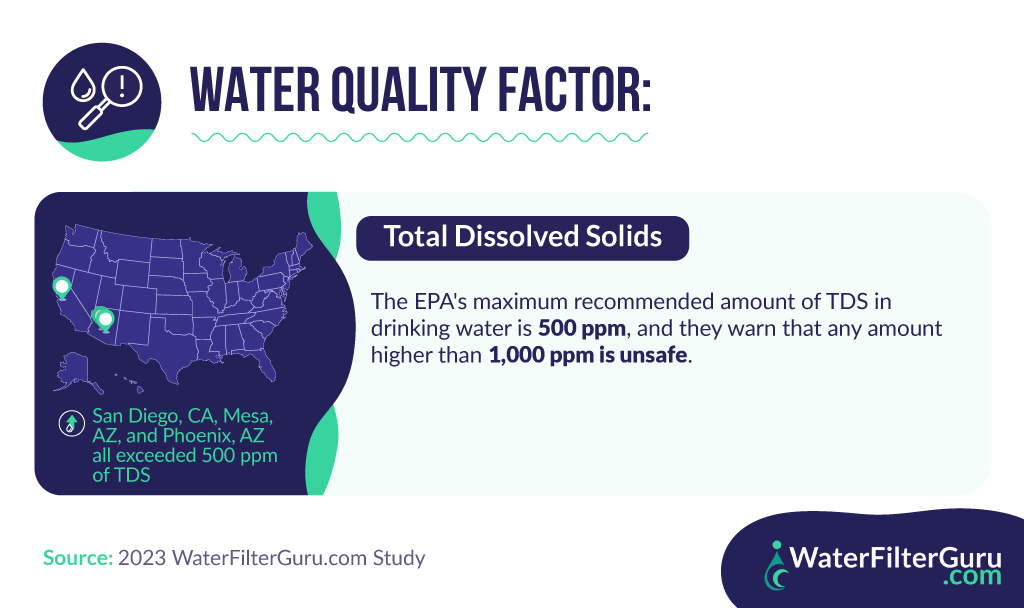 Total Dissolved Solids (TDS) is a key measure that indicates overall drinking water quality. TDS measures the quantity of dissolved minerals, heavy metals, salts, and other substances in water. Because several factors are at play, high TDS levels may indicate poorer water quality, but they may also just mean your water contains a high amount of dissolved minerals that are safe for consumption. The cities with the least amount of TDS were:
Portland, OR
Salem, OR
Yonkers, NY
Seattle, WA
Portland, ME
The Truth About Water
It's easy to take water for granted, but safe drinking water is critical to human health and nutrition. We looked at water quality levels in 70 U.S. cities, and while we didn't find any state or regional trends, we did find contaminated water throughout the country. We also found many clean water havens, but there didn't seem to be any indicators predicting the water quality of a city or area. So, whether you live in Nashville or Newark, it's a good idea to evaluate your drinking water so you can take the steps necessary to make it safe for you and your loved ones.
Methodology
Data was collected from SimpleLab and the EWG to explore water quality factors and contaminants in tap water supplies for 70 U.S. cities. For the weighting of our metaranking, we assigned values of 20 to the first three components. The other five contaminants were each assigned a weight of eight. Analysis of water quality factors was also determined based on data collected from SimpleLab.
About WaterFilterGuru.com
We're your go-to source for all things related to clean and healthy water, providing valuable information, solutions, and reviews.
Fair Use Statement
If you found our findings informative, you're welcome to share them for non-commercial purposes. We just ask that you link back to this study so readers can access our full findings and methodology.