Activated carbon is one of the most popular water filter media – but should you use this type of water filter for well water?
Here, we've shared everything you should know about activated carbon filtration for private wells, including how it works, its benefits and setbacks, and how effectively it treats various well water contaminants.
📌 Key Takeaways:
An activated carbon (AC) filter is a type of water filter that's best known for its ability to remove chlorine, tastes and odors from municipal water.
There are various types of filters that use carbon media, including catalytic, granular, and carbon block filters.
AC filters are suitable for well water, but you might need to install a pre-treatment system, and you'll probably need additional filters, depending on what your water contains.
🔎 What Is An Activated Carbon Water Filter?
An activated carbon water filter is an affordable, popular water filter that reduces aesthetic drinking water contaminants using a process called adsorption.
You'll find activated carbon filters in various different types of filter systems, including water filter pitchers, under-sink filters, shower filters, and whole house water filter systems.
Activated carbon filtration is also used to support membrane separation in a reverse osmosis system.
There are a few different materials that are used in activated carbon media. Coconut shell carbon is a popular choice, but there are also charcoal carbon filters, and filters made from wood and peat.
The three common types of activated carbon filters are:
Granular activated carbon filters – consist of loose carbon particles
Carbon block filters – made with blocks of compressed carbon
Catalytic carbon filters – use an enhanced media that can remove additional contaminants
We've discussed the suitability of these filter types for well water later in this guide.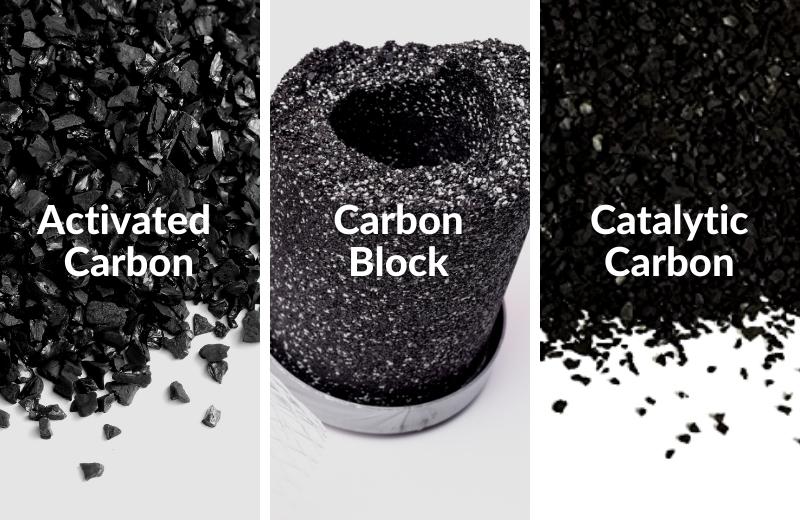 ⚙️ How Does An Activated Carbon Filter Work?
Activated carbon works by using a chemical reaction to eliminate chlorine, other chemicals, and bad tastes and odors.
The filter's pores trap larger contaminants, while the smaller contaminants bind to the filter media, so they're unable to pass through the filter system with the water molecules.
Carbon filters have a very large surface area and are very porous, meaning that they can trap a broad range of contaminants as water passes through the filter media.
A carbon filtration system will continue to filter water until the media becomes clogged with contaminants, and water can no longer efficiently flow through the filter pores. When this happens, you can replace the filter cartridge to enjoy improved filtration once again.
🧱 Are Activated Carbon Filters Suitable For Well Water?
Yes, activated carbon filters are suitable for well water – but that doesn't mean they're the best choice for your water treatment requirements.
Activated carbon is typically used to treat chlorinated city water because its main purpose is to remove chlorine.
Private well water isn't treated with chlorine (unless you use a chlorination injection system at home), so using a water filter system with carbon media won't have much of an effect on your water quality.
Plus, well water often contains contaminants that could clog or foul carbon media, such as iron and hardness minerals.
If you use a carbon filtration system for your well water with no pre-treatment, certain contaminants could quickly clog the media, and you'd have to replace the filter earlier than expected.
We've discussed these points in more detail later on.
🧫 What Contaminants Does Activated Carbon Remove?
Activated carbon filters remove contaminants including chlorine, some volatile organic compounds (VOCs), some disinfection byproducts (such as trihalomethanes), some types of PFAS (such as PFOS and PFOA), pesticides and herbicides, and some heavy metals.
The effectiveness of a carbon filter's ability to remove these contaminants depends on the filter's size, surface area, and materials.
Some carbon water filters offer more capable contaminant removal than others.
For instance, catalytic carbon can remove all the above contaminants, as well as chloramine and hydrogen sulfide (sulfur).
The table below shows which contaminants activated carbon filtration can reduce or remove.
Classification
List of Contaminants
Removal/Reduction
A. Physical Contaminants
1. Pharmaceuticals
Atenolol
Carbamazepina
Estrone
Meprobamat Trimethoprim
Very High (>95%)
2. Microplastics
Very High (>95%)
3. Suspended Solids
Very High (>95%)
B. Chemical Contaminants
1. Inorganic Chemicals
Calcium Hypochlorite
Ozone
Chlorine
Chlorine dioxide
Chloramine
PFAS
PFOS
PFNA
Heavy metals (Lead, Zinc, Copper)
Very High (>95%)
Heavy Metals (Copper, Manganese, Barium)
Nitrates/Nitrites
High
Arsenic
Asbestos
Mercury
Lithium
Calcium & Magnesium (Limescale)
Moderate
2. Organic Chemicals
1,2-Dichlorobenzene
1,3,5-Trimethylbenzene
1,3-Dichlorobenzene
1,4-Dichlorobenzene
2,2-Bipyridine
2,4-Dinitrocresol
2,4-Dinitrotoluene
2,4-Xylenol
2,5-Dichlorophenol
2,6-Dinitrotoluene
2-Chlorophenol
2-Methyl benzenamine
2-Methylbutane
3,6-Dichlorophenol
4-Chloro-2-nitrotoluene
Biphenyl
Bis(2-Ethylhexyl)Phthalate
Butylbenzene
Chlorobenzene
Chlorotoluene
Chrysene
Cyclohexane
Diethyl Phthalate
Di-n-butylphthalate
Ethylbenzene
Hexane
Isooctane
m-Cresol
Methyl naphthalene
m-Nitrophenol
m-Xylene
Naphthalene
Nitrobenzene
o-Nitrophenol
o-Xylene
p-Bromophenol
p-chlorocresol
p-Nitrophenol
p-Xylene
Very High (>95%)
1,1-Dichloroethylene
1,2-Dichloropropane
1-Chloropropane
1-Pentanol
4-Methyl Benzenamine
Aniline
Benzene
Benzoic acid
Benzyl alcohol
Bis(2-chloroethyl) ether
cis-1,2- Dichloroethylene
Dibromo-3-chloropropane
Ethylene
Hydroquinone
o-Phthalic acid
Phenol
Phenylalanine
Styrene
Toluene
trans-1,2- Dichloroethylene
Vinyl acetate
High
1,3-Dichloropropene
Acetic acid
Acrylamide
Dikegulac
Ethyl acetate
Ethyl ether
Freon 11
Freon 113
Freon 12
Methionine
Methyl ethyl ketone
Methyl-tert-butyl ether
Pyridine
Moderate
3. VOCs
Bromodichloromethane
Tetrachloroethylene
Total Trihalomethanes
Dibromochloromethane

Very High (>95%)
Bromodichloromethane
Bromoform
Carbon tetrachloride
Trichloroethylene
1,1,1-Trichloroethane
1,1,2,2-Tetrachloroethane
High
1,1,2-Trichloroethane
1,1-Dichloroethane
1,2-Dichloroethane
Chloroethane
Chloroform
Vinyl chloride
Moderate
4. Pesticides
Aldrin
Anthracene
Azinphos-ethyl
Carbofuran
DDT
Demeton-O
Dieldrin
Endosulfan
Endrin
Hexachlorobenzene
Hexachlorobutadiene
Isodrin
Lindane
Malathion
MCPA
Parathion
Pentachlorophenol
Very High (>95%)
Dimethoate
Moderate
5. Herbicides
2,4-D
2,4-Dichlorophenoxy
Alachlor
Atrazine
Bentazone
Bromacil
Cyanazine
Deisopropylatrazine
Desethylatrazine
Diuron
Isoproturon
Linuron
Mecoprop
Metazachlor
Monuron
Propazine
Simazine
Terbutryn
Triclopyr
Very High (>95%)
Chlorotoluron
High
Glyphosate
Imazapyr
Moderate
💧 Well Water Overview
Well water is a private water supply, typically sourced from an underground aquifer, that's collected via a well pump.
The defining feature of well water is that it isn't treated by a municipal water utility before it's delivered to your home.
Well water is typically cleaner than surface water because it undergoes a "natural" filtration process on its journey through the layers of rock and soil to reach the aquifer.
But the underground location of well water often makes it susceptible to contamination from impurities that don't affect city water supplies, such as heavy metals and minerals.
These contaminants may affect the carbon filtration process, or they make make the water unsuitable for treatment with carbon media.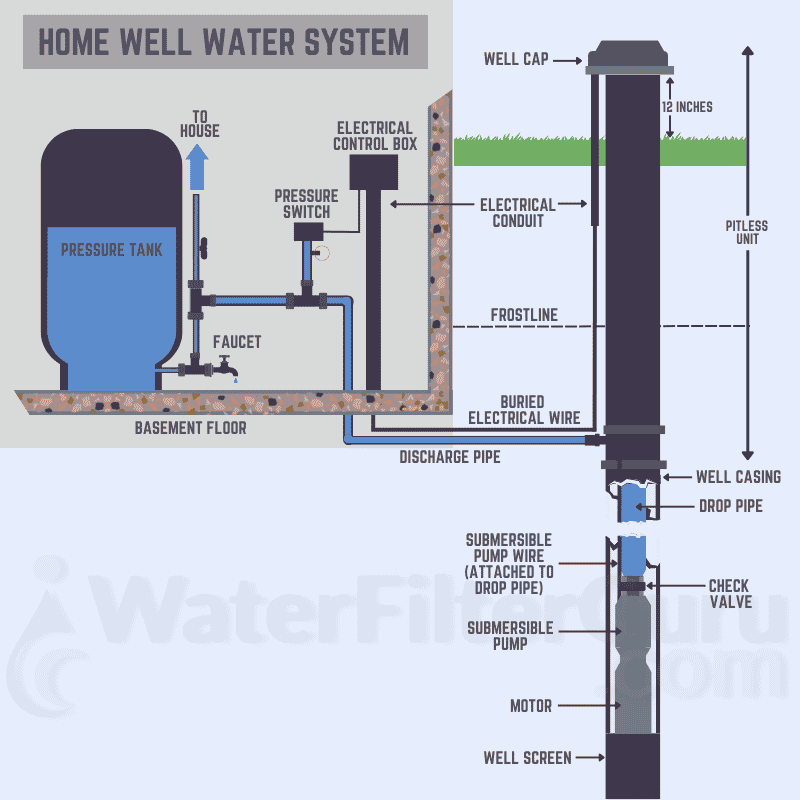 🔬 Common Well Water Contaminants
Some of the common well water contaminants are:
Pesticides and herbicides – Caused by soil seepage or agricultural runoff from farmland
Chemicals – Such as nitrates & nitrites, from fertilizers, sewage, and animal waste
Copper & lead – Leach from old well or plumbing systems that use corroding copper or lead pipes
Hydrogen sulfide – Caused by the presence of sulfur-reducing bacteria and has a distinct rotten egg smell
Iron & manganese – Found in wells that are in close proximity to rocks and soils with a high mineral content
Fluoride – Occurs naturally underground in many regions
Hardness minerals – Enter well water supplies through leaching from rocks and soils when water seeps into the aquifer
Radionuclides – Such as radium and uranium, found in many soils and rocks
Microorganisms – Including viruses, cysts, and bacteria, often get into wells due to leaking from a septic system or contamination from other sources of human or animal waste
You can see that a number of the contaminants found in well water, including pesticides and herbicides, chemicals, some heavy metals, and hydrogen sulfide, can sometimes (although not always) be treated with a carbon drinking water filter system.
Other contaminants can't be removed by activated carbon, and some may foul or clog the carbon media.
🤔 Should You Pre-Treat Your Well Water Before Filtering With Activated Carbon?
We recommend pre-treating your well water prior to carbon water filtration if it contains more than trace levels of the following contaminants:
Iron
Hardness minerals (calcium and magnesium)
Sulfur (unless you're using catalytic carbon)
Manganese
Tannins
Sediment
All of these contaminants will clog or foul the carbon surface, resulting in more frequent filter changes.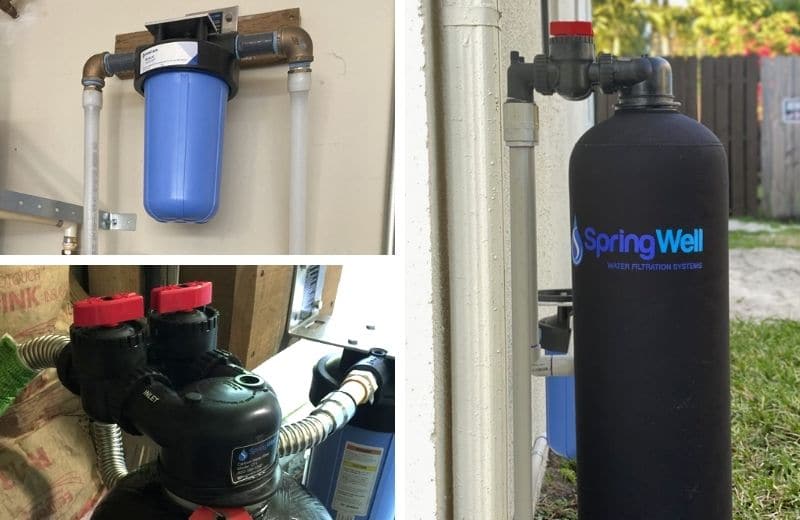 ⚖️ Pros & Cons Of Activated Carbon For Well Water
Let's look at some of the benefits and setbacks of using AC filtration for well water.
Pros
Removes poor tastes and odors – If your well water contains chemicals, pesticides, and other impurities affecting taste and odor, a carbon system should give you better-tasting and smelling water.
Affordable – Whole house systems containing carbon cartridges are significantly cheaper than other well water treatment systems. Carbon is an affordable media that's easy to source and use for filtration purposes.
Versatile – There are various types of carbon for water filtration, and you can use carbon cartridges alongside other filters in multi-stage systems, such as whole home filters and reverse osmosis systems, further reducing well water contaminants.
Cons
May reduce water pressure – As the carbon media becomes more and more clogged with contaminants, it'll slow the water flow through the media. As a result, your water pressure will drop – not ideal in whole house filters.
Media may be damaged by certain contaminants – The filter media may be fouled or clogged by iron, hardness minerals, and other well water contaminants.
Doesn't reduce all contaminants – AC filters are better for treating chlorinated drinking water, and don't address many common impurities found in a well.
🆚 Carbon vs Other Well Water Filters
GAC, catalytic carbon, and carbon block filters all have their place in the water treatment industry.
But none of these filters alone will target the most common well water contaminants.
Other, more effective filters to consider for well water treatment are:
| Filter Type | Well Water Contaminants Removed |
| --- | --- |
| Oxidation filters | iron, hydrogen sulfide, and manganese |
| Sediment filters | sand, silt, dirt, rust, and other debris |
| Water Softeners | hard water |
| UV purifiers | bacteria and viruses |
Of course, it all depends on what your water contains. That's why we recommend conducting a water test before you start shopping for filters, so you know exactly what you need to remove.

📝 What To Consider When Choosing A Carbon System For Well Water
Here are some of the things you should consider when you're choosing a carbon system for your well water.
Filter Type
Whether you choose a catalytic, granular activated, or carbon block filter depends on the contaminants your water contains and where the filter will be installed.
GAC filters are most commonly used for whole-house filtration. If you also want to reduce low levels of hydrogen sulfide, a filter made with catalytic carbon is best.
Pre-Filtration
As we've already discussed, certain well water impurities may damage the media in a carbon system.
You'll likely need to install a pre-filter system, such as a sediment filter, an iron filter, or a water softening system, that removes these contaminants upstream of the carbon water filter.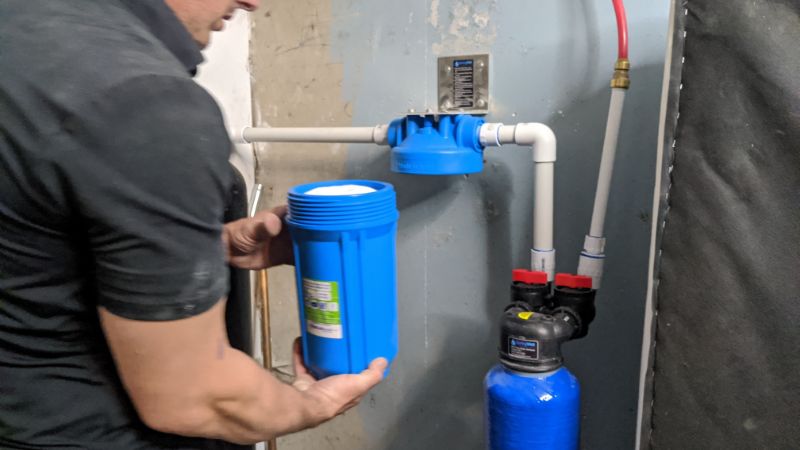 Other Filter Stages
We strongly recommend using carbon alongside additional filtration media to remove a greater range of contaminants from your well water.
There are a few cartridge-based whole house water filters that combine GAC filters or carbon block filters with sediment and KDF filters, enabling the system to also remove sediment and heavy metals (two likely well water impurities).
Carbon block or GAC alone probably won't be worth the investment for treating well water, but combining this media with other filters elevates its performance and contaminant removal abilities.
Use Point
Most well owners are looking for a whole-home water filtration system that can remove contaminants in the water that's used in their entire plumbing system.
That means you can enjoy clean, filtered water in all your fixtures and appliances, and you'll protect your plumbing from aesthetic contaminants.
But you may only want to treat your tap water, and in that case, you'll have various use points to choose from (countertop, under-sink, faucet, etc.) at a more affordable upfront cost.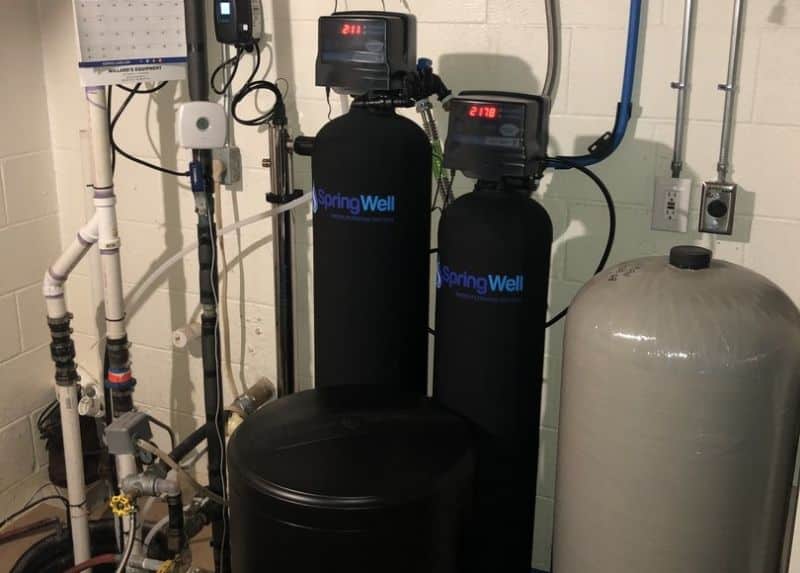 🔚 Final Word
So, should you use activated carbon filters for private well water? It depends on what your water contains.
Test your water if you haven't already.

If it contains various VOCs, chemicals, pesticides, and PFAS, you'll benefit from using a filter that uses carbon media – but you might need to use a pre-treatment filter to remove contaminants that could clog the media, or other contaminants that carbon media won't remove.
If your water doesn't contain the above contaminants but contains hardness minerals, iron, tannins, or sediment, you'll be better off with another type of whole house water filter, such as an oxidation filter system or a water softener.
Regardless of your choice, make sure to buy a filter that's intended for filtering well water. The manufacturer should clearly state "well water filter" in the product title or description. That way, you know you're getting a filter that has been intentionally designed to treat groundwater supplies.
❔ FAQs
Should you use a carbon filter on well water?
Whether or not you should use a carbon filter on well water depends on what your water contains. If your biggest problem is heavy metals, you're better off looking for an oxidation system that will remove these effectively. Or, if you have hard water, you need a water softener, not a carbon water filter. But if your water contains chemicals and pesticides, then a filter with carbon media will remove these contaminants.
How often do you change the carbon filter in well water?
You may need to change a carbon water filter more frequently if you have well water that's particularly high in TDS, which will clog the filter at a faster rate. However, we would need to know more information to be able to advise on how often to change the carbon water filter, including the size and expected lifespan of the filter, whether any pre-filtration is used, and the filter use point (point of entry vs point of use). The best method is to change the filter whenever your water flow rate becomes noticeably slower.
Does carbon filter reduce hard water?
No, a carbon filter doesn't reduce hard water. Water hardness is caused by calcium and magnesium minerals. A carbon water filter can only reduce chemicals, tastes, and odors in water. The calcium and magnesium minerals will pass through the filter pores along with the water molecules. If you want to tackle water hardness, the most effective treatment solution is a water softener.