Benzene is one of the tens of harmful volatile organic compounds that pollute our air, soils, and water supplies.
In this guide, we've shared how to remove benzene from drinking water with our top 3 recommended methods.
📌 Key Takeaways:
Benzene is a chemical that's found naturally in cigarette smoke, crude oil, and gasoline, and contaminates both city and well water supplies.
Some of the potential health effects of drinking water containing benzene include immune system depression, cancer, and anemia.
The best methods of removing benzene from water are granular activated carbon filters, reverse osmosis, and water distillation.
🤔 What Is Benzene & Where Does It Come From?
Benzene is a volatile organic compound that enters surface water and groundwater supplies as a result of industrial emissions, runoff from landfill and hazardous waste sites, and leaking underground storage tanks containing petroleum.
Many paints, glues, and detergents also contain benzene. This chemical was widely used in numerous household products, but has since been banned due to research into its carcinogenic (cancer-causing) effects.
Low levels of benzene may be detected in public drinking water supplies. More commonly, benzene is found in private well water supplies, since these aren't treated by water utilities to reduce benzene if necessary.
Benzene is thankfully easy to remove from water, and there are numerous at-home treatment methods to consider.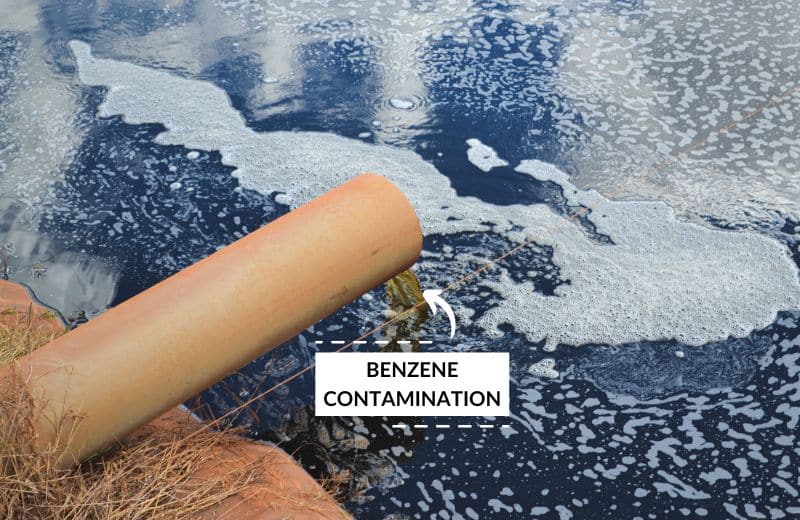 🩺 Potential Health Effects of Benzene
If you drink benzene in your water, you might experience some of the following immediate symptoms:
Nausea and vomiting
Stomach pain
Dizziness
Drowsiness
Rapid heartbeat
The CDC says that the exact health effects of benzene exposure depend on a few factors, including the amount and type of benzene in the water, the length of the exposure period, and your age and health status.
Some of the potential long-term health effects of being exposed to benzene-contaminated water are:
Immune system depression
Anemia
Cancer
Excessive bleeding
Women who are exposed to benzene in drinking water may also experience irregular menstrual periods, and animal studies have found a link between benzene exposure and decreased birth weight, delayed bone formation, and damage to bone marrow in fetuses.
🧪 How To Test For Benzene In Water
The quickest way to know whether or not your drinking water contains large amounts of benzene is to do a sight test or smell test.
If the amount of benzene in the water is 100 to 1000 times the drinking water standard, you may notice your water has a sweet, chemical-like odor.
Since benzene typically enters water as a result of petroleum contamination, you may also notice that your water has a filmy surface sheen that breaks up when the water is disrupted.
If you're concerned about benzene in your water but there are no visible signs, or you just want to learn exactly how much benzene your water contains, you can test for this chemical with a laboratory water test.

Follow these steps:
Find a certified laboratory that tests for benzene and order the test online.
Take samples of your water following the instructions on the test kit, then send your samples to the lab.
Wait for your test results to be emailed to you (usually within 1-2 weeks).
Benzene lab testing is expensive, so we only recommend testing for this chemical if you have a private well or you have a specific reason to be concerned about this contaminant in your water.
If you do get your water from a well and your area has a history of benzene pollution, see if your local authority offers free or discounted benzene water tests to well owners.
Or, if your water is delivered in a public distribution system, check your most recent Water Quality Report, which is free and available to access online year-round.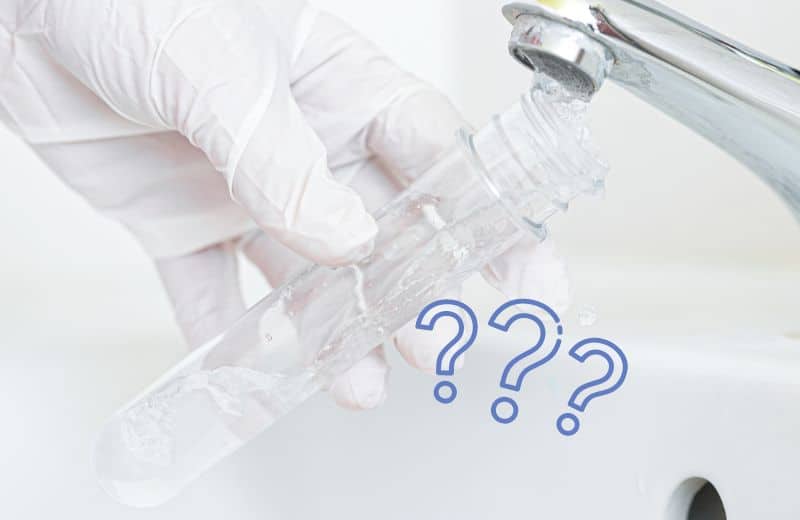 ✅ How to Remove Benzene from Drinking Water
Read on for our top 3 recommended methods of benzene removal from drinking water at home:
Granular Activated Carbon (GAC)
Benzene removal effectiveness: >99.99%
The most popular and effective of all the water treatment processes for benzene reduction is granular activated carbon filtration.
Activated carbon uses a process called adsorption to pull organic contaminants, including benzene, out of the water, retaining them in the media while water particles pass through to the other side.
The filter's adsorption capacity depends on factors including the quality of the water and the other contaminants it contains, the water pH, the filter surface area, and the contact time.
GAC filters can be found in several types of water filtration systems, including under-sink systems, water filter pitchers, and at-home water treatment systems.
If you just want to tackle benzene drinking water contamination, consider a point-of-use water treatment solution, like an under-sink water filter.
If you want to remove benzene from the water in your whole home, including your shower water and the water you wash your clothes and dishes in, install a point-of-entry system at your main water pipe.
Carbon filtration is an affordable solution with a high benzene removal efficiency. We recommend this treatment method above anything else.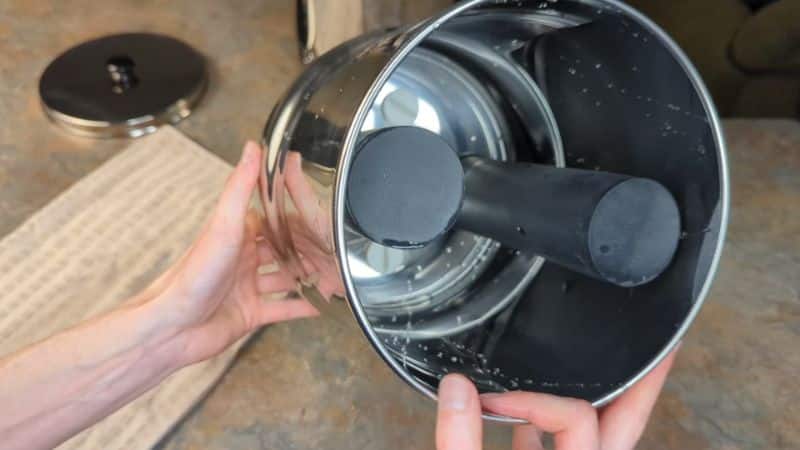 Reverse Osmosis
Benzene removal effectiveness: >99%
Reverse osmosis is another possible treatment method for drinking water containing benzene.
The RO process combines activated carbon and sediment filtration with membrane separation, which removes contaminants as small as 0.0001 microns.
Reverse osmosis isn't as effective as GAC filtration to remove organic pollutants like benzene because they're able to dissolve through the membrane. Therefore, an RO system's benzene reduction abilities is largely down to the quality and efficiency of its carbon filters.
We only recommend buying a reverse osmosis system that has third-party testing data that supports the manufacturer's claims of benzene reduction.
Under-sink and countertop RO systems are popular for drinking water benzene reduction.
Water Distillation
Benzene removal effectiveness: 80-90%
Distilled water is free from the majority of drinking water impurities, and water distillation can be an effective method of reducing benzene.
Distillation involves boiling water until it vaporizes, then condenses into a separate container.
What's important to know here is that benzene, and many other VOCs, is capable of vaporizing with water.
That means the distillation process itself won't provide guaranteed benzene reduction, and you'll need to make sure your water distiller has a carbon post-filter that's able to remove any traces of the chemical that aren't effectively removed by the distillation process.
For this reason, and because distillation takes hours, we don't typically recommend this method to reduce benzene in drinking water.
There are a few other methods used to reduce benzene in aqueous solutions, including membrane pervaporation, which is used primarily in wastewater treatment, and packed tower aeration, which is typically combined with activated carbon for large-scale treatment.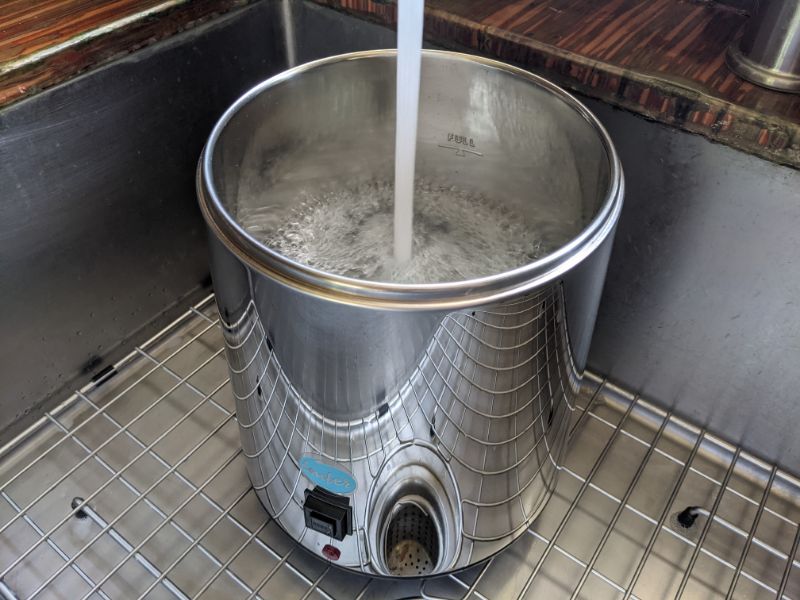 🥇 Which Water Filters Are Best For Benzene Removal?
The best water treatment method for removing or reducing benzene is granular activated carbon filtration.
We recommend this treatment before any other because it's affordable, widely available in numerous filtration systems, and easy to use and maintain. GAC filters also have the highest benzene removal efficiencies of all the treatment processes.
When you're shopping for water filters to reduce benzene, ask yourself the following questions:
What's my budget? What do I want to spend up-front and per year on a water treatment system?
What are my preferences for installation and maintenance?
Where do I want to install the filter and how do I prefer to use it? (i.e. countertop, under-sink, whole home)
Are there any other contaminants that I want to remove too?
Does my water have any quality issues that could affect a particular filter's ability to reduce benzene?
Make sure to look for a water filter that has been tested and certified to NSF Standards for the reduction of VOCs including benzene. Ask the manufacturer to see the filter's test data if it isn't available online.