Well pumps are an essential component of a modern well, providing a simple means of delivering well water to your home, ready for use.
There are tens of well pumps to choose from on today's market, and for normal homeowners, choosing the right well pump is complex. There are different types, sizes, and depths of well pumps – and not all of them are suitable for your existing well.
In this guide, we've provided a simple explanation of the choices you'll need to make when buying a well pump.
👆 Choosing the Right Type of Well Pump
When deciding on a well pump for your home, your biggest determining factor is the size of your well. You'll more than likely already have an existing well water pump in place, so look at this pump before you start looking for new pumps. You can simply replace the pump with the same type and size of pump when you need to buy a new one.
This might not be the best solution if you're experiencing problems with your current well pump that you don't want to experience with future well pumps. For instance, if you're having issues with low water pressure, you may want to install a new well water pump with a booster pump, which will boost water pressure regardless of the type of pump you choose.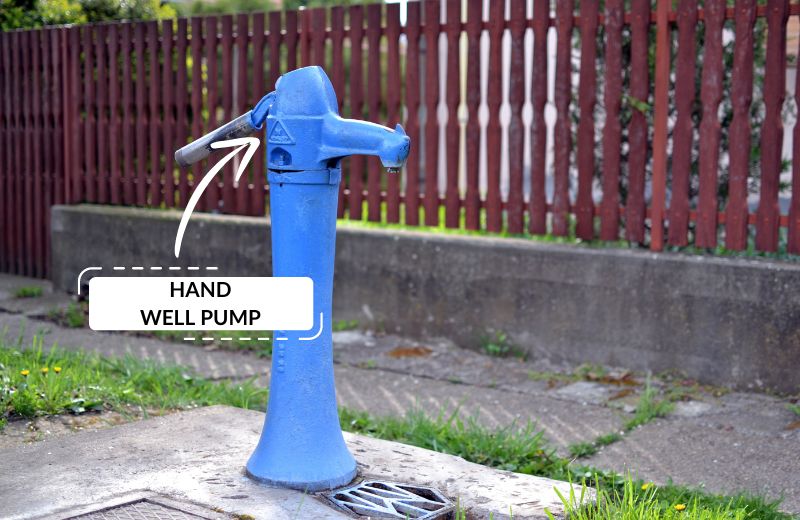 🧱 Types of Well Pumps And What They Do
There are three main types of well water pumps to choose from: shallow well pumps, deep well pumps, and convertible jet pumps.
Shallow Well Pumps
Shallow well water pumps are installed in wells that are less than 25 feet deep. These pumps are installed above-ground, in well housing just outside the well. They're not submersible, meaning that they're not designed to be fully submerged in water.
Ideally, look for a shallow well jet pump that has a booster pump to increase your water flow and pressure. You may have limited space in your well housing to install a shallow well pump. In this case, install a pump with a built-in booster to save space.
Overload protection is another important feature of shallow well jet pumps, preventing motor burnout.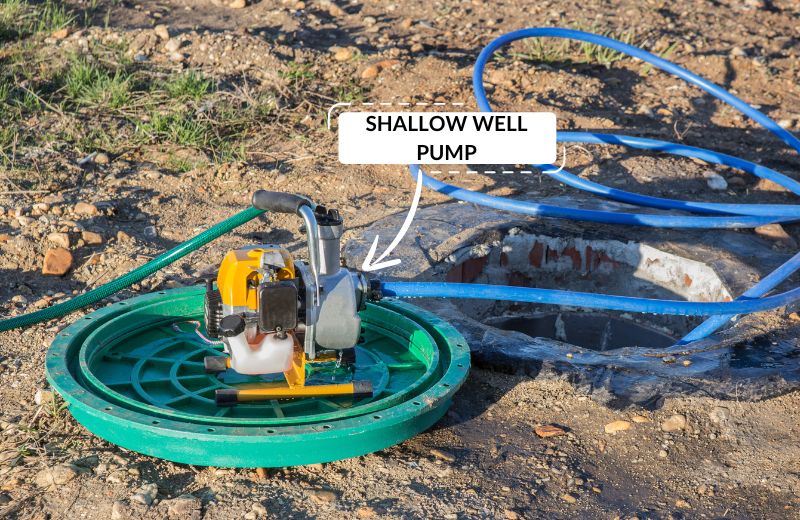 Deep Well Pumps
Deep well water pumps are installed in wells with a depth of 90 feet to 300 feet below the ground. Deep pumps are known as submersible pumps, meaning that they're submerged under water in the well. These pumps require more difficult installation, and they often need to be installed hundreds of feet beneath the ground.
There are several different types of deep well submersible pumps to choose from. Three-wire pumps demand more power to start, but they're easy to maintain because their starter controls are at ground level. Two-wire models tend to be easier to install than three-wire models, but this type of submersible well pump needs to be brought up to ground level for maintenance and repairs.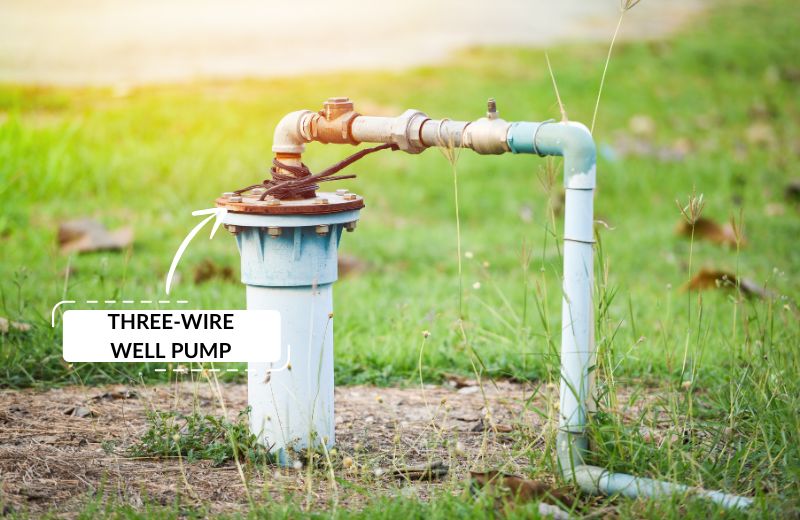 Convertible Jet Pumps
Finally, convertible jet pumps are installed in wells with a depth of between 0 and 90 feet below ground. Convertible pumps with a shallow jet well nozzle can operate in wells with a depth of 0 to 25 feet, while pumps with a deep well jet nozzle can operate in wells with a depth of 25 to 90 feet.
Convertible jet pumps don't have a submersible pump design. These pumps are installed in well housing and tend to be the best choice for wells that don't have a consistent water table.
A convertible jet pump's ejector (the jet portion of the pump) is designed to boost water pressure, creating a vacuum in the suction pipe that allows the pump to draw water from deep depths.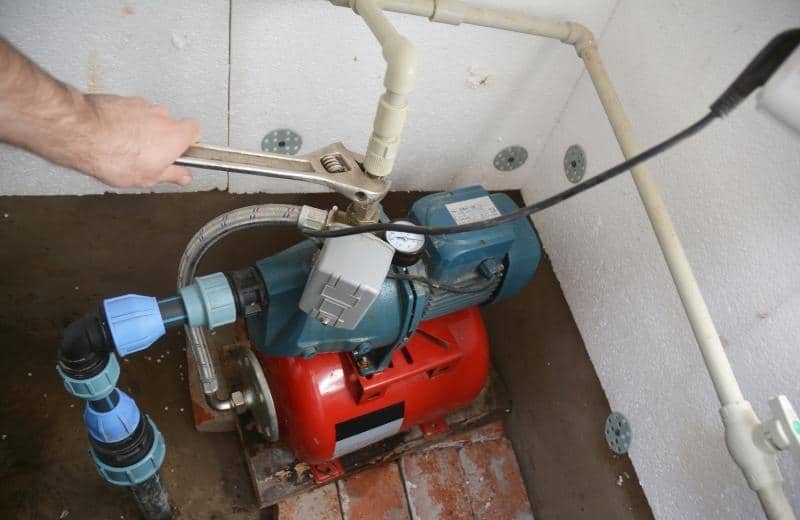 🆚 Submersible Vs Non-Submersible Well Pumps
The key difference between a submersible well pump and a non-submersible well pump is location.
Submersible well pumps are submerged under the water line inside your well, while non-submersible pumps (known as jet pumps or above-ground pumps) are installed above the well, and aren't submerged in water.
A submersible well water pump pushes water up through a pipe, while above-ground pumps pull water up through a nozzle using a vacuum. The submersible well pump model is more efficient than the above-well water pump, but, due to their design, submersible well pumps are more expensive and more complicated to maintain.
Check out the best well pumps in our review here!
📏 How to Correctly Size a Well Pump
Aside from choosing between submersible and non-submersible well pumps, another important choice is the size of the well pump you choose. A well pump's size doesn't only refer to how much space it takes up – it's also an indication of its water pressure and water pumping capacity.
When shopping for well pumps, you should notice the pump's maximum water pressure (measured in PSI) and flow rate (measured in gallons per minute GPM or gallons per hour GPH), in the product description.
You need to make sure the pump has enough power to draw water from your well's aquifer and maintain a consistent water flow and pressure around your home at peak demand.
The best way to size a well pump is by counting the number of fixtures in your home, including all the water-using appliances in your kitchen, bathroom, and outside area (including pools and hot tubs). So, for example, if you have a total of 12 fixtures or outlets, your well pump will need a minimum flow rate of 12 GPM.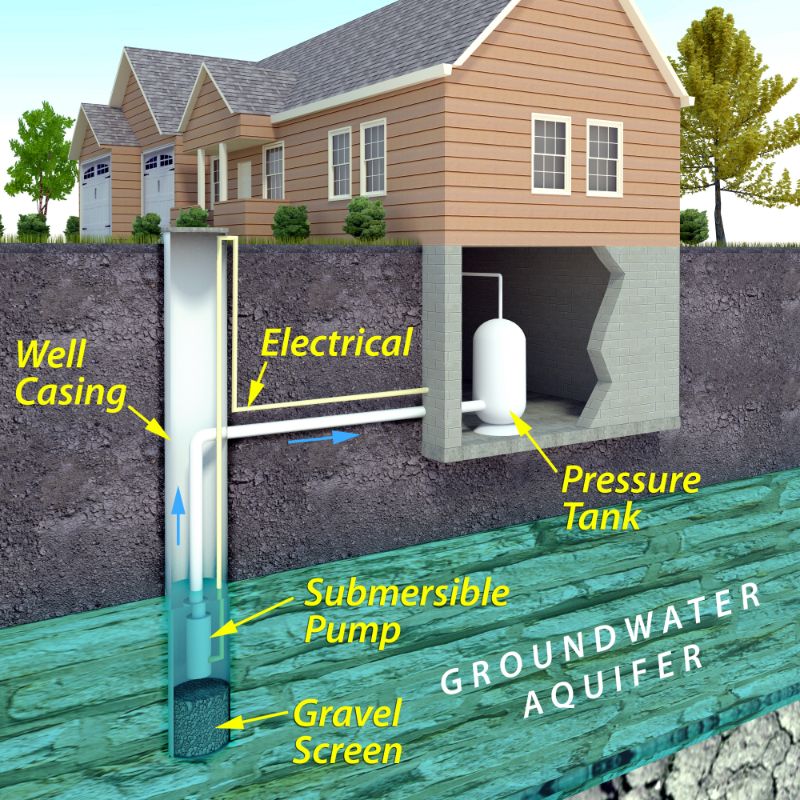 📤 How to Prime a Well Pump
All well pumps need to be primed before use to remove the air, preventing the pump from being run "dry".
A submersible water pump only needs to be primed once because it's fully submerged under water once it has been installed, while a non-submersible pump will need to be primed every time it loses prime (such as during a power outage).
To prime a pump in your well system, you'll need to switch off and unplug the pump, then remove the prime plug and fill the casing of the pump until water flows out.
Read our full well pump priming guide if you need step-by-step instructions for priming a well pump. 👈
🧠 How to Choose the Best Well Pump: FAQs
How much does a well pump cost?
The cost of a well pump ranges from $400 to $4,000. The upfront cost of the pump depends on factors including the type of pump, the well size, the materials used, and the complexity of installation. Shallow well pumps are cheaper than deep well pumps because shallow pumps are installed at ground level, not hundreds of feet below the ground.
How long does a well pump usually last?
A well pump usually has a lifespan of 8-15 years, depending on the complexity of the pump and the quality of the components used in its design. A decrease in water flow, air spitting from your faucets, a change in water quality, and loud or unusual noises are all signs that your pump is reaching the end of its lifespan.
What type of pump do you need for a well?
If your well is less than 25 feet deep, a shallow or centrifugal jet pump is a good choice. For deep wells, submersible water pumps (which push water upwards, rather than pulling water), are the best option.
How big of a well pump do I need?
The size of your well pump, measured in gallons per minute (GPM), depends on the number of appliances in your home. The average three-to-four bedroom home requires a well pump with a flow rate of 8-12 GPM. You can calculate your required flow rate by working out the number of water-using appliances and fixtures in your home. The number you end up with corresponds to the flow rate in GPM that you need.
What pump do I need for a deep well?
For a deep well of more than 90 feet below the ground, you'll need a submersible water pump. These pumps are installed inside the casing of the well system and push water up through a pipe to your home.
How deep can a well pump go?
A well pump can go as deep as 400 feet beneath the ground. Of course, a pump used for drawing water this deep beneath the ground needs to be submersible, and the pump will need to be lifted from the well casing for essential maintenance and repairs.