Clearly Filtered is a brand that's known for its pitcher filters, fridge and bottle filters, and under-counter water filters, with superior contaminant removal capabilities. Hydroviv is best known for its customized filtration solutions – you'll get your own dedicated filter made for you by the company's "Water Nerds" based on your water quality.
In this guide, we've compared Clearly Filtered Vs Hydroviv, helping you to determine which, if any, is best for your situation.
📖 TL;DR Clearly Filtered vs Hydroviv: Which is Better?
Clearly Filtered and Hydroviv both have their own unique benefits, but in our opinion, Clearly Filtered systems are a better value for money because they cover all the bases by removing as many contaminants as possible. While Hydroviv's idea of making a "custom" filter is cool, there are some flaws with the methods used to determine your water quality, which may lead to inaccurate assumptions – resulting in the production of a filter that may not thoroughly address your water quality concerns.
If you want to know what you'll get upfront and you have the budget for some of the best filters available, go with Clearly Filtered. If you prefer the novelty of custom filtration and you're accepting of the fact that some of your water's contaminants might not be addressed, choose Hydroviv.
⚖️ Comparison Chart
| System | Clearly Filtered Under Sink Filtration System | Hydroviv Under Sink Water Filter | Clearly Filtered Universal Inline Fridge Filter | Hydroviv Refrigerator Water Filter |
| --- | --- | --- | --- | --- |
| Contaminants Reduced | 232+ | 20+ | 232+ | 20+ |
| Price | $550 | $419.99 | $165 | $399.99 |
| Certifications or Testing | NSF 42, 53 & 401 | NSF 42, 53 | NSF 42, 53, 401 | NSF 42, 53 |
| Filter Capacity | 2,000 gallons/ 1 yr | 720 gallons/ 6 mos | 365 gallons | 720 gallons/ 9 mos |
| Annual Cost | $396-$440/ 1 yr | $115-$230 | $150 | $115-$230 |
| Warranty | Lifetime | 1 year, limited | Lifetime | 1 year, limited |
💡 Filter Comparison
Clearly Filtered Filters
Clearly Filtered manufactures several different types of point-of-use water filters:
A 3-Stage Under the Sink Water Filter System
A Filtered Water Pitcher
Several Filtered Water Bottles
A Universal Inline Fridge Filter
For the sake of this comparison, we'll be reviewing the 3-Stage Under the Sink Water Filter System and Universal Inline Fridge Filter, because Hydroiviv doesn't currently offer pitcher filters or bottle filters.
Starting with the 3-Stage Under the Sink Water Filter System, this filter unit combines an advanced priming filter with a heavy metals and VOCs filter, and a fluoride filter, to reduce more than 232 common tap water contaminants.
Some of the contaminants removed by this under-sink system include fluoride, vinyl chloride, lead, arsenic, glyphosate and other pesticides, chromium-6, PFAS, chlorine and chloramine, heavy metals, pharmaceutical drugs, and more. View the contaminant removal datasheet here.
The Universal Inline Fridge Filter has been tested to remove the exact same number of contaminants (232+) and uses three stages of filtration within one cartridge: a specialized activated carbon media, a specialized heavy metals media, and a specialized fluoride/arsenic media.
As an inline filter, this filter can be used with any fridge because it's installed at the water line behind the fridge, rather than inside the fridge itself.
The CF under sink system is WQA certified to NSF/ANSI 42 and 372.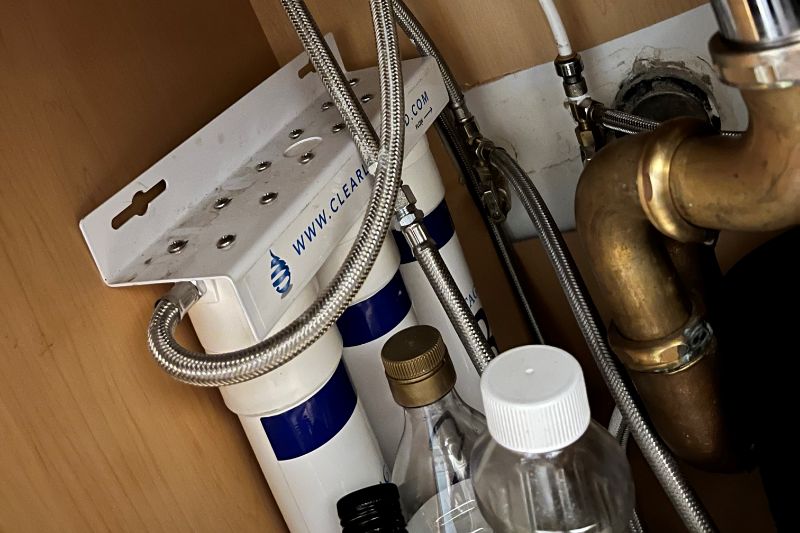 Hydroviv Filters
Hydroviv's main filter offerings are:
An Under Sink Water Filter
A Shower Filter
A Refrigerator/Ice Maker Water Filter
We'll be excluding the shower filter from this comparison review because this filter type isn't currently offered by Clearly Filtered.
The Hydroviv Under-Sink Water Filter is a single-stage filtration system that contains a unique blend of filter materials that's tailored to your local city water quality. The Refrigerator/Ice Maker Water Filter is virtually identical in appearance and follows the same concept (unique filter blends picked by Hydroviv's Water Nerds after analyzing your local Water Quality Report).
We've searched Hydroviv's website, but we can't find any information on exactly what types of filter media might be used in Hydroviv's filters. Because these filters can remove the likes of chlorine, lead, chromium-6, and PFAS, we'd imagine that they're a blend of advanced carbon filter media (such as granular activated carbon) with possibly KDF media or ion exchange resin.
How unique is your filter blend compared to other people's? This is difficult to answer. What we do know is that all of Hydroviv's filters are certified to NSF Standards 42 (for chlorine removal) and 53 (for removing contaminants with health effects, like lead, VOCs, and PFOA/PFOS), which suggests that there's a key filter media used across all filters, with possibly some additional filtration materials used for targeting other contaminants when necessary.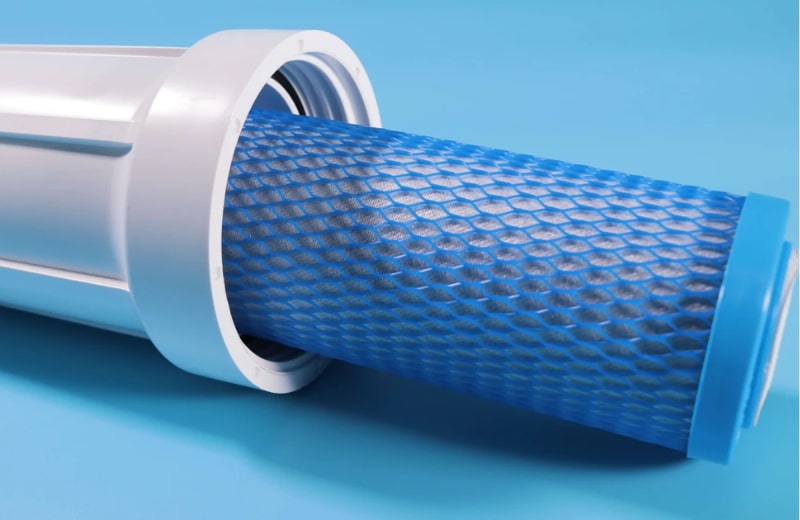 🧫 What Contaminants Do They Remove?
The Clearly Filtered refrigerator and under-sink water filter systems can both remove 232+ contaminants, offering a performance to rival reverse osmosis filters, but without the water waste. Hydroviv filters don't have an official number of contaminants that they can remove – this depends on the types of filter materials that are used in your custom filter based on your water quality.
The fact that Hydroviv filters don't all remove the same number of contaminants makes it difficult for us to compare them to Clearly Filtered's offerings. According to Hydroviv, the reason why they don't offer blanket lists of contaminants their filters can remove is that they don't want to "mislead customers" by saying that their filters can all reduce certain contaminants, which may not be true based on your initial water quality. With that said, we'd still find it helpful to see a list of contaminants that should generally be targeted by the filters.
🚦 Performance Comparison
Clearly Filtered Filters
Clearly Filtered is renowned for its highly capable contaminant removal abilities. There's no arguing with the data – Clearly Filtered's offerings, including its under-sink water filters and refrigerator filters, remove more contaminants than most other brands, and this is primarily down to the quality of the filtration media. Contaminant removal is obviously an important performance element for most people.
But what about other performance aspects, like the speed of the filtration process and the longevity of filtration (i.e. the filter lifespan)?
Again, Clearly Filtered excels in these departments. We found that the Under-Sink Water Filter System reduced our water flow rate by around 20-25%, which is pretty good given the complexity of the filtration media that water encounters. The Universal Inline Fridge Filter didn't appear to interrupt the flow of water to our fridge water dispenser at all.
Clearly Filtered filters also have a good capacity – the Under-Sink Filter System should continue to offer reliable contaminant removal for 2,000 gallons of water, or around 1 year (similar systems only have a 6 month lifespan), and the Fridge Filter has an average 365 gallon, or 12-month, lifespan (again, most inline fridge filters only last 6 months).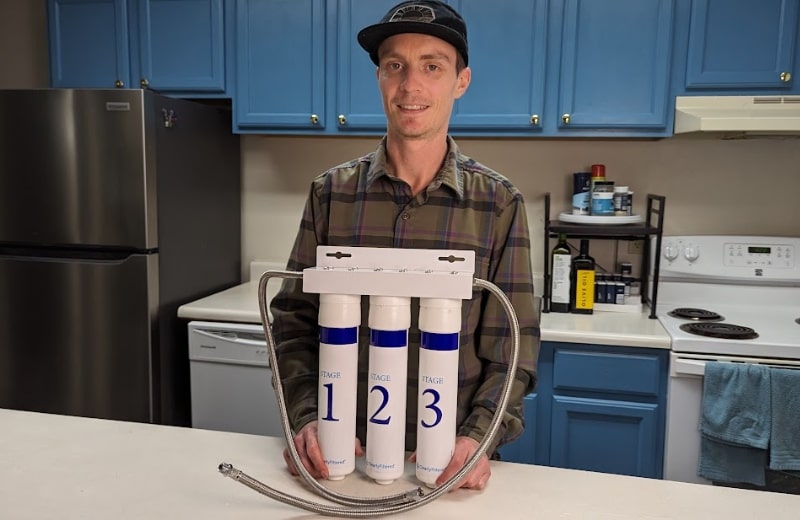 Our readers get 10% off at clearlyfiltered.com 👉 Click here to get your coupon.
Hydroviv Filters
As for Hydroviv, the Under-Sink Filter offering has a respectable 2 GPM flow rate (most kitchen sink faucets have a maximum flow of 2.2 gallons anyway). The Refrigerator Water Filter doesn't have a listed flow rate that we could find.
Hydroviv's Under-Sink Water Filters last 6 months on average, while the Fridge Filters last around 9 months – so not quite as impressive as Clearly Filtered's, but still a good performance capacity nonetheless.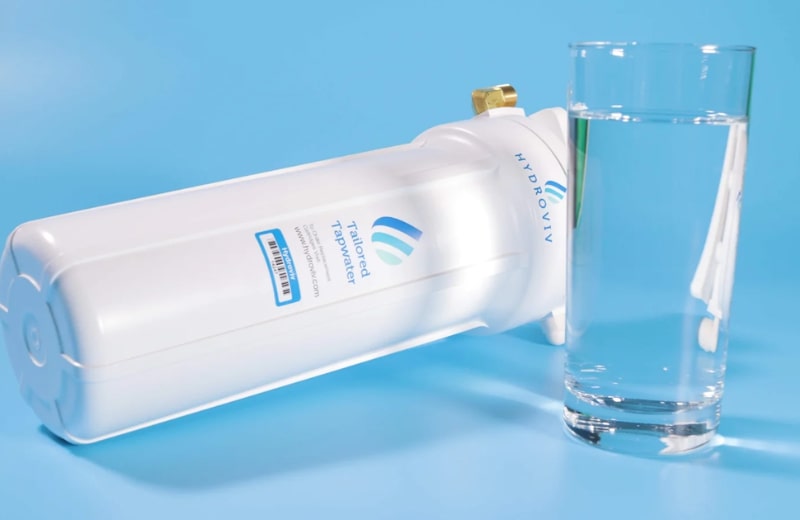 💲 Models & Upfront Cost
Clearly Filtered Models
Clearly Filtered offers a range of point of use water filters, including:
A BPA-free gravity-fed water pitcher filter, costing around $80 (at the time of this review)
A 3-stage filter for under-sink water treatment (reviewed in this guide), costing around $500
An inline filter for fridges (reviewed in this guide) costing around $165
A range of water bottles with different designs, sizes, and materials, costing between $40 and $70
Clearly Filtered's products are comparably more expensive than similar products sold by competitors. The brand targets customers who are willing to invest more money in a water filtration solution that can remove more contaminants and often has a longer lifespan than other systems.
Hydroviv Models
Hydroviv currently has a smaller offering of three different filter types:
An under-sink water filter (reviewed in this guide), costing around $250
A refrigerator filter (reviewed in this guide), costing around $235
A shower filter, costing around £85
From what we can tell, you pay this predetermined amount for whichever filter you buy regardless of which filter materials Hydroviv's team decides to include in your filter. That could mean that in some cases, if you're given a filter with a more basic design, you're paying a bit more than necessary. While Hydroviv's under-sink system is currently around half the price of Clearly Filtered's offering, its refrigerator filter is around $70 more expensive.
Hydroviv also sells filter bundles at a discounted cost, including bundles for both faucet and fridge filtration, and bundles for a faucet and two showers.
📆 Filter Lifespan & Replacement Costs
Clearly Filtered
Clearly Filtered exceeds expectations with an average filter lifespan that's around double the lifespan of similar filters offered by its competitors. That means that, while you have to pay more upfront for Clearly Filtered's products, at least they last longer.
Here are the average filter lifespans for the two Clearly Filtered filters we're reviewing in this guide:
Under-Sink Filter System: 2,000 gallons/1 year
Refrigerator Filter: 365 gallons/12 months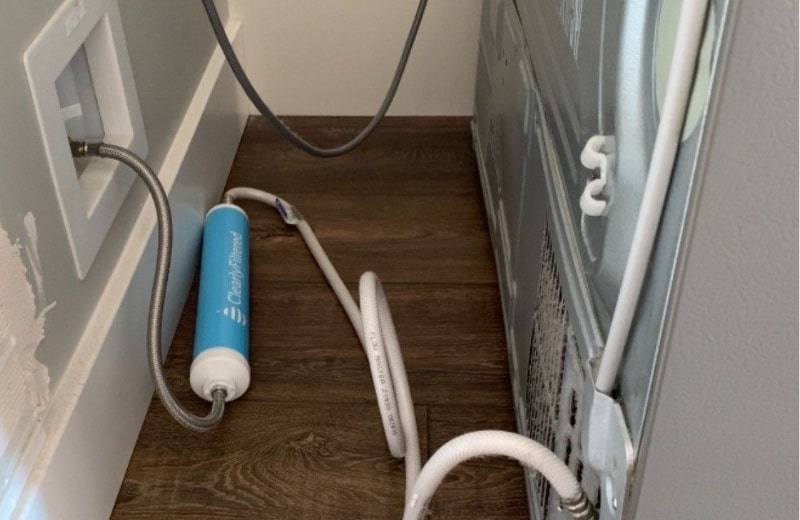 My readers get 15% off at clearlyfiltered.com 👉 Click here to get your coupon.
Hydroviv
Hydroviv filters don't last quite as long as Clearly Filtered water filters, but they're still average or slightly better than average.
Here are the predicted filter lifespans for Hydroviv's two filters discussed in this review:
Under-Sink Water Filter: 720 gallons/ 6 months
Fridge Filter: 720 gallons/ 9 months
You can see from this comparison that, if we used Clearly Filtered's gallon-to-month conversion for the Hydroviv Fridge Filter, it might actually last longer than the Clearly Filterd's. However, different manufacturers have different methods of estimating filter lifespan in months based on the filter's maximum capacity, so we can only go with what the manufacturer recommends.
💬 Customer Reviews & Complaints
Clearly Filtered
Clearly Filtered's under-sink water filters and fridge filters are both positively reviewed by customers on the whole. We looked at reviews on marketplaces like Amazon, as well as Clearly Filtered's website, to get an idea of the overall customer response to these products.
Customers said that the Clearly Filtered Triple Stage Kitchen Faucet Filtration System is easy to install and produces great quality water with no leaks, but a few customers mentioned that it significantly reduced their tap water flow.
Reviewers agreed that the Clearly Filtered Inline Fridge Filter improved the taste of their water and is far superior to standard inbuilt fridge filters. Some reviewers also mentioned that this Clearly Filtered model slowed their water pressure right down.
Hydroviv
Hydroviv doesn't appear to sell its products on marketplaces (possibly due to the complexity of the brand offering custom-built filters), so we read the customer feedback available on the manufacturer's website.
Customers said that the Hydroviv Under Sink Water Filter produces better-tasting water and is easy to install. As with the Clearly Filtered Under Sink System, some customers experienced issues with low water pressure after installing the unit.
As for the Hydroviv Refrigerator/Ice Maker Water Filter, customers called it a "must product" and said it cleaned up their water. Customers also commented that the installation process was easy, but some complained about the price of the system.
We wish there were customer reviews for us to read beyond the Hydroviv website – manufacturers have more control over the reviews that they choose to share on their own sites, after all.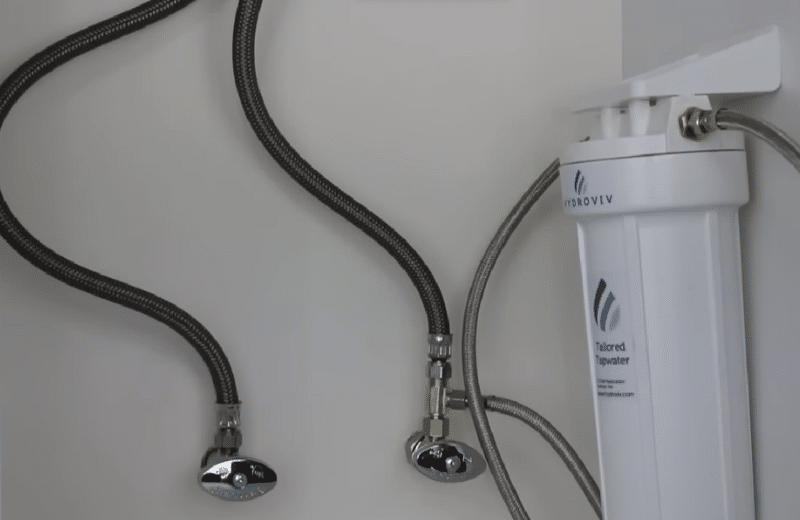 ☑️ Pros and Cons of Clearly Filtered vs Hydroviv
👍 Clearly Filtered – Pros
Removes hundreds of drinking water contaminants – The biggest benefit of Clearly Filtered water filters is that they can remove hundreds of contaminants from your water supply. You don't need to tailor a Clearly Filtered filter to remove select contaminants because its thorough filtration process removes the majority of impurities, regardless of your water quality.
You know what you're buying upfront – With Clearly Filtered, there are no surprises as to what you're buying upfront. Clearly Filtered describes its products in detail, with reports from third-party testing to support its contaminant removal claims. You don't get the secrecy and uncertainty of a custom-made product as you do with Hydroviv.
👎 Clearly Filtered – Cons
Expensive – Although Clearly Filtered's prices are similar to Hydroviv's, they're still more expensive than the average water filter brand. The reason is obvious (superior performance), but you might still be unable to afford – or justify – a Clearly Filtered system for yourself.
Less personalized experience – If you actually prefer the personalized experience of receiving a filter that's tailored to your water quality, as Hydroviv offers, you might think it's a disadvantage that Clearly Filtered offers a more generic range of filters that can't be customized to your needs.
👍 Hydroviv – Pros
Tailored to your needs – The novelty of tailoring certain water filters to your situation is fun, and Hydroviv should be able to supply the right filter types with some accuracy due to reviewing your local Consumer Confidence Report when customizing a filter for you.
Potential to remove numerous harmful contaminants – Depending on the type of filtration system you receive, Hydroviv's water filters have the potential to remove a range of contaminants, including volatile organic compounds, lead, arsenic, chromium-6, PFAS, mercury, cysts, chlorine, chloramine, pharmaceuticals, and pesticides.
👍 Hydroviv – Cons
Lack of clarity around filter materials and contaminants removed – Hydroviv filters don't all contain the same materials or remove the same contaminants, which means when you initially click "buy" on a certain filter type, you're in the dark about what you can expect from your filter's performance and contaminant removal. You have to put your trust in Hydroviv's Water Nerds to make the right selection for you. It also doesn't look like Hydroviv's water filters can remove hundreds of contaminants like the Clearly Filtered water filter systems can.
Customized filter selection is based on a flawed system – And speaking of customizing your filters, the method of doing so has its flaws. Rather than testing a sample of your water at the tap (which would inevitably cost more money), the Hydroviv team simply refers to your local Water Quality Report (or Consumer Confidence Report/CCR) when selecting the right filter for you. The CCR does not provide the full picture of your water situation at home because testing for the Report is done at the treatment plant before the water enters the distribution system and homes – where it can become recontaminated.
❔ Should I buy Hydroviv or Clearly Filtered?
So, should you buy a water filtration system from Hydroviv or Clearly Filtered?
In our opinion, Clearly Filtered is the better option because it has the capability to remove multitudes of contaminants from your water supply, and you know exactly what you're getting upfront, whereas Hydroviv water filters have a more secretive performance and you don't know what materials your filter will contain, or what it will remove, until you've actually bought it. Plus, Hydroviv's approach to customizing filters has some flaws and may mean that the filter isn't designed to remove everything that your water supply contains at the faucet. And Clearly Filtered's water filters have a longer filter life than Hydroviv's, so you'll need replacement filters less frequently.
However, both brands are similar in price (some Clearly Filtered water filters are more expensive than Hydroviv's, and vice versa), and if you actually prefer the novelty of getting your own tailored water filtration system, then definitely consider Hydroviv. We still think Hydroiviv water filters are great quality and have decent lifespans. Just be aware that they might not be designed to remove contaminants that enter your drinking water beyond the treatment plant.