Clearly Filtered is a relatively new company based in Rancho Santa Margarita, CA. Incorporated in 2011, Clearly Filtered offers a range of water treatment solutions, including filtered water bottles, water filter pitchers, fridge filters, and under-sink filtration systems.
Despite being pretty new to the market, Clearly Filtered has already made a big impact, offering filters that reduce tens – even hundreds – more contaminants than the majority of their competitors.
On the brand's About page, a quote from a company representative explains that they tried all the available filters, and they "all fell short". So, seeing a gap in the market, Clearly Filtered made its own, superior filters.
In this Clearly Filtered Review, we've shared reviews of all the Clearly Filtered water filters available today.
📊 Clearly Filtered Water Filters Comparison Chart
| Product | | | | | | |
| --- | --- | --- | --- | --- | --- | --- |
| Type | Pitcher | Under Sink | Fridge Filter | Insulated Bottle | Tritan Bottle | Glass Bottle |
| Ratings | 5/5 | 5/5 | 4.5/5 | 5/5 | 4.5/5 | 4/5 |
| Contaminants Reduced | 365+ | 232+ | 232+ | 220+ | 220+ | 220+ |
| Certifications or Testing | NSF 42, 53, 401 & 473 | NSF 42, 53, 401 | NSF 42, 53, 401 | NSF 42, 53, 401 | NSF 42, 53, 401 | NSF 42, 53, 401 |
| Filter Life | 100 gallons | 2,000 gallons | 365 gallons | 25 gallons | 25 gallons | 25 gallons |
| Annual Cost | ~$150 | ~$400 | – | 20 or 30 oz | 24 oz | 20 or 30 oz |
| Warranty | Lifetime | Lifetime | Lifetime | Lifetime | Lifetime | Lifetime |
⭐ Reviews of Clearly Filtered Water Filters
Clearly Filtered Water Pitcher
The Clearly Filtered water filter pitcher has secured the number one spot in our Best Water Filter Pitchers guide for almost two years, for one simple reason: it reduces more contaminants than any other water filter pitcher on the market today.
How many contaminants is that? More than 365, according to performance testing data shared online. Some of the contaminants targeted by the Clearly Filtered Water Pitcher are chlorine (99.5%), chloramine (99.7%), lead (99.3%), fluoride (99.5%), and pharmaceuticals (up to 99.9%), as well as VOCs, PFOA, and pesticides and herbicides.
This capable filtered pitcher retains healthy minerals, despite its impressive contaminant reduction. It's easy to set up and use, and the 30-day satisfaction guarantee means you can return the filter for a full refund you're unhappy for any reason.
What else should you know? The pitcher has a 10-cup capacity (enough for a family of three or four), and the filter cartridges last about 4 months, or 100 gallons.
👍 What We Like
No other water filter pitcher reduces as many contaminants as the Clearly Filtered Water Pitcher.
The 4-month lifespan is about 1 month longer than most other filtered pitcher systems available today.
While the Clearly Filtered pitcher isn't officially NSF certified, it meets a whole host of NSF Standards (42, 53, 401, and 473) according to third-party testing.
Assembly, use, and filter changes are easy-peasy.
We think the 30-day guarantee is reassuring, and Clearly Filtered will happily replace defective filters, no questions asked.
👎 What We Don't Like
We'd prefer an actual NSF certification.
The replacement filters are a bit more expensive than you'll find in other filtered pitcher models.
Our verdict: The Clearly Filtered Water Filter Pitcher is our favorite product offered by the brand. It's head and shoulders above all other filtered pitcher models in terms of contaminant reduction, so it's ideal for people looking for the most capable water filter pitcher available today.
---
Clearly Filtered 3-Stage Under Sink Filtration System
The Clearly Filtered 3-Stage Under Sink Filtration System is another top-performing filter offered by Clearly Filtered, this time for under-sink use.
This filtration system reduces more than 230 drinking water contaminants (here's the performance data if you fancy a long read), including chlorine (up to 98.6%) and chloramines (95.3%), fluoride (90.7%), lead (98.9%), PFOA (99.6%), TTHMs (99.6%), and more.
The big difference between the Clearly Filtered under-sink system and the Clearly Filtered water pitcher, aside from the under-sink system's slightly reduced contaminant reduction ability, is that the CF under-sink system delivers water on-demand. No waiting for gravity filtration – simply turn on your faucet for instant access to clean water.
Again, Clearly Filtered has enlisted an accredited third-party laboratory to provide testing for this system, to NSF Standards 42, 53, and 401. We also love that the system is USA-built, easy to install and maintain, and backed by a great warranty and guarantee.
👍 What We Like
The lifetime warranty is unbeatable, and the 30-day satisfaction guarantee offers that extra peace of mind.
The laboratory test results are some of the best we've seen for an under-sink filter.
It's easy to see that this system is built to last – the filters have long lifespans and the hoses are made from durable stainless steel.
Setting up the filter is quick and easy, and it's non-permanent, too, so suitable for renters.
We appreciate the testing to NSF Standards.
👎 What We Don't Like
Again, official NSF certifications are preferred.
You pay for what you get. The initial system cost and the cost of replacement filters are higher than average for an under-sink filter.
Expect your water pressure to drop by up to 25% after installing this unit.
Our verdict: The Clearly Filtered 3-Stage Under Sink Filtration System is consistently within our top three recommendations for under-sink filters. It has long-lasting filters and reduces more contaminants than most other under-sink offerings, making it the best-value option available today.
---
Clearly Filtered Universal Fridge Filter
Clearly Filtered's top product for fridge or inline filtration is the Universal Fridge Filter. Most refrigerator filters can only reduce a handful of contaminants, but the Universal Fridge Filter does so much more, reducing 230+ contaminants from cool fridge water and ice.
This small-but-mighty filter uses Affinity Filtration, a filtration process that's patented by Clearly Filtered and meets NSF Standards 42, 53 & 401 for contaminant reduction and water quality (see test results here).
Some of the contaminants reduced include chlorine (98.6%), chloramines (95.3%), fluoride (90.7%), and lead (98.9%), plus arsenic, pesticides, VOCs, and other chemicals and heavy metals.
The filter is quick to install (it took us less than 5 minutes) and has a slim, discreet design that easily blends in with your kitchen or hides behind your fridge. Plus, the filter's universal fit means you should be able to install it in your fridge regardless of the brand you have.
👍 What We Like
You won't find any other inline friend filter that can reduce as many tap water contaminants as this Clearly Filter model.
The filter's slim, discreet design makes it easy to install out of sight – and it's universal, too, so it fits in all fridges.
It's good to see testing to NSF Standards.
The lifetime warranty and 30-day money-back guarantee fill us with confidence to buy the filter risk-free.
👎 What We Don't Like
It's pricier than other similar inline fridge filters. While the price is justified, it may be out of some peoples' budgets.
Our verdict: The Clearly Filtered Universal Fridge Filter is ideal for anyone looking to upgrade from the water filter that came included with their fridge, or people who want to start filtering their fridge water and ice with the very best inline filter that money can buy.
---
Clearly Filtered Water Bottle Filters
Tritan Plastic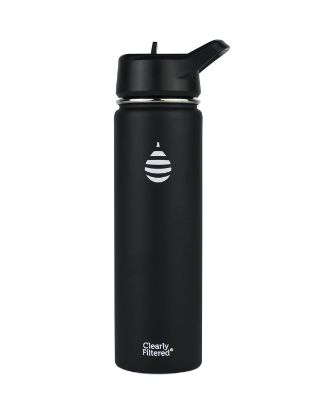 Stainless Steel
Glass
There are currently three types of filtered water bottles offered by Clearly Filtered:
Stainless steel insulating filtered bottles (20-ounce or 32-ounce capacity)
Tritan plastic filtered bottles (24-ounce capacity)
Glass filtered bottles (20-ounce or 32-ounce capacity)
The three bottles are made from different materials but all use the same filter, which (according to third-party testing) meets NSF Standards 42, 53 & 401 for the reduction of lead, fluoride, TTHMs, chlorine, mercury, tens of pharmaceuticals, herbicides and pesticides, VOCs, and more. That's more than 220 contaminnts in total – pretty rare for a filtered water bottle.
What can you expect from a Clearly Filtered water bottle? A decent holding capacity (20-24 ounces, depending on the type of bottle you choose), a filter life of 6 months or 25 gallons of use (or up to 100 gallons, depending on your water quality), and a super easy-use straw filter – just fill the bottle with normal tap water and suck through the straw to activate the filter.
Durability is dependent on your bottle preferences. If you want the longest-lasting option that's the least likely to crack or wear out, go for the stainless steel bottle.
👍 What We Like
In our opinion, the best thing about the Clearly Filtered water bottles is their contaminant reduction abilities. You'd be hard pressed to find any other filtered water bottle that can reduce even 100 contaminants, let alone 220.
Replacement filters are few and far between thanks to their 6-month lifespan.
We love to see testing to NSF Standards again, even if we wish Clearly Filtered would just bite the bullet and pay for an official certification.
You get a lifetime warranty and a 30-day money-back guarantee. For a water bottle filter, that's unheard of.
Regardless of the bottle type you go for, it's good to know that it's built in the USA from BPA- and BPS-free materials.
👎 What We Don't Like
To get the water through the filter, you'll need a lot of suction force on the straw. That gets pretty tiring if you want a big drink.
A few customers reported issues with leaks (Clearly Filtered says this is due to incorrect placement of the silicone ring in the lid).
Our verdict: Clearly Filtered gives you a good selection of filtered water bottles to choose from. Simply pick based on what you like the best or what's most practical for you. We wouldn't recommend the glass bottle for kids – go for the 12-ounce junior stainless steel bottle instead.
---
✅ What We Like About Clearly Filtered Water Filters
Superior Contaminant Reduction
What's our favorite feature of any Clearly Filtered filter? It has to be the impressive contaminant reduction. In every category, Clearly Filtered outcompetes its competitors with some of the most impressive contaminant reduction stats we've ever seen. If you want to protect your family from all the possible contaminants in your tap water, the Clearly Filtered products are an obvious solution.
Retains Healthy Minerals
Whether you choose the Clearly Filtered Pitcher, the Under-Sink system, or any other Clearly Filtered products, you'll enjoy filtered water with the same quantity of healthy minerals. In our opinion, that gives Clearly Filtered an extra few brownie points, because it means you get clean water with the same great mineral taste and health benefits. You're more likely to stay hydrated if your water tastes good.
Great Warranty and Guarantee
The folks at Clearly Filtered know how important it is to offer a good warranty. We're completely reassured by the brand's lifetime warranty, which covers manufacturer's defects throughout the entire lifespan of its products. Plus, there's a 30-day money-back guarantee that lets you try your preferred filter and return it for a full refund if you're not impressed within the trial period. That's a 100% risk-free trial run of any Clearly Filtered product you like the look of.
Easy DIY Setup and Maintenance
Regardless of the Clearly Filtered product you opt for, setup is easy, non-permanent, and suitable for a person with little-to-no handy skills. Even the under-sink filtration system is quick and painless to install. Maintenance is minimal – just swap the old filter for a replacement filter when needed. The filter life in Clearly Filtered systems is long, so filter changes aren't a frequent thing.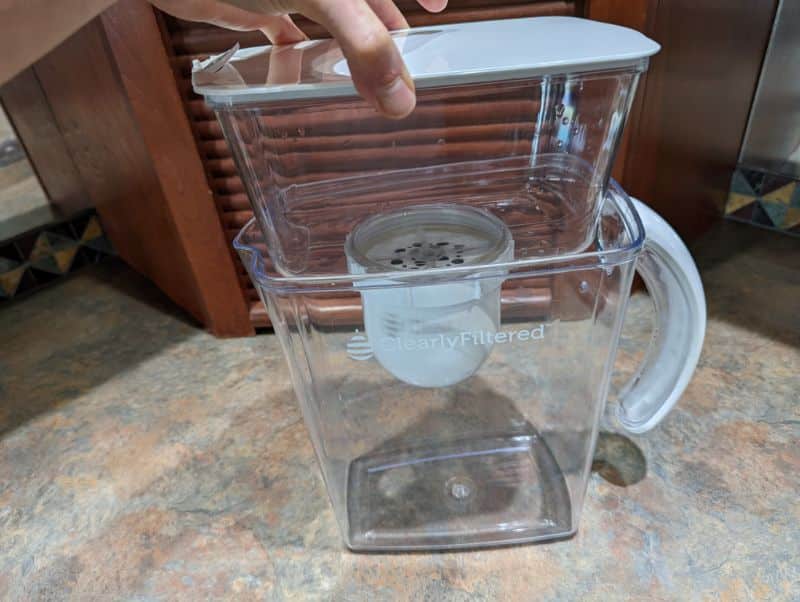 Good Customer Support
Our experience with the Clearly Filtered support team has always been top-notch, and customers generally agree. There isn't much negative feedback on Clearly Filtered's website, but we've noticed that the brand is always quick to respond to somebody who has an issue. It's good to know that the company cares about its customers.
❌ Potential Setbacks of Clearly Filtered Water Filter Systems
Expensive
Unsurprisingly, given that they offer so much more than their competitors, the Clearly Filtered filters are priced up to one-third higher than similar products on the market. The same goes for the Clearly Filtered replacement filters. Maintenance is more money than you'd spend for another filter. The good news is that the filters generally last longer than their competitors thanks to Clearly Filtered's advanced filtration technology, so you'll only need a replacement filter once or twice a year on average.
No Official NSF Certification
Onto perhaps our biggest gripe with Clearly Filtered of all: the lack of official NSF certifications. We love that Clearly Filtered shares all its test results online, but we think customers would be even more reassured if CF products were all given the stamp of approval by the NSF. We have to question why Clearly Filtered has decided to avoid official NSF testing.
A Few Quality Issues
We didn't personally experience any quality issues with Clearly Filtered, but a few customers mentioned issues with the lid popping off the Clearly Filtered Pitcher, slow flow in the pitcher filter and under-sink system, and some issues with leaks in the bottle filters. Thankfully, Clearly Filtered seems happy to help in the case of an unimpressed customer.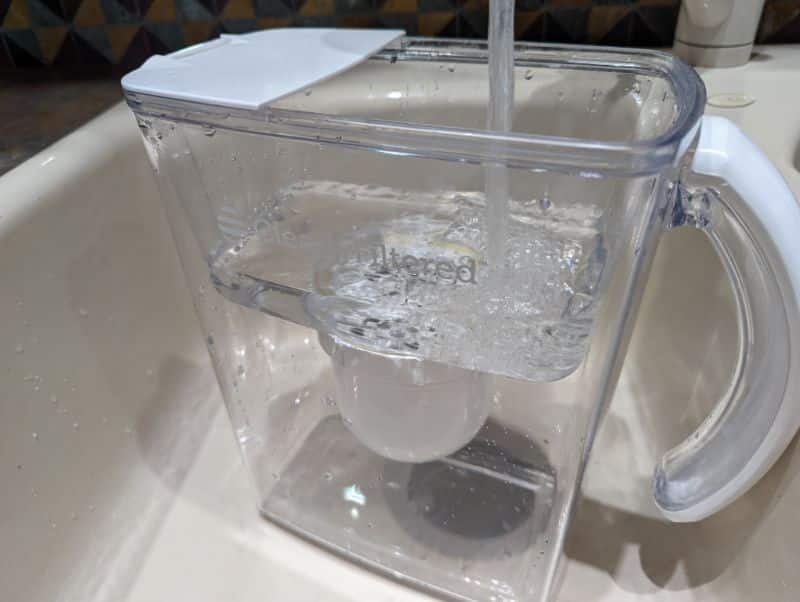 📝 Clearly Filtered Water Filters Review: Our Verdict & The Best Water Filter Alternatives
📌 Clearly Filtered remains one of our favorite water filter brands. Despite being relatively new to the market, the Clearly Filtered Pitcher, the Under-Sink Drinking Water System, and other Clearly Filtered products have already built a solid fanbase – and that's because of their impressive contaminant reduction.
Let's be honest: filtration technology is one of the most important features of any tap water filter. You want to know that your water is being treated as thoroughly as possible, and that's exactly what Clearly Filtered offers.
You do need to pay more money for one of Clearly Filtered's products, and the lack of NSF certifications is a shame. We've compared them with a few more affordable, NSF-certified alternatives:
Additionally, check out our reviews of the overall best water filters in 2023 to compare with other top systems.
🧠 Clearly Filtered Water Filters FAQ
Is Clearly Filtered legit?
Yes, Clearly Filtered is legit. The brand's lab results are obtained from Envirotek Laboratories, a legitimate EPA-certified laboratory based in Wilmington, DE. All Clearly Filtered products are manufactured in the US.
Is Clearly Filtered worth it?
Clearly Filtered's products are generally more expensive than their competitors, but we still think they're worth it. What are you paying more for? A longer filter life, hundreds more contaminants reduced, and a more durable build. If you'd prefer to spend more money on a higher-quality product that lasts longer, go for a Clearly Filtered filter.
Is Clearly Filtered water safe?
Yes, water from a Clearly Filtered Pitcher or any other CF filter is safe. In fact, it's safer than unfiltered water because it's free from chlorine, lead, VOCs, pharmaceuticals, and other trace contaminants, while retaining beneficial minerals like calcium and magnesium.
Does Clearly Filtered reduce bacteria?
Yes. The Clearly Filtered pitcher reduces E. Coli, a type of bacteria, as well as several cysts and other microorganisms. Not all Clearly Filtered products reduce bacteria, though, so check the test results of the filter you're interested in before you add it to your cart.
Does Clearly Filtered reduce fluoride?
Yes, all Clearly Filtered's products reduce at least 90% of fluoride in water. The best CF product for fluoride reduction is the pitcher filter, which reduces up to 99.5% fluoride in unfiltered water.
Does Clearly Filtered reduce viruses?
Yes. Clearly Filtered's pitcher filters reduce up to 99.9999% viruses with Affinity Filtration technology. No other CF product can reduce or reduce viruses.
Found this review helpful?
Comment below or share this article!