These are the top systems to provide continuous chemical disinfection of well water in 2023.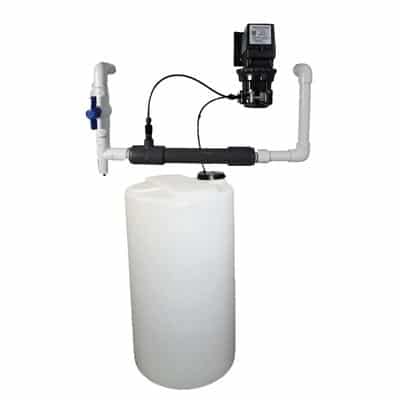 SpringWell Chemical Injection System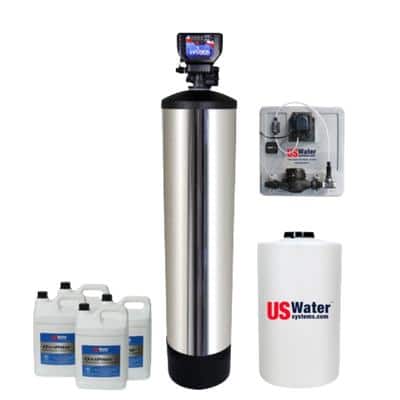 US Water Systems Matrixx Infusion Iron & Sulfur Removal System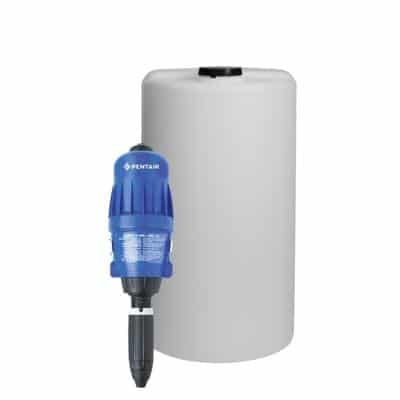 Pentair Sulfur Filter System
Hey, well owner! Welcome to our best chemical injection systems for well water guide.
If you're keen to protect your well water from heavy metals and microbiological contamination, you've come to the right place. We've tested and compared the best chemical injection systems on today's market and shortlisted the top three for this guide.
Feel free to spend thousands of dollars on an unreliable system that constantly malfunctions – but we'd strongly recommend investing wisely in a chemical injection system that you can 100% count on to disinfect your water supply.
#1 is our favorite, but #2 is our best choice for big budgets, and #3 is our top runner-up.
🥇 Best Chemical Injection Water Treatment System
📊 Comparison Chart of Chemical Feed Pumps
Product

Springwell Chemical
Injection System

Matrixx Infusion Iron
& Sulfur Removal System

Pentair
Sulfur Filter System
Ranking
1st
2nd
3rd
Ratings
5/5
4.5/5
4.5/5
Price
$1227.60
$3,065.41+
$4,549
Tank Size
35 gallons
15 gallons
35 gallons
Flow Rate
30 GPM
10 – 25 GPM
14 GPM
Bathrooms
1-7
7+
2-4
Warranty
Lifetime
5 years
1 year
---
⭐ Chemical Feed Pump for Well Water Reviews 2023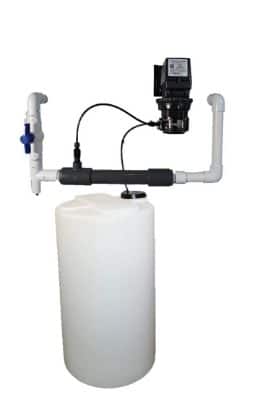 Springwell Chemical Injection System
The SpringWell Chemical Injection System is our top pick in this best chemical injector systems list, offering the most efficient, reliable performance of all the systems we investigated.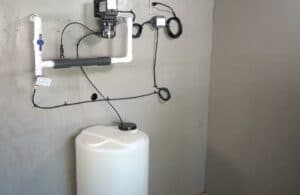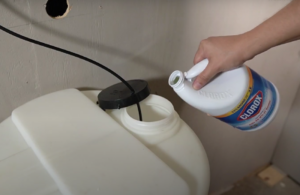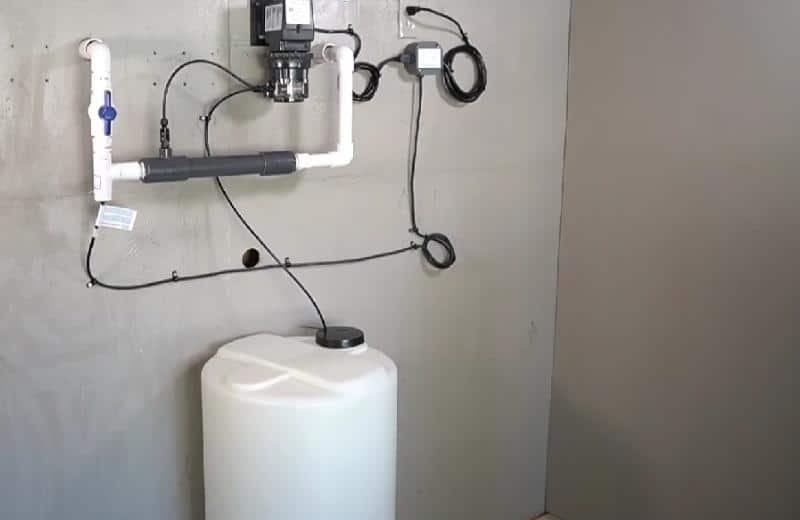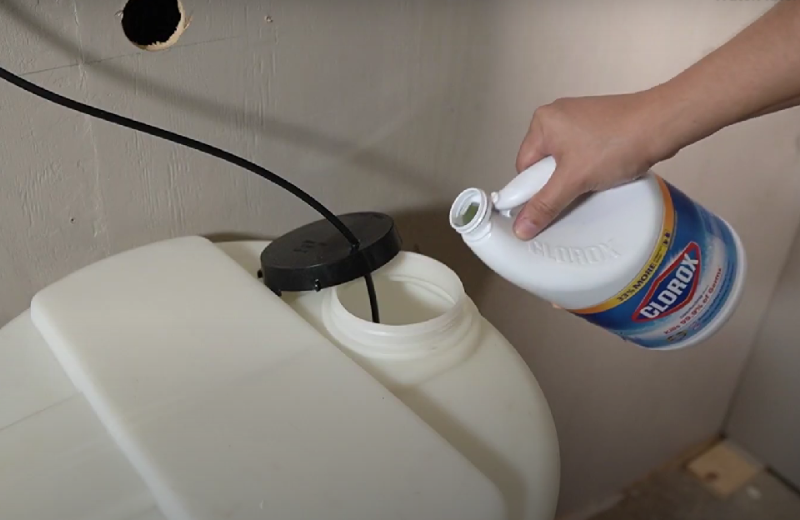 Key Features
Controlled chlorine dosage – The SpringWell Chemical Injection System delivers a controlled dosage of chlorine to make sure the right amount enters your water supply based on a flow sensor reading.
Targets bacteria and iron bacteria – This chlorine water treatment system is designed to treat two contaminants: bacteria and iron bacteria (which is particularly difficult for other disinfection systems to remove).
Good warranty and satisfaction guarantee – The tanks and valves in this system have a lifetime warranty, and the system comes with a reassuring 6-month money-back guarantee.
Best for: Anyone looking for an easy-to-use, great-value chlorine disinfection system that will deliver reliable results without breaking the bank.
Pros
We like that this SpringWell model directly injects chemicals into the feed water, killing bacteria on contact. This is much more effective than systems that use chemical pellets.
You don't need any fancy equipment or supplies for the SpringWell Chemical Injection System – just normal bleach and tap water.
This SpringWell system costs just over $1,200 – a fantastic price for a chemical injector system.
Cons
SpringWell recommends buying a spin-down sediment filter with this system at an extra cost.
Installing the system is fairly complex. SpringWell has a good installation video that you can use as a guide, but you'll probably need to hire a plumber if you're not the handy type.
---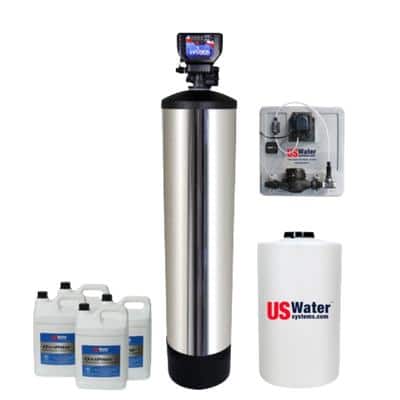 US Water Systems Matrixx Infusion Iron and Sulfur Removal System
Our Premium choice chemical injector system for well water is the US Water Systems Matrixx Infusion Iron and Sulfur Removal System. It's just over twice the price of our SpringWell top pick, but this commercial-grade system has a heavier-duty design and truly looks – and acts – the part.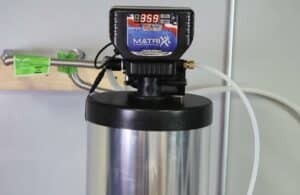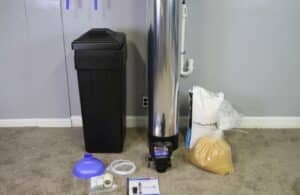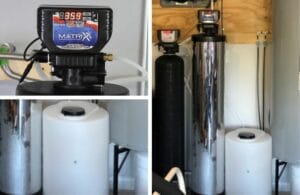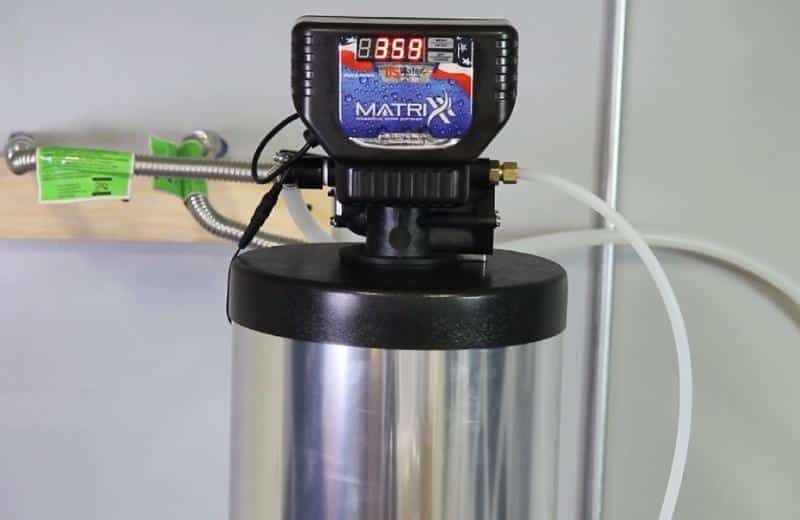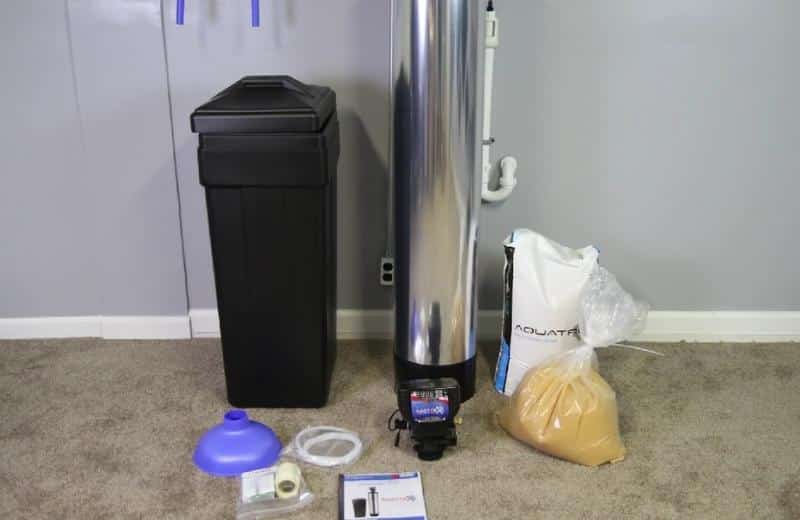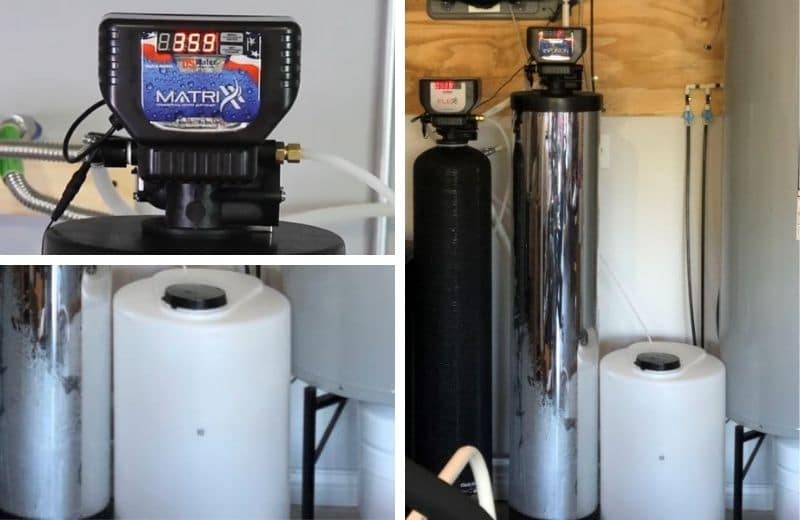 Key Features
Proportional injection – The US Water Systems Matrixx Infusion System uses a proportional injection meter, which controls a pump that delivers hydrogen peroxide into your water supply.
Targets common well water impurities – This highly capable model targets up to 20 PPM iron, up to 1 PPM manganese, and up to 30 PPM hydrogen sulfide in well water, eliminating metallic taste and rotten egg odor. It's also effective against microorganisms like bacteria and iron bacteria.
Good warranty – The entire system is backed by a decent 5-year warranty.
| USWS Matrixx Configurations | Price (3/4 in) | Price (1 in) |
| --- | --- | --- |
| 10 GPM | $3,065.41 | $3,065.41 |
| 15 GPM | $3,218.41 | $3,218.41 |
| 20 GPM | $3,371.41 | $3,371.41 |
| 25 GPM | $3,524.41 | $3,524.41 |
Best for: Anyone looking for the very best system for removing iron, sulfur, manganese, and microorganisms from water, regardless of the cost. This US Water Systems might be more expensive than other chemical injector systems, but it's still an exceptional value for money.
Pros
We think the design of the US Water Systems Matrixx Infusion System is one of the most capable for iron, manganese, and sulfur removal. Hydrogen peroxide allows for a strong oxidizing effect, making it much easier to trap the contaminants in the catalytic carbon filtration media.
We didn't notice a big change in our water use after installing this system, thanks to its efficient performance. The system backwashes to improve filtration, but has a vortech design that eliminates channeling and allows for uniform backwashing, preventing water waste.
There aren't many systems that can remove up to 30 PPM of hydrogen sulfide, and this US Water Systems model's hydrogen peroxide injection eliminated the rotten egg smell in our water.
Cons
Despite its effective performance, the price of this system is likely to be a turnoff for some people.
Due to the complexity of this system, the installation process is fairly challenging.
---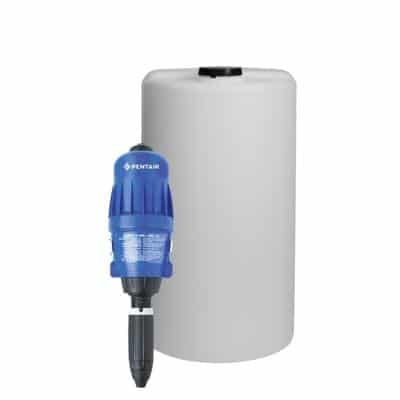 Pentair Sulfur Filter System
The Pentair Sulfur Filter System is our runner-up chemical feed pump system for well water. This system is about $600 more expensive than our top pick SpringWell model, and is designed to target a single contaminant in water: sulfur.
Key Features
Fast, effective chlorine mixing – This Pentair model has a specialized retention tank that mixes chlorine at a faster rate than most tanks, improving water's contact with this chemical.
Lead-free NSF certified – The Pentair Sulfur Filter System has an official NSF 372 certification for its lead-free design.
Decent warranty – The 1-year warranty and money-back guarantee are reassuring – you buy the system at no financial risk.
Best for: Anyone who just wants to tackle a rotten egg taste and smell in their water, and is looking for a highly effective, reliable chlorine injection system for doing so.
Pros
This Pentair model is one of the most effective chlorine injection systems we've used for sulfur removal. This system will eliminate the rotten egg odor and put an end to sulfur staining.
We like that the system comes with chlorine test strips so you can monitor your water's chlorine levels and check for safe operation.
Cons
It's a little disappointing that this system can only reduce sulfur. If you have an iron problem (which is common alongside sulfur), you'll need a separate water treatment solution for this contaminant.
There's a lot of maintenance to keep up with if you buy this Pentair system. You'll need to buy new chemical feed pumps once a year, check the level of the solution tank twice a month, and add bleach and treated solution as needed.
---
🕵️ Our Research
This section of the guide shares all the information you need to know about how we investigated, compared, and shortlisted the products on this list. We'll also be helping you to decide whether a chemical injector system is for you.
🙋‍♀️ Who This Guide is For
This guide is for people who are specifically looking for a chlorine or hydrogen peroxide injection system to treat their entire home's well water supply. You'll get value from this guide if:
You want to target iron, sulfur, manganese, or bacteria. Most chemical disinfection systems can treat some or all of these contaminants.
Your budget is flexible. Some of the options on this list are more expensive than others, but they're all a good value for money.
You want to protect your entire home from contamination. If your goal is to produce cleaner drinking water that won't stain your plumbing and appliances, a chemical injector system will do the job.
You want to buy from reliable manufacturers. We've only shared products that we truly believe in – that's why our current list is so short.
You're prepared for the likelihood of pre-treatment. If you have acid water or lots of sediment, you'll need to install a suitable water treatment filter upstream of a chemical disinfection unit.
🧪 How We Tested
Our original testing process involved testing the contaminant removal capabilities of water treatment systems using Tap Score laboratory testing. We no longer conduct this testing because we realized that our results were limited due to our own relatively mild test waters, so we didn't learn much about the true abilities of a treatment system.
Now, our own testing assesses the everyday user-friendliness of a system based on our own experience of using it. We combine our findings with official industry testing to gain a well-informed understanding of a system's benefits and capabilities.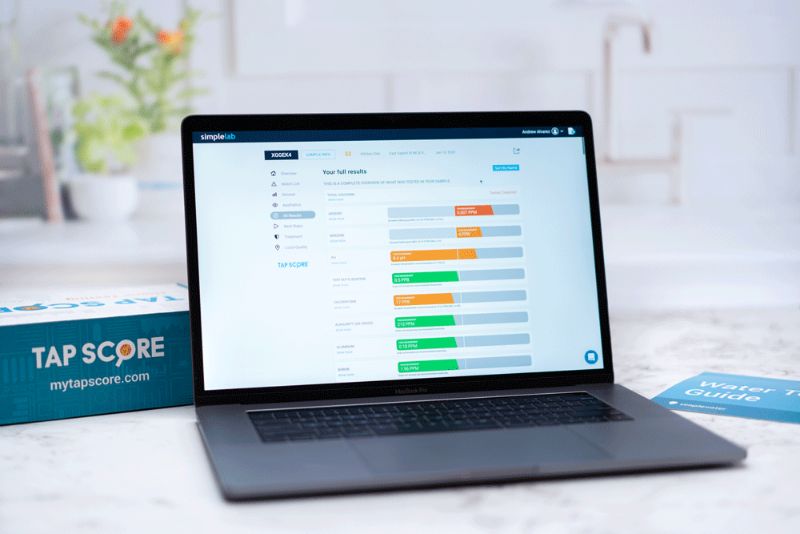 📊 How We Chose
In this guide, we've solely looked at chemical injector systems that disinfect water and/or treat iron, sulfur, and manganese. Because of this, there were only specific products for us to review – and even fewer that made our list of recommended systems.
We chose the systems on this list based on their contaminant removal abilities, their customer reviews, and their overall value for money.
Contaminant Removal Abilities
We know that the most important feature of any chemical disinfection system is that it can remove what it's advertised to remove.
We listed all the contaminants that chemical injectors are capable of removing, then reviewed each product on our list to see how many of these contaminants, and to what extent, they could remove. We didn't only focus on the systems that could remove the most contaminants – we also considered those that could remove one or two contaminants highly effectively.
Customer Reviews
We know that our own experience with a product might be very different to somebody else's, so we read all the customer reviews we could find when shortlisting chemical injectors for this list.
Customer feedback gives insight into the overall customer experience with a certain product – including how the product lives up to expectations. We avoided the chemical disinfection systems that were repeatedly criticized by customers for below-average performance or poor-quality design.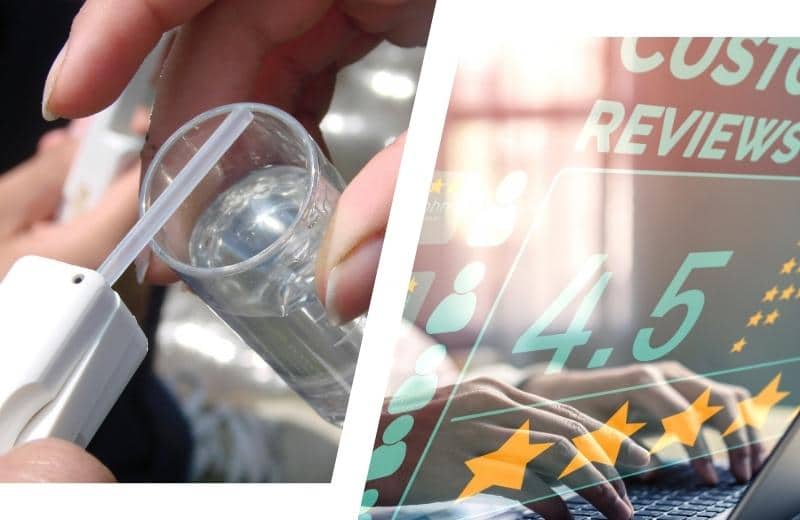 Value for Money
Finally, we looked at whether, based on its features and performance abilities, a chemical injector could be considered a good value for money. We know that customers are looking for a durable, high-performing, well-made system that they won't regret buying – which is why we focused on the best-value systems, rather than the cheapest.
We've featured systems at different price points on this list, but all of them are worth every penny that you pay for them.
🧾 Chemical Feed Pump Buyer's Guide: What to Consider when Buying a System
When you're shopping for injection pumps for your well water, consider the following factors:
Your Water Quality, Parameters, & Pre-Treatment
The quality of your water, and your water parameters, will affect the effectiveness of the chemical injector system you buy – and whether or not you need pre-treatment.
Most systems will only work with water pH levels from 6 to 9. If your pH level is lower than this, you'll need to look into pre-treatment, such as a calcite filter, to raise your water's low pH.
Additionally, most air injectors can't treat sediment-rich water, and many manufacturers recommend installing a spin-down sediment filter upstream of the injector unit to prevent sediment damage.
If pre-treated water is needed for any system you're looking at, make sure to factor in the additional cost of any pre-filters or systems.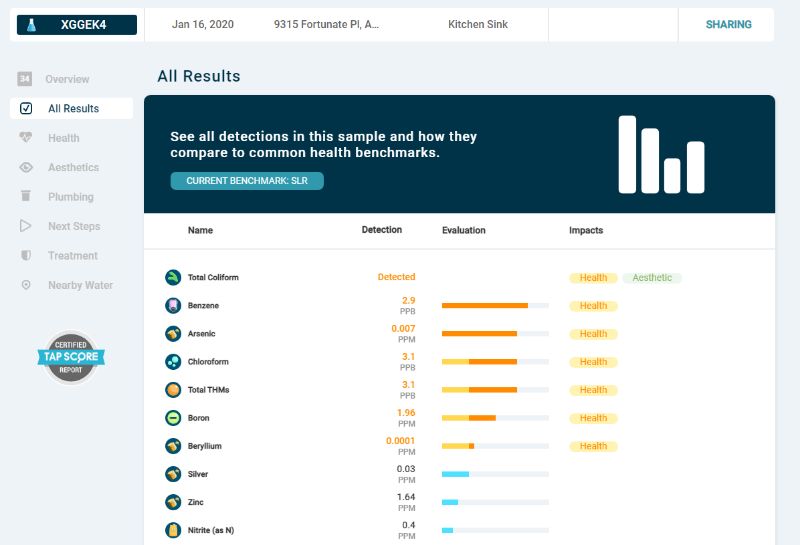 Your Budget
The average cost of an air injector system is $1,000-$3,000. Some systems are pricier than this – but we don't recommend spending any more than $3,000, as you can likely get the same performance from a more affordable system.
It's best to set a budget before you start looking for chemical metering pumps. This will prevent you from overspending – and potentially regretting it later down the line.
Remember, whatever system you buy, you'll need to pay for chemical top-ups. Luckily, most systems let you use standard household disinfectants, so maintenance won't break the bank.
Injection Process & Contaminants Removed
A standard air injector system is designed to deliver chemicals into your water supply. The water is held in a tank to allow for a long enough contact time for the chemicals to effectively treat the water.
Some air injectors have extra features that increase their effectiveness. For instance, carbon filter media may be used to trap oxidized metals, pulling them out of the water supply. Systems with this media tend to be slightly more expensive.
Not all air injector systems offer the same guaranteed contaminant removal, so test your water and find out what you need to remove (if you haven't already), then read the product details carefully before you make a purchase.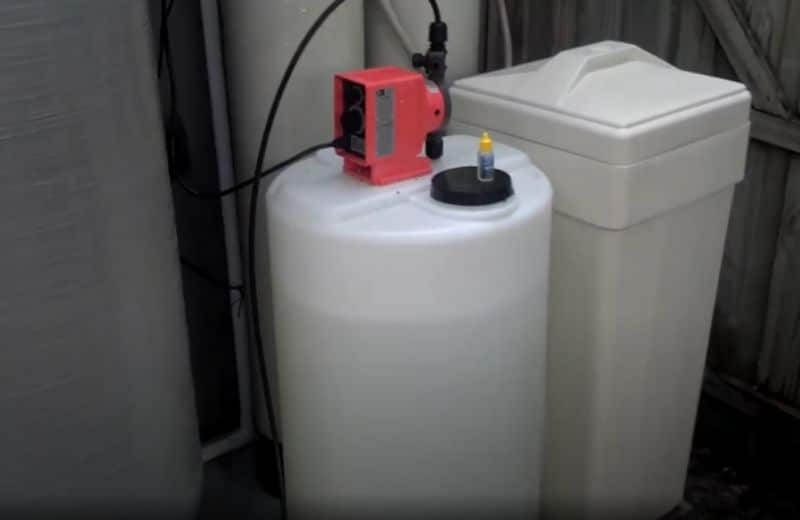 Installation & Available Space
Most chemical injectors are installed at your main water line upstream of the pressure tank. The installation process for these systems is fairly complex, and most manufacturers recommend that you hire a plumber to install the unit for you (prepare for the extra cost).
You'll need plenty of available space for installing a chemical disinfection system. Most of these systems consist of a large tank, a pump, and a control head. Measure the dimensions of the system against your available space, making sure there's room for maintenance.
Flow Rate & Water Pressure
A chemical injector system shouldn't affect your flow rate at all. This is largely because of its usual installation location (upstream of the pressure tank), but also because of the system design.
There are no filter cartridges to slow down the rate at which water can travel through the system. Injectors that use filter media perform regular backwashing to prevent this media from becoming clogged with contaminants.
In short, you shouldn't notice a difference in water pressure or flow after installing a chemical disinfection system. However, if a system comes in multiple sizes, make sure you buy the right size for your home.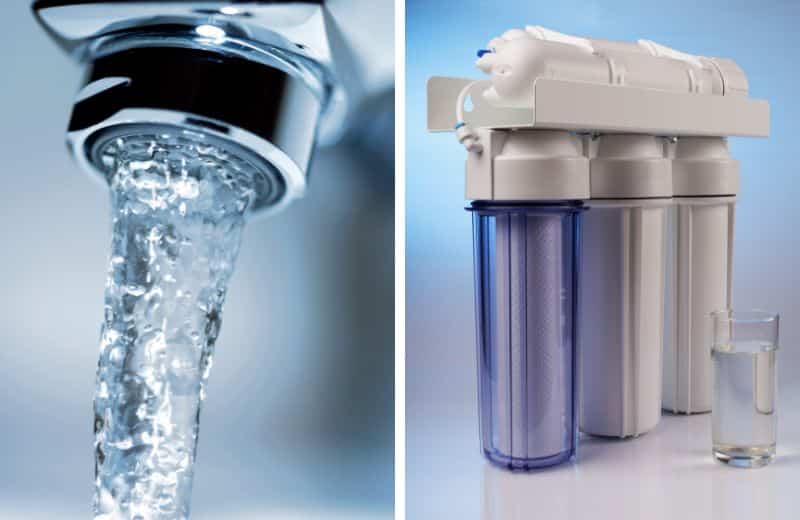 System Maintenance & Lifespan
Most chemical disinfection systems require regular maintenance to continue to function properly.
Maintenance typically involves:
Checking and refilling the chemical solution (once every 2-4 months usually)
Inspecting the injector pump tube and replacing it when needed (typically every 1-2 years)
Cleaning the injection panel fitting (every 1-6 months)
Replacing the carbon media (if necessary, every 3-5 years)
With regular maintenance, a chemical injector system can last well beyond 10 years. If you're unsure about the maintenance and lifespan of a system you're interested in, look online for its user manual or contact the manufacturer to ask.
🧠 Best Chemical Injector for Well Water FAQs
What is a chemical feed pump?
A chemical feed pump is a pump that delivers an exact amount of chemicals (usually chlorine, soda ash, hydrogen peroxide, or other chemicals) into water. This pump is part of a chemical feed system that uses a control panel and a holding tank. Chemical feed pumps are also known as positive displacement pumps, chlorinators, and injectors.
How do chemical feed pumps work?
Chemical feed pumps work by measuring the water flow and delivering the exact amount of chemicals required depending on the volume of water passing into the system. Water is held in a retention tank to allow for the required contact time for the chemicals to oxidize iron, manganese, and hydrogen sulfide, or treat bacteria.
What do chemical feed pumps remove?
Chemical feed pumps are used to treat water containing bacteria, iron, iron bacteria, hydrogen sulfide, manganese, and low or high pH.
Can you use a pool chlorinator for well water?
You might get away with using a pool chlorinator for well water, as long as you adjust the settings for safe chlorine delivery for drinking water – but it's best to buy a dedicated chlorine injection system for wells.
What chemicals are used to treat well water?
The most common chemicals used for treating well water are chlorine, chloramine, and hydrogen peroxide.