🧾 Overview
The Epic Pure Water Filter Dispenser is a countertop water filter that can remove more than 99.9% of city water contaminants, including fluoride and lead.
This countertop unit uses gravity filtration, and has been tested to NSF/ANSI Standards 42, 53, 401, & P473. Each Epic Pure filter cartridge has a 150-gallon lifespan, or 3-4 months.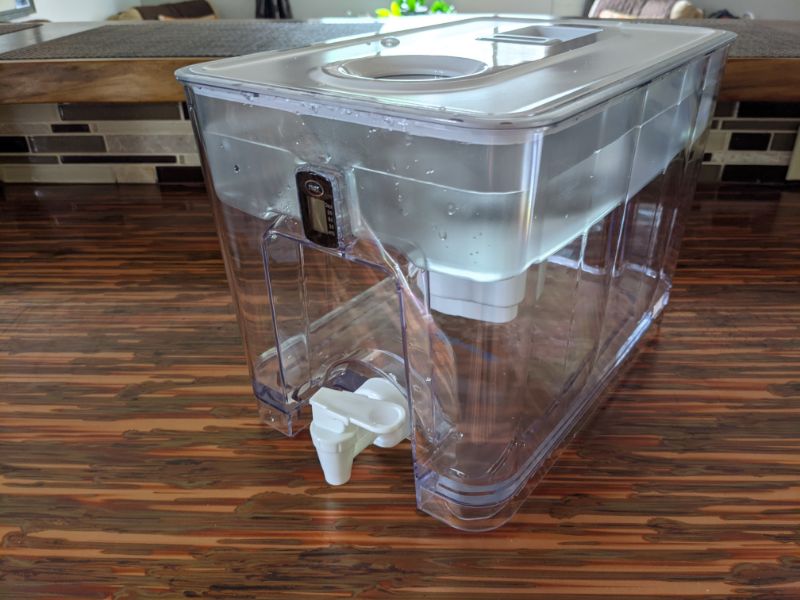 Our readers get 20% off at epicwaterfilters.com 👉 Click here to get your coupon.
📝 System Specifications
Filter type: Gravity water filter
Capacity: 8 liters
Material: BPA-free plastic
Filter material: Solid carbon block
Filter included?: Yes, x1
Filter lifespan: 150 gallons
Contaminants removed: 200+
💡 Features
BPA-Free Plastic Dispenser
The Epic Pure's pitcher is made from lightweight, BPA-free plastic, making it easy to transport the unit from one location to another, and without the risk of anything dangerous being added to your water.
6.5-Liters Reservoir
The large bottom reservoir stores up to 6.5 liters of filtered water. The unit is designed to fit comfortably in a refrigerator – though it may be too large for some appliances.
Dispenser Tap
On the front of the bottom reservoir is a dispenser tap, which you can open to access clean water when the reservoir is full enough.
Filter Change Timer
Also on the front of the unit is a filter change timer, taking the guesswork out of filter replacements. The timer displays how many days your filter has left, from 90 to 60 to 30, and finally, less than 15.
Carbon Block Filter
The Epic Pure's solid carbon block filter is tested to NSF Standards and can reduce or remove more than 200 contaminants.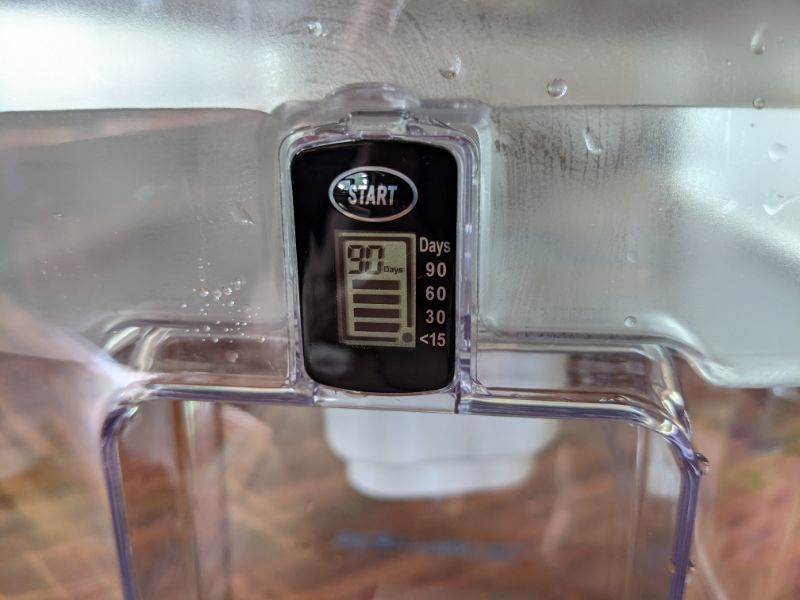 🚦 Performance
When it comes to performance, the Epic Pure water dispenser isn't the fastest on the market.
It's a gravity filter, which means it relies on gravity alone – no water pressure or electricity – to send water through the filter.
As a result, filtration is slower, and it takes around 20 minutes for the bottom reservoir to fill up.
However, the advantage of using a gravity filter like the Epic Pure Dispenser is that you allow for more thorough filtration, as your water has a longer contact time with the filter media.
Unsurprisingly, the Epic Pure filter is one of the best available for contaminant removal, reducing more than 200 drinking water contaminants.
The bottom reservoir can also hold up to 6.5 litters of water – more than enough to last a full day for two people.
The Epic Pure has been tested to meet a number of NSF/ANSI Standards – but private testing doesn't offer the same level of reassurance as a certification. It would be more encouraging if the filter had an official NSF stamp of approval.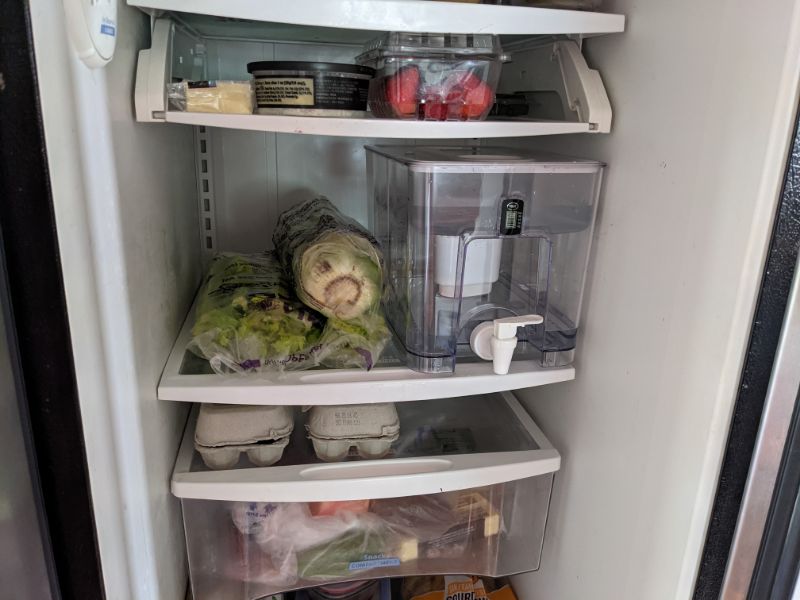 Our readers get 20% off at epicwaterfilters.com 👉 Click here to get your coupon.
🧽 Cleaning & Maintenance
The biggest maintenance task for the Epic Pure filter is cleaning. As a countertop unit that holds still water, it's important that the Epic Pure is routinely cleaned to prevent bacterial growth or a buildup of sediment on the inside.
The Pure's plastic body is clear, so you'll be able to see when it's time to clean out the system.
They say you can clean the dispenser and reservoir in the dishwasher, but Epic Water Filters recommends hand washing using soap and warm water.
The model I received has the electronic filter change reminder timer on the reservoir body, so I wouldn't recommend putting it in the dishwasher. This component is water resistant, but not water proof and shouldn't be submerged.
Once the components have dried, you can put them back together and use immediately.
The filter itself isn't dishwasher safe, and shouldn't be cleaned with soap. You can use a brush and warm water to clean the outside of the filter.
Aside from cleaning, you will also need to change the filters as recommended (most people will need to change them 3 to 4 times per year).
Handily, Epic Water Filters offers a recycling program for its filters. You can also recycle your filter with #7 plastics at your local recycling center.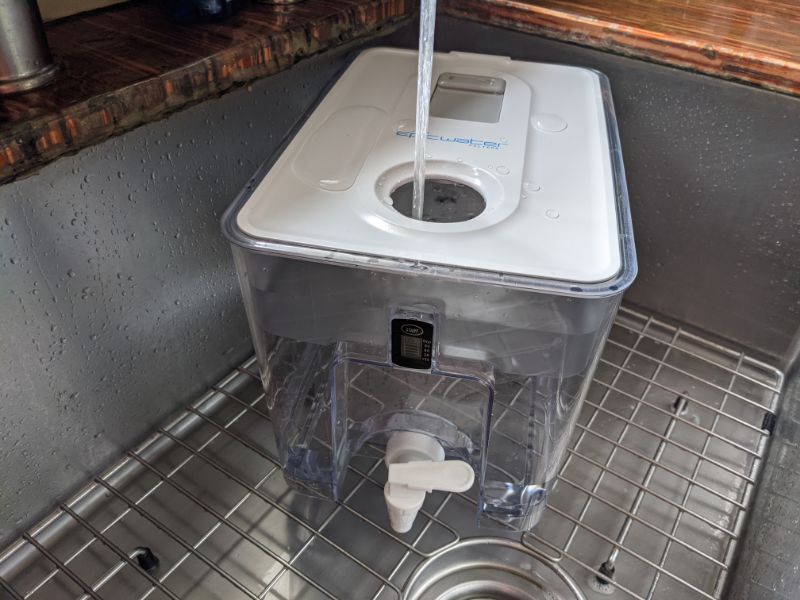 📝 Filter Info
The Epic Pure dispenser cartridges can remove up to 99.99% of more than 200 contaminants in city tap water, including chloramine, lead, PFAS, fluoride, herbicides, pesticides, chromium 6, endocrine disruptors, and haloacetic acids.
An advantage of these filters is that while they remove an impressive host of impurities, their intelligent filtration leaves healthy minerals behind, so you can still benefit from the naturally occurring magnesium, calcium and potassium in your tap water.
As a solid carbon block filter, the Epic Pure filter contains densely packed carbon, with tiny pores that allow only water particles to pass through. The carbon media traps the majority of contaminants during filtration.

All Epic Water Filters' filters are made in the USA, and have a lifespan of 150 gallons, or 3-4 months. The filters are 100% recyclable and BPA-free.
They're tested to NSF/ANSI Standards 42, 53, 401, & P473, for the removal of chlorine, lead, and more – but keep in mind that private testing isn't the same as an NSF certification.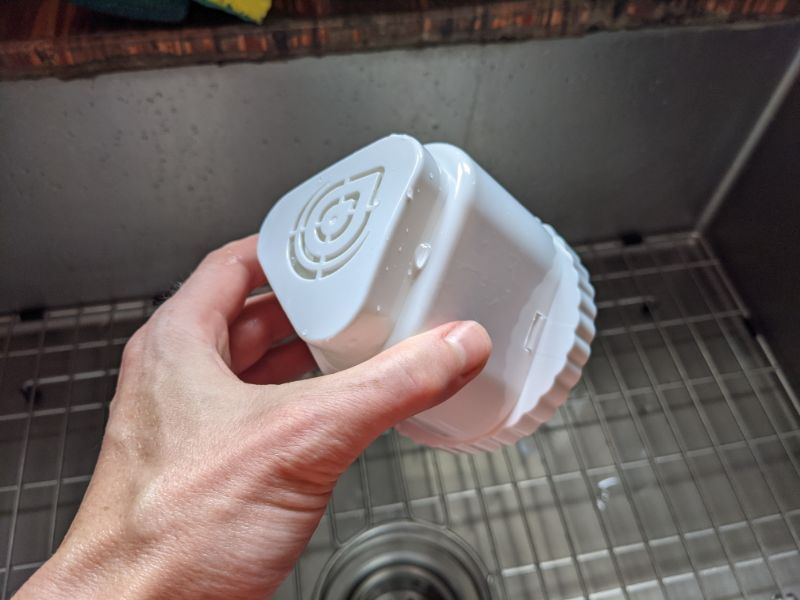 🔔 Pros & Cons
👍 What I Like
Reduces more than 200 contaminants
Easy to clean and maintain
Filter recycling program
Charitable company
👎 What I Don't Like
Not NSF certified
Doesn't fit well in all fridges
❔ Frequently Asked Questions
Can I use the Epic Pure dispenser to filter hot water?
No. Hot water will damage the filter. It should only be used to filter cold tap water.
Can I filter well water in the Epic Pure filter?
It isn't recommended. There are certain common well water contaminants, like iron, manganese and bacteria, that the Epic Pure filter won't be able to remove. The unit is designed to filter city water.
Can I put the Epic Pure filter in the freezer?
No, the filter isn't designed for icy temperatures. If you want water that's colder than refrigerator temperature, try making ice cubes out of filtered water and adding them to your glass.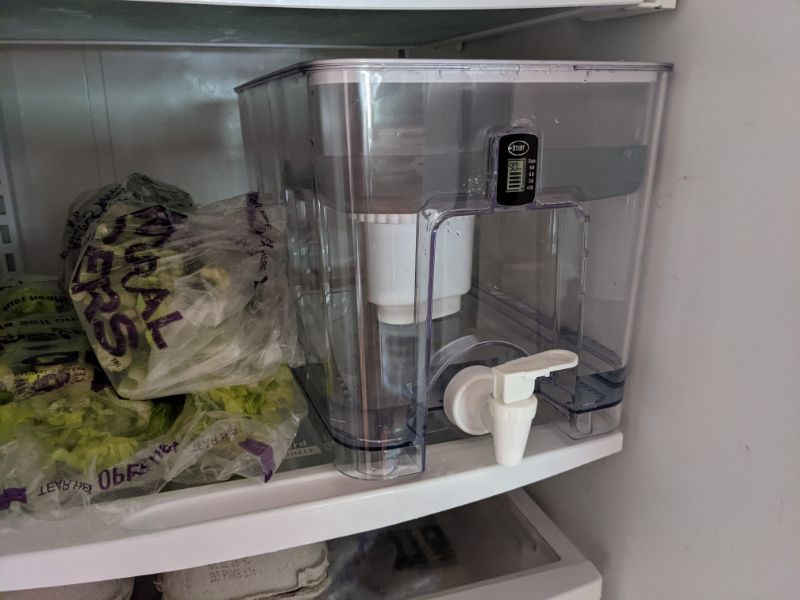 Our readers get 20% off at epicwaterfilters.com 👉 Click here to get your coupon.
Found this review helpful?
Comment below or share this article!