The SpringWell Futuresoft is the overall best water conditioner in 2023. These are our top picks based on performance capability, media durability, flow rate, customer satisfaction, and of course, affordability.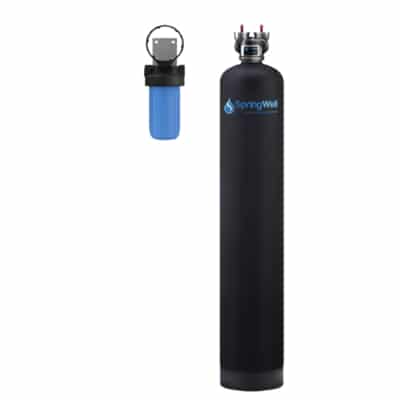 SpringWell Futuresoft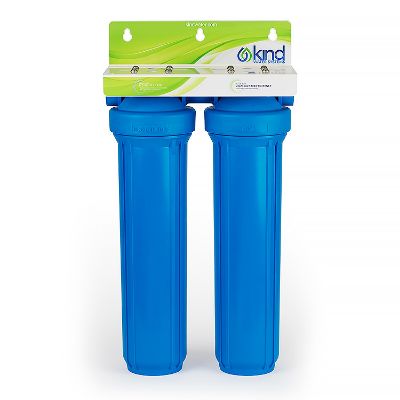 Kind E-2000
Crystal Quest Salt-Free Water Conditioner
Hey there, limescale hater! Welcome to our best water conditioning systems guide.
If you're fed up of hard water scale but you don't want to treat the problem with a salt-using, water-wasting traditional water softener, you've come to the right place. We've reviewed, compared, and shortlisted the best salt-free water conditioners in this guide.
Feel free to spend over $1,000 on a water conditioner that doesn't reduce scale or protect your plumbing in the slightest. But we strongly recommend choosing a water conditioner that hundreds of customers use and recommend themselves, offered by a reputable brand with years of experience in the industry.
#1 is our top choice, but #3 is ideal if you have the cash to splash on a premium option, and #4 is the best pick for people with small budgets.
In this guide, we've shared:
Our team's top pick water conditioning units in 2023, based on hours of research, reading customer reviews, analyzing industry testing data, at-home testing, comparison, and conversations with manufacturers.
How we chose the systems on this list – and all the key factors you should consider before buying a system for your home.
Answers to your most common questions about water conditioners.
🥇 Best Water Conditioner 2023
📊 Comparison Chart of the Top Rated Water Conditioners
Product

SpringWell Futuresoft

Kind E-2000

Crystal Quest Salt-Free
Water Conditioner

Aquasana Salt-Free
Water Conditioner

US Water Systems
GreenWave
Ranking
1st
2nd
3rd
4th
5th
6th
7th
Ratings
5/5
4.5/5
4.5/5
4.5/5
4.5/5
4/5
4/5
Price
$1597.31+
$1,263.80
$2,147+
$799
$359.9
$1,484.06+
$1,322.66+
Process
TAC
TAC
TAC
TAC
Electromagnetic
TAC
TAC
Max Hardness
81 GPG
75 GPG
75 GPG
25 GPG
No limit
81 GPG
17 GPG
Water For
Up to 6+ people
Up to 6+ people
Up to 6 People
Up to 5+ People
n/a
Up to 6+ People
Up to 5+ People
Flow Rate
Up to 20 GPM
Up to 15 GPM
n/a
Up to 14.4 GPM
n/a
Up to 25 GPM
Up to 12 GPM
Warranty
Lifetime
Lifetime (limited)
1 year
6 years
1 year
Lifetime (media head assembly)
4 years (NAC Media)
Lifetime
---
⭐ Reviews – Best Water Conditioners 2023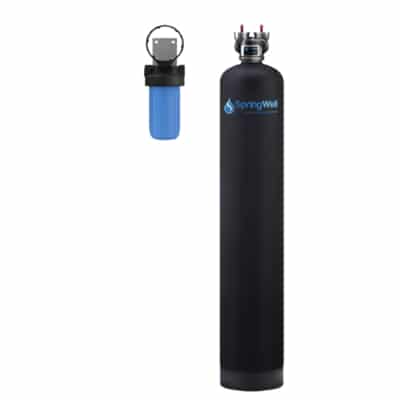 SpringWell Futuresoft
In our opinion, the SpringWell FutureSoft is the best overall water conditioner. In our testing, this system proved just why SpringWell is such a respected, reputable brand, reducing more scale than any other water conditioner we've tried (up to 99.6%). It's also the best-value conditioner you can get your hands on, costing just over $1,500.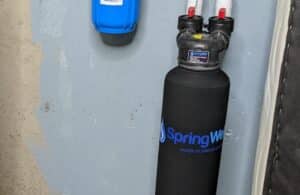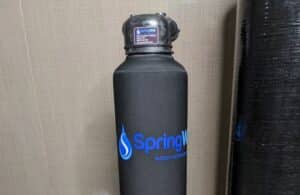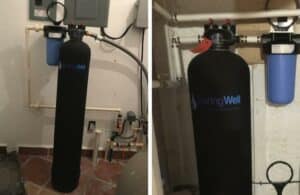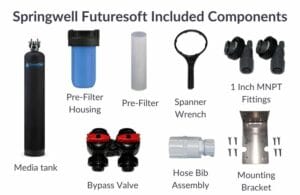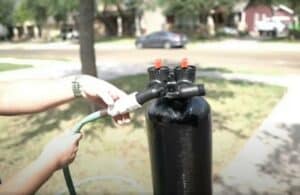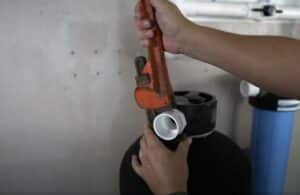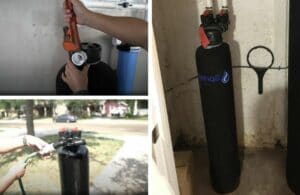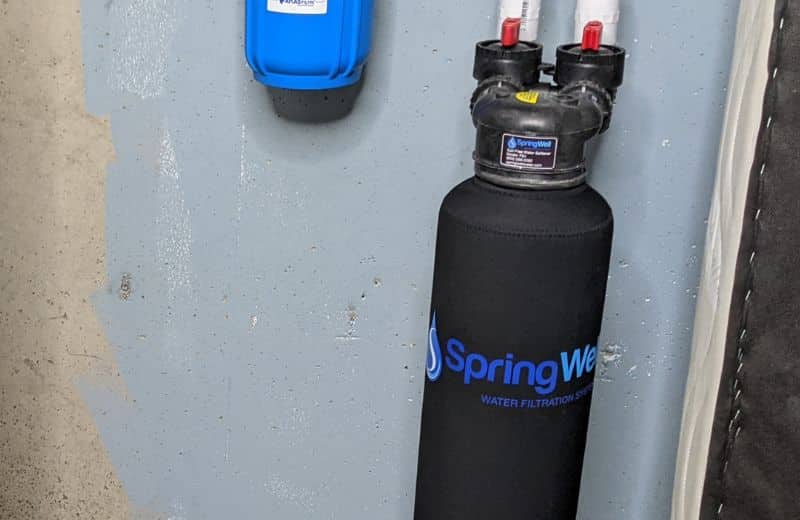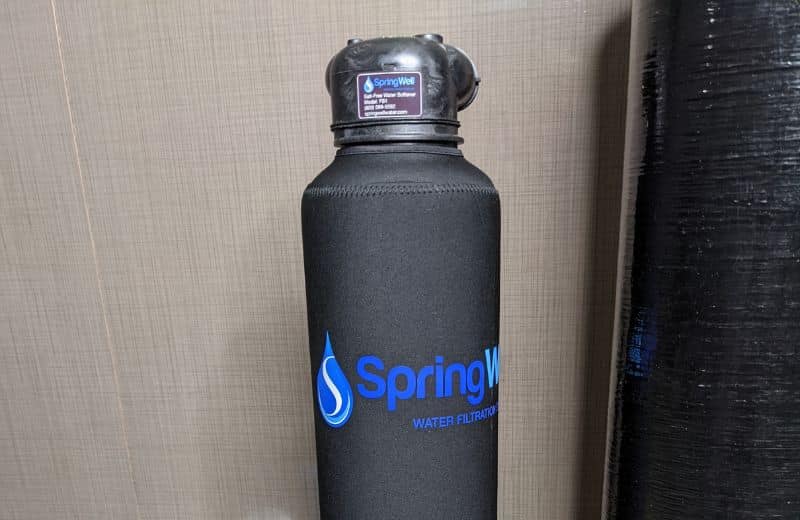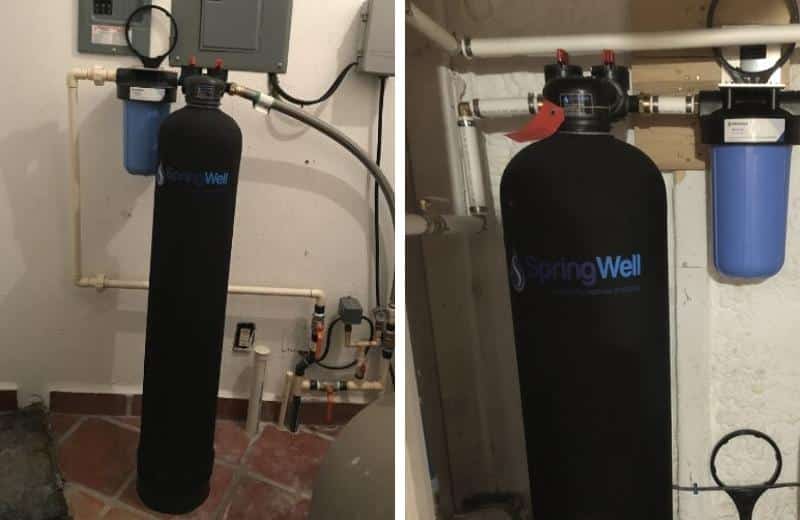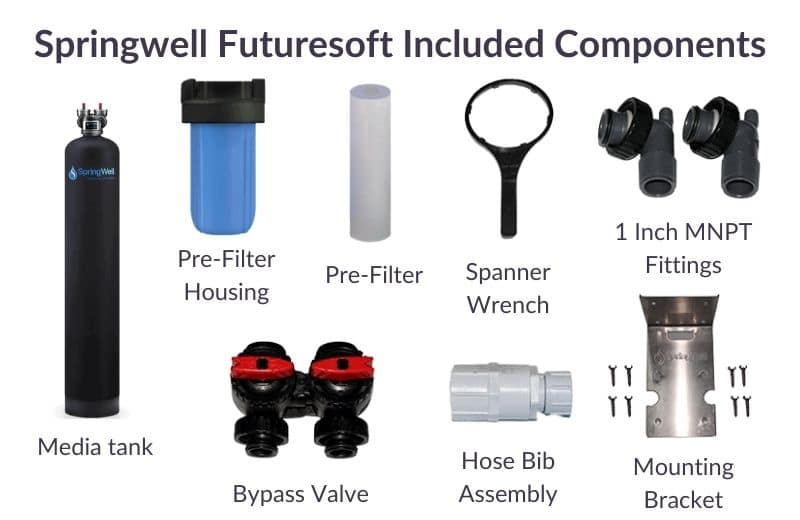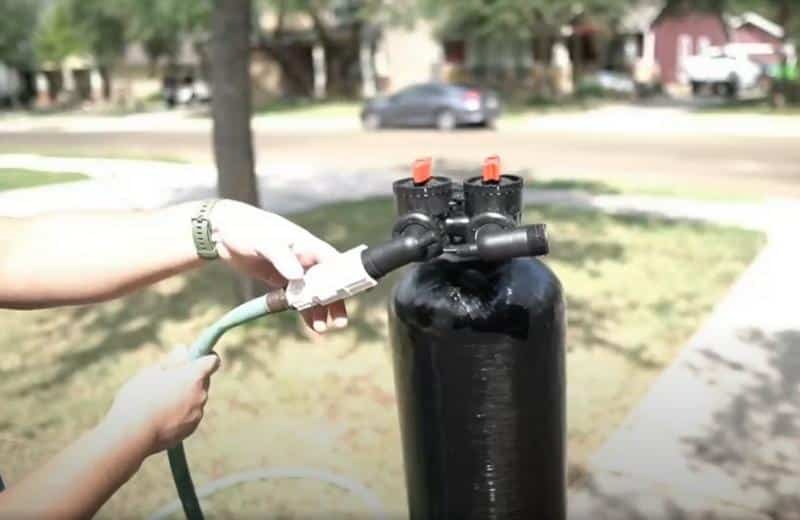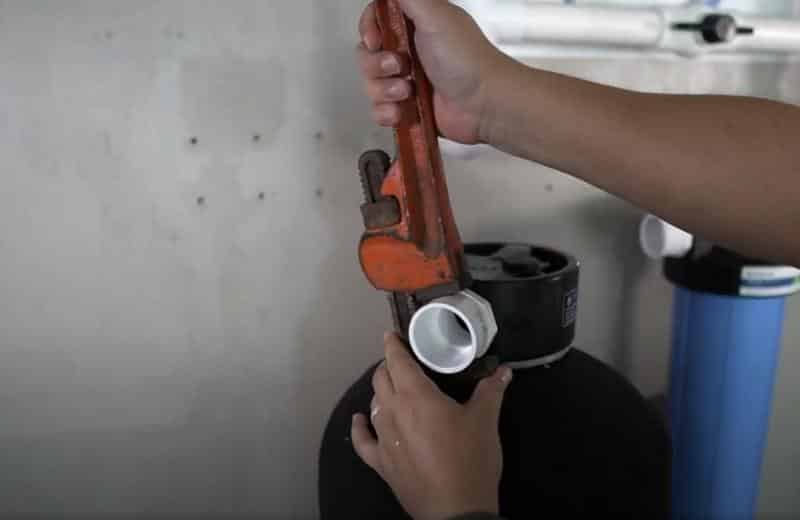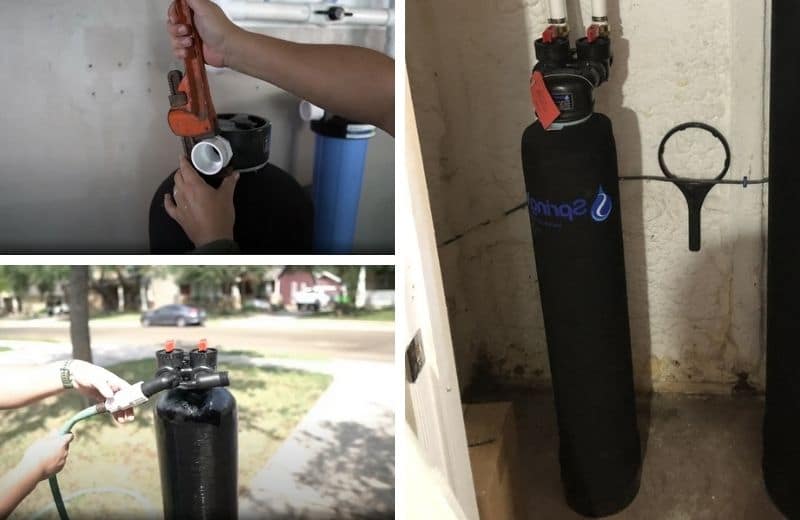 Key Features:
TAC descaling – The SpringWell FutureSoft uses the popular template-assisted crystallization (TAC) descaling process, which uses a catalytic media bed to crystallize calcium and magnesium hardness minerals. These crystallized minerals become suspended in water and can no longer stick to surfaces.
Removes existing scale & prevents new scale – TAC is thought to be highly effective at protecting your plumbing and appliances from new scale AND reducing existing scale deposits over time. Even salt-based systems aren't capable of that.
Impressive hardness reduction – SpringWell says that the FutureSoft can handle extremely hard water (up to 81 GPG, or grains per gallon), which is pretty unheard of in the salt-free water softener niche and gives it similar capabilities to a heavy-duty water softener.
There are three FutureSoft system sizes available:

FS1 – 12 GPM flow rate, for 1-3 bathroom
FS4 – 15 GPM flow rate, for 4-6 bathrooms
FS+ – 20 GPM flow rate, for 7+ bathrooms
| SpringWell Futuresoft Configurations | Price |
| --- | --- |
| FS1: 1-3 Bathrooms | $1597.31 |
| FS4: 4-6 Bathrooms | $1960.43 |
| FS+: 7+ Bathrooms | $2657.63 |
Best For: People looking to make the smartest investment in a water conditioner that's more capable, better-value, and easier to install and use than most other salt-free water softeners in the market.
Pros:
99.6% scale reduction is incredibly impressive. We noticed results within a week of installing the unit. The penny-saving long-term benefits (increased appliance efficiency and fewer repairs, easy-to-wipe-off existing scale, and longer appliance lifespans) are worth sticking around for.
Handily, the system comes with a pre-filter, which protects the TAC media from sediment and extends its lifespan. The filter needs replacing every 6-9 months. Annual spend: a respectable $40-55.
We think the SpringWell brand on the whole is one of the best manufacturers around today. You won't find many other companies that offer 6-month money-back satisfaction guarantees and back their products with lifetime warranties. Plus, SpringWell's customer support is top notch.
| Upgrades | Price | Uses |
| --- | --- | --- |
| UV Water Purification System | $1100.99 | Boil water advisory protection |
| Whole House Water Filter System | $1016.44 | Whole house water contaminant reduction |
| Reverse Osmosis Water Filter System | $442.23 | Drinking water |
Cons:
If you're using this system to treat well water, you'll need a pre-treatment system to remove copper, iron, manganese, and hydrogen sulfide, which will damage the media.
The unit consists of a long vertical tank and a pre-filter. If your space is limited, you may have to count this system out.
Read the Full Review: Springwell Futuresoft 2023 Review
---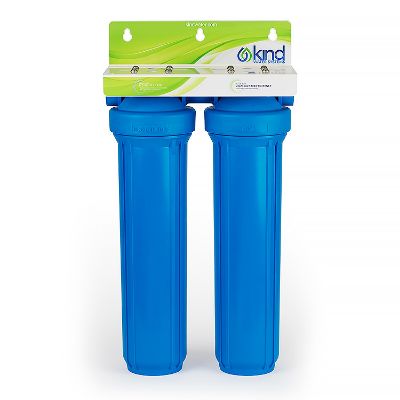 Kind E-2000
Based on our testing, the Kind E-2000 closely follows behind the SpringWell FutureSoft as our runner-up water conditioner and top cartridge-based system.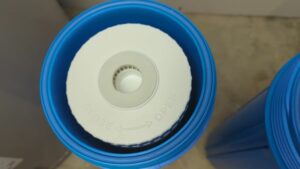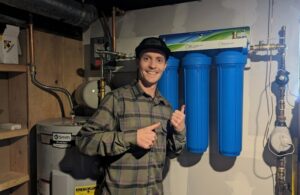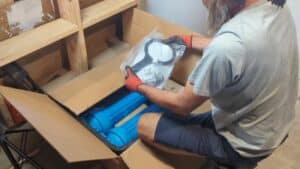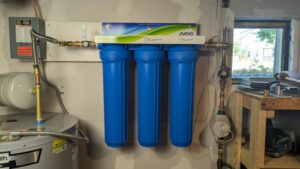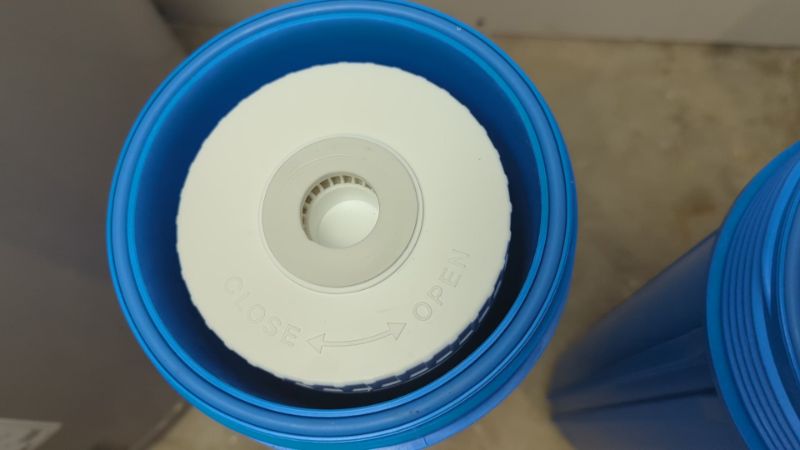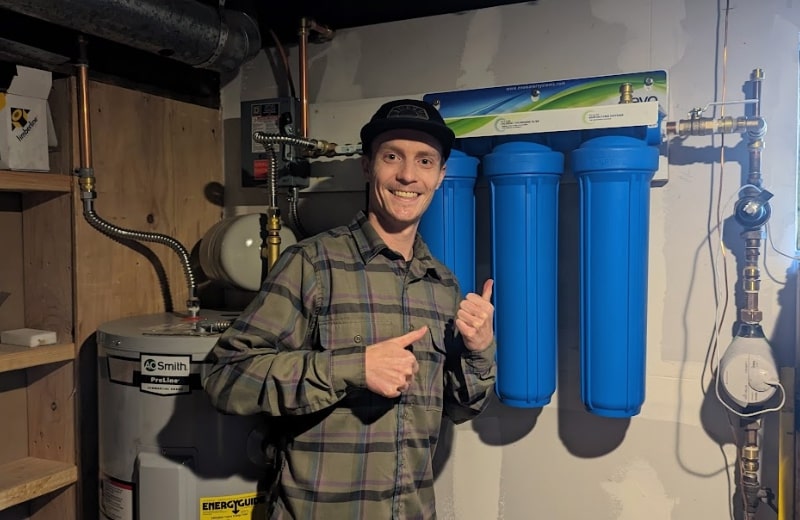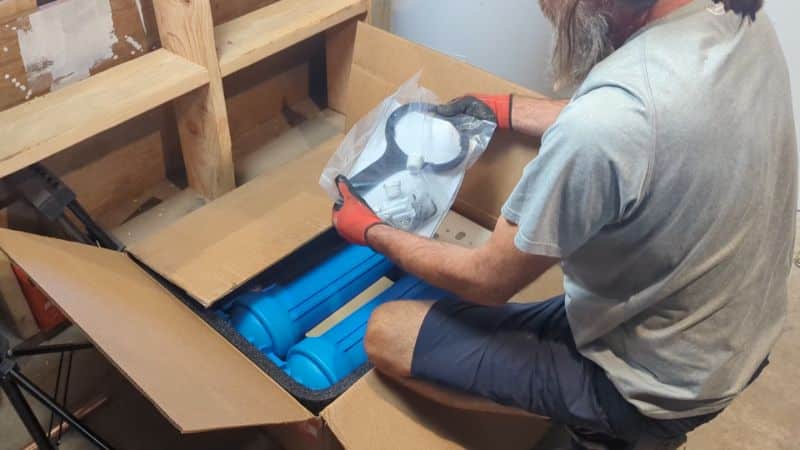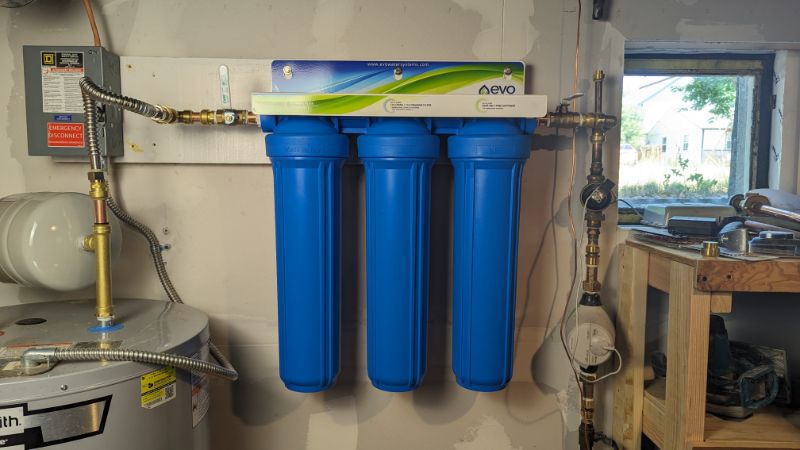 Why is this water conditioner our second choice, and not top of the list? Because although the Kind E-2000 is about $400 cheaper than the SpringWell FutureSoft and is also backed by a lifetime warranty, this system's performance isn't quite as effective – it doesn't match up to the FutureSoft's extremely hard 81 GPG water treatment.
The E-2000 is available in a single size and flow rate: 15 GPM, for homes with up to 6 bathrooms.
Key Features:
Cartridge conditioning – This water conditioning system has a unique cartridge-based design, using a pre-filter and an eSoft cartridge to remove sediment and crystallize hardness minerals with the well-known TAC process.
Removes & prevents scale – Like the SpringWell FutureSoft, the Kind E-2000 can prevent scale formation and remove existing scale, putting it ahead of the traditional salt-based water softener.
DIY installation – The E-2000 comes with everything needed for a DIY installation, including the filters and filter housing, mounting hardware, spanner wrench, o-rings, lube, and 3/4-inch reducers.
Best For: People looking for a more compact system that doesn't take up much vertical space and anyone who prefers the low cost and convenience of a cartridge-based water conditioner.
Pros:
At just over $1,000, this Kind softened water system is a steal. Looks like the manufacturer offers deals frequently, too – at the time of writing this review, prices were slashed from just over $1,200 to about $1,050.
There's no denying the convenience of this saltless water softener. It's virtually maintenance-free – you never have to change the eSoft cartridge, and you can sign up for the manufacturer's AutoShip program to receive a replacement sediment filter, o-rings, and lube for less than $40 a year.
Certified components and a lifetime warranty are two solid reasons to trust this Kind product.
Cons:
You can only buy the Kind E-2000 in one size, so you can't tailor it exactly to your water usage as you can with the SpringWell FutureSoft.
This unit can't be used to treat extremely hard water.
---
Crystal Quest Salt-Free Water Conditioner
The Crystal Quest Salt-Free Water Conditioner is our top premium choice on this list. The system costs around $500 more than the SpringWell FutureSoft, but it comes with a few more perks that justify the extra expense. With pre and post-filtration included, this unit is more of a whole-house conditioning and filtration solution in one.
Key Features:
TAC conditioning – Like our first and second picks, the Crystal Quest Salt-Free Water Conditioner conditions water with a TAC media, loaded into a large, vertical tank. TAC is backed by the most research and seems to be the most effective conditioning method.
Pre- and post-filtration – Upstream of the TAC tank is a 20-inch, 5-micron sediment filter, which protects the media from silt and sand. Then there are two post-filter stages to follow the media tank: a 20-inch coconut shell carbon cartridge and a 20-inch 0.2-micron ultrafiltration membrane, which remove pesticides, VOCs, microorganisms, and unpleasant tastes and odors. All three filters are included in the cost of the unit, but you'll need to pay for future replacements.
USA-made – Another reason why the Crystal Quest conditioner has a higher price tag? It's USA-made, so the quality of the components and design are undisputed.
| Crystal Quest Salt-Free Configurations | Price (Fiberglass) | Price (Stainless Steel) |
| --- | --- | --- |
| 1.5 cu ft resin | $2,147 | $2,701 |
| 2.0 cu ft resin | $2,393 | $2,947 |
Best For: Anyone considering buying a water softener and a water filtration system for their municipal water supply. Since the Crystal Quest system combines conditioning and filtration in one, it just makes sense to avoid the costs of two separate units and buy this system.
Pros:
The Crystal Quest conditioner is one of the best-value complete conditioner/filtration systems we've seen. It might be costlier than the other systems on this list, but it offers much more than scale reduction and sediment removal.
We enjoyed this unit's customization potential. You can choose from a few easy upgrades (which, of course, increase the upfront cost), including boosting the resin capacity from 1.5 to 2.0 cu.ft, swapping the fiberglass casing for stainless steel, and adding a water sterilizer or a leak detector.
Considering the multiple stages involved in this Crystal Quest model, maintenance is kept to a minimum. The TAC media lasts up to 10 years, while the pre- and post-filters last 1-3 years. Expect to spend around $80-$120 per year on this system.
| Upgrades | Price | Uses |
| --- | --- | --- |
| UV Water Sterilizer | $569 | Boil water advisory protection |
| Leak Detector | $179 | Leak detection |
| Oxidation System (600 mg/h to 2K mg/h | $789-$2,879 | Iron, hydrogen sulfide, manganese, carbon dioxide, and VOCs reduction |
Cons:
Despite everything you get for paying more, $2,000 for a water conditioner is too steep for some people. Plus, you might not even benefit from additional filtration.
The additional filtration stages make this conditioner slightly more difficult to install than other water softener brands.
---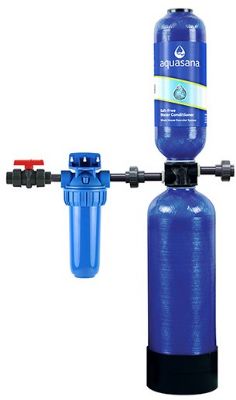 Aquasana Salt-Free Water Conditioner
If you're on a budget, we believe that the Aquasana Salt-Free Water Conditioner is the best water conditioning system for you. This unit uses a scale-control media – like the SpringWell, Evo, and Crystal Quest models – to reduce scale buildup at a cost that doesn't discriminate: just $800.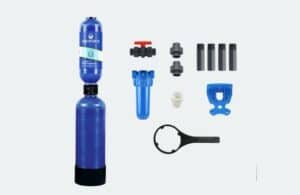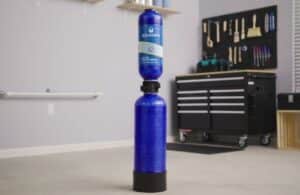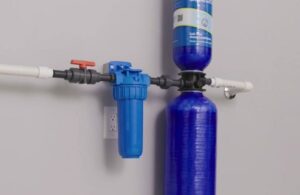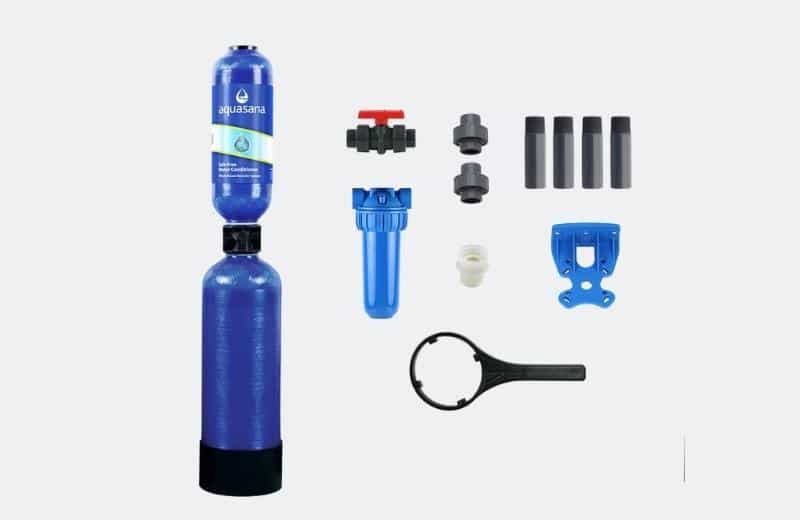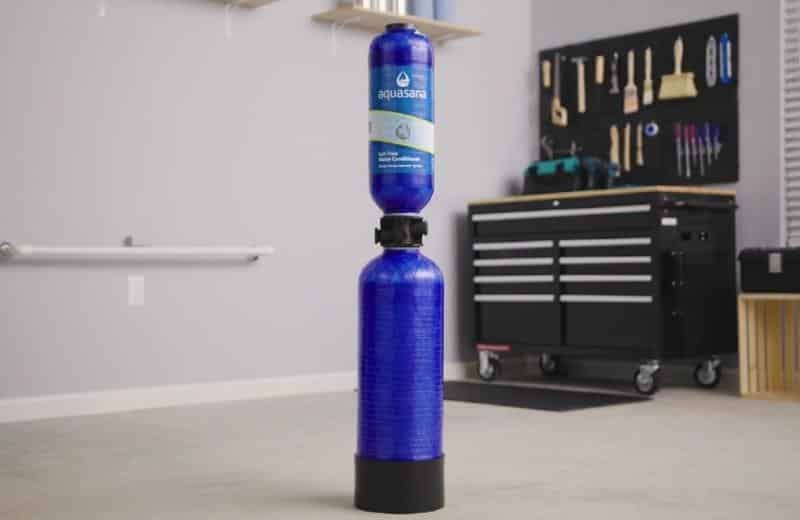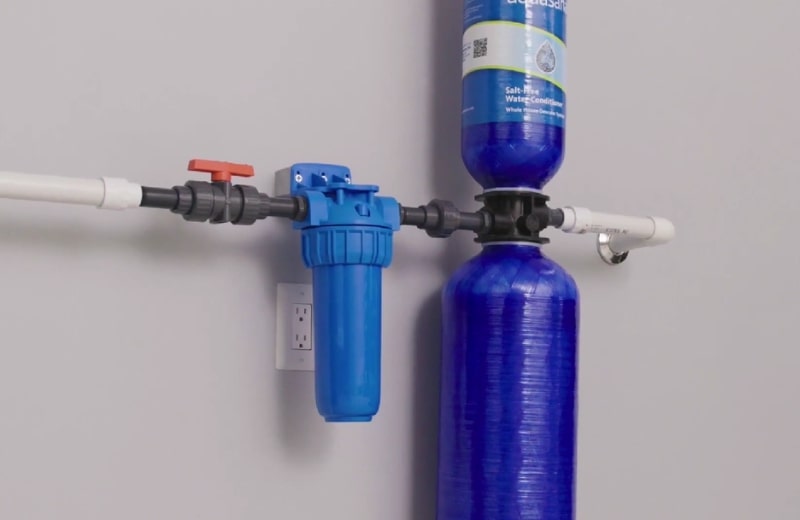 While we think this Aquasana model is great value, it's not the best value, despite being the most affordable option on this list. Don't expect the same level of scale reduction as a system costing $1,200 upwards.
This system is available in a single size, offering a flow rate of up to 14.4 GPM.
Key Features:
TAC conditioning – Aquasana imitates its competitors with the best-known conditioning technique: template-assisted crystallization. The media is loaded into a 46-inch tall tank.
5-micron pre-filter – The system comes with a 5-micron sediment pre-filter to protect the TAC media. It needs replacing every couple of months, costing about $30 per year.
DIY installation – You should be able to install this unit yourself, but you'll need to buy a bypass valve separately. We'd rather pay $50 more for an included valve, personally.
Best For: People who want to spend less than $1,000 on a TAC water conditioner without the risks associated with buying from an unknown brand. Aquasana is well respected, and the conditioner works well for most customers.
Pros:
For just $800, we were really impressed with the Aquasana's performance. You should notice scale reduction within a few weeks of installing the unit.
We appreciate that the system comes with a built-in sediment filter, even if it has a shorter lifespan than most other pre-filters mentioned in this guide.
It's good to see that the system is backed by a 6-year warranty and a lifetime guarantee. It's not quite the lifetime warranties of our top picks on this list, but it's still reassuring.
Cons:
There are mixed reviews on the effectiveness of the Aquasana Salt-Free Water Conditioner. We've read reports from some customers that claimed the system barely made a difference.
You can't use this system to treat very hard water. Aquasana recommends the unit for 15 GPG hardness or lower.
Read the Full Review: Aquasana SimplySoft Review
---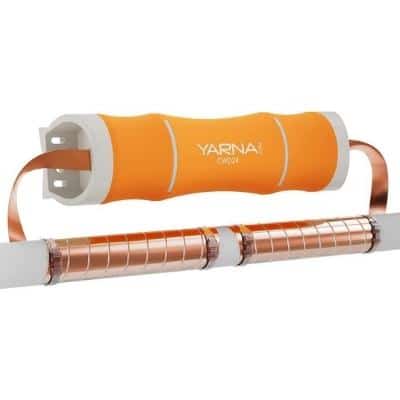 Yarna Capacitive Electronic Water Descaler
In our opinion, the Yarna Capacitive Electronic Water Descaler is the best electronic descaler in the market today. This study shows that electromagnetic water treatment reduces about 50% of scale. Considering the Yarna Capacitive is tank-free and salt-free, and wastes no water, that's pretty effective.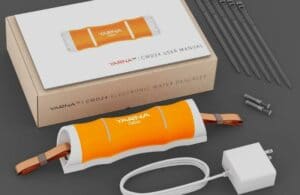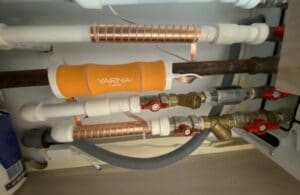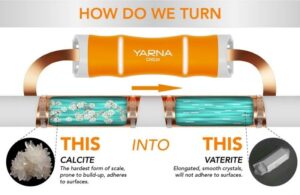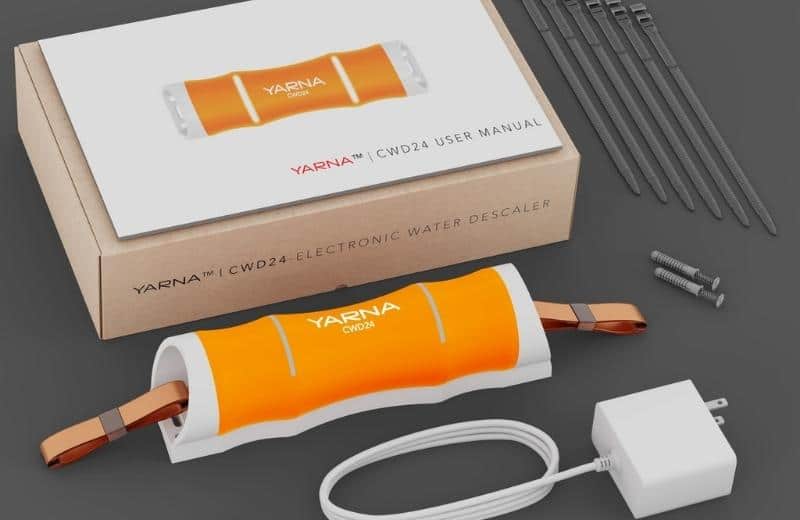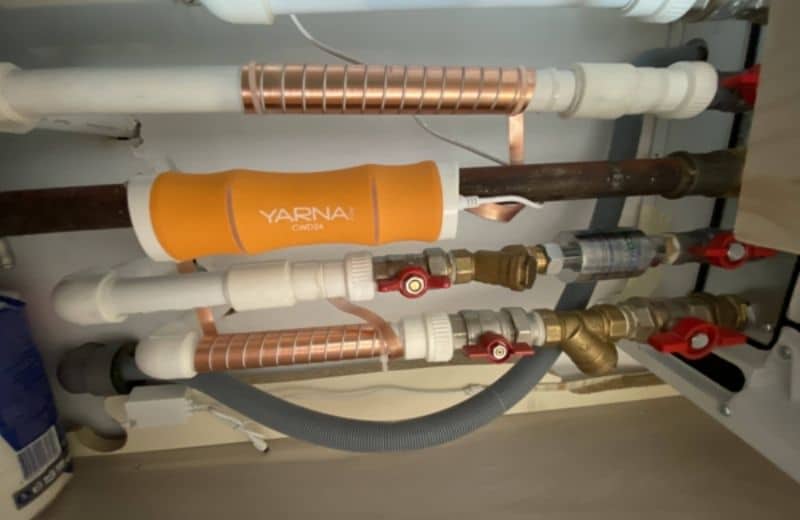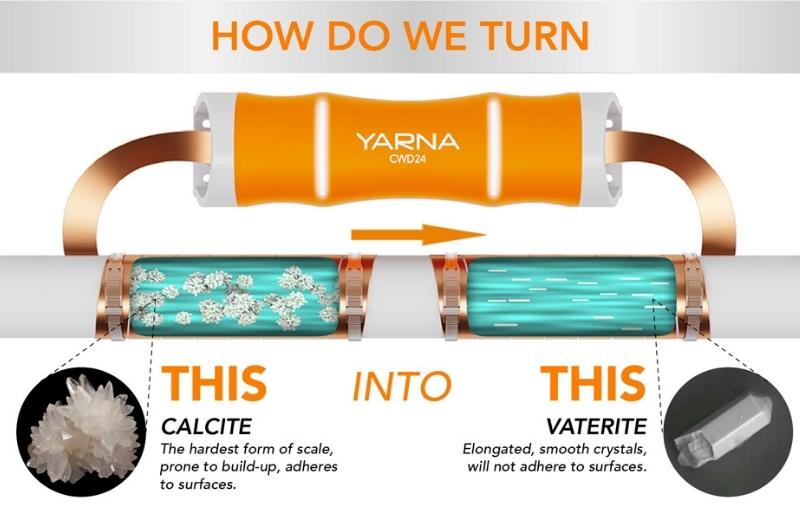 Why did the Yarna Capacitive beat out other electronic and magnetic water conditioner systems? Because it has more features and a better design than all its top competitors.
Key Features:
Electronic scale prevention – Rather than using a media to control scale, like most of the other conditioners on this list, the Yarna Capacitive produces a changing field of electricity that treats water as it flows through your pipes. This alters the composition of hardness minerals, preventing them from forming scale.
Simple design & use – This tankless water conditioner doesn't use salt, doesn't need a bypass valve, and doesn't intercept water or reduce flow rates. The single-size system is equally ideal for small and big households.
Quick installation – Installing the Yarna Capacitive takes less than 15 minutes and doesn't involve any potentially disastrous DIY (i.e. cutting into your main water line). It's safe to install the unit on copper, plastic, stainless steel, and iron pipes up to 1 inch in thickness.
Best For: Anyone who prefers to spend less money upfront and spend less time installing and maintaining a scale reduction solution.
Pros:
You can't complain about the Yarna Capacitive's $300 price tag. If you're skeptical about trying an electronic descaler, fear not – the manufacturer offers a guaranteed returns promise in your first year of ownership. So, if you don't like the unit, you get a full refund within the first year.
In our testing, we found that the Yarna looks, feels, and behaves like a high-quality unit. The descaler has an impact-resistant, corrosion-resistant ABS plastic case, and thick, sturdy bands that aren't going anywhere once they're installed.
There are a few features of this system that give it a more effective performance than its competitors. The built-in PCB chip automatically controls the electronic signal strength, so you get the right amount of descaling for your water pressure and pipe type, and the ultra-flat impulse bands cover 2-3 times the pipe's surface area compared to systems using round cables.
Cons:
Depending on how hard your water is, you might have to wait up to three months to notice the descaling effects of this Yarna model.
Although most customer reviews are glowing, some customers reported that the system didn't work for them.
Read the Full Review: Yarna Water Descaler Review
---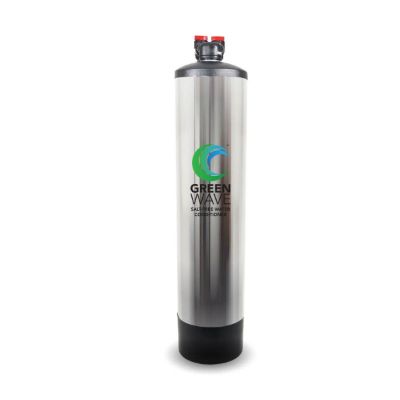 US Water Systems GreenWave
We think the US Water Systems GreenWave is the best water conditioner for large households. Why? Because this system offers flow rates of up to 25 GPM – that's 5 GPM more than the largest SpringWell FutureSoft model. Plus, the unit is a bit more affordable than most TAC conditioners on this list, with prices starting at about $1,150.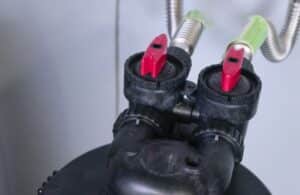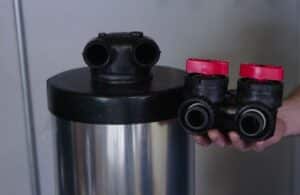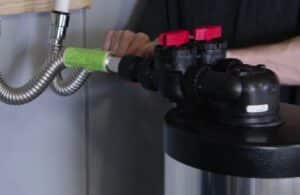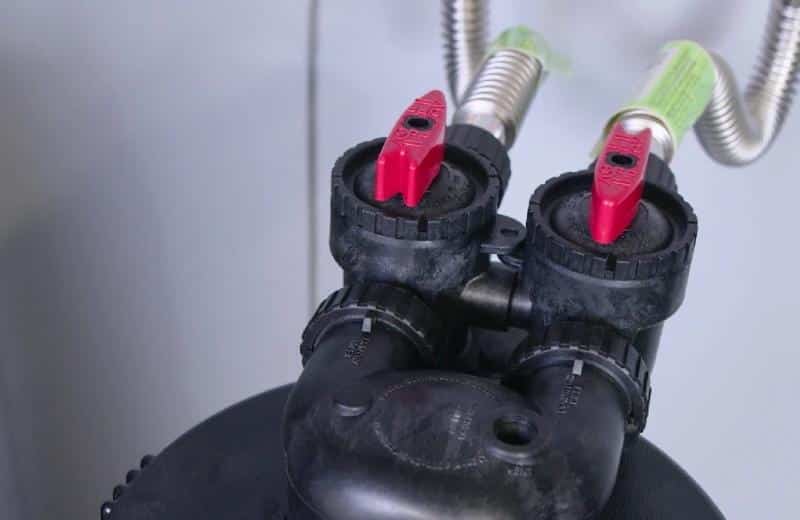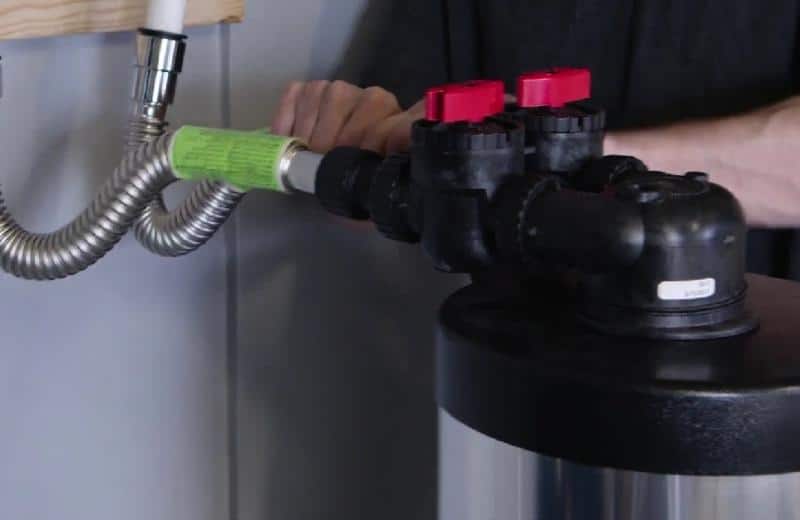 Key Features:
TAC conditioning – Just like its top competitors, the US Water Systems GreenWave turns calcium and magnesium minerals into microscopic crystals that are unable to form scale.
Scale reduction and prevention – This system both prevents new scale and reduces existing scale. The result? Improved water heater efficiency, longer-lasting appliances, and reduced maintenance costs.
Up to 81 GPG hardness removal – This US Water Systems model rivals the SpringWell FutureSoft with its identical hardness removal capabilities. If you have extremely hard water, this unit will handle it.
The GreenWave comes in four sizes:

10 GPM, for 1-2 bathrooms
15 GPM, for 2-3 bathrooms
20 GPM, for 4-6 bathrooms
25 GPM, for 7+ bathrooms
| USWS GreenWave Configurations | Price (3/4 in, Standard) | Price (3/4 in, w/ Carbon Filter ) | Price (1 in, Standard) | Price (1 in, w/ Carbon Filter ) |
| --- | --- | --- | --- | --- |
| 10 GPM | $1,484.06 | $1,569.06 | $1,484.06 | $1,569.06 |
| 15 GPM | $1,739.06 | $1,909.06 | $1,739.06 | $1,909.06 |
| 20 GPM | $1,994.06 | $2,164.06 | $1,994.06 | $2,164.06 |
| 25 GPM | $2,300.06 | $2,470.06 | $2,300.06 | $2,470.06 |
Best For: Very large households who want a system that can provide a good flow rate even at times of peak water usage. The 25 GPM GreenWave system has the highest flow rate of any conditioner on this list.
Pros:
The GreenWave is one of the few water conditioners to use a Vortech tank to boost performance. A Vortech setup prevents channeling and gives minerals a longer contact time with the media, boosting the effectiveness of the conditioning process. No regeneration needed!
We love that you can choose from a full four sizes for this system, including the largest 7-bathroom, 25 GPM size. If you have a large home or commercial unit with very hard water, the GreenWave's 25 GPM model is ideal for you.
The tanks and head are backed by a lifetime warranty, and the media has a 4-year warranty. Not bad, since the media has a 4-6 year lifespan anyway.
Cons:
The media only lasts 4-6 years. The other systems on this list have a TAC media that lasts 10 years, or for the lifespan of the system.
You'll need to install a pre-filter if your water is iron, manganese, or copper-heavy.
---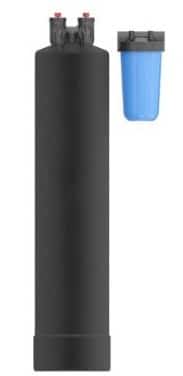 SoftPro Elite Salt Free Water Softener
Our alternative pick on this list is the SoftPro Elite Salt Free Water Softener. This system can treat water hardness up to 17 GPG with SoftPro's TAC technology, and costs just under $1,500 upfront.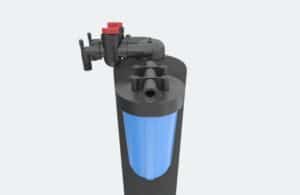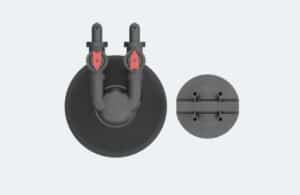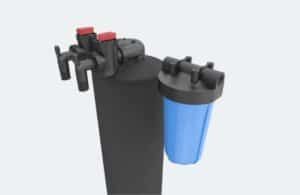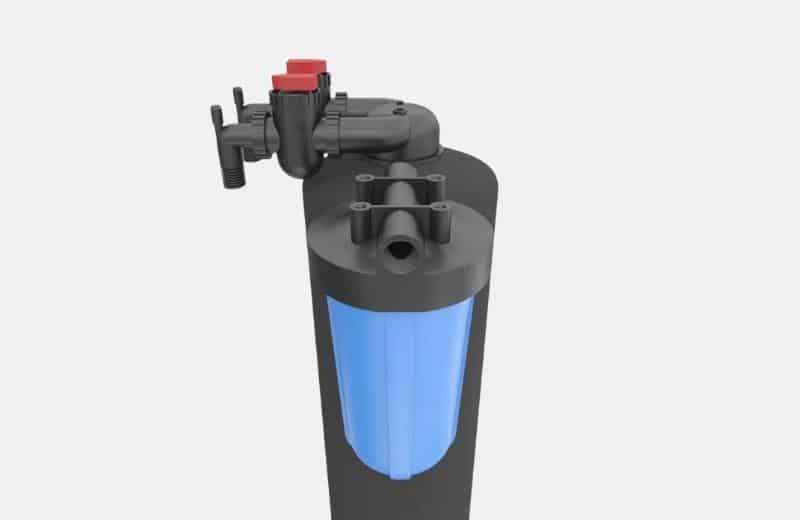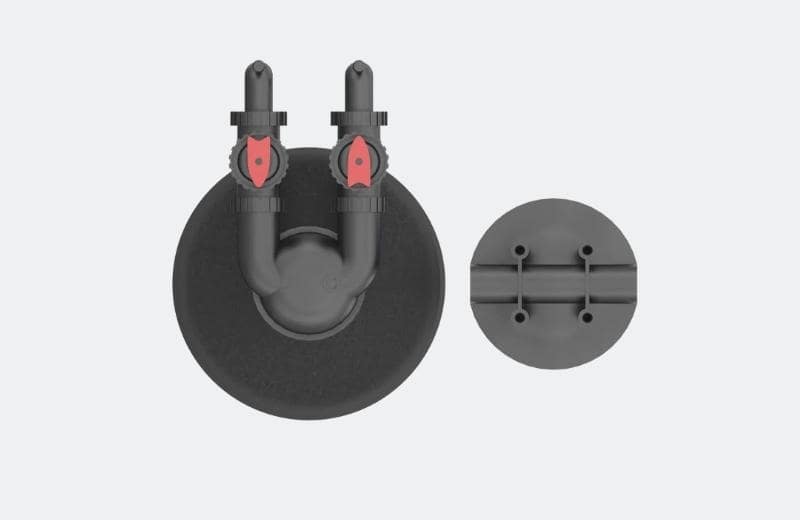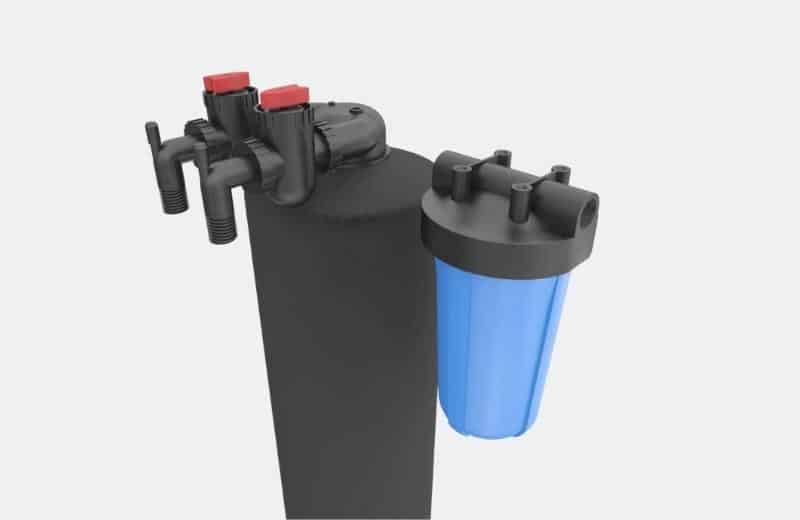 This system is pretty similar to the SpringWell FutureSoft and the Evo E-2000, but it's not quite as capable as either of these systems. Still, we wanted to include it in this list because it's a good option offered by a reputable brand.
You can buy the SoftPro Elite Salt-Free Softener in a single 12 GPM size for 1-5 bathrooms.
Key Features:
TAC descaling – We've already discussed TAC in our other reviews, and SoftPro sticks to what we know with a TAC descaling media in its tank-based system.
For very hard water – While this SoftPro model doesn't quite tackle as much water hardness as our top picks in this guide, a 17 GPG hardness treatment is still impressive. If you have hard or very hard water, this unit should have noticeable scale reduction effects.
Sediment filter included – Like all the best water conditioning units, the SoftPro Elite comes with an included sediment pre-filter, which needs changing every 3 months or so.
Best For: Anyone who, for some reason, doesn't want to buy the SpringWell or Evo systems, but still wants a highly capable water conditioning system.
Pros:
We think the 12 GPM flow rate is ideal for most households. We didn't notice a drop in water pressure after we installed this system.
We know by now that TAC is the most effective and research-backed descaling method, and the SoftPro Elite conditioner reduces scale in water supplies with up to 17 GPG hardness. That's ideal for most homes.
The tank and valves have an unbeatable limited lifetime warranty – the best reassurance you can ask for.
Cons:
The softening media only lasts 6 years and doesn't come with a warranty. Since all SoftPro's competitors offer media warranties, we have to wonder why SoftPro doesn't.
SoftPro doesn't offer a money-back trial, either, which means you can't buy and try the system risk-free.
---
🧾 Buyer's Guide: How We Selected the Best Water Conditioning Systems
Before you spend your money on a water conditioner, make sure to consider the following features. We also considered these features when we tested and compared our some of the shortlisted products in this guide.
Budget and Preferred System Type
There are three types of water conditioners available for residential use today:
Most common: Media-based conditioners that crystallize hardness minerals with a process like template–assisted crystallization
Second-most common: Magnetic water conditioners, which alter the composition of calcium and magnesium with a changing electromagnetic field
Also available: Chemical-based conditioners that prevent scale buildup by releasing a chemical additive, such as citric acid or polyphosphate, into water
Media-based systems are considered the most effective salt-free softeners (they can reduce scale up to 99%, according to this study) and are backed by the most research. They're also the most expensive option.
Chemical-based conditioners are the second-most expensive choice, and have the highest maintenance cost of the three, requiring frequent chemical top-ups. These conditioners are our least favorite – and customer feedback is mixed.
Magnetic water conditioners are the cheapest salt-free water softeners, costing a couple of hundred dollars upfront and almost nothing to run. According to research, they can reduce scale by up to 50% on average.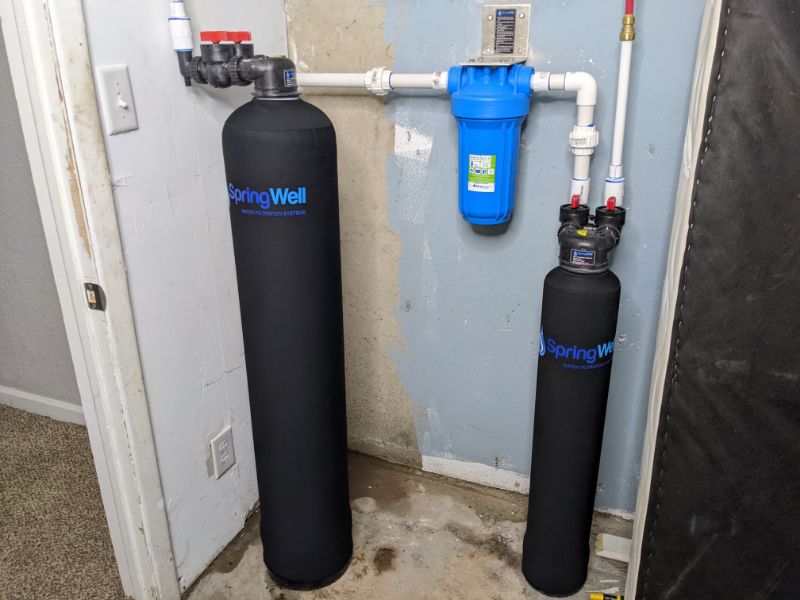 Installation & Maintenance
Now you know how much you're willing to spend, and on what type of water treatment system, consider your installation and maintenance preferences.
📌 If you're not a fan of DIY, electromagnetic descalers like the Yarna are your best choice. You just attach the system to the outside of your water pipe, no cutting or soldering required.
You need to be handy with tools if you're interested in DIY-installing a chemical chelation or media-based water conditioner. Or, you could save yourself the hassle and hire a professional plumber. Expected cost: around $200 extra.
Keep in mind your available space for installation, too. Electromagnetic water conditioners are the most space-saving units, while media- and chemical-based systems both use large, long tanks, so make sure you have enough space in your install location before you spend your money.
📌 As for maintenance, you won't need to do much for either system type. Tank-based systems may need media replacements every 6-10 years or semi-regular chemical top-ups. Electric water softeners are maintenance-free – just replace the pre-filter (more on that below) once or twice a year.
Pre-Filter Needs
Planning to use your water conditioner with well water? You'll potentially need a pre-filter.
This is only necessary for TAC conditioners. High levels of manganese, iron, sulfur, sediment, and copper could all foul the membrane and shorten its lifespan, and a pre-filter installed upstream of the TAC unit should remove these contaminants.
If you have normal tap water, you likely won't need to use a pre-filter.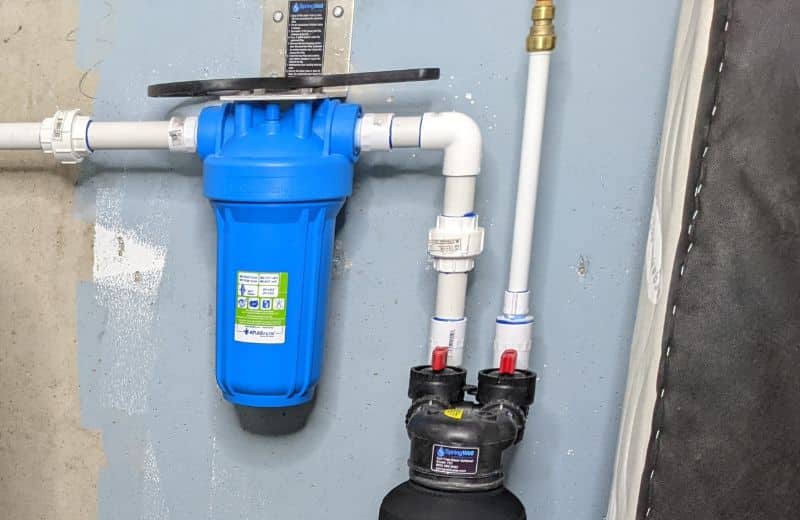 System Capacity & Flow Rate
Choose your system size and capacity carefully. You want to make sure that your chosen unit is capable of delivering enough conditioned water for your needs, even during peak times of water usage.
📌 Some water conditioning systems, like electronic descalers, are a one-size fits all. Tank-based systems, however, often come in at least two sizes: one size for homes with 1-3 bathrooms; and one size for homes with 4 or more bathrooms.
Smaller households should find a system that delivers around 12 GPM of water, while large households will benefit from a 15 GPM delivery rate.
Manufacturer & Warranty
When it comes to any kind of water treatment, SpringWell routinely tops our list. We've found that SpringWell's products are the most consistently reliable – but that doesn't mean they're right for everyone.
Just make sure that you go for a well-known, reputable brand and your chosen conditioner has plenty of positive customer feedback.
Buying a water conditioner online is often much cheaper than buying in-store, and lets you easily compare manufacturers and models without feeling pressured into a sale. You can choose to buy directly from the seller or from online marketplaces like Amazon.
Prioritize brands that offer US-based customer support, give you the opportunity to try their products at no risk with a trial period, and back their products with a good warranty.
Since you're paying so much for a water conditioner, the system should have at least a 1-year warranty. The best available warranties today are lifetime warranties.
🚿 What Is a Water Conditioner?
A water conditioner is a type of water treatment system that reduces or prevents scale formation without the use of salt. Water conditioners are also known as salt-free water softeners, although they don't actually soften water, because they don't physically remove hardness minerals.
We've identified three common types of water conditioners today: TAC water conditioners, chemical-based water conditioners, and electromagnetic descalers.
Template-Assisted Crystallization (TAC) Water Conditioners
System type: Tank-based
Scale reduction: Up to 99.6%
Pre-treatment?: Yes
Template-assisted crystallization, or TAC for short, is a conditioning process that takes place in a media bed. When water flows through a tank containing TAC media, the hardness minerals are crystallized. This suspends the minerals in water and prevents them from sticking to pipes and plumbing.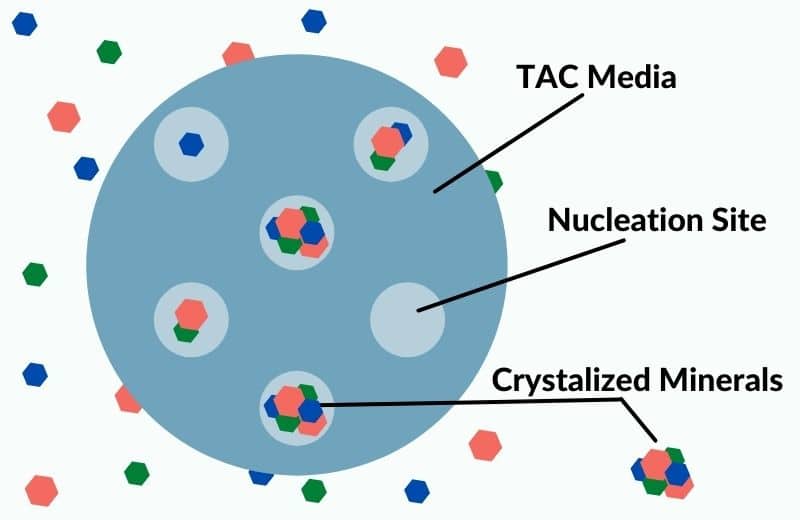 Chemical-Based Water Conditioners
System type: Tank-based
Scale reduction: 60-90%
Pre-treatment?: Yes
Chemical-based water conditioners bind together hardness minerals with a chelating agent (usually polyphosphate or citric acid). This prevents calcium and magnesium from being able to stick to the pipes in your plumbing system. We're less keen on chemical-based conditioners because we'd rather avoid adding any kind of chemical to our water.
Magnetic or Electromagnetic Water Conditioners
System type: Tank-based
Scale reduction: Up to 50%
Pre-treatment?: No
An electromagnetic water conditioner uses magnets or a coil or wire placed around the main water pipe. When water flows through the pipe, the magnets or coil produce a magnetic or electromagnetic field that causes the hardness minerals to form precipitating microscopic crystals. This reduces scale production, but doesn't eliminate it entirely.
🆚 Water Conditioners Vs Water Softeners?
Wondering how salt-based water softeners are different from salt-free water conditioners?
As we mentioned earlier, water conditioners are sometimes referred to as salt-free water softeners, which is pretty confusing since they don't actually soften water.
📌 The biggest difference between a salt-based water softener and a water conditioner is this: a salt-based water softener uses the ion exchange process to pull calcium and magnesium minerals out of water, replacing them with sodium. A water conditioner uses a no-salt conditioning method, like chelation or TAC, to alter the formation of calcium and magnesium minerals without removing them from the water supply.
So, while a salt-based water softener and a water conditioner both have the same purpose (fighting water hardness), they have different outcomes.
A salt-based water softener is the best choice for tackling well water or very hard water. These water softener systems are also best for water containing iron.
Water conditioners are best for reducing scale in city water. Unlike salt-based water softeners, conditioning systems don't need salt top-ups, and some don't need pre-filtration, so their maintenance requirements are lower. They also retain healthy minerals, so they don't alter water quality.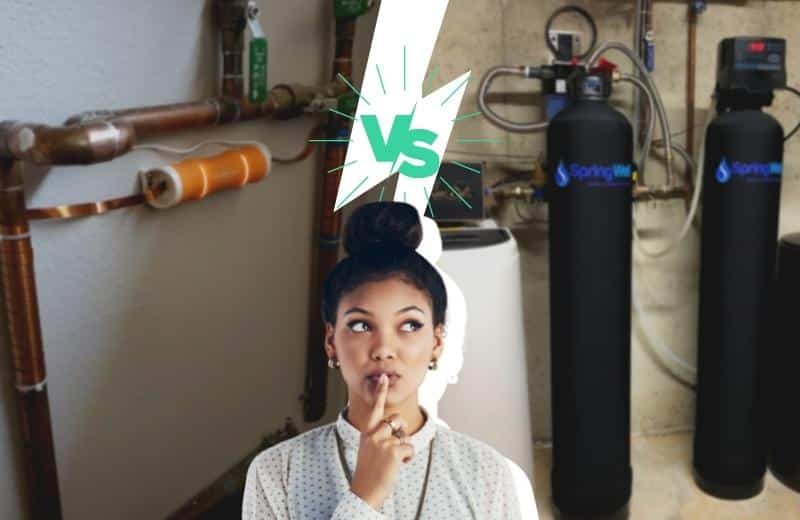 🤔 Why Use a Water Conditioner?
Wondering whether a water softener system or a water conditioner makes the most sense for you? There's no right or wrong answer, but there are some occasions when a water conditioner will be the better investment for your needs.
Here are the top reasons to consider a water conditioner instead of a whole house water softener in your home:
Your region bans the use of salt-based water softeners due to their use of sodium ions (which causes salt to be released into the environment) and their water waste.
You don't want to keep a system topped up with salt (a given for salt-based systems).
You want an easier-install unit. Tank-based conditioners don't need drain connections, so they're more DIY-friendly. Magnetic water softeners require virtually no setup at all.
You have a septic system that isn't built to handle excess water containing sodium ions.
You prefer to drink healthy minerals in your water and you don't enjoy how salt-softened water tastes or feels.
⚖️ Pros and Cons of Water Conditioners
Now you know the reasons for choosing a water conditioner in place of a traditional salt-based water softener system, you might think that water conditioners are the obvious choice.
But there are some setbacks of water conditioners that are important to know about before you invest in one-off these systems.
Let's take a look at the notable pros and cons of water conditioning units:
Pros
Protects your entire plumbing system and appliances. A water conditioner reduces scale up to 99%, including existing scale, depending on the system you choose. This means your entire plumbing system and appliances are protected against mineral buildup, so you can spend less money on repairs and enjoy 30% more use from your appliances.
Retains healthy minerals. Hardness minerals might be a pain, but they're essential nutrients for humans. By retaining these minerals in your water supply, you can enjoy healthier drinking water without the mineral buildup.
Minimal maintenance. Water conditioners require minimal maintenance. You'll only need to replace the TAC media once every decade or so, and replace the pre-filter (if you need one). Magnetic water softeners are even better: they're entirely maintenance-free.
No salt use or wasted water. Every single water conditioning method is salt-free and doesn't need to regenerate, so no wastewater is produced and water doesn't have an unpleasant slippery feel. Because they don't regenerate, they don't have any downtime, either – you can access conditioned water whenever you need it. Convenient and better for the environment.
Suitable for low-sodium diets. Water conditioners don't have a brine tank and don't use sodium to produce softened water. Salt-based softeners aren't a good option for people on low-sodium diets, but water conditioners are safe and suitable.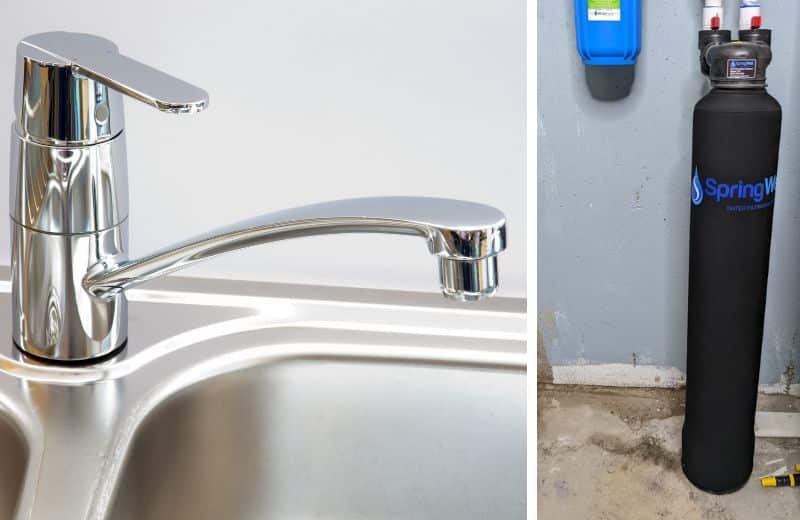 Cons
No benefits to hair and skin. Because water conditioners retain water hardness minerals, they don't reduce the effects of these minerals on hair and skin.
Not always ideal for all water types. Water conditioners aren't as suitable as salt-based softeners for treating very hard water or water containing iron.
Doesn't improve lathering. Again, because water hardness minerals are still present in conditioned water, you probably won't notice an improvement in the lathering of soaps and detergents.
Not a solution for soft laundry. While water softeners keep your laundry soft and your clothes comfortable, water conditioners have no effect on preventing scratchy, faded laundry.
Don't reduce staining. Traditional water softener systems reduce mineral staining, but water conditioning units usually have no effect on staining.
❔ Best Water Conditioners: FAQ
Which is better, salt based water softener or water conditioner?
Water conditioners and water softeners both have their pros and cons, so the better system for you depends on your needs. If you'd rather use a low-maintenance solution that costs virtually nothing to run, consider a water conditioner. If you have very hard water or you want the skin and hair benefits of completely eliminating calcium and magnesium from your water, choose a water softener.
How much does a water conditioner cost?
The average cost of a water conditioner is $1,200-$2,600, depending on the system size and the brand. The cost of professional installation is an extra $200 or so on top of that.
Do water conditioners actually work?
Yes, water conditioners actually work. A study of multiple water conditioners found that certain conditioners could reduce scale by 46 to 99%. What does this tell us? All water conditioners do what they're intended to do, but some are more effective than others. That's why reading guides and reviews is so important before you spend your money.
What does a water conditioning system do?
A water conditioning system "conditions" water, or reduces the scaling effects of hardness minerals while retaining these minerals in your water supply. There are several conditioning methods used today, and most involve crystallizing the minerals to prevent them from sticking to surfaces.
Is water conditioner good for hair?
Based on the science of a water conditioner, it shouldn't do much to your hair, good or bad. You may notice a slight improvement in your hair's moisture since fewer minerals should be sticking to your scalp.
Does a water conditioner change your water quality?
No. A water conditioner has no effect on your water quality. While conditioners alter the makeup of hardness minerals, they don't remove the minerals from your water. This means your water quality is the same upon exiting the system as it was upon entering the system. Only a salt-based water softener alters water quality by exchanging calcium and magnesium minerals with sodium ions.