Protect your other water treatment systems from harmful sediment with these top rated filters.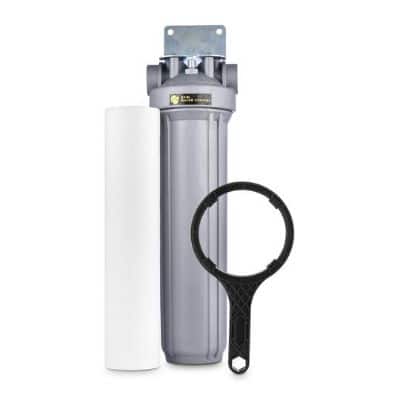 RKIN CBS 5 Micron Sediment Whole House Filter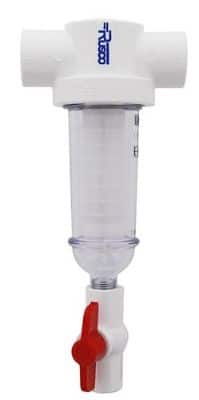 Rusco Spin Down Separator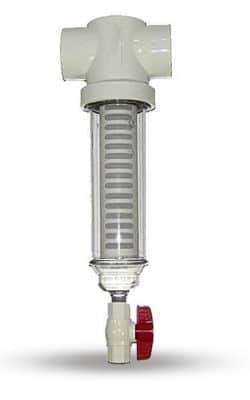 SoftPro Spin-Down Sediment Separator Filter
If you're one of the 43 million Americans who get their water from a private well, you'll understand just how essential it is to treat your water. Sand and sediment is a very common problem for well owners, and you're aware of your options for treating it.
If you're still trying to decide which sediment filter for well water is for you, this article will save you time. There are hundreds of dedicated well water sediment filters currently on the market, but I've narrowed them down to a list of 5. These products have proven, through my own extensive research, discussions with manufacturers, and in some cases, testing, to be the very best on offer today.
Why listen to me? My job is to test, review and compare at-home water treatment solutions, and I make it my business to know exactly what products are on offer – and which are the most popular with customers right now.
WaterFilterGuru.com receives more than 1 million yearly visitors. It's incredibly important to me that for such a large audience, I only recommend the highest-quality products that are worth the investment.
This guide is split into two sections:
A review section, where I've shared the information you need to know about the top 5 sediment filters for well water
A buyers' guide, covering the things you should consider before buying a sediment filter for your well
🥇 Best Sediment Filters for Well Water
📊 Comparison Chart of Sediment Filter for Well Water and City Water
| Product | RKIN CBS 5 Micron Sediment Whole House Filter | Rusco Spin Down Separator | SoftPro Spin-Down Sediment Separator Filter | iSpring WSP50ARB | Culligan WH-S200-C | AO Smith Whole House Water Sediment Filter |
| --- | --- | --- | --- | --- | --- | --- |
| Ranking | 1st | 2nd | 3rd | 4th | 5th | 6th |
| Ratings | 5/5 | 4.5/5 | 4.5/5 | 4/5 | 4/5 | 4/5 |
| Price | $$$ | $$ | $ | $$$ | $ | $ |
| Type | Cartridge | Spin-down | Spin-down | Spin-down | Cartridge | Cartridge |
| Micron Rating | 5 | 100 | 60 | 50 | Depends on cartridge | Depends on cartridge |
| Filter Life | 12 months | – | – | 12 months | 2 – 4 months | 6 months |
| Flow Rate | 20 GPM | 25 GPM | 1 – 100 GPM | 35 GPM | 4 GPM | 4 GPM |
| Max Pressure | 125 PSI | 125 PSI | 150 PSI | 140 PSI | 125 PSI | – |
| Annual Cost | ~$50- | ~30 | ~$20 | – | ~$70 | ~$20 |
| Warranty | – | Lifetime | 1 year | 1 year | 2 years | Limited 1 year |
---
⭐ Reviews – Sediment Filter for Well Water 2022
RKIN CBS 5 Micron Sediment Whole House Filter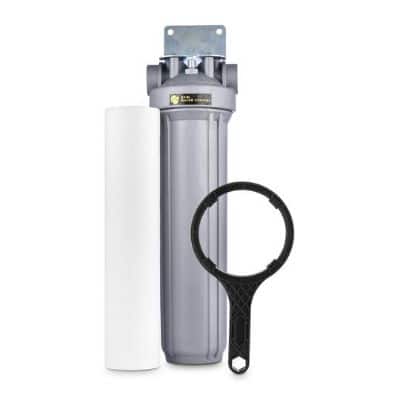 | | |
| --- | --- |
| Price | $$$ |
| Type | Cartridge |
| Micron Rating | 5 |
| Filter Life | 12 months |
| Flow Rate | 20 GPM |
| Max Pressure | 125 PSI |
| Annual Cost | ~$50 |
| Warranty | – |
The RKIN CBS 5 Micron Sediment Whole House Filter is a large-capacity sediment filter that can filter particles down to 5 microns in size.
Made from certified components, the RKIN sediment filter has a space-saving design, and comes with a stainless steel mounting bracket and wrench for installation and filter changes.
You can use the RKIN sediment filter with both well water and city water, and the media's patented bacteriostatic technology prevents the growth of bacteria throughout the filter's lifespan.
The filter cartridge should be changed every 12 months, or earlier if needed. Instructions for installing the filter are detailed and easy to follow, and US-based technical support is available if needed, so this is a filter you can DIY install yourself.
👍 What We Like
Space-saving, high-capacity design
Prevents bacteria growth
Easy DIY installation
👎 What We Don't Like
Quite expensive
Only basic product information available online – would be helpful to know more before buying
---
Rusco Spin Down Separator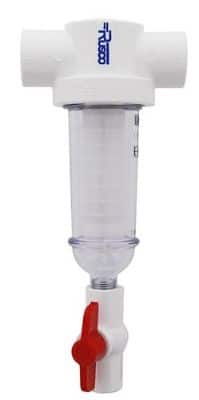 | | |
| --- | --- |
| Price | $$ |
| Type | Spin-down |
| Micron Rating | 100 |
| Filter Life | – |
| Flow Rate | 25 GPM |
| Max Pressure | 125 PSI |
| Annual Cost | ~30 |
| Warranty | Lifetime |
If you're looking to find an adaptable sediment filter that can be used however best suits you, the Rusco spin-down separator is a worthy choice. This spin-down sediment water filter is small and unobtrusive, weighing less than 2 pounds. It's compact enough to install in small spaces, whether alone or before a large whole house filter system.
The Rusco can be used to remove rust and sand from well water sources – but it can also be used for other purposes, such as farming and gardening. If you use garden hoses and other water-based outdoor appliances frequently, you can rely on the Rusco to filter out the suspended particles in your water and extend the life of your appliances – plus provide your outdoor space with a cleaner water source.
What makes the Rusco special is that it can handle more than just sediment. It can also reduce rust and metals in water, helping to further improve quality and taste. As a spin-down sediment filter, this system has a valve that can be used to send water back into the filter for flushing, helping to maintain a long lifespan.
The Rusco has a flow rate between 10 and 40 GPM (gallons per minute) and a maximum pressure of 150 PSI, so you can rest assured that this sediment filter is capable of working to a high standard in every home.
👍 What We Like
Small, compact and versatile
Valve for flushing water improves system lifespan
Clear housing lets you monitor the filter
Can be connected up to water lines of different sizes
Removes some metals alongside sediment
👎 What We Don't Like
Gets blocked fairly quickly without flushing
Slightly more expensive than similar filters
---
SoftPro Spin-Down Sediment Separator Filter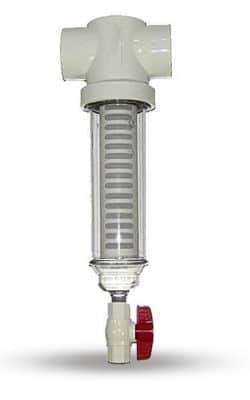 | | |
| --- | --- |
| Price | $ |
| Type | Spin-down |
| Micron Rating | 60 |
| Filter Life | – |
| Flow Rate | 1 – 100 GPM |
| Max Pressure | 150 PSI |
| Annual Cost | ~$20 |
| Warranty | 1 year |
For particularly sandy well water, the SoftPro filter is one of the best sediment filter options for you. Not only can this filter help to prevent wear and tear in your plumbing caused by silt, sand and algae, it can also extend the lifespan of your home's appliances and any other filter cartridges you use after this one.
Brecuase this unit features a ball valve, you can quickly and simply flush away the collected sediment, helping to ensure the system continues to work to a high efficiency. If certifications are a must in your eyes, you'll be pleased to know that the SoftPro sediment filter is manufactured from NSF-listed, FDA-grade materials for your safety and peace of mind.
Unlike some filters, you don't have to replace the entire filter cartridge in this system. Instead, the system comes with replaceable polyester screens that filter out the sediment – so all that needs replacing is the screen, and not the cartridge itself. To remove the sediment, you simply open the valve to flush it out with water. Installing this filter is relatively simple as there's only one chamber and two ends to connect to your water line.
With a flow rate of 1 to 100 GPM (depending on size), the SoftPro filter is ideal for using in most residential properties and won't affect your water pressure. Whether you're using it as a pre-filter for a whole home system or you simply want to protect your plumbing and appliances from abrasive sand and silt, you can't go wrong with this filter.
👍 What We Like
Relatively easy to install
High flow rate suitable for most households
Don't require replacing the whole filter cartridge
👎 What We Don't Like
Requires flushing to maintain good performance
---
iSpring WSP50ARB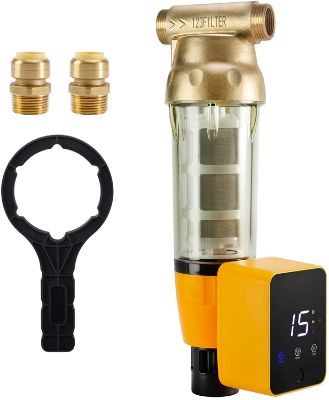 | | |
| --- | --- |
| Price | $$$ |
| Type | Spin-down |
| Micron Rating | 50 |
| Filter Life | 12 months |
| Flow Rate | 35 GPM |
| Max Pressure | 140 PSI |
| Annual Cost | – |
| Warranty | 1 year |
One of the best reusable spin-down sediment filters today is the iSpring WSP50ARB. Being both reusable and flushable, this filter requires less frequent changes and reduces time and effort spent on maintenance.
The best way to use the iSpring WSP 50SL is by installing it as a pre-filter before a whole house filtration system, helping to take some of the work away from the lower micron filters and increase system lifespan. This filter is effective in removing not only particulates, but also sediment, rust, dust, and floating items.
The iSpring WSP 50SL reusable spin filter is made from materials that are both durable and pressure-resistant. Included with the package are lead-free brass fittings, a 50-micron stainless steel mesh filter screen, and transparent housing. All materials used in this system are BPA-free.
Conveniently, with its 360-degree rotatable head connection, you can install the iSpring WSP 50SL in any direction, making this spin-down sediment filter ideal for setup in spaces with limited room. You can use it with copper, CPVC and PEX pipes, all of which the system works well with, offering a flow rate of up to 35 GPM.
Because the iSpring WSP 50SL water filter is flushable, you don't have to put in the effort of routine maintenance. Simply select a choice between auto, semi-auto, and manual on the system's high-definition touch screen to pre-set a schedule for manual or automatic flushing.
👍 What We Like
Reusable and flushable
Durable stainless steel mesh filter
Lead-free brass fittings
👎 What We Don't Like
User manual could be clearer
System leaks without extra tightening
---
Culligan WH-S200-C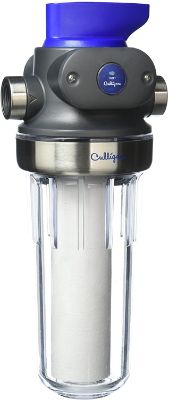 | | |
| --- | --- |
| Price | $ |
| Type | Cartridge |
| Micron Rating | Depends on cartridge |
| Filter Life | 2 – 4 months |
| Flow Rate | 4 GPM |
| Max Pressure | 125 PSI |
| Annual Cost | ~$70 |
| Warranty | 2 years |
As a no-fuss sediment filter for well and municipal water, the Culligan WH HD200 C whole house water filter is a fantastic sediment filter option for small and medium-sized families. It works to reduce a variety of common sediment in well water, such as dirt, sand and silt, some of which may also be present in municipal water.
From your kitchen to your bathroom, laundry room and garden, every space in and around your home can benefit from the Culligan. It's easy to install on a 3/4 inch water line before your water heater – just make sure to use plenty of elbow grease when you tighten the fittings, which will keep the system anchored in place.
There are plenty of features of the Culligan that make it easy to use and maintain. The clear filter housing lets you watch the system at work – plus, you can know with just a glance when the cartridge needs replacing, helping you to stay ahead with filter purchases.
Because the system has a built-in bypass valve, you won't have to turn off your entire water supply when it's time to replace the filter. That means you'll still have access to your well or municipal water at all times – it just won't be filtered while you're carrying out maintenance.
If you're after more than just a sediment filter, you can combine the Culligan with other water filters offered by the manufacturer. Like many of Culligan's water filters, the WH-S200-C whole home sediment filter boasts a good number of certifications, including a WQA certification to meet NSF Standard 42 for structural integrity, 61 for material safety, and 372 for low lead compliance.
👍 What We Like
Clear filter housing lets you check on the filter system
NSF certified
Built-in bypass valve
👎 What We Don't Like
Needs tightening to anchor in place
Very difficult to unscrew filter housing for maintenance
---
AO Smith Whole House Water Sediment Filter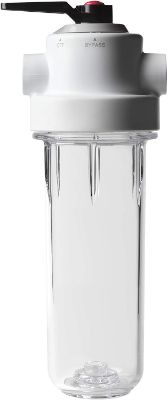 | | |
| --- | --- |
| Price | $ |
| Type | Cartridge |
| Micron Rating | Depends on cartridge |
| Filter Life | 6 months |
| Flow Rate | 4 GPM |
| Max Pressure | – |
| Annual Cost | ~$20 |
| Warranty | 1 year (limited) |
As one of the most popular sediment water filters for standalone or combined use, the AO Smith 5-micron size filter has a lot going for it as a whole house sediment filter. Boasting a high flow rate, this filter won't reduce your home's water pressure – at least until it needs replacing.
This easy-to-install system is NSF certified to standard 42 to reduce sediment like dirt, rust and dust from any water supply, providing immediate access to sediment-free water in your home. With its built-in shut-off valve, you can simply twist the valve to divert water away from the system while you perform maintenance, so there's no need to shut off your water supply for the job.
Like the majority of sediment filters of its kind, the AO Smith comes with one initial filter cartridge, which has 2.5 inch fittings, and you'll need to buy replacement filters yourself as needed. You can choose whether to use this filter alone or combined with other filtration systems, either those offered by AO Smith or other systems of your choice.
The AO Smith sediment filter comes with everything you need to get started with an immediate installation, including filter housing, the first sediment filter, and a housing wrench. If you have basic plumbing skills, you'll be fine to handle installation yourself, and most people find the instructions in the user manual to be pretty clear and straightforward.
👍 What We Like
5-micron size filter ideal for removing large sediment
Offers a high flow rate
Comes with everything needed for installation
👎 What We Don't Like
Quite expensive
Some customers reported that mounting bracket needed to be stronger
---
🎭 The Competition
Here is a list of products we've reviewed previously, but no longer make the cut:
🧾 Sediment Filter for Well Water Buyer's Guide
A sediment filter is a type of filter that's specially designed for removing large suspended particles in water, including sand, dirt, dust, and rust. Read on to learn more about sediment filters and why you may need one for your own well water supply.
🤔 Why Do I Need a Sediment Filter for Well Water?
If you're at all knowledgeable about water treatment solutions, you may have heard of sediment filters before. Sediment filters are commonly known as pre-filters when they're included in whole home systems such as reverse osmosis filters. They remove the large particles found in water that can clog up a carbon filter or RO membrane and reduce its inefficiency.
If your home uses a city water supply, you can definitely still benefit from a water sediment filter. But well water typically tests a lot higher for sediment than city water, and that's because of where it comes from.
While city water is treated and sent on its way through pipes into our homes, well water essentially just comes from a big hole in the earth, which means it's more likely to contain small particles of that earth in it. Well water with a high level of sediment may be affected taste-wise. These particles may also damage your main water supply line and affect flow rate and water pressure over time.
🔠 Types of Sediment Filters
There are two types of well water sediment filters that you're most likely to come across today: spin-down and cartridge, both of which can be used at the home's point of entry.
Spin-down
A spin-down sediment filter is a less common sediment filter that's particularly effective in well water sediment removal. This filter for well water is installed as a first stage filter, usually before another filter cartridge that's designed for removing specific contaminants from water, like chlorine or lead. You may hear it referred to as a pre-filter.
You're most likely to find a spin-down sediment water filter in a whole house filtration system, especially when it comes to treating well water. You want to treat the water as close to its entry point into your home as possible, which will ensure that the main water supply throughout your entire house is clean and sediment-free.
How does it work?
This type of filter is a little different in design than a typical filter cartridge. It looks a bit like a large pipette, and typically has a clear exterior so you can see the build-up of sediment inside.
Spin-down filters are unique in that you can they come with a flush valve, which allows you to quickly and easily remove the collected sediment without having to take the filter out of its filter housing or remove it from your water line.
An advantage of spin-down filters is that they're easy to install and don't affect water pressure as noticeably as some other types of sediment well water filter, They come in multiple pipe sizes and can handle water flow from 20 GPM to 80 GPM.
Cartridge Filters
A cartridge filter is probably the sediment filter you're most familiar with. Cartridge filters are either installed at a water line in their own filter housing, or they share the housing of a much larger multiple-stage filter.
Either way, you'll usually come across a cartridge filter that acts as a first stage pre-filter before other stages of filtration, whether there are separate cartridges involved or just one big tank.
There are two popular types of cartridge filters to be aware of: spun cartridge and pleated cartridge filters.
How do they work?
Spun-cartridge
Spun-cartridge filters get their name because of their design. They're cylindrical shaped and are typically made from multiple layers of spun, melted polypropylene. When water passes into a spun-cartridge filter, it encounters a more thorough filtration because of the multiple stages of media it has to travel through.
The very outside later of a spun-cartridge filter is the most porous. It has the highest micron level, which means it can trap the largest particles first, such as grains of sand and dirt. As water continues to travel deeper into the filter, each layer has a lower micron level, making this type of filter capable of removing sediment of all sizes.
You can use a spun-cartridge filter with any filter system, making it one of the best whole house sediment filters in terms of convenience.
Pleated
Like spun-cartridge filters, pleated cartridge filters get their name because of their design. The media used inside the filter has a pleated, folded design with a high micron rating, enabling the filter to trap the greatest quantity of large particles, like dust, sand, silt and rust.
Pleated cartridge filters don't tend to be as effective as spun-cartridge filters because they only consist of a single high-micron design throughout. This means they're pretty useless at removing smaller contaminants from water – but they're a worthy addition to any whole home water filtration system as a pre-filter.
While it traps large, suspended particles, a pleated filter lets smaller particles pass through. These can then be filtered out by filters with a smaller micron rating, such as activated carbon filters.
⚖️ Which Type of Sediment Filter Should I Use?
Considering both cartridge and spin-down sediment filters have their benefits, how do you know which one is best suited for you?
This all comes down to the quality of your water source. You can find out exactly which contaminants your well water contains, and to what level, by using a basic testing kit. You can then look for filters that are particularly effective at targeting the sediment issues you're facing.
I also recommend reading over the following considerations and making sure to keep them in mind when it comes to buying your own sediment filter for well water.
💭 Considerations When Buying a Well Water Sediment Filter
Water Source
If you're on the hunt for a well water filter, I'm going to assume that your home's main water supply comes from your well. But "well water" is a pretty generic term used to describe a body of water that could be vastly different from one house to the next.
Your location plays a big part in the quality of your water. Different types and quantities of sediment are found in different parts of the world. That's why it's wise to test your water before you rush into buying any old sediment filter.
A test will tell you exactly which contaminants are in your water, which will help you to decide on the best sediment filter for well water in your own home.
Type of Sediment
Not all sediment is the same. There are various types of sediment that can make its way into your well water, and you can't rely on all of the best sediment filters to remove all types of sediment entirely. While benefit from a sediment filter as the first line of defense, using it alongside a whole house well water filter will remove the highest level of all large particles found in your water.
If you're not sure what the best sediment filter for well water is based on your particular well sediment content, your best bet is to buy a whole house water filtration system that features a sediment filter with a high micron rating, with additional stages following up.
Your Water Pressure
The normal water pressure of a medium family home is between 40 and 60 PSI. You can measure your water pressure using a pressure gauge, which you can buy online.
It's important to check that your water pressure is suitable for installing a sediment water filter before you actually do so. Many water filters can't handle high pressure, for instance, which could cause damage to the inside of the system. Low pressure, on the other hand, can affect your home's water flow rate, because the water is further slowed by the friction it encounters from passing through the filters.
If your water pressure is higher than 60 PSI, it doesn't necessarily mean you need to figure out a way to decrease it. Some sediment filters are designed to handle a PSI of up to 150. Just be sure to check before you buy if you have specific requirements.
Filter Capacity
Filter capacity is one of the most important deciders when looking for sediment filters for well water. The capacity of a water filtration system lets you know the maximum gallon output of a system, or how many months or years you can expect a filter to last.
It's important that you change a filter when it hits its maximin filtering capacity, as a filter that's completely clogged will sediment will slow down your water flow rate massively. This is because water can only pass through the filter at a stunted rate, as the majority of the filter pores are blocked with sediment. To keep water flow rate high in your home with minimum maintenance required, look for a sediment filter with at least a 6-month lifespan.
Micron Rating
The thing to usually in mind with the micron rating of a filter is "the lower, the better". Microns refer to the size of the filter pores – so the lower the micron rating, the smaller the pores. For instance, a filter that has a 1-micron rating will be capable of removing much smaller sediment than a 5-micron filter could.
But is low really the best for a sediment water filter for well supplies? Yes – but only to some extent. Most sediment filters don't have a micron rating any lower than 5, and that's because their goal is to filter out larger sediment. It's down to the filters that follow on from a well water sediment filter to remove these smaller particles.
Typically, you'll find the best sediment filter options for well water have micron ratings of 5 to 30. If your goal is to remove sediment and smaller contaminants from water, your best bet is to buy a whole home filtration system, of which a sediment filter is the first stage.
Installation & Maintenance
Installing a sediment filter at your main water line can prove to be something of a challenge. However, most manufacturers design their sediment filters to be easy enough to install by the average homeowner.
Sediment filters alone come with very few parts to worry about. If you're installing a sediment filter as the first stage of a bigger water filtration system, and you don't rate your plumbing or DIY skills, you may need to consider hiring a plumber for the job.
In terms of maintenance, there's usually nothing you'll have to remember aside from filter changes. Check your filter's user manual to see how often it needs to be changed, and make sure you keep a stock of replacement filters for when the time comes.
You may also need to flush your filter every now and then, so make sure to check whether you need to do this to keep the filter in good shape.
Additional features
Some of the best sediment filters for well water come with additional features that help to improve their performance and lengthen their lifespan. The flushable sediment filter feature is one of the most beneficial to have.
When a filter has backwashing or spin-down capabilities, it'll clean out any build-up sediment, preventing it from clogging the filter and ensuring that the water can pass through effectively. Note that most filters with no backflushing element usually can't be cleaned by hand as an alternative, as this can cause damage to the media.
Warranty
If your sediment filter comes with a warranty, it's not only a sign that the manufacturer is confident in the quality of their filter, but it's also reassurance on your part that you're covered in the event of a manufacturing fault or accident. Most manufacturers offer multi-year warranties for whole house sediment water filter systems. Make sure to read the fine print of a warranty carefully, as not all are equal.
❔ Frequently Asked Questions
Is well water sediment bad for your health?
It depends what type and how much. Certain types of sediment can be harmful if you ingest a high level of them at once. That's why it's important to remove sediment with a sediment water filter, making it safe for yourself and your family to drink.
Are sediment filters capable of removing iron?
Some are, yes. But you can rarely rely on a sediment filter alone if you have high iron levels. While sediment filters are effective at reducing suspended rust particles in water, they can't remove soluble iron particles. If you're keen to eliminate iron from your well water, you're best off using a sediment water filter alongside a whole house filter that is specifically designed for iron removal.
How do you know that a sediment filter is working?
The quickest and easiest way to know if you're seeing results is to test your tap water for sediment beforehand (which you can do with a test kit purchased online), then test it again after installing the filter.
Is it better to get a 1 micron or 5 micron size sediment water filter?
It depends on what you're looking for. Generally speaking, when it comes to activated carbon filters and similar, the lower the micron rating, the better. But the whole point of a sediment filter is to remove large particles, which means a 5 micron filter is actually more beneficial. The best solution is to combine a 5 micron size sediment filter with a filtration system that uses filters with a lower micron rating.
When should I opt for a spin-down sediment filter instead of a fine micron sediment filter?
If you have a pretty heavy load of sediment in your well water, you'll benefit most from using a spin-down filter. That's because spin-down filters can trap large particles of sediment and sand that could otherwise clog a typical filter and render it ineffective almost immediately. A spin-down filter uses centrifugal force to push dirt and debris into the bottom of the system, which you can release by opening the valve.
What's the average lifespan of a sediment filter?
This totally depends upon the quality of your water and how much sediment you're dealing with. Every 3, 000 gallons of water, or 6 months, is the most common period between filter changes. But some sediment filters can last much longer than this, up to 6, 000 gallons of water (every 12 months) or more. You'll usually be able to tell when a filter needs changing because your home's water flow will slow right down.
How Often Should I Change My Sediment Filter?
You'll usually need to change a whole house sediment filter once every 6 to 9 months. Some filters are even better than this, and can last up to a year or longer. The best way to know for sure when your sediment water filter needs changing is to monitor your water pressure. If the pressure drops, it's a likely sign that you need to change your filter.