🧾 Overview
The Springwell Whole House Well Water Filter is a high-capacity filtration system designed to remove up to 7 PPM of iron, 8 PPM of hydrogen, and 1 PPM of manganese.
The system comes in two sizes: a standard size for homes with 1-4 bathrooms and a larger size for homes with 4+ bathrooms.
📝 System Specifications
Tank width: 10" (1-4 bathrooms), 13" (4+ bathrooms)
Tank height: 54" or 64" including head
Connection size: 1"
Flow rate: 12 GPM (1-4 bathrooms), 20 GPM (4+ bathrooms)
Water pressure required: 25-80 PSI
Temperature required: 36-120 F
pH required: 6.5- 10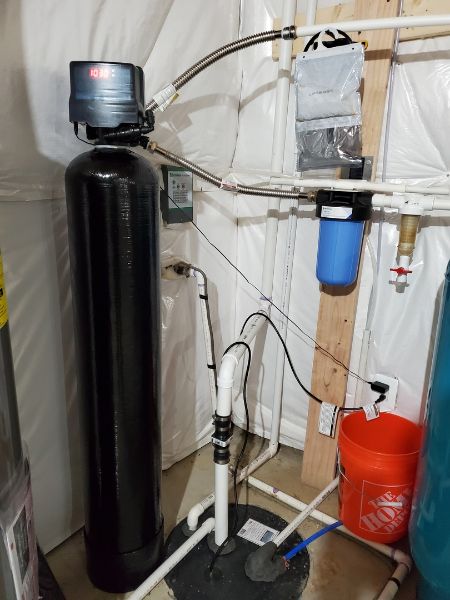 My readers get 5% off at springwellwater.com 👉 Use code: GURU5
💡 Features
Single-tank oxidation
The Springwell uses a single tank for oxidation, which contains an oxidizing media. This tank comes pre-installed and ready to hook up to your water line, with the media ready to use immediately. 
Bluetooth control head
The Bluetooth control head allows you to manually set timings for backwashing and air draw. You can connect this to your phone to control your system remotely. 
Installation kit
Included with the main tank and control head is an installation kit containing the components required for setup. You may need to purchase adaptors and additional connections/fittings depending on the size of your existing water pipes.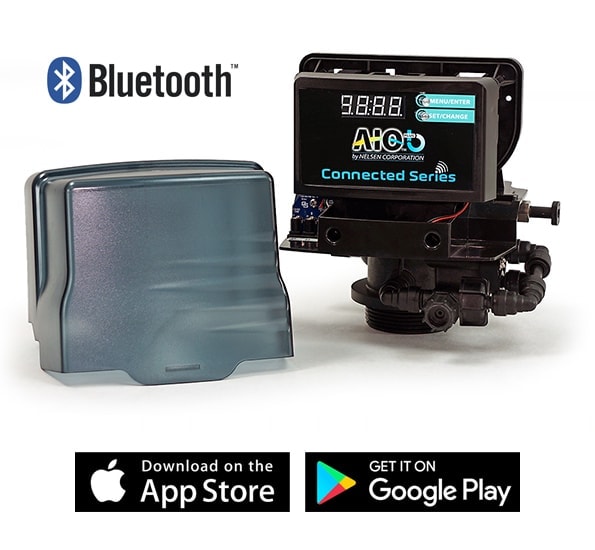 🚦 Performance
As far as performance goes, the Springwell unit is one of the best for all-round iron, manganese and hydrogen sulfide removal. The average well water filter can remove around 5 PPM of iron, and the Springwell can remove 7, making it slightly more capable in that respect. 8 PPM of hydrogen sulfide and 1 PPM of manganese removal is also very impressive. 
The Springwell uses an air oxidation media to remove contaminants from well water. Oxidation is a well-known, proven technique that typically delivers results to a high standard. 
Backwashing is a natural, unavoidable part of the oxidation process. The Springwell handles it quickly, using an Empress Vortech Tank for quick and thorough cleaning of the media. 
For homes with the minimum required water pressure of 25 PSI, the Springwell system delivers water promptly. You won't have to wait several minutes to fill up a glass of water, and you won't notice a difference in water pressure when you take a shower. 
The Springwell's Bluetooth control head serves to fine-tune performance and boost energy efficiency. You can manually set backwashing cycles, air draw and timing, and the unit will remember these settings going forward.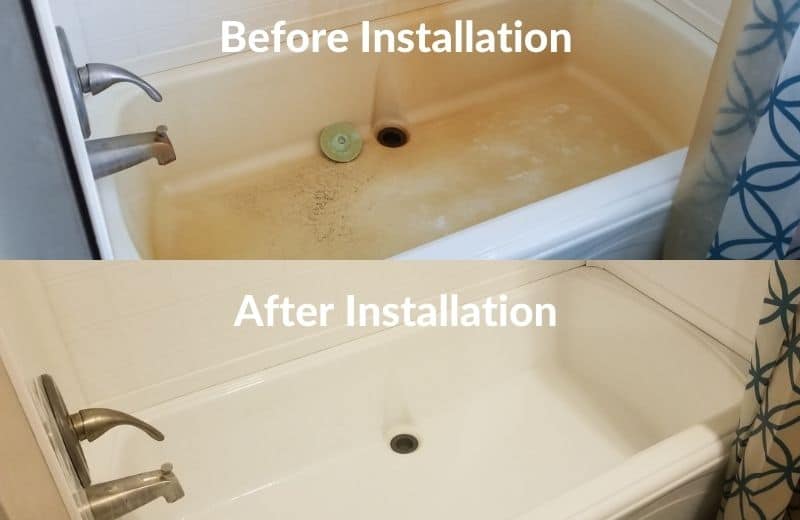 My readers get 5% off at springwellwater.com 👉 Use code: GURU5
📝 Filter Info
Like the majority of well water filters, the Springwell system uses the air injection oxidation process to remove sulfur, manganese and iron from water.
At the top of the filter tank is an air pocket, which oxidizes these common contaminants when water passes through. Dissolved oxygen is also added to the water, and the oxidized contaminants are then filtered out of the system.
The entire oxidation process takes place in a single tank. This is made possible by the Springwell's automatic electronic control valve, which controls a patented piston that keeps the system operating as efficiently as possible. 
There are four steps of filtration in the Springwell well water filter:
Water flows through the tank's air pocket, and iron, manganese and hydrogen sulfide are oxidized. 
The unit's greensand bed traps the oxidized contaminants, preventing them from entering back into the water. 
When the system backwashes, the manganese, hydrogen sulfide and iron are flushed out of the greensand bed. A fresh pocket of air is introduced into the tank. 
Clean, filtered water leaves the system and travels into your faucets and appliances.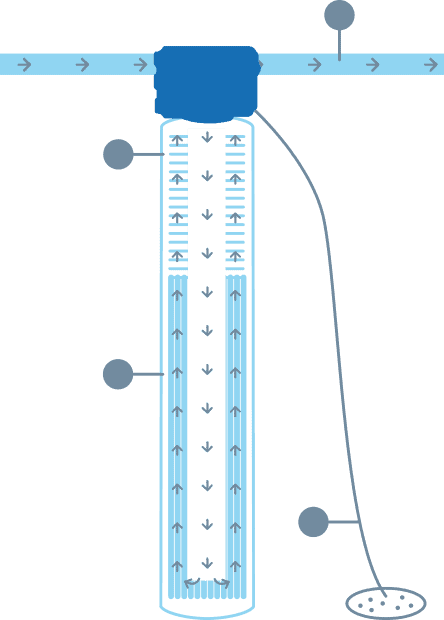 🔧 Installation & Maintenance
The system comes with a free installation kit that includes everything you will need to set it up in your home. A 50-inch drain line, bypass valve, electronic head and hose clamps are included with your purchase. 
Even if you don't consider yourself handy, installing the Springwell shouldn't prove too challenging. The system comes with detailed instructions for installation, and there's a handy YouTube video for visual learners. 
If you really don't consider yourself the DIY type, you may need to call a plumber or a handyman to install the Springwell system for you.
In terms of maintenance, there's virtually nothing you'll need to do. The oxidation media has a lifetime warranty, and Springwell boasts that the system is the last one you'll ever have to own if you get your water from a private well. 
If you come across any damage over the years, you may be able to order a free replacement from the manufacturer. The system comes with a lifetime warranty on the majority of components, including the housings, tanks, valves, bypasses, and in/out heads.
🔔 Pros & Cons
👍 What I Like
Lifetime manufacturer's warranty – The Springwell comes with a lifetime warranty on nearly all parts, including the tank and oxidizing media.
No maintenance – A huge benefit of this well water system is that it requires no maintenance – you simply program the settings and leave it to it.
Effective iron removal – The Springwell is particularly effective at removing iron and hydrogen sulfide. It can also remove manganese.
👎 What I Don't Like
Costly – The Springwell well water filter costs nearly $2,000. While this is a worthwhile investment for a well owner, it certainly isn't cheap.
May require a plumber – You may need to hire a plumber to install the Springwell, which will cost around $200 extra.
My readers get 5% off at springwellwater.com 👉 Use code: GURU5
❔ Frequently Asked Questions
Will I need to purchase anything alongside the Springwell for installation?
Yes, you will likely need to buy fittings and connections to plumb the system in. You won't need to buy components like the control head, valves and bypasses, as these are included in the installation kit. Contact the manufacturer if you're unsure.
If I install this filter, will I still need a whole home water softener?
Yes. If you have an issue with hard water, the Springwell well water filter won't solve that. It's designed to oxidize iron, manganese and sulfur. A water softener, on the other hand, uses ion exchange to remove calcium and magnesium from water.
Found this review helpful?
Comment below or share this article!