Rusty water might be safe for the most part, but do you really want to drink it? Thousands of private well water owners have already answered "no" – and increasing consumer demand means that more than 20 big names in the water filter industry have responded with their own iron-removal solutions.
If you're looking for the best iron filter for well water, I can help.
Having worked as an independent reviewer in the water filter industry for more than a decade, I know exactly what makes a filter worth spending your money on – and what should be avoided at all costs.
130,000 monthly visitors get value from my buyers' guides, product reviews and blog posts, and I've been published on platforms such as WWD Magazine and Sawyer Products.
To review the best iron filters in this guide, I scoured the internet for reviews from customers and read up on product literature and laboratory testing results to get an idea of how each filter works – and how it lives up to expectations. I also spoke directly to the manufacturers for important information I couldn't already find online.
The resulting list features well water iron filters that I feel are worthy of your attention based on performance, quality of design and usability.
In this guide, you'll find:
Reviews of the 7 best iron filters for well water
Information about the different methods of iron removal
The 6 things you need to consider before buying a well water iron filter
🥇 Best Iron Filter for Well Water
SpringWell Whole House Well Water Filter System
SoftPro IronMaster Water Filtration System
AquaOx FE Edition
Pelican Iron & Manganese Water Filter
US Water Systems Matrixx Infusion Iron and Sulfur Removal System
Crystal Quest Iron and Hydrogen Sulfide Whole House Filter
Tier1 Precision Series
Fleck Iron Pro 2 Combination Water Softener Iron Filter
System
Details
SpringWell Whole House Well Water Filter System

Type: Whole house filter
Iron removed: Up to 7 PPM
Flow rate: 11 - 20 GPM
Warranty: Lifetime
Contaminants Removed: Iron, Hydrogen Sulfide & Manganese



☝️ Get 5% off - Use code GURU5


👉 Read the full review
SoftPro IronMaster Water Filtration System

Type: Whole house filter
Iron removed: Up to 30 PPM
Flow rate: 6 - 12 GPM
Warranty: Lifetime on tank and other parts
Contaminants Removed: Iron, Hydrogen Sulfide & Manganese
AquaOx FE Edition

Type: Whole house filter
Iron removed:
Flow rate: 15 GPM
Warranty: 10 years
Contaminants Removed: Ferrous Iron & Ferric Iron

Pelican Iron & Manganese Water Filter

Type: Whole house filter + water softener
Iron removed: Up to 10 PPM
Flow rate: 10 - 15 GPM
Warranty: 12 years
Contaminants Removed: Iron & Sediments (dirt, rust & dust)
US Water Systems Matrixx Infusion Iron and Sulfur Removal System

Type: Hydrogen peroxide injection + oxidation
Iron removed: Up to 20 PPM
Flow rate: 10 - 25 GPM
Warranty: Lifetime on tank, 10 years on other parts
Contaminants Removed: Iron & Hydrogen Sulfide
Crystal Quest Iron and Hydrogen Sulfide Whole House Filter

Type: Whole house filter
Iron removed: Up to 15 PPM
Flow rate: 9 - 13 GPM
Warranty: 1 year whole system, 5 years controller, 10 years tank.
Contaminants Removed: Iron, Hydrogen Sulfide & Manganese
Tier1 Precision Series

Type: Whole house filter
Iron removed: Up to 4 PPM
Flow rate: 5.8 GPM
Warranty: 90 days
Contaminants Removed: Iron, Hydrogen Sulfide & Manganese
Fleck Iron Pro 2 Combination Water Softener Iron Filter

Type: Whole house filter + water softener
Iron removed: Up to 8 PPM
Flow rate: 15 GPM
Warranty: 5 years
Contaminants Removed: Iron & Manganese
---
⭐Reviews – Iron Filter for Well Water 2021
SpringWell Whole House Well Water Filter System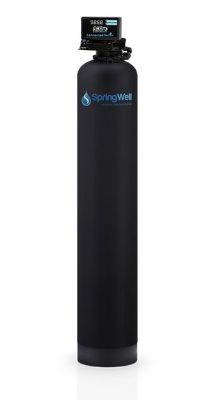 With the system's iron filter designed to remove sulfur, manganese and up to 7 PPM of iron from your water, you can enjoy fixtures that are free of telltale orange iron stains. Sulfur removal guarantees an elimination of any rotten egg smell, making it much more appealing to drink.
A huge bonus of the Springwell well water filter for well water is that it's virtually maintenance-free – you don't have to worry about changing the filters as you would with a typical whole house water filtration system.
This is because of the iron filter's design – it uses an air injection oxidizing system that oxidizes the unwanted contaminants in an air pocket at the top of the tank. These oxidized contaminants are then removed from the tank, thus filtering them from water.
When it comes to installation, you may prefer to have a plumber do the hard work for you, though the filter system comes with everything you need for the job. Once you've installed the filter, setup is simple – you can use the Well System head to adjust and control the system's settings to your requirements.
The Springwell comes with an app that makes it easy to control your system from your smartphone.
👍 Pros:
Reduces up to 7 ppm of iron in water
Softens water as well as iron removal
Easy to set up and control system
👎 Cons:
Salt-based softener adds some salt to water
Backwash process is fairly loud
Expensive upfront cost
---
SoftPro IronMaster Water Filtration System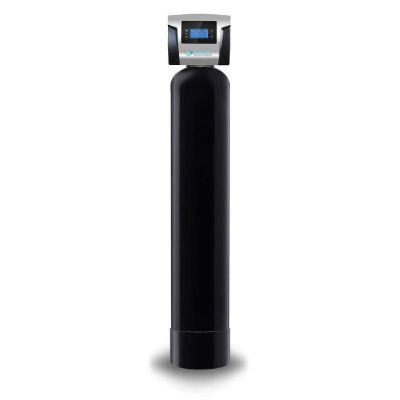 The SoftPro IronMaster is one of the best iron filters for removing iron, manganese and hydrogen sulfide using AIO technology.
Like all iron filters of this kind, the SoftPro is highly efficient at what it does, needing no maintenance throughout its lifespan. It can remove up to 30 PPM of iron, and is certified for performance by IAPMO and NSF/ANSI.
Using an innovative Water Intelligence Engine™, this iron filter assesses your water with iron and recommends the best treatment for your situation. It's one of the best when it comes to thorough contaminant removal, removing impressive amounts of iron, up to 7 PPM of manganese and up to 5 PPM of sulfur. Don't expect all iron filters to remove as much iron as this one.
Included with the SoftPro water filter is a control valve, which programs the filter to encourage high flow rates for whole home use. It's a chemical-free filtration system, and only needs water for cleaning out.
It's designed to work with even the hardest of water without sustaining damage, and in the case of a power outage, the system will remember your previous inputted settings when you switch it back on again.
Providing your well pump flow rate is 5 GPM or more, you can use the SoftPro iron filter in your home. Everything you need for installing the filtration system comes included, including a quick-connect hose kit in two different sizes.
The redox filter media lasts for between 5 and 10 years, depending on the iron, manganese and sulfur content of your water. If you have a particularly high water with iron content, you may need to change the media after less than 5 years. For most people, however, you'll be able to get at least half a decade out of this iron filter, and you'll only need to occasionally clean the system during this time.
👍 Pros:
Removes high levels of iron, manganese and sulfur
Prevents iron bacteria growth
One of the best iron filters for efficiency
👎 Cons:
Some people may need a plumber for installation
Water with high contaminant levels may require more frequent media replacement
---
AquaOx FE Edition

The AquaOx is one of the best iron filters for a relatively affordable price. It treats both ferrous iron and ferric iron, removing both types from water – ferrous iron must be oxidized for this to be possible. The system is best suited for high water iron, so if you've identified iron as a major well water issue for you, the AquaOx is for you.
Installation of the AquaOx is relatively simple – you just connect your home's main water line to the system's inlet, then connect the line leading into your home to the outlet, and plug the system into a power outlet. After installing the system, there are no more hard jobs for the rest of its lifespan – it's maintenance-free, with no filters that need replacing, giving it a much lower lifetime cost compared to filter-based systems.
Though the system has a 10 year warranty, it is designed to last for more than 20 years on average. The filter doesn't result in a drop in water pressure, so you can enjoy minimal iron levels in your water without compromising on flow rate. Using double vortex backwash technology, the AquaOx is more efficient than other similar systems on the market.
Exactly how the system removes well water iron isn't revealed by AquaOx, but if it uses oxidation, it most likely features a manganese greensand filter or a material that's similarly capable of oxidizing ferrous iron.
👍 Pros:
Removes both types of iron
Maintenance-free
Lasts for 20 years on average
10-year warranty
👎 Cons:
No customer reviews online as of yet
Doesn't remove a range of contaminants like some filters
---
Pelican Iron & Manganese Water Filter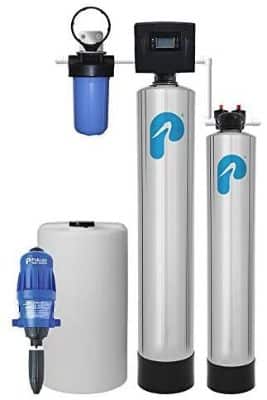 The Pelican Iron series is the best iron filter for well water when it comes to thorough water treatment. The filter provides four stages of water treatment, including filtration, and removes up to 10 PPM of iron from your water, making it one of the most effective filters on the market for getting rid of iron in your water.
This whole house filter begins by running water through a 5 micron sediment filter, which removes dirt, rust and dust from water.
Water then flows through an air injection chlorination system, which is a much-needed process for well water treatment, as it disinfects water and makes it safe to drink.
Next is the greensand stage, which removes well water iron and manganese by trapping the contaminants in the filter media and flushing them away. The innovative pump is self-priming and backwashes automatically, offering a simple means of improving taste and smell of water.
Lastly, water flows through the carbon stage of the filtration system, which reduces the likes of chlorine, chloramines, tastes and odors.
It's difficult to find a filtration system as thorough as the Pelican Iron series, especially if you're looking for a system that can treat high iron levels and ensure that well water is clean and safe for drinking.
The system has a 5-year performance guarantee and a life expectancy of 10 to 15 years. It also has third-party approval in the form of a WQA Gold Seal Certification for compliance with NSF Standard 61.
You can buy this whole house water filter in two sizes: the WF4 for homes with 1 to 3 bathrooms and the WF8 for homes with 4 to 6 bathrooms. Everything you'll need for installation is included with the purchase, but setup is fairly complex, and most people prefer to leave the job to an expert.
👍 Pros:
Thorough filtration – not just iron removal
Certified to NSF Standard 61
Relatively no maintenance or upkeep needed
👎 Cons:
You may need to pay for a plumber to install the system
Some customers reported loud noise from air injection pump
Doesn't remove sulfur
---
US Water Systems Matrixx Infusion Iron and Sulfur Removal System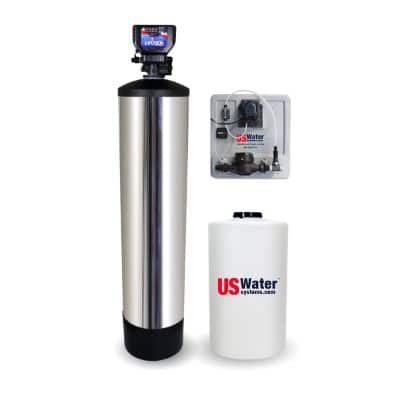 Using chemical injection to remove up to 20 ppm of iron and 30 ppm of hydrogen sulfide, the US Water Systems Matrixx Infusion Iron and Sulfur Removal System is a high-quality well water filtration solution offering whole home benefits.
The system consists of a 15-gallon peroxide tank, inFusion filter, and a precision injection panel, and comes with 5 gallons of hydrogen peroxide.
This Matrixx Infusion works a little differently from a typical air injection system. Inside the unit is a catalytic carbon filter. When hydrogen peroxide is injected into the water flowing through the unit, high quantities of dissolved oxygen are released. This produces a powerful oxidizing reaction, which effectively tackles iron, sulfur, bacteria and manganese.
Included with the system is a control head that can be connected to your smartphone via Bluetooth, allowing for remote programming.
For efficiency, the tank produces a whirling vortex during backwashing, which effectively removes sulfur and iron while using approximately 30% less water. The system's internal meter monitors flow rates and keeps track of how many gallons of water have been used for optimal programming.
The Matrixx Infusion is made from NSF-certified components, guaranteeing safety and durability.
The tank has a lifetime warranty, while the valve has a decent 10-year warranty and the pump has a warranty of 7 years, so you can expect this system to stand the test of time.
👍 Pros:
Good warranties on tank and components
Removes an impressive amount of iron & sulfur
Uses 30% less water
👎 Cons:
Higher price point
Will likely require professional installation
---
Crystal Quest Iron and Hydrogen Sulfide Whole House Filter
Another of the best iron filters for well water is the Crystal Quest whole house iron filter, thanks to its efficiency in removing iron, manganese and sulfur.
The filter utilizes three stages of filtration: a sediment pre-filter that removes lingering dirt and suspended solids; a mineral tank containing iron and hydrogen sulfide reducing media; and a solid carbon block filter that can reduce VOCs, pesticides and herbicides, and industrial solvents.
The Crystal Quest whole house water filter comes with the media already included in the iron filter's tank, ready to get going as soon as you've set it up.
It's relatively easy to install, and if you're the DIY sort, you shouldn't have any trouble doing it yourself. You just need to connect the in and out lines and connect it to a power source for backwashing.
If you plan to use the filter in conjunction with a chlorine filter or another form of pre-treatment, it's safe to do so.
The maximum flow rate for the smaller 1.5 cu. ft. system is 9 to 11 gallons per minute, while the max flow rate for the larger 2 cu. ft. system is 10 to 13.
The average household needs a flow rate of between 6 and 12 gallons per minute for proper functioning appliances, so you can rest assured that the Crystal Quest filtration system won't affect the speed at which you can access your home's water.
The figures for contaminant removal are particularly impressive: the system removes levels of iron up to 15 ppm, 5 ppm of hydrogen sulfide, and 10 ppm of manganese.
While the iron removal media in this water filter system lasts for the system's lifespan (at least 10 years), the stage 1 and stage 3 sediment filter and carbon filter have a lifespan of 3 to 6 months. If you don't want the extra maintenance, you can use the water filter system without the additional filters – you'll just lose the extra benefits of additional contaminant removal.
👍 Pros:
Doesn't just remove iron – also removes chemicals, VOCs and sulfur rotten egg smell
Easy to install
Won't affect flow rate
👎 Cons:
Additional filters require regular maintenance
Requires electricity to work
Not designed for water supplies with a pH of 6.5 or less
---
Tier1 Precision Series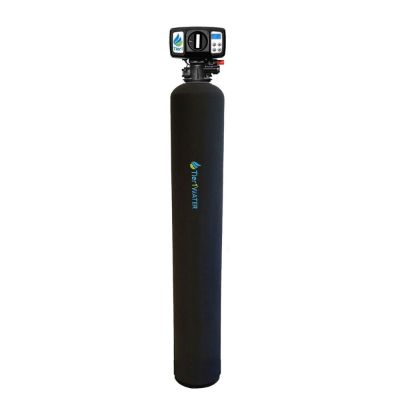 The Tier1 Precision Series removes whole house heavy metals, iron, sulfur and manganese from water, eliminating bad odors and surface staining.
This whole house iron filter system uses a combination of catalytic carbon with aeration technology to oxidize these common well water contaminants with no need for the addition of other chemicals or substances.
The filter uses compressed air to add oxygen to water, and when water travels through this area of compressed air followed by a special filter media, a chemical reaction causes soluble ferrous iron to oxidize into insoluble ferric iron. This iron can then be removed from the system easily, leaving clean, clear water for your home.
As well as the oxidization tank, the carbon media bed removes contaminants that don't require oxidization, like heavy metals.
With an automatic regeneration process to prevent water waste, the Tier1 whole house water filter looks after itself with very little need for maintenance on your part. This iron filter system takes over an hour to regenerate, and though you'll still be able to access water during this time, it won't be filtered.
You can use the digital control head to manually set a regeneration time to avoid times when you'll need access to filtered water.
If your water levels are 4 PPM of iron or higher, the Tier1 Precision Series filter is one of the best whole house iron filters for well water you'll find for the job.
If you have the right tools and experience, you'll find it easy to install this iron water filter system yourself – otherwise you may want to hire a professional to do the hard work for you. With a 6 GPM flow rate, the filter is fine to use in medium and large households of 1 to 6 people without affecting water pressure.
👍 Pros:
Removes heavy metals, iron, sulfur and manganese
Good option for higher levels of iron (4 PPM upwards)
Virtually maintenance-free
👎 Cons:
Can't access filtered water during regeneration
Doesn't remove iron bacteria
Not many customer reviews online
---
Fleck Iron Pro 2 Combination Water Softener Iron Filter
The Fleck Iron Pro 2 Combination Water Softener is a 64,000 grain whole house water softener that's designed to remove iron from well water. With it being a whole house iron filter and water softener in one, this system gives the best of both worlds, removing up to 6-8 PPM of iron, up to 6 PPM of manganese, hardness up to 75 GPG, and sediment and dust.
With a filter media made from a fine mesh resin, the Fleck Iron Pro 2 Combination Water Softener removes ferrous iron water, which is responsible for causing rust stains, as well as hardness minerals, which case scum and scale.
The digital metered control head measures water usage and regenerates only when needed. You can also use the control head to set the system to regenerate at a time that suits you.
Included with this whole house filter and softener are an almond resin tank, a round almond brine tank, a fine mesh resin filter media, a bypass valve and connections for installation.
You can install the system yourself following the DIY instruction manual, with the majority of customers saying that installation is easy providing you have basic plumbing knowledge.
The softener in this system is salt-based, which is well regarded as the most effective softening technique. Keep in mind, though, that you'll need to make sure you have a stock of softening salt that you use to replenish the brine tank when salt levels are low.
The Fleck water softener and iron water filtration system is undoubtedly the best iron filter for people looking to minimize the visible signs of iron in their home, as well as eliminate the impact of hard water on their plumbing and fixtures.
👍 Pros:
Removes iron and manganese
Water softener eliminates water hardness
Installation is easy
👎 Cons:
Salt-based water softener requires regular upkeep
Some customers received no instructions manual for installation
Won't remove ferric iron or iron bacteria
---
🧾 Iron Water Filter Buyers Guide
You'll find it much easier to settle on the best iron filter for well water in your home when you have a clear idea of exactly how to remove iron and what to look for in a good whole house iron filter. This guide will answer any questions you may have about iron in well water, including how it gets into water, the effects it can have on your home and health, how to remove it, and what makes a high-performing iron filter for well water.
🤔 How Does Iron Get Into Water?
The most common way for iron to get into well water is directly through the earth's soil. When snow and heavy rain passes into this soil, it dissolves the iron minerals that the soil naturally contains, and sends it into underground well water systems. If your well water is exposed to rusty or corroded plumbing, this is another common way for iron to contaminate it. Both your well's casing and the pipes leading into, and through, your home may be made from iron, and when iron gets old, it rusts – there's no avoiding it.
💡 Effects of Iron in Water
Both ferrous and ferric iron can cause a number of issues in your water, health-wise and home-wise.
Iron & Your Health
We need small amounts of iron to stay healthy, but drinking too much iron in well water can have the following effects:
Iron bacteria may grow
Iron can host bacteria that are harmful to humans. If the iron in your water gets on your surfaces, the lingering bacteria may be passed onto your skin and into your body, making you sick.
Iron can cause skin conditions
It's possible for shower water iron to clog up your pores. This can cause acne breakouts and aggravate other skin conditions.
Iron can damage your organs
Ingesting high levels of well water iron can affect your body's biological processes, affecting organs that store iron such as the heart and liver.
Iron & Your Home
Iron's effects on your home tend to be more noticeable than the invisible effects it may be having on your health. If you have high iron in your well water, here's what you may have noticed:
Iron can cause plumbing issues
Iron from well water leaves deposits in the form of brown slime in your plumbing, which can cause clogging in pipes and fixtures and reduce water pressure.
Iron may stain your surfaces
The easiest way to check for iron is to see if you have the characteristic orange staining in your bathroom sink or tub. Iron is notorious for leaving stains on anything it lingers on, with the toilet tank being one of the worst places for staining.
Iron leaves a metallic taste
If you're trying to cut down on single-use water bottles, you may find it hard if your well water iron levels are so high that your water takes on an unpleasant metallic taste, that naturally makes you want to seek bottled water alternatives.
✔️ Methods for Removing Iron from Well Water
Water Softeners
Yes, you really can use a water softener, installed at your home's point of entry, to remove iron nowadays. Not all water softener systems remove iron from water, so you'll need to check that a product is capable of doing this if you want to say goodbye to hard water minerals and iron in your drinking water.
Water softeners only work for low concentrations of iron, when most of the iron is soluble (ferrous iron). Though ion exchange is a highly effective method of swapping out hard water minerals for sodium ions, it's not quite as thorough with iron ions. That's why it's common to see water softener iron removal systems combined with the best iron filters for well water, to remove the highest PPM of iron possible.
When you buy a water softener that removes iron, it will also remove calcium and magnesium, but no other contaminant unless it's combined with an additional filter. Some water softeners come with a sediment filter, for example, which removes larger contaminants like dirt particles, which are commonly found in well water.
Whole House Filters
Whole house filters for well water are a more common means of iron removal, and are installed at your home's point of entry. These filters don't tend to be specifically designed for iron removal, which means they have the benefit of also removing chemicals like chlorine, pesticides and herbicides; heavy metals like lead; sediment; VOCs and more.
However, the downside of a whole house filter offering the broadest range of contaminant removal is that this type of water filtration system is unlikely to offer the most effective way to remove iron. This is because a whole house filtration system generally doesn't involve an air injection process (see below), which means that while it can filter insoluble iron particles from water, it can't remove soluble ferric iron from water.
Typically, it's the sediment filter of a whole house water filtration system that removes iron. These filters are usually capable of removing particles of 5 PPM or bigger, so flecks of iron and rust can be effectively filtered using this technique.
Air Injection
Air injection is by far the most thorough and cost-effective iron removal solution. This type of filter is usually installed between a well and your home's main water line. When water enters into an air injection iron water filter, it is sent through an area of compressed air, where oxygen is added. Water then passes through a bed of filter media, which contains a material that separates the oxidized iron from water.
These insoluble iron particles will now be visible as suspended particles in the water, and they become trapped in the filter bed. When the iron-free water passes out of the system and into your plumbing, the air injection filter system will begin the oxidization process again. After three or so days, the filter will regenerate, washing away the insoluble iron and replacing the air bubble.
Air injection iron filter systems usually have a control head that you can use to select your preferred regeneration time if you wish. These systems tend to be the most economical solution because they cost virtually nothing to maintain. There's no need to replace the filter media because it doesn't become depleted during the iron removal process, and lasts as long as the system itself. Oxygen, another important component in the system, doesn't need to be replenished manually because it's freely available in the air. And the regeneration process is mostly driven by your home's water pressure, so the system, though plugged into electricity, contributes very little to your energy bills each year.
Most iron water filters that use air injection can remove iron and manganese, and many also remove hydrogen sulfide.
💭 Key Considerations When Purchasing an Iron Filter for Well Water
It's best to have an idea of what you need and what's on offer before you go ahead and purchase an iron filter. The best iron filter for well water for your neighbor might not be the ideal solution for you. Being aware of the following considerations will help you to make a smart water filter decision for your home:
Water Quality & Other Contaminants
The first step to take before buying an iron filter for well water is to test your water quality. Finding out exactly what's in your water, and to what level, will help you to make smarter decisions when it comes to contaminant removal. For instance, you may have a big problem with chlorine in your water, in which case, you might want to consider buying an iron filter and carbon filter in one. Equally, if your water is hard but your iron levels aren't too high, it may be best for you to buy a water softener with iron removing capabilities, which can soften water and remove iron at the same time.
Finding out how much iron is in your water is also important, as some systems are designed to filter certain levels of PPM. If you have more than 0.3 PPM of iron in your water, it's enough to affect the quality of your drinking water. Remember that iron isn't always noticeable in water; ferrous iron is completely dissolved and even clear water may have high levels of this type of iron.
It's recommended that we have no more than 0.3 PPM of manganese in our water, and if your levels are on the higher end of this recommendation, you'll be best opting for an air injection filter (these can typically filter up to 10 PPM of manganese). Hydrogen sulfide, another common contaminant in water, is also removed by the air injection technique.
Filter Capacity
A filter's capacity determines how much filtered water it's capable of producing on a minute-by-minute basis. You can expect that the majority of filter systems are suitable for households up to 3 bedrooms, but some are also available for homes with up to 6 bedrooms.
Filter capacity is important because it affects the flow rate of water in your home. If you have a house with 5 bedrooms, for instance, it's more likely that you have double the number of water-based appliances compared to a house with 2 bedrooms. If you opt for a filter with a smaller capacity, your water flow may not be strong enough to provide an adequate water supply to your entire home. If you enjoy power showers, make sure you buy a filter with a big enough capacity for your home.
Filter Type
The type of iron filter you opt for will mostly come down to your personal preferences (and the contaminants your water contains – see above). Different filters require different levels of maintenance; a salt-based water softener, for instance, requires regular salt top-ups, while whole house filters tend to need maintenance on an annual or bi-annual basis.
Filter Longevity
On the same subject, the longevity of an iron filter is usually a result of the type of filter you go for, as well as the quality of the filter you buy. Salt-based water softeners typically have a lifespan of 10 to 20 years providing you keep up with the regular maintenance. A whole house filter system has a similar lifespan, but you'll need to change the individual filters every 6 months or so, which can be quite costly in the long-run. Air-injection or greensand filters tend to last around 4 to 8 years before you'll need to replace the filter media.
Installation & Maintenance
No matter which iron water filtration system you choose, it'll most likely require installation at your home's point of entry (POE) – the place where water comes into your home. Some iron filters can also be installed outside, between your home and your well, but it's important to check this if an outdoor installation is a must for you.
Installation usually takes an hour or two. It tends to be relatively straight-forward for someone with a low level of plumbing experience, but, as it involves cutting your water line, not everyone may feel comfortable with the job. If you plan to call a plumber to install an iron filter for you, keep in mind that this will come at an extra cost.
As for maintenance, this depends on which system you opt for. Whole home iron water filters tend to have several stages of filtration, and each of these water filters will need replacing at specific times. Not replacing your filters effectively renders the whole system useless, so it's an unavoidable maintenance task. You'll usually need to replace your filters every 6 months to one year.
Iron water filters that use a redox or oxidization media have a longer lifespan of around 5 to 10 years. Sometimes this media can last beyond 10 years, but not commonly. Depending on what system you opt for, your media may need replacing after less than 5 years if your water has a high content of iron, manganese and other contaminants. However, this type of water filter is still a great low-maintenance option if you don't want the hassle of filter changes.
Water softener systems have a range of completely different maintenance requirements. The most important job is to add salt to the water softener, which is the fuel that keeps the whole thing running. Without salt, the ion exchange process can't take place, and water can't be softened. Check your brine tank every couple of months and ensure that your salt levels are three to four inches above the water. You also need to clean out your softener once a year, and replace any worn parts, like O rings.
Warranty
It goes without saying that no matter what water filter for iron you buy, it needs to have a warranty. Warranties are designed to cover a filter for a certain number of years, and usually offer a replacement part/system if the filter has become damaged or broken in a way that meets the warranty's terms.
Unsurprisingly, it's unlikely that you'll be able to receive a new water filter as per your filter warranty if you subjected it to damage that didn't indicate a manufacturing fault, such as dropping it from a height. But a warranty is there for you if a filter becomes damaged as a result of a design flaw that's out of your control.
Most warranties for a water filter for iron are split up on a part-by-part basis. It's typical for the tanks to have a 10-year warranty and the control valve to have a 5 to 7-year warranty. The standard water softener has a 10-year warranty on the tanks and a 1 to 3-year warranty on all other parts. A whole home water filter typically has a 10 to 12-year warranty for the system itself, not including the filter cartridges.
❔ Frequently Asked Questions
Is it expensive to buy an iron filter?
Looking at the upfront cost, the answer would seem like a "yes". But the best types of iron filter are designed to last for so long that the upfront cost is more than worth it. The filter systems that don't need maintenance are especially worth it in the long run.
Wait – isn't iron good for you?
In small amounts, yes. Iron is actually an essential nutrient for humans, being a component of hemoglobin, which transports oxygen around the body. But high levels of iron have been linked with adverse health effects, from damaged blood vessels to kidney and liver problems.
Should I call an expert to install my filter?
It depends on how handy you consider yourself to be. Installing a filter isn't as simple as knocking together a piece of IKEA furniture, but it's not rocket science, either. The majority of filter systems come with step-by-step installation instructions that guarantee success – if you follow them properly.
What should an iron filter remove?
The obvious: iron, manganese and sometimes sulfur. It depends on what filter you opt for. Of course, the best iron filter will remove both ferrous and ferric iron, but not all of them do this. That's why it's important to know exactly what water situation you're dealing with in your home, so you can make the best decision based on your needs.
Why bother with a filter when water bottles are cheaper?
If you can't drink your well water because of high iron, manganese and sulfur content, the cheapest solution actually isn't to keep buying water bottles. A filter for iron is a much more wallet-friendly solution in the long run. Calculate your daily, weekly, monthly and yearly average water bottle spending cost, and you'll see what I mean.