We've been reviewing water filtration systems for nearly 10 years, each year featuring our selection of the best iron filters on the market. The systems we chose were selected based on performance, quality of build, ease of installation, and of course, affordability.
Hey, well owner! Welcome to our best iron filter for well water guide.
If you're fed up of the metallic taste and orange staining left by iron in your drinking water, you've come to the right place. We've tested dozens of iron filters for their ability to treat our iron-contaminated well water.
Feel free to spend thousands of dollars on a system that only removes trace amounts of iron, but we strongly recommend investing wisely in a system that can virtually eliminate exactly the type of iron you're dealing with.
#1 is our favorite, but #4 is the best water softener for iron removal, and #5 is the best cartridge-based iron filter.
In this guide, you'll find:
Our top well water iron filter reviews of the 8 best systems on the market
Everything you need to know about the different methods of iron removal
The 6 things you need to consider before buying a well water iron filter
🥇 Best Iron Filter for Well Water
📊 Comparison Chart of Iron Filter for Well Water
| Product | SpringWell WS System | SoftPro IronMaster | US Water Systems Matrixx | SpringWell Salt Based Water Softener System | Home Master HMF3SdgFeC | AquaOx FE Edition |
| --- | --- | --- | --- | --- | --- | --- |
| Ranking | 1st | 2nd | 3rd | 4th | 6th | 7th |
| Ratings | 5/5 | 4.5/5 | 5/5 | 4/5 | 4/5 | 4/5 |
| Price | $2204.09+ | $1519.99+ | $3065.41+ | $1530.93+ | $579+ | $1999 |
| Contaminants Removed | Iron, Hydrogen Sulfide, Manganese | Iron, Hydrogen Sulfide, Manganese | Iron, Sulfur, Manganese | Hardness Minerals, Iron | Sediment, Iron, Chemicals | Iron, Hydrogen Sulfide |
| Iron Types | Ferrous + Ferric | Ferrous + Ferric | Ferrous, Ferric, Bacterial | Ferrous + Ferric | Ferric | Ferrous + Ferric |
| Max Fe | 7 PPM | 30 PPM | 20 PPM | 3 PPM | 3 PPM | 7 PPM |
| System Process | AIO + Greensand | AIO + Katalox | Hydrogen Peroxide + Carbon | Ion Exchange | Mechanical + Micron Iron Reduction+ GAC | AIO |
| Media Life | 10 years | 8 – 10 years | 5 years | 10 - 15 years | 6-12 months | 10 years |
| Flow Rate | 12 – 20 GPM | 6 – 12 GPM | 10 – 25 GPM | 11 - 20 GPM | 15 GPM | 6 – 12 GPM |
| pH Range | 6.5 – 10 | 5.8 – 10.8 | 6 – 9 | 6.5 - 10 | >7 | >6.8 |
| Warranty | Lifetime | Lifetime, 7 years on circuit board | Lifetime on tank, 10 years on valve & electronics, 5 years on injection panel | Lifetime | 2 years | 10 years |
⭐ Reviews – Iron Filter for Well Water 2023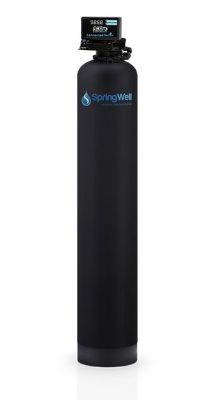 SpringWell WS Whole House Well Water Filter System
The SpringWell WS Whole House Well Water Filter System removes sulfur, manganese, and up to 7 PPM of iron from water. This filter is our top pick for iron removal thanks to its incredibly efficient, virtually maintenance-free performance.
Key Features:
Removes up to 7 PPM of iron – TheSpringWell WS can remove up to 7 PPM of iron. For most people, this system will effectively target all the iron in their water supply.
Highly efficient air injection oxidation – Air injection oxidation is the most efficient way of removing iron from water, so you can save money and water with the SpringWell WS.
Eliminates staining and bad tastes – This SpringWell model is one of the best we have used for eliminating the metallic taste from water and preventing orange staining.
Also effectively removes sulfur and manganese – Iron, sulfur, and manganese usually come as an unwanted package deal, and the SpringWell WS is one of the only filters that can effectively remove high levels of iron and a decent amount of hydrogen sulfide (up to 8 PPM) and manganese (up to 1 PPM).
| SpringWell WS Configurations | Price |
| --- | --- |
| 1-4 Bathrooms | $2,204.09 |
| 4+ Bathrooms | $2,962.94 |
Best For:
People looking for a low-maintenance, chemical-free, fantastic-value water iron filter that's also effective against hydrogen sulfide.
Pros:
A huge bonus of the Springwell well water filter for well water is that it's virtually maintenance-free – you don't have to worry about changing the filters as you would with a typical whole house water filtration system.
The system's sulfur removal guarantees the elimination of rotten egg smell, making water much more appealing to drink.
The Springwell WS comes with an app that makes it easy to control your system from your smartphone.
Cons:
The backwashing process is quite loud.
Expensive
Read the Full Review: Springwell WS Well Water System Review
---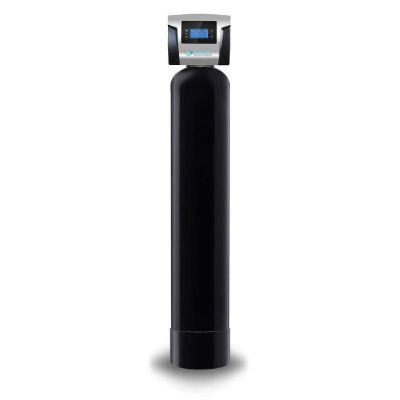 SoftPro IronMaster Water Filtration System
The SoftPro IronMaster is runner-up on our list of the best iron filters for removing iron, manganese and hydrogen sulfide using AIO (air injection oxidation) technology. This system isn't quite as high-quality as the SpringWell WS – but it removes more than three times the amount of iron.
Key Features:
Up to 30 PPM iron removal – The SoftPro IronMaster can remove an incredible 30 PPM of iron. That's the best you'll find for any well water iron filter on the market today.
IAPMO certified – This efficient AIO filtration system is certified for performance by IAPMO and NSF/ANSI.
Maintenance-free operation – The IronMaster by SoftPro is a set-and-forget system. Once you've installed it, your work is done! You can enjoy iron-free water for the rest of the system's lifespan.
Good manganese and sulfur removal – If you're also dealing with manganese and sulfur, you'll be pleased to know that this system removes up to 7 PPM of manganese and up to 5 PPM of sulfur.
| SoftPro IronMaster Configurations | Price |
| --- | --- |
| 1.0 Cubic Foot | $1,519.99 |
| 1.5 Cubic Foot | $1,759.99 |
| 2.0 Cubic Foot | $1,919.99 |
Best For:
People with major iron problems that the average whole house iron filter won't be able to resolve. The SoftPro is one of the best air injection iron filters we've ever seen in terms of its iron removal abilities.
Pros:
We found it easy to install this unit. Everything you need for installation comes included, including a bypass valve and a quick-connect hose kit in two different sizes.
We like that this iron filter system is prepared for emergencies. In the case of a power outage, the system will remember your previous inputted settings when you switch it back on again.
The redox filter media has a long lifespan of between 5 and 10 years,depending on the iron, manganese, and sulfur content of your water.
Cons
If your water is highly contaminated with iron, this system will deal with it – but you'll need to replace the redox filter media every 5 years or so.
---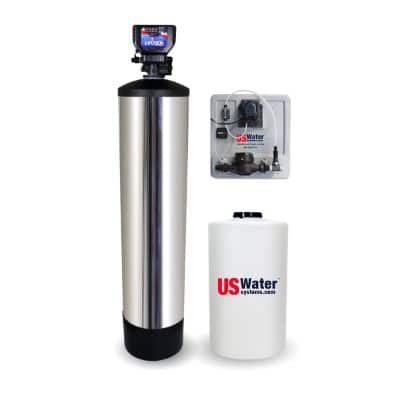 US Water Systems Matrixx Infusion Iron and Sulfur Removal System
The US Water Systems Matrixx Infusion Iron and Sulfur Removal System is our top chemical injection whole house iron filter system, using hydrogen peroxide injection to remove up to 20 ppm of iron and 30 ppm of hydrogen sulfide.
Key Features:
Highly effective hydrogen peroxide injection – The Matrixx Infusion injects hydrogen peroxide into the water, and high quantities of dissolved oxygen are released. This produces a powerful oxidizing reaction, which effectively tackles iron, sulfur, bacteria and manganese.
Includes everything needed for chemical injection – The system consists of a 15-gallon peroxide tank, inFusion filter, and a precision injection panel, and comes with 5 gallons of hydrogen peroxide.
Efficient backwashing – For efficiency, the tank produces a whirling vortex during backwashing, which enables the system to useapproximately 30% less water.
NSF certified components – The Matrixx Infusion is made from NSF certified components, guaranteeing safety and durability.
| USWS Matrixx Configurations | Price (3/4 in) | Price (1 in) |
| --- | --- | --- |
| 10 GPM | $3,065.41 | $3,065.41 |
| 15 GPM | $3,218.41 | $3,218.41 |
| 20 GPM | $3,371.41 | $3,371.41 |
| 25 GPM | $3,524.41 | $3,524.41 |
Best For:
Anyone dealing with bacterial iron. Chemical injection is the best way to treat this type of bacteria, and the Matrixx Infusion is the best of its kind.
Pros:
Our testing found that the Matrixx Infusion is one of the most capable chemical injection iron filters on the market, removing an impressive 20 PPM of iron.
We enjoyed being able to remotely program the control head from oursmartphone (connected via Bluetooth).
The system's internal meter is incredibly useful, monitoring flow rates and keeping track of how many gallons of water have been used for optimal programming.
The tank has a lifetime warranty, while the valve has a 10-year warranty and the pump has a warranty of 7 years, so you can expect this system to stand the test of time.
Cons:
The Matrixx Infusion isn't cheap – it costs just over $2,600 – and not everyone would be happy to add chemicals to their water.
---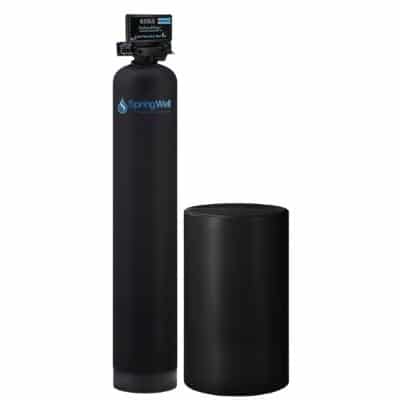 SpringWell SS Salt Based Water Softener System
The SpringWell SS is our top pick for water softeners that treat hard water and reduce low levels of iron. This softener isn't as hot on iron removal as a dedicated whole house iron filter system, but if your water's iron content is low, the SS will sort it out.
Key Features:
Removes low levels of iron – The SpringWell SS isn't officially advertised for iron reduction, but this system will still remove around 1 PPM of iron from your water – a good choice if you have low iron levels and hard water.
Tackles hard water – The big selling point of the SS is its hard water treatment – it's the best water softener we've ever reviewed, using ion exchange to entirely remove calcium and magnesium from water.
Smart money-saving features – This softening unit has a whole host of smart features, including automatic regeneration and adjustable backwash, that help you save salt, water, and money on the softening and iron reduction process.
Lifetime warranty – SpringWell is a trusted brand, and the SS's lifetime warranty and 6-month money-back guarantee make it easier to invest in this system.
Best For:
Anyone with hard water and low levels of iron who wants an affordable all-in-one solution that can effectively tackle these two problems at once.
Pros:
We love that this system eliminates limescale and reduces iron, offering two benefits simultaneously.
The SS is the best water softener we've tested for tackling water hardness, and it's ideal for low levels of iron, too.
Our water quality significantly improved just a few hours after installing this softener.
Cons:
If your water has a high iron content, the SpringWell SS isn't the right solution. This system can only remove around 1 PPM of iron from water, like most water softeners.
---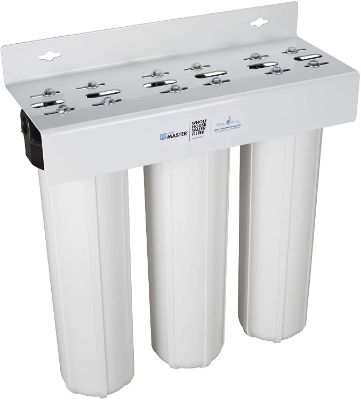 Home Master 3 Stage Filteration System HMF3SdgFeC
The Home Master HMF3SdgFeC is our top cartridge-based filtration system for removing iron. This multi-stage filter can remove up to 3 PPM of iron, as well as sediment, chemicals, VOCs, pesticides, herbicides, and more.
Key Features:
Removes up to 3 PPM iron – The Home Master HMF3SdgFeC is ideal for low levels of iron, removing up to 3 PPM of this mineral from a whole house water supply.
Multi-stage filter – The HMF3SdgFeC combines multiple stages to improve water quality, including a multi-grade sediment filter (which removes sediment from 25 down to 5 microns), a radial flow iron reduction filter, and a 20-micron granular activated carbon filter (which removes chemicals and contaminants affecting taste and odor).
Good warranty – This filtration system has a warranty of 2 years, which is good for a cartridge-based filter.
Best For:
Anyone who prefers to pay a smaller upfront price for a cartridge-based iron filter that tackles low levels of this mineral, and anyone who wants to remove a host of additional common contaminants alongside iron.
Pros:
We like that the HMF3SdgFeC's filters have good lifespans: the sediment filter and iron filter last 6-12 months, depending on water quality and usage, and the carbon filter lasts up to 12 months, or 100,000 gallons.
The HMF3SdgFeC isn't only an iron filter. It also removes chlorine, sediment, pesticides, herbicides, and more.
In our testing, this cartridge-based iron filter delivered a fast flow rate thanks to its large 20″ x 4.5″ filters and 1″ ports, offering a decent water pressure of up to 15 GPM.
Cons:
This filter isn't designed to remove iron bacteria or sulfur (it can remove sulfur, but the contaminant damages the filter media).
As a cartridge filtration system, the HMF3SdgFeC requires more frequent maintenance than tank-based iron filters. The filters need changing on a yearly basis.
---

AquaOx FE Edition
Got the money to splash out on the best iron filter for well water? If so, take note of our premium choice: The AquaOx FE Edition. This highly capable whole house water filter removes both ferrous iron and ferric iron and is ideal for treating high water iron.
Key Features:
Targets both types of iron – Up to 7 PPM of both ferric iron and ferrous iron are treated with this system. Ferrous iron is oxidized in an air pocket in the unit before being removed.
Aluminum-enhanced birm media – The AquaOx FE uses aluminum-enhanced birm, one of the most capable and durable media for removing iron.
A breeze to install – Simply connect your home's main water line to the system's inlet, then connect the line leading into your home to the outlet, and plug the system into a power outlet. Job done.
Good warranty and long lifespan – The system has a 10 year warranty and 12 month money-back guarantee, and is designed to last for more than 20 years on average.
Best For:
Anyone with the budget for a chemical-free, easy-install premium iron reduction solution that targets both ferrous iron and ferric iron.
Pros:
We like that after installing the system, there are no more hard jobs for the rest of its lifespan. It's maintenance-free, with no costly filters that need replacing.
Our testing found that the filter doesn't cause a drop in water pressure, so you can enjoy minimal iron levels in your water without compromising on flow rate.
Using double vortex backwash technology, the AquaOx proves to be more efficient than other similar systems on the market.
Cons:
This whole house water filter is exclusively for iron, so if you have issues with manganese or sulfur, too, you're best looking elsewhere.
---
📚 Methodology: How We Selected the Best Iron Filter Systems
Curious to learn how we shortlisted the iron removal water filtration systems for this guide? We've shared our methodology process, as well as the metrics we used to rank the filters, below.
Step 1: Researching All The Products Available
First, we searched for all the iron removal water filtration systems currently available for well water today. We made a list of these filters, including any important information we could find online, including their iron removal capabilities, their price, and their flow rates.
At this very first stage, we were able to cut our list significantly, removing the water filtration systems that (based on our comparison of their data) were far beneath the current industry standard.
Step 2: Reading Customer Reviews
Our next step was to visit marketplaces like Amazon and read customer reviews, which helped us to build our knowledge of a system's performance – and how this compared to the manufacturer's performance claims.
From reading customer feedback, we learned about the setbacks or negative features of certain filtration systems that the manufacturers obviously wouldn't disclose. Customer reviews are honest and realistic, and we used this information to further cut our list of filters, removing those with repeatedly negative feedback.
Step 3: Conversations With Manufacturers
Next, we posed as regular customers and reached out to manufacturers to discuss their products in more detail. We did this for two reasons: to gather information about certain iron filters that wasn't accessible online, and to determine the quality of the manufacturers' customer service.
After discussing iron filters with manufacturers, we eliminated any filters that, based on the new information we'd gathered, were poorer-performing than their competitors. We also eliminated several filters sold by brands that provided particularly neglectful or unacceptable customer service.
Step 4: Personally Testing Our Shortlisted Filters
Finally, we bought and tested our shortlisted filters before comparing their performances and ranking them in this guide. We tested each filter for a minimum of 60 days before forming an overall opinion on its quality and value for money.
We used the following metrics to rank the filters featured on this list:
Iron Removal Ability: 30%
Most importantly, we considered a water filter's abilities when it came to removing iron (the whole purpose of an iron removal filtration system), as well as other contaminants often found alongside iron, like manganese, sulfur, and sediment.
Price: 20%
Budget is one of the most important influencing purchasing considerations for most people, so price was also an important metric when we compared and shortlisted the filters in this guide.
Flow Rate: 20%
Since most iron water filtration systems are installed at the POE, they shouldn't significantly affect the water flow rate into your home. For that reason, flow rate was another metric we used to rank the filters in this guide.
Media Lifespan: 20%
A filter's value for money is largely determined by its lifespan, so we prioritized iron filters with long lifespans when making this list.
Installation & Maintenance Requirements: 10%
We don't know many people who wouldn't prefer an iron removal system that they can install and maintain easily. When we produced this guide, installation and maintenance was the final important metric we considered.
🧾 Iron Water Filter Buyers Guide
You'll find it much easier to settle on the best iron filter for well water in your home when you have a clear idea of exactly how to remove iron and what to look for in a good whole house iron filter.
This guide will answer any questions you may have about iron, including how it gets into water, the effects it can have on your home and health, how to remove it, and what makes a high-performing iron filter for well water.
🤔 How Does Iron Get Into Water?
The most common way for iron to get into well water is through the earth's soil. When snow and heavy rain seep into this soil, they dissolve the iron minerals that the soil naturally contains.
If your well water is exposed to rusty or corroded plumbing, this is another common cause of iron contamination. Both your well's casing and the pipes leading into your home may be made from iron, and when iron gets old, it rusts.
💡 Effects of Iron in Water
Both ferrous and ferric iron can cause a number of issues in your water, health-wise and home-wise.
Iron & Your Health
We need small amounts of iron to stay healthy, but drinking too much iron in well water can have the following effects:
Iron can cause skin conditions
Washing and showering in water containing iron can clog up your pores. This is known to cause acne breakouts and aggravate other skin conditions.
Iron can damage your organs
Ingesting high levels of well water iron can affect your body's biological processes, affecting organs that store iron such as the heart and liver.
Iron & Your Home
Iron's effects on your home are more noticeable than the invisible effects it may be having on your health. If you have high iron in your well water, you'll notice:
Iron can cause plumbing issues
Iron from well water leaves deposits in the form of brown slime in your plumbing, which can cause clogging in pipes and fixtures and reduce water pressure.
Iron may stain your surfaces
The easiest way to check for iron is to see if you have the characteristic orange staining in your bathroom sink or tub. Iron is notorious for leaving stains on anything it touches. The toilet tank is one of the worst places for staining.
Iron leaves a metallic taste
High-iron water takes on an unpleasant metallic taste, and cooking with iron-contaminated water affects the flavors of foods.
✔️ What Are Iron Filters & Methods for Removing Iron from Well Water
Iron filters are water filters that can remove iron from water. Most iron filters can remove at least 3 PPM of iron, and the best iron filters can remove more than 10 PPM of the mineral.
How exactly do iron filters work? That depends on the type of iron filtration system used.
Air Injection
Air injection is the most thorough and cost-effective iron reduction solution.
When water enters into an air injection iron water filter, it's sent through a pocket of compressed air, where oxygen is added. Water then passes through a filter media, which cseparates the oxidized iron from water.
Insoluble iron particles are converted into suspended particles and become trapped in the filter media. The system performs frequent backwashing cycles, washing away the insoluble iron and replenishing the air bubble.
Air injection iron filter systems are the most economical solution because they cost virtually nothing to maintain. There's no need to replace the filter media because it lasts as long as the system itself. Oxygen, another important component in the system, doesn't need to be replenished manually because it's freely available in the compressed air pocket. And the backwashing process is mostly driven by your home's water pressure, so the system, though plugged into electricity, contributes very little to your energy bills each year.
Most iron water filters that use air injection can remove iron and manganese, and many also remove hydrogen sulfide.
Chemical Injection
Chemical injection works in the same way as air injection to remove iron from water.
Measured amounts of chlorine or hydrogen peroxide are injected into the water, converting dissolved ferrous iron into easily removed ferric iron. This method of iron filtration also uses a media, like birm or manganese greensand, that traps the iron and flushes them away during backwashing.
Chemical injection is more expensive than air injection, and requires more maintenance (topping up the chemicals). Plus, not everyone feels comfortable adding chemicals to their water, so this method of iron filtration isn't as popular as air injection.
Water Softeners
A water softener, installed at your home's point of entry, can be used to remove iron. Not all water softener systems remove iron from water, and those that can, only remove low levels of this mineral, when most of the iron is soluble (ferrous iron).
The water softening ion exchange process is a highly effective method of swapping out hard water minerals for sodium ions, using salt from the brine tank as a catalyst. However, it's not quite as capable of iron reduction. That's why it's common to see water softener iron reduction systems combined with the best iron filters for well water, to remove the highest quantity of iron possible.
The prominent role of a water softener is to remove calcium and magnesium. Some water softeners come with a sediment filter, which removes larger contaminants like dirt particles, which are commonly found in well water.
Whole House Filters
Whole house filters for well water don't tend to be specifically designed for iron removal, which means they have the benefit of also removing chemicals like chlorine, pesticides and herbicides; heavy metals like lead; sediment; VOCs, and more.
A whole house water filtration system typically includes a catalytic carbon block filter, an iron filter, a sediment filter, and a post-carbon cartridge. As a cartridge-based system, this type of filter can typically remove up to 3 PPM of iron particles.
🪨 The Types of Iron and Which Filters Remove Them
Now we know about the different iron filters available, we need to know what types of iron they can remove. Let's look at the types of iron you're likely to find in your water, and which filters remove them.
Ferrous Iron (Fe2+)
Ferrous iron, or dissolved iron, is a clear form of iron that doesn't affect the color of water. Only when this iron is exposed to oxygen in the air does it start to turn red or orange.
Which filters can remove ferrous iron? Air or chemical injection is best to remove ferrous iron because this form of iron filtration converts dissolved iron into ferric iron before trapping it in a filter media.
Ferric Iron (Fe3+)
Ferric iron, or insoluble iron, is a gelatinous form of iron that is visible as a reddish or yellowish tinge in water. Ferric iron is one of the worst types of iron in water because it's known to clog plumbing systems and appliances.
Which filters can remove iron in ferric form? The best filters for ferric iron reduction are air and chemical injection systems, as well as whole house water filters and water softeners (as long as the iron quantities are low). Because this form of iron is insoluble, it can be physically removed without having to be converted beforehand, which means more types of filters can remove it.
Iron Bacteria
Bacterial iron, or iron bacteria, is a combination of iron and bacteria. Iron bacteria is a slimy substance that deposits brown or red biofilm on surfaces, causing major clogging issues. While iron bacteria isn't harmful to human health, it does intensify an iron problem.
Which types of iron filter systems can remove iron bacteria? Chlorine injection with a chemical feed pump is the best solution for both iron and sulfur bacteria, preventing staining and eliminating sulfur's rotten egg smell. If your bacterial iron problems are particularly severe, you may need to treat your water with shock chlorination before introducing any long-term methods of treatment.
How to Know What Type of Iron your Water Contains
In some cases, you may know that your water contains a certain type of iron. For instance, if your water has an orange of brown tinge, it likely contains insoluble iron. However, there are certain types of iron that you can't see.
Testing your water is the best way to deduce what type of iron it contains. Use a laboratory to test for all three common types of iron.
📝 How to Select, Install, and Use a Water Filter for Iron Removal: Step by Step
Step 1: Test Your Water
Different types of iron filters remove different levels of iron, so you need to know how much iron your water contains before you start looking for a system. Test your water – either with an at-home test kit or a professional laboratory test – to determine the severity of your iron problem.
It's also worth testing your water for other common contaminants, including those that often accompany iron, like manganese, bacteria, and sulfur. If you find out that your water contains these impurities, you can focus your search on a filter that removes them as well as iron.
Step 2: Choose your Preferred Filter Type
Would you prefer to spend more money on a low-maintenance, efficient iron removal solution, like chemical or air injection oxidation? Do you want to soften your water as well as remove low levels of iron? Or do you want to spend less money upfront on a cartridge-based system that needs more frequent maintenance?
Weigh up your options depending on your budget and your situation. There is no best solution for everyone, so make the right choice for your needs.
Step 3: Size the System Properly
Buying the wrong-sized whole house iron water filter for your home will affect your water pressure and flow rate. Iron filters that are too small will significantly decrease your water pressure, while filtration systems that are too big might damage your plumbing system or appliances.
You need your iron filtration system to meet your demands for water, even at your peak times of consumption, without being too much for your pipes and plumbing to take.
Most iron filters are designed for homes with 1-3 bathrooms, but if you're unsure, contact the manufacturer for more information.
Step 4: Install your System
Once you've decided on and purchased an iron filter system, it's time to install it.
Some people feel confident enough to install a filter themselves. But iron removal filters are whole house systems and can often be complex in design. Cartridge-based filters are the easiest to install, while chemical injection filters are the most complex.
If you can't install a filter yourself, hire a plumber to do the job for you. It'll cost around $200 extra, but you'll know for sure that the filter is installed correctly.
Step 5: Check the System is Working
If you've bought an iron filter from a fair, trustworthy manufacturer, your filter should come with a money-back guarantee. This means that you can return the filter for a full refund if it doesn't live up to your expectations – or doesn't work at all.
During this guarantee period (which is usually about six weeks), evaluate the filter's performance. Is it easy to use? Does it seem efficient? And, most importantly, is it working?
The best way to find out whether or not an iron filter is working is to test your water again. Test a sample of water directly from your tap, downstream of the filter. Your water's new iron levels should be significantly lower than its original iron levels.
Step 6: Carry Out Required Maintenance
Finally, if you're happy with your purchase, make sure to keep your iron filter in good shape throughout its lifespan.
Different types of filters have different lifespans and maintenance requirements. Some just require cleaning to prevent a buildup of iron bacteria. Others have cartridges that need to be replaced at least once per year.
💭 Key Considerations When Purchasing an Iron Filter for Well Water
It's best to have an idea of what you need and what's on offer before you go ahead and purchase an iron filter. The best iron filter for well water for your neighbor might not be the ideal solution for you. Being aware of the following considerations will help you to make a smart water filter decision for your home:
Water Quality & Other Contaminants
Before buying an iron filter for well water, test your water quality. Finding out exactly what's in your water, and to what level, will help you to make smarter decisions when it comes to contaminant removal.
For instance, if you have a problem with chlorine in your water, you can consider buying an iron filter and carbon filter in one. Equally, if your water is hard but your iron levels aren't too high, it may be best for you to buy a water softener with iron removing capabilities, which can soften water and remove iron at the same time. High-sediment and high-iron water will require a sediment pre-filter.
Finding out how much iron is in your water is important for choosing the right system for your needs. If you have more than 0.3 PPM of iron in your water, it's enough to affect the quality of your drinking water. Too much iron can damage some filter types, so opt for a dedicated iron reduction system, like an air injection oxidizing system, if your iron levels are high.
Your well's pH is another water quality factor to consider before installing an iron filter. Iron filters work best with a neutral water pH of between 7 and 8.5. If your pH is lower than this, your water might damage thr system, and the system won't work effectively.
Filter Capacity
A filter's capacity is a measure of how much filtered water it's capable of producing on a minute-by-minute basis. The majority of filter systems are suitable for households up to 3 bedrooms. Some are available for homes with up to 6 bedrooms.
Filter capacity it affects the flow rate of water in your home, and the lifespan of the filter. Buying a filter with a small capacity may mean that your water flow isn't strong enough to provide an adequate water supply to your entire home. If you enjoy power showers, make sure you buy a filter with a big enough capacity for your home.
Filter Type
The type of iron filter you opt for will mostly come down to your personal preferences (and the contaminants your water contains – see above).
Different filters require different levels of maintenance. A salt-based water softener, for instance, requires regular salt top-ups, while whole house filters need filter replacements an annual or bi-annual basis.
Filter Longevity
The longevity of an iron filter is usually a result of the type and quality of the filter you buy.
A whole house filter system has a lifespan of about 10 years, but you'll need to change the individual filters every 6 months or so, which can be quite costly in the long run. Air injection or greensand filters tend to last around 4 to 8 years before you'll need to replace the filter media.
Installation & Maintenance
No matter which iron water filtration system you choose, it'll require installation at your home's point of entry (POE) – the place where water comes into your home. Some iron filters can also be installed outside, between your home and your well.
Installation usually takes an hour or two and is relatively straightforward for someone with a low level of plumbing experience. However, as it involves cutting your water line and installing a bypass valve, not everyone will feel comfortable with the job. If you plan to call a plumber to install an iron filter for you, keep in mind that this will cost about $200.
Maintenance depends on which system you opt for. Whole home iron water filters have several stages of filtration, and each of these filters needs replacing at specific times (usually every 6-12 months).
Iron water filters that use a redox or oxidization media have a longer lifespan of around 5 to 10 years.. This type of water filter is still a great low-maintenance option if you don't want the hassle of filter changes.
Water softener systems have a range of completely different maintenance requirements. The most important job is to add salt to the brine tank. You also need to clean out your softener once a year, and replace any worn parts, like o-rings.
Warranty
Mo matter what water filter for iron you buy, it needs to have a warranty. A warranty is there for you if a filter is damaged as a result of a design flaw that's out of your control.
Most warranties for a water filter for iron are split up on a part-by-part basis. In tank-based systems, the tanks have a 10-year warranty, and the control valve has a 5 to 7-year warranty. A typical water softener has a 10-year warranty on the tanks and a 1 to 3-year warranty on all other parts. A whole home water filter typically has a 10 to 12-year warranty for the system itself, not including the filter cartridges.
⚖️ Pros and Cons of Whole House Iron Filters
Let's take a look at some of the biggest benefits and setbacks of using a whole house filtration system for eliminating iron.
Pros
No Iron Staining or Clogging
An iron water filter gets rid of the cause of orange or brown staining and clogging in your pipes, plumbing, and water-using appliances, so your water system will be protected going forward.
Improved Drinking Water Taste
By eliminating iron from your water, an iron well water filtration system significantly improves your drinking water's taste – no more metallic flavor.
Additional Contaminants Removed
A typical iron filter – whether a single-tank system or a multi-stage unit consisting of several filter cartridges – can remove more than just soluble ferrous iron and insoluble ferric iron. Some whole house water filters can also remove bacteria, sediment, manganese and sulfur (commonly found with iron), while others use a catalytic carbon filter or carbon block filter to remove the likes of chlorine, VOCs, pesticides, and herbicides.
Minimal Maintenance
Depending on the type of iron filter you buy, maintenance should be minimal. Even cartridge filters only need their cartridges replaced once or twice a year.
Cons
Expensive
Even if iron filters are a good value for money, they're not cheap.
Difficult to Install
As whole house systems, iron filters are more complex to install than other types of water filters. However, for you to benefit from an iron-free water supply in your entire plumbing system, these systems need to be installed at your POE.
❔ Frequently Asked Questions
Can iron be filtered out of well water?
Yes, iron can be filtered out of well water. Not all filters remove iron, though – air and chemical injection, some sediment filters, and some water softener units are best for removing this mineral.
How do you deal with iron in your well water?
The best way to deal with iron is with a drinking water system installed at water's point of entry into your home. This will filter the iron out of your entire water supply.
How do you filter rusty well water?
You can filter rusty well water with a sediment filter, an air or chemical injection system, and a water softener.
Is it expensive to buy an iron filter?
Yes. But the best types of iron filters have long lifespans and require minimal maintenance, so they're still a great investment, and a good value for money.
Isn't iron good for you?
In small amounts, yes. Iron is an essential nutrient for humans, being a component of hemoglobin, which transports oxygen around the body. But high levels of iron have been linked with adverse health effects, from damaged blood vessels to kidney and liver problems.
Should I call an expert to install my filter?
It depends on how handy you are. The majority of filter systems come with step-by-step installation instructions that guarantee success – if you follow them properly.
What should an iron filter remove?
A whole house filtration system for iron reduction should typically remove iron, manganese, and sometimes sulfur. It depends on what filter you opt for. The best iron filter will remove both ferrous and ferric iron, but this isn't a guarantee.
Why bother with a filter when water bottles are cheaper?
If you can't drink your well water because of high iron, manganese and sulfur content, the cheapest solution isn't to keep buying water bottles. A filter for iron is a much more wallet-friendly solution in the long run. Calculate your average monthly water bottle spending cost, and you'll see how quickly it adds up over the years.
When shouldn't you use an iron filter?
You shouldn't use an iron filter if your water supply has a high concentration of sediment or organic matter – unless you install a suitable pre-treatment system that will prevent damage to the iron removal system.
You also shouldn't use an iron filter for the wrong purpose. For instance, if you want to remove ferric iron, most whole house iron filters will do the job, but ferrous iron requires a specific type of iron removal system.