We've researched, tested, compared, and reviewed tens of iron filters on the market, and narrowed them down to five of the very best in 2023. We've rated these filters based on how much iron they're capable of removing, how efficiently they can perform, ease of installation, and of course, affordability.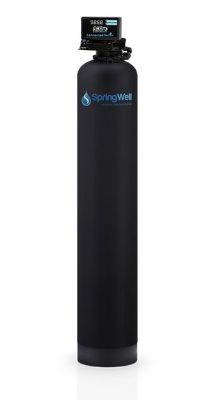 SpringWell WS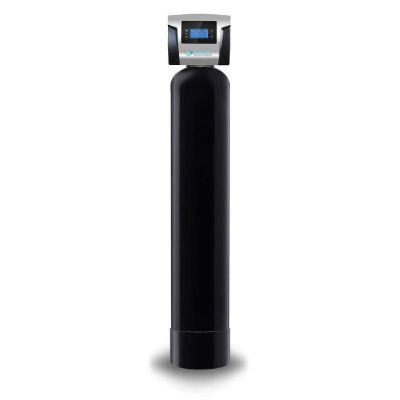 SoftPro IronMaster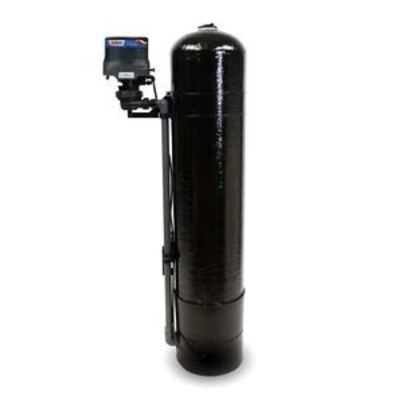 US Water Systems Flexx Oxi-Gen
The majority of wells in the US contain low levels of iron, with many containing more than the EPA's maximum contaminant level of 0.3 parts per million. Excessive iron can be extremely damaging to your home's plumbing.
Why trust us? It's our full-time job to research & test today's water filtration systems and work out what makes a product good – and what makes a product not worth your investment. We've written for HowStuffWorks, Sawyer Products, and WQP Magazine, and I've seen the popularity of iron water filters soar since their invention.
In this guide, I'll be sharing:
Our 5 picks for air injection filters in 2023
The air injection filtration process, and how this compares to other iron filtration methods
The 8 things you need to consider when choosing an air injector iron filter
🥇 Best Air Injection Iron Filters
📊 Comparison Chart of Air Injection Iron Filters
System
SpringWell WS

SoftPro IronMaster

US Water Systems Flexx Oxi-Gen

RKIN Well Water Filter System

Tier1 Precision Series

Ranking
1st
2nd
3rd
4th
5th
Ratings
5/5
4.5/5
4.5/5
4.5/5
4/5
Price
$2204.09+
$1,519.99+
$1,679.18+
$2,026.16
$761.99
Contaminants Removed
Iron, Hydrogen Sulfide & Manganese
Iron, Hydrogen Sulfide & Manganese
Iron, Hydrogen Sulfide & Manganese
Iron, Hydrogen Sulfide & Manganese
Iron, Hydrogen Sulfide & Manganese
Iron Types
Ferrous, Ferric
Ferrous, Ferric
Ferrous, Ferric
Ferrous, Ferric
Ferrous, Ferric
Max Iron
7 PPM
30 PPM
10 PPM
7 PPM
30 PPM
System Process
AIO + Greensand
AIO + Katalox
AOI + Catalytic Carbon
AOI + Greensand
AOI + Calcium Carbonate + Magnesium Oxide
Media Life
10 years
8 – 10 years
10 years
5 years
Flow Rate
12 – 20 GPM
6 – 12 GPM
10 – 20 GPM
12 – 20 GPM
5.8 GPM
pH Range
6.5 – 10
5.8 – 10.8
6.5 – 7.8
6.5 – 1 0
6.5 – 6.9
Warranty
Lifetime
Lifetime
7 years (circuit board)
10 years (tank)
7 years (filter & electronics)
1 year
Lifetime (tanks & valves)
10 years
---
⭐ Air Injection Iron Filter Reviews 2023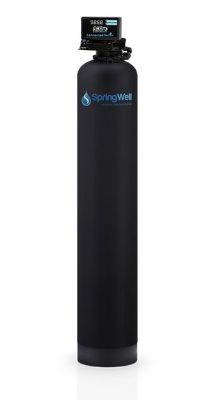 SpringWell WS
The SpringWell is an economical iron filter that sends water through an air pocket, oxidizing iron, sulfur and manganese. These minerals are then filtered out using the water filter media stage.
Compact and space-saving, the SpringWell uses a patented piston in the control head that allows the whole filtration process to fit into a single tank.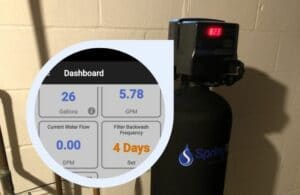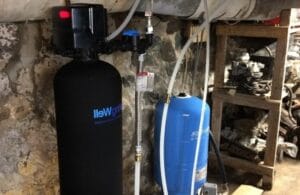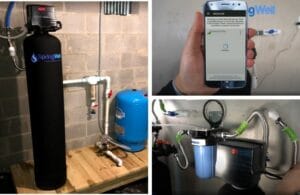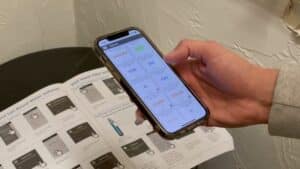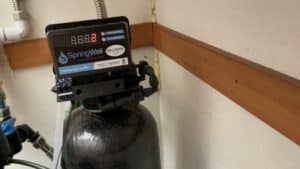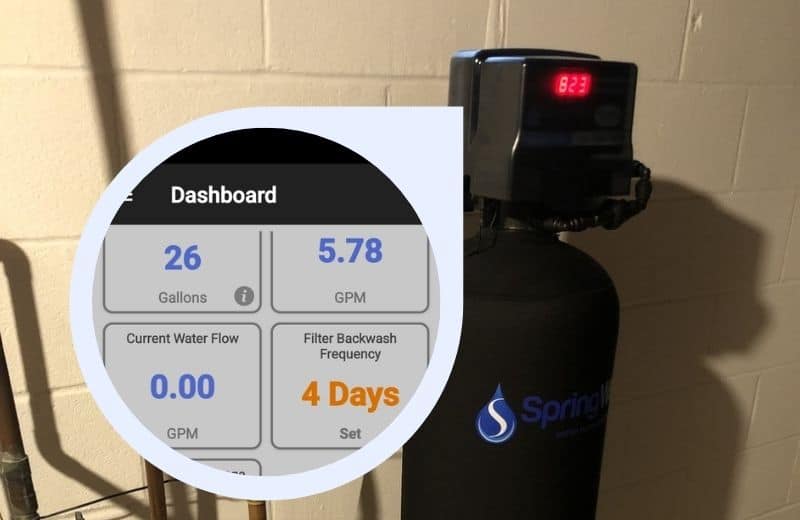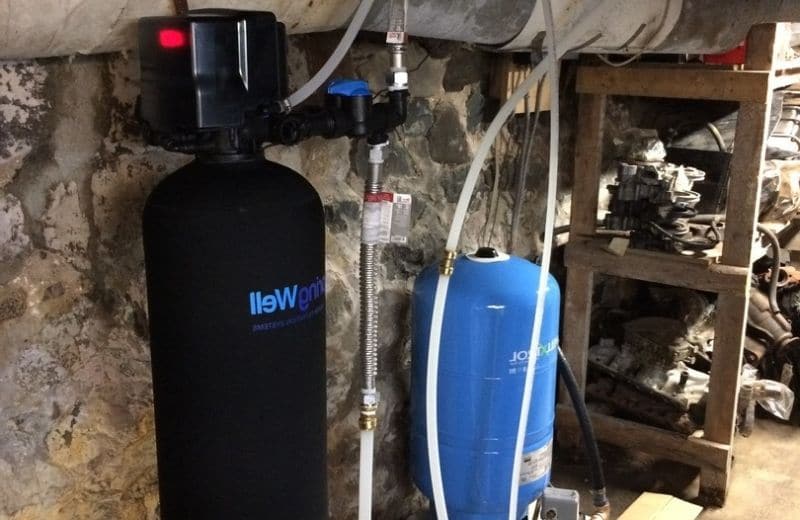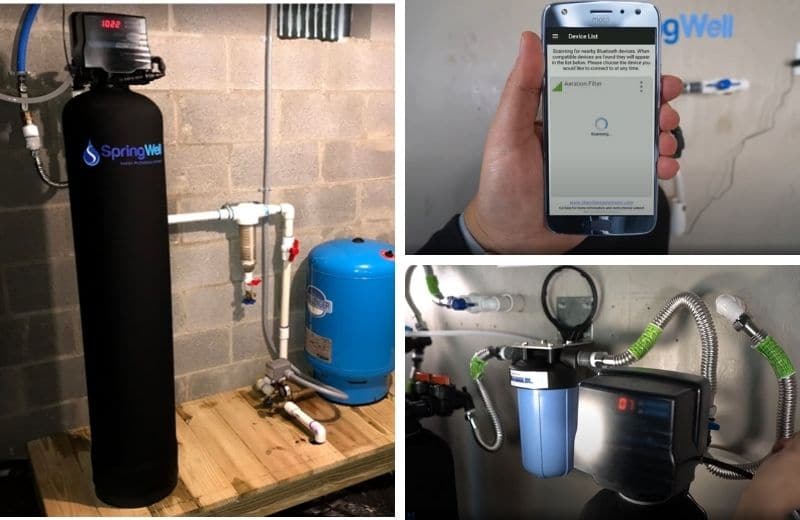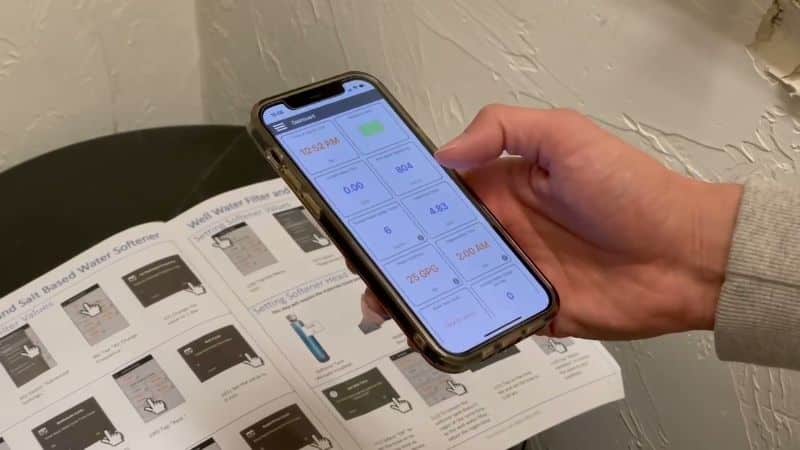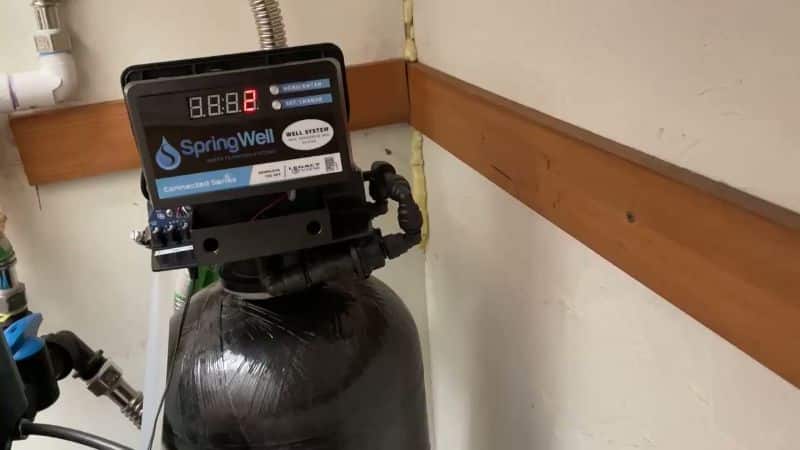 Unique Features & Benefits
Comes with a lifetime warranty and a 6-month money-back guarantee
Easy-to-use electronic control head with "set and forget" functioning
Option to control the filtration system with SpringWell's dedicated Bluetooth app
Comes in two sizes: a 1-4 bathroom unit (12 gpm flow rate) and a 4+ bathroom unit (20 gpm flow rate)
Detailed instructions and a complete installation kit are included for DIY installation
| SpringWell WS Configurations | Price |
| --- | --- |
| 1-4 Bathrooms | $2,204.09 |
| 4+ Bathrooms | $2,962.94 |
Pros/ Cons
Pros:
Easy to set up and monitor
Quiet performance
Environmentally- and wallet-friendly
Cons:
Non-handy types may need to pay for a professional installation
More expensive than similar models
| Upgrades | Price | Uses |
| --- | --- | --- |
| Salt Based Water Softener System | $1683.59 | Addressing hard water |
| Reverse Osmosis Water Filter System | $442.23 | Drinking water |
| UV Water Purification System | $1100.99 | Microorganism contamination |
Top FAQs
Can I install this iron outdoors?
Yes, but you should house the filter in weatherproof housing if your winter temperatures fall below freezing. The system is best designed for operation in a room-temperature environment.
What does this iron filter come with?
The SpringWell well water filtration system comes with a tank and filtration media, electronic head, drain line, bypass valve, and hose clamp. Depending on your home's plumbing, you might need to buy additional fittings and piping.
Who can install your filter?
SpringWell's filters aren't known for being the easiest to install yourself, so if you're not a DIY fan, you might not be up for the challenge. If not, professional installation typically costs $200, depending on the local competition in your area.
Why It's Our Top Pick
SpringWell is one of the most trusted brands, and the Whole House Well Water Filtration system doesn't disappoint. It's the best iron filter for anyone looking for an economical, environmentally-friendly solution to their contaminated well water.
Take a look at our SpringWell WS laboratory testing data in the table below.
| Contaminant | Pre-Filtration | Post-Filtration | % Reduction |
| --- | --- | --- | --- |
| Antimony | 0.0003 PPM | 0.0005 PPM | +66.67% |
| Barium | 0.051 PPM | 0.003 PPM | 94.12% |
| Boron | 0.023 PPM | 0.013 PPM | 43.48% |
| Calcium | 56 PPM | 1.44 PPM | 97.43% |
| Chloride | 10.5 PPM | 11.4 PPM | +8.57% |
| Chromium (Total) | 0.001 PPM | 0 PPM | 100% |
| Cobalt | 0.0007 PPM | 0 PPM | 100% |
| Fluoride | 0 PPM | 0.244 PPM | n/a |
| Copper | 0.211 PPM | 0.091 PPM | 56.87% |
| Iron | 2.37 PPM | 0 PPM | 100% |
| Lithium | 0.079 PPM | 0.003 PPM | 96.20% |
| Magnesium | 18.2 PPM | 0.414 PPM | 97.73% |
| Manganese | 0.002 PPM | 0.022 PPM | +1000.00% |
| Molybdenum | 0.003 PPM | 0.002 PPM | 33.33% |
| Nickel | 0.009 PPM | 0.0009 PPM | 90% |
| Nitrate (as N) | 0.309 PPM | 0.364 PPM | +17.80% |
| Potassium | 1.43 PPM | 0.156 PPM | 89.09% |
| Selenium | 0.002 PPM | 0.001 PPM | 50% |
| Silica | 9.04 PPM | 12.6 PPM | +39.38% |
| Sodium | 18.8 PPM | 191 PPM | +915.96% |
| Strontium | 1.08 PPM | 0.015 PPM | 98.61% |
| Sulfate | 132 PPM | 151 PPM | 14.39% |
| Titanium | 0.001 PPM | 0.0005 PPM | 50% |
| Turbidity | 0.42 NTU | 0.21 NTU | 50% |
| Uranium | 0.002 PPM | 0.002 PPM | 0.00% |
| Vanadium | 0.0007 PPM | 0 PPM | 100% |
| Zinc | 0.126 PPM | 0.074 PPM | 41.27% |
Read the full review: SpringWell Whole House Well Water Filter System Review
---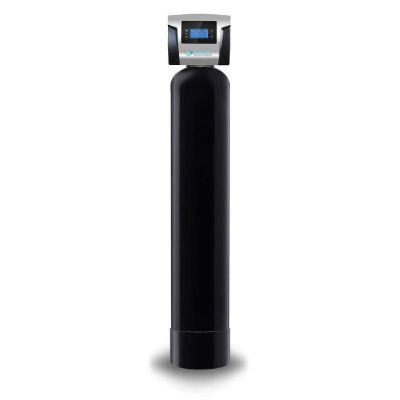 SoftPro IronMaster
The SoftPro IronMaster can remove up to 30 ppm of iron, as well as 7 ppm of manganese and 5 ppm of hydrogen sulfide. This system comes in three sizes depending on your whole house water pressure, so you can choose the right model depending on the size of your household.
With a digital display head that provides all the details you need to know about the system, the SoftPro iron filter is designed for ease of use. The system is durable and affordable, and is assembled in the US for your peace of mind.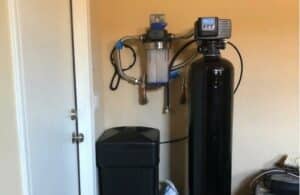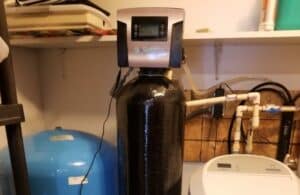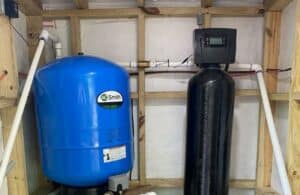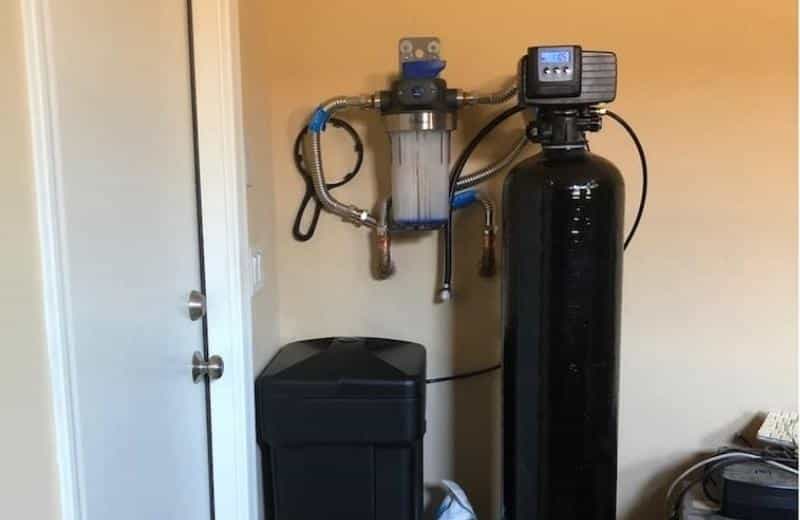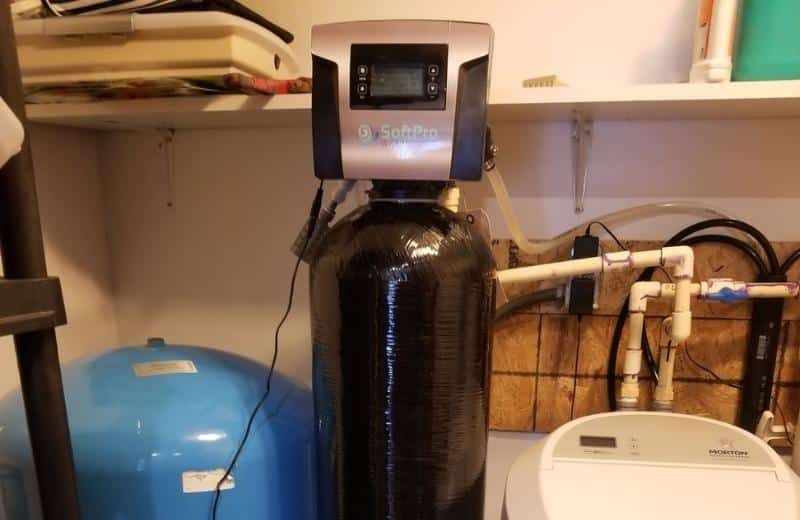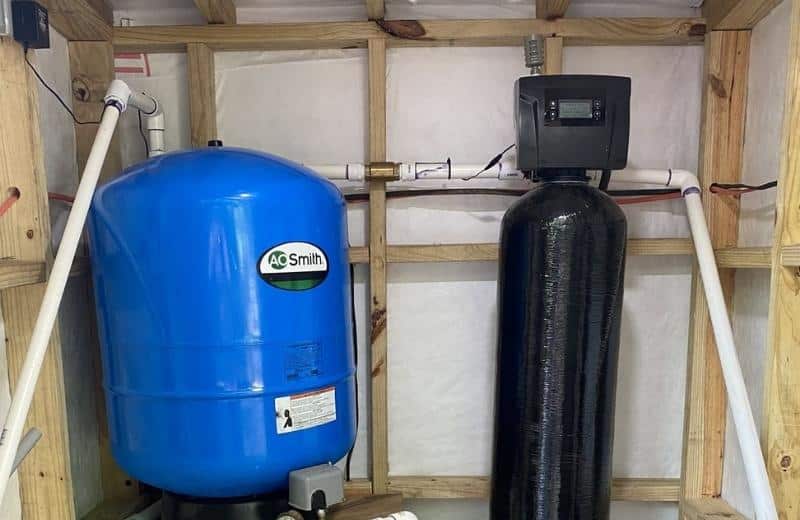 Features & Benefits
Three sizing options: 1.0 cubic feet, 1.5 cubic feet. and 2.0 cubic feet
Offers the highest iron removal in the industry, up to 30 ppm
High-efficiency control valve maintains consistently high flow rates
Optional vacation mode and battery backup that keeps the system operating for 48 hours in the event of power loss
Comes with a limited lifetime warranty on the tank and control valve, and a 7-year warranty on the circuit board
| SoftPro IronMaster Configurations | Price |
| --- | --- |
| 1.0 Cubic Foot | $1,519.99 |
| 1.5 Cubic Foot | $1,759.99 |
| 2.0 Cubic Foot | $1,919.99 |
Pros/ Cons
Pros:
Available in three sizes
Ideal for wells with a very high iron content
Good warranty on the tank and control valve
Cons:
No warranty on the filter media
More difficult to install than similar iron filters
Top Q&A
Does the SoftPro iron filter come with everything you need for installation?
No. You can pay extra and upgrade to receive the Quick-Connect Hose Kit, which includes flexible hoses that make it easier to connect the system up to your plumbing.
What flow rates does the SoftPro offer?
Depending on what sized iron filter you buy, flow rates average between 6 and 12 gpm. This is better than the average flow rate offered by iron filters on the whole.
Is there installation support for the SoftPro iron filter?
Quality Water Treatment (SoftPro's distributor) has a page of installation guides and videos that may be handy for installation. Still, customers say this unit is difficult to install, so you may want to leave it to an expert.
Our Take
The SoftPro IronMaster is the best iron filter on the market today as far as contaminant removal is concerned. There aren't many other iron filters that remove up to 30 ppm of iron without chemicals. This whole-house system is ideal for you if your water has very high iron levels.
---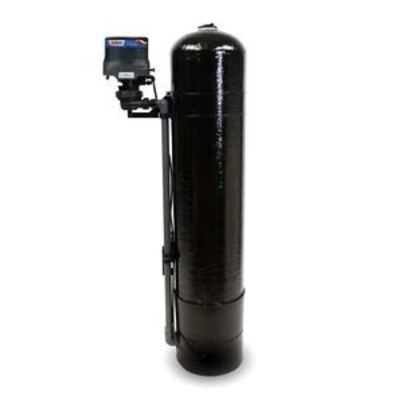 US Water Systems Flexx Oxi-Gen
The US Water Systems Flexx Oxi-Gen Aeration Iron and Sulfur Filter is an iron filter available in two sizes: 10 gpm and 20 gpm flow rates.
This oxidizing filter can remove up to 10 ppm of iron from well water, as well as 12 ppm of hydrogen sulfide and 7 ppm of manganese.
Features & Benefits
All components in this system are approved by the NSF
Targets foul odors, poor taste, and stain-causing minerals, improving water quality and preventing corrosion.
Uses proprietary smart valve technology that connects directly to your phone via Bluetooth
10-year warranty on tank and 7-year warranty on valve
Catalytic carbon filter media is tested and approved to NSF 61 by the WQA.
| USWS Flexx Oxi-Gen Configurations | Price (3/4 in) | Price (1 in) |
| --- | --- | --- |
| 10 GPM | $1,679.18 | $1,679.18 |
| 20 GPM | $1,908.68 | $1,908.68 |
Pros/ Cons
Pros:
Good warranties on tank and valves
NSF approved components, filter media is NSF certified
Quiet operation with no banging or rattling
Cons:
Won't work with water below a pH of 6.5 or above 7.8
A high price point at nearly $2,000
Frequent Q&A
What system information does this iron filter provide?
The control head has information including water usage history, flow, and number of regenerations.
What happens if there's a power outage?
The unit has a 9-volt battery backup that will return the control valve back into service position if the system is regenerating when a power outage occurs.
Is this iron filter eco-friendly?
Yes. The filter draws oxygen into the system, replenishing the tank's air bubble, without having to complete a full backwash. This means that less water is wasted during operation
Our Take
The US Water Systems iron filter is a good all-round filter if you have moderate levels of sulfur, iron and manganese in your well water. This whole house filter uses NSF components and has certified filter media, so you can rely on it to remove iron from well water as advertised.
---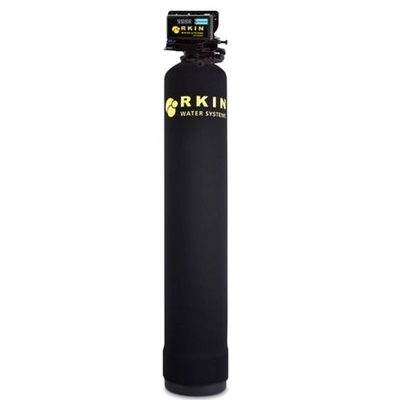 RKIN Well Water Filter System
The RKIN Well Water Filter System is a whole house iron filter that filters iron, manganese and sulfur from water.
This system is made from durable, certified complaints and comes with a lifetime warranty on the tank and parts.
Features & Benefits
Can be connected with the RKIN Bluetooth app for convenience
Can be DIY installed and comes with detailed instructions to simplify the process
Uses manganese greensand, one of the best filter media for air injector systems
Increased backwash efficiency with Enpress Vortech, which uses less water per flush
Smart control valve monitors water use and predicts regeneration times for peak efficiency
| RKIN Configurations | Price |
| --- | --- |
| WF 10: 1-3 Bathrooms | $2,026.16 |
| WF 13: 4+ Bathrooms | $2,450.39 |
Pros/ Cons
Pros:
Comes ready to install, reducing assembly required
Efficient performance and filter media backwashing
Lifetime warranty on tanks and parts
Cons:
Unclear how much iron this water filter removes
More expensive than other whole house filters on this list
Common Questions
Does the RKIN water filter come with everything you need for installation?
Yes. To speed up the installation process, you can pay extra for the Super Flex Kit, which is designed to cut your installation time in half.
Do you need to connect the RKIN water filter to a Bluetooth app?
No. It's your choice whether you connect the system to the available app. Because maintenance is minimal, you'd only be using the app to monitor water usage and backwashing, which you could do on the control head anyway.
How much iron, manganese and sulfur does this system remove?
The exact amount of iron, manganese and sulfur in ppm isn't mentioned in the product description. You'd need to contact the manufacturer for more information.
Our Take
The RKIN is a whole house iron filter that's well worth considering if easy installation and minimal maintenance are your priorities. This system is highly efficient, too, making it one of the best iron filters for saving money and energy.
---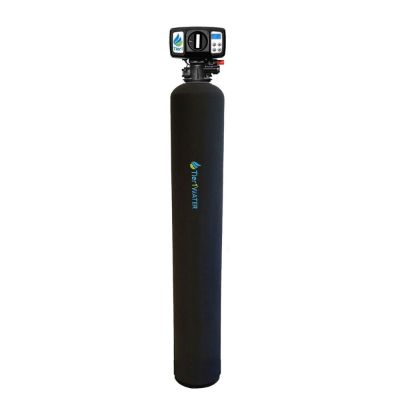 Tier1 Precision Series
The Tier1 Precision Series iron filter uses air induction to remove up to 30 ppm of iron, as well as manganese and hydrogen sulfide. Using this filter can help you reduce stains and get rid of rotten egg smells – all without using chemicals.
It's easy to program and obtain information from the filter's electronic control panel. The screen tells you how much water you've used and when the system is expected to regenerate.
Features & Benefits
Battery backup in the event of a power outage
10-year warranty covers all non-electric parts
Uses automatic bypass during regeneration, so you never need to be without water
Single model designed for homes with 1-6 people
Uses calcium carbonate and magnesium oxide alongside aeration to reduce iron, manganese and sulfur
Pros/ Cons
Pros:
One of the more affordable iron filters on this list
A good choice for very high whole house iron quantities
Space-saving tank design
Cons:
Specific delivery requirements (palleted delivery) may not be suitable for all homes
Shouldn't be used for well water containing tannins
Frequent Questions
What makes this iron filter better than others on the market?
The Tier1 iron filter doesn't just treat water with the air injecting process – it also uses calcium and magnesium in its filtration media to raise water's pH and more effectively remove hydrogen sulfide and manganese.
What is the average flow rate for this water filter?
The average flow rate for the Tier1 is 5.8 gpm. This is lower than the average flow for an iron filter, and if you have a larger home, you may notice drops in water pressure.
Is it possible to DIY install this iron filter?
Yes. The Tier1 comes with quick-connect fittings that simplify the installation process. It'll take you about a day to install this whole house filter.
Our Take
The Tier1 Precision Series is the best iron filter for anyone on a budget who's looking for an exceptional value for money. You can get up to 60 months of use from this system, and there's virtually no maintenance involved.
---
🧾 Air Injection Oxidizing Filter System Buyer's Guide
To help you choose the most suitable filter for your iron removal needs, I've put together this buyer's guide to provide you with the information you need when comparing products.
🧪 Importance of Testing Your Well Water
If you don't already know how much iron your water contains, the first step is to test it.
Testing your water can tell you whether you're dealing with slightly elevated, very elevated, or excessive iron water levels. More importantly, iron testing can help you find out exactly what types of iron your water contains.
There are three types of iron present in your water: ferric (insoluble), ferrous (soluble), and iron bacteria. Air injection can remove both ferric and ferrous iron, but if iron bacteria is present, you may need to consider shock chlorination to remove this contaminant.
The quantities of iron present in your water will determine your air injection filter choices. Some air injection filters are more capable than others. Testing your water will ensure that you choose the right filter for your iron removal requirements.

💭 Considerations When Shopping for an Air Injection Filtration System
Before you buy an air injection iron filter, you should consider the following factors:
Iron, Sulfur & Manganese Reduction Capability
As well as iron, air injection systems can also remove sulfur and manganese. Not all iron filters can remove the same amount of these contaminants. The average air injection system can remove around 10-18 ppm (parts per million) of iron, but the best systems are capable of removing up to 30 ppm of iron.
The same goes for manganese and sulfur. Some systems can remove up to 10 ppm of manganese, but around 5-7 ppm is more common. The average system can remove around 3-5 ppm of sulfur, but again, this can be higher.
It's not always necessary to spend more money on a system that removes the highest quantities of these contaminants from your water.
Test your water and see how much iron, manganese, and hydrogen sulfide it contains. It's highly unlikely that your water will contain 30 ppm of iron, 10 ppm of manganese, and 5 ppm of hydrogen sulfide. But if you have the extra money to invest and you want to buy the most capable system, the choice is yours.
Presence of Additional Contaminants
You might be dealing with more than just iron, hydrogen sulfide, and manganese in your water. Nitrates, coliform bacteria, turbidity, sediment, arsenic, mercury, and agricultural chemicals are all common well water contaminants.
I recommend purchasing a testing package for well water, such as the Essential Well Water Test by Tap Score. As well as testing for manganese, iron, and sulfur, you'll learn whether your water contains other contaminants that often make their way into well water.
Once you know what additional contaminants your water contains, you can determine the best solution for removing them (if necessary). Air injectors only remove iron, sulfur, and manganese. To remove additional contaminants, you will likely need additional water filters.
For instance, a UV light can kill microbiological contaminants. A water softener can remove hardness minerals (and low levels of iron, as an added bonus). A dedicated well water filtration system can remove heavy metals, chemical pesticides and herbicides, and more.
If iron removal is your main priority, start with air injection first. You can add to your filtration methods over time.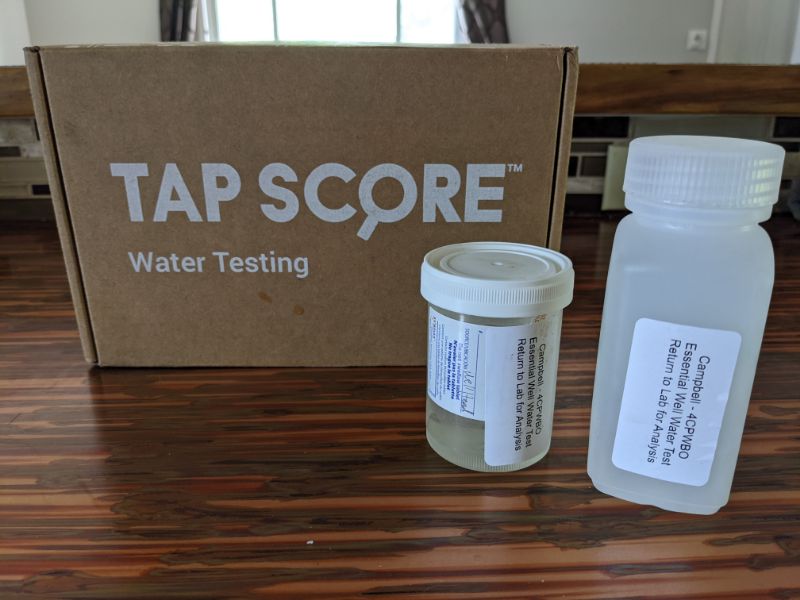 Filter Capacity
The capacity of an air injection filter refers to how long the filtration media will last before it needs replacing.
The average filtration media capacity for an air injection system is 6-10 years, or around 600,000-1,000,000 gallons. The longer the filter media's lifespan, the less frequently you'll need to replace it. You may prefer to pay more money upfront for a system that costs less to maintain in the long run.
In terms of daily capacity, a system's water filtration capabilities will usually be measured in GPM, or gallons per minute. I've covered this in more detail in the "Water Pressure and Flow Rates" section.
Installation & Maintenance
The majority of air injection systems use a single tank and are easy to hook up to your water line. However, if you're not a fan of DIY, you should factor in the cost of a professional installation.
Installing an air injection system will require cutting into your main water line at your home's point of entry. Some systems come with a bypass valve, allowing you to direct water around your system if it requires maintenance or develops a fault.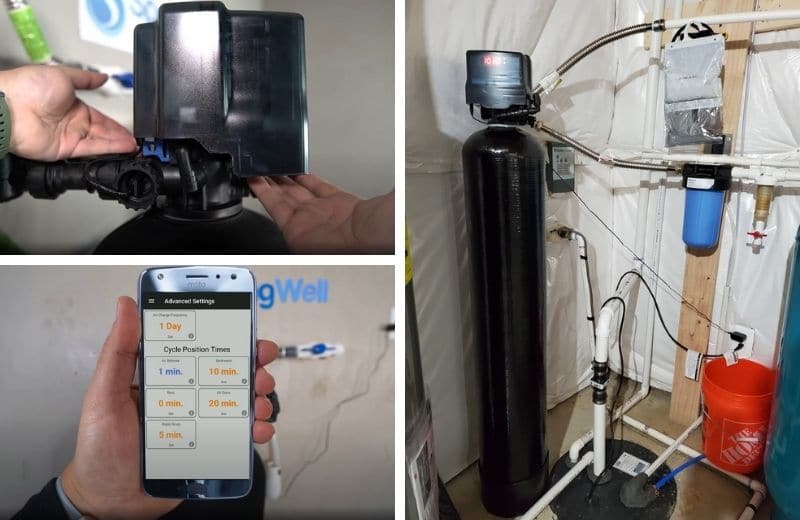 Systems that include installation kits are the easiest to install. If you buy a system without an installation kit, you'll have to visit your local hardware store and buy the extra equipment you need.
Maintenance is a less demanding requirement for an air injection filtration system. The majority of filters are designed to perform a daily backwash to replenish the air bubble and remove the accumulated contaminants from the media bed. Once you've set this backwash to your preferences, you won't have to touch the system again until it's time to replace the media.
Water Pressure and Flow Rates
You will need to choose the right iron filtration system to provide enough water to your whole home. A system should be capable of filtering water at a rate that will supply your home during times of peak demand (such as when multiple appliances are in use at once).
You can learn about a filter's water production capabilities by reading up on its flow rate. Flow rate is measured in gpm, or gallons per minute.
The average flow rate for an iron injection system is 10-12 gpm. This flow rate will provide enough water for a 1-4 bedroom household.
Some air injection systems allow you to pay more to size up to a system with an 18-20 gpm flow rate. This higher flow rate is suitable for households with more than 4 bathrooms, or small businesses.
It's important to buy an iron filter system with the right flow rate for your home. If the system's flow rate is too low, you may notice a drop in water pressure, and your appliances won't get enough water during peak demand. If the flow rate is too high, you could end up damaging your plumbing system.
For most families, the standard-sized air injection system, with a flow rate of 10-12 gpm, will be fine.
System Physical Footprint
Iron filters need to be installed as close to your home's point of entry as possible. This may mean that you have to install your filter in your basement or in a cupboard.
Measure your available space and factor in enough room for installation and maintenance. Compare your measurements to the measurements of the system you want to buy.
Air injection filters are typically much taller than they are wide. It's important to have enough height in your planned installation spot to comfortably fit your system.
The majority of aeration iron filter systems combine several filter processes into a single tank. If you do buy a multi-tank system, however, keep in mind that it'll be larger in size – usually up to 16 square feet.
Installing a filter outside is a good option if you don't have the space inside. However, most air injection systems will be damaged by sunlight, high humidity, or freezing temperatures. If you plan to install your unit outside, you'll need a weatherproof case or enclosure that will house the filter and prevent damage from the elements.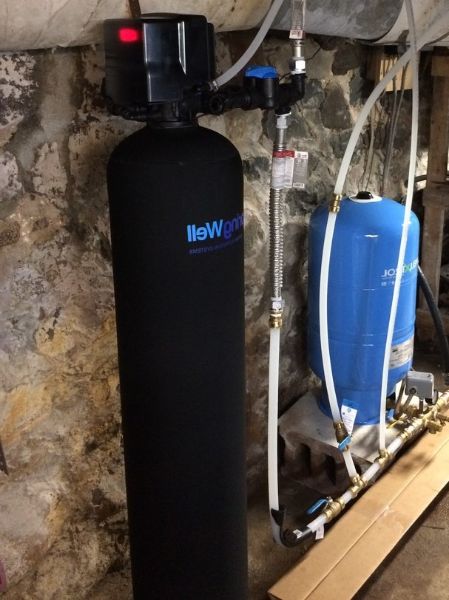 Warranty
Finding an iron filter with a warranty is essential. A warranty will cover you if the system arrives with defects or becomes damaged (through no fault of your own) during operation.
If you buy a system with a warranty, you will be able to replace a defective component for free or return the system for a refund, depending on the warranty's terms.
Keep in mind that no warranty will cover you for:
Improper installation or maintenance
Issues that result from expected wear and tear
The cost of repairing damage to your home if the iron filter malfunctions
Warranties can range between 2 and 10 years. Some parts of the system may have shorter warranties than others; for instance, the tanks may have a longer warranty than the filter media and the valves.
Lifetime warranties tend to be the best available. However, it's worth checking exactly how long a lifetime warranty lasts. Manufacturers tend to use this wording because they know it sounds good, but if a system's predicted lifespan is only three years, you'll probably find a better warranty elsewhere.
Ongoing Costs of Ownership
There are very few ongoing costs to consider with an iron filtration system.
Your biggest cost is replacement media. Eventually, the filter's media will be unable to effectively trap contaminants. To ensure continued optimal performance, you'll need to fill the tank with a new media.
You can buy replacement media online. Depending on the brand, this media typically costs $200-$500. That's not a bad deal, considering you'll only need to pay to replace the media every 6-10 years.
Aside from replacement media, you may need to pay to replace components or fix your system, depending on your warranty's terms.
A high-quality, well-made system should last for at least a decade, but when parts become worn, it may be cheaper to replace these parts rather than buy a whole new filtration system. Keep in mind that iron is corrosive, so it will corrode parts of your filter system over time.
In short, the long-term costs of owning an iron filter are minimal, and you can expect to pay around $500-$1,000 every 10 years.
📌 How to Choose the Best Air Injector for Well Water
To choose the best air injector filtration system, take the following steps:
1) Understand the Quality of Your Well Water
Before you start looking at iron filters, find out what types and quantities of iron your water contains.
Remember, the best air injector systems can remove up to 30 ppm of iron. However, these iron filters typically can't remove bacterial iron, so this may influence your buying choices.
You should also find out what other contaminants are present in your water. For instance, high water hardness may need water softening treatment. If you have ferrous iron levels below 8 ppm, it might be better to buy a water softener that can soften your water and remove iron from your water.
2) Determine What Size System You Need
Once you know what's in your water, you will need to correctly size your system. Work out how much water you use per week. You can do this by adding up your daily water usage and determining a weekly average, or looking at your water bill.
Most manufacturers offer air injector systems in two sizes: one for households with 1-3 bathrooms, and one for households with 4 or more bathrooms. This saves you the hassle of having to size a water filter yourself.
The right-sized system will deliver enough water to your home without causing a drop in water pressure, so it's important to get this part right.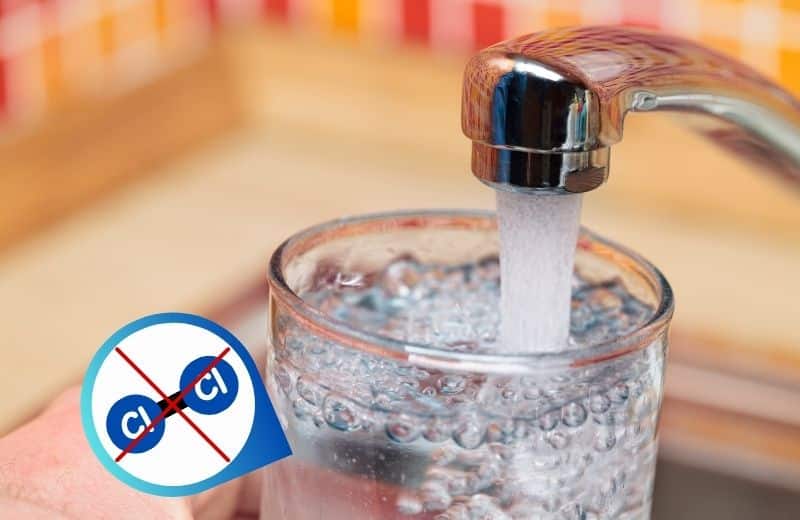 3) Find a System That Meets Your Requirements
Equipped with the knowledge of what your water contains and what sized system you need, you'll have an easier job of finding a system that suits your requirements.
I recommend narrowing your choices down to 3-5 systems. You should then read independent reviews from water filter experts, and customer reviews, to learn more about how the systems compare to one another, and how they live up to customer expectations.
Remember to look out for important features like media lifespan and maintenance requirements, upfront cost, and warranty.
❔ Frequently Asked Questions
How does an air injector system work?
Air injectors send water through an oxygenated air bubble. When ferrous (soluble) iron, sulfur and manganese particles come into contact with this air bubble, they're oxidized, turning them into ferric (insoluble) particles. These particles can now be physically removed with a filtration media, such as birm or manganese greensand.
When the media bed becomes saturated with contaminants, the system will backwash, flushing the contaminants down a drain and replenishing the oxygen air bubble.
How does air injector filtration differ from other iron removal methods?
Air injection isn't the only method of removing iron from water, but it is one of the most effective. Other iron removal methods include using water softeners, KDF filters, sediment filters, and chemical oxidation/filtration systems.
Because air injectors are the most commonly available, affordable, and effective means of iron removal, this type of treatment is usually favored over others. However, chemical oxidation is still a popular solution.
Ultimately, it depends on what type of iron you want to remove from water, and how much. For instance, sediment filters can only target ferric iron, while water softeners can only target low levels of ferrous iron.
Is iron dangerous in water?
It's unlikely that your well water will contain dangerous levels of iron. However, elevated iron levels can cause rusting and orange-brown deposits in your plumbing and appliances. Too much iron in your water may also have minor health effects, and can make water taste and smell unpleasant.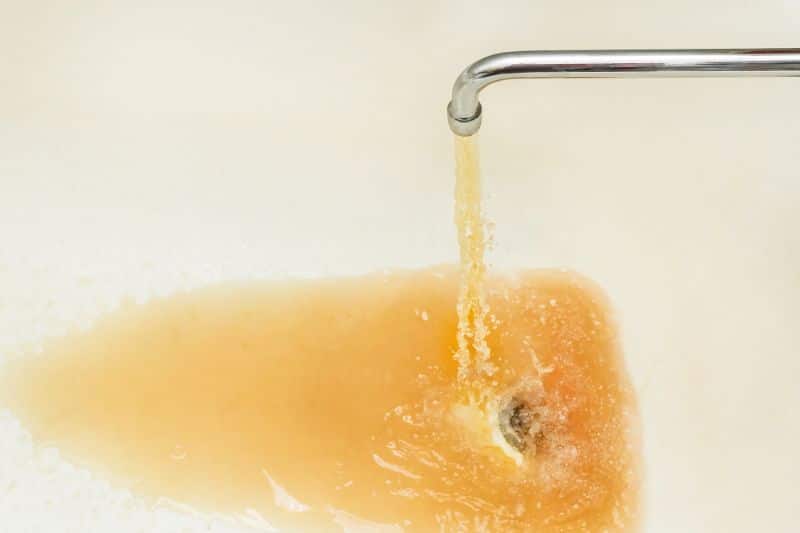 How does backflushing work in an air injector iron filter?
Most iron filters will have their own automated backflushing, or backwashing, setup. Your water filter might come pre-set, or it might require setting up by you. Either way, air injectors are "set and forget" systems, meaning you can set the daily backwashing to a time that suits you, so you don't need to go without water during peak periods.
Will an iron air injector filter system affect my water pressure?
Like any whole house water filtration system, an air injector may affect your home's water pressure, but not enough to notice. As long as you size your system properly, you shouldn't have any water pressure issues with one of the best iron filter options on this list.
How long does an air injector filter system last?
Most air injectors have a lifespan of 10 or more years. The media has a lifespan of 6-10 years. You may be able to prolong the lifespan of the filter by replacing components that are worn and damaged. With the right care and timely filter media replacements, you could get several decades of use out of an air injector system.
How can I test my water for iron?
You have two choices: use an at-home testing kit or get your water supply professionally tested by a laboratory. If you're interested, I've written more about testing for iron in your water, and which testing technique is best for you.

Are air injector iron filters good for rust?
Yes, these iron filters target rust. Another good iron filter system for rust is a sediment filter. While a sediment filter can't remove dissolved iron or kill iron bacteria, it's designed to remove large flecks of non-dissolved iron, or rust.
Can I remove iron by boiling my water?
No. Boiling water won't cause iron to evaporate. In fact, it will only cause your water to evaporate, which will leave you with less water with the same iron content. The only way to remove iron is to physically filter it out with a water filter.
Are there air injector iron filters for point-of-use applications?
No. No matter what type of iron filter you choose, air injection or otherwise, these filters are only designed for whole house use. The purpose of an iron filter is to remove iron at your home's point of entry, preventing damage to your plumbing and appliances. There aren't currently any iron filters available that can just filter iron in drinking water, although some POE filters may remove small amounts of iron.
Can I use an air injector iron filter to remove iron bacteria from water?
No. The bacteria can damage the filter and even grow inside the filtration media, which could be dangerous. It's best to use shock chlorination to treat iron bacteria problems. You should consider installing a UV light if you're concerned about bacteria in your well water.