Thirsty for Trends: A Deep Dive Into WaterTok


📌 Key Takeaways
Hydro Flask, Frank Green, and Stanley are TikTok's most popular #emotionalsupportwaterbottle brands.
15% of individuals neglect to clean their #emotionalsupportwaterbottle more than a few times per month.
74% of people feel they've experienced a positive shift in mental health due to better hydration.
15% of TikTokers made new connections with people because of their involvement in water trends.
52% of TikTok users are not at all concerned about the potential negative health effects of added sugar, artificial sweeteners, or food coloring.
Diving Into WaterTok
TikTok has become the go-to social media platform for challenges and trends. The newest trends showing up in feeds involve the world's most precious resource—water. We surveyed 1,000 TikTok users and scraped TikToks to learn more about the most popular water trends: #emotionalsupportwaterbottle and #waterrecipe. Let's take a deep dive into WaterTok and discover what's behind these trends.
Your Water Bottle BFF
We all know hydration is essential for physical health, but many people have begun carrying around water bottles for emotional support—but not just any water bottles. Let's see which brands are driving the #emotionalsupportwaterbottle trend and the sizes and colors users prefer.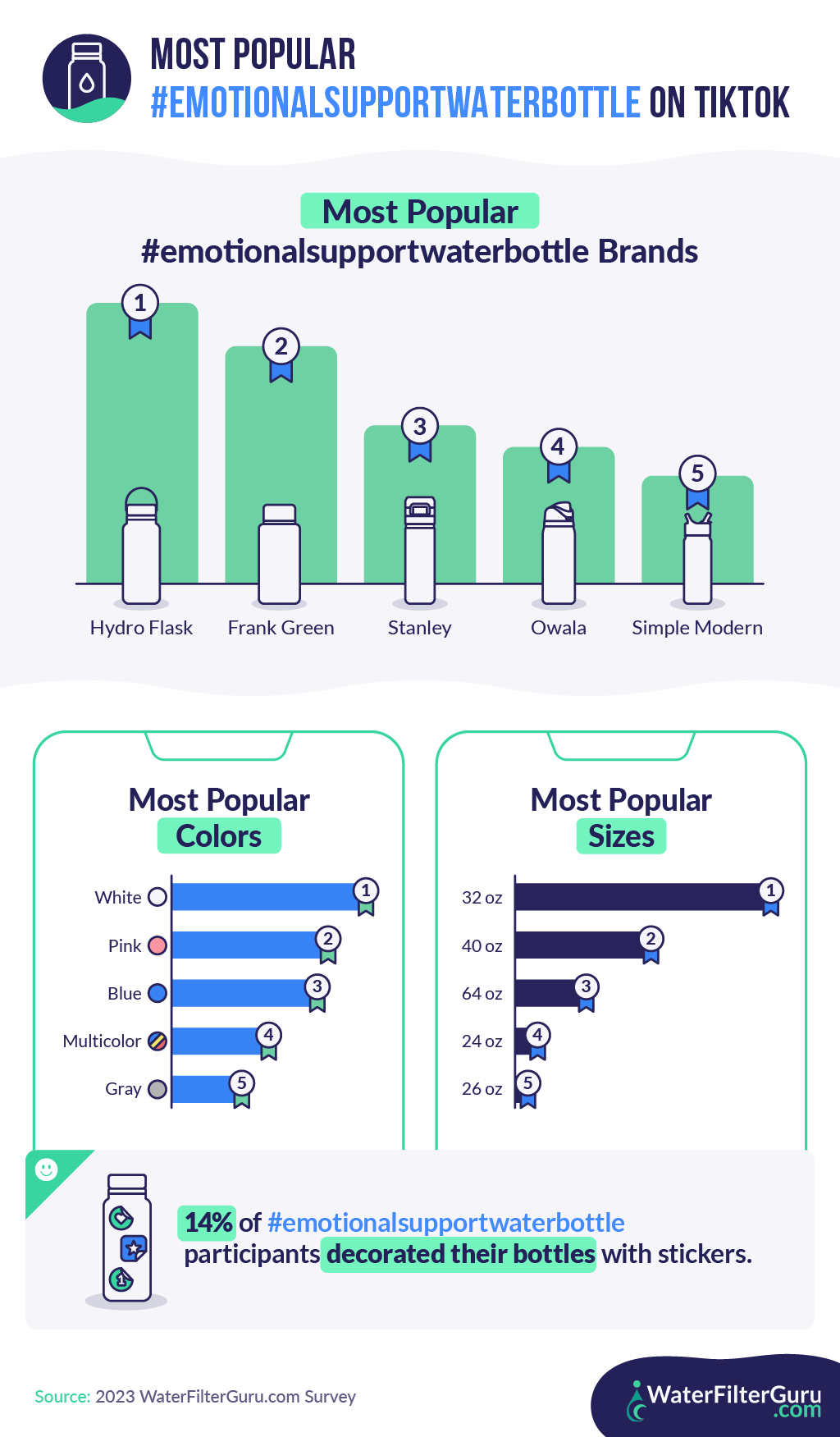 If you're looking for an emotional support water bottle, TikTok user trends recommended a white, 32-ounce Hydro Flask. Users also liked the Frank Green and Stanley brands and pink and blue water bottles. Large enough to carry four glasses worth of H2O and insulated to retain temperature, you can make your Hydro Flask or Frank Green even more emotionally supportive through personalization; 14% of users decorated their hydration companion with stickers.
But why are so many people buying water bottles? A growing focus on physical and mental health, combined with TikTok's powerful influencer market, has led to a multitude of health and wellness trends on the platform. Add to this the desired interest in sustainability, and you get the #emotionalsupportwaterbottle trend, stickers and all.
Mixing Up Some Flavor
As much as users love their emotional support water bottles, some drinkers prefer beverages with a bit more flavor than plain water. TikTok users started the #waterrecipe trend to add some bang to their bottles, adding flavored packets and syrups to their daily dose of H2O. Let's see which flavors users find the most mouth-watering.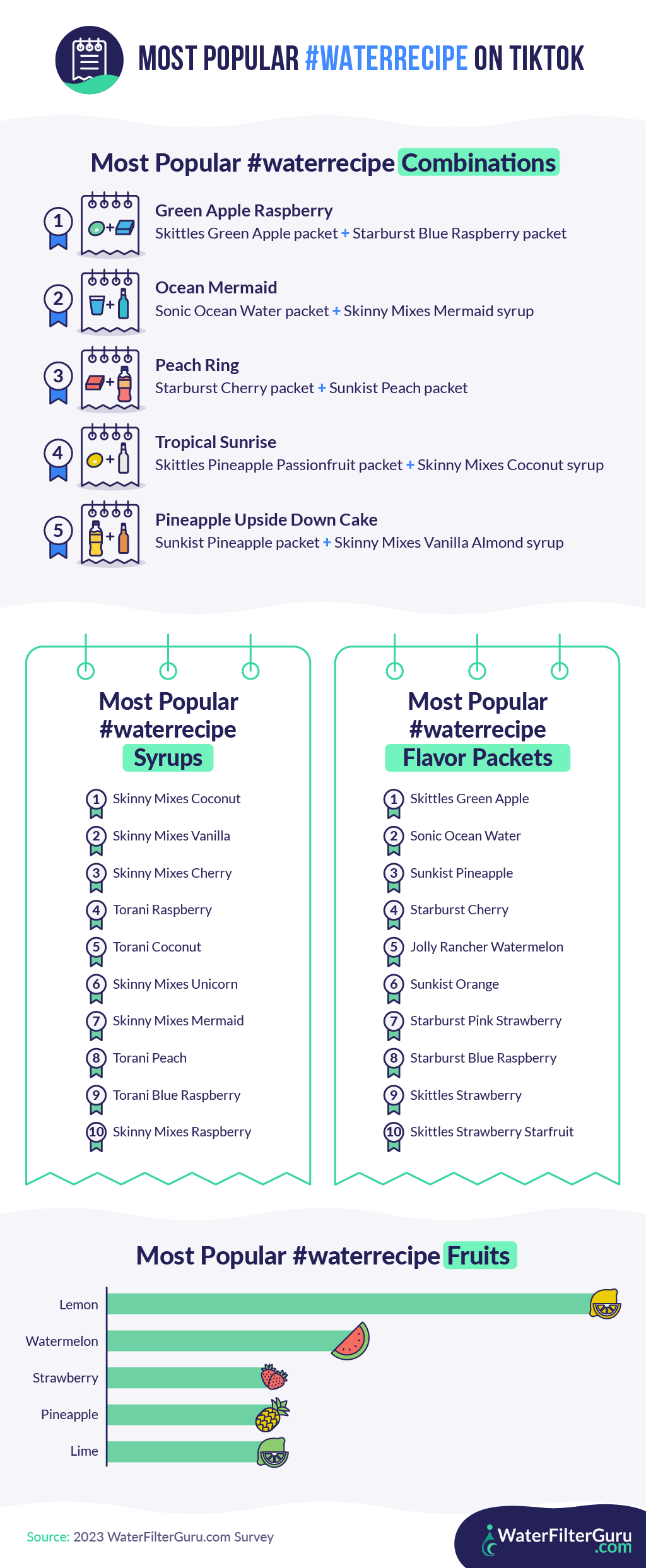 For extra flavor in their refreshment, the three most popular #waterrecipe syrups were all from Skinny Mixes: Coconut, Vanilla, and Cherry. The three most popular flavor packets were Skittles Green Apple, Sonic Ocean Water, and Sunkist Pineapple. Users love experimenting with these flavors; their favorite combination was Green Apple Raspberry, a mix of Skittles Green Apple and Starburst Blue Raspberry packets.
Part of what's pushing the WaterTok trends is diet culture. Dieters began using these no-calorie artificial sweetener packets and syrups to create dessert-like water, so they could drink more—and eat less. They gave these water recipes a cute hashtag, and the trend took off.
While drinking water is great for your health, using artificial sweeteners to replace a nutritious, balanced diet is not, so please use #waterrecipe with care. If you want to skip the artificial sweeteners altogether, try infusing your water with popular #waterrecipe fruits like lemon, watermelon, or strawberries.
Waterfall Effects of WaterTok
Whether you prefer your water flavored or straight-up, participating in trends like #emotionalsupportwaterbottle and #waterrecipe will likely affect your physical and mental health. Let's look at how WaterTok is affecting users and what they see for its future.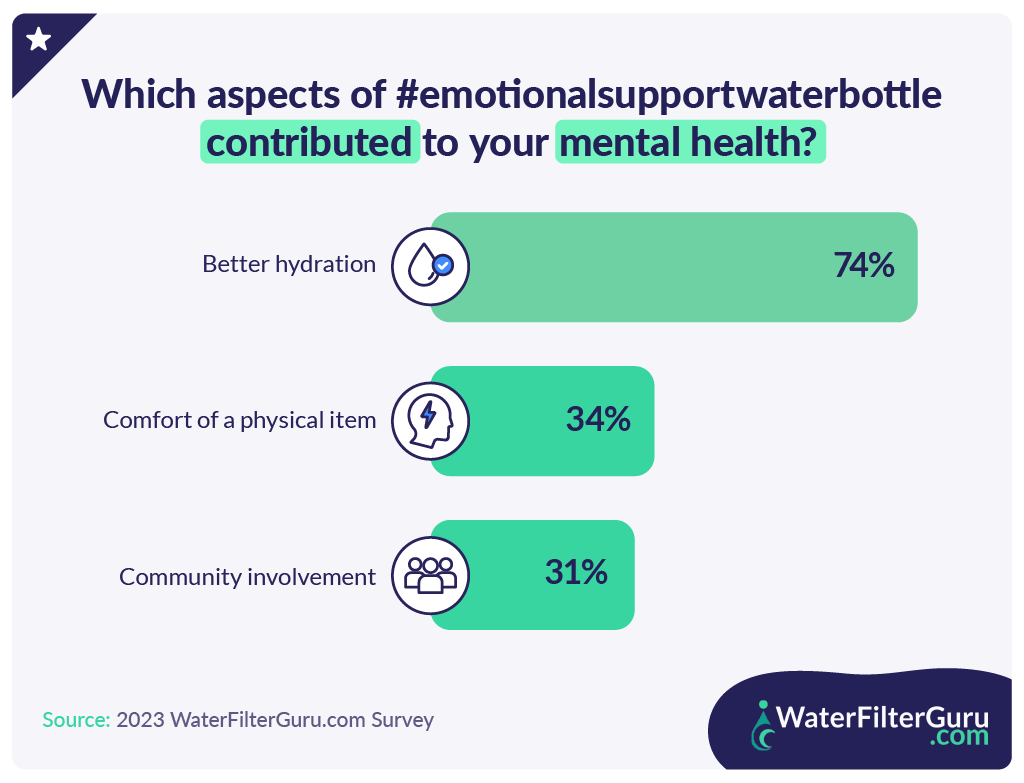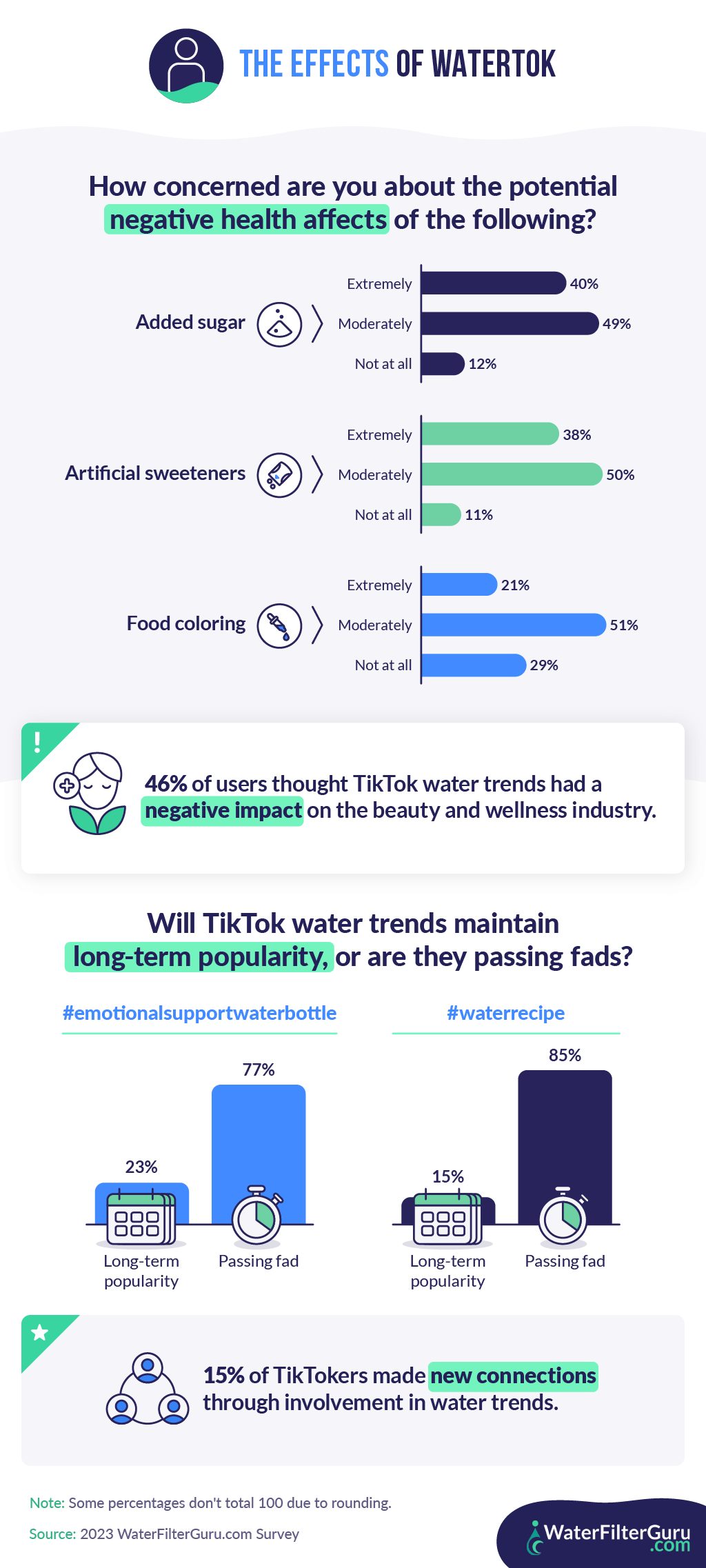 WaterTok participants are feeling pretty good: 74% said they experienced a positive shift in their mental health as a result of proper hydration.
Participants in #emotionalsupportwaterbottle experienced greater benefits than those of #waterrecipe, including a 44% greater increase in energy levels, a 29% greater increase in general mood, and a 33% greater increase in mental health.
Perhaps this difference is due to 1 in 4 #waterrecipe participants using the trend for appetite control (and likely being hangry as a result).
As positive an impact as WaterTok may have had on them, 15% of participants admitted to only cleaning their emotional support water bottle a few times per month. Even if you're only drinking plain water, it's important to clean your water bottle often and prioritize hygiene along with hydration.
Surprisingly, 52% of participants were not at all concerned about the potential negative health effects of added sugar, artificial sweeteners, and food coloring. The good news is participants have a community with which they can discuss potential health effects: 15% of TikTokers reported making new connections with others thanks to their involvement in WaterTok.
However, it will be interesting to see how long those relationships last, as most respondents thought both #emotionalsupportwaterbottle and #waterrecipe were passing fads.
Addicted to Hydration
With celebrity and influencer participants, WaterTok has a slew of users emotionally dependent on their water bottles and slightly (or majorly) addicted to dessert-like H2O. But these trends are actually helping some users improve their mental health, especially #emotionalsupportwaterbottle followers.
And while flavored #waterrecipe should never be used as a substitute for a healthy diet, adding a splash of sweetness to your favorite 32-ounce Hydro Flask can make for a refreshing treat. But please, if you're thinking of following one of these WaterTok fads, remember to clean your water bottle!
Methodology
We surveyed 1,000 TikTok users to learn more about emotional support water bottles and water recipe trends. The mean age of respondents was 35 years old. Among them, 36% were male, 61% were female, and 2% were non-binary. Respondents comprised the following generational breakdown: 15% Gen Z, 22% Gen X, 60% millennials, and 3% baby boomers. Additionally, we scraped TikTok to uncover the most popular trends for #emotionalsupportwaterbottle and #waterrecipe.
About WaterFilterGuru.com
At WaterFilterGuru.com, we believe everyone should have access to clean water. Our mission is to help you find information, products, and solutions to address your water quality needs.
Fair Use Statement
Know someone who can't go anywhere without their #emotionalsupportwaterbottle? Feel free to share this article with anyone for noncommercial purposes only. Please provide a link back to this page so readers can access our full findings and methodology.