Today's market for water treatment systems is booming, and narrowing down your options can be incredibly difficult.
If you're dealing with a specific water issue, finding the right solution for your needs is essential. You don't want to waste money on a system that doesn't live up to your expectations.
To find a water treatment system that ticks all your boxes, you could…
Spend hours trawling through Google, checking marketplaces like Amazon and independent websites for products that offer what you're looking for.
Read up on customer reviews, noting down any trends in positive and negative feedback.
Approach the manufacturer directly with any questions you have that aren't answered in the product description.
Unless you don't work, or you're happy to commit a precious evening or weekend to this task, I'm going to assume that it doesn't appeal. Which means you'll probably take the easy way out and choose the product with the best reviews you found online.
There's nothing wrong with this, but it does mean you'll likely end up not finding the solution that's best for you, because you don't even know it exists. A lot of the most impressive water treatment brands don't even sell their products on Amazon.
That's where we can help 🙌
All that research you'd have to do if you tried to find a water treatment system on your own?
We've done it for you.
So when you read one of our product reviews or buyer's guides, you'll find the right filter, softener, or purifier that truly is the best for your situation. We'll also tell you what you can realistically expect from a product, marketing propaganda aside.
Here's how our review process works:
Step 1: Research
To start with, we make a list of the features, designs, and functions that you can expect to find across all products available for a particular type of water treatment system.
We'll then search through Google to find all the products that are currently being offered on the market. 
In our research, we'll note the features of each product that we're comparing.
This could be application, process, contaminants removed, flow rate, system capacity, warranty and so on.
We'll also note whether a product is backed by any third-party certifications, such as NSF/ANSI or the WQA. We find this information listed in the NSF database or the WQA database, in the manufacturer's product description, or the product's user manual or other documentation.
During the research stage, we look at the price range of each product, and the cost of any optional extras. Price is important, but there's so much more that you should consider when deciding whether to buy a product, and this is what we'll aim to uncover in our research.
Once I have the required information, we'll be able to produce the criteria for our reviews, depending on the type of water treatment system we're reviewing. Ease of installation, system durability, flow rate, certifications, and contaminants removed are examples of criteria we might use for a whole house water filter. 
We know that our readers may need an extra bit of information about these criteria, and why they matter. At the bottom of our review articles we include a buyer's guide that provides the detail you need when comparing products. 
Step 2: Selecting the Products
Not all water treatment systems make it onto our website. Our goal is to cut through the noise and provide reviews of only the best products on the market in 2023. That often means that we end up with a list of fewer than 10 products overall. 
To make it onto our list, a product has to meet the following requirements: 
1) Specifications
In our research, we will have determined a minimum criteria for specifications. For instance, a filter may need to have a certain flow rate, or should follow a certain filtration process, to achieve certain results. 
We'll check the product's description, user manual, and other trusted online resources to cross-reference specifications and ensure they're correct. 
It's common (but still surprising to me) for manufacturers to fail to provide important information about a product, such as filter material or how much of a certain contaminant the filter can remove.
In this case, I may need to look at trusted reviews elsewhere, dig up third party documentation, or contact the manufacturer directly.
2) Customer Feedback
Customer reviews are a big part of our selection process. Only everyday consumers who have used a product for several weeks or months can tell you how it truly performs.
We'll look at customer reviews on the manufacturer's website, and other online marketplaces where the product is sold to get a clear idea of what people think about a product. 
It's common to find trends, both positive and negative, in customer reviews.
Perhaps several customers will mention that their pitcher jug handle broke after just a few weeks of use, or that their filter arrived faulty or doesn't look legitimate. We take these trends into account when deciding whether a filter is worthy of featuring on our website.
By doing this, we may find trends that we ourselves may not have experienced when testing a product first hand.
We know that people are more likely to leave a review if they have a bad experience with a product. For that reason, we don't look for a product with perfect reviews, as this is unrealistic even for the best product (and, in fact, this can be a warning sign that the website is deleting its less favorable reviews).
Instead, we look to see that the overwhelming majority of customers have had a highly positive experience with the product.
3) Customer Service
Good customer service is, in my eyes, just as important as the quality of the product itself. A manufacturer shouldn't just offer a product to the customer – they should make sure that the customer's experience of buying and owning a product is as good as it possibly can be.
The products that make our shortlists are all sold from manufacturers who offer exceptional customer service. This means several things:
Providing expert support, preferably over the phone, to customers with questions about the installation process.
Honoring a customer's purchase with a good warranty.
Responding promptly to customer enquiries.
Going above and beyond to offer additional support when necessary.
Step 3: Reviewing the Products
The above three criteria are difficult for manufacturers to achieve simultaneously, and by this point, we should be left with a handful of products that are good enough to make the cut. We can now move onto reviewing these products.
We purchase and test the majority of the products on our shortlists. Getting our hands on these systems helps us to verify manufacturer claims, and to understand user-friendliness and durability as well as any other quirks that may become apparent.
It's important to us that our reviews are accurate and unbiased.
We've featured a product because it meets the criteria, but we won't pretend that it will resolve your specific problems if it won't.
You'll also notice that we share the cons of a product as well as the pros. We believe that you should know everything there is to know about a product – including its potential setbacks – before you make a purchase. 
There are several questions we will aim to answer in a product review:
What problem can it solve?
What are the unique features that set it apart?
How easy is it to install and maintain?
How does it function?
What are the ongoing costs involved?
How does it compare to similar products with comparable specifications?
How do users rate it?
What is my final take?
Once we've completed our reviews, an in-house or independent editor will fact-check them against my notes and the information on the manufacturer's website before publishing.
It's common for manufacturers to update or upgrade their products to provide a better customer experience. To avoid sharing outdated information, we return to our reviews several times a year and check that all details shared are still accurate.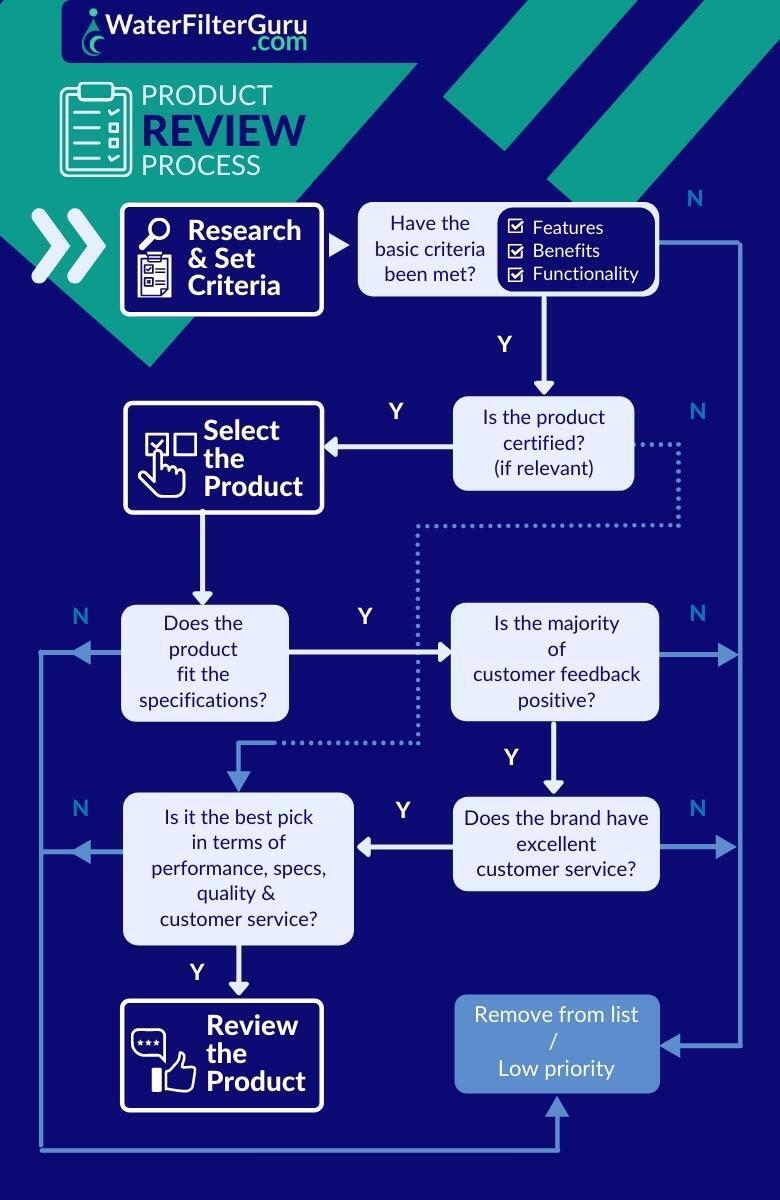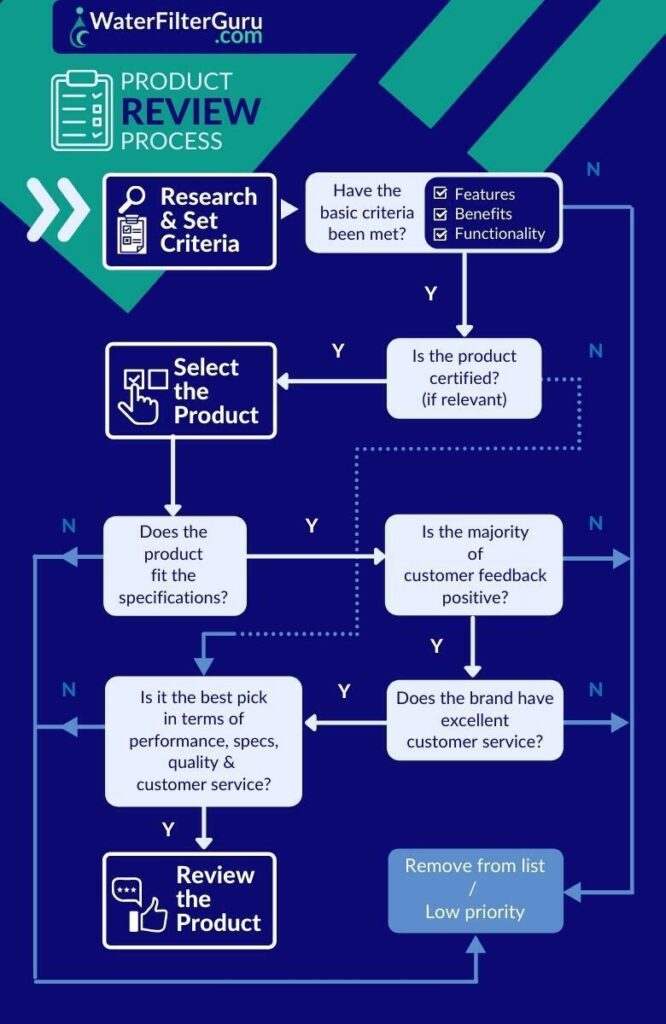 Our Values: Transparency and Honesty 
When I started writing for WaterFilterGuru.com, I simply wanted to make sure that people like me were getting the best value from their water treatment purchases.
This is still my number one goal, but writing for my site is now my full-time job. For this reason, I only review products from websites that will partner with us as an affiliate. 
This doesn't rule out many products, as most independent websites work with affiliates. I will only ever share a product because it provides the best value and experience – not because it is the most expensive or has the highest commission rates.
I dedicate hours of time to finding water treatment solutions that are genuinely worth your money. You can rest assured that I'd never share a product that I didn't think was worthy of recommending, as that would go against my values as both the author of this website and a customer.
I review a variety of water treatment systems, with different price points to suit all budgets. My aim is to offer suggestions for every customer, so if you're restricted by budget, you can still find plenty of recommendations on my site.
Disclaimer
Please note that my buying guides and reviews are intended for informational purposes only, and do not constitute professional advice. Please read my Terms of Service, Privacy Policy and Affiliate Disclosure for additional information.
Contact Us
If you have any questions or would like to help point out any inaccuracies in my guides or reviews, please contact me here.