If you're reading this article, there's a good chance that you're privileged to receive clean, potable drinking water when you turn on your tap.
But how does your country rank against other countries with the best drinking water in the world? Does it even make this list?
Find out which 11 countries have the highest-quality drinking water in this guide.
📌 Key Takeaways:
High-quality drinking water is defined as water that needs minimal-to-no treatment before being delivered to homes for drinking due to its lack of pollutants, chemicals, microorganisms, and other common contaminants.
The countries with the cleanest drinking water in the world are:

Iceland
Norway
United Kingdom
Switzerland
Finland
New Zealand
Denmark
Sweden
Singapore
Austria
Germany

Other honorable mentions for good-quality tap water include the United States, Chile, Greenland, Luxembourg, Chile, Czech Republic, Canada, and Estonia
Read on to learn which countries have some of the highest-quality drinking water in the world:
Iceland
Evidence suggests that Iceland has one of the best, if not the very best, drinking water supplies in the world.
Iceland Water Source
The majority of the drinking water in Iceland is groundwater that comes from underground aquifers. Only around 5% of the country's water comes from surface water sources like rivers, freshwater lakes, and glaciers, while the rest is sourced from fresh springs and boreholes.
There are a few advantages to extracting groundwater rather than using surface water: groundwater has been naturally filtered by layers of rocks and soils, and because it's stored underground, it's less susceptible to contamination than surface water.
Most of Iceland's water is also apparently treated with chemical-free processes like reverse osmosis and UV disinfection, although we couldn't find any official sources to confirm this.
Iceland Water Treatment Standards
There's a lot going for Iceland's water. A study of 345 Icelandic groundwater samples found that drinking compliance was 99.44% in indicator parameters and 99.97% in health-related chemicals, indicating that Iceland's drinking water is typically very high-quality and poses minimal-to-no risks to public health.
Iceland's water is considered "above exceptional", and a 2017 report noted that an impressive 97% of residents in Iceland are satisfied with their water quality. In fact, locals are apparently known to encourage travelers from other countries to drink straight from their streams, as the raw, unfiltered water is usually pure and safe to drink.
Iceland's water quality is monitored annually, and samples are taken from Reykjavik.
Switzerland
Switzerland is a close second to Iceland on this list – and, in fact, many sources state that the country's water is the very best worldwide.
Switzerland Water Source
Like Iceland, Switzerland gets most of its water (around 80%) from underground sources, while the rest comes from lakes and reservoirs.
Again, the tap water quality in Switzerland is so good because the water has filtered through layers of gravel and stone before reaching the underground aquifers.
Plus, Switzerland has established groundwater protection programs that mean half its water can be distributed with no treatment needed at all. No disinfection, no filtration – nothing.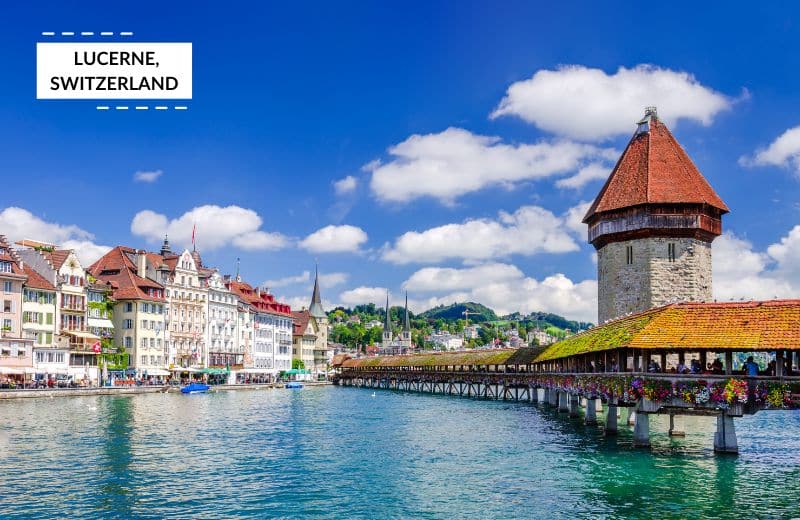 Switzerland Water Treatment Standards
The Swiss government has invested a lot of money into the country's tap water, and has introduced sophisticated testing and purification systems, as well as programs to protect its natural resources.
A third of Switzerland's drinking water doesn't need any treatment.
The water that does need to be processed in Switzerland is only minimally treated. One-third of the water needs only single-stage treatment, and the other third requires multi-stage treatment. Potential treatment methods include ozonation, activated carbon filtration, and membrane technology.
Water is regulated by the FSVO defines legal standards that ensure that public drinking water doesn't pose health concerns to consumers.
It's common for rural communities to develop and manage their own water supply networks in Switzerland, and these communities must follow guidelines set by Swiss Law to ensure that they distribute "safe water in sufficient quantity".
There are other laws in Switzerland that reduce water pollution, such as regulations against unsustainable agriculture practices, and a ban on phosphates in laundry detergent.
Norway
Norway is another forerunner when it comes to water quality, offering some of the cleanest and safest high-quality drinking water in the world.
Norway Water Source
Norway gets 85% of its drinking water supply from surface water sources, like lakes, ponds, streams, and brooks – which makes a lot of sense when you consider the abundance of fresh surface water sources in the country.
Only around 15% of the country's water comes from groundwater sources, but the use of groundwater in rural regions in Norway is on the increase.
Regardless of the water source, if it serves the public, it should be registered and approved in the Waterworks Register at the Norwegian Institute of Public Health. Around 90% of the Norwegian population receives water that meets these criteria.
Norway Water Treatment Standards
Over the last 20 years, the number of waterworks delivering satisfactory drinking water in Norway has increased considerably.
The latest figures from 2020 show that around 98.64% of Norwegian residents have access to clean water – a 0.08% decline from 2019, but very good nonetheless.
If a waterwork supplies more than 50 people, it must be approved by the Norwegian Food Safety Authority. Currently, more than 1,500 water treatment plants are registered in the country, and most are reported to supply good quality water.
Norway's water contains low levels of pollutants, pesticides, heavy metals, and other impurities, but its drinking water quality is still maintained by disinfection.
United Kingdom
The United Kingdom offers a reliable, drinkable tap water supply countrywide, making it a contender on the list of countries offering the best tap water in the world.
United Kingdom Water Source
It wasn't long ago that the United Kingdom's predominant water supply – the River Thames – was also a key location for waste, giving it the nickname "Great Stink" and causing the spread of water-related diseases like Cholera.
Several decades on and the Thames (along with the River Lee) still supplies much of the UK's drinking water – but it's now (thankfully for those who live there) one of the world's cleanest rivers after undergoing an extensive restoration and cleanup.
The remaining water supplied to UK residents comes from various other surface water bodies and groundwater reservoirs.
The United Kingdom's natural water sources are well-stocked throughout the year thanks to the country's plentiful and reliable supply of rainwater from January through December.
United Kingdom Water Treatment Standards
Water in the United Kingdom has a compliance rate for quality above 99%, with 2019 figures showing that England and Wales' water was 99.96% compliant with UK and European standards, while Scotland's water was 99.91% compliant and Northern Ireland's water was 99.88% compliant.
UK water is regulated by numerous organizations including the Drinking Water Inspectorate (DWI), which was established in 1990 and provides independent reassurance that water quality in England and Wales is safe and acceptable.
The country has invested in advanced water purification systems and infrastructure to ensure high-quality drinking water for all customers. Independent inspectors conduct millions of tests every year to monitor water quality across the country.
The only downside of the UK's water treatment processes is that chlorination is used as a disinfection method.
Finland
Finland's high-quality drinking water puts the country in the top 5 of this list – but it wasn't always that way.
Finland Water Source
Like Norway, Finland has an abundance of lakes and rivers (an estimated 168,000), and about 85% of these surface water sources have been evaluated to be in good or excellent condition.
Lake Päïjänne supplies most of Finland's tap water, which is treated in pools before being delivered to the homes of locals. The rest of the country's drinking water is supplied by lakes, tributary rivers, and some groundwater sources.
Finland Water Treatment Standards
Finland's water was once referred to by locals as "ugly water", and harmful chemicals with side effects like cancer were apparently common.
Over the past few decades, however, Finland's water supply has been restored, and is now considered one of the best in the world.
Presently, the framework and regulations for water protection in Finland are set by the EU Water Framework Directive. The implementation of this directive involves the Act on the Organisation of River Basin Management. Groundwater sources are protected by the Water Act and the Environmental Protection Act.
Many water supplies in Finland are clean and good enough quality to not need disinfection, but most surface water sources are disinfected, either with UV treatment or with chemical disinfection, before being distributed around the country.
Some sources say that Finland's water looks cleaner and tastes better than bottled water – so you certainly shouldn't need to drink bottled water if you visit the country.
Many other countries rely on the government for a healthy, safe water supply, but in Finland, the responsibility for clean water is shared between municipal and private organizations – and has been since the 1900s.
Even today's the development of the water sector is funded by individual patrons, non-profits, and non-governmental organizations. Water customers contribute significantly to the costs of sustaining clean water.
New Zealand
New Zealand has excellent drinking water and wastewater treatment facilities, making it another of the countries with the most reliable and cleanest tap water in the world.
New Zealand Water Source
Most of New Zealand's tap water comes from groundwater aquifers, glaciers, snowfields, lakes, and rivers.
Thanks to the country's maritime weather patterns and temperate climate, water is relatively abundant. There are 425,000 kilometers of streams and lakes, more than 200 aquifers, and over 4,000 lakes reportedly found in New Zealand.
However, there are concerns that the availability and quality of the country's water are declining.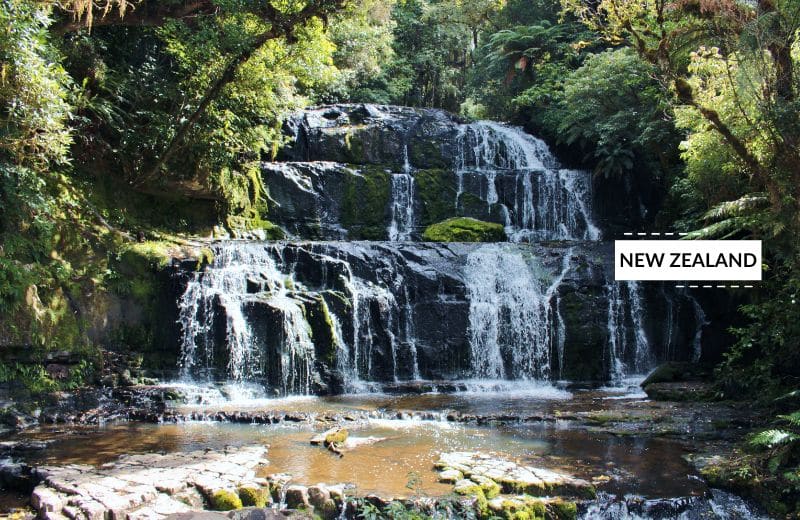 New Zealand Water Treatment Standards
New Zealand's drinking water is regulated by the Drinking Water Standards, made under section 47 of the country's Water Services Act 2021.
These standards limit the concentrations of identified determinants (contaminants) in tap water. These limits, known as maximum acceptable values (MAVs), must be adhered to at all times and can't be exceeded by any water treatment facility in the country – regardless of the nature of the water source and the size of the community receiving the water.
Water use and allocation in the country are also managed by the Resource Management Act 1991 (RMA), which regulates the policies and actions of regional authorities.
Denmark
As one of the leaders in wastewater management and sustainability, Denmark is another country that's often bought up as having some of the safest and tastiest tap water in the world.
Denmark Water Source
99% of the tap water in Denmark is extracted from groundwater reservoirs, which are found in abundance around the country.
This water is usually clean and high-quality, requiring no chemical disinfection prior to delivery to customers.
Denmark Water Treatment Standards
Denmark is another country that didn't always have clean drinking water. In the 1960s, the lakes, rivers, and coastal areas around Copenhagen, the Danish capital, were so polluted that fish were reportedly dying.
Despite Denmark getting most of its water from underground supplies, the country was still determined to clear up its surface waters – understanding the link between environmental factors and contaminated drinking water.
The country established a ministry of environment in 1971, tackling contamination and pollution with a groundwater policy based on prevention rather than treatment.
Sweden
Sweden's tap water is only minimally disinfected and is considered one of the highest-quality water supplies in the world.
Sweden Water Source
The tap water in Sweden is sourced from an almost even split of surface water and groundwater supplies.
Half of Sweden's water comes from rivers and lakes (Sweden has 95,700 of them), and the other half comes from underground reservoirs and aquifers.
The raw water in Sweden is quality enough to require only simple purification, but there are concerns about the consequences of climate change on the country's drinking water.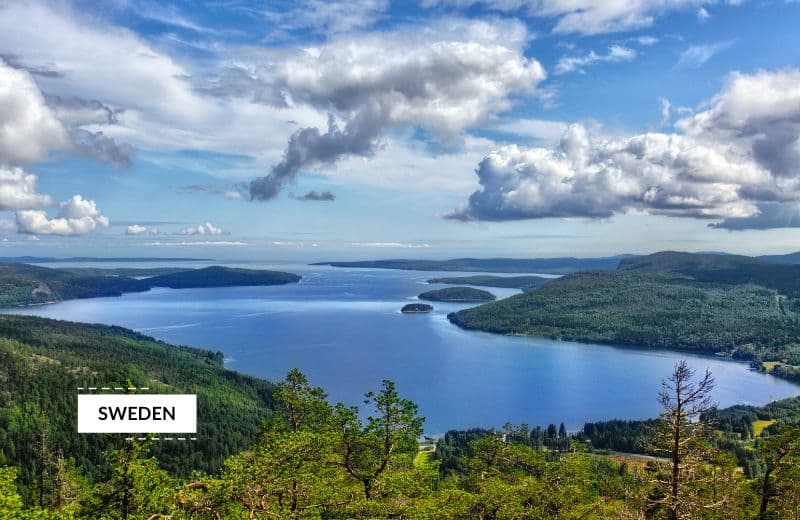 Sweden Water Treatment Standards
Those who drink tap water in Sweden can do so confidently, knowing that their raw water is relatively clean – and that the treatment and distribution of tap water are heavily regulated by the Swedish National Food Agency.
There are two stages of purification for most water supplies: mechanical and chemical decontamination, and slow sand filtration (which extracts organic pollutants).
Tap water in Sweden is considered so clean and fresh that you shouldn't feel the need to drink bottled water when you're in the country. This sentiment is generally agreed by the locals, too – an OECD report found that 97% of residents in Sweden were satisfied with the quality of their water, compared to the average of 84%.
The country has also introduced programs to prevent contamination and pollution of water sources, and frequent testing is carried out to ensure that clean water supplies are maintained.
Singapore
Singapore stands out amongst its neighboring countries, having maintained a high standard of drinking water for years. The country is one of the few Southeast Asian countries to have the best tap water in the world.
Singapore Water Source
Singapore's water comes from four sources known as the Four National Taps:
Imported water
High-grade reclaimed water
Water from local catchment
Desalinated water
Access to clean tap water hasn't always been easy for Singapore. The country is considered one of the most water-stressed countries in the world, and has limited natural resources or available land for water collection and storage.
Singapore imported much of its water before new waterworks were built in the 1960s.
Singapore Water Treatment Standards
Singapore has worked hard to achieve clean drinking water in an environment that has numerous challenges and geographic limitations.
The country implemented integrated water management approaches (such as using estuaries as freshwater reservoirs, freshwater desalination, and the use of reclaimed water) as well as hydraulic engineering, with the aim of protecting the environment and establishing a more sustainable water supply.
The country also introduced legislation for the safety of its tap water supplies, managed primarily by Singapore's water and sanitation utility, the Public Utilities Board. This utility received the Stockholm Industry Water Award in 2007 for its holistic approach to the management of water resources.
Austria
Austria is famous for having clean drinking water that's accessible to 100% of its residents, so the country is well-deserved of a spot on this list.
Austria Water Source
Almost 100% of Austria's tap water originates from springs and underground aquifers.
This water is treated and delivered to residents by some 5,500 water supply companies, including district water boards, municipalities, and cooperatives.
Around 10% of Austrians get their drinking water from their own private natural springs and wells.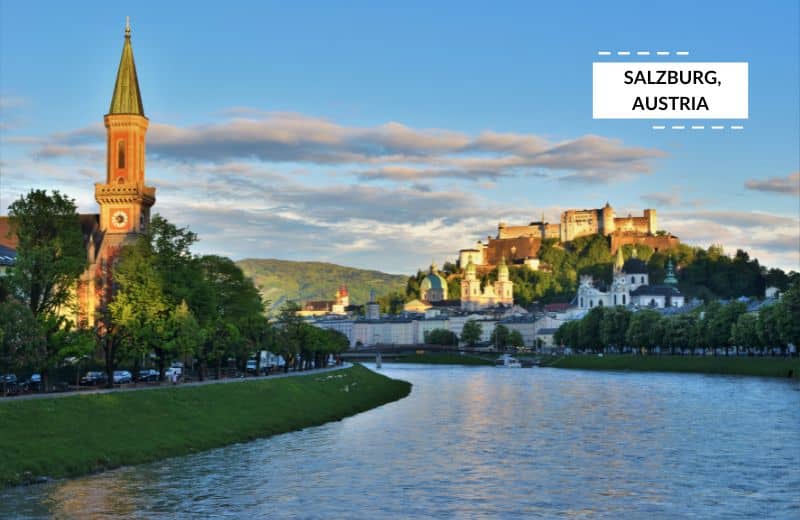 Austria Water Treatment Standards
Austria has strict legal requirements for drinking water quality, and high-quality drinking water is mandatory according to Austrian law ÖNORM M 6222-1.
The government directly controls an estimated 90% of all water supply facilities in the country, overseeing the collection processes and ensuring that water is supplied in its natural state – but isn't contaminated.
Certain water basins are subject to extensive protection measures to ensure that the water is naturally clean and doesn't require treatment to make it safe to drink.
Germany
Finally, Germany strictly regulates its tap water supply and provides consistently reliable, clean drinking water, making it one of the many countries with the best tap water in the world.
Germany Water Source
Springwater and groundwater make up around 70% of the tap water supplied to residents in Germany.
The other 30% of the country's drinking water comes from rivers, lakes, reservoirs, and wells.
The water quality is assessed and treated, but only if necessary – Germany's water is often clean enough to drink as it is naturally found.
Germany Water Treatment Standards
Germany has a strict water ordinance called Trinkwasserverordnung, which establishes water standards for chemicals, microbiological contaminants, indicator parameters, radiological impurities, and more.
The main requirements of this ordinance are to ensure that water is "pure and edible" and has no human health effects, and to observe the "generally recognized rules of technology" in the collection, treatment, and distribution of drinking water.
Germany heavily monitors its water supplies, and test results continue to be promising – more than 99.99% of monitored samples were found to be compliant with the country's strict standards for chemicals and microbiological contaminants.
Final Word
There is no definitive ranking of the countries with the best water in the world. While it would be really interesting to see some sort of chart or datasheet that ranked all the countries in the world for the quality of their water supplies, it would also be quite difficult to make.
We've shared the countries on this list based on information about their water treatment standards, their average water quality, and their source water.
There are a few honorable mentions that didn't make our list but also have good-quality water, including the United States, Greece, Greenland, Malta, Luxembourg, Chile, Australia, Czech Republic, Spain, Italy, Canada, Lithuania, and Estonia.
Best Water In The World: FAQ
What is the number 1 water in the world?
No country is officially number 1 for having the best water in the world, but many sources say that either Switzerland or Iceland is the top-raking country for water quality due to their clean water sources and strict water treatment standards.
What city has the best tap water in the world?
Again, the city with the best tap water in the world is up for debate, since there isn't an official ranking based on definitive data for this category. However, most sources say that either Copenhagen in Denmark or Reykjavik in Iceland has the safest and best-tasting tap water in the world.
Which country has the worst water in the world?
Some of the worst drinking water supplies are found in Uganda, Mexico, Nigeria, Nepal, Pakistan, Bhutan, and Ghana. If you live in the US, you might be interested to know that some of the states with the worst quality water are Washington, Georgia, California, New Jersey, and Arizona.
Do all countries have clean water?
No, not all countries have clean water. Many developing countries still don't have the infrastructure to deliver clean water on tap, and thousands of communities rely on local wells or natural water sources for their water. It's estimated that 1.2 million people die every year due to drinking unsafe water, and still, 1 in 4 people in the world don't have access to a clean drinking water source.