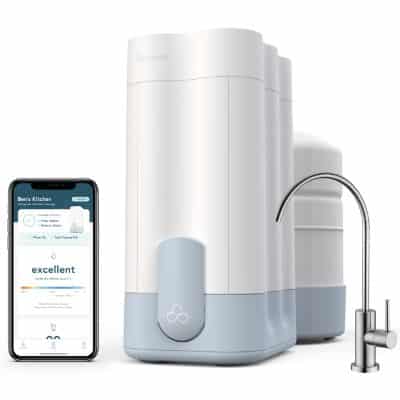 Cloud RO
Santevia MINA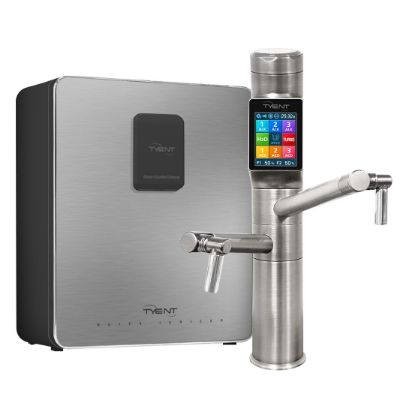 Tyent UCE-13 Plus
Looking for the best alkaline drinking water filter?
Here, we've ranked the most popular alkaline water filtration systems based on their performance capabilities, filter capacity, customer reviews, ease of use, and overall value for money.
🥇 Best Alkaline Water Filters
| Product | Cloud RO | Santevia MINA | Tyent UCE-13 Plus | RKIN U1 | Santevia Water Bottle Filter | NU Aqua Countertop Filter | Invigorated Water pH Recharge |
| --- | --- | --- | --- | --- | --- | --- | --- |
| Ranking | 1st | 2nd | 3rd | 4th | 5th | 6th | 7th |
| Ratings | 5/5 | 4.5/5 | 4.5/5 | 4.5/5 | 4.5/5 | 4/5 | 4/5 |
| Price | $750 | $49.99 | $6995 | $749.95 | $17.99+ | $115.95 | $71.41+ |
| Type | Under-Sink RO | Water filter pitcher | Ionizer | Countertop RO | Water bottle filter | Countertop | Countertop |
| Certifications or Testing | NSF 42, 53, 58 | – | – | NSF 58 (in progress) | – | – | – |
| pH range | 7.5-9.5 | 2.0 | 1.7-12.5 | 7.0-8.0 | +2.0 | n/a | 9.0 |
| Antioxidant Potential | +200-300 ORP | n/a | -1150 ORP | -340 ORP | n/a | n/a | n/a |
| Filter Lifespan | 1 to 2 years | 2 months | 6 months | 792 – 1,200 gallons | 3 months | 4-8 months | 300 gallons |
| Holding Capacity | 2.8 gallons | 9 cups | – | 0.5 gallons | – | – | 2.4 gallons |
| Warranty | 1 year | 90 days | Lifetime | 1 year | 30 days | 6 months | 1 year |
---
⭐ Reviews – Alkaline Water Filter 2023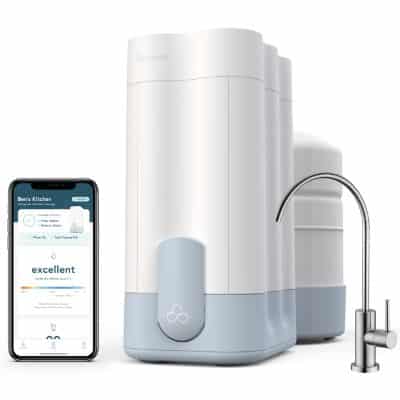 Cloud RO
In our opinion, the Cloud RO system is the best overall alkaline water filtration system available today.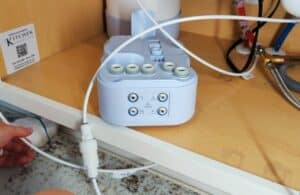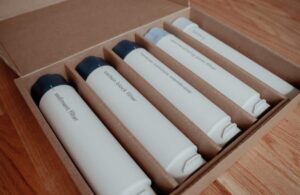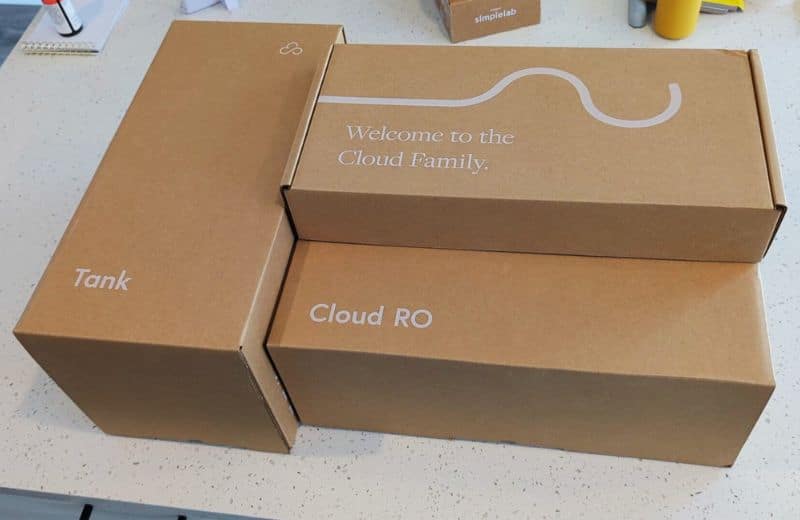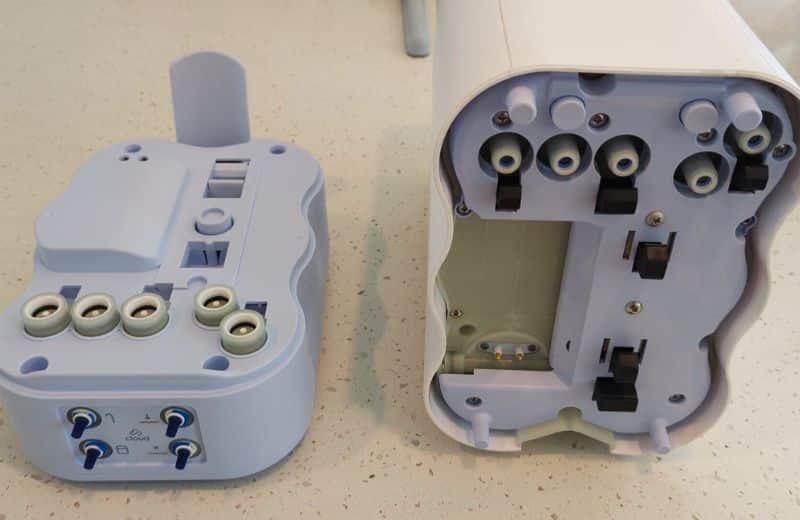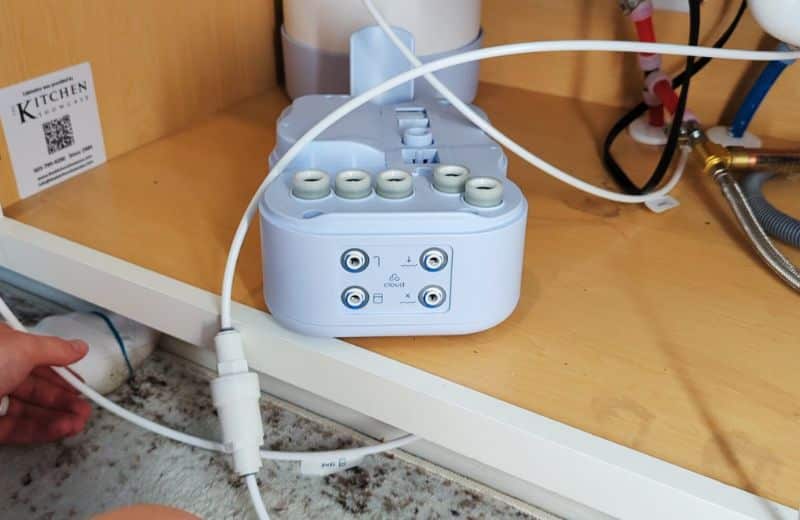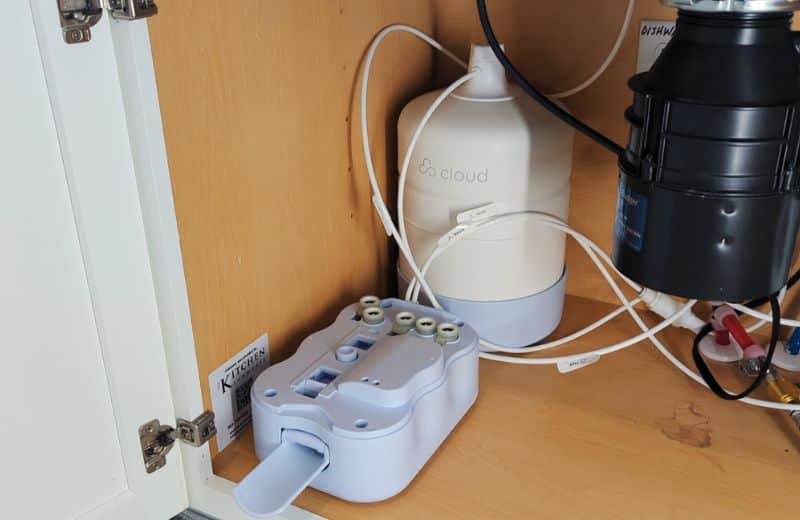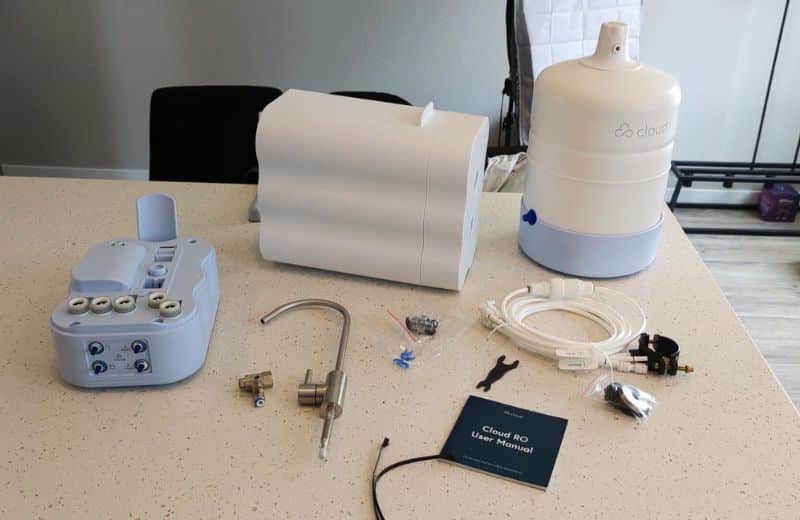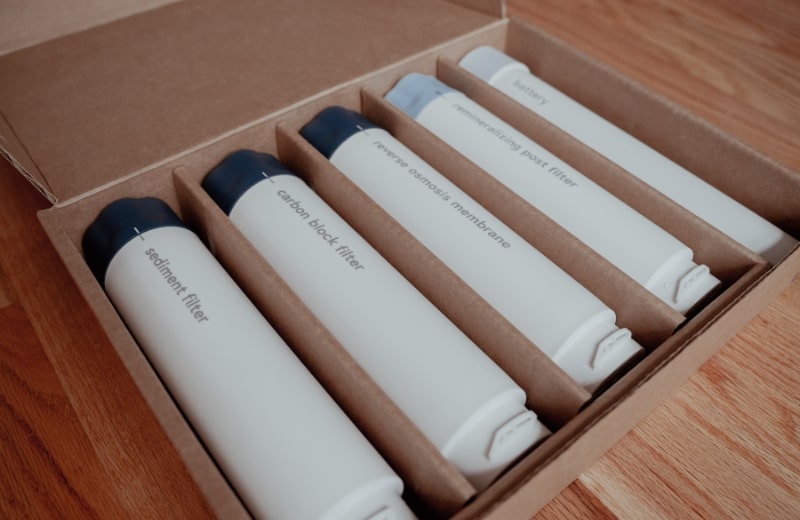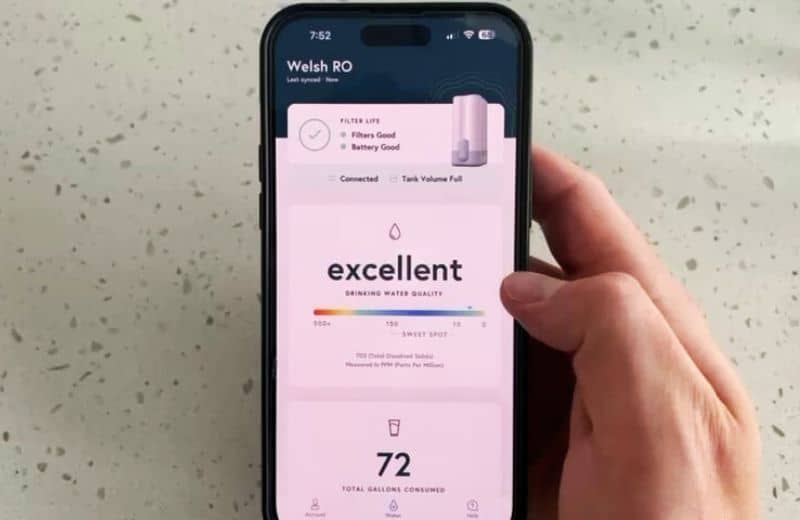 This attractive, efficient system is a modern take on a conventional tank-based under-sink reverse osmosis system. It uses 4 stages of filtration to purify water, then alkalizes it with an integrated remineralization stage, which adds trace minerals including calcium, magnesium, and potassium.
Key Features:
Four-stage RO filtration & remineralization – The Cloud RO system purifies water with four stages of reverse osmosis treatment, including carbon and sediment filtration, and TDS rejection with a semi-permeable membrane. There's also a coconut carbon remineralization filter, which alkalizes the purified water, giving you the best of both worlds.
App connectivity – The softener connects to the Cloud app, so you can monitor its performance in real time from any location. The app shares important data including the percentage of minerals added back into the water, so you can track how effectively the system is remineralizing your water supply.
Powered by a battery pack – Rather than needing to be plugged into a power outlet (a difficult feat for an under-sink system), the Cloud RO system uses a long-lasting battery pack to monitor important insights like flow rate and TDS. When you order new filters, a new battery pack will be shipped too, and you can return the used battery to the manufacturer for recycling.
Good efficiency ratio & fast water flow – The system's water tank is a decent 2.8 gallons, meaning you get treated RO alkaline water on demand when you switch on your faucet. The unit's non-electric permeate pump improves the speed of water flow (to about 0.5-0.75 gallons per minute or 80 gallons per day), so it won't affect your water pressure.
Best For:
Anyone who has a big budget and wants to invest in the most capable alkalizing point-of-use water filtration system available today, which purifies and enhances water with healthy minerals.
Pros:
The Cloud RO provides the reassurance of RO purified water without the setbacks of mineral loss. Its built-in remineralization filter adds calcium, magnesium, and other minerals back into your water, so not only is it free from 95% of all impurities – it's also healthier, tastier, and more alkaline.
If you've heard that tank-based reverse osmosis systems are clunky and inefficient, this system will prove you wrong. It has a modern, compact design, with a decent 1:1 efficiency ratio (in comparison, conventional reverse osmosis membrane wastes 4 gallons of water for every 1 gallon purified).
We also love the Cloud RO's smart features. This under-sink water filter includes integrated pressure sensors that track the tank volume and your water consumption. improving delivery speed and performance efficiency with the data gathered.
If certifications are important to you, you'll appreciate that this system has been third-party tested to NSF 42 and 53, and the manufacturer is in the process of obtaining an NSF 58 certification for RO performance.
Cons:
The unit is on the expensive end for an under-sink RO system.
Read the Full Review: Cloud RO Review
---
Santevia MINA
If you're looking for the convenience and affordability of a quality, high-performing alkaline water filter pitcher, we think the Santevia MINA can't be beaten.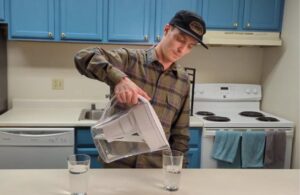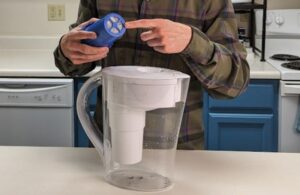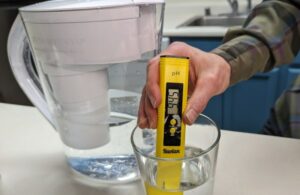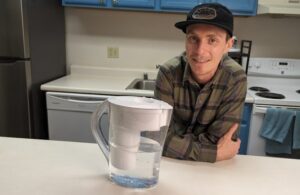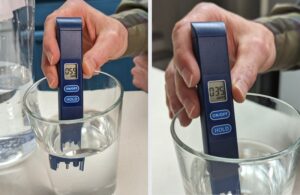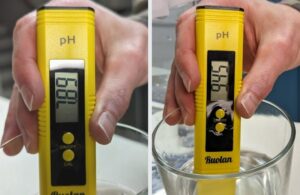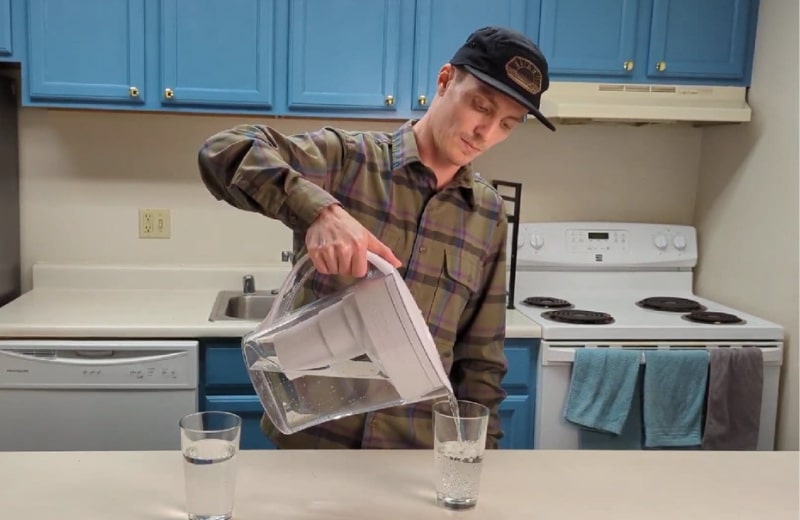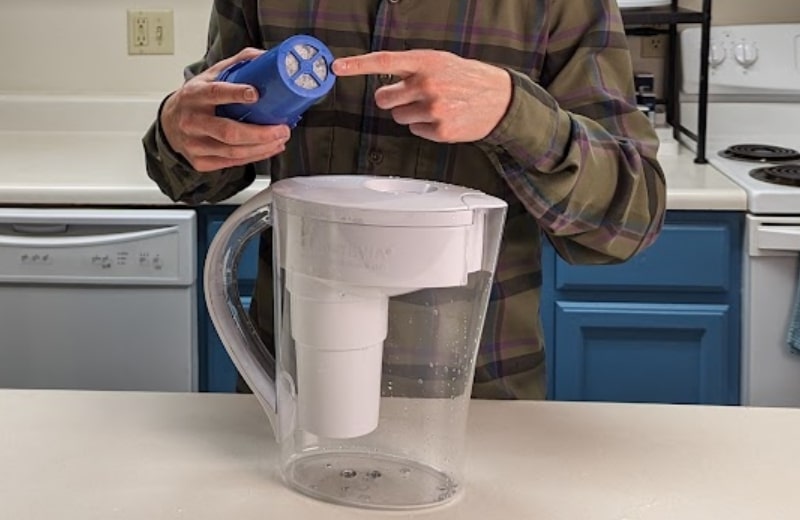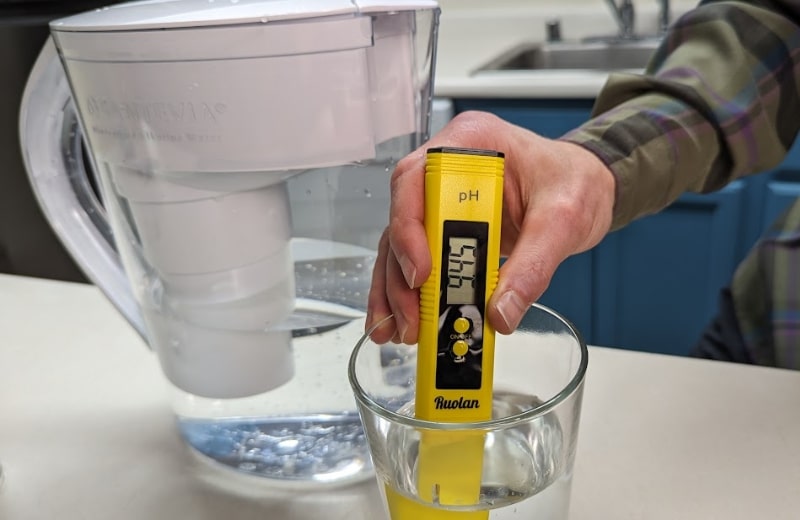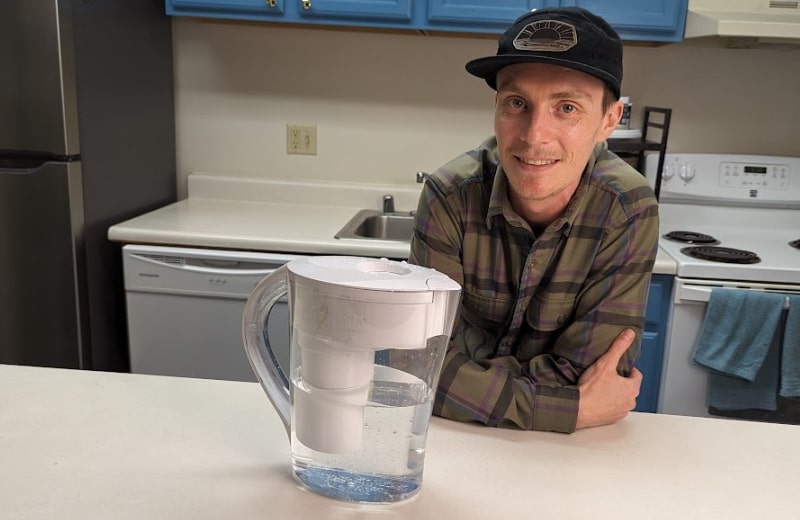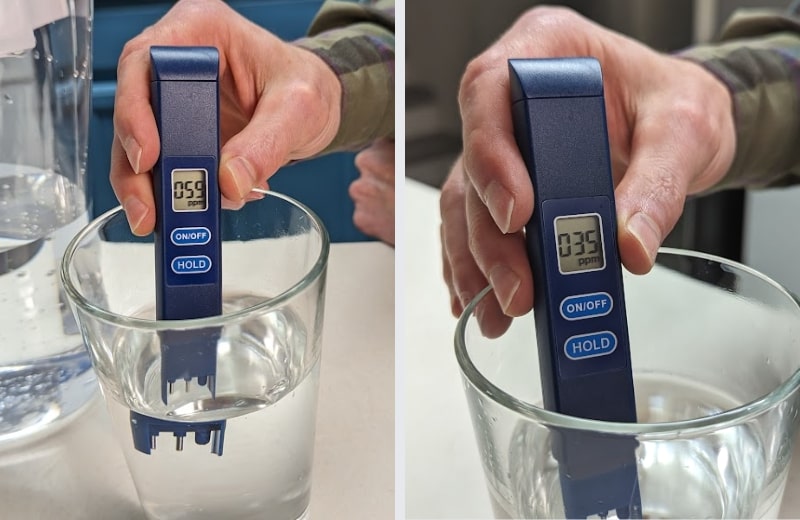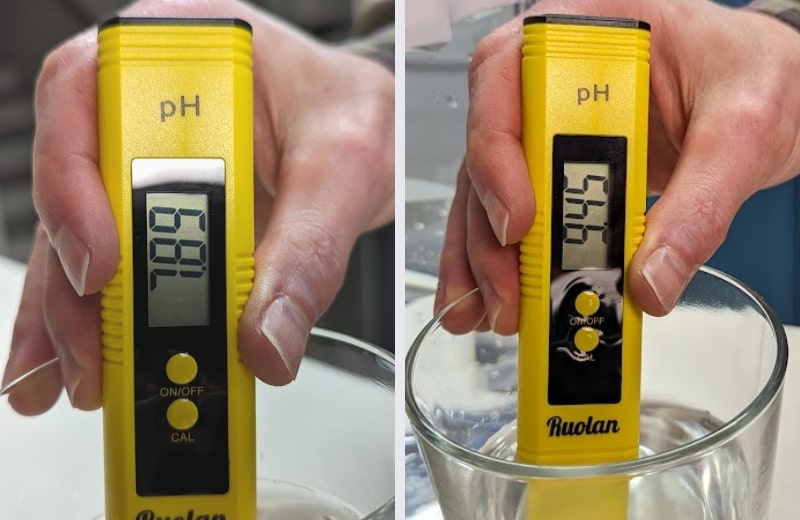 This 9-cup water pitcher raises water's pH by 2.0+ by adding magnesium, calcium, and other healthy trace minerals. It's the most capable alkaline water pitcher when it comes to contaminant removal, and can remove up to 99% of lead, as well as chloramine, vinyl chloride, and more.
Key Features:
Gravity pitcher filtration – The Santevia MINA Alkaline Pitcher is a water filter pitcher that uses gravity filtration to send water into the pitcher reservoir. The pitcher has a 9-cup (or 2-liter) capacity.
Boosts pH by 2.0 – The MINA Alkaline Pitcher increases alkalinity and raises water pH by up to 2.0 with its mineral infusion media.
Removes metals, chemicals, & more – This Santevia pitcher combines ion exchange with granular activated carbon (GAC) filtration to remove several common contaminants, as well as a few that are more challenging to remove. These include up to 99% lead, 98% chloramine, and 99& vinyl chloride.
Best For:
Folks who prefer the portability and affordability of the best alkaline water filter pitcher that can effectively remove tricky tap water contaminants and boost pH.
Pros:
We think the Santevia MINA Alkaline Pitcher should tick all your boxes if you want to improve the taste, quality, and alkalinity of your water. It eliminates bad tastes and odors associated with disinfection chemicals, and the addition of healthy minerals gives water a crisp alkaline taste.
We appreciate that this pitcher doesn't only make water more alkaline – it also adds healthy minerals, which provide additional water quality benefits.
An obvious benefit of choosing an alkaline water pitcher like the MINA is affordability. You get all the benefits of filtered alkaline water for less than $50 upfront.
The pitcher is made from Tritan plastic, which, from our own experience reviewing water filter pitchers, has proved to be one of the best plastics for this use. It's robust, lightweight, and 100% BPA- and BPS-free. You can also recycle the filter cartridges at home, so there's no fussing with collecting them and returning them to the manufacturer.
Cons:
You'll have to replace the filter every 2 months, so maintenance isn't something you can forget about.
You might notice carbon particles from the filter in your water, especially when first using a new filter.
---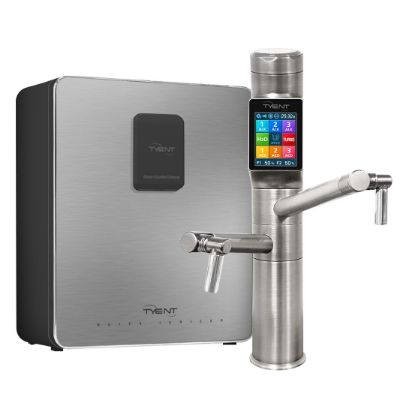 Tyent UCE-13 Plus
Based on our research, the Tyent UCE-13 Plus Ionizer is the best alkaline water filter that uses ionization to produce alkaline water at home.
This machine provides the healthiest water by combining numerous filtration settings in one small, attractive unit. It's one of the smartest systems we've reviewed, and gives you complete control over your water's pH range, with smartphone-inspired touchscreen control that makes it easy to adjust the water treatment to your tastes.
Key Features:
Under-sink water treatment – The Tyent UCE-13 Plus is an under-sink system that intercepts your cold water line. It filters and ionizes water before dispensing it from a dedicated faucet.
Comprehensive water alkalizing – To alkalize water, the UCE-13 Plus uses 13 platinum plates that have a mesh-like construction to promote the most efficient electrolysis.
Removes chlorine, heavy metals, & more – As a combined ionizer and filtering unit (with an impressive 0.01 micron pore size), this under-sink alkaline machine both filters and ionizes your water without affecting water flow. Some of the contaminants removed are chlorine, chloramine, heavy metals, and sediment.
Boosts molecular hydrogen – As well as alkalizing water, the UCE-13 Plus Ionizer also adds up to 1.8 PPM (parts per million) of molecular hydrogen, further improving water quality and providing dedicated anti-oxidative, anti-inflammatory, and anti-aging benefits of this gas molecule.
Best For:
Anyone with a big budget who's looking for the most comprehensive alkaline water filter system that gives the user the greatest control over their water's pH and alkalinity.
Pros:
The Tyent UCE-13 Plus does so much more than simply increasing the pH and alkalinity of water. It's the only alkaline filtration system on this list that allows you to choose your preferred water pH – there are three acidic options, three alkalized options, a "H20" option, and a "turbo" option.
As an under-sink system, this ionizer makes it easy to access filtered alkaline water whenever you need it. Simply push the button and get immediate access to water from the dedicated faucet – no need to fill the system yourself or wait for it to kick into action.
The under-sink location of this unit also allows it to be hidden from sight, and the touch-button controls on the faucet make it quick and simple to access the water you need. The modern faucet looks the part in any kitchen, and has two separate spigots for extra convenience.
There are so many other smart features of this system to love, including the automatic cleaning setting that descales the system at your preferred time and frequency, and the smart A.I self-diagnosis function that tells you when the system is being cleaned, a new filter is needed, and the inflow water temperature is too high.
Cons:
The unit is thousands of dollars, so you might not be able to afford (or justify) the cost.
---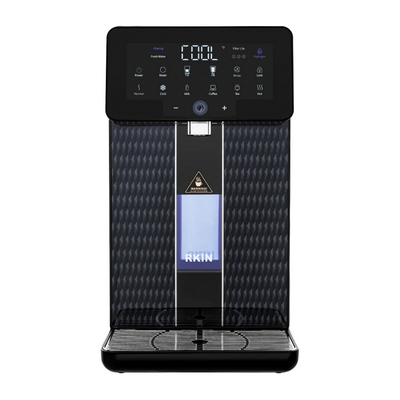 RKIN U1
If you're looking for a highly capable countertop alkaline water filter that purifies and alkalizes your tap water, you can't go wrong with the RKIN U1.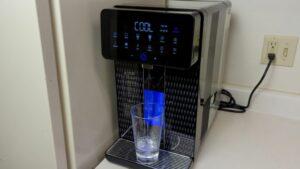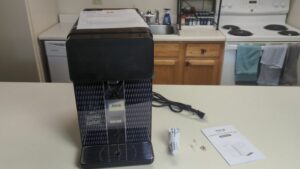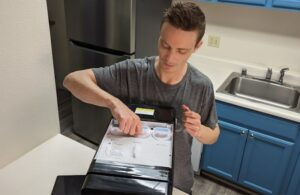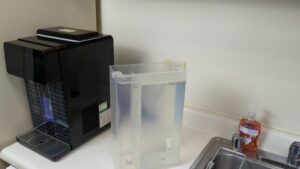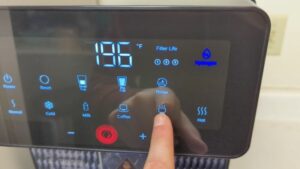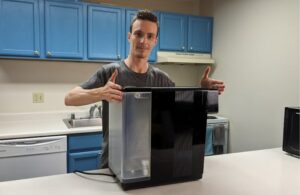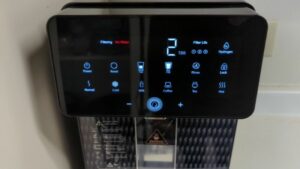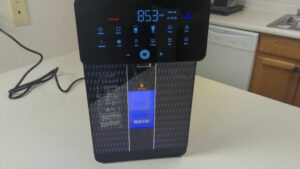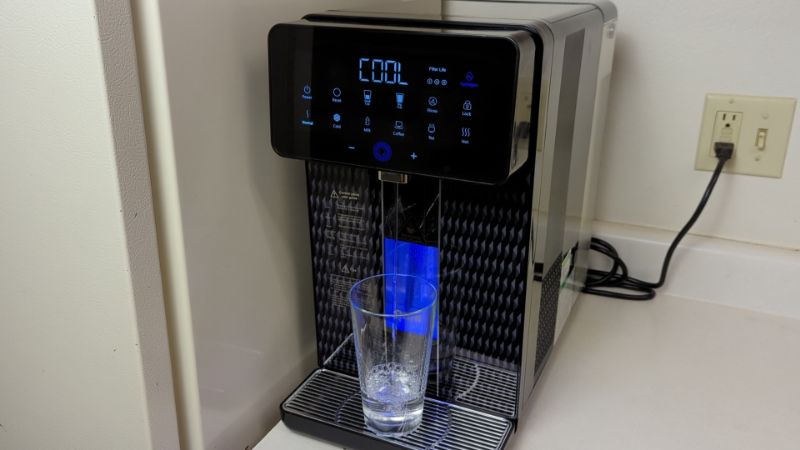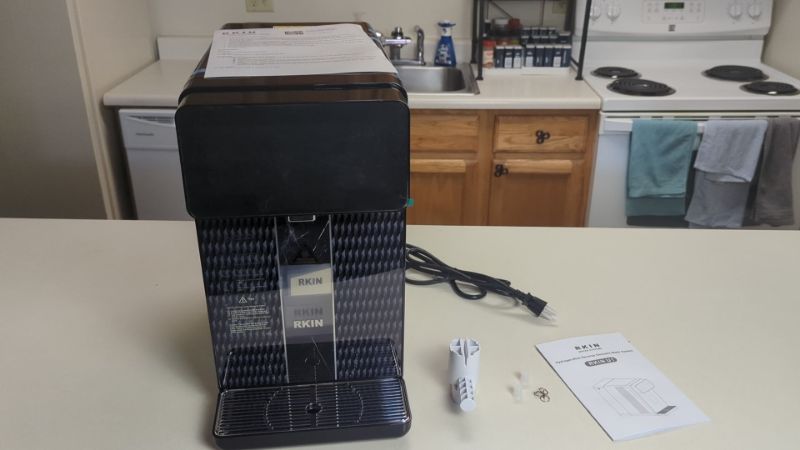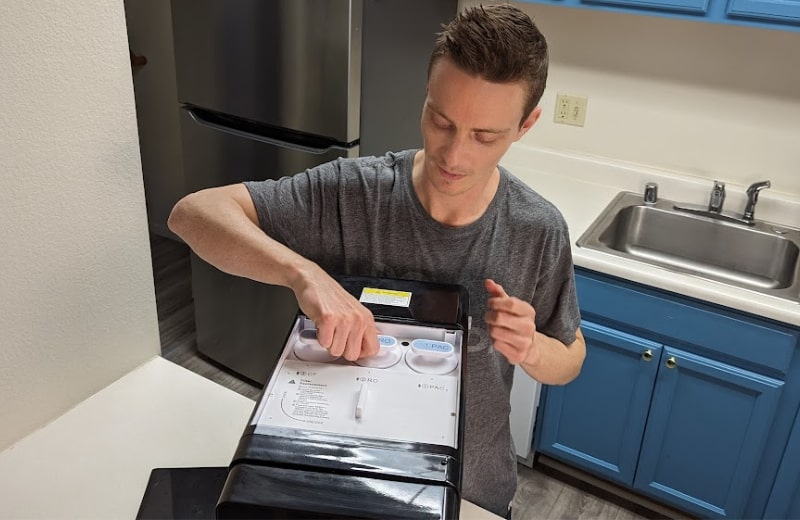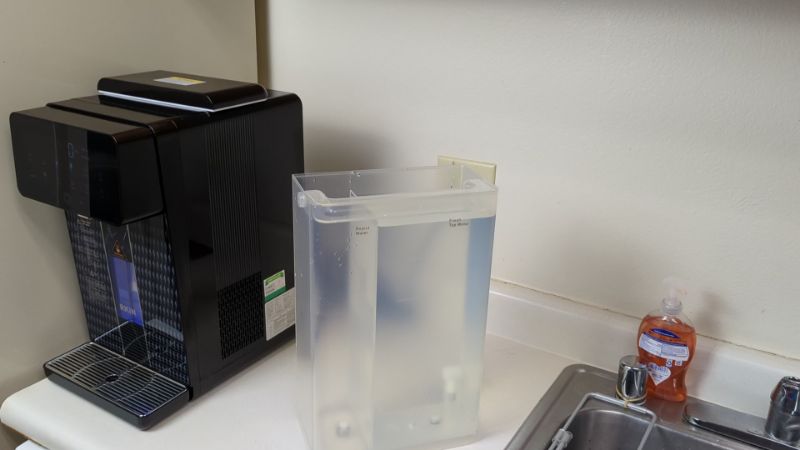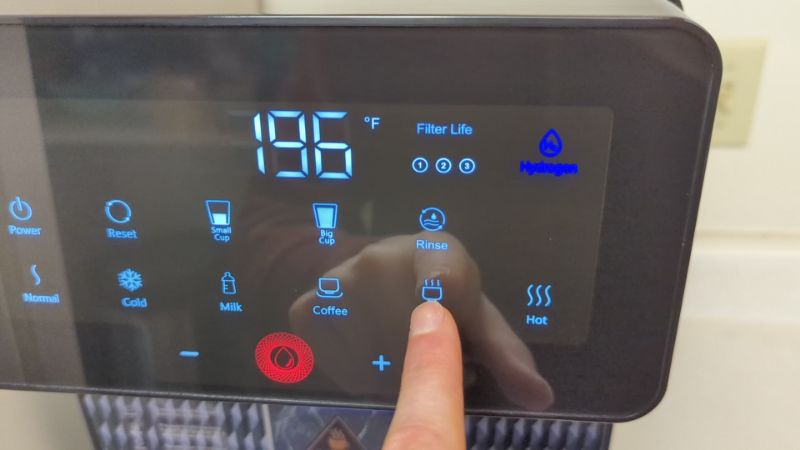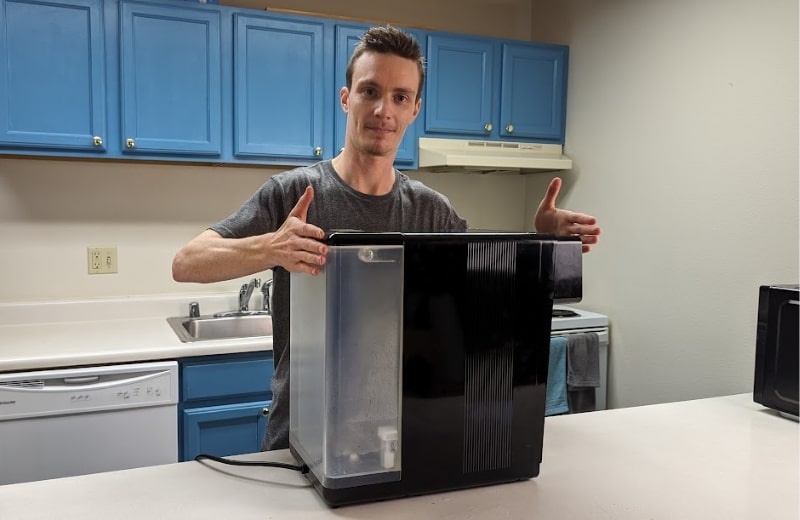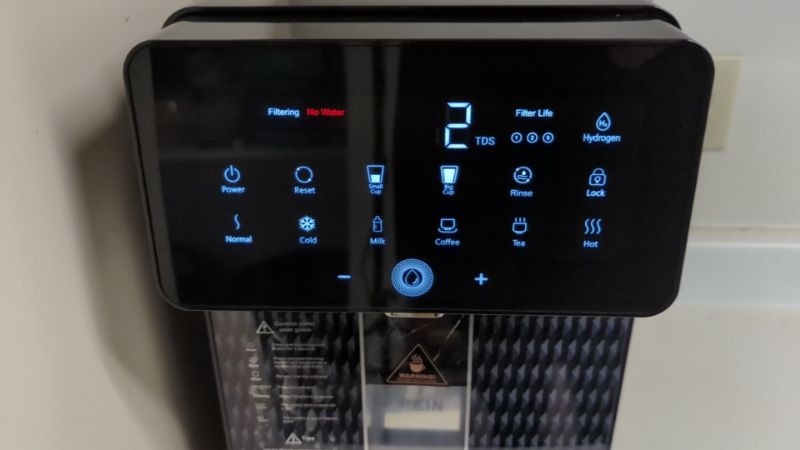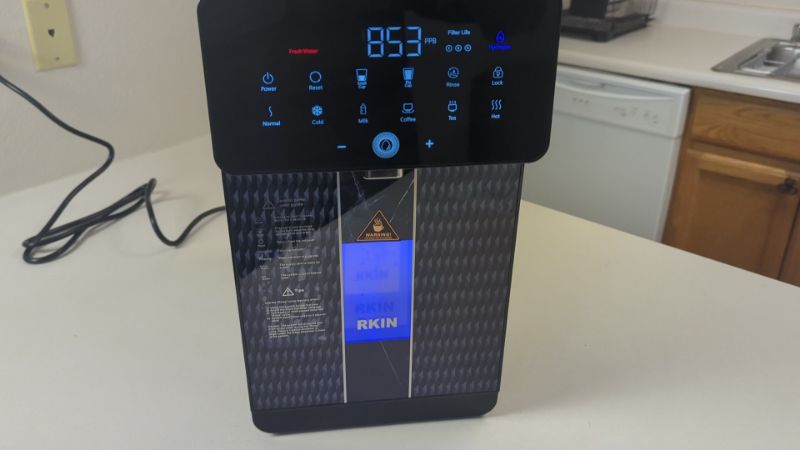 This slim, stylish unit is a modern take on the outdated conventional tank-based RO system. It uses RO purification to remove up to 99.99% of all total dissolved solids, then provides additional water treatment stages, including alkaline post-filtration and hydrogen infusion. If that wasn't enough, you can then press one of the presets to dispense hot, cold, and ambient water, alter the volume for your cup size, dispense water for tea, coffee, and milk, and much more.
Key Features:
Countertop RO purification – The RKIN U1 is a countertop reverse osmosis system that can produce up to 0.5 gallons of purified, alkalized water at a time. Simply add water to the system and press a button on the control panel to dispense the water you need.
Purification and water enhancement – This countertop filtration system uses all the filter stages you'd expect in a reverse osmosis water filtration system, including sediment and carbon filters and an RO membrane, removing up to 99.99% of all contaminants. It also infuses hydrogen and healthy alkaline minerals, resulting in alkaline water with negative ORP readings from -330 to -347.
75 GPD filtered water production – The RKIN U1 has a water production rate of 75 gallons per day. That's pretty good for a countertop RO system.
1-year warranty – RKIN honors your purchase with a 1-year warranty and 1-year money-back guarantee, so you can buy the unit risk-free.
| Upgrades | Price |
| --- | --- |
| 2-Year Filter Bundle | $290 |
| Turntable | $260 |
Best For:
Folks who prefer the benefits of a smart, modern countertop RO system, including hot and cold water dispensing, mineral and hydrogen infusion, and TDS elimination.
Pros:
Like the Cloud RO system, the RKIN U1 goes one step beyond most other alkaline water filters. It doesn't just filter water – it purifies it, then returns beneficial calcium and magnesium minerals to boost water's taste and raise its pH. There's also an optional hydrogen infusion stage to further enhance water quality.
There are so many unique features of this system that we love. It's the only alkaline water filter on this list that allows you to choose the temperature of your alkalized water, giving you the option to dispense hot and cold water at the press of a button.
We're pleased to see that RKIN is currently in the process of obtaining an NSF certification for the U1. The system has already received third-party testing by IAPMO for the reduction of chromium III, lead, PFOA/PFOS, fluoride, and TDS.
$700 is a great price for a system that delivers negative ORP water. The only other system on this list that can do the same, the Tyent UCE-13 Plus, is about eight times the price.
Below is a table displaying our third-party laboratory testing data for RKIN U1.
| Contaminant | Pre-Filtration | Post-Filtration | % Reduction |
| --- | --- | --- | --- |
| Barium | 0.014 PPM | 0.0087 PPM | 37.86% |
| Calcium | 23.9 PPM | 3.6 PPM | 84.94% |
| Chloride | 9.2 PPM | 0 PPM | 100% |
| Copper | 0.0525 PPM | 0 PPM | 100% |
| Fluoride | 1.5 PPM | 0 PPM | 100% |
| Lead | 0.0009 PPM | 0 PPM | 100% |
| Magnesium | 6.08 PPM | 0.39 PPM | 93.59% |
| Molybdenum | 0.0047 PPM | 0 PPM | 100% |
| Nitrate (as N) | 2.1 PPM | 0.2 PPM | 90.48% |
| Phosphorus | 1.1 PPM | 0 PPM | 100% |
| Sodium | 9.91 PPM | 1.2 PPM | 87.89% |
| Strontium | 0.108 PPM | 2.42 PPM | +2140.74% |
| Sulfate | 7.6 PPM | 1.6 PPM | 78.95% |
| Total Dissolved Solids | 112 PPM | 23 PPM | 79.46% |
| Uranium | 0.0182 PPM | 0 PPM | 100% |
| Zinc | 0.559 PPM | 0 PPM | 100% |
Cons:
The system has a 1:1 wastewater-to-pure water ratio, which is pretty efficient – but it still wastes water.
The U1 is still pretty new to the market, so we weren't able to read customer reviews to get an understanding of longevity with everyday use.
Read the Full Review: RKIN U1 Countertop Reverse Osmosis System Review
---
Santevia Water Bottle Filter
Our favorite portable alkaline water filter is the Santevia Water Bottle Filter.
This stainless steel filter can be added to any wide-mouth reusable water bottle and improves water's taste, smell, and alkalinity with carbon and ceramic mineral balls.
Key Features:
Water bottle filtration – The Santevia Water Bottle Filter is a small, compact filter that can be used in a reusable water bottle of your choice. It filters water in the bottle, improving its taste and quality without the hassle of a built-in straw.
Basic carbon adsorption – The filter uses carbon beads, which adsorb chlorine tastes and odors. It's a great choice for anyone with a city water supply whose main goal is to remove chemical tastes and increase pH.
Adds minerals & boosts pH – This portable water filter also adds calcium and magnesium minerals to water and raises its pH by up to 2.0.
| Santevia Water Bottle Filter Configurations | Price |
| --- | --- |
| 1-Pack | $17.99 |
| 2-Pack | $35.98 |
| 4-Pack | $71.96 |
Best For:
People looking for a portable water filter that offers basic filtration and alkalization of chlorinated municipal water supplies.
Pros:
The Santevia Water Bottle Filter combines all the necessary filter stages to improve tap water quality and alkalinity. The carbon and chlorine reduction balls remove unpleasant chlorine tastes and odors, and the Maifan stones and ceramic balls further improve water taste and quality by adding minerals and boosting pH.
We love the uniqueness of this filter's design and use case. It's made from stainless steel, which is unusual for a water bottle filter – most are made from plastic. If you want to avoid BPA, BPS, and other bisphenols, Santevia provides the solution.
Another unique feature of the Santevia bottle filter is that it's not connected to a straw and isn't built into a bottle, so you can drop it into any wide-mouth reusable bottle of your choice. No need to give up your favorite water bottle for the sake of filtered, alkalized water on the go.
Cons:
Because the filter is suspended in water, we're not sure whether it can filter water as thoroughly as a straw filter, where water has to pass through the filter before you can drink it.
The 3-month filter lifespan is a bit short. You'll have to change the filter at least 4 times a year.
---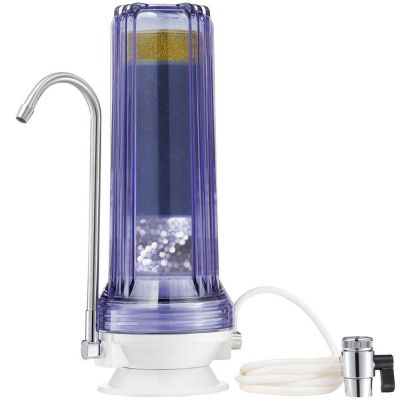 NU Aqua Countertop Filter
If you're on the hunt for an affordable, low-maintenance alkaline filter that will deliver filtered drinking water to your faucet, we think the NU Aqua 8 Stage Alkaline Mineral Countertop Water Filter​ is the best choice for you.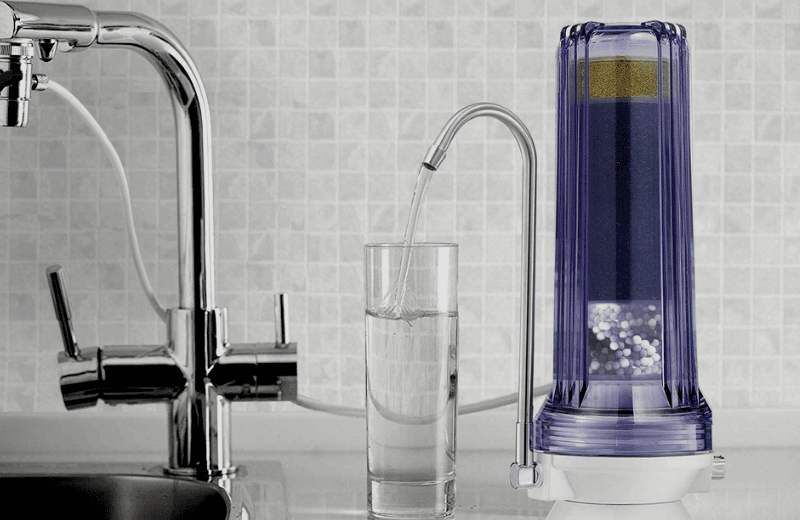 This 8-stage non-RO countertop water filter costs less than $100 and removes a selection of common contaminants from your tap water, and features a mineral stone treatment stage that adds alkaline minerals including calcium, magnesium, sodium, potassium.
Key Features:
Quick Connect to a Kitchen Faucet – The NU Aqua Countertop Filter has the convenience of connecting to a kitchen faucet to give instant access to filtered alkaline water, without having to be installed at the water line underneath your kitchen sink.
8-stage water treatment – This alkaline filter system uses 8 water treatment processes, including KDF, activated carbon, mesh filter screens, ORP balls, and mineral stones, to filter and alkalize water. All these filter stages are combined into a single filter cartridge, reducing maintenance (the filter has an approximate 8-month lifespan).
5-year warranty & 120-day money-back guarantee – When you buy this unit, your purchase is protected with a 5-year warranty, and you have 120 days to try the system and return the filter for a refund if you don't like it.
Best For:
Anyone looking for the benefits of filtered alkaline water on tap who doesn't want the difficult install of an under-sink water filter system.
Pros:
The NU Aqua Countertop Filter is a great choice if you want a system that provides basic filtration and boosts alkalinity with a focus on mineral addition. Most filters we've reviewed only add calcium and magnesium to water, but this NU unit also infuses water with sodium and potassium, providing additional taste and health benefits.
We think affordability is a major selling point of this system. It costs less than $100, but you certainly don't compromise on quality or performance – the 8 filter stages provide thorough, comprehensive water treatment.
Installing the NU Aqua filter is super simple. You don't need to be a plumbing expert – just connect the unit to your faucet, using the adapter if needed.
Cons:
The unit's design is a little dated and doesn't look as attractive on a countertop as the other systems in this guide.
The system doesn't appear to be tested or certified for its performance.
---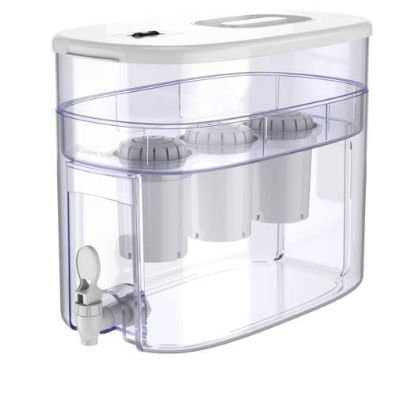 Invigorated Water pH Recharge Dispenser
In our opinion, the Invigorated Water pH Recharge 3F Countertop Alkaline Filter is the best gravity-fed alkaline filter system available today.
Compared to other alkaline systems, this water filter has a high capacity, requires no technical installation, and is super affordable. It uses three filters to produce oxygenated alkaline water with a pH of up to 9.0, helping to support hydration and delivering the benefits of added trace elements.
Key Features:
Filters water & boosts pH and ORP –The Invigorated Water pH Recharge filter uses a PH001 multi-stage filter to remove contaminants like chlorine, fluoride, and heavy metals, add trace elements and essential minerals like calcium, selenium, and magnesium, and increase water's pH (up to 9.0) and oxygen levels.
2.4-gallon water holding capacity – With plenty of space for more than 2.4 gallons of water, you won't need to constantly refill this alkaline water system.
Multi-blend filter media – The filters in this dispenser unit combine several common filter materials, including an ion-exchange resin, coconut-activated carbon, and mineral stones, offering a tried-and-tested water filtration and remineralization solution and removing particles as small as 0.01 micron. Long-lasting filters – Each of the filters have a 96-gallon lifespan, equating to around 3 months.
| Invigorated Water pH Recharge Options | Price |
| --- | --- |
| White | $71.41 |
| Black | $88 |
| Grey | $88 |
Best For:
Folks looking for the convenience and no-install benefits of a gravity alkaline filter who want something with a bigger holding capacity than a conventional pitcher.
Pros:
The portability and lack of installation required for the Invigorated Water pH Recharge filter make it ideal for rentals, homes with limited under-counter space, and anyone who wants to avoid the difficult install and maintenance of an under-sink water filter.
You don't need to connect the filter to an electricity supply, and despite its high holding capacity, it has a relatively small footprint, so it won't take up too much space on your counter.
The pH Recharge is around double the cost of a typical plastic water filter pitcher, but looks far more appealing and is much more environmentally friendly. The system is 100% BPA-free and non-toxic, and comes with a 60-day money-back guarantee.
Cons:
The unit uses gravity filtration, so you won't quite get alkaline filtered water on demand.
The spigot is positioned slightly above the bottom of the water tank, so you can't access the last bit of clean water.
---
🧾 Alkaline Water Filter Buyer's Guide
In this buying guide, we've shared everything you need to know about alkalizing filters. By the end, you should have the knowledge you need to buy the best filter for your situation.
💡 What are Alkaline Water Filters?
Alkaline water filters, otherwise known as ionizers, alter the chemical balance of your water, improving its taste and health properties. Alkaline water has a pH level above 7.5.
An alkaline filter boosts water's pH level to around 8 or 9. There are several types of alkaline water filters, including under-sink systems, pitchers, dispensers, and countertop units. All of these systems give you the convenience of filtering and alkalizing your water at home, eliminating the need to buy bottled water.
🤔 How Do They Work?
Alkaline filters alkalize water using a variety of techniques.
Most conventional water filters use some form of filtration media, like Maifan or mineral stones, which add trace minerals to the water as it flows through the filter cartridge. These minerals are naturally alkaline and increase water's pH level.
More comprehensive systems use ionization to provide water with a specific pH, which you can usually tailor to your tastes. These systems deliver water with a high alkalinity, and they can often also be used to produce acidic water.
✔️ Benefits of Alkalized Water
There are several benefits of drinking water with a high pH over drinking standard tap water. These include:
Anti-aging properties – Alkalized water contains liquid antioxidants, which fight free radicals (unstable atoms that are responsible for cell damage and aging).
Hydrating benefits – The water molecules in water with a high alkalinity are smaller than those in normal tap water, which makes them more easily absorbed by the cells in our bodies. Drinking water with a high pH can help you to stay better hydrated.
Immunity boosting – The alkaline properties of water with a higher pH may help to neutralize the acid in our bodies, helping to boost immunity.
Improves digestion – Because alkaline water raises the colon's pH level and hydrates it, it helps to promote better digestion and reduce digestive issues like acid reflux. It also fights free radicals in the digestive system.
Mineral boost – The additional calcium and magnesium found in water with an alkalized pH have numerous benefits for our bone strength, immunity, mood, sleep quality, and even blood sugar regulation.
Important note: Many of the benefits of drinking alkaline water are supported by limited scientific evidence. While alkalizing your water may support good health, it won't provide a miracle solution or cure any health conditions.
🔡 Types of Alkaline Filters for Water
Here's an overview of the different types of alkaline water filters, and how they work:
Ionizers
A water ionizer is a countertop or under-counter unit that ionizes your water supply.
Water ionizer machines usually give you the biggest flexibility when it comes to regulating pH, and often allow you to adjust alkalinity to your preferred level. Some ionizer units give the option to generate acidic water for cleaning and cosmetic purposes, alkaline water for drinking and cooking, and purified water, within a matter of seconds.
Pitchers
An alkaline water pitcher contains a filter that alkalizes and filters water as it flows into the bottom reservoir.
This portable, zero-install filtration solution uses gravity filtration to gradually remove contaminants and increase water's pH. Many pitchers are conveniently sized to fit inside the door of your fridge, giving easy access to cool, alkalized drinking water.
Countertop Filters
Countertop filters, as the name suggests, sit on your kitchen countertop and deliver batches of filtered alkalized water.
These systems typically remove harmful contaminants from water, such as chlorine and lead, while introducing healthy minerals like calcium and magnesium, increasing the pH.
Not many countertop filtration system models can reduce acidity by reducing the size of the water molecules. They can only improve alkalinity with the addition of alkaline minerals.
RO Remineralizing Filters
RO remineralizing filters are a handy water treatment option for people who use reverse osmosis systems to filter their water supply.
The RO process removes nearly 100% of all total dissolved solids, including healthy minerals. Most modern systems come with a built-in remineralization filter to re-introduce these minerals to water and boost its alkalinity – often beyond its original pH level.
Filtered Water Bottles
Drinking alkaline water on the go is easy with a filtered water bottle.
Filtered water bottles add magnesium and calcium minerals to drinking water, improving its taste and alkalinity, as well as removing common contaminants, like lead and chlorine.
These on-the-go filtration systems eliminate the need to buy bottled alkaline water while you're out and about.
💭 Considerations When Looking at Alkaline Water Filters
Need some help choosing the best alkaline water filter for your situation? Consider the following things:
Desired pH Level
First, consider the pH level that you'd like to achieve with an alkaline water system.
Most alkaline filters can increase pH by up to 2.0. So, if your water had a neutral pH of 7.0, an alkaline pitcher would increase pH to up to 9.0.
Make sure you understand pH range before you start searching for an alkaline system.
Water ionizers have a flexible pH range that lets you choose from very acidic to very alkaline. Choose an ionizer if you prefer to have full control over your water's pH level.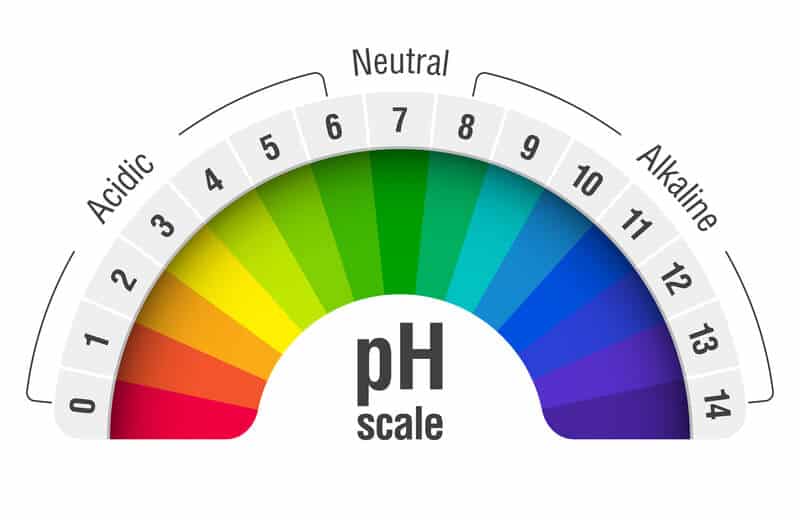 Type of System
Also put some thought into the type of system that's best for you.
There are positives and negatives to every type of water alkaline filtration unit out there – some let you set your pH level (see above), some remove additional contaminants (see below), some require a more difficult installation and some require more maintenance (see below also).
The type of system you opt for depends on your personal preference and budget. The more you can spend up-front (and, when necessary, frequently throughout a system's lifespan), the more options you'll have.
Contaminants Removed
Most alkaline filters are capable of doing more than just alkalizing your water. If you also want to remove contaminants, look at a system's filtration abilities.
If you want to remove as many contaminants as possible from your water, a reverse osmosis water filtration system with a remineralization stage is best.
Alkalizing water filter pitchers, countertop filters, ionizers, and water bottle filters can remove a handful of common contaminants like chlorine and lead, though they're not as thorough or effective as reverse osmosis.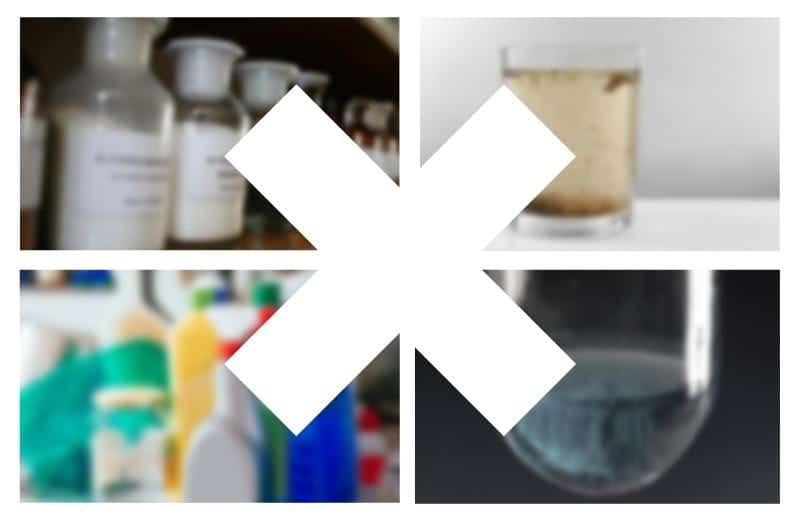 Installation & Maintenance
Also consider the difficulty of installation when deciding between the best alkaline water machines.
Countertop systems, including pitchers and gravity dispensers, are the easiest to assemble, requiring no installation. However, they have shorter filter lifespans and require more frequent maintenance.
Under-sink systems are more challenging to install at your water line, but they give you the convenience of alkaline water on tap. These systems usually have multiple filtration stages, and each filter has its own lifespan.
Make sure you're happy with the maintenance commitments of a specific water filter before you click "buy".
Warranty
Finally, make sure your chosen alkaline filter has a good warranty.
The average warranty for an alkaline water machine is 5 years. Some systems also come with guarantees, enabling you to try out the filter and return it for a refund if you decide it's not for you.
Read through the warranty's terms to ensure you understand the coverage before you go ahead and make a purchase.
✅ Similar Guides You May Enjoy
Looking for a specific type of alkaline filter system? Check out our guides below:
❔ Frequently Asked Questions
Do alkaline water filters really work?
Yes, alkaline water filters really work. These filters usually contain mineral balls, Maifin stones, or other similar media to increase pH and add minerals to the water. Make sure to choose a quality filter from a trusted, reputable brand.
Is an alkaline water filter worth it?
An alkaline filter is worth it if you want to enjoy the taste and health benefits of filtered alkaline water. Alkaline filters don't have to cost a fortune – we've shared many filters in this guide that cost less than $100.
Do Brita filters alkalize water?
No, Brita filters don't alkalize water. You need a special filtration media to boost water's pH and add alkaline minerals. Brita filters contain a simple blend of activated carbon and ion exchange, so they don't make a difference to water alkalinity.
Which brand is best for alkaline water purifier?
If you're looking specifically for a water treatment system that can purify water as well as alkalize it, we recommend either the Cloud RO or the RKIN U1. Both systems remove virtually all total dissolved solids from water and add healthy minerals, boosting water alkalinity. The RKIN U1 also delivers negative ORP water.