Get the perfect tasting water with these alkalizing systems.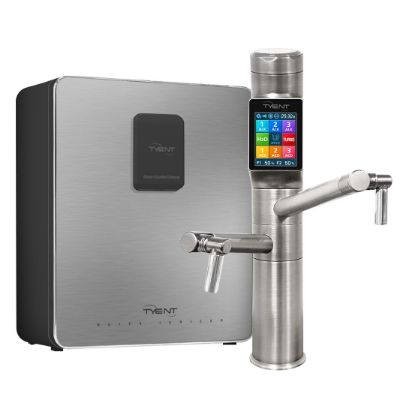 Tyent UCE-13 Plus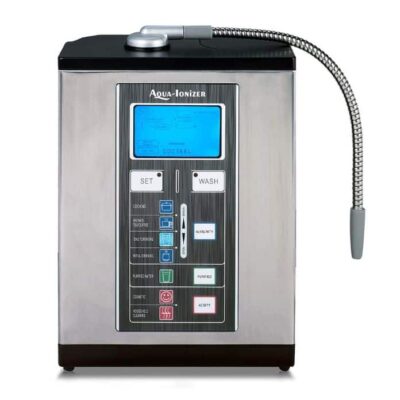 Aqua-Ionizer Deluxe 9.0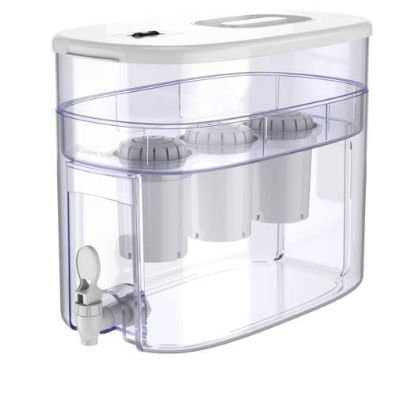 Invigorated Water pH Recharge 3F Countertop
The average American spends over $100 per year on bottled water. And collectively, we waste more than 60 million single-use water bottles a year.
It's a pretty shocking fact – but luckily, there's a penny-saving way to enjoy great-tasting alkaline water without any plastic waste at all.
After creating this platform to share my knowledge online, I've been helping almost 250,000 monthly readers choose the best at-home water treatment solutions for their families.
I curated this list using the method I use for all my buyers' guides – by ranking products based on their performance capability, filter capacity, customer reviews, ease of use and manufacturer legitimacy. If I'm recommending something in this guide, it's because I truly believe that it's one of the best alkaline filter systems of 2023.
In this guide, you'll learn:
The 8 most popular alkaline water filters of 2023
The 5 biggest benefits of alkaline filtration
The 6 types of alkaline filter
5 things you must consider before you make a purchase
Let's get started.
🥇 Best Alkaline Water Filters
| Product | Tyent UCE-13 Plus | Aqua-Ionizer Deluxe 9.0 | Invigorated Water pH Recharge | APEX Quality Countertop Drinking Water Filter | APEC ESSENCE ROES-PH75 RO System | Express Water 10-Stage RO System | Ehm Alkaline Water Pitcher | Seychelle pH2O Alkaline Water Filter Bottle |
| --- | --- | --- | --- | --- | --- | --- | --- | --- |
| Ranking | 1st | 2nd | 3rd | 4th | 5th | 6th | 7th | 8th |
| Ratings | 5/5 | 4.5/5 | 4/5 | 4/5 | 4/5 | 4/5 | 4/5 | 4/5 |
| Price | $$$ | $$$ | $ | $ | $$ | $$ | $ | $ |
| Type | Ionizer | Ionizer | Countertop Dispenser | Countertop Direct Connect | RO + Remineralizing Filter | RO + Remineralizing Filter | Pitcher | Bottle |
| pH Range | 1.7-12.5 | 3-11.5 | +0.5 to 2 points | +1-1.5 points | +1-1.5 points | 7.5-8.5 | +2.5 points | Up to 9.5 |
| Filter Capacity | 1,000 gallons | 1,000 gallons | 96 gallons each | Up to 750 gallons | 6-12 months | 6 months | 50 gallons | 100 gallons |
| Contaminants Removed | 10+ | 10+ | 6+ | 8+ | 150+ | 158+ | 5+ | 5+ |
| Warranty | Lifetime | Lifetime | 60 days | 1 year | 2 years | 1 year | - | 90 days |
---
⭐ Reviews – Alkaline Water Filter 2023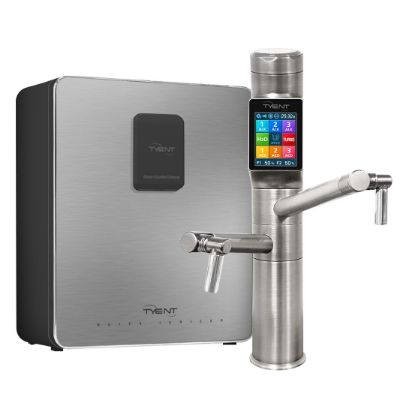 Tyent UCE-13 Plus
One of the best under-counter alkalizing treatment systems is the Tyent UCE-13 Plus Ionizer. This machine provides the healthiest water by combining numerous filtration settings in one small, discrete unit.
The Tyent lets you adjust the pH level of the water and find the best one for you by simply choosing between 8 different settings on a dedicated faucet. With a pH range from 1.7 pH to 12.5 pH, you can choose between three acidic options, three alkalized options, a "H20" option and a "turbo" option, depending on what you need in the moment. Simply push the button and get immediate access to alkalized or acidic water – no need to fill the system yourself or wait for it to kick into action.
The Tyent alkaline machine is designed for under-sink installation, being relatively small and compact, while the faucet is installed next to, or in place of, your current kitchen faucet. This allows for the unit to be hidden from sight, but with touch-button controls on the faucet, it's easier than ever to access the water you need. The modern faucet looks the part in any kitchen, and has two separate spigots for extra convenience.
As a combined ionizer and filtering unit (with an impressive 0.01 micron pore size), the Tyrent both filters and ionizes your water without affecting water flow. It's one of the most expensive alkaline water treatment options out there, but it's easy to see why – it's incredibly effective and boasts a range of clever features.
To alkalize water, this alkaline machine uses 13 platinum plates that have a mesh-like construction to promote the most efficient electrolysis, and the proof is in the pudding – you get complete control over the pH level of the water you use for cooking, cleaning and drinking on a daily basis.
👍 What I Like
High quality filtration and alkalization
One of the most flexible and effective alkaline filtration systems available
Customizable pH settings
Doesn't affect water flow
Lifetime guarantee
👎 What I Don't Like
Expensive upfront cost
Some find installation complex
---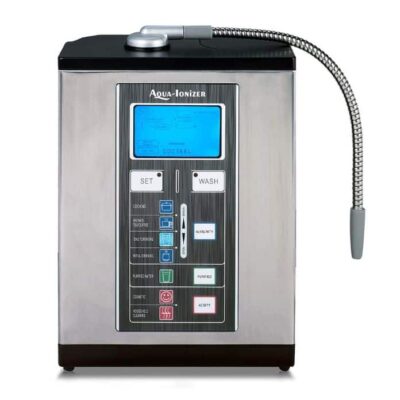 Aqua-Ionizer Deluxe 9.0
If you're looking to get the most health benefits from your drinking water, the Aqua-Ionizer may be the best alkaline water system for you. This long-lasting, high-quality machine doesn't just ionize your water – it also filters out common impurities.
With its slim, slender design, the Aqua-Ionizer won't take up too much space on your kitchen counter. It's simple to set up – around a 10-minute job from start to finish – and comes included with a water filter that lasts for approximately 4000 liters, equal to around ten months.
There are seven different water settings on this machine, and it's easy to set to your exact desired water pH level, whether you need water for household cleaning or cosmetic purposes, cooking, cleaning, drinking, or making tea or coffee. You can select a water pH from 3.0 right up to 11.5.
As well as choosing between water with a pH in the acid or alkaline region, you can also select the purified water option, with a pH of 7, which has no acid or alkaline properties.
The Aqua-Ionizer makes it easy to drink alkaline water, thanks to the simple diagrams on the machine's buttons, which clearly show what each pH level is intended for. Handily, the Aqua-Ionizer will also track how much water you're using, so you can make sure you get the maximum health benefits from your hydration throughout the day.
Thanks to the included filter, there's no need to filter the water separately after running it through this alkalizing treatment system. It's designed to be connected to your kitchen tap, so you can access water from your faucet without having to pour it into the machine manually. Ionized water will then dispense from the machine out of the included hose.
👍 What I Like
Included water filter for convenience
Installation is quick and easy
Produced clean ionized water
👎 What I Don't Like
Hose could be longer
Doesn't add minerals to water
Doesn't produce the best water for cleaning
---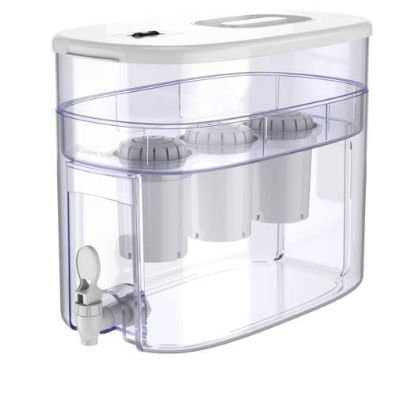 Invigorated Water pH Recharge 3F Countertop Alkaline Water Filter
If you're after an alkalizing treatment filter that doesn't require an invasive installation, the pH Recharge is an option well worth considering. Compared to other alkaline water systems, this water filter has a high capacity, is attractive to look at, and requires no technical installation.
With plenty of space for more than 2.4 gallons of water, you won't need to constantly refill this alkaline water system, which offers enough water to last a single person more than two days.
You don't need to connect the pH Recharge filter to an electricity supply, and despite its high holding capacity, it has a relatively small footprint, so it won't take up too much space on your counter. The machine uses a PH001 multi-stage filter to remove contaminants, add minerals such as magnesium, iron, selenium, calcium and zinc, and increase the pH of your water.
Each filter is made from a blend of several common filter materials, including an ion-exchange resin, coconut activated carbon, and mineral stones, offering a tried-and-tested means of water filtration and remineralization and removing particles as small as 0.01 micron. One filter has a 96 gallon lifespan, which is equivalent to approximately 720 single use water filter bottles per filter, or 2,160 with all three so you'll certainly save money if you currently buy bottled water for home drinking.
The pH Recharge is around double the cost of a typical plastic water filter pitcher, but looks far more appealing and is much more environmentally-friendly. The system is 100% BPA-free and non-toxic, and comes with a 60-day money-back guarantee.
👍 What I Like
Large capacity
Non-plastic, BPA-free design
Filter lasts for 96 gallons
👎 What I Don't Like
Will need to refill the machine when it runs low
Not the best for altering water pH on the go
More expensive than plastic filter pitchers
---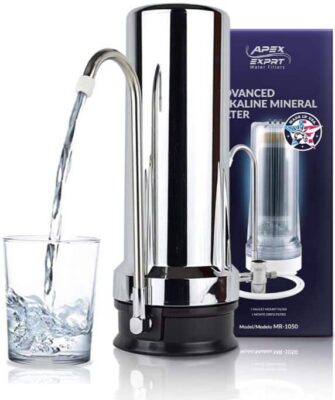 APEX Quality Countertop Drinking Water Filter
The APEX MR10-50 Countertop Drinking Water Filters a convenient, portable alkaline machine that produces safe, healthy water for drinking. It filters out the bad stuff, including chlorine, getting rid of poor tastes and odors, while altering pH to optimal alkalinity (around 7.5 to 8 pH).
This system can also remove heavy metals and other common contaminants found in tap water, and, being an alkaline filter, it remineralizes water with the likes of magnesium, potassium and calcium, improving its taste and healthful properties.
There are 5 stages of filtration and remineralization in the APEX filter: a KDF media that removes large sediment, chloramines and heavy metals; an activated carbon layer that removes chlorine; an alkaline layer that adds potassium and magnesium; a second activated carbon layer; and a calcite later that remineralizes water with calcium.
The filter in this system works quickly to produce the best quality water with minimal disruption to flow rate. The remineralization filter is particularly effective (you can carry out a pH test if you want proof of this). Being a countertop machine, the APEX requires very minimal installation, and comes pre-installed – you just need to connect it up to your kitchen sink's faucet. If it doesn't fit, APEX offers two adaptors that may be suitable for your style of faucet.
You'll need to replace the filter cartridge after every 750 gallons, which has proven a struggle to some customers in the past – a design flaw made it hard to open the housing and replace the filter. However, several customers have mentioned in reviews that there are videos online that demonstrate the correct way to open the housing with little difficulty.
👍 What I Like
Lightweight and relatively portable
Filters and ionizes
Easy to install
👎 What I Don't Like
Doesn't remove fluoride
Only has a 1-year warranty
Some customers struggled to change the filter
---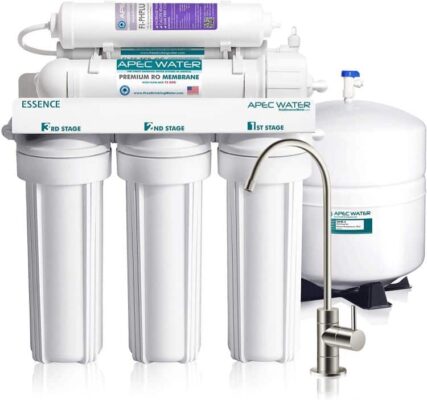 APEC ESSENCE ROES-PH75 RO System
One of the best alkalizing water systems in terms of quality is the APEC ESSENCE RO water filter. Using reverse osmosis to produce the cleanest, best-tasting and highest-quality drinking water possible, this under-sink machine is ideal for anyone who's looking for clean water with a high mineral content – guaranteed.
As a RO water filter system, this machine is designed to do a whole lot that you won't find elsewhere. Like all filtration options on the market, it removes common contaminants from water, like chlorine and lead, but it goes beyond this to also remove the likes of fluoride, bacteria, and other difficult-to-remove contaminants. You'll see a noticeable reduction in TDS (up to 99.9%) when using the APEC.
One feature of this system that you'll most likely want to know about is the alkaline filter. This calcium-carbonate filter introduces minerals back into water, making up for those that have been removed during the thorough RO filtration process, improving taste and giving you easy access to the nutrients we need to survive.
With the system being installed under a kitchen sink, it comes with a food-grade, lead-free faucet. This means you don't need to choose between one of several faucet adaptors when connecting up the system, as it has been designed for perfect fitting with the APEC.
Though installation is slightly more complex, as it involves connecting the system up beneath your sink, APEC provides thorough instructions (both in written form and in online video form) that make the job as simple as following along step-by-step. You attach the machine to your wall with a quality metal bracket, preventing problems like tipping, which could affect the functioning of the system.
You get around 70 to 90 gallons of water from this system per day, which is about as high as you could hope for. Not all RO systems provide an alkaline filter, so it's an added bonus that this one comes with one – you don't have to buy a filter to install separately yourself.
👍 What I Like
Offers one of the most thorough filtration processes
Reduces even difficult contaminants, like lead and bacteria
High-quality included faucet
👎 What I Don't Like
Plastic pressure relief valve isn't very durable
Only one faucet option
Some customers experienced issues like leaking
---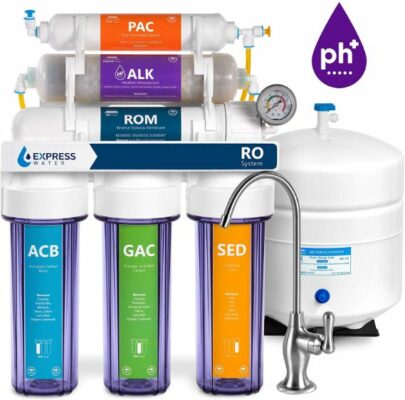 Express Water 10-Stage RO System
If you like the idea of healthy water that doesn't only have a high pH, but is also free from up to 99.9% of contaminants, the Express Water is one of the best options to consider. It comes with 5 stages of filtration, each of which contributes to the production of high-quality drinking water, and an attractive brushed nickel faucet that should suit the majority of modern kitchens.
This unit is totally customizable, and you can add optional features like remineralizing filter cartridges – which you'll presumably be keen to add if you want to increase your water's pH.
For an RO unit, the Express Water is one of the easiest to install, which is mostly thanks to the detailed instructions manual and customer support from the manufacturer. Each of the 5 filters included in this unit are labeled to clearly show the role they play in filtration, and there's a handy diagram for guidance during initial installation, plus filter changes in the future.
There are no plastic valves or fittings in the Express Water unit, so you can guarantee it's one of the best-built RO units available today. Flow rate is also incredibly impressive, too, and you'll get immediate access to clean, high-quality water with this machine. Handily, there's also a leak-detection alarm that shuts off the water supply if water is detected where it shouldn't be.
You can rely on the Express Water to remove contaminants like bacteria, lead, arsenic, chlorine, fluoride, nitrates, and more. Because RO is so thorough, it'll also remove minerals like calcium and magnesium, which is why you need to make sure to opt in for the included remineralization filter if you want to benefit from clean water with a high alkalinity.
👍 What I Like
1:1 water production/waste ratio isn't the worst I've seen
One of the most affordable RO filters available
Removes difficult contaminants like fluoride
👎 What I Don't Like
Wastes water while in operation
Will need to pay extra for the remineralization filter
Won't work well with low pressure
---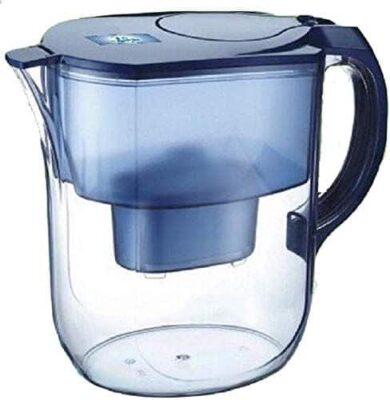 Ehm Alkaline Water Pitcher
The EHM alkaline pitcher is one of the top contenders in the water filter pitcher market. It's rare to find a water filtering pitcher that improves the alkalinity of water, but that's exactly what this one does. Despite its compact design, this pitcher boasts a 6-stage water filter that can do much more than the average product.
The appealing ergonomic design of this pitcher doesn't only make it attractive to look at, but also makes it easier to handle. It's designed to fit in a standard refrigerator door for instant access to cool, clean water whenever you need it.
There's a lot to say about the EHM pitcher's filtering capabilities. It can remove contaminants like chlorine, heavy metals, and other common impurities, while micro-clustering and reducing water molecule size to make it more easily-absorbable. It also adds calcium, magnesium, and potassium minerals and anti-oxidants, which is exactly the double dose of pH elevation and remineralization that you're looking for in any alkaline filter.
All the materials featured in this pitcher are food-grade and BPA-free, so you don't need to worry about adding any of the bad stuff during filtration. Each filter lasts for up to 8 weeks; 6 weeks on average. While this is pretty standard for a water pitcher filter, it's not the best lifespan I've seen. One positive, at least, is that filtering pitchers are some of the easiest to change – you just pop them in and out.
This filter is a good size for providing just enough drinking water throughout the day for one person, but you'll need to top it up several times if you're providing for your whole family. Still, this is a great deal for the price you pay, and refilling the water is hardly an arduous chore.
👍 What I Like
Great for smaller budgets
Remineralizes and filters
Good capacity
👎 What I Don't Like
Filters don't last very long
Requires refilling
No filter change reminder
---
Seychelle pH2O Alkaline Water Filter Bottle
For alkaline drinking water on the go, the Seychelle pH20 is a convenient option. This portable water bottle has an attractive design and decreases water microclusters from 12 molecules down to 4- 6, giving it a pH of up to 9.5 and making it more easily absorbable. Aside from improving alkalinity, this bottle also removes lead, VOCs, chlorine, mercury, chloroform, and more.
The obvious convenience of this alkalizing solution is that you can take it with you on the go, simply filling up your bottle with drinking water and letting the filter do its job. That means you can benefit from clean, alkalized drinking water at home, at work, on vacation, and wherever else life takes you.
With the Seychelle bottle, you don't need to spend money on single-use plastic water bottles, and you're doing your bit for the environment by using a reusable bottle, too. Made entirely in the USA in an ISO 14000 certified facility, you can guarantee that durable, top-quality components have been used in the design of this filtered water solution.
All the materials used in this bottle are BPA-free for your peace of mind, including the materials that make up the straw – which is much easier to drink from than some of the other water filter bottles with straws.
There's some maintenance required for the Seychelle bottle – while the first filter comes included, you'll need to replace it after every 100 gallons (to put that into perspective, we need roughly half a gallon of water per day). You can find the replacement filter cartridges you need on the Seychelle website or on Amazon.
👍 What I Like
BPA-free construction
Filters last quite a long time
Helps save money in the long run
👎 What I Don't Like
Quite heavy when full
Have to squeeze the bottle to deliver water
Fairly expensive for what it is
---
🧾 Alkaline Water Filter Buyer's Guide
Alkaline water filters are a fantastic long-term, eco-friendly water treatment solution. But with so many options available nowadays, how do you know which filters will give you the best benefits and results? This buying guide will teach you everything you need to know about alkalizing filters and help you to make the most informed purchasing decision.
✅ 2 Specific Alkaline Water Filter Buying Guides
💡 What are Alkaline Water Filters?
Alkaline water filters, otherwise known as ionizers, alter the chemical balance of your water, making it better tasting and better for your health. Alkaline water is considered any water source with a pH level above 7.5
When you use an alkaline water filter to increase your water's pH – usually to a pH level of around 8 or 9 – you're creating the best water possible for human consumption. The additional minerals added to a high-alkaline water source provide us with the extra nutrients we need, and the high pH in general can neutralize body acid.
🤔 How Do They Work?
Alkaline water filters use a separation process that you probably practiced in high school chemistry classes: electrolysis. In this process, an electric current runs through water, which breaks down ionic substances and separates water into alkaline and acidic components. Usually, this process also adds additional minerals such as calcium, so you're getting even bigger health benefits from your water supply.
You'll need to collect most alkaline water filters up to a source of electricity. Some water ionizer machines also require connecting up to your kitchen sink water line with an included rubber tube. This means that you have instant access to water with a high alkalinity. In some water ionizer setups, you may need to add water from your faucet into a chamber inside the system, then refill it when it runs out.
✔️ Benefits of Alkalized Water
There are several benefits of drinking water with a high pH over drinking standard tap water. These include:
Anti-aging properties
Alkalized water contains liquid antioxidants, which fight free radicals, unstable atoms that are responsible for cell damage and aging. The more antioxidants we put into our bodies, the more protected we'll be from aging – though, of course, water with a high alkalinity isn't the miracle cure against growing old.
Hydrating benefits
The water molecules in water with a high alkalinity are smaller than those in normal drinking water, which makes them more easily absorbed by the cells in our bodies. That means that drinking water with a high pH can keep you better hydrated than drinking the same amount of normal tap water.
Immunity boosting
The alkaline properties of water with a higher pH may help to neutralize the acid in our bodies, which can be caused by poor diet and lifestyle habits, stress, and toxins from the environment.
Improves digestion
Because alkaline water raises the colon's pH level and hydrates it, it helps to promote better digestion. It also fights free radicals in the digestive system.
Mineral boost
The additional calcium and magnesium found in water with an alkalized pH have numerous benefits for our bone strength, immunity, mood, sleep quality, and even blood sugar regulation.
🔡 Types of Alkaline Filters for Water
You're not just limited to a single option when it comes to finding the best alkaline water filter for you. There are alkaline water filters in all sizes, some of which are portable, so you're guaranteed to come across an option that suits your requirements perfectly.
Ionizers
A water ionizer is typically a compact, rectangular unit that connects up to your kitchen sink and sits either on or underneath your counter.
Water ionizer machines usually give you the biggest flexibility when it comes to regulating pH, and many of these machines have different buttons that correlate to different levels of alkalinity. Some water ionizer units give the option to generate acidic water for cleaning and cosmetic purposes, alkaline water for drinking and cooking, and purified water, all within a matter of seconds.
The most convenient ionizers have their own dedicated faucet, which features easy-use controls for selecting your preferred pH.
Pitchers
An alkaline filter pitcher looks just like any other water pitcher, aside from one feature – a large filter that sits in the middle of the jug.
These pitchers are split into two separate halves: a top and a bottom half. When you add water to the top half, it will pass through the alkalizing filter, which reduces the size of the clusters of water molecules, increasing water's pH and making it more easily absorbed in the body. Once it has passed through the filter, water sits in the bottom half of the jug, ready to be used for drinking.
The advantage of owning a water pitcher is that it's portable and easy to store away when not in use. Many pitchers are also sized to fit inside the door of your fridge, giving easy access to cool, alkalized drinking water.
Countertop Filters
Countertop alkaline filters offer an easy-to-use alkalized drinking water solution. These filters typically remove harmful contaminants from water, such as chlorine and lead, while introducing healthy minerals like calcium and magnesium, increasing the pH.
The benefit of most countertop filters is that you can easily hook them up to your kitchen sink faucet and unhook them if you ever want to store them away. They're generally slim and compact, so they don't take up much side space, and you can take them on your travels and hook them up to any suitable faucet you come across.
Not many countertop filtration system models are capable of reducing acidity by reducing the size of the water molecules. They can only improve alkalinity by adding a number of alkaline minerals.
RO Remineralizing Filters
RO remineralizing filters are a handy water treatment option for people who use reverse osmosis systems to filter their water source. While RO produces incredibly clean water, removing nearly 100% of all total dissolved solids, it also removes the healthy minerals that give water its pleasant alkalized taste.
A remineralization filter can be added as an extra stage to the end of a reverse osmosis filter, and can be used to reintroduce these minerals into water before drinking. Note that these types of filters don't tend to alter the size of water molecules, so they don't make the stuff you're drinking more easily absorbed like some filters can.
Filtered Water Bottles
Drinking alkaline water on the go is easy with filtered water bottles. Instead of having to spend hundreds of dollars a year on bottled water, you can simply fill your filtered bottle with tap water and send it through the filter every time you drink, which will adjust its pH level.
The only real difference between bottled water and tap water, in terms of alkalinity, is that bottled water contains a much higher mineral content. Filtered bottles add magnesium and calcium minerals to drinking water, making it much more appealing to taste. Many of them have other benefits, too – some are self-cleaning, and some can remove common contaminants, like lead and chlorine.
Most bottles come with an included straw, which you'll need to use if you want the system to work. When you drink through the straw, the sucking pressure sends water through the filter before it reaches your mouth.
Inline Filters
An inline alkaline water filter becomes a part of your home's water supply. Usually, this type of filter is installed at the water line that serves your kitchen sink faucets, but it can sometimes be installed at the location where your water line enters your home, known as the point of entry.
Inline filters can be installed after whole-home or under-sink water filters to increase the alkalinity of your drinking water before it reaches your tap. You can also install this type of filter at your water line before your fridge to give you access to clean refrigerated water and ice.
💭 Considerations When Looking at Alkaline Water Filters
pH Range
Most likely, your main reason for investing in an alkaline water filter is to benefit from water with a high alkalinity. For this purpose, you need to understand pH range. In general, water has a pH of around 6.5 to 8.5. With 7 being neutral, most drinking water sources are a little too acidic for our liking.
Some water ionizers have a flexible pH range that lets you choose from very acidic to very alkaline. You might not personally require this level of flexibility if you're simply looking to increase the pH of your water, but you may find it handy to produce both acidic and alkalized water (for instance, water with a low pH is particularly useful for cleaning).
Many of the alkaline water filtration solutions on this list don't give you the freedom to select a specific pH to produce water at, so make sure you choose one of the best systems for your own personal needs.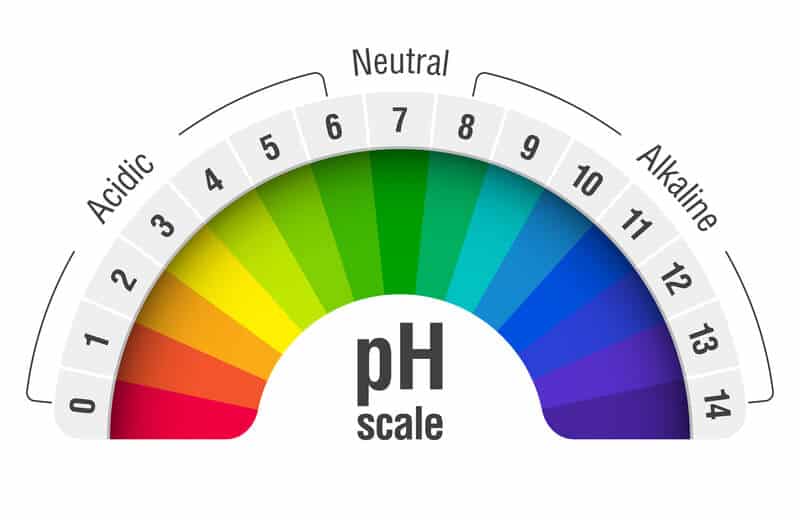 Type of System
On the subject of choosing one of the best systems for yourself, you'll need to make sure you think long and hard about the type of system you go for. There are positives and negatives to every type of water alkaline filtration system out there – some ket you set your pH level (see above), some remove additional contaminants (see below), some require a more difficult installation and some require more maintenance (see below also).
The type of system you opt for will come down to personal preference and budget. The more money you can spend up-front (and, when necessary, frequently throughout a system's lifespan), the greater selection you'll have. Make sure to consider convenience, too – you might just want a system that's as easy to install as it is easy to use, and in that case, your options will be limited to a few.
Other Contaminants Removed
Depending on the type of water alkaline filtration system you opt for, some are capable of doing more than just alkalizing your water. One of the best options for altering your water's pH and all-round contaminant removal is reverse osmosis. A reverse osmosis water filtration system can remove a broad spectrum of contaminants, from lead and chlorine to bacteria and other harmful pathogens. RO is a great option if you're keen to improve the quality of your water as well as the taste.
Water filter pitchers, countertop filters, inline filters and water bottle filters are usually also capable of removing common contaminants like chlorine and lead, though they're not as thorough or effective as reverse osmosis.
Even most ionizers will now filter out the common contaminants as well as altering pH to your tastes, so you get a two-for-one value with the majority of alkalizing filtration solutions.
Installation & Maintenance
You want to consider the difficulty of installation when deciding between the best alkaline water machines – and whether you're willing to pay extra for professional installation if necessary.
If you're looking for alkaline water machines that require installation at your home's waterline, such as an inline filter or an under-sink filter, you're looking at a more invasive installation. Generally, this sort of installation involves cutting into your home's waterline, mounting the alkaline water machine, then attaching it via included hoses.
There are plenty of alkaline water filtration options with minimal-to-no installation, if you'd rather not have to deal with something as challenging and time-consuming. Countertop water ionizers usually only need connecting up to your kitchen sink – a task that most people should feel up to doing. Some portable alkaline water machine options, such as pitchers, don't require installation at all.
Check whether a system requires filter changes, and if so, how often, before making a purchase. You may prefer to pay more money upfront for a system that doesn't use filters, such as water ionizers, than pay less for a system that requires multiple frequent filter changes throughout its lifespan, such as inline filters and water pitch
er filters.
Warranty
Make sure you don't buy an alkaline water machine until you've researched its warranty. If you receive a faulty product, you need to know that you're covered by the manufacturer's warranty, and can return it for a refund or a replacement product. Slip-ups in manufacturing are common, and you don't want to be left in the dark if an item arrives in a less-than-perfect state.
The average warranty for a water alkaline filter is 5 years, but some go higher than this, and some even have limited lifetime warranties. A higher warranty is especially important with products you've spent a lot of money on upfront, and those that require electricity to operate. Just make sure you're familiar with a warranty's terms, which vary from product to product, before you go ahead and make a purchase.
❔ Frequently Asked Questions
Are alkaline water filters safe to use?
Yes. There's plenty of scientific evidence to support the idea that alkaline water is beneficial to the human body. You'll especially benefit from an alkaline water filter that can raise the pH of water and add beneficial alkaline minerals to water, giving you a two-for-one when it comes to healthier, better-tasting water. Water that has both a higher pH and additional minerals added to it will taste more like you're drinking from a water bottle, which many people prefer.
How do I change an alkaline water filter?
It depends on the type of filter you opt for. Some machines are long-lasting and don't have filters that need changing at all. Others, such as reverse osmosis water filters, typically produce clean drinking water for between 6 months and 2 years before the filters need changing. Alkaline water pitchers require the most frequent filter changes – some as often as every 6 weeks.
Are alkaline water filters easy to use?
Again, this depends on what type of alkaline water system you buy. Some are as simple as installing or setting up the filter, adding water, and letting the machine do the rest. Others, such as water ionizers, are a little more complex, as they allow you to alter the pH level of water. While this additional feature will take five minutes or so to familiarize yourself with, it's an added bonus that's particularly useful if you're looking to precisely measure pH levels to produce your desired output.
Can alkaline filters remove contaminants?
Some can, some can't. If you're looking for clean drinking water with a higher pH, you're best looking for a system that has filters that can remove the likes of chlorine, fluoride, lead and other impurities. Ionizers aren't always suitable in this case, as some only alter water's pH level, and don't technically produce "clean water". However, be sure to read product descriptions carefully, as many of the modern options available today are capable of contaminant removal, too.
Are filters expensive?
Not always, and there are filters to suit all budgets. You can find a decent alkalizing water bottle for less than $50, for instance, and filter pitchers tend to be on the same level of affordability. While you will need to change the filters from time to time, this comes at a cost that most people would consider affordable. It just depends on what you're looking for – there are plenty of options even if you don't have the biggest budget to work with.