Our team of experts have identified these to be the best systems for balancing well water pH.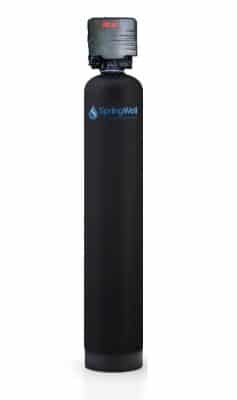 Springwell Calcite pH Neutralizer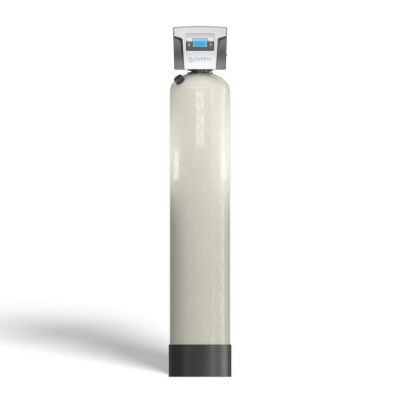 SoftPro pH Neutralizer Calcite Water Filter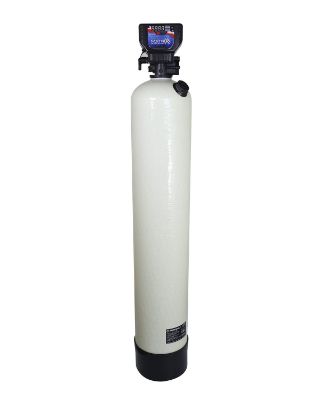 US Water Systems Matrixx pH Balancing Neutralizer System
Looking for the best acid neutralizer for well water?
In this guide, we've ranked the most popular acid-neutralizing water treatment systems based on several aspects of performance, longevity, and quality of build, based on our extensive research into these systems.
🥇 Best Acid Neutralizer
📊 Comparison Chart of Acid Neutralizers for Well Water
System
Springwell Calcite
pH Neutralizer

SoftPro pH Neutralizer
Calcite Water Filter

US Water Systems Matrixx
Calcite Neutralizer System

Fleck 2510SXT pH Neutralizer
Calcite Water Filter

Ranking
1st
2nd
3rd
4th
Ratings
5/5
4.5/5
4.5/5
4/5
Price
$$$
$$$
$$
$
pH Range
6 – 6.5
5.5 – 6.9
5.8 – 6.9
5.5 – 6.9
Flow rate (GPM)
12
11 – 15
10 – 20
13
Media
Calcite
Calcite
Calcite or Calcite-Magnesium Oxide
Calcite
Warranty
Lifetime
7 years on circuit board
10 years on resin
Lifetime on tank
Lifetime on tank
10 years on valve & electronics
5 years on control valve
10 years on tank
---
⭐ Reviews – Best pH Neutralizer Systems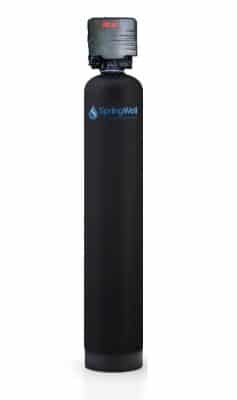 Springwell Calcite pH Neutralizer
In our opinion, the Springwell Calcite pH Neutralizer is the best overall pH neutralizer system.
This sturdily-built system is capable of neutralizing water in the 6 to 6.5 pH range, using calcite, which slowly dissolves into water. This boosts pH and reduces the risk of contamination from metals like lead and copper in plumbing. Like all SpringWell products, the Calcite pH Neutralizer is backed by an unbeatable lifetime warranty on the tank and valves.
Key Features:
Calcite water treatment – In most cases, a lack of minerals (especially calcium carbonate) is the reason for acidic water with a lower pH. The SpringWell Calcite pH Neutralizer increases water's alkalinity by using a calcite bed, which adds calcium back into water. The exact amount added depends on the pH of your water.
Designed for water with a 6 to 6.5 pH – This SpringWell system works best when used to treat water with a 6-6.5 pH, the most common pH range of well water in the US.
Calcite top-ups required – You'll need to replace the calcite in the tank once it becomes depleted. To check the calcite levels, remove the tank's jacket and use a flashlight to illuminate the tank, which will show you how much is left. When the calcite drops to 10 inches, SpringWell says you should refill it to around 25 inches.
Best For:
Anyone looking for the best acid neutralizer for well water, with the best warranty and flow rate, and the most reliable performance.
Pros:
We think the key benefit of the SpringWell Calcite pH Neutralizer is that it uses a natural method of acid neutralizing. Calcite media is chemical-free and doesn't affect water taste or quality, so you can improve your water's alkalinity without any negative side effects.
If you're good at DIY, you'll be able to install this unit yourself. There's a downloadable installation guide available, as well as an in-depth video that walks you through every step of installation.
Maintenance is pretty minimal thanks to the unit's automatic backwashing process, which prevents the calcite media from solidifying and helps to maintain its efficiency.
We love this system's smart Bluetooth control head that allows you to remotely program it from your mobile device. You can also use the control head to review performance efficiency and troubleshoot problems with the unit. No need to be at home to check your settings or address a problem.
The peak water flow rate of 12 GPM is much faster than the average flow rate of 7 GPM for a whole-house water treatment system, providing enough water for homes with up to 6 bathrooms.
Cons:
The system won't work with water that has a pH below 6.
Like most whole-home systems, this SpringWell unit is expensive.
---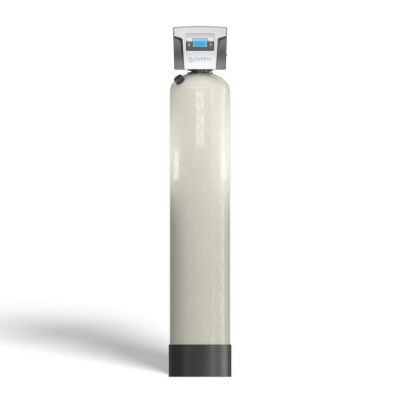 SoftPro pH Neutralizer Calcite Water Filter
If you have well water with a pH of less than 6, you need a specialized acid neutralizer that can treat water with an especially low pH – and we think the SoftPro pH Neutralizer is the very best available for this purpose.
This water treatment system uses calcite to neutralize water with a pH range of 5.5 – 6.9. Assembled in the USA, it uses an NSF-certified smart control valve to add the optimum concentration of calcite to water, preventing green stains and corrosive acid damage to your pipes. The system is backed by a great warranty and comes with a 6-month guarantee, so it truly is a risk-free purchase.
Key Features:
Uses calcite for pH correction – Like the SpringWell neutralizer, the SoftPro pH Neutralizer uses calcite limestone media to neutralize corrosive water by introducing just enough calcium carbonate into the water to reach a non-corrosive equilibrium.
Treats water with a 5.5-6.9 pH range – Most acid neutralizers can only treat water with a minimum pH of 6.0, but this SoftPro Neutralizer can treat water with a pH as low as 5.5, so it's the best choice for very acidic well water.
Easy maintenance – The system is easy to maintain this system, with no filter changes required. Simply fill the tanks with calcite media once or twice a year. The easy-access dome-fill plug makes this a quick and simple job.
Multiple system sizes available – You can choose between three system sizes: one for a 5-7 GPM well pump, one for an 8-10 GPM pump, and one for a 10+ GPM well pump.
Best For:
Folks with very acidic well water who need a specialized system that can treat their water and effectively bring its pH up to neutral.
Pros:
We think calcite media offers the very best acidic water treatment. The SoftPro pH Neutralizer delivers a natural, effective acid-neutralizing process by gradually dissolving calcium carbonate into the water, raising its pH level.
You can enjoy benefits including better-tasting water and no acid-related corrosion of your pipes and appliances after installing this system.
A drop in water flow isn't something you should experience thanks to the large 1-inch ports and the option to upgrade to two larger system sizes.
The system's auto-backwash feature keeps the calcite media free of sediment and is more efficient than other backwashing systems, featuring a backwash manage valve that can be used to adjust backwash and rinse cycles to help you save water.
Cons:
Thus SoftPro unit is almost $300 more expensive than the SpringWell system, without much more to show for it.
You might need to pay a plumber for installation.
---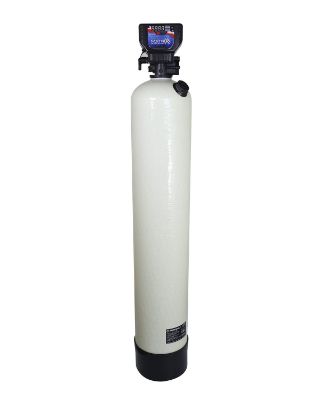 US Water Systems Matrixx pH Balancing Backwashing Calcite Neutralizer System
Based on our research, the US Water Systems Matrixx pH Balancing Neutralizer System is the best acid neutralizer with a very high flow rate.
This unit is built using NSF and FDA-approved components and has a calcite/corosex backwash system that treats acidic water with a pH of between 5.8 and 6.9. It's sold in 10 GPM and 20 GPM flow rates, and has a lifetime tank warranty, plus a 10-year warranty on electronics and valves.
Key Features:
Limestone-based calcite media – Similar to the other systems on this list, the US Water Systems Matrixx pH Balancing Neutralizer System uses a white marble limestone-based calcite media, which adds calcium carbonate to water, boosting its pH to neutral.
Optional media upgrade – You can swap calcite with a special blend of calcite and corosex if your water has a lower pH of 5.1 to 5.7.
Fast flow rate – Choose between two system flow rates: a 10 GPM system (2 GPM slower than our top pick SpringWell system) and a system with a peak flow rate of 20 GPM (faster than any other acid neutralizer system we've reviewed).
Bluetooth system head – Like the SpringWell Calcite Neutralizer, this US Water Systems system comes with a system head that connects to your phone via the Waterlogix app, so you can monitor and control the system without ever having to use the control head itself.
Pros:
Both flow rates offered by US Water Systems are great. The 10 GPM system should be plenty for most people, but if you have a very large home and need the fastest flow rate possible, the 20 GPM system is the best we've seen.
Flow rate alone isn't the only reason we think this system deserves to be featured. It's also efficient and capable of reliably neutralizing water with a pH of 5.8-6.9.
Plus, this particular media has a unique benefit: it removes free carbon dioxide, so it can also reduce rust (or ferric iron).
Like other acid neutralizers, this US Water Systems system performs automated backwash cycles to flush contaminants from the media when needed. It's good to see the manufacturer's efforts to maintain an efficient performance with the unit's Vortech technology, which ensures that each backwashing cycle is as thorough as possible.
Cons:
Installation is really difficult – you'll most likely have to hire an expert.
You'll need a different media if your water pH is lower than 5.8.
---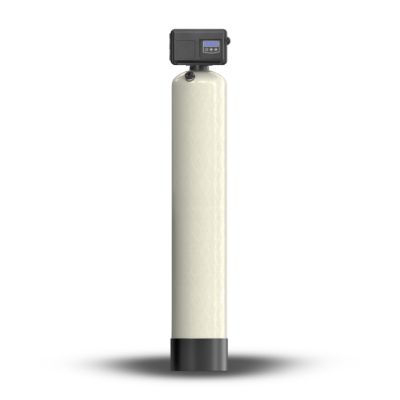 Fleck 2510SXT pH Neutralizer Calcite Water Filter
Let's be honest – no system as complex and capable as a whole-house acid neutralizer can really be classed as "cheap". But the Fleck 2510 is about as budget-friendly as it gets, costing around $500-$1,000 less than similar systems (at the time of writing), so it's our top budget pick in this guide.
This auto-backwash calcite pH neutralizing system is sold in two sizes: 8 GPM and 13 GPM, and addresses pH in the range of 5.5-6.9. It's made from FDA and NSF-approved parts and is designed to eliminate acidity problems and corrosion of copper pipes in your home.
Key Features:
Neutralizes water at 5.5 to 6.9 – Spending less upfront shouldn't mean settling on a system with a poor performance. The Fleck 2510SXT pH Neutralizer Calcite Water Filter can effectively neutralize acidic water with a pH as low as 5.5.
Natural water treatment – Like the other systems in this guide, the Fleck unit uses calcite media, which neutralizes water by introducing calcium carbonate, which raises pH as it dissolves. This improves water quality and taste, and greatly reduces its corrosive properties.
Easy calcite top-ups – The calcite tank is transparent, so you can tell at a glance when you need to replenish the media. The dome hole plug makes it easy to add more media when required.
Best For:
Anyone with a smaller budget who wants to spend less upfront on an acid neutralizer without compromising on quality or durability.
Pros:
We were initially drawn to the Fleck 2510SXT pH Neutralizer Calcite Water Filter because of its affordable price. The smallest 5-7 GPM unit costs just over $1,000, and the next system size up (for 8-10 GPM well pumps) costs less than $1,400. You can save hundreds of dollars upfront by choosing this system instead of a similar, costlier unit.
The unit ticks our boxes for long-term affordability, too. It uses less than $3.00 of electricity per year, and can also reduce sediment and sand that could cause additional destruction to pipes, helping you to keep your plumbing bills low.
The Fleck 2510SXT might not have Bluetooth control, but setup and monitoring are still simple. The unit features an electronic control center, which requires a quick, easy setup to program backwash cycles. After this, the interface will remember your settings – even in the event of a power outage, the system has a capacity backup that retains memory.
Cons:
The 5-7 GPM starting flow rate is at least 3 GPM slower than any other system flows in this guide. While it's fine for smaller homes, it may affect water delivery speed in larger properties.
There's no Bluetooth app for remote monitoring.
---
🧾 Acidic Water Neutralizer Buyer's Guide
Looking to learn more about water neutralizers before you buy a system for your home? We've covered everything you should know in this buyers' guide.
⚗️ What is Acidic Water?
All liquids have a pH measurement of between 1 and 14, with 1 being the most acidic, 14 being the most alkaline, and 7 being neutral. Acidic water is water that has a pH level of 6.5 or below.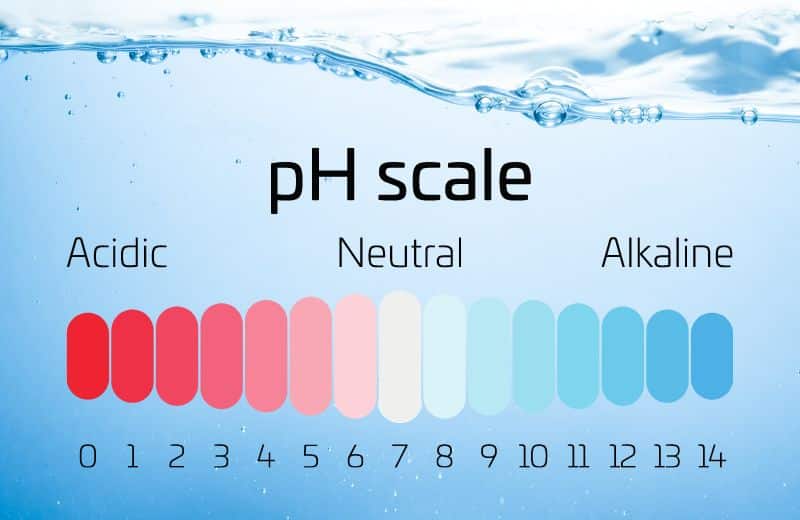 ☔️ What Causes Acidic Water?
There are a few causes of acidic well water:
Acid rain
Contact with acid-containing rock formations
Chemical runoff
Human activities, like mining
Runoff from landfill sites
Decomposition of plant materials
The acidity of your well water supply depends on a number of factors, including the well's proximity to sources of pollution, your local geology, and the well depth.
👨‍🔧 How Does Acidic Water Affect Plumbing?
As an extremely corrosive substance, acidic water can be highly damaging to pipes and plumbing. Over time, acid water can dissolve copper pipes, resulting in blue or green stains on your faucets and fixtures. Left untreated, leaks may spring, posing a serious flooding risk.
Acid water will also harm your heater and water-based appliances over time. Hot water appliances are especially prone to acid damage, as the heat can make the water even more corrosive. Corrosion will shorten the lifespan of your appliances and eventually cause premature failure.
Because acid water has a very low mineral concentration, it's "hungrier" and will grab hold of metal ions from pipes, such as zinc, copper, and lead. This may cause further staining of your fixtures and affect your drinking water quality and safety.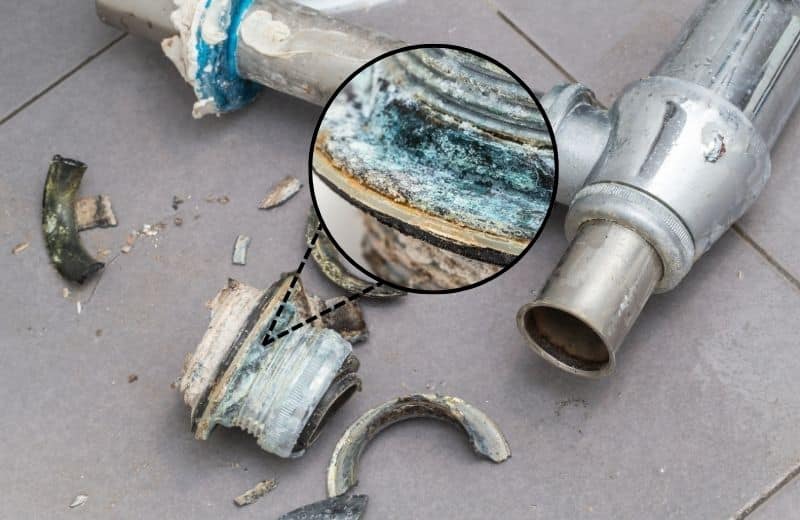 🩺 Possible Health Effects Of Acidic Water
Acidic water mainly causes aesthetic damage, but are there any health effects of drinking water with a low pH that you should be aware of?
According to Healthline, some of the possible risks and side effects of acidic water are:
Health effects associated with leached heavy metals, such as nausea, diarrhea, vomiting, abdominal pain, organ damage, and shortness of breath.
Erosion of the tooth enamel, leading to cavity formation.
Negative effects on bone health.
So, if you own a private well, it's important to keep an eye on your water's pH levels and consider installing an acid neutralizer if the pH is often lower than neutral.
📏 How To Measure Water pH
There are a few different ways to measure pH levels in your water:
With pH test strips. These cost around $20-$25 and are super simple to use. Just dip a test strip in your water and wait for it to change color, indicating your water's pH.
Digital pH reader. This is a more comprehensive pH testing option that gives the most accurate pH reading. Calibrate the device, then use it to take a reading of your water's pH level.
Litmus paper. You might remember this one from your school years! Litmus paper turns red upon being dipped in acidic water. It can tell you whether or not your water is acidic, but it doesn't offer a pH reading.
🔠 Types of Acidic Water Neutralizers
There are three common types of acid water neutralizers: calcite, magnesium oxide, and soda ash & caustic soda.
Calcite
Calcite is the most available and affordable method of neutralizing acid water. Most neutralizing systems use calcite to raise water's pH.
Made from crushed white marble, calcite media is naturally calcium-rich and alkaline. When water passes through a tank containing this media, some of the calcium minerals will dissolve into the water, boosting its pH by around 1-1.5. Because it's self-limiting, calcite will only elevate water's pH level to neutral.
Calcite systems are best suited for treating water with a pH level of between 6 and 6.5.
Having enough contact time is essential. If water flows too quickly through the calcite media, there won't be enough time for pH adjustment.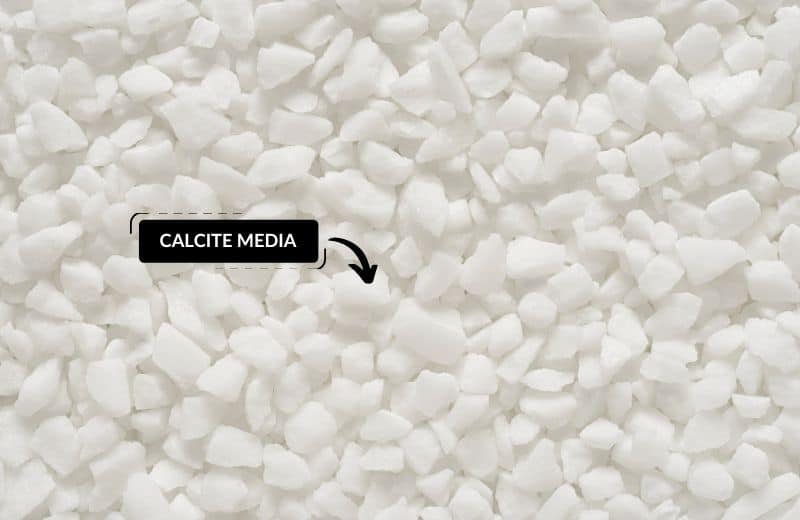 Magnesium Oxide (Corosex)
Another pH-boosting option, which is often used in conjunction with calcite, is magnesium oxide, or corosex.
Magnesium oxide can neutralize acidic water by counterbalancing water's free carbon dioxide levels. Combining both calcite and magnesium oxide can raise pH by up to 1.5.
Corosex, unlike calcite, can raise pH beyond neutral if you add too much to your neutralizing system. This may cause the system to over-correct – potentially resulting in a too-high pH. Adding too much magnesium oxide to your water can also have a laxative effect.
To avoid overcorrecting, you need to get your calcite/corosex combination right. A good ratio is around 10% magnesium oxide to 90% calcite media.
Soda Ash and Caustic Soda
A combination of soda ash and caustic soda can also effectively remedy water with a low pH. This is a particularly effective solution for water that has a very low pH of around 4 or 5.
Water with such a high acidity requires chemical injection. A measured amount of soda ash and caustic soda are dissolved and injected into the water, depending on the initial water pH.
Maintaining a chemical injection system takes more work, and this method of pH neutralizing is less common and more expensive.
💭 Considerations When Purchasing an Acid Neutralizer
We generally recommend considering the following factors when deciding on the best acidic neutralizer for your home:
Budget
Start by determining your budget for an acid neutralizer system.
Expect to pay at least $1,000 for a quality neutralizing system. Most systems cost within the $1,500-$2,300 price range, depending on their size, features, and performance capabilities.
Maintenance is more affordable because the system will automatically perform a backwash cycle every 1-2 weeks, reducing the need for media replacements.
There's only one ongoing cost: the cost of calcite media. You can usually bulk-buy big batches of this media at a lower price per kilogram.
Daily Water Usage
Also consider your daily water usage.
The size of your family, or how many bathrooms you have in your home, will determine the size of the tanks you need. Typically, 1 or 2 people will need a 1.0 cubic foot acid neutralizer, while up to 4 people will do best with a 1.5 cubic foot tank.
Some manufacturers sell their systems in tank sizes up to 3.5 cubic feet, if you happen to be looking for a solution for more than 8 people.
Flow Rate
Your home's flow rate will affect the tank size you need for your acid neutralizer.
The speed of water that runs from the tank will have an effect on the system's ability to alter water pH. It's essential that you buy the right-sized tank for your home's flow rate.
Most acid neutralizers have relatively low flow rates of 7-12 gallons per minute (GPM), which are find for n average sized home. Some manufacturers offer higher flow rates of 15-20 GPM for large homes.
pH Range
The pH of the water in your pipes will determine which system you should opt for.
If you have a pH of around 6 to 6.5, calcite should work well for you. Anything lower than this, and you'll need to look for a specialized system that can treat pH as low as 5-5.5.
You can test your pH in advance to determine exactly what you're dealing with.
Warranty
A good warranty offers reassurance that your purchase is protected if a system's tanks, valve, distributor tube, or other components arrive broken or develop faults during normal operation.
Take some time to read through a warranty carefully before purchasing a system, and contact the manufacturer if you need any clarification on the warranty terms and conditions. You're making a big investment, and it's important that refunds and free replacement parts are provided for faulty systems.
Installation and Maintenance
Most neutralizing units need to be installed at your home's main water line, which includes cutting into your pipe, installing a bypass valve, and doing some basic plumbing work. If you're not particularly handy, you'll need to consider hiring a plumber for the job. This will usually cost around $200-$300, depending on the scope of the project.
Make sure you have enough space at your installation location to accommodate the size of your preferred water treatment system, allowing some extra room for maintenance. Most pH neutralizers can't be subjected to direct sunlight or freezing temperatures, which rules out an outdoor installation in many regions.
Maintenance depends on which system you've purchased. Usually, you'll need to perform maintenance of some sort every 6 to 12 months.
System Type
Backwash systems are the most common acid neutralizers available today. However, it's still worth being aware of your other options, so you can make the most informed decision based on your situation.
Backwash systems – These systems consist of a mineral tank and a control valve. Water enters the tank through a distributor tube and passes through the media, picking up dissolved calcium carbonate. It then travels through the distributor basket and leaves the tank through a riser tube. During a backwash cycle, water flows into the tank in the opposite direction to its usual flow, causing the media bed to lift, spin, and redistribute around the tank.
Upflow systems – These systems use Vortech tanks to provide a consistent performance with no need for the media to be back-washed. Like backwash systems, they have a a mineral tank with a distributor tube that enters from the top center. At the bottom of the tank is a Vortech plate, which sends water from the distributor tube spiraling upward. This, in turn, spins the media, which eliminates the need for backwashing.
Chemical injection systems – These use a chemical feed pump to inject soda ash into acidic water. Chemical injection systems consist of a single tank and a control valve, which is programmed to inject a precise amount of soda ash into water that flows through the tank, based on your water's existing pH level.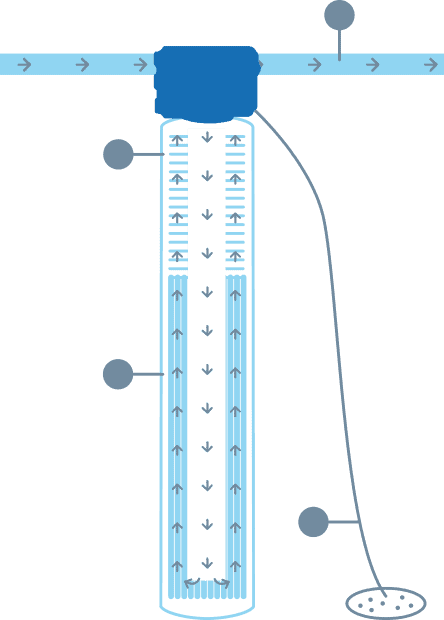 Water Hardness
By addressing the problem of low pH, an acid neutralizer may introduce a new issue: hard water.
To increase water pH, a calcite acid neutralizer dissolves calcium carbonate into your water. Calcium, along with magnesium, is one of the minerals that's primarily responsible for water hardness.
A typical calcite water treatment system will increase hardness by about 5 grains. Acidic water is usually not classed as hard water because it's lacking in minerals, so a mild increase in water hardness shouldn't cause much damage.
But if your water happens to be acidic and moderately hard, it's worth considering installing a water softener. This will reduce your water hardness, preventing damage caused by limescale in your pipes and appliances, without affecting water's pH.
❔ Frequently Asked Questions
How do you neutralize acidic well water?
The best way to neutralize high-acid well water is by using an acid neutralizing system. Most acid neutralizers use calcite, which adds calcium carbonate into water flowing through the media tank, raising its pH levels to neutral.
Does an acid neutralizer remove iron?
No, an acid neutralizer won't typically remove iron unless it's combined with an iron removal filter or an oxidation media. Some systems use calcite and corosex, which may target low levels of ferric iron by neutralizing the free carbon dioxide in the water. We recommend conducting a well water test if you don't already know what your water contains.
Is a water softener the same as an acid neutralizer?
No, a water softener isn't the same as an acid neutralizer. In fact, water softeners and pH neutralizers produce opposite results – water softeners remove minerals like calcium, while acid neutralizers add these minerals into water.
How long does an acid neutralizer last?
Most acid neutralizers last for at least 10 years. A good indication of how long a system will last is its warranty. You're looking for a warranty of 10 years at least. A limited lifetime warranty is even better.
How often should you backwash an acid neutralizer?
After initial programming, an acid neutralizer should backwash automatically once every 1 or 2 weeks. Follow the instructions in your owner's manual to program backwash cycles on the control head.
Are acid neutralizers worth it?
Yes, acid neutralizers are worth it if your water has a slightly acidic pH (5.5-6.5). The initial investment in an acid neutralizer will save the costs and hassle associated with the effects of acidic water, including corrosion damage to your plumbing and appliances.