Behind Bad Water Headlines: An Investigative Report

📌 Key Takeaways
An analysis of headlines found Chicago was most affected by "forever chemicals" in the last year.
"Forever chemicals" headlines have more than doubled since 2020, with a 106% increase.
Headlines for "residents without water" have nearly tripled in the last five years.
Killeen, Texas, had the most "boil water notice" headlines in the last year, and Texas had the highest search volume for this.
Bad Water in the U.S.
We all need to drink water to survive. The Romans had aqueducts, and now we have water fountains, water coolers, and kitchen faucets. But water crises have increased in recent years, drawing attention to problems with America's water systems and making people think twice before taking a nourishing sip of water.
To find out where the most water contamination issues have occurred in the U.S lately, we analyzed thousands of news headlines with the keywords "forever chemicals," "residents without water," "boil water notice," and "water contamination." Our research details what these headlines mean, what they tell us about the nation's water systems, and where the weak points may be.
Which Cities Had the Most "Bad Water" Headlines Last Year?
Your water quality may depend on where you live in the U.S. Which cities have had the most water contamination in the past year?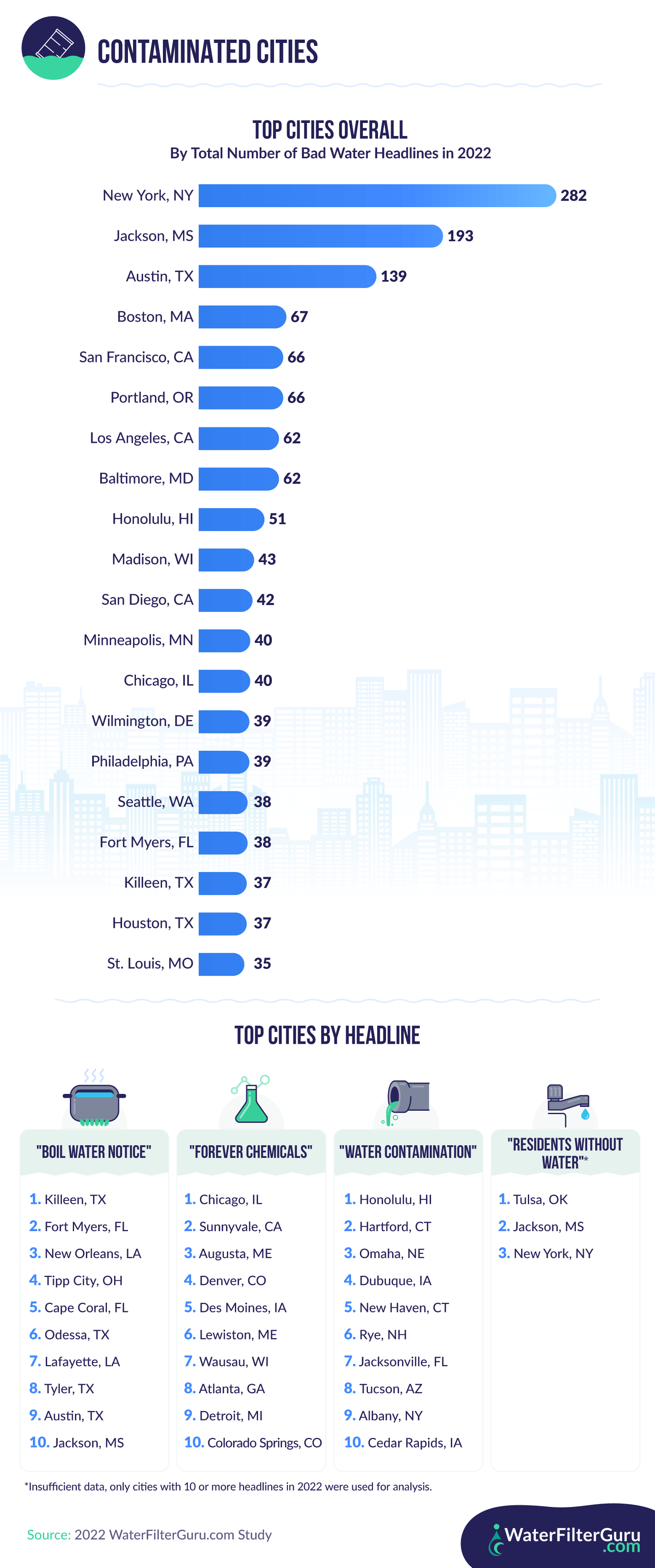 New York City was an outlier; The Big Apple had the highest number of bad water headlines in 2022 (totaling 282). Following with 193 was Jackson, Mississippi, where a recent water crisis left thousands without running water. These two cities show a stark difference in population size: New York is home to almost 9 million people, while Jackson has only around 149,000. The rest of our ranking reflected this trend as well, with other large U.S. cities (Austin, Boston, and San Francisco) mixed with smaller cities (Killeen, Madison, and Fort Myers). This demonstrates that water infrastructure issues can impact big cities as well as smaller urban areas.
We also found that headlines about per- and poly-fluoroalkyl substances (highly toxic fluorinated chemicals known as PFAS or "forever chemicals"), were associated with both large and small cities; Chicago, IL, Sunnyvale, CA, and Augusta, ME, topped our list. These chemicals, which have been used to make hundreds of everyday products, have been linked to cancer diagnoses, reproductive issues, and increased cholesterol, among other public health concerns.
Water Issue Trends Over the Years
We next examined keywords used in news headlines over the last few years, shedding light on which water contamination issues have been most prevalent since 2018 and which are on the rise.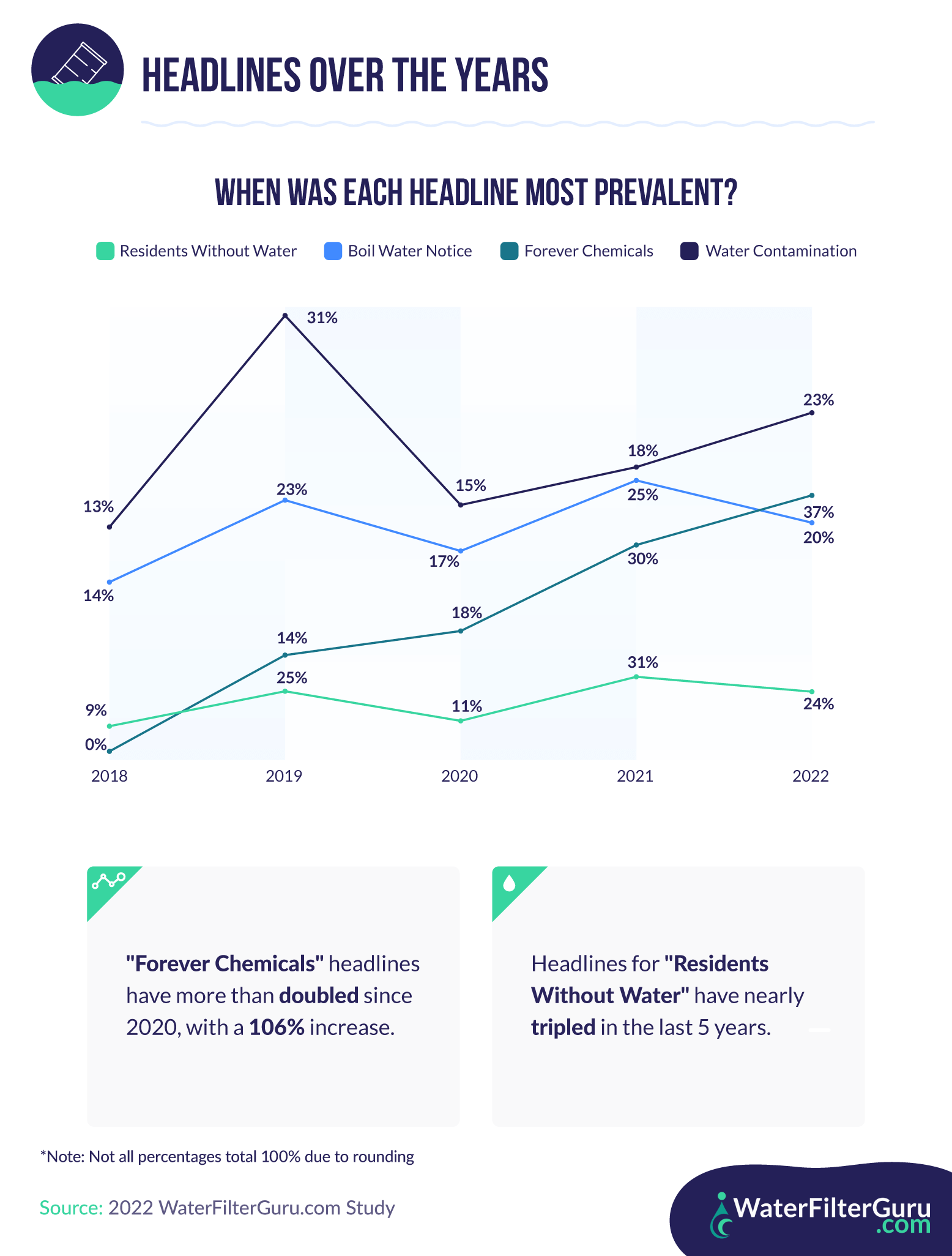 Access to drinking water has been a growing national issue in the news. Headlines for "residents without water" have nearly tripled, from 9% in 2018 to 24% in 2022. This term also had a significant spike in 2021.
Concerns about forever chemicals have also increased in the last two years. Our study revealed that headlines including "forever chemicals" have more than doubled, rising from 18% in 2020 to 37% in 2022 (a 106% increase). That's unsurprising, given the worrying health implications and the U.S. government's reluctance to ban or limit PFAS chemicals. Although, individual states have been taking action.
Worried About Water
To see whether there's a connection between news headlines and public concern, we also examined where people are searching the most for water-related issues based on search volume.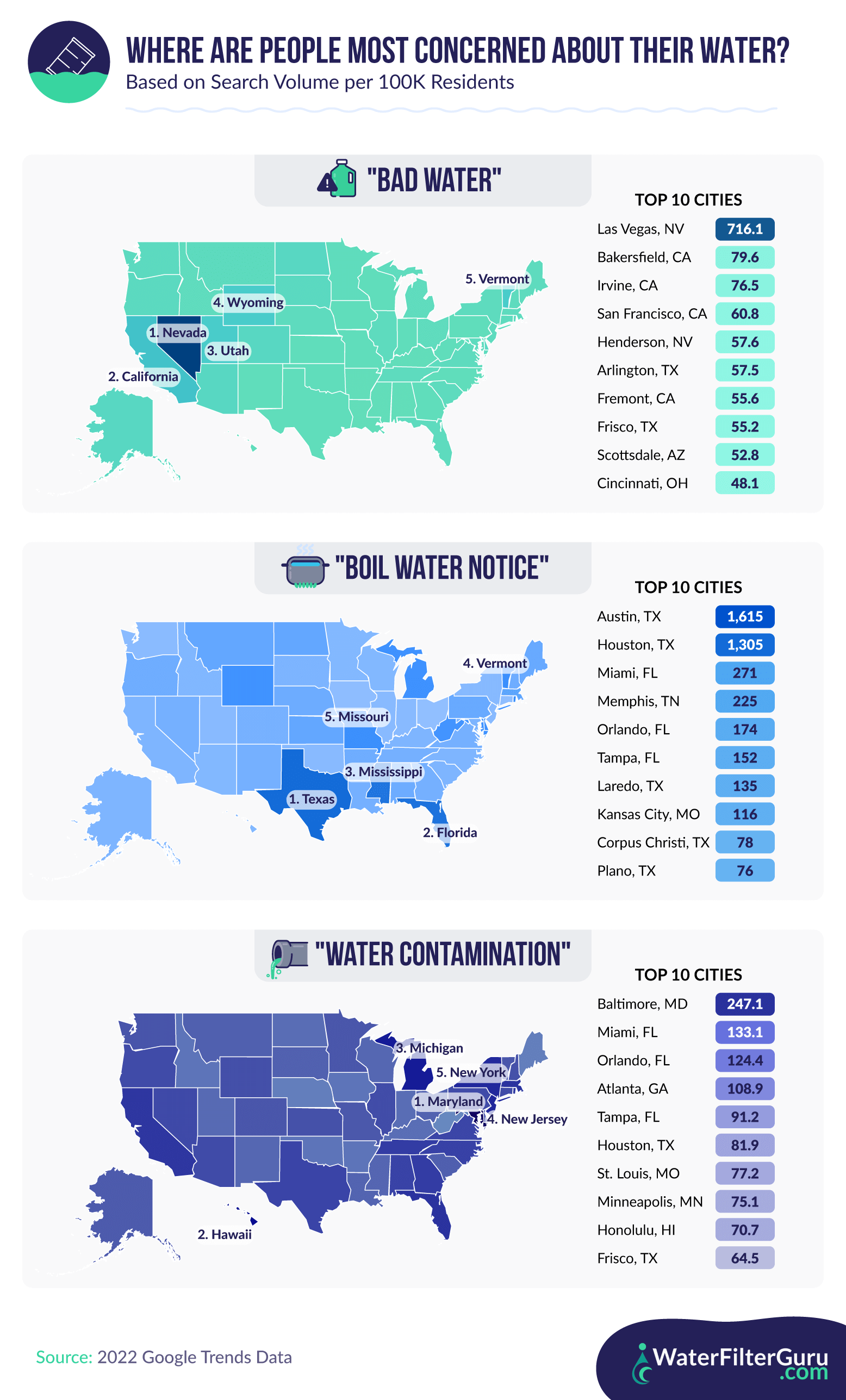 Rightfully so, the nation seems concerned about water quality overall. As discussed earlier, larger cities with more people and smaller, less populated towns are equally impacted by low-quality or hazardous water. For instance, the top 10 cities that searched for "boil water notice" included Austin and Miami, as well as Texas cities: Laredo, Corpus Christi, and Plano. In fact, Texas was the No. 1 state conducting these searches.
Local health officials issue boil water advisories when the public water may have become contaminated with hazardous pathogens. These warnings affect more than drinking water, too — households under a boil water advisory also need to take precautions when bathing, cleaning, and caring for pets.
Our search volume study also indicated that the states most concerned about "bad water" may be in the West: Nevada, California, Utah, and Wyoming were the top states searching for this term. The one outlier of the top five was Vermont since the Northeast seemed more worried about "water contamination." The exception there was Hawaii, which ranked No. 2 for this search, maybe because of a water contamination issue caused by a military base.
Room for Improvement
The quality of drinking water in the U.S. is a major cause for concern. Aging infrastructure and impurities, including hazardous chemicals, blight many water systems and can seriously impact people's health. It's also costly and inconvenient when a household and community don't have access to clean and safe drinking water.
Fortunately, based on news headlines and Google search trends, it appears that the media and general public are becoming more aware of their local water quality, especially regarding so-called "forever chemicals." Although the U.S. government has done little to combat the issue so far, one way to keep you and your household safe is to test your water regularly.
Methodology
We scraped over 18,000 headlines from the past five years to explore where the most bad water headlines were coming from and used GPT3 to extract the location from each headline. The following headline keywords were used and considered as "bad water" headlines: "forever chemicals," "boil water notice," "residents without water," and "water contamination." Only cities with instances of 10 or more headlines were used for analysis.
About WaterFilterGuru.com
WaterFilterGuru.com has the information and resources to address your water quality needs, helping to make water safer and more accessible for everyone.
Fair Use Statement
Publishers and readers can share the findings in this article for noncommercial purposes only. However, they must provide a link to this page.