Keen to reap the low-maintenance, money-saving benefits of an electronic water descaler? You've probably come across the Yarna Capacitive Electronic Water Descaler – one of the top three water descalers on today's market.
Don't buy the Yarna until you read this Yarna Electronic Water Descaler review. We purchased, tried, and tested the Yarna ourselves, and we're here to share everything about our experience.
Read on to learn about the cost, features, performance, pros, and cons of the Yarna. By the end, you'll know whether this electronic water descaler is worth the purchase.
🧾 Overview
The Yarna Capacitive Electronic Water Descaler – or the Yarna, for short – is an affordable water softening alternative. This electronic water softener uses a changing electromagnetic field to alter the formation of hardness minerals when water flows through the coils, preventing them from forming limescale in water pipes and appliances.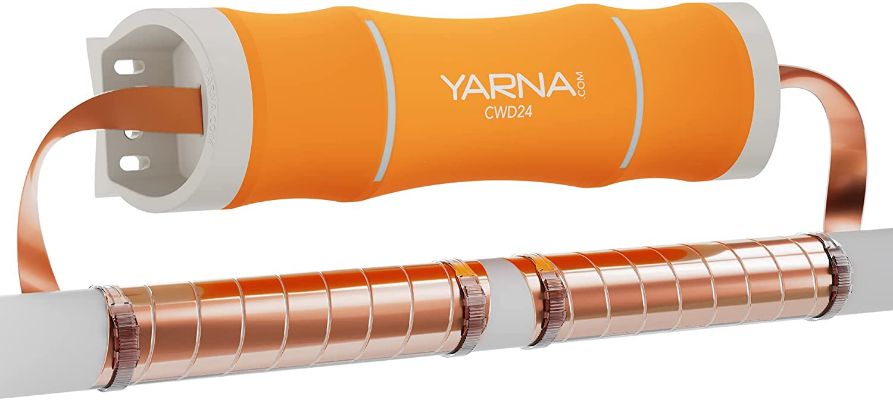 The Yarna water descaler system is a tank-free system that doesn't use salt or media to condition water. There's absolutely no maintenance involved after you install the Yarna around your water pipe.
This whole house water descaler has more than 500 glowing customer reviews, so if you're skeptical about electronic water conditioners, it's worth checking the Yarna out.
💲 Models & Upfront Cost
The Yarna Capacitive Electronic Water Descaler comes in a single model that costs $300. This system can be installed on iron, copper, plastic, PVC, stainless steel, PE-x and compound pipes up to 1 inch thick.
📝 System Specifications
| | |
| --- | --- |
| System Type | Electronic water descaler system |
| Max Hardness | None, works with all hardness levels |
| Maximum Pipe Diameter | 1 inch (25.4mm) |
| Pipe Materials | Iron, copper, plastic, PVC, stainless steel, PE-x, and compound pipes |
| Mount Type | Wall or pipe |
| Impulse Cable Length | 2 x 45 inches (2 x 1.2m) |
| Impulse Cable Width | 0.5 inch (11mm) |
| Unit Dimensions | 7 x 2 x 2 inches (180 x 50 x 50mm) |
| Power | 90-240V 50-60Hz |
| Power Cord Length | 60 inches (1.5m) |
| Maintenance Required | None |
💡 Features
Easy installation: We love that the Yarna doesn't need to be hooked up to your plumbing system in the traditional sense. You just mount it on your wall or waterline and make sure the impulse band windings are properly placed around the pipe.
Maintenance-free: Unlike a salt-based water softener, the Yarna Capacitive requires no maintenance.
Salt-free: This salt-free system conditions water without adding anything to your water and doesn't eliminate wanted minerals from your hard water supply.
Requires electricity: You'll need to install this electronic water descaler system near a power outlet because it needs a constant supply of electricity.
🚦 Performance
The Yarna Capacitive uses an electrical-induced chemical reaction to condition water. This salt-free water softener doesn't actually change your water quality or even change your water hardness – it simply alters the composition of hardness minerals and prevents magnesium and calcium deposits throughout your entire water system.
There are some obvious performance benefits of the electronic water conditioning process. The Yarna water conditioner retains healthy minerals, but prevents them from forming scale deposits.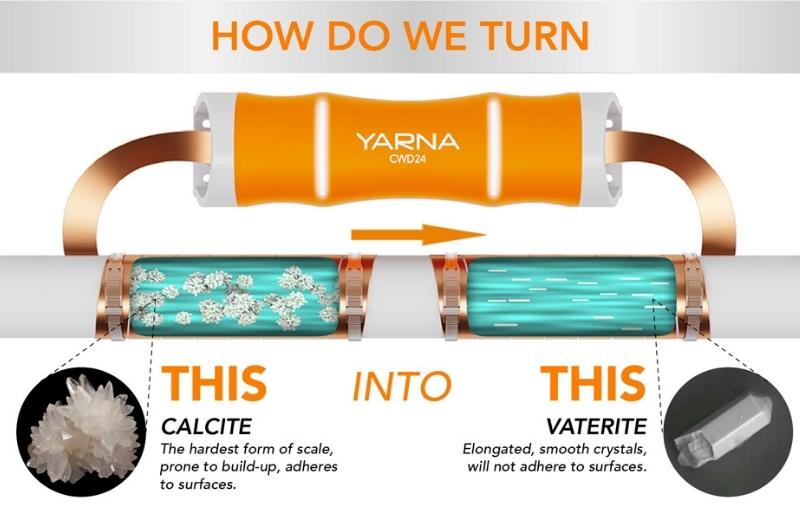 After testing the Yarna ourselves, we noted some of the performance features that make the Yarna stand out against other electronic water softeners:
The unit softens water up to 1.2 miles away from the installation point.
The conditioning benefits of the Yarna last up to 7 days after water leaves your plumbing system.
The Yarna has a maximum capacity of 15.4 GPM, which is better than most conditioners on the market.
The Yarna's ultra-flat impulse bands have less spacing between them compared to the cables used by other electronic salt-free water softener systems. This means the bands have more direct contact with water, so scale is prevented more effectively.
The unit uses a PCB chip, which controls the strength of the electronic signals based on your water pressure. You don't have to configure anything yourself.
Overall, we were pleased with the performance of the Yarna Capacitive, and we noticed a reduction in mineral buildup after a few weeks of using the system. Our washing machines, hot water system, and dishwashers all seemed to be performing better after installing the unit. Our water flow wasn't affected in the slightest.
Do we think the Yarna is as good as a salt-based water softener? No, because it doesn't actually remove hardness minerals or form soft water. Still, if salt-based systems are out of your budget or you don't like the idea of drinking water containing salt, the Yarna is a good salt-free water conditioner to consider.
🔧 Installation & Maintenance
The Yarna can be installed anywhere where you have free pipe space, but keep in mind that this electronic water conditioner will need to be hooked up to a power supply. We found it really simple to install the Yarna.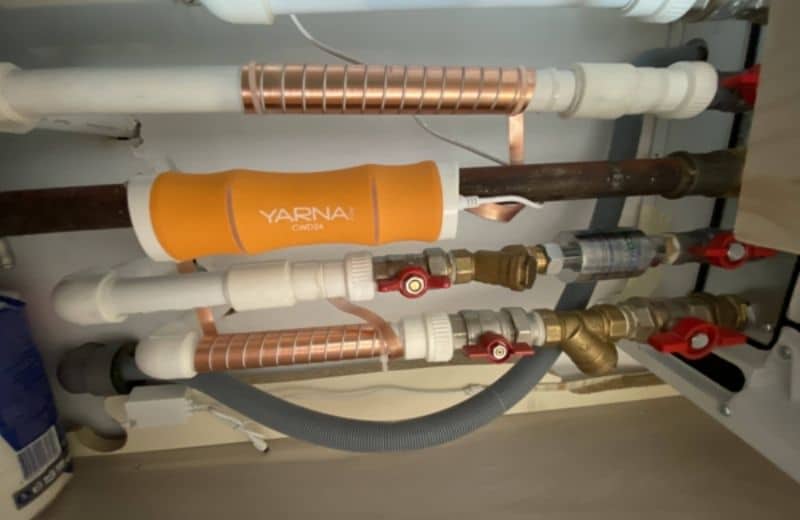 Here's how we installed the Yarna Capacitive:
We chose a location before our water heater to install the unit.
We secured the unit horizontally to the wall using the included screws.
Next, we connected one of the impulse bands to the unit and wound the band in place in our pipe, then used a zip tie to attach the end of the band to the pipe.
We repeated the same process for the other impulse band.
Finally, we powered up the unit by plugging it into our electrical outlet using the power adaptor. Two lights came on to show that the impulse bands were operating normally.
🔔 Pros & Cons
👍 What We Like
The Yarna Electronic Water Descaler needs absolutely no maintenance after it has been installed. No salt top-ups, no media changes, no filter replacements. You can install and forget about this system because it essentially has an unlimited lifespan.
While a traditional water softener can cost in the thousands, the Yarna Electronic Water Conditioner costs a mere $300. If you can't afford the more expensive salt-based water softeners, the Yarna is an option well worth considering.
The Yarna doesn't actually remove wanted minerals (calcium and magnesium, which are good for us), so we can still benefit from them in our drinking water supply.
This isn't a feature of the Yarna Capacitive itself, but we had to mention the website. It's rare to find such a clearly laid-out product page with all the information the customer needs to make an informed purchase. You should find all the answers to your questions on the Yarna's webpage.
👎 What We Don't Like
The Yarna Capacitive is about double the price of its top competitor, the Eddy Electronic Water Descaler. We wonder what the Yarna offers that makes it worth the extra money, considering the systems use the same electronic unit to prevent scale buildup.
Although this water descaler system is well-reviewed by customers, we can't ignore the fact that electronic water descalers use a process that's still not backed by scientific evidence.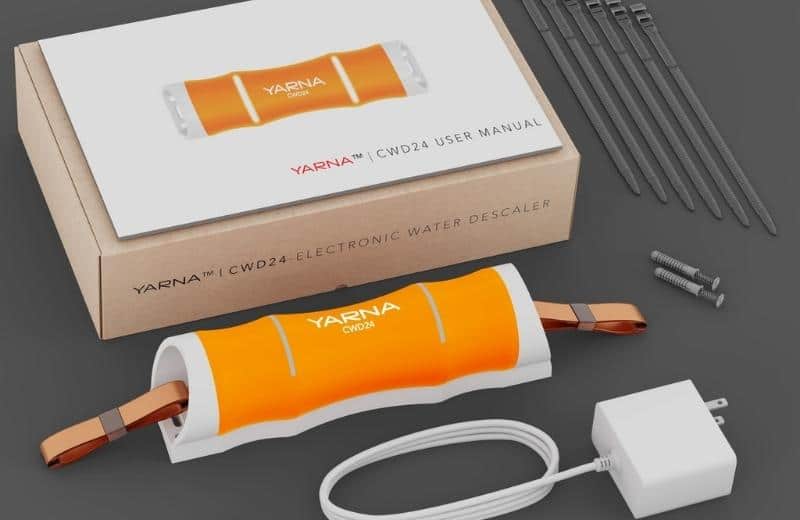 ❔ Frequently Asked Questions
How much electricity does the Yarna capacitive use?
The Yarna has a has a 240-voltage output – about double the common voltage of a lightbulb. Although you'll notice a slight increase in your energy bill after installing the Yarna, most people are happy to pay an extra couple of dollars per month for the water conditioning benefits.
Can the Yarna be installed on plastic water pipes?
Yes. The Yarna is suitable for installation on metal or plastic pipes.
How long does it take the Yarna to work?
According to the manufacturer, it takes up to three months for you to notice the benefits of this water softener alternative. We noticed an improvement within a couple of weeks, but it all depends on whether you have soft, moderately hard, hard, or very hard water.
What do customers think of the Yarna Capacitive?
Customers report cleaner pipes and a significant improvement in mineral deposits after installing the Yarna alternative water softener.
One customer said that they decided to purchase the unit after reviewing a number of descalers, and they noticed that they had less limescale around their kitchen sink by around three weeks after installation. The customer also noticed that their water felt different in a good way. After about seven weeks of using the Yarna Capacitive, the customer said that their kitchen sink, shower head, and faucets were clean and scale-free.
A handful of customers said that they noticed no difference after installing the Yarna, and some said that they thought their water might be too hard to see the effects.
Found this review helpful?
Comment below or share this article!