🧾 Overview
The Whirlpool WHER25 Reverse Osmosis (RO) Filtration System is an NSF certified RO water filtration system, including faucet, extra long-life filters and 3 gallon storage tank.
Designed to filter out harmful and odorous contaminants from water, like lead, sediment, chemicals and other total dissolved solids, the Whirlpool WHER25 comes with simple step-by-step instructions for at-home installation.
Operating at a 1:4 pure water to wastewater ratio, the system can produce up to 18.46 gallons of water per day. It is compact in design, and can be fitted in most under sink spaces and quickly connected to its dedicated faucet, a refrigerator, coffee maker, or ice machine.
💡 Features
WHEERF pre filter
The system's WHEERF pre filter removes larger sediment like sand, salt and rust from drinking water, which could shorten the system's lifespan by damaging or clogging the RO membrane.
The filter requires changing every 6 months for maximum efficiency.
WHEERM membrane
At the heart of the RO unit is the WHEERM membrane, a semi-permeable RO membrane that water is forced through at a high pressure.
This removes over 1,000 total dissolved solids from water, including lead, arsenic, barium, heavy metals, sodium and fluoride. The WHEERM membrane has a lifespan of around 2 years.
WHEERF post filter
The WHEERF post filter removes any lingering sediments from water after reverse osmosis. It eliminates pollutants that might affect odor or taste that water may have picked up from the holding tank prior to drinking.
Water faucet
The system comes with its own dedicated filtered water faucet, which needs to be connected to the unit during installation. Note that the RO unit can't be connected to a standard kitchen sink faucet.
3 gallon storage tank
Clean RO water is stored in the system's 3 gallon pressurized storage tank before traveling to the faucet for drinking. When the water level in the tank drops, the system automatically produces more RO water to replace what is lost.
🚦 Performance
The Whirlpool WHER25 features extra long-life filters for better performance for longer.
In terms of water waste to water production, the system operates at a 1:4 filtered water to wastewater ratio, in line with most standard RO systems that don't use a pump.
This means that for every 1 gallon of water that is produced in the reverse osmosis process, the system will waste 4 gallons.
Users can purchase a booster pump to push the water through the system's RO membrane faster, reducing water waste.
With an incoming water pressure of between 40 and 80 PSI, the Whirlpool WHER25 produces up to 18.46 gallons of water per day. The system's RO membrane is significantly larger than standard RO membranes, which more thoroughly filters water during reverse osmosis.
The Whirlpool WHER25 is equipped to eliminate a number of contaminants from water including lead, barium, TDS, chlorine, minerals, chemicals, sulphide and other impurities.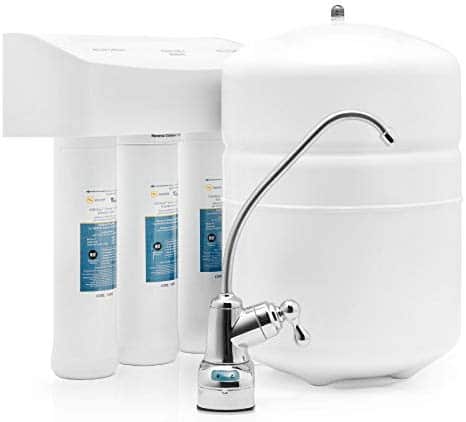 🔧 Installation & Maintenance
The Whirlpool WHER25 is designed for installation at home by the user, and doesn't require a plumber for fitting. Easy-follow step-by-step instructions, color-coded tubing and push connect fittings are provided to simplify the installation process.
The system comes partially assembled but will require connecting to a mains water supply, faucet and storage tank.
No maintenance is required for the Whirlpool WHER25 aside from replacing the filters on a regular basis.
The manufacturer advises that the WHEERF pre and post filter should be changed every 6 months, while the WHEERM membrane should be changed every 2 years to keep the system working efficiently.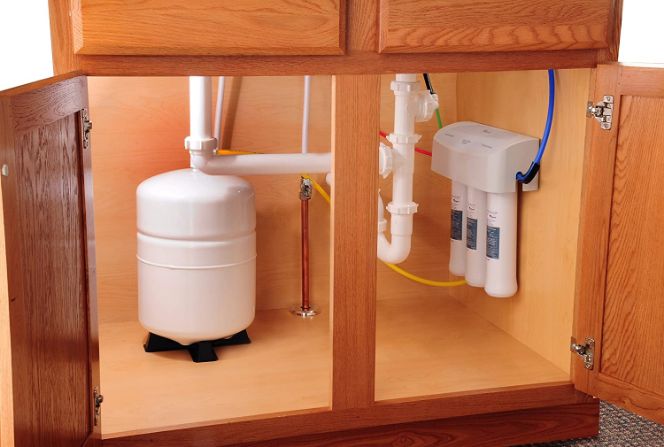 📝 Filter Info
The Whirlpool WHER25 features two filters: the WHEERF pre and post filter. The pre filter removes sediment and larger particles from water, preventing clogging and build up in the system.
The post filter removes any lingering contaminants, and anything the water may have picked up while in the storage tank. Both filters are click-on and click-off for easy changing when they need replacing. Filters can be purchased online at a relatively low cost.
The system's RO membrane also requires changing, but has a longer lifespan than the filters. As the membrane filters the water of the majority of its total dissolved solids, it's important that it is changed after a maximum of 2 years to maintain efficiency. The RO membrane can also be purchased online.
Users looking to assess the effectiveness of their filters should purchase a PPM meter, which measures the levels of total dissolved solids in the water. This can be used to test the water at different stages of the RO process and gives a clearer idea of how well a filter is working to remove contaminants from water.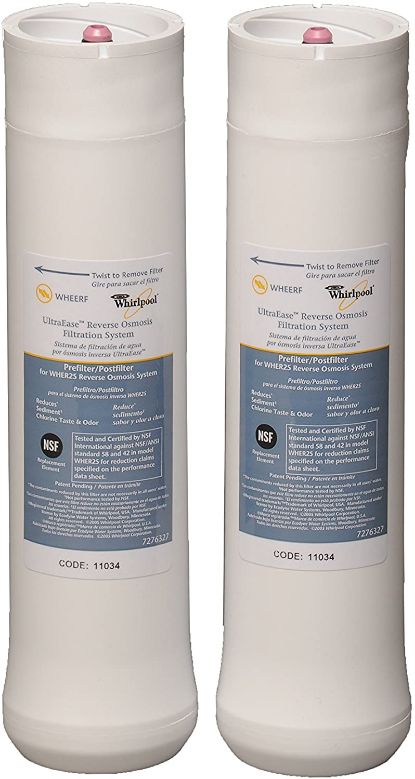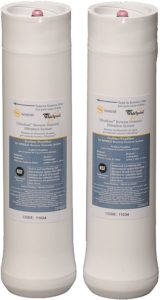 🔔 Pros & Cons
Pros
The system's filters are easy to change, no tools required, and installation is a fairly simple process. A user with basic handyman skills will not need a plumber to assist in either of these tasks.
Fewer filters require less hassle to install and change, and take up less space in the unit. Filters have an extra-long lifespan to last longer between replacements. The system's built-in EZ-Change Indicator Light lets the user know when it's time to replace filters.
The system is FDA approved, and has been third-party tested to ensure that the components work as well as claimed by the manufacturer. This offers some peace of mind that the system is legitimate and performs as it should.
Cons
The system may not be as efficient as some users would prefer. Some RO systems now include a built-in pump to improve pure water production to water waste ratio, but the Whirlpool WHER25 doesn't include a pump, and works to the standard ratio of 1:4. Users can purchase a booster pump to improve ingoing pressure if their water pressure is below the recommended 60 PSI.
A user who isn't comfortable putting this system together may need to pay extra for a plumber or a handyman to carry out the job.
Although the system's design is fairly sleek, clean and visually appealing, a significant amount of under kitchen sink space is required to store the main body of the unit. It is not as compact or space-saving as some modern RO systems.
Found this review helpful?
Comment below or share this article!