🧾 Overview
The Waterdrop is a water filter straw that can be used for filtering water on-the-go. The filter is small and lightweight, making it a handy portable clean drinking water solution that fits in most pockets and backpacks. With a 0.1 filter membrane, this water filter straw is designed to trap contaminants found in natural water sources, making it safe to drink from any river, lake or stream while hiking or camping.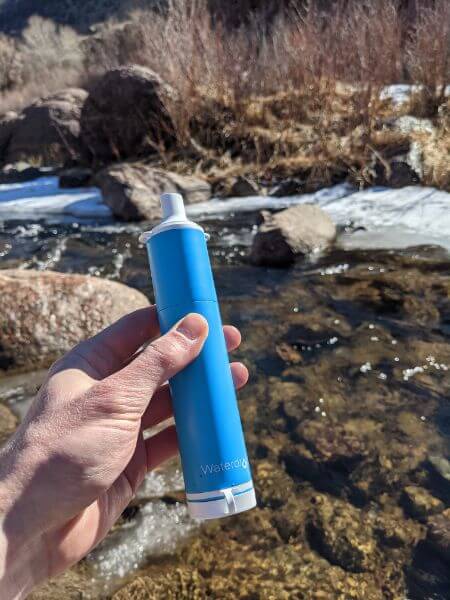 💡 Features
Plastic filter casing
The filter casing provides a barrier between the filter and the outside air, protecting it from damage during storage and use. The casing is lightweight, but not too flimsy, and allows the device to be used exactly how it is – as a drinking water straw.
Coconut shell activated carbon filter
Inside the casing is the filter itself, which has tiny pores of 0.1 microns in size, allowing you to drink from rivers, lakes and other bodies of natural water safely.
Double-sided removable cap
The Waterdrop filter straw's removable cap makes the device versatile to use in a number of different ways. You can attach it to most standard plastic water bottles to filter water straight from the bottle, or use it with water bags.
Water bags
Included with the Waterdrop are two water bags: one for storing unfiltered water and one for storing filtered water. You simply attach the bags to either end of the filter device with the included flexible tubes, then hang the unfiltered water bag up high and let the filter do the work.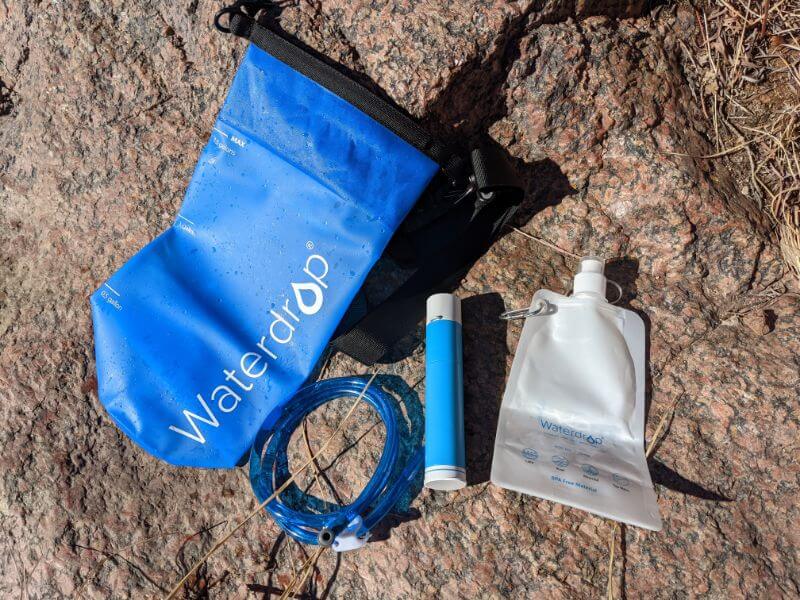 🚦 Performance
When it comes to performance, you won't get much better than the Waterdrop. Its filter consists of a media made from thousands of tiny micropores at 0.1 microns in size, making it capable of trapping even the smallest of contaminants while allowing water to pass through.
There are four stages of filtration, with each stage removing a different set of contaminants from water. The first pre-filter fabric stage is designed to protect the filter by removing the large contaminants like stones and leaves. In the second stage, the hollow fiber membrane removes 99.9% of bacteria, and in the third stage, the activated carbon media helps give water a better taste and smell. The fourth and final stage sees water pass through a post polyester membrane, which removes any lingering rust and dust.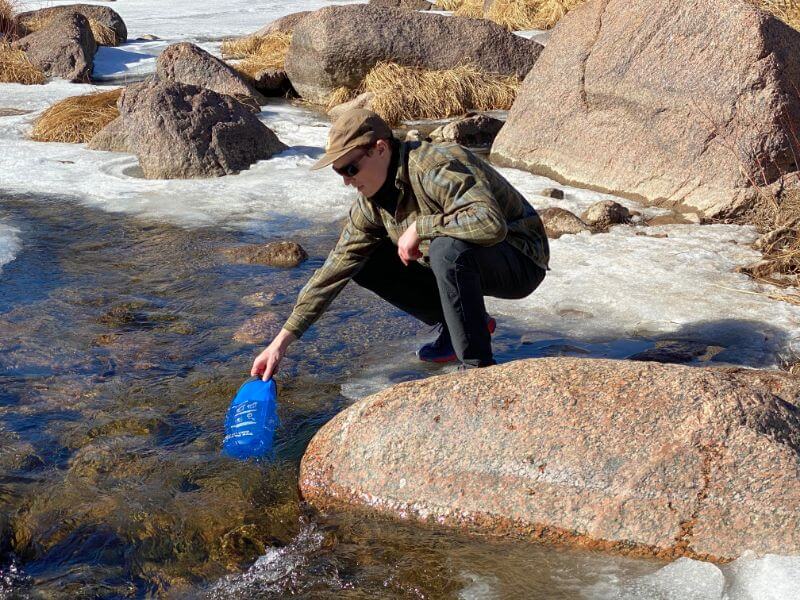 ⏱ Filtration time
The Waterdrop straw is particularly speedy for a gravity filter, and takes around 10 minutes to filter a whole blue bag's worth of water (1.5 gallons). Of course, speed can be affected by factors such as the quality of the water you're filtering and the position of your filter bags or water bottle. But, generally, being designed to filter unclean natural water, the Waterdrop is well-equipped to work at fast speeds to remove contaminants in no time at all.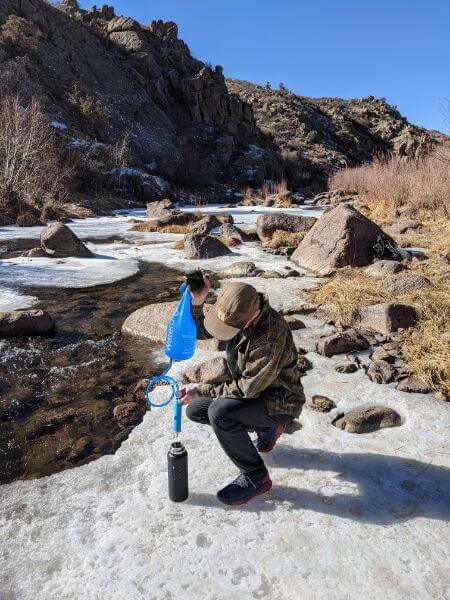 👌 Ease of Use
There are three different ways you can use the Waterdrop: as a drinking straw, with a water bottle, or with the included water bags.
Using the Waterdrop as a drinking straw is the easiest option, because you simply use it to drink straight out of a water source. Ahh fresh, crisp stream water!
Attaching a water bottle to the device is another simple option. After filling a water bottle with dirty water, you attach it to one end of the straw and tip it back above your head, drinking through the other end. There's less resistance from the straw because of the position you're holding it in, and you can simply attach your water bottle to the straw every time you want a drink.
Finally, if you're looking to make batches of water at a time, you can use the two included bags. Connecting the bags to the straw is fairly self-explanatory, and something you should feel confident in doing after a trial run. However, this isn't something you could easily set up while on the move – it's best for when you're stopping for longer than a couple of minutes.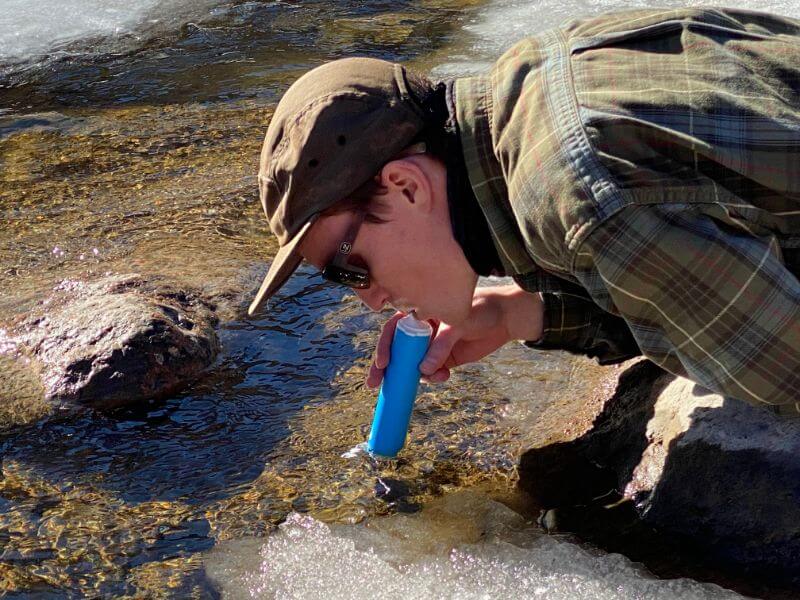 🏋️ Weight & Portability
On its own, the Waterdrop filter straw weighs just over 1 pound. It has a smaller frame, too, making it easy to store in a big pocket or a bag. Keep in mind, though, that the capacity of the blue bag is 1.5 gallons and the capacity of the white bag is 20oz, so when these are filled and attached to the system, it's not going to be as light and portable.
🔨 Durability
The Waterdrop has a huge 100,000 gallon capacity, so you can expect it to last several years, even with regular use. Though the filter has plenty of life in it, the plastic casing is a little flimsy, so you should be careful not to store it beneath heavy items (or accidentally sit on it).
✔️ Maintenance
With the device's high capacity, you won't need to worry about changing the filter regularly. But when it is time to buy a replacement filter, you simply buy a whole new straw – no need for any filter changing maintenance. With the device being priced at less than $20, buying a new one every few years shouldn't be too much of a stretch on your budget.
The only other maintenance required for this filter straw is backwashing. You need to backwash the filter after every use, which clears the contaminants from the filter and prevents it from blocking up. To backwash, you simply blow through the mouthpiece and shake out the straw to get rid of any lingering water.
🔔 Pros & Cons
👍 What I Like
Versatile – 3 different uses
Tiny 0.1 micron pores for thorough filtration
100,000 gallon capacity
👎 What I Don't Like
Requires frequent backwashing
The clean water bag needs to be held as it fills
Not portable when attached to bags
❔ Final Verdict
If you're looking for an effective water filtration solution for camping or hiking, the Waterdrop water filter straw is one of the best options on the market. Its impressively long lifespan and ability to remove contaminants up to 0.1 microns in size makes it a low-fuss, efficient solution for on-the-go water filtration – just remember to backwash it regularly to keep it in tip-top condition.