🧾 Overview
The Tier1 Everyday Series water softener is a 48,000 grain salt based digital water softener for whole home use. It comes stocked up with a pre-filled resin tank to enable you to put the system to use right after installation.
Designed and manufactured in the USA, the Tier1 comes in one of two colours – black or blue. It features a digital meter control valve, which you can use to alter water pressure and flow rate out of your faucet. The system's capacity is 48,000 grain, which isn't the best we've seen on the market.
Using the ion exchange process, the Everyday Series softener removes hardness causing calcium and magnesium minerals from water, replacing them with sodium ions. This soft water won't deposit limescale in your plumbing or appliances, will lather better, and won't leave spotting on your dishes.
The unit can help you save money by reducing the frequency you'll need to change your shower heads and faucets due to limescale. Keep in mind, though, that as a salt based softener, the Everyday Series will need salt top-ups, and will waste water during regeneration.
💡 Features
Digital meter control valve for selecting regeneration based on water usage.
Large mineral tank and brine tank.
LCD display for alerting you when salt levels fall low.
1.5 cubic feet of cation resin included with purchase.
Water line connections, brine tubing, drain line and mechanical components required for at-home installation.
Bypass valve for diverting water during maintenance and cleaning.
Installation instructions and user manual.
🚦 Performance
The Tier1 Everyday Series softener has a 48,000 grain capacity, and if you've done your research, you'll know there are a fair few better alternatives on the market. However, the system is certainly efficient in helping to reduce the costs of your appliances, saving you money in the long run.
As you'll be able to control regeneration times yourself based on your water hardness and use, you can ensure the Everyday Series only regenerates when it actually needs to. There are a number of systems out there that will now make smart predictions for you, but you might prefer being able to choose your exact regeneration cycle yourself.
Like all salt based softeners, the Tier1 Everyday Series will waste some water during regeneration. This makes it somewhat less efficient than a saltless alternative, but you're getting the full range of soft water benefits, including water that lathers well with soap, longer lasting appliances, reduced limescale deposits and fresher, brighter laundry.
🔧 Installation & Maintenance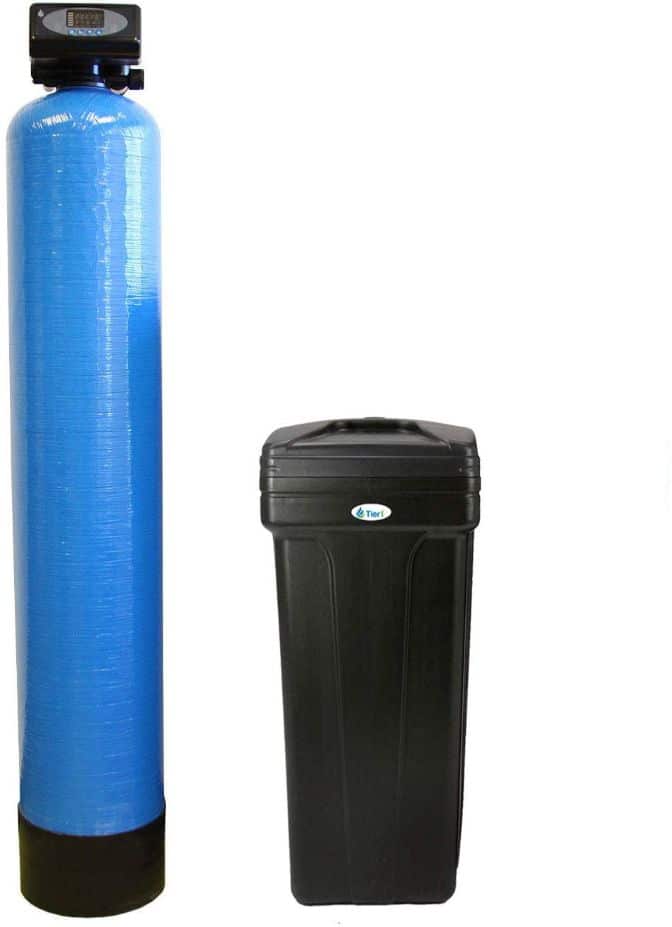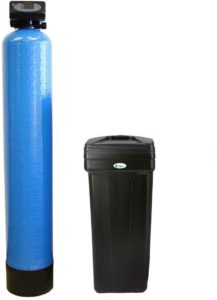 You can install the Tier1 Everyday Series virtually anywhere in your home, even outside. Just make sure that you don't live in an area where temperatures fall below freezing, or the softener will become damaged. It's fairly compact in size, with a tank measuring 10 inches in diameter by 54 inches in height, so you'll be able to fit it into a smaller space and still have room for maintenance.
As installation involves a bit of plumbing work, you might prefer to hire a professional to get the job done for you. Many customers reported struggling with DIY installation – but on the plus side, customer service from the manufacturer seems to be exceptional.
If you want to ensure the Everyday Series softener stands the test of time, cleaning out the tanks occasionally will help. Buying a salt based softener like the Everyday Series system also means committing to purchasing salt and topping up the tank when required. You'll need to top up your tank every few months or so to ensure water is effectively softened in the ion exchange process.
📝 Filter Info
The Tier 1 Everyday Series is a traditional salt-based water softener, which uses ion exchange to replace hardness causing calcium and magnesium ions with salt. This is the most widely recognised softening process on the market, and while many people are now opting for saltless alternatives, you absolutely can't go wrong with the ion exchange method. It's one of the most trusted techniques for eliminating hardness from water.
With the Everyday Series system, you'll be able to enjoy a number of soft water benefits, including no new formation of limescale and gradual reduction of existing scale. You'll also have water that lathers better, doesn't leave spotting on your glassware, and keeps your skin and hair healthier.
The Everyday Series''s selling point is its manual control cycle, as you'll find that most standard water softeners automatically regenerate themselves. The Everyday Series lets you choose when you want the system to regenerate based on your water hardness and usage. This is particularly useful if you're trying to save money and reduce water waste.
🔔 Pros & Cons
Pros
Manual regeneration option.
Can be installed inside or outside home, in above-freezing temperatures.
Comes with everything you need for installation.
Bypass valve lets you divert water away during maintenance.
Fairly space-saving – can be installed in tight spots with room for maintenance.
Customer service is very helpful.
Easy-to-read electronic display and simplified programming.
Cons
Fairly costly for the value it offers – although still cheaper than a few of the well-known brands.
48,000 grain capacity is average – could definitely be better.
Many customers reported struggling with installation.
User manual and instructions could be more informative.
Not suitable for customers on low sodium diets.
Found this review helpful?
Comment below or share this article!