🧾 Overview
The Sprite High Output 2 Shower Filter is a universal water filter with an attachable showerhead. This high-output shower filter offers protection against hard water minerals and chlorine, and contains a reversible filter cartridge that lasts for roughly a year. The filter is advertised as the "strongest on the market", and while this may or may not be true, the product has been NSF/ANSI 177 certified to reduce chlorine, so you can trust that it will do its job to a high level.
By using the Sprite shower filter, you can soften your hair and skin and reduce your risk of chlorine-related respiratory problems. The system is easy to install, and has the advantage of coming with its own adjustable showerhead. With that said, you can also purchase the filter on its own, so if the showerhead isn't to your taste, you can just use your own, providing it has standard US fittings.
💡 Features
Filter housing unit
The Sprite filter has a housing unit that sits underneath the showerhead and is installed onto the end of a shower arm.
HOC reversible filter
The high output reversible filter fits inside the filter housing and can last for approximately a year. It's NSF/ANSI certified for chlorine reduction.
Shower head
Not all filters come with their own showerhead, but the Sprite High Output 2 does. This is convenient for anyone who doesn't already have a showerhead, or is looking to buy a replacement showerhead along with their filter.
Installation instructions
The Sprite's user manual contains the information you need for installation. You can also find more info on installation and maintenance on the downloadable Sprite Showers app.
🚦 Performance
This Sprite model has a high output filter, so there's no messing around when it comes to waiting for your water to be filtered, and you shouldn't notice an obvious reduction in water pressure. As it's also NSF/ANSI certified to reduce chlorine, the filter should meet your expectations for producing cleaner water for softer skin and hair.
One of the more efficient aspects of this filter is that it's reversible, which literally means that you can turn the filter upside down and get another life out of it (it lasts for up to a year). This is pretty impressive, as most showerhead filters have a 6 to 8 month lifespan. Of course, exact lifespan depends on your own water's contaminant level, plus how many showers you take on a daily basis.
🔧 Installation & Maintenance
It's simple to install the Sprite shower filter, which is universal, and should fit on your standard shower arm. If you have non-standard shower fittings, it's worth contacting the manufacturer before making a purchase to check to see if the filter is suitable for you. Then it's just a case of screwing the filter in place – though the unit doesn't come with plumbing tape, so you may need to use your own to prevent leaks at the fittings.
In terms of maintenance, the biggest thing you'll need to consider is filter changes. The Sprite has an app that you can download to your phone, which will remind you when you need to change your filter. As the filter is reversible, you should get an extra half a year out of it, but keep an eye on the app and your water pressure if you're unsure.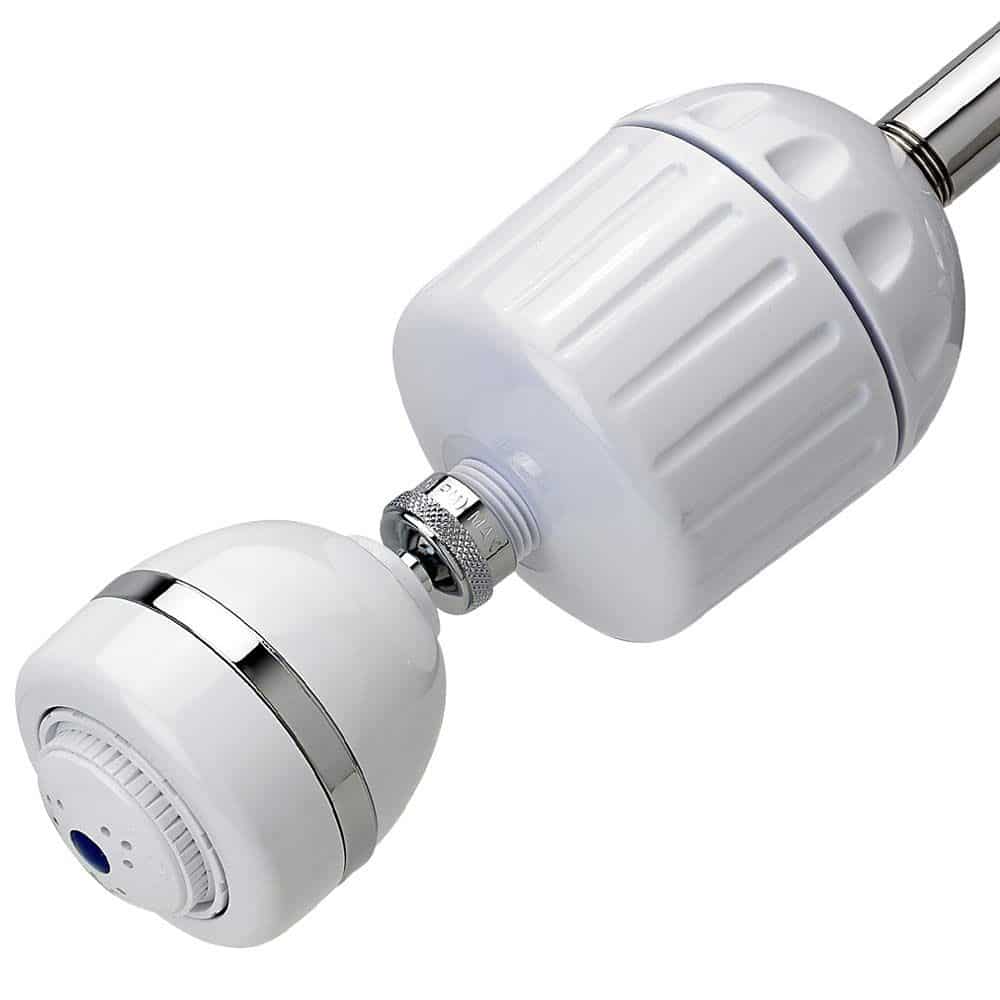 📝 Filter Info
The Sprite High Output 2's filtration system is patented chlorogon, with a pre-installed HOC filter cartridge. We can't find any information online about what a HOC filter actually is, and the Sprite seems to be the only water filter that currently uses this model. There's no need to feel uncertain about whether it's capable of doing its job, though, as it has an NSF/ANSI 177 certification to its name for chlorine reduction.
This "exclusive blend of media" found in the Sprite shower filter can trap chlorine and other contaminants without affecting water pressure. With a 2.5 gallons-per-minute flow rate, this showerhead filter is suitable for larger showerheads and power-showers, and won't reduce water to a trickle.
🔔 Pros & Cons
Pros
Reversible filter for longer lifespan
NSF/ANSI certified
Comes with its own showerhead
Cons
Filter housing has been known to burst in homes with high water pressure
Opening the unit to replace the filter can be a challenge
Plastic isn't the most durable of materials
❔ Frequently Asked Questions
Can I replace the showerhead with my own?
Yes, but if you plan to do that, it makes more sense to just buy the filter without the showerhead included. This will save you some money, which should appeal to you if you're not bothered about using the matching showerhead.
Will this help with well water?
No, this filter isn't designed to filter bacteria and water hardness from well water. Its main purpose is chlorine reduction, and you probably won't find much chlorine in your well.
Does this filter reduce chloramines?
No, it doesn't. If your local water is treated with chloramines, not chlorine, as a disinfectant, you should look for a showerhead that can also reduce chloramines, as this one will be pretty useless to you.
Is this a water-saving showerhead?
Definitely not! If you're looking to save water, the Sprite shower filter isn't for you. The idea of this unit is to produce cleaner water at a flow that isn't affected by the filtration process. You can take powerful showers with this showerhead.
Will this screw onto any showerhead?
Almost any – providing your fittings are standard US. The same goes for your shower arm. Contact the manufacturer if you're unsure.
Found this review helpful?
Comment below or share this article!