Hard water can cause all sorts of nuisances around your home. As well as interfering with the performance of detergents and soaps, it can leave a thick layer of scale on your plumbing and water-based appliances, which is difficult to clean and causes reduced water flow.
If you're looking for a water softening solution for your home, you've more than likely heard of Springwell and Pentair Pelican. These brands manufacture two of the most highly rated whole house water softeners on the market, and both have a lot going for them. What makes them particularly unique is that they're both saltless softeners, so they don't add sodium to drinking water during the softening process.
While these systems are very similar in the results they produce, looking at them in more detail, they each have specific standout features that may make one more appealing than the other to you.
⚖️ Comparison Chart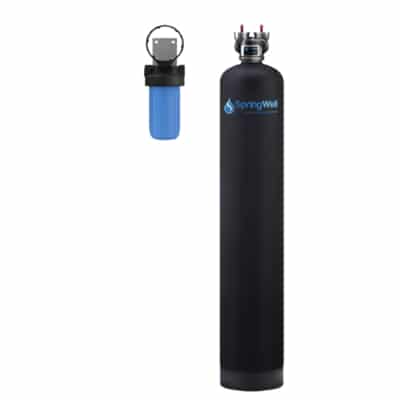 Capacity: 1 million gallons
Operating temperature: 36-120 F
Pre-Filter lifespan: 6-9 months
Warranty: Lifetime
Price:
Our readers get 5% off at springwellwater.com – 👉 Click here to get your coupon.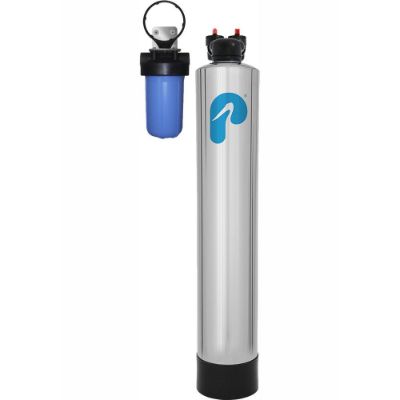 Capacity: 1 million gallons
Operating temperature: 36-120 F
Pre-Filter lifespan: 6-9 months
Warranty: 1 year tank, 5 years valve & electronics
Price:
💡 Media Comparison
Being softeners and not filters, Springwell's and Pelican's systems don't offer any sort of water filtration. They're not traditional salt-based softeners either, so they're not made from a typical 2 tanks like the majority of softeners.
The Springwell FutureSoft is a salt-free softener, and uses a completely different process to the majority of water softeners presently available (which are salt-based). Inside the system are millions of tiny beads, which interact with hard minerals, causing them to form microcrystals.
Pelican's salt free softening solution is called NaturSoft. Pelican isn't clear on exactly what type of media is used in its water conditioner, but we can assume that it's similar to what the Springwell water softener uses, as it changes the makeup of water hardness minerals and prevents them from being able to cause scale.
⚙️ How do the Systems Work?
Both Pelican and Springwell's whole house saltless softening systems follow the same process to greatly reduce hard water. Unlike water filtration, Springwell's salt-free water softener and Pelican's salt-free option don't actually remove calcium and magnesium from water – which is why they're technically known as conditioners, not softeners. Instead, in a process known as Template Assisted Crystallization (TAC), the minerals are neutralized.
During the TAC process, calcium and magnesium are converted into a type of crystal that can't stick to surfaces. So, while your water is technically still hard, the hard-causing minerals have lost their most defining (and annoying) quality, and your water should behave as if the minerals have been removed. This saves a lot of time and energy when comparing this process to the ion exchange process, in which water must flow through a sodium-washed resin tank for the hard water minerals to be replaced by sodium ions.
🚦 Performance Comparison
Springwell Futuresoft
Springwell's saltless softening system, the Futuresoft, is one of the most popular on the market, thanks to the high quality of its performance. The system is made from certified components, ensuring the best quality performance and the longest lifespan. Springwell's salt-free water softener uses Template Assisted Crystallization, a new softening technique that's supposed to be a lot more effective than other methods of salt-free softening.
Electronic magnets, which are used by some salt-free water softeners, have shown limited effectiveness in lab testing, and chemical-based scale treatments tend to be ineffective in hot water systems. TAC, on the other hand, is much more effective, using a bed of tiny beads that interact with the hard water minerals to form soft-scale microcrystals.
The system's performance is particularly efficient as it doesn't require electricity to work, and, unlike water filters, it doesn't put water through a process that would reduce flow rate. If the system is used in homes with 1 to 3 bathrooms, your home's water pressure won't drop with use. With a certification for 99.6% of scale removal, you should feel confident that the Springwell Futuresoft can effectively eliminate the majority of your hard water issues in your whole house. You can install Springwell's water softener as a final stage of water treatment if you choose to buy Springwell's whole home water filter too.
Pelican NaturSoft
Pelican's salt-free softener is less direct with the exact softening process it uses, but we know that it's made up of a sediment prefilter and a tank containing a softening media, which suggests TAC or a similar process. Again, in terms of efficiency, the system doesn't operate with electricity, so it'll help you save money and waste less energy.
The system, like Springwell's saltless water softener, is also virtually maintenance-free, unlike salt-based softeners. The softener is NSF 42 and 61 certified, which offers promising third-party assurance that the system works effectively. You can expect a good quality performance that should greatly reduce scale without affecting flow rate. It's also certified for 99.6% scale prevention, and comes with an impressive lifetime warranty. For even better quality water, again, you can use Pelican's softener with one of the brand's whole house water filters.
📆 Filter Lifespan & Replacement Costs
Saltless softeners are a more durable, less maintenance-heavy commitment than salt-based softeners – and are especially less maintenance-heavy than water filters. Though not all saltless softeners are created equal, Springwell and Pelican's softening systems are two brilliant examples of just how much money you can save with a saltless softener in the long run.
Springwell's whole house water softener lasts for 100 million gallons of water – or, essentially, a lifetime. The system also comes with a lifetime warranty, so if you needed to replace something and it was applicable under the softener's warranty, you could do so free of charge.
Pelican's saltless water softener also requires no replacement of its softening media, and should last for a lifetime. You won't need to worry about the cost of replacing the system, as you won't ever need to. This is a much better option than Pelican's salt-based softener, which has a 10 to 15-year lifespan before it needs replacing entirely.
💬 Customer Reviews & Complaints
Springwell's reviews are overwhelmingly positive, with the majority of customers giving the system a 4 or 5-star rating.
Customers were happy with the water pressure offered by the Futuresoft, and most users wrote that setup was easy enough for them to do themselves.
Additionally, customers were mostly in agreement that the system resulted in no more hard water spots being left in dishes, and water no longer had a slimy feel. Some customers felt that Springwell could offer an optional adaptor kit to simplify installation, and for this reason, some reviewers mentioned that finding someone to carry out installation was necessary for them.
Similarly, the majority of customers were happy with the Pelican water softener for its ability to reduce hard water issues around the home. On Pelican's website, the softener has a 4.7 star rating out of 5, with customers praising the system for the noticeable difference it makes to water quality.
Many customers mentioned that the Pelican had reduced their itchy skin and hair problems, and were happy with the installation process, which the majority of users felt was easy enough to carry out themselves.
Customers did warn that installing the system with space limitations would pose a few problems, and some reviews mentioned that there was still some water spotting on shower screens and drinking glasses even after using the system.
☑️ Pros and Cons of Springwell vs Pelican
👍 Springwell – Pros
Slightly cheaper than Pelican's alternative
Comes with a lifetime warranty
Doesn't remove calcium and magnesium, so you can still benefit from these minerals
👎 Springwell – Cons
Quite costly – not for smaller budgets
Won't completely eliminate a hard water problem
👍 Pelican – Pros
Simple to install and maintain
Uses no chemicals or electricity
Suitable for people on low-sodium diets
👎 Pelican – Cons
A little pricier than Springwell's system
Not suitable for smaller budgets