🧾 Overview
The SoftPro Whole House Upflow Carbon Filter review is a low-maintenance upflow tank-based filter with a lifespan of about six to ten years, or 600, 000 gallons to 1,000, 000 gallons of water.
In this SoftPro water filter review, we'll be sharing everything you need to know about the system's specifications, features, performance benefits, setbacks, maintenance requirements, and more.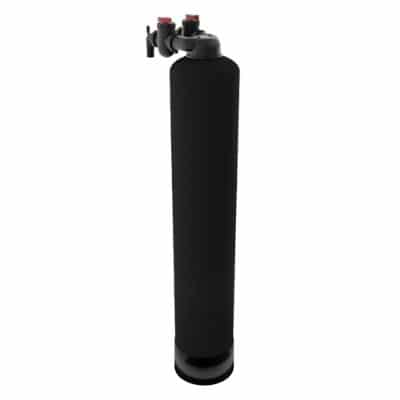 📝 System Specifications
System
1-3 Bathroom Filter

4-6 Bathroom Filter
Filter Type
Whole-house tank-based
Whole-house tank-based
Tank Size
9 x 48 inches
10 x 54 inches
Filter Media & Quantity
Catalytic carbon, 1 cu. ft
Catalytic carbon, 1.2 cu. ft
Peak Flow Rate
9 GPM
14 GPM
Plumbing Bypass Size
¾-inch
¾-inch
Media Lifespan
600,000 gallons
1,000,000 gallons
Warranty
Valve: Limited lifetime
Tank: Lifetime
Media: None
Valve: Limited lifetime
Tank: Lifetime
Media: None
Guarantee
6-month satisfaction guarantee
6-month satisfaction guarantee
💡 Features
Removes up to 99% of Impurities
The SoftPro Upflow Carbon Filter removes a whole host of impurities, including chlorine, chloramine, heavy metals, pesticides, herbicides, and more.
Fast Flow Rate
Depending on the model you choose, this SoftPro system has a fast flow rate of 9-14 GPM.
Uses Next-Generation Upflow Technology
The SoftPro Carbon Filter sends water up through the filter media, increasing the thoroughness of filtration. 
Chemical-free Operation
No chemicals are used to treat your water in this system.
Low-Maintenance
The media lasts for up to 10 years, so the only maintenance required is to clean the media once every year.
🚦 Performance
The SoftPro Whole House Upflow Carbon Filter is a tank-based whole house water filter with advanced catalytic carbon media. Water flows through the tank and is treated by the media before leaving the tank and flowing into your home.
Two important whole house filter performance factors are flow rate and contaminant removal capabilities. The SoftPro Upflow Carbon Filter is available in two sizes: a 1-3 bathroom unit with a 9 GPM flow rate, and a 4-6 bathroom unit with a 14 GPM flow rate. We reviewed the smaller unit (which is ideal for most standard homes) and didn't notice a drop in water pressure after installing the system. The average whole-home flow rate is 6-12 GPM, and the SoftPro 1-3 bathroom unit sits nicely in the middle.
As for contaminant removal capabilities, the SoftPro Upflow Carbon Filter removes all the impurities that you'd expect a carbon media filter to remove, with an added bonus – it has an advanced catalytic carbon design, which removes additional contaminants. We've discussed these contaminants in the filter info section.
A big performance standout of this SoftPro model is its upflow design. Upflow technology sends water upwards through the filter media, allowing the media to better circulate the tank, and increasing the contact time between the water and the media. This means that water is more thoroughly filtered.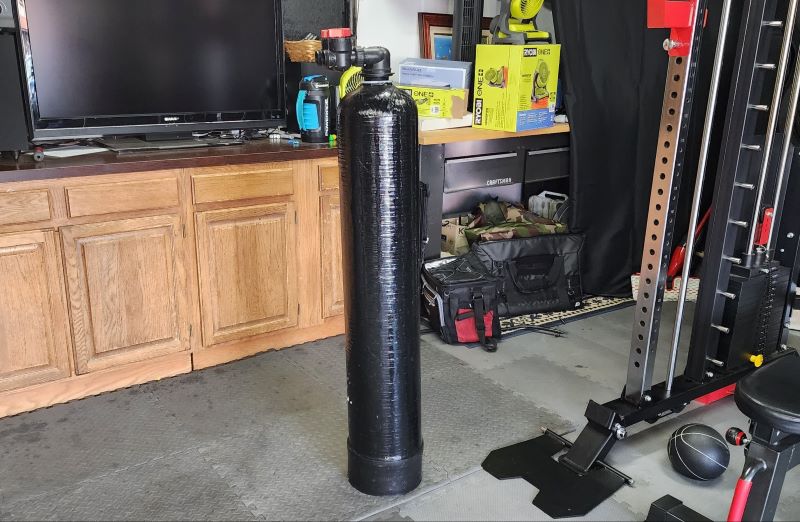 🔧 Installation & Maintenance
The SoftPro Whole House Upflow Carbon Filter doesn't come with everything you need to install the system to standard plumbing. The package includes a mineral tank that's pre-loaded with catalytic carbon media, an upflow valve head, an upper filter basket, distributor tube, support gravel, and a protective neoprene tank jacket. Fittings, connections, and additional piping to connect the unit to your water line will need to be purchased by you.
If you're the handy sort, you should be able to install this SoftPro filter yourself. The entire system is contained within a single tank, so you only need to hook one unit up to your water line. We installed the system ourselves, and the process took just over four hours. If you don't enjoy DIY or following lengthy instructions, consider hiring a plumber to install the system for you.
Once you've installed the SoftPro Upflow Carbon Filter, your hard work is done. The media lasts for 6 to 10 years. You can find instructions on how to clean the media with bleach (recommended once a year) and change the media in the user manual.
📝 Filter Info
The SoftPro Whole House Upflow Carbon Filter uses one of the most popular types of filter media: catalytic carbon. This media grabs onto contaminants and pulls them out of water in a process known as adsorption.
A bonus of this filter is that it can remove both chloramine and chlorine – usually, filters can only remove one or the other of these chemicals. It also removes heavy metals, herbicides, pesticides, byproducts from pharmaceuticals, and more. It would be good to see a datasheet on the manufacturer's website detailing exactly what it can remove.
The biggest perk of this filter media is that it's certified to NSF/ANSI 61, for removing contaminants with health effects, and NSF 372, for lead-free design.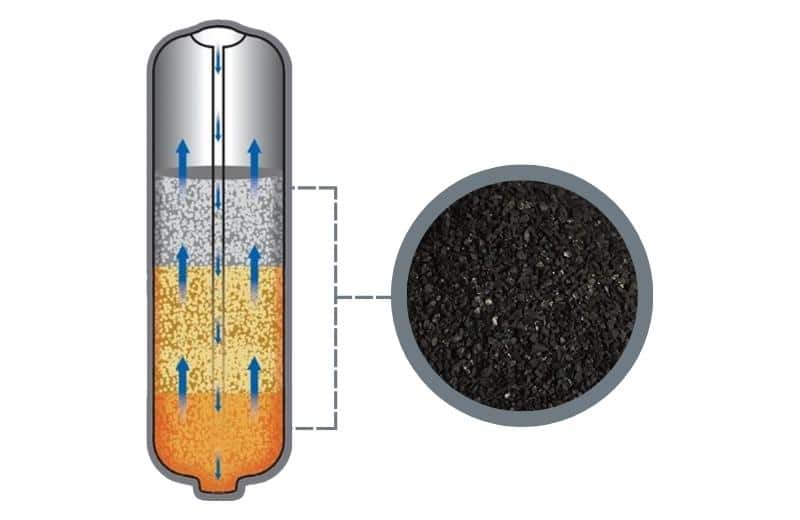 🔔 Pros & Cons
👍 What We Like
Costing less than $1,000, this system is great value for money.
The SoftPro is one of the most efficient whole home water filters, with an upflow design, no water waste, and no electricity needed.
The system is virtually maintenance-free, with a filter life of up to 10 years.
👎 What We Don't Like
This system is still fairly new to the market, and there aren't many customer reviews to learn from at the moment.
There's no datasheet to show us exactly what this filter removes, and to what percentage.
❔ Frequently Asked Questions
Does the SoftPro Whole House Upflow Carbon Filter need electricity to operate?
No. This system is powered by water pressure only.
Does this SoftPro system need to backwash?
No. No backwashing is required. The best way to maintain the media is to install a sediment filter upstream of the system and clean the media with bleach once a year.
What warranty does this SoftPro system have?

The system comes with a limited lifetime warranty on the valve and a lifetime warranty on the tank. The media doesn't have a warranty.

Does the SoftPro Carbon Filter come with a sediment filter?
No. We'd strongly recommend installing a sediment filter to protect the media from damage.
Found this review helpful?
Comment below or share this article!