🧾 Overview
The RKIN Dragon is a 90-micron sediment filter that can remove rust, silt, sand, suspended solids and other sediment from a whole-home water supply. This self-cleaning spin-down filter operates at a high flow rate of 40 GPM and ships with an installment kit for quick setup.
📝 System Specifications
Flow rate: 40 GPM
Maximum operating temperature: 113°F (45°C)
Minimum operating temperature: 39.2°F (4°C)
Maximum operating pressure: 125 psi
Minimum operating pressure: 26 psi
Connection: 1 inch Female NPT
Cartridge: 90 microns, stainless steel
Warranty/guarantee: 1 year money-back guarantee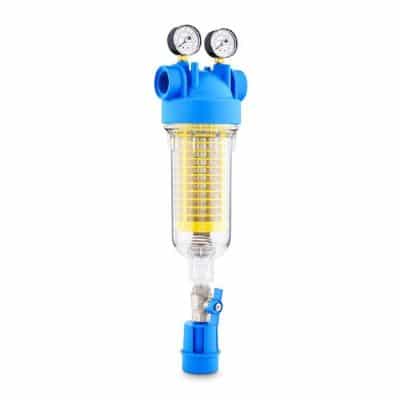 💡 Features
Installation Kit
The RKIN ships with everything you need for installation, included in the purchase price. This includes a mounting bracket, two pressure gauges, a wrench, and a backflow preventing drain funnel.
Stainless Steel Mesh Filter
The RKIN's 90-micron stainless steel mesh filter automatically cleans itself every time the filter is flushed out. The filter should last for 1-2 years before it needs to be replaced.
Dual Pressure Gauge Design
There's no worry about water pressure with the RKIN sediment filter. The cartridge has a dual pressure gauge design that allows for maximum water pressure to be maintained at all times.
Solid Filter Housing
The Dragon's filter housing is made from solid plastic. The housing is see-through, so you can check on the performance of the filter and quickly detect issues without having to take the housing apart.
🚦 Performance
The RKIN is designed to operate at high pressures of up to 40 gallons per minute (GPM). This should ensure that your water pressure stays at its peak while using the RKIN filter, and you won't notice any dips in pressure after installing the cartridge.
As a spin-down filter, the RKIN Dragon is highly effective at trapping sediment like sand, dirt and debris. With a 90 micron pore size, it's designed to do the heavy work for well owners, and is a preferable alternative to fine micron filters, which would quickly become clogged with large sediment particles.
The filter is flexible and can be used in a variety of applications, with a minimum operating pressure of 26 PSI and a maximum operating pressure of 125 PSI.
Being self-cleaning, the RKIN offers a far more efficient performance than sediment cartridge filters that need to be manually cleaned. The Dragon filter cleans itself during flushing, which means that you don't need to remove the filter sump every time to clean out the cartridge during a manual flush.
🔧 Installation & Maintenance
The RKIN Dragon needs to be installed at your home's main water line, as close to the point of entry as possible. This means that your whole home will be protected from sediment, which can clog up pipes and plumbing and cause abrasive issues in your appliances.
There is no specific installation video for the RKIN available online, but there are videos that show the general process for spin-down sediment filters.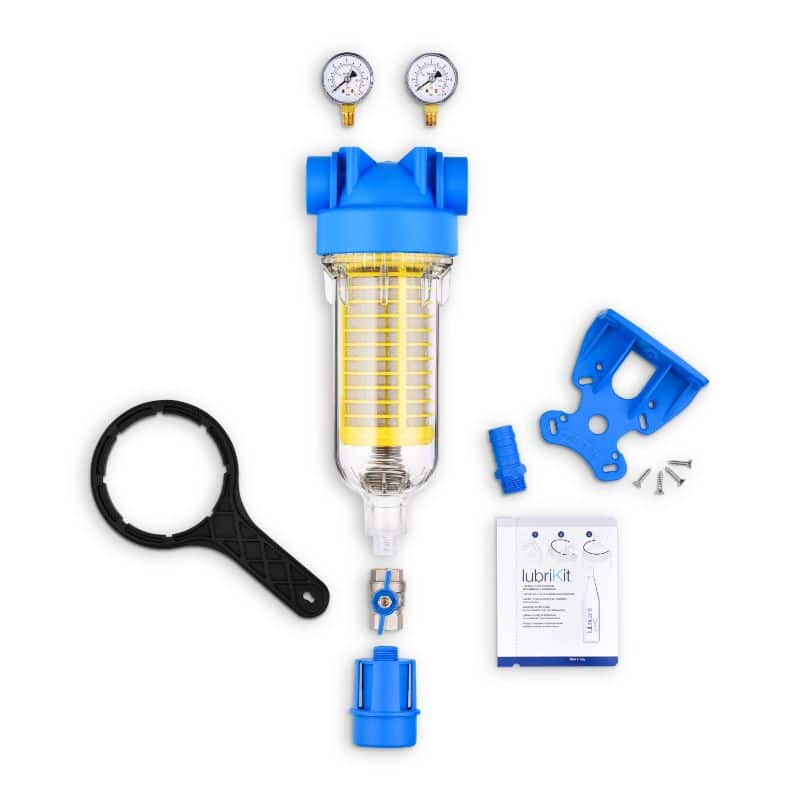 To install the RKIN, you'll need to cut into your main water line and attach each end of the filter to your plumbing. The filter should be mounted on a wall bracket just after the pressure gauge, and you'll typically need to install a bypass to divert water around the filter when required.
The RKIN Dragon comes with an installation kit that includes a wrench, mounting bracket, backflow preventing drain funnel, and two pressure gauges. This should reduce additional spend on installation, though you may need to purchase extra connections and fittings, depending on your home's plumbing.
There's limited maintenance involved with the RKIN Dragon. While some spin down filters require manual cleaning, the RKIN filter automatically cleans itself when the cartridge is flushed. This means you don't need to take the filter apart or switch off your water supply to manually clean it when it becomes saturated with sediment.
If you're looking for a low-responsibility filter that you won't have to put too much work into looking after, the RKIN Dragon is a good choice.
📝 Filter Info
The mesh filter in the RKIN Dragon is made from stainless steel and has large, 90-micron pores, designed to trap sediment, sand, rust, and suspended solids.
With its spin-down design, the RKIN Dragon spins in a centrifugal motion. Water enters the filter through one side, and passes into a chamber that circulates the water through the housing.
The sediment is pushed to the bottom of the filter, and is removed during flushing. Clean water leaves the cartridge through the other side. This entire process happens very quickly – the RKIN is designed to operate at a pressure of 40 PSI, so it won't slow down flow rate in your home.
Because of its self-cleaning design, the RKIN Dragon has a long lifespan, and needs to be replaced far less frequently than sediment cartridge filters. However, there's no information available about exactly how long the Dragon lasts for before it needs replacing. If it's a typical spin-down filter, the mesh will last for between 1 and 2 years before a replacement is required.
🔔 Pros & Cons
👍 What I Like
Good value for money
Maintains high water pressure
Self-cleaning design
👎 What I Don't Like
Missing some important information online, such as filter lifespan
Not good at handling iron bacteria
❔ Frequently Asked Questions
What does self-cleaning mean?
In this case, self-cleaning means that sediment is automatically cleaned out of the filter when it is flushed, so you won't need to take the filter apart and remove the sediment yourself.
Does this filter have a warranty?
Yes, it comes with a one-year money back guarantee. Make sure to read the warranty terms and conditions carefully before purchasing.
Can this filter be installed outside?
Yes, but it needs to be protected from the sun. Direct sunlight may damage the filter mesh and promote algae growth on the inside. Install the filter in the shade or build a dedicated housing box to protect it from the elements.
Found this review helpful?
Comment below or share this article!