🧾 Overview
The ProOne (formerly ProPur) is a gravity-based water filter pitcher that uses NSF-tested ceramic filtration to reduce more than 200 common drinking water contaminants. The pitcher is made from BPA- and PVC-free materials and has a 6-month long filter lifespan.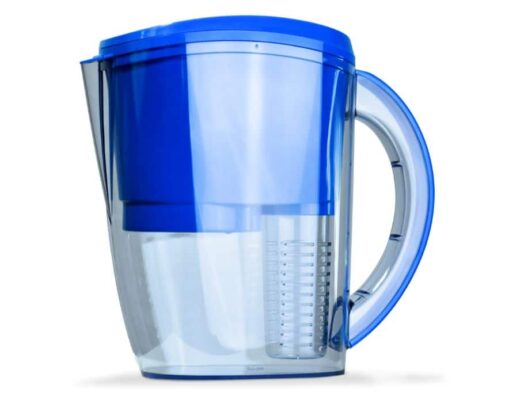 📝 System Specifications
| | |
| --- | --- |
| Pitcher Materials | BPA and PVC-free plastic |
| Filter Media | Ceramic + GAC |
| Dimensions | 10.5 x 5 x 10.5 inches |
| Holding Capacity | 0.92 gallons (3.5 liters) |
| Filter Capacity (Lifespan) | 225 gallons (~6 months) |
| NSF Certified? | NSF 42 (material requirements only) |
| Warranty | 90 days |
💡 Features
BPA-free & PVC-free design – The ProOnepitcher made from BPA-free and PVC-free plastic and holds a total of 3.5 liters of water, with 1.55 liters of room for filtered water.
Easy setup – You can put the ProOne Filter Pitcher together in a matter of seconds, and the unit is designed to fit in most standard refrigerators.
90-day warranty – When you buy this pitcher, you're protected by a 90-day warranty against defects in workmanship and materials.
Silver-infused ceramic filter – The ceramic filter can remove more than 200 contaminants and is infused with silver to prevent the growth of bacteria.
Included fruit infusion tube – You can choose to use the ProOne as a regular filter pitcher or add flavor from fruit in the fruit infusion tube.
NSF 42 Materials Safety Certification – The ProOne G2.0 filter is certified to NSF standard 42 for materials safety only. This means it is not officially certified for contaminant removal, only construction materials safety.
Independently tested to NSF Standards – The filter has been third party tested for contaminant removal capability against NSF standards.
6-month filter life – The ProOne has a long-lasting filter. You can get 225 gallons, or about 6 months, of use out of this filter before it needs changing.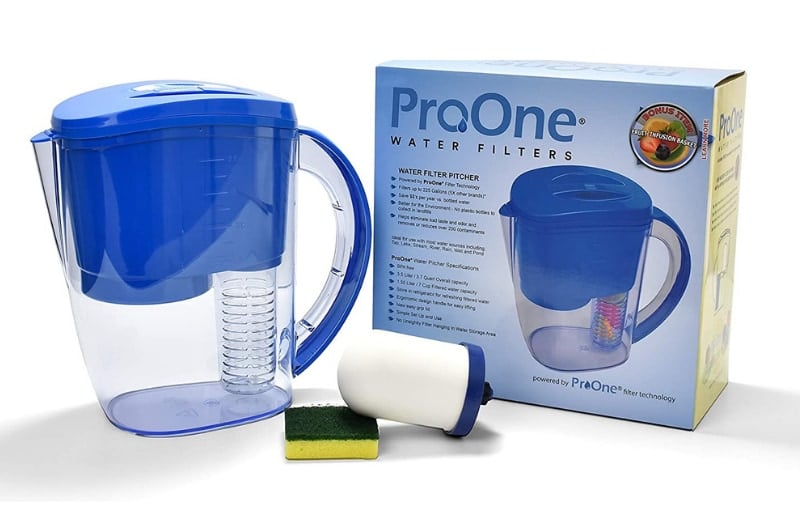 🚦 Performance
The ProOne is one of the best water filter pitchers in terms of performance, and has thoroughly tested its contaminant removal with a third party as proof.
Testing, which was carried out by an independent laboratory, proved that the ProOne met NSF Standards 42, 53, and P231 for contaminant removal. It doesn't appear that the pitcher is officially NSF certified, but independent testing is a good sign.
The only letdown performance element of the ProOne pitcher is the speed of filtration. In our testing, we waited more than 20 minutes for a batch of water to be filtered, and this was with a new filter. Some customers complained that they had to wait for 30 minutes for a single cup of water to be filtered.
According to ProOne, the water filter pitcher can be used with a range of water sources, including pond water, rain water, and water from a lake or stream. We're not sure about the validity of this statement – most water filter pitchers can only be used with tap water, and we have not conducted our own testing of the use case yet.
🔧 Installation & Maintenance
The ProOne pitcher is easy to assemble in a matter of minutes. Simply remove the parts from the box and follow the instructions to prime the filter by rinsing it under cold water.
Wash the lid and pitcher with warm, soapy water, then attach them all together. Discard the first two batches of water produced by the pitcher – then you're ready to use it as normal.

Maintenance is simple, too. The filter lasts for around 6 months, which is much more than you get with most pitcher filters. This probably explains why replacement filters are costly – but they're easy to fit. You can also clean the filter under running water if flow rate slows significantly.
📝 Filter Info
The G2.0 filter is made from an outer covering of silver-infused ceramic media with granular activated carbon (GAC) on the inside.
Ceramic water filters work by trapping contaminants that are larger than the media's pore size, preventing them from passing to the clean side of the filter element. They're commonly used in gravity-based filters because they target a greater number of contaminants when water flow is slow.

ProOne G2.0 lab report highlights that the filter can remove dozens of contaminants, including:
| Contaminant | Removal Rate |
| --- | --- |
| Coliform bacteria, giardia, and cryptosporidium | More than 99.999% |
| Lead | More than 99.9% |
| PFOS and PFOA | At least 99.9% |
| Mercury | More than 99.9% |
| Nitrites | More than 99.9% |
| Chlorine and chloramine | More than 99.9% |
| Aluminum | 98.0% |
| Pesticides | At least 98% |
| Pharmaceuticals | At least 95.6% |
| Variety of VOCs | At least 95.0% |
| Herbicides | At least 90.0% |
| Radiological contaminants | At least 81.6% |
There's no denying that this contaminant removal is impressive – and, even better, the filter retains nearly all healthy magnesium and potassium in water. The only downside is that the filter removes up to 80% of calcium.
It's really helpful that this contaminant removal information is so readily available online – it's surprising how many manufacturers have no data to back up their claims.
🔔 Pros & Cons
👍 What We Like
The ProOne G2.0 filter removes an impressive range of contaminants. It's good to know that the filter has been independently tested, and the datasheet is handy to review.
We were pleased with the taste and quality of our water after filtering it in this pitcher.
It's easy to set up and maintain the pitcher, and we were impressed with the filter's 6-month lifespan.
👎 What We Don't Like
The filtration speed is really slow.
The lid design is flawed. It's hard to pour filtered water from the jug without unfiltered water getting in.
❔ Frequently Asked Questions
Does the ProOne reduce TDS?
We didn't check. Measuring TDS isn't a good indication of contamination because healthy minerals are also picked up as TDS. If you want to see whether the ProOne works, test your water for specific contaminants.
How much does the ProOne cost?
It costs just under $75, so it's certainly not the cheapest pitcher available. Do we think the ProOne is worth the money? Yes – but at a push. We've seen pitchers that remove more contaminants for a similar price.
Can you return the ProOne pitcher if you don't like it?
Yes. It's quick and easy to return the ProOne pitcher within the 30-day money-back guarantee period.
Found this review helpful?
Comment below or share this article!