Pelican Water systems was established in 2007 and is based in Florida. The company offers a broad range of water treatment systems, including water softeners, UV filters, RO filters and shower head filters. If you're looking beyond standard pitcher filters for something a little more niche, you'll most likely find it with Pelican.
In this review, I'll be looking at some of Pelican's most popular water solutions with regards to their features, functionality, benefits, and pros and cons. All filters have a 90-day money-back guarantee and a specific year performance guarantee. Some also have a limited lifetime warranty, and customer service is usually prompt and helpful.
You'll find everything you need to know about each of the 2023 Pelican water treatment products right here.
Whole House Filter & Water Softener Alternative with UV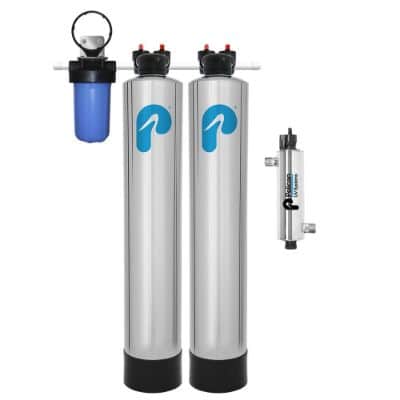 Overview
If you're looking for a filtration system that will offer every water treatment solution you could ever need – including water softening and two types of filtration – you'll find it with the Pelican Whole House Filter, Softener and UV unit combo. This whole house water filtration system offers so much more, in terms of both performance and contaminant removal, than the average whole house filter.
Product Features
The Pelican Water filtration system comes with a whole host of features, each of which plays a specific role in the water treatment process. These include:
Premium carbon filtration tank
This tank contains a variety of filter media, with four stages of water filtration. It's designed to last with its durable stainless steel build.
Pre-filter
The sediment pre-filter comes already installed inside the filter housing, ready to set up and start using immediately.
UV light
Not all whole house water filter systems come with a UV light, but this particular Pelican Water model does. The UV light removes contaminants that the filtration media can't, like viruses and other harmful microorganisms.
Pelican NaturSoft® system
Included with this whole home water filter system is Pelican's salt-free water softener alternative, which softens water after it has been filtered.
Connections and fittings
The system comes with everything you need for installation, including connections and fittings for installing at your home's point of entry.
Functionality
There are multiple stages of water treatment in this Pelican whole home water system, including water filtration, softening, and UV exposure. When water flows into the system, it first passes through a sediment pre-filter, which removes the likes of sand, dust, rust, and any larger sediment from water.
It then flows into the carbon series filter, which filters water in another three different stages: two stages of catalytic granulated activated carbon media, which uses adsorption to trap contaminants, and one stage of copper and zinc oxidation media, which uses KDF to replace electrons of contaminants and make them non-harmful. These stages combined reduce chemicals like chlorine, chloramines, pesticides and herbicides; pharmaceuticals; industrial solvents; and hundreds of other contaminants. They also reduce bacteria and algae growth.
Next, water flows through the NaturSoft® system, a salt-free water softening stage that has shown 99.6% hard water scale prevention in third-party testing, before finally passing through the UV disinfectant system, which kills 99.9% of microorganisms.
Filter Benefits
The biggest benefit of this Pelican system is clearly its performance – you get three types of water treatment in one. If the health of your family means a lot to you, you'll be impressed to know that the Pelican whole house water filter doesn't only use typical filtration to remove contaminants; it also kills microorganisms using UV, and removes hard water minerals with its salt-free-softener, protecting plumbing and appliances as well as your health.
Looking specifically at the Pelican NaturSoft® water softener, there is some skepticism around whether salt-free water softeners actually work in getting rid of hard water issues as well as salt-based. The Pelican water softener, however, was designed with the support of the WQA, which gave the system a Gold Seal Body of Approval – making the system the only salt-free water softener so far to have a proven track record of success when it comes to putting a stop to scale-causing calcium and magnesium. It's also suitable for people on low-sodium diets, unlike salt-based water softeners.
When it comes to flow rate, you can buy the system in two different sizes depending on your house size, so, providing you have a decent water pressure, you should still enjoy your home's usual flow rate no matter how many appliances you're using.
Pros/Cons
👍 What I Like
Offers three types of water treatment in one
Less maintenance with salt-free softener, and no salt water needed
Gets rid of hard water issues
👎 What I Don't Like
High upfront cost
Most people require a plumber for installation
Water softening stage doesn't remove calcium and magnesium from water; just changes their composition
---
Premium Whole House Water Filter System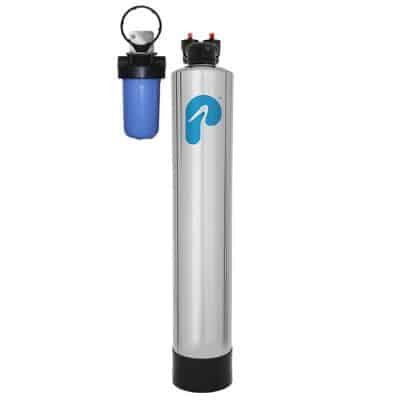 Overview
Pelican's premium whole house filter system is one of the most popular Pelican water systems, offering a simple 4-in-1 filtration solution with minimal installation or maintenance hassle.
Product Features
Being simplistic in design, there aren't many features of this particular whole house system for you to get your head around. The system comes with:
Sediment pre-filter
The 5 micron pre-filter sits just before the main filtration tank and filters out sediment like dust and rust.
Carbon series filter
Most of the filtration takes place in the carbon series media, which utilizes three different stages of filtration. When you need to replace the filter, it's as simple as replacing the media inside the tank.
Connections and fittings
Included with this whole house system are connections and fittings for installing the system yourself. There's also a valve that allows you to switch off your water supply when performing system maintenance.
Functionality
Drinking water passes through four stages of filtration in this Pelican water filter system: a 5 micron pre-filter, two stages of granular activated carbon media, and a copper and zinc oxidation media. The pre-filter removes sediment like sand, rust and dust; the activated carbon filtering media uses adsorption to remove chlorine, chloramines, pesticides, pharmaceuticals and more; and the copper and zinc oxidation media prevents the growth of bacteria and algae.
Filter Benefits
Because the carbon series filtration tank has a large diameter, it can hold a significant amount of filtration media, helping to both improve the filter's performance and increase its lifespan. The carbon media only needs replacing every 5 years or 600, 000 gallons of water, too, making this water filtration system one of the lower-maintenance options on the market.
With a flow rate of up to 8 GPM, this home water filtration system will provide you with immediate drinking water, shower water and water for your appliances.
👍 What I Like
Comes with a limited lifetime warranty
NSF certified for chlorine removal
Only need to change the carbon media filter every 5 years or 600, 000 gallons
👎 What I Don't Like
Some users had issues with pre-soaking the carbon media
Some customer reviews mentioned a leaking pre-filter
Too difficult for some customers to install themselves
---
Premium Ultra Violet (UV) Disinfection System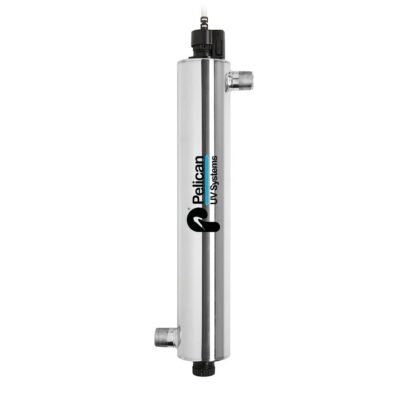 Overview
If you're looking to eliminate microorganisms from your well water or city water, Pelican's premium ultraviolet disinfection system is far superior to traditional filters, which aren't capable of targeting these specific contaminants.
Product Features
With a simple yet effective design, this environmentally-friendly UV disinfection system comes with just a few features necessary for installation:
UV housing
The UV housing protects the UV lamp. The housing is installed directly on your water line in a vertical position.
UV lamp
The UV light itself produces safer, better-tasting water using thymine dimerization.
Lamp age display
Included with the UV system is a lamp age display that gives handy, real-time information on the status of the lamp.
Functionality
The Pelican UV system uses thymine dimerization, a specific type of UV disinfection, to clean water. There are no filters involved in the process; rather, when water passes through the system, the UV light penetrates the DNA of microorganisms in the water, altering their make-up and preventing them from being able to reproduce or cause harm to the person drinking the water.
With a 9 to 16 GPM peak flow rate, the Pelican UV system is ideal for installation at a home's point of entry. While it won't affect the way water tastes, it'll make untreated water much safer to drink.
System Benefits
What sets this particular UV system apart from others is its NSF 55 Class B certification, which offers assurance that the system has been third-party tested and deemed effective at the job it does.
When it comes to running the system, there's little to do. It's easy to install, and you only need to make sure to clean the lamp sleeve every two months or so and buy a lamp replacement once every 12 months. The Pelican system has a lamp age display, which will alert you 30 days before you need to buy a new lamp.
👍 What I Like
Virtually maintenance-free
Environmentally friendly
NSF 55 certified
👎 What I Don't Like
Fan can be quite noisy when running
Some customers felt the instructions could include more images
Heats up water that is left sitting in the system for a long time
---
3-Stage Under-Counter Drinking Water Filter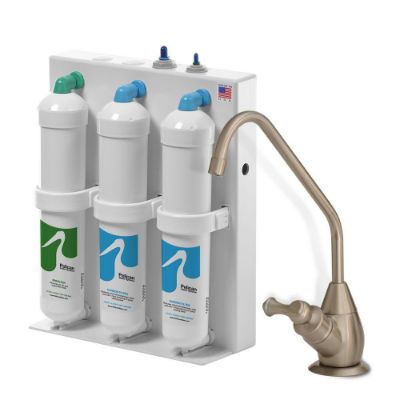 Overview
The Pelican 3-stage under counter unit provides high-quality filtered water, with the ability to reduce chlorine and chloramines in up to 1, 500 gallons of water.
Product Features
Filter housing
The main body of this under sink water system is its housing, which is relatively compact and adhered to a single square of plastic to make installation easier.
Sediment & granular activated carbon filters
The system comes with three filters already included – two granular activated carbon filters and one activated carbon filter.
Connections & fittings
Installing the system is relatively easy, and it comes with all the fittings and connections you need to attach it to your city water line.
3 faucets
You have a choice of 3 kitchen sink faucets to choose from: chrome, brushed nickel, or bronze.
Functionality
The Pelican under sink water filtration system has three stages of filtration, with a 25-micron sediment filter and two catalytic GAC filters. When water flows through the sediment media, it traps the likes of dirt, dust and rust. It then passes through each GAC stage, one by one, which are NSF certified to remove chlorine and lead using adsorption,
In total, the Pelican under sink water filter system can remove an impressive 60+ contaminants, including heavy metals, VOCs, and chemicals.
Filter Benefits
A key benefit of the Pelican is its 1,500-gallon capacity, which means you'll only need to replace it every 6 months – a big bonus compared to the likes of other countertop and filtering pitcher systems. Another benefit of this system is that while it gets rid of a broad range of drinking water contaminants, it doesn't remove beneficial healthy minerals, which most whole home systems will remove.
There are only a few steps to the installation process, too, and the majority of people will have no trouble installing the Pelican under sink water filter themselves.
👍 What I Like
Doesn't remove minerals, allowing for healthy, great-tasting water
NSF certified for lead and chlorine removal
3 faucet designs to choose from
👎 What I Don't Like
Replacements for filters are quite expensive
Not many customer reviews to go off yet
Won't remove microorganisms from water
---
6-Stage Reverse Osmosis (RO) System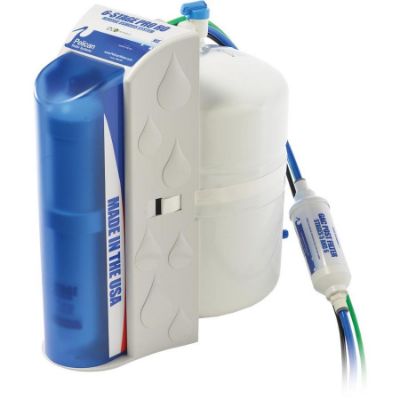 Overview
The Pelican 6-stage reverse osmosis system offers a high-quality performance guarantee for the removal of TDS (total dissolved solids) from water, and is one of the most thorough Pelican water systems for under sink contaminant removal.
Product Features
Filters
The 2-stage post-filtering cartridge comes included with the unit and needs changing every 6 months.
RO membrane
The RO membrane is designed to last for 18 months.
Lead-free faucet
Pelican gives three choices of faucet for this unit, all three of which are 100% lead-free.
Unit housing
The Pelican RO unit is one of the most compact out there, and the filters and RO membrane fit nicely inside a relatively small exterior casing.
Fittings & connections
The unit is designed for at-home installation, with everything you need to quickly attach it to your waterline.
Functionality
The Pelican RO water system boasts incredibly high-quality performance thanks to its combination of water filtration and reverse osmosis. The unit contains several water filters, including a sediment filter, pre-filtration media, a filtering stage, a reverse osmosis membrane, a polishing stage, and a remineralization stage. In each of these stages, the unit will reduce chlorine, lead, suspended sediment, arsenic, copper, cysts, fluoride and more, leaving great-tasting, clean water as the outcome.
Filter Benefits
What makes the Pelican RO water filter a standout from its competitors is its reverse osmosis membrane. When water is forced through a semi-permeable membrane, any contaminants that are too large to fit through the membrane end up being flushed down the drain. The unit can deliver 50 gallons of drinking water a day, and with 50% less waste than other RO units.
Another benefit of the Pelican water RO unit is that it's WQA certified to NSF Standard 58 for the reduction of substances including fluoride, arsenic and TDS – so if you're looking for third-party confirmation that it works as advertised, you can find it here.
👍 What I Like
RO membrane offers thorough filtration
WQA certified to NSF Standard 58
Great customer service – you get a free water sample twice a year from Pelican to make sure the RO membrane is working properly
👎 What I Don't Like
Wastes water during RO filtration
Included faucet could be sturdier
May be too difficult for some users to install
---
Countertop Drinking Filter System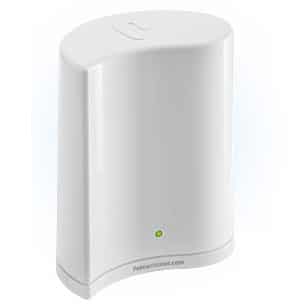 Overview
The Pelican water countertop unit offers a convenient solution to bottled water, being one of the simplest and easiest-to-install water filters offered by Pelican.
Product Features
Housing unit
The Pelican Water filter's housing unit measures 8 inches tall and 7 inches across, making it small and compact enough to fit at most kitchen sinks.
Filter cartridge
There's a single filtering cartridge pre-installed in this system, which can remove more than 60 contaminants.
Connections and fittings
The unit comes with a chrome diverter, faucet adapters, washer, and hose – everything you need for installation.
Functionality
You install the Pelican on your countertop near your kitchen sink. When you turn on your tap, water runs through multiple stages of filtration within a single cartridge, including a carbon block media, which uses adsorption to remove chlorine and lead. Once water has flowed through the unit, it will pass through a hose and out of the faucet, ready for drinking.
Filter Benefits
In total, the Pelican Water countertop unit removes 60 contaminants – an impressive number for a countertop water filtering unit. The filtered contaminants include lead, mercury, chlorine and chloramines, cysts, and pharmaceuticals.
If you don't think you'll remember to change your filters, don't worry – you don't need to. The unit has an LED light indicator on the lower section of the front, which will let you know when it's time to buy new filters.
👍 What I Like
Handy filter change reminder
Small, compact unit
Removes more than 60 contaminants
👎 What I Don't Like
Replacement filters are expensive
Some customers had issues with dripping
Water flow is quite slow
---
Premium Shower Filter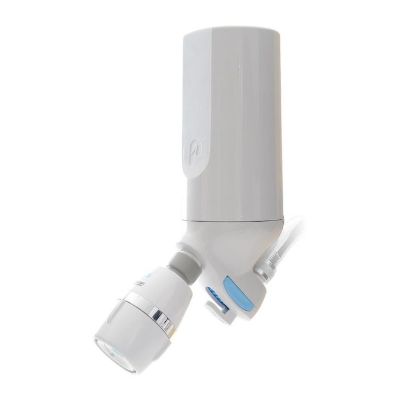 Overview
Intro: The Pelican shower filtering unit can remove more than 96% of chlorine from water and has a 700-shower lifespan.
Product Features
Unit housing
The Pelican shower unit's housing connects directly onto a shower arm.
Shower head
You can choose to buy this unit with or without a shower head. With its dual flow design, you can switch between high-flow and water conservation. If you don't want to use the shower head, check that the unit is compatible with your own shower before buying it.
Filtering cartridge
While you'll need to pay for all replacement filters in the system, Pelican offers the first one for free.
Functionality
The Pelican shower filter combines three filtration processes, with a copper and zinc media, a GAC media, and far-infrared emitting volcanic media. In the copper and zinc stage, KDF takes place; adsorption takes place in the GAC stage; and the far-infrared volcanic media reduces negative ions, helping to improve water quality. The unit is predominantly designed for removing chlorine, eliminating odors, and promoting healthier hair and skin.
Filter Benefits
Having been tested to NSF/ANSI Standard 177 for the reduction of chlorine, Pelican offers reassurance that this shower filter works as advertised. It has a 1.5 GPM, flow rate, which should be more than enough to give you a powerful shower if that's what you like.
The shower filter is virtually maintenance-free – you'll just need to replace the pelican shower filter every 15,000 gallons, which is a relatively long lifespan for this type of filtration unit.
Customers noticed an immediate improvement to their skin and hair after using the Pelican, and some even praised the unit for helping improve their skin conditions.
👍 What I Like
Relatively long lifespan at 15, 000 gallons
Third-party tested to NSF standards
90 day return if needed
👎 What I Don't Like
Not a water softener
Installation manual isn't very clear
Unit is quite big and bulky