🧾 Overview
The Pentair PC600 filter system is a low-maintenance, easy to install system that filters out 97% of the chlorine in your water and has a 600,000-1,000,000-gallon, 5-year capacity. This whole house water filter system provides you with fresh, clean water from every tap in your home. With it's premium filtration media the Pentair whole house water filter system is a long-lasting and durable option for your home.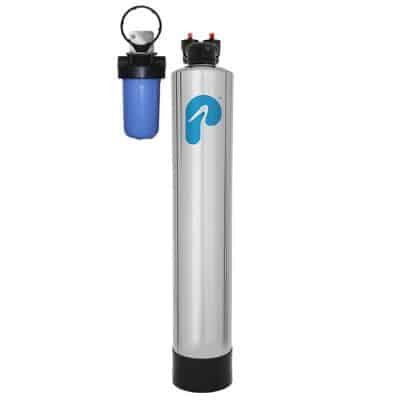 💡 Features
The PC600 whole house water filter system comes with a 90-day satisfaction guarantee, a 5-year performance guarantee, and a limited lifetime warranty. The easy to install system doesn't require an electrical hook up or a drain. This makes it easy for anyone to install on their own saving you money on installation costs. The system is designed to be hooked up to your central water line so that you are provided with clean water in every area of your home. Now you can rest easy knowing that every tap is providing you with quality, great tasting water.
The stainless steel tank is durable and heavy duty – which ensures you get a quality product that doesn't break. It allows a large amount of water to be filtered at a time. This provides you with a long-lasting and peak performing filter that does not need to be changed for up to 9 months.
The up-flow system prevents you from spending a lot of money on maintenance and upkeep. Instead of replacing the entire tank you need only replace the filter. In addition the up-flow design prevents you from wasting money on water since it does not need to be backwashed.
🚦 Performance
The up-cycle design creates a swirling motion in the tank that ensures the filter media has maximum contact with the water. Unlike a down-cycle system that requires a backwash once a week, the Pentair Premium whole house water filter system doesn't waste a single drop of water. You can rest easy with the knowledge that water that goes in will be used in your house and not wasted for backwashing purposes.
The system also does not require an electrical hook-up meaning that you aren't spending extra money on electricity. The 4-stage filter design provides you with 97% chlorine-free water to every area of your house. In addition, the pre-filter can last up to nine months and the carbon media can last up to 5 years – this keeps maintenance costs low and affordable.
🔧 Installation & Maintenance
The system comes with the tank, the pre-installed filter, the pre-filter, and an installation guide. This step-by-step guide is easy to understand and doesn't require a specialty in plumbing to understand. The Pelican Premium is ready to go and the fact that it doesn't require a drain or an electrical hookup means it is easier than ever to install.
Maintenance costs are kept at a minimum with this pre-filter system. The filter and up-cycle design are made to be long-lasting. Depending on how much sediment is in your water the pre-filter can last between six and nine months. The replacement of the pre-filter is easy and doesn't require any special knowledge. Similarly, the carbon filter media of the tank lasts for 600,000-1,000,000 gallons of water. This means that you only have to replace the carbon media every 5 years or so. When the filter has reached its maximum use, only the carbon media is replaced instead of the whole tank.
📝 Filter Info
The Pelican Premium whole house water filter system uses a filter that is separated into 4 stages. It rids your water of chlorine, chloramines, pesticides, herbicides, pharmaceuticals, bacteria, and algae. The first stage of the filter gets rid of sediment from the water. This is done in a pre-filter that is separated from the rest of the tank.
The second and third stages of the filter rids the water of contaminants with the use of coconut based carbon filters. Finally, the last stage of the filter is made of a bacteriostatic media filter that prevents and reduces the production of bacteria in your pipes.
🔔 Pros & Cons
Pros
Satisfaction guarantee (for 90 days)
Performance guarantee (for 5 years)
Limited lifetime warranty
Filters out 97% of chlorine
Least amount of water waste
No electric required
Only media requires replacement, not the entire tank
Cons
Doesn't filter out viruses or fluoride
Carbon media has average lifespan of 5 years
Related: Check out our picks of the best whole house water filters currently available