🧾 Overview
The New Wave Enviro 10 Stage Plus Countertop Filter System is said to remove an impressive range of contaminants from drinking water. The unit is easy to install, and the filter itself has a relatively long lifespan – it should last about a year before you need to replace it with a new one.
With ten stages of filtration, the New Wave Enviro water filter is one of the more thorough countertop filtration systems that exists on today's market. It first filters water, then raises its pH by remineralizing the water with calcium. Some of the contaminants it can reduce include mercury, lead, heavy metals, dirt, rust and chlorine.
💡 Features
10-stage filter
The New Wave Enviro's 10-stage filter comes pre-assembled inside the unit itself. You'll need to purchase a new filter when it stops working as effectively, but the first one comes free with the product.
Faucet adapter & connection hose
To connect the unit up to a kitchen faucet, there's a connection hose included with this New Wave Enviro filter upon purchase. Contact the manufacturer if you think you require a faucet adapter. You'll also need to purchase an appropriate adapter if you want to store the unit underneath your sink.
Filter housing unit
The filter for the 10 Stage Plus filter is housed inside a filter housing unit, which is slim and small enough to fit comfortably next to your kitchen sink. It's roughly the height of two glasses of water, and is a combination of white and clear in color.
Instructions manual
For help in installation, the unit comes with a user manual. This provides all the information you need to know about system set-up and maintenance, like filter changes. You'll also receive emails from the manufacturer when it's time to change your filter.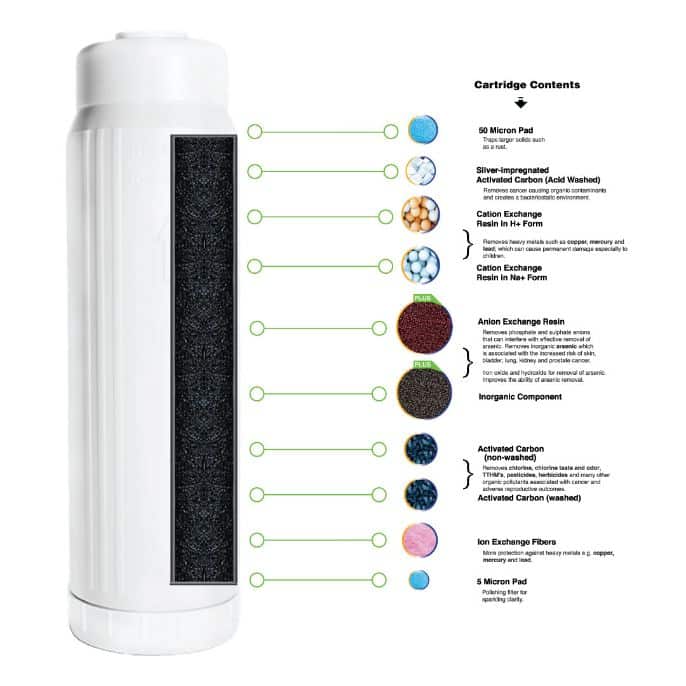 🚦 Performance
The 10 Stage Plus Countertop Filter System is one of the most highly rated countertop water filters in terms of performance. The 10-stage filter is the unit's obvious selling point – it does the same job as other filters, but more effectively. If you're looking to reduce the majority of contaminants in your water, but don't want to splash out on a reverse osmosis unit, filtration systems like this from New Wave Enviro are about as close as you'll get.
Aside from offering thorough water filtration, this countertop filter also works at an impressive speed. It produces water seconds after you turn on the tap, so there's no need to wait around for it to do its thing. By removing chlorine and adding calcium to water, it gives it an improved taste and odor.
🔧 Installation & Maintenance
Like most modern countertop filtration systems, the New Wave Enviro filter requires virtually no installation.
It comes already set up, with the filter included, and all you'll need to do is connect it to your kitchen sink faucet. The connecting hose won't attach to every faucet, so it's worth checking with the manufacturer before purchasing to avoid disappointment.
To attach to your faucet, simply place the unit on your countertop and connect the hose to the unit's base. Then thread it over to your faucet – the unit and the faucet will need to be fairly close, as the lead is relatively short – and attach the hose straight to the underside of your faucet.
You can find instructions for doing so in the unit's user manual.
With installation being such a quick and easy process, you'll be able to take the New Wave Enviro system with you on your travels or if you move house. Just remember that you'll need to be able to store it close by to your faucet, and the connector won't attach to non-standard kitchen faucets, including some designer faucets.
In terms of maintenance, the only thing you'll really need to do is change the filter.
You should get about a year's use out of the filter – or slightly more or less depending on how frequently you use it – and you can buy replacement filters online.
It's one of the simpler filters to change, as all you'll need to do is unscrew the bottom and let the old filter drop out. There are directions in the user manual that you can use for reference to make sure you have the new filter sitting in the right position.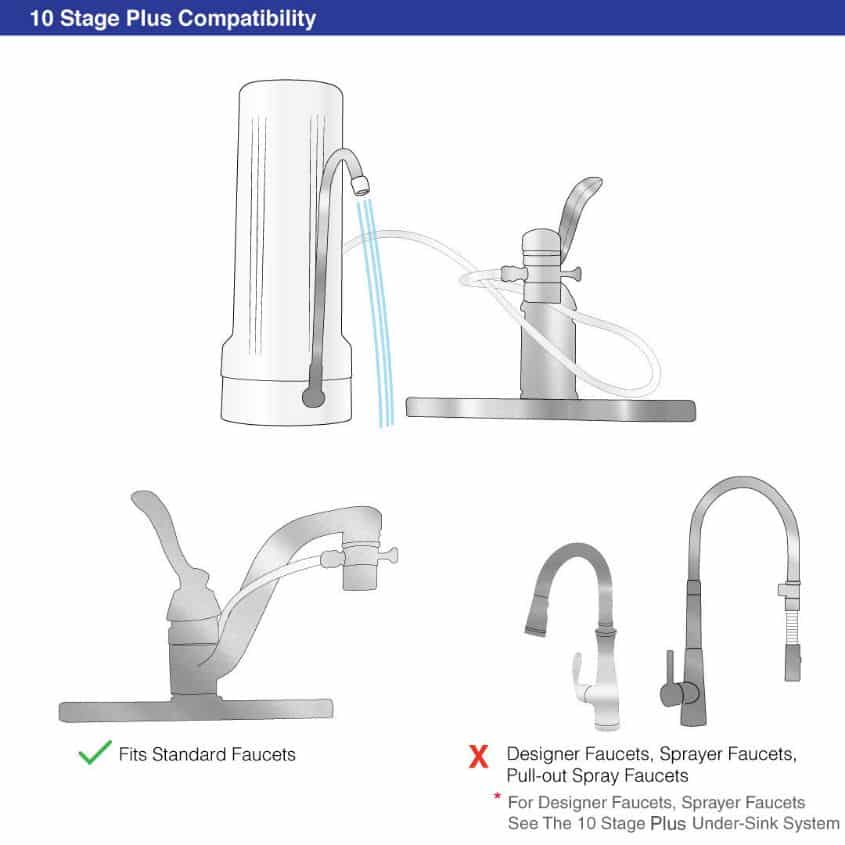 📝 Filter Info
The New Wave Enviro countertop filter subjects water to an impressive 10 different stages of filtration, which cleans, purifies and removes contaminants.
The reason why this filter has so many stages is that quite a few of them are repeated – for instance, stages 1, 5, 7 and 10 all basically do the same thing. In these stages, micron filters are used to catch and trap larger sediment.
Stages 2, 3, 4, 8 and 9 work slightly differently.
They use activated carbon filters to reduce the more difficult-to-trap impurities from water. Note that this filter is certainly very effective for a countertop water filtration system, but it's not capable of reverse osmosis. While it can reduce sediment and contaminants, it can't remove them completely.
There's also a remineralization stage, in which calcium is reintroduced into the filtered water. This improves the water's pH, which gives it a more enjoyable taste. Alkaline water is also said to be a lot better for our bodies.
The New Wave Enviro 10 Stage Plus can remove a fairly large list of contaminants, including chlorine, lead, mercury, asbestos, rust, dust, sediment, and PCBs.
It's likely that you weren't even aware that your water contained so many impurities. The best idea is to test your water or request a water quality report from your local authority, and determine which contaminants you want to remove. For instance, the unit won't remove fluoride from water.
🔔 Pros & Cons
Pros
Unconditional 30-day money-back guarantee
10 thorough stages of water filtration
Easy to install and change filter
Cons
Warranty only lasts a year
Doesn't remove fluoride
The replacement filter doesn't seem to be as effective as the original one
Found this review helpful?
Comment below or share this article!