Sawyer Products and Lifestraw are two brands you will have most likely heard of if you're a fan of camping and hiking in the backcountry. The filtered water companies offer clean drinking water solutions on the go, including backpacking water filters, water bottles and gravity water filters that take the risk away from drinking from any water source.
Even water that looks crystal clear can contain dangerous bacteria and other contaminants, and using either a Sawyer or a Lifestraw filter is the easiest way to stay safe during your rambles through the wilderness. Both filters work similarly, purifying water and making it safe to drink. Neither removes viruses, but they do remove a whole host of bacteria, which are commonly present in US natural water sources.
While both filters might look the same on the surface, they do have their own unique traits that are worth considering when deciding which one is for you – and one filter is, in my opinion, is slightly better than the other.
This guide will cover all you need to know and more about the Sawyer MINI water filter vs Lifestraw filters.
⚖️ Comparison Chart

Type: Straw
Weight: 1.62 oz
Filter size: 0.2 micron filter
Contaminants removed: Bacteria, protozoa, cysts, microplastics
Filter lifespan: 4,000 liters
Best uses: Backpacking, Hiking, Camping
Price:

Type: Straw/ Squeeze/ Inline filter
Weight: 2 oz
Filter size: 0.1 micron filter
Contaminants removed: Bacteria, protozoa, cysts, microplastics
Filter lifespan: 3,780,000 liters
Best uses: Backpacking, Hiking, Camping
Price:
💡 Filter Comparison
Sawyer MINI
The Sawyer Mini filters have a pore size of 0.1 microns, which enables them to trap even the smallest of contaminants and remove them from your drinking water. Filters typically have an impressive lifespan of around 100,000 gallons, and weigh 2 ounces (weight is important if you're looking to travel as light as possible while hiking or camping). Being small enough to fit into the palm of your hand, Sawyer's Mini filters are unobtrusive and easy to stash away in a pocket in your backpack.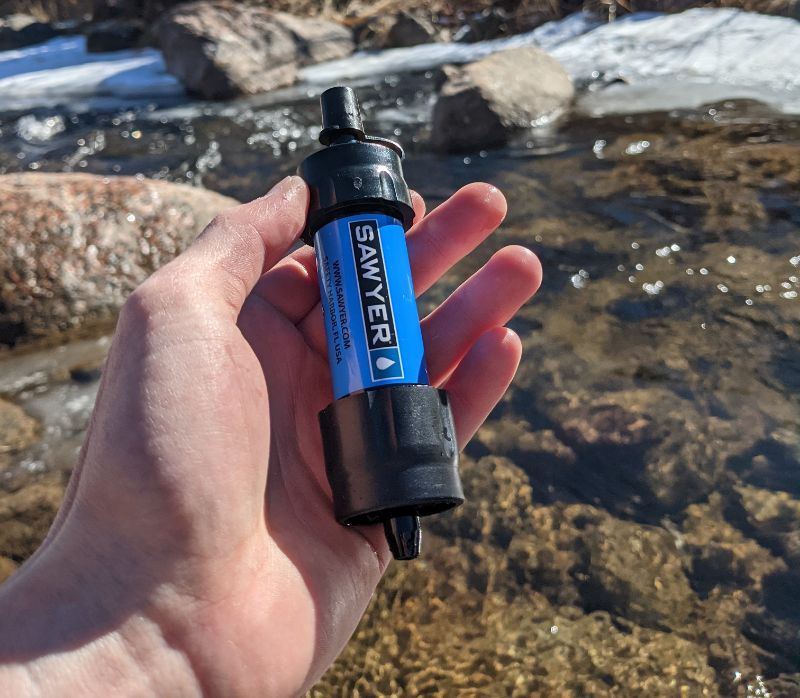 The filters process water through an absolute filtration media, which is made up of hundreds of U-shaped micro-tubes that trap contaminants, preventing them from passing through with water. Every individual pore is 0.1 micron in size, which makes the Sawyer filter particularly effective at trapping smaller bacterial contaminants and eliminating them from water. If certifications are a must for you, you'll be happy to know that the Sawyer filters meet the recommended contaminant removal rates as per the EPA's (Environmental Protection Agency's) guidelines. Additionally, filters are made from BPA-free plastics for your safety.
Lifestraw
Lifestraw's personal water filter is compact, lightweight, and ideal for carrying with you on your adventures. It weighs less than 2 ounces, like the Sawyer Mini, but it has a lower lifespan at 1,000 gallons (which, it's important to note, still equates to 5 years). It's also a little different in design from the Sawyer MINI, being longer and a bit bulkier.
All of Lifestraw's filters are made from a hollow fiber membrane, consisting of hundreds of tiny straws that contain pores of 0.2 microns in diameter. Unfiltered water passes through one end of the straws, and only water particles are small enough to make it through to the other side. The contaminants are blocked in the filter, while clean water makes its way into the drinking chamber.
In this sense, the Lifestraw and the Sawyer's filters have essentially the same design, but the Sawyer has the advantage of being able to filter out smaller contaminants with its 0.1 micron pores.
🦠 What Contaminants Do They Remove?
Being similar in design, with only 0.1 micron of a difference in pore size, Lifestraw and Sawyer Mini remove largely the same range of contaminants, including bacteria, dirt, sediment, microplastics, and parasites.
❗️ Note that neither filter is capable of removing all viruses from water, so it's worth being careful with your water source.
Luckily, most areas in the US don't have viruses in the water, but if you're traveling with either a Lifestraw or the Sawyer Mini overseas, be sure to pay attention before you use your filter on an unknown water source.
Related: The best backpacking water purifiers we've tested
🚦 Performance Comparison
Sawyer Mini
The Sawyer Mini rates particularly highly when it comes to performance of a filter of its kind. The system's close-knit design makes it one of the most effective at contaminant removal compared to other handheld water filtration systems, and its pores of 0.1 microns help to filter out as much of the bad stuff as physically possible, producing clean, safe drinking water.
Because the Sawyer Mini acts as a straw and a filter in one, there's no waiting around for the water to be filtered through the system. You won't meet much resistance when you're using the straw, and even when you use the system as a gravity filter, filtration is fairly quick and efficient. The filter comes with a bag for storing water, and you can also attach it to your water bottle, making it easy to carry around a clean water source. If you're looking for a convenient water filtration system, this one is a great choice.
The Sawyer MINI's performance is designed to stand the test of time, too, as the filters have an impressive lifespan of 100,000 gallons.
Lifestraw
It's obvious to see that, comparing the Lifestraw vs Sawyer filter, both are relatively similar in their performance. Like the Sawyer Mini, the Lifestraw has tiny filter pores that filter out the smallest of contaminants – although the Lifestraw's pores are 0.2 microns in size, so it may be missing a few of the smaller contaminants that the Sawyer Mini is able to pick up.
Again, like the Sawyer Mini, the Lifestraw acts as a filter and a straw in one, and, using it as a straw, you can drink straight from a water source and get access to clean water in virtually seconds. You can't use the Lifestraw as a gravity water filter, as it only has the one function for drinking. This poses a bit of an issue as you can't carry around filtered water with the Lifestraw, so you need to make sure you're always near to a water source for instant access whenever you need a drink.
You can get 1,000 gallons of water out of the Lifestraw before it needs replacing, so its performance over time isn't quite as impressive as the Sawyer Mini. Looking at the Sawyer Mini vs Lifestraw for performance as a whole, the Sawyer Mini does offer a slightly more efficient filtration, because of its smaller pores and longer lifespan.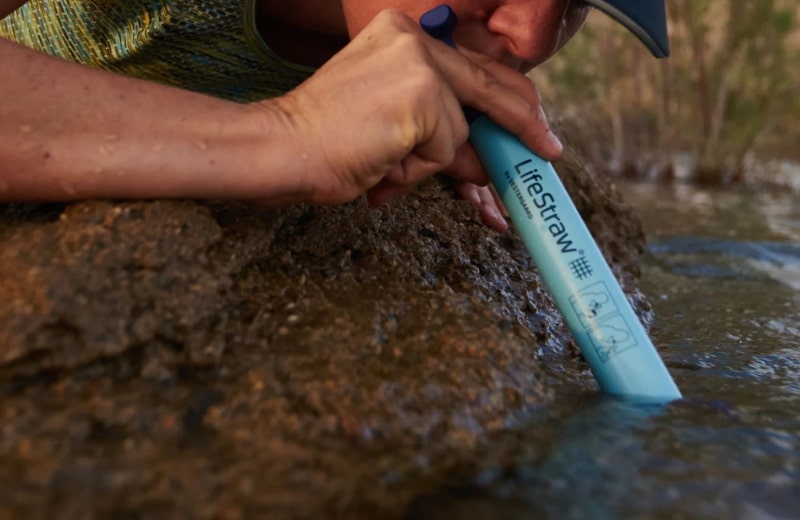 💲 Upfront Cost
You can buy the Sawyer Mini in a range of bright, attractive colors, for around $20 for a pack of one, and some sites offer a slightly better deal if you buy multiple water filters at the same time. This is a great value for money, considering how many years of use you would be able to get out of the filtration system.
The Lifestraw costs just under $20, too, so there's no obvious choice between Lifestraw or Sawyer when it comes to price. You'll still get years of use out of the Lifestraw, even if the filter's lifespan isn't as long as the Sawyer's, which makes it still a great value for money – just not as good as the Sawyer Mini.
📆 Filter Lifespan & Replacement Costs
Sawyer MINI
The Sawyer Mini has the most impressive lifespan of all personal straw filters, lasting for approximately 100,000 gallons of water ( which equates to just over 200 years!) before it needs replacing. So, while buying a new Sawyer Mini may not be something you have to do in your lifetime, providing you can look after it well, you will still need to remember basic maintenance to keep the product working at its best.
Sawyer recommends backwashing the filter – or running water through it backwards – every time the flow rate starts to diminish. This will help clear the filter of the larger contaminants that are clogged in its pores, speeding up the water filtration process. Sawyer's water filters also come with a cleaning plunger, and you're advised to clean, dry and sanitize it to keep it in good shape throughout its years of use.
Lifestraw
With a lifespan of up to 1,000 gallons of water, the Lifestraw is advertised to last for around 5 years. Of course, the exact lifespan may vary depending on how often you use the filter, and how many people you choose to share the filter with (Lifestraw's lifespan is based on individual use). But for any filter, this is a really decent lifespan, making the Lifestraw a great low-maintenance option if you don't want the hassle of regular filter replacements. When you do need to replace the filter, you'll need to buy another Lifestraw, which, at $20 every 5 or so years, isn't a major investment for you to factor in for.
Like the Sawyer Mini, you'll need to backwash the Lifestraw filtration system with clean water to remove the harmful contaminants that are clogging the filter's pores. You can find information on how to backwash the system in your user manual, but it's relatively simple and doesn't require anything other than a water bottle and the included Lifestraw components. Lifestraw also recommends blowing into the filter as a quick and easy way to prevent it from getting too clogged.
💬 Customer Reviews & Complaints
Sawyer MINI
The Sawyer MINI is 96% recommended on Walmart, and has an average rating of 4.6 out of 5. Customers praised the Sawyer MINI for being easy to operate, noting that its flow rate is better than that of similar filters. Another benefit is its size, with it being small enough to fit in your pocket or in a backpack of any size.
Customers also liked that the Sawyer Mini gives you multiple options – you either lie down and drink straight from dirty water through the straw, leave it to gradually filter a bag using gravity, or attach it inline to a hydration pack.
While most customers used the Sawyer Mini filtration system when backpacking, some used it to filter their home's drinking water, and others had bought it for emergency preparedness. Some customers found that when taking the Sawyer Mini on hiking trips, it wasn't quite sturdy enough for bumps and bangs. Others mentioned that the pouch that comes with the Sawyer for gravity water filtration didn't ever completely fill up, and was only able to carry roughly half its advertised volume of water.
Lifestraw
The Lifestraw is recommended by 66% of customers on Lifestraw's official website, and has an average rating of 4 stars out of 5.
Customers were generally happy with the Lifestraw's performance, and its ability to provide a safety net for hikers trekking in the wilderness.
Some customers praised Lifestraw's instructions manual for being user-friendly, and many people mentioned that they had solely relied on the Lifestraw for clean drinking water when they had been without other supplies.
On the negative side of things, while many customers had a great experience with the Lifestraw, some were let down when they needed it most, despite claiming to have followed the instructions in the user manual. This may have been a result of a faulty batch, and Lifestraw appears to have contacted all customers who made this complaint. Another common complaint about the Lifestraw is that many customers felt the water filter was an inconvenience somewhat, as they could only use it as a straw when they were near to a water source, with no feature for carrying clean water on their travels.
☑️ Pros and Cons of Lifestraw vs Sawyer Mini
👍 Sawyer MINI – Pros
Impressive 200+ year lifespan
Great value for money at just under $20
Flow rate is better than similar water filters
Can be used both as a straw and a portable gravity water filter
Tiny 0.1 micron pores filters out the smallest contaminants
👎 Sawyer MINI – Cons
Doesn't filter out viruses
Gravity filtration is slow
Bag for carrying filtered water doesn't fill completely
👍 Lifestraw – Pros
Long 5+ year lifespan
Great price at less than $20
Lightweight and easy to transport
Simple to use with user-friendly manual
Ideal for backpacking trips near to a plentiful water source
👎 Lifestraw – Cons
Can only be used to drink directly from a water source
Lifespan isn't as long as the Sawyer Mini's
Doesn't filter out viruses
🤔 Should I buy Sawyer MINI or Lifestraw?
Comparing the Sawyer MINI vs Lifestraw, it's clear that both water filters have a lot going for them. Their lightweight size and portability is a big plus point for hiking fans who are looking for a simple way to gain access to clean water on the go.
The Sawyer Mini might have a smaller pore size than the Lifestraw, but this won't make much of a difference to the quality of filtration. Both filters will remove bacteria from water taken from sources like rivers and streams, making it safe to drink.
Despite the fact that both filters have their advantages, my personal winner is the Sawyer Mini.
It has a longer lifespan of 100,000 gallons, and you can conveniently attach it to water bottles and use it to transport a filtered water source on the go. This added versatility is a big bonus. Sawyer is also a lot smaller than the Lifestraw, making it easier to carry around in your pocket.
Related Content: Our Favorite Portable Water Filters (Updated for 2023)